The Conqueroo interview with Bob Brown
Austin, Texas's Conqueroo band called it a day in San Francisco in 1969. Alongside the likes of the Thirteenth Floor Elevators, Shiva's Headband, Bubble Puppy, The Golden Dawn and Janis Joplin, the Conqueroo were pioneers of the Texas 60s psychedelic scene and mainstays of the now legendary Vulcan Gas Co, an outpost of wild music, longhair energy, communal spirit and pioneering arts that was continually in the firing line of the Austin police department.
---
Its first art director was Gilbert Shelton who would go on to fame and fortune with his universally loved Fat Freddy's Cat and the Fabulous Furry Freak Brothers cartoon strips. You can find out more in Scott Conn's fine doc, Dirt Road to Psychedelia: Austin Texas during the 1960s.
The Conqueroo were Ed Guinn (bass and keyboards), Charlie Pritchard (lead guitar), Bob Brown (guitar and lead vocals) and what seemed like a never-ending succession of drummers, who included Gerry Storm and Alvin Sykes. Somehow whilst the Elevators and co. all got deals at the time, the Conqueroo only got to release one 45 on Sonobeat and a posthumous LP put out in the 80s, From the Vulcan Gas Company.. The band was known for its blues based psychedelia, particularly its fuzzed-out, free form jams and wonderful deconstructed cover versions such as 'Knock on Wood' and 'Positively Fourth Street'.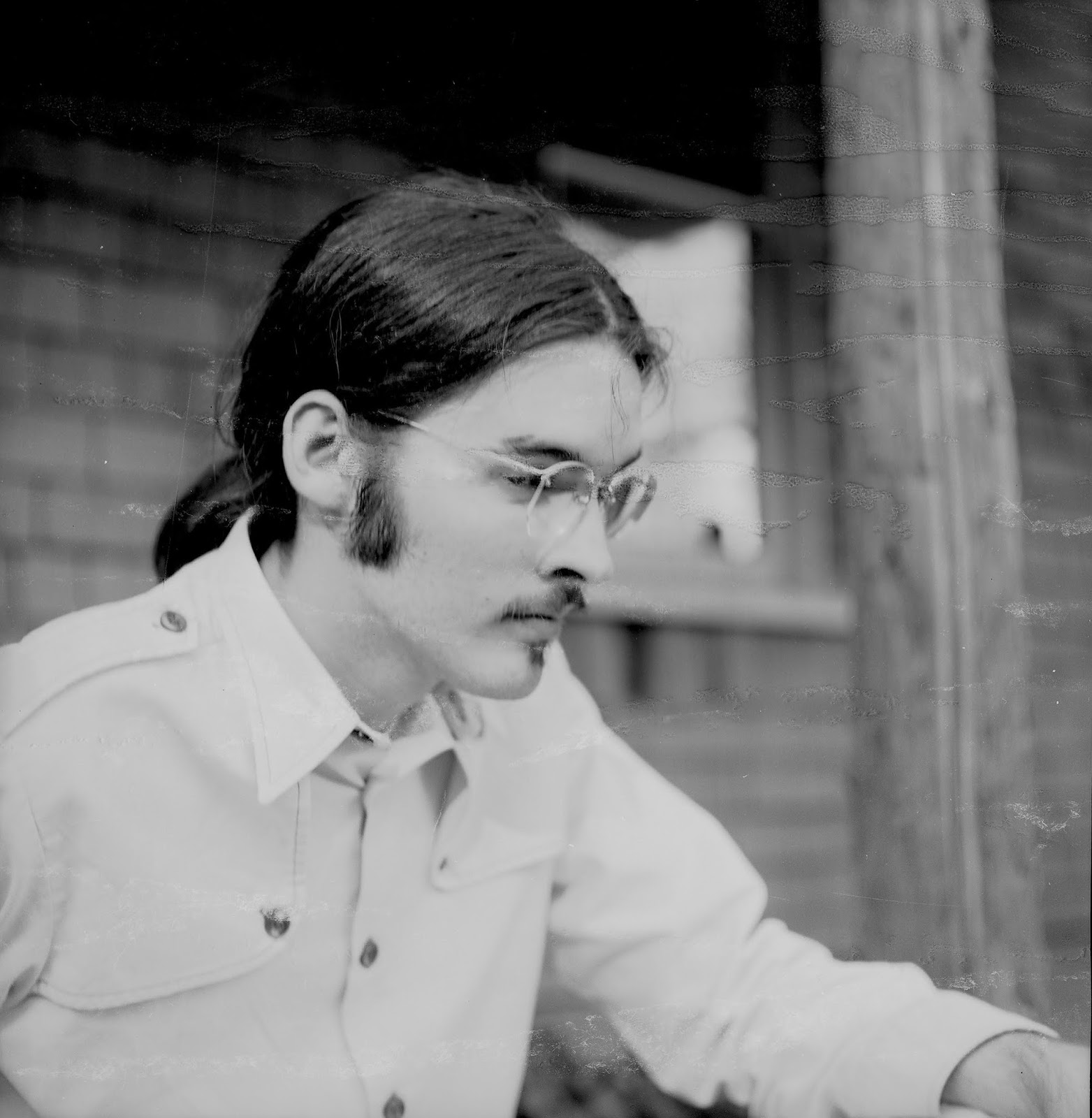 How old were you when you began playing music and what was the first instrument you played?
As a child, I wasn't that interested in music. I played clarinet in junior high (middle school) in the B band, and though I had a 'knack,' wouldn't practice, so after a couple of years, I dropped band.
What inspired you to start playing music? Do you recall the first song you ever learned to play?
What inspired me was country music. I went through a 'cowboy' stage in junior high and really wanted to be a country boy. I wanted to live on a ranch, ride horses, wear a hat and boots, etc. I developed a love of country music and listened to country stations on the radio. Webb Pierce, Hank Williams, Johnny Cash, Johnny Horton, Ernest Tubb, Ray Price, etc., all the late Fifties and early Sixties singers. As I progressed into high school, I daydreamed of living in a cabin in the mountains. So I liked bluegrass, too. I made friends with a guy on my baseball team who actually lived in the country, and we took guitar lessons together for one summer. My folks got me a Stella guitar, for about $15. After learning a few rudimentary chords, I learned how to play 'Just Walk on By', 'He'll Have to Go', and 'Wolverton Mountain', etc.
What bands were you a member of prior to the formation of The Conqueroo? How old were you when your first band formed? What was your role in these bands? When was the first gig you ever played? Do you recall the first song you performed before an audience?
When I was in high school, I started going to Thursday night folk sings at the University of Texas student union. It was hugely popular, and some of the participants were very good musicians. Everyone crammed into a big meeting room and someone would just start playing a song. When that person or group finished a song, someone else would jump in. One of the performers was Janis Joplin, who sang and played auto-harp. Of course some kids were awful, but others were already quite skilled. There were banjo players, fiddle players, lots of guitarists, someone on a lute, anything that made a noise. I overcame my shyness and played my own tunes. I didn't know enough guitar to play other stuff. There was great variety. Old blues numbers, Carter Family songs, bluegrass, Doc Watson. I was introduced to the whole gamut of, mostly, American folk and blues. One guy specialized in doing Bob Dylan and even wore the harmonica brace around his neck.
Because I was desperate to leave home, my mom allowed me to move to Cleveland, Ohio to live with my older sister who was attending the Cleveland Institute of Art. Of course, I got my own place with a friend and fell in with a motorcycle club, the 'Gooses'. I didn't have a bike but would party with them and hang out at various Cleveland dives. My apartment was a couple doors down from a black bar, the 'Five Points'. My first gig would have been soloing with my guitar at the 'Five Points'. My neighborhood, and the 'Five Points' were rough places (all I could afford) but I thought it was all great. A kid about my age (18) had some electric guitars and a couple of amps and booked us for a high school dance. None of us had played together, but we managed to somehow make it through the night playing my songs and some rock songs from the day (1966). We brought along one guy who could sing ONE song, 'Money'. He was included because he had long hair and a beard, which was still outrageous in those days. I don't recall what we called ourselves, but I think that was our first, and last, real gig.
Who were the members of the band?
The Conqueroo was my first band. It was made up of guys from the folk sings, led by Powell St. John, who was a great harmonica player and songwriter. It was called St. John and the Conqueroo. I don't know if they had played any gigs at the time, but when I'd returned to Austin, still in 1966, they were practicing in a club near the UT campus. Lead guitar was Charlie Prichard, who came from San Antonio (not a folk sing veteran), Ed Guinn on bass (one of the UT gang–he attended UT and came to folk sings, performing occasionally on flute), Tom Bright (he was a stranger to me) on drums, Mike Allen, a finger-picking guitar player, and possibly another player or two. The only one with any electric or band experience was Charlie. Since I claimed to have experience playing electric (this was all new to most of us who had been die-hard acoustical fans), I replaced Mike Allen, and Powell left for San Francisco a short time later and soon joined Mother Earth, with Tracy Nelson on vocals.
Actually, I don't remember our first gig, but we played a mix of my songs, Ed's and R&B numbers Charlie taught us. I had known very little about black music, except for the old blues guys like Mance Lipscomb, Lightnin' Hopkins, Jimmy Reed, et. al., and it was Charlie who introduced us to Ike and Tina Turner, Wilson Pickett, Otis Redding, Bobby Bland, and many others. He had a great record collection and moved us in an R&B direction. Dylan had just come out with his first electric album, and this period began a great shift from acoustical to electric. Of course there were pop bands all this time, but we were not fans. We thought of ourselves as 'beatniks', the counter culture, and were only beginning to hear about San Francisco and 'hippies'. Never did like that designation, 'hippy', and no Texas hippy would be caught dead with flowers in his hair. There was a great hue and cry about Dylan's moving to electric, and he lost a some fans. Folk sings were still popular at UT, but we in the Conqueroo were ready for a change. I think this transition was happening all over the country, and it was exciting to learn that there were other kids starting to make the scene, and the news, from all over the globe.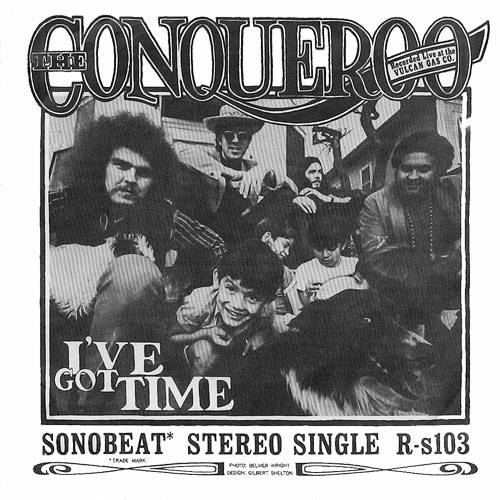 We were lucky to have a ready-made audience, in that our large circle of friends came out to hear us. There were always parties after the Thursday night folk sings, and 'Ranger parties'. The Ranger was a University of Texas humor magazine, edited and compiled by counter-culture types. Cartoonist Gilbert Shelton edited for a year or so. The Ranger people had huge parties every month when the latest issue was published. We also attracted a little older crowd, of liberal Texas writers and politicos. Novelist and writer Bill Brammer came to gigs and brought these folks. One of our first 'big' gigs was at the Doris Miller Auditorium. We had a light show! Bob Simmons designed a flyer drawn by Tony Bell. Bob always helped us with management and PR. This flyer may be the first 'psychedelic' poster in Texas, 1966.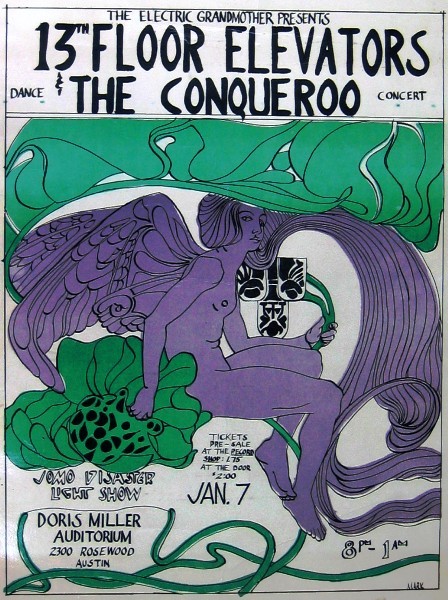 When and where did The Conqueroo play their first gig? Do you remember the first song the band played? How was the band accepted by the audience?
As mentioned, I can't recall where our first gig was. Don't know what the first song was. It could have well been something I'd written or an R&B number Charlie taught us. We did 'Walkin' Blues', 'Mustang Sally', 'Midnight Hour', etc. We did my songs, 'Screen Door', 'One To Three', 'Girl With The Yellow Pants', 'Blue Sisters', 'When I'm With My Woman'. We played the New Orleans Club (once with the Elevators), Club Saracen, The Fred, The Library, some place called the Pussy Kat, which I don't remember at all, and we had a regular gig at the I.L. Club. The I.L. was a great old time black road house. When we started there it was a fairly sedate place for older black men to play dominos and drink quarts of beer. The had a kitchen, of sorts, and featured a chicken sandwich; a fried wing and drumstick between two slices of white bread. Even though the name Conqueroo was derived from a black voodoo term, the club owner and manager, Ira Littlefield, had no idea what we were talking about. I wish I had the painted sign he hung on the door when we played: 'The Kangaroos'.
We were ahead of our time in Austin, so naturally when some unsuspecting club hired us they were often outraged when they saw and heard what we were. There were gigs where the clientele asked for 'Elvis', somebody I (mistakenly) thought was so old fashioned as to be quaint. That audience hated us. There were others, I know, but I can't remember specifics. We played a new club in Wichita Falls (almost on the Oklahoma border) and huge fights broke out. Cowboys would charge into the place and just start beating anyone they could catch. Awful experience. A bunch of them even followed us back to our motel and shouted taunts and threw rocks at our room all night. They appeared again the next morning and followed us out of town and onto the highway. We showed them a Winchester and they gave up the chase. The 'Winchester' was a lookalike BB gun.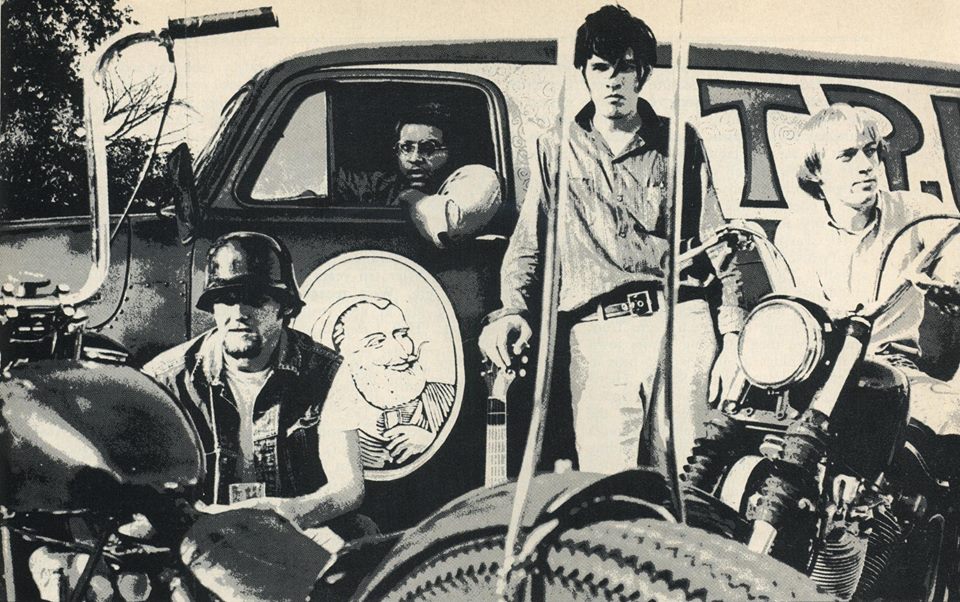 What sort of venues did The Conqueroo play early on? Where were they located?
Mostly answered above, but we did play San Antonio and Houston a few times. One place in Houston was called 'Love Street'. There's a nostalgia website of Houston clubs that mentions it. We played in some theater-in-the-round, opening for the Elevators, but I can't recall the name. The 2nd Conqueroo, formed when Ed and I returned from the Bay Area (San Francisco) in maybe 1973. Ed moved to piano, Charlie was still in California playing, I think, with Cat Mother and the All Night Newsboys. We found a great bass player, Michael Rhodes, and a lead player named Gary Hurd. This group played a gig with Country Joe and the Fish at Houston's Liberty Hall.
What was the writing and arranging process like? Did all the members have input?
Ed Guinn and I were the song writers, and we mostly worked alone. Later we began to collaborate and after we'd both quit playing music we started a production company and co-wrote practically everything. With the Conqueroo, no newly written song was complete until we'd introduced it to the whole band and worked through how we wanted it to sound. Sometimes the other guys had great arrangement or instrumental ideas that made the song better. Songs would 'evolve' the more we played them, sometimes into something quite different from the original. Working up new material with the group was probably my favorite part of being in a band. Gigging was great fun, usually, but the creative process was always a joy.
When did you begin writing music? What was the first song you wrote? What inspired it and did you ever perform the song live or record it?
I composed my first song when I was 15, called 'Coon Hound'.
'I'd rather have a coon hound than any girl, you see
A dog will not forsake you like a woman once did me'
Words of wisdom which have held true! A dog will not forsake you.
When I was in high school, I became a regular at the University of Texas's Folk Nights at the student union (1964-65). It drew a big crowd of performers and listeners, and people would take turns playing their favorite stuff. It ran the gamut of all things 'folk' or 'traditional'. Carter Family, Bluegrass, Blues, Doc Watson, old English and Irish songs. There was even a guy who only did Dylan; this at a time when Dylan had maybe two albums out and rarely got played on Austin radio. There was a very eccentric guy, John Clay, who played 4-string banjo and wrote his own songs. He was very popular because his songs were odd but great. Janis Joplin was a regular, and a few accomplished musicians showed up. There were also awful musicians, because everyone was invited and encouraged. I wasn't skilled enough to play anything from a record, so I wrote my own songs. I don't think I did 'Coon Hound' there, but 'There's a Light Over the Mountain' was a sing-along hit!
Quite early one morning in a B-52
Passed over a city, and now I'll tell you
There were women and children in the town down below
Living and sleeping till we let the bombs go
There's a light over the mountain, wait and see
Our savior is waiting for you and for me
No more friends to bid adieu
Don't call on God, he'll call you
Down in deepest jungles there was a young man
With his eyes to the heavens, a bible in hand
He was saving the natives from an infidel lie
But he was soft boiled and baked in a pie
… and so on
Who were the band's major influences?
I was influenced by everything because I knew so little about music. I listened to the Beatles, Stones, Them, Paul Butterfield. Of course this was 40 years prior to the Web, so you had to rummage through Goodwill stores and junk shops to find great old albums. Before this, I was a country fan: Webb Pierce, Hank Williams, Johnny Cash, Ernest Tubb, George Jones, etc. My family was not musical and I didn't have the money for records. A friend gave us some 78s from the Thirties. And an entire Burl Ives album I didn't much care for.
So, in the Conqueroo, my songs were eccentric and wide-ranging. Translating them into rock made them into rock/psychedelia. Charlie Prichard, our lead player was all about blues and R&B. He owned a lot of records and introduced me to Ike and Tina Turner, Otis Redding, James Brown, Wilson Pickett, Freddie King, Big Mamma Thornton, Muddy Waters. He taught me how to play R&B rhythm guitar, and the band had a sound that ran from R&B to my own esoteric songs. Of course the main 'psychedelic' sound was in our long solos and jams where we felt free to make all sorts of strange, loud noises.
Did The Conqueroo play many gigs? What were some of the venues you played? Who were some of the artists you appeared with?
We managed to stay pretty busy, except when we weren't. There weren't that many places to play in Austin. It was 45 or so years prior to the 'Music Capital of the World' claim of today. There were a few clubs that would hire us, but others that wouldn't because we had LONG HAIR and wore ODD CLOTHING and looked subversive. We played the Club Saracen, The Fred, The New Orleans Club (a couple of times with the Elevators) the Doris Miller Auditorium on the East Side. The East Side was the black side of town. We established a regular weeknight gig at the I.L. Club, an old black roadhouse that became an alternate home with the Vulcan Gas Company, downtown. Our name 'Conqueroo' was a take on the old Muddy Waters song about a magical root, the John the Conqueror Root. Black mojo. Oddly, many of the black patrons and the owner of the I.L. didn't know what we meant. Ira Littlefield (Mr. I.L.) had a little sign painted to put on the door, stating that the 'Fabulous Kangaroos' were playing tonight. We traveled with the Vulcan's light show, Electric Grandmother, and that helped create the psychedelic reputation. We played Houston, at a theater in the round with the Elevators, San Antonio, even Wichita Falls, near the Oklahoma border. At that destined-to-fail venue (an old cigar warehouse), mobs of cowpokes charged in every night to kill all the hippies. A crazed doorman, a Vietnam vet and Freon addict, fended them off with a baseball bat. I remember all the 'Hoss Cartwright' domed hats the cowpokes wore. The whole experience was frightening and godawful.
What was the Austin scene like back in the 1960s?
The only 'scene' was us and our friends and fans. We pretty much started it. There were us 'hippies' (although none of us appreciated the term) and everyone else. Our scene had grown out of misfit University of Texas students, anti-war activists, cavers, adventurers, runaways, intellectuals, writers, artists, beatniks. Probably the same mix that established 'scenes' all over the country.
The Austin scene could be treacherous. The average person then was totally conformist, conservative, intolerant and hated us on sight. I could be walking down the street and a car full of frat boys or just normal good ole boys would pull alongside and taunt me, or all pile out with the intent of beating the shit out of a freak. Ed Guinn and I often traveled together and the pale skinny hippy and giant black guy with crazy hair made us irresistible targets. Little old ladies in grocery stores would announce to anyone within earshot how 'dirty' we were. We were 'Communists', 'drug-crazed maniacs', 'draft dodgers', 'fornicators'! True enough, except for the 'dirty' part. Gas stations would claim the restrooms had just broken down to prevent us from using them, even after buying gas. In Texas, it was always open season on longhairs. Charlie talked some of us in to going to San Antonio for an Ike and Tina Turner performance and an all-black mob surrounded and taunted us after the concert. Foolishly, we thought we would be safe with these other 'oppressed' citizens. Ed had to drive his car into them to save Charlie and his girl from being dragged to the ground and beaten. Of course we were a target for law enforcement and were stopped, ticketed, questioned, etc. at any opportunity. We were all afraid of being busted. When Roky Erikson was, we were sure we would be rounded up in the next sweep. They surveilled our apartments, watched the Vulcan, patted us down at the stage door, etc. The FBI infiltrated our group a year or two earlier, looking subversives and Communists. There was a lot of pressure from good citizens to stamp out the whole counter-culture scene. I can sort of understand, now. We looked sketchy, we shacked up with their fair daughters, which was outrageous for the day. We 'obviously' used illegal substances, but many of us did not. And, oh yes, we intermingled with blacks! The Horror!
You only released one single: "I've Got Time" / "1 to 3" on Sonobeat Records. How were the songs selected? Did it garner much airplay or chart in any markets?
We wanted to record original songs, and Ed's 'I've Got Time' and my song, '1 to 3' were the most popular with audiences at the time. I think '1 to 3' zoomed to #13 on the Austin charts. Radio, at least, was opening a bit to the whole psychedelic thing because of, mostly, California bands starting to make waves. I think we got pretty good play in Texas cities, at least.
What are some memories from recording it?
Sonobeat Records recorded it at the Vulcan one afternoon. It was 'live' I guess, just no audience! Sonobeat consisted of Bill Josey and his son, Bill Jr., who went by his radio DJ name, Rim Kelley. They set up a couple of mics on tall stands in front of the stage and recorded us either in 2-track or 4. Can't remember. In the 'old days,' at least, no one in Austin's tiny recording industry had figured out how to get recordings to 'pop'. A Stones record, for example, would jump out of the speaker. Anything recorded in Austin, including '1 to 3', didn't have that bright clarity and sounded kind of soft and muffled.
In 1987, 5 Hours Back issued From The Vulcan Gas Co.. What can you tell us about this recording?
By the time the 2nd Conqueroo fizzled, we had a tub of recordings. The best from a short session at San Francisco's Pacific High Studios. Houston White, one of the Vulcan Gas founders, gathered up what he could find and pressed that album. Not very good because we didn't make very many good recordings. I can't think of a recording session where we weren't rushed because of the cost. All of our stuff was done in a few hours. That album consists of odds and ends, just like Shoebox.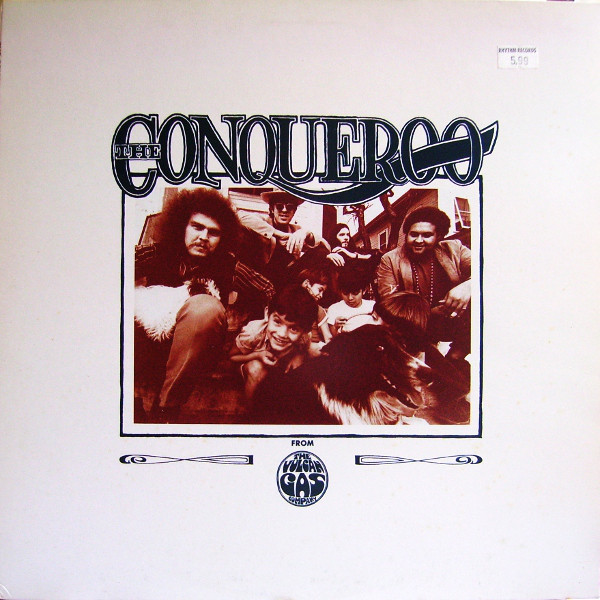 How did the story of The Conqueroo unfold?
We moved to San Francisco for several reasons. As mentioned, the Elevators had been busted, other people close to us as well, and we thought we could be next. We felt we needed to move to a big city to grow as a band, too. You could only get so far in Austin. And, we already had friends on the west coast. We could depend on getting some gigs at the Avalon, at least, because Chet Helms was from Texas and we had mutual friends. Janis Joplin had hit it big there, Steve Miller, originally from Houston too. I wasn't a big fan of Jefferson Airplane, Grateful Dead, Quicksilver, etc. Too hippy-dippy and they couldn't really hold a groove; anyway, by my estimation. By this time Charlie's love of R&B had greatly influenced us and we strived for a tight, punchy sound. I liked Buffalo Springfield, but I think they were an L.A. band.
What we hadn't realized was that the San Francisco scene rapidly disintegrating. Haight Street, that much touted mecca for all things hip, was a urine-soaked, methedrine-poisoned skid row. And it seemed San Francisco audiences had already settled on their favorite local bands. We played with the Grateful Dead in Golden Gate park, with their sound system. Magically, when we started our set, the P.A. went dead, so we had to play our whole slot with no vocals; our big opportunity. Then, the Dead took the stage and the P.A. magically began to work. I'm sure it wasn't intentional, but it was an omen for our whole San Francisco experience. The crowd in the park was huge and it would have been the perfect venue to introduce ourselves. After our abortive set, we hung around and heard the Dead, and I just didn't get it. Of course the crowd swooned at every sour note.
San Francisco, even then, was expensive. I got a day job in a wood shop, repairing and refinishing antiques, Ed moved to Tracy Nelson's house in Berkeley and became a longshoreman, unloading ships. Charlie, I don't believe, worked a day in his life. His girlfriends supported him. The drummer we moved to S.F. with, Gerry Storm, bailed almost immediately on arrival. I think he was extremely anxious and nervous in the new, overwhelming, more challenging environment. But this really set us back. We tried drummer after drummer, sometimes practicing with a guy for months, but didn't find a good one until we met Alvin Sykes, a black R&B drummer. He was not a hippy, in the least. There were a few 'hip' blacks who were part of the scene, Jimi Hendrix types, but Alvin was more Vegas. Suspecting he had come originally from Louisiana, we asked him where he was from. He said 'Europe'. Perfectly groomed natural do, silk suits, etc. But he could sing and play. I think our version of 'Be My Baby' is on the '87 album. The problem was his sound was so R&B that we lost our center. He was such a good player that we got him to sing more songs, and we began to sound more like a 'typical' R&B band who had a strange affinity for white boy psychedelia.
We broke up for the same reasons a lot of bands do. It just started being a job, and it began to seem hopeless. We were nobodies. Bad luck abounded. We shared a practice space with 'It's A Beautiful Day' in an old neighborhood movie theater on Potrero Hill. Someone broke in and stole all the Fender equipment. All of IABD's stuff was Fender, hence, gone. The Conqueroo didn't have any Fender stuff except for my amp. It could take years to save up enough for a good amp. I got mugged on the street by a Black Panther type (black leather jacket, beret, sunglasses, gun). Our girlfriends got raped and everyone had been burgled or robbed. The Black Panther thing was in full swing and spawned a 'get whitey' attitude. Because hippies shared the cheap neighborhoods with blacks, we were frequent victims. And we had believed, of course, that they would be our friends.
Charlie got a job with Cat Mother and the All Night Newsboys, I got a job as a display man in a big import store, Ed continued unloading ships. As usual, it was nigh impossible to gig enough to pay rent and eat. I moved to Marin County and, after a brief stint with the Angel Band, I drifted back to Austin. A bit later, Ed moved back, too. I'm not sure what made us do it, but we wanted to play again and so put together another band. We called it the Conqueroo, hoping to capitalize on the old notoriety. It didn't work. Everything had changed in the time we were on the West Coast. The Vulcan closed, the Armadillo opened. They were hot into the new 'progressive country' thing and wouldn't hire us. There was animosity between Eddie Wilson, the Armadillo founder, and old Vulcan management. A lot of people assumed, mistakenly, that Eddie's Armadillo was simply a new iteration of the Vulcan, which didn't please Eddie one bit.
When Willie Nelson moved to Austin and helped initiate the whole progressive country thing, the Armadillo fully embraced it. Armadillo hippies began wearing cowboy hats and pretending to be 'western'. Willie, of course was always a huge talent, but the imitation bands that proliferated because of the Armadillo/Lone Star Beer promotional juggernaut, were not my thing. I love old-style country music, but this new squishy, ersatz country practically made me ill. Then, there was Disco! Clubs that used to host bands put in lighted dance floors and converted to disco. No bands to pay, just turn on a tape recorder. Conqueroo II had a couple of regular bar gigs and occasionally played Houston and San Antonio clubs, but we could never establish momentum. Austin's live-music critic was 100% progressive country and didn't bother to acknowledge anything but that. We became a sort of niche band, I guess, because the fake country stuff proliferated. Drummers were again a problem, and our backup singers never sounded as good as they should have. I wrote some of my best songs, but the band just didn't click, and I eventually left. All the practicing and moving equipment for $15 a night sucked when there wasn't the fan base that had sustained us earlier.
I opened a little antiques shop in Austin and enjoyed hunting for and selling antiques for a couple of years. As I was about to get bored with that, Ed Guinn, a truck driver now, asked me if I'd like to start yet another band, this time with some financial backing. A friend of his, Jack Canson, was a very bright, creative dynamo who got some Houston oil men to finance his growing enterprise. He contracted with the State of Texas to write their traffic safety educational programs for public schools and make radio spots touting the new 'Drive 55' laws initiated in the Jimmy Carter administration. So, Ed and I wrote and produced the musical public service announcements. I sang a vintage rock version, Freddie Fender did one for the Hispanic audience, Willie Nelson did one, Alvin Crow did a country version, and so on.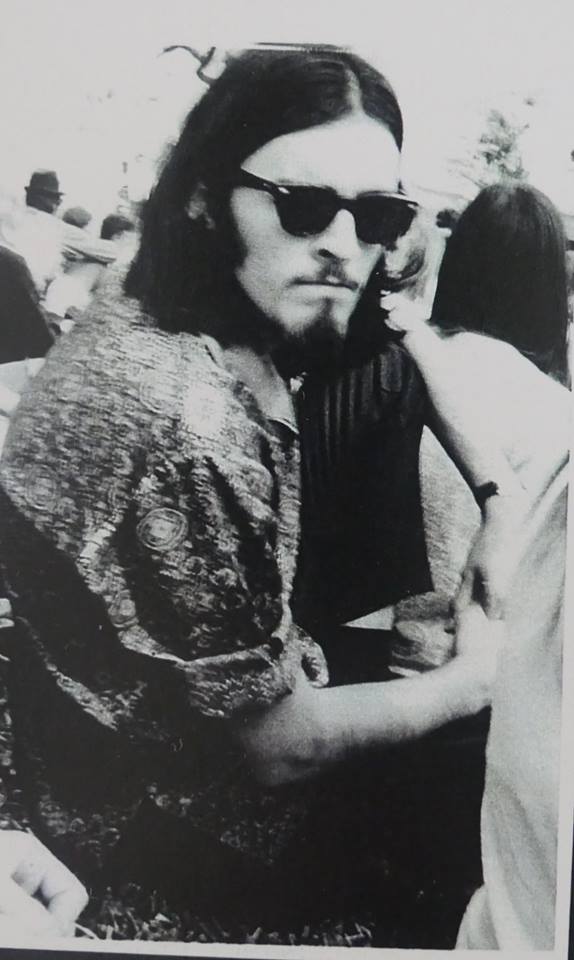 Jack had a script idea about earthlings communicating with aliens through musical notes and wanted to make a movie. He needed a band to be at the center of the story (they're playing an outdoor gig when the spaceship hears them and starts 'talking back' with sounds of its own). It was sort of the 'Close Encounters of the Third Kind' idea a year or so before that movie came out. So, Ed and I put a band together and called it Texoid, because it sounded spacey. Since we were guaranteed monthly paychecks(!), we set about hiring some great Austin musicians to play with. We lured the Conqueroo II's bass player, Michael Rhodes, back from Tennessee, hired a keyboardist, Neil Pederson, from Steam Heat, a funk band, and got George Raines, recently with Boz Scaggs and Doug Sahm, for our drummer. Finally, a great drummer. We had trouble finding a lead player until Mike Rhodes enticed another guy from Tennessee to move down, Danny Rhodes (no relation to Michael). We had an actual management office, a place to practice, some new equipment, a road manager, equipment man, everything. Unfortunately, Danny set about stealing the band from under us. He was able to convince the other guys that Ed and I just weren't up to it. Danny was an excellent player, a good singer, etc., but everything he wrote was very Steely Dan; complicated, jazzy stuff, that I spent hours on just learning to play. He was miles ahead of me, musically, and it was all I could do to keep up. As sophisticated as they were, though, I thought his songs were kind of derivative and forgettable. Anyway, Ed and I got canned and Danny became the leader. He hired one of his old friends for rhythm guitar (to replace me) and Texoid continued. For about two months. When our Houston backers found out Ed and I were no longer with the band, they stopped paying salaries and Texoid collapsed.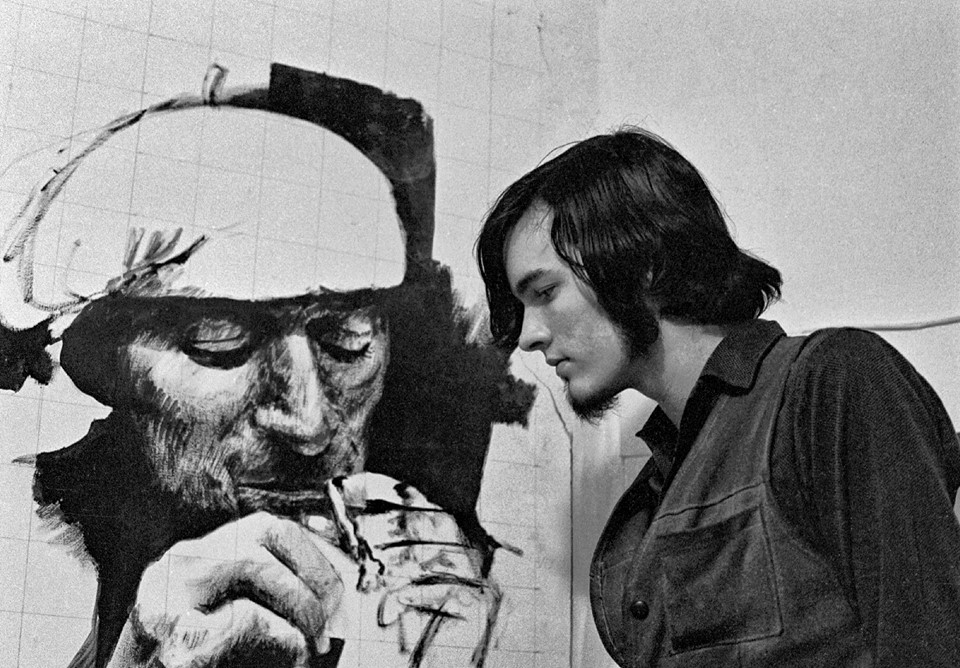 Shagrat Records recently released The Shoe Box Tapes.
When I first returned to Austin from San Francisco, I gigged as a solo act in little clubs and bars around town. Later I met a great guitarist, John X. Reed, and a bass player, Bill Dorman, and we played regular gigs at a dump called the One Knight in downtown Austin and at an old boat-dock bar on the lake, the Lake Austin Inn. 'Moon Pie' as we called ourselves, enjoyed a lot of small-time success. In this brief era, I probably had a hundred girlfriends, if you catch my drift. People loved us and regularly filled our venues. We sang two and three part harmony, but never had a drummer. Eventually, we started working with a drummer, but by this time I grew bored and broke up the band. I realize now that I was habitually self-defeating, in that once I had attained something, I lost interest. My past is a basket of unrelated, unfinished pursuits. I loved music, but I was easily distracted.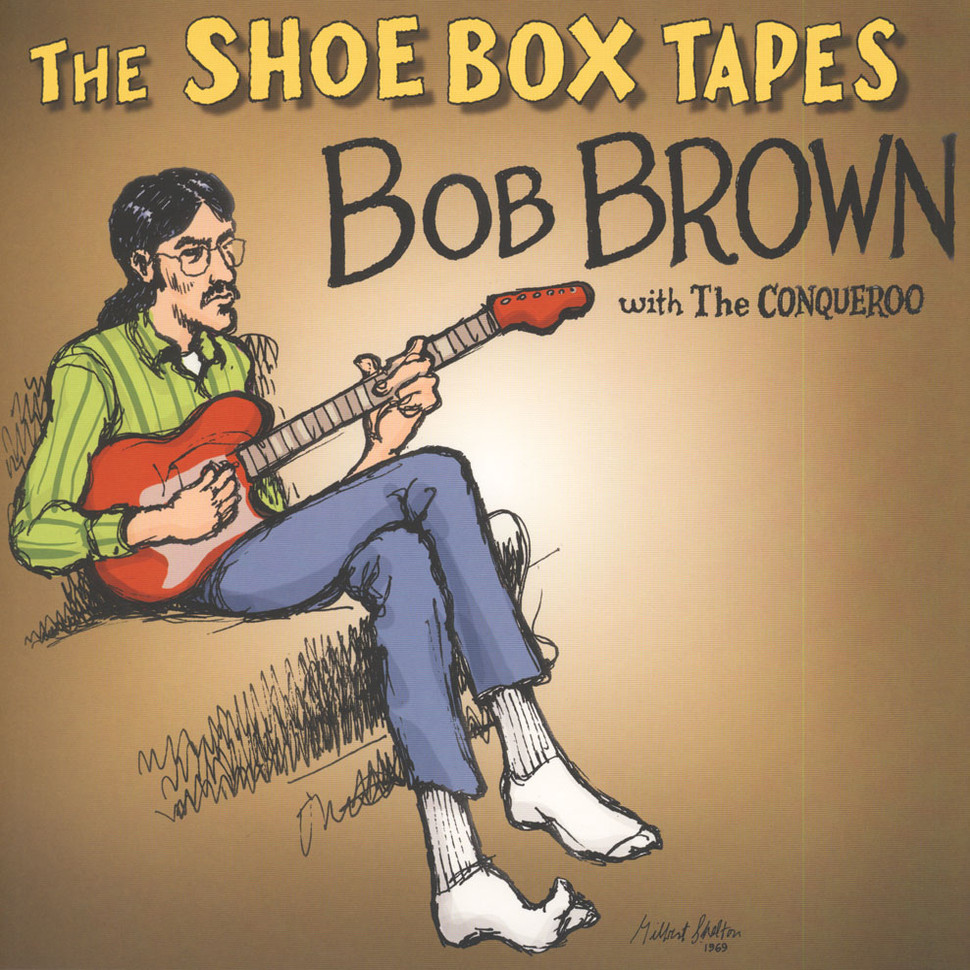 The Shoe Box Tapes were a labor of love by an old friend and Conqueroo producer, Bob Simmons. He had managed to save all these demos and scratch tapes, etc., so he and Nigel Cross, the saint who owns Shagrat Records, decided to press them. Some are from Moon Pie, some from Conqueroo, others from Conqueroo II.
Sycamore Street: Conqueroo II, 1973
Take Me To The Country: 1971
I See Red: Moon Pie, 1971
Fifteen Girls: Moon Pie, 1970
Was That A Kiss: Conqueroo, 1969
Pioneer's Wedding: Moon Pie, 1970
On A Summer's Evening: Moon Pie, 1971
Don't Ask Me: Conqueroo: 1967
Our Great King: Conqueroo, 1966
Martha (Ed Guinn) Conqueroo II, 1973
*Dates above are approximately when I wrote the song, and the band listed is what band I was in when I wrote it, not necessarily the band on the recording.
– Klemen Breznikar
---