Powell St. John Interview
Powell St. John is unquestionably one of the true founders and innovators of the Acid Rock Sound. Powell St. John is a well-known figure on the mid-1960s Austin, Texas campus folk/bohemian music scene. He was an occasional member of various Austin rock groups, including The Conqueroo, and he wrote some songs for The 13th Floor Elevators, including "You Don't Know (How Young You Are)," which was on their 1966 debut, The Psychedelic Sounds of the 13th Floor Elevators.
---
Klemen,
Thank you for the opportunity to talk about the Conqueroo and the events that occurred in Austin back in those halcyon days of yore. I tend to ramble on a bit however, so I will be sending my responses in installments. This will be the first.
You asked about my childhood and first musical influences. I remember little about Houston, where I was born although they tell me I was singing Merle Travis' hit "Pistol Packin' Mama" while I was still learning to talk.
In 1943 the family moved to a farm on the Tex-Mex boarder ten miles down the Rio Grande River south of Laredo. For the next seven years I was a farm boy, roaming in the desert and exploring along the river. It was great. If my dad had never done anything else for me, (and he did a lot), putting me on that farm gave me a beautiful start in life.
Music was always in the air. This was the 1940's, Margaret Whiting and Jo Stafford were on the radio, (to me they were "the pretty ladies who sang"). I still love that music and anytime I hear it again it kicks me right back to the Second World War. Of course, this was rural Texas in the 40's so country music was on the radio constantly. Bob Wills and the Texas Playboys were a familiar presence. Mind you I was a kid, but Bob Wills' music really struck a cord with me. There were others too of course. T. Texas Tyler, Ernest Tubb, Kitty Wells, etc.
In 1950 my dad quit farming and returned to his first love, teaching. He secured a position teaching English and Algebra at Martin High School in Laredo, so we moved to town. I was ten years old at the time and this was the dawn of maybe the craziest decade of the 20Th century- THE 1950'S and I was destined to be a teenager right in the middle of it. For Christmas that year I asked for and received my first record. It was a 78RPM disk of Hank Williams doing "Jambalaya".
By 1953 I had become used to living in town. I was growing up and the idea of me playing music myself had occurred to me. About this time the assistant band director from the high school visited our grade school packing various musical instruments and inviting us kids to choose instruments and come to the high school to learn to play them. You see, Martin High School was not always a powerhouse in sports but they had a first rate band and this was the band directors' scheme to keep it that way. They would recruit talent directly from the grade schools and get those kids started early. I chose the flute.
My time with the band was not long however. After about a year I was forced to give up the flute. I suffered from horrendous ear infections and the doctors felt that blowing on the flute was blasting the infections up from my throat and into my ears. I had unusually large eustachian tubes they said. So I dropped out of the kid band. I had caught the music bug though and I didn't want to, indeed could not, quit music.
Then one Saturday I took the bus downtown to the picture show. It was on Saturday when the Plaza Theater ran serialized adventures. I had to see what happened to Rocket Man every week because every week he would be involved in some situation that should have killed him. Somehow he always managed to pull through.
After the movie I always liked to tour the dime stores, Woolworth's, Kress's, Neisner's etc., to spend the rest of my allowance and on this particular Saturday a small harmonica at Woolworth's caught my eye. I purchased it and on the way home I sat in the back of the bus and tried to play this new found instrument. Lo and behold, I was able to make music come out of it. I played a Stephen Foster song, "Uncle Ned", all the way home. That was my introduction to the harmonica. I have been playing one kind of harmonica or another ever since.
So now I had an instrument to play but I had no one to play along with me. Also, I soon realized that the small harmonica didn't have all the notes. I hit my parents up for chromatic harmonica which did have all the notes. Chromatic harmonicas are still my primary axes today. but still no ensemble and nowhere to take this music. I was also a jazz fan by this time so I set to work learning to play harmonica like Colman Hawkins or Sidney Bechet played the sax. As for listening to music that featured harmonica, there was little to be heard. There were The Harmonicats of course and John Sebastian Sr., but those seemed like dead ends to me. Where would I find two other harmonica players so I could play like a Harmonicat, or a full symphony orchestra so I could play like Mr. Sebastian? I resigned myself to strolling around my back yard playing "Ruby" etc. all by myself.
Powell St. John Goes To College
In 1959 I graduated high school in Laredo and that summer I enrolled in the Great University of Texas at Austin. College was great. I was on my own and managing my own affairs. I was homesick and lonesome and working hard as hell but I liked school, (for the first time in my life), and I liked Austin.
After a year or so I got tired of living in a dormitory and began thinking of getting an apartment off campus. The rules were that underclassmen were required to live in campus housing for their first year, but after that a student could live off campus with parental approval. my parents agreed and I moved into a boarding house near campus. My roommate at that location, a scholarly young man named Ramsey B. Wiggins, happened to be the older brother of Lanny Wiggins, a person that I would come to know well.
Ramsey was a Unitarian, and knowing that I had no social life and few friends, he invited me to come along to parties with his Unitarian Youth Group friends. These were the hip kids in town. Mostly they came from the families of liberal Democrats, veterans of the labor movement and champions of peace, social justice and equality. These people showed me a lot about life, and the way things work in the real world. My perspective changed. Whereas a year before I had been a spit and polish ROTC cadet passing in review every Thursday, I was now marching in a protest line trying to bring racial integration to the movie houses just across the street from the UT campus. There were indeed many revelations for me, but the one that changed the course of my life was provided to me by Ramsey's younger brother Lanny when he found out that I played harmonica.
It was 1962. These were the days of the so called "folk revival" and everyone was picking up a guitar or banjo. Folk music was hip and edgy, it had an undercurrent of rebellion about it and Lanny Wiggins was way ahead of the curve. He was still in his teens but already an accomplished guitarist, banjo player and vocalist. He knew the lyrics to a lot of songs. One day he invited me to play along and I explained that I didn't know any folk music. He scoffed at that and inquired as to whether I knew The Ballad of Jessie James, and I said sure. Everyone knows that song. Hell, there is even a folk tale in my family that we are somehow related to the James boys. Lanny launched into the song, I played along and that was the genesis of The Waller Creek Boys.
The Waller Creek Boys played wherever we could, mostly at the backyard parties, that happened on weekends, at picnics, and Wednesday afternoon drunks, well just anywhere we wouldn't be mistreated or buried in a land fill. One of our favorite hangouts was the backyard of the now famous Ghetto apartment complex where a number of my counterculture friends lived. Another was the University Folk Sing held in the UT Student Union every week. A lot of people passed through that scene and anyone could play, sing, whatever it was a person did, if it was "folk", (broad definition), they could do it there.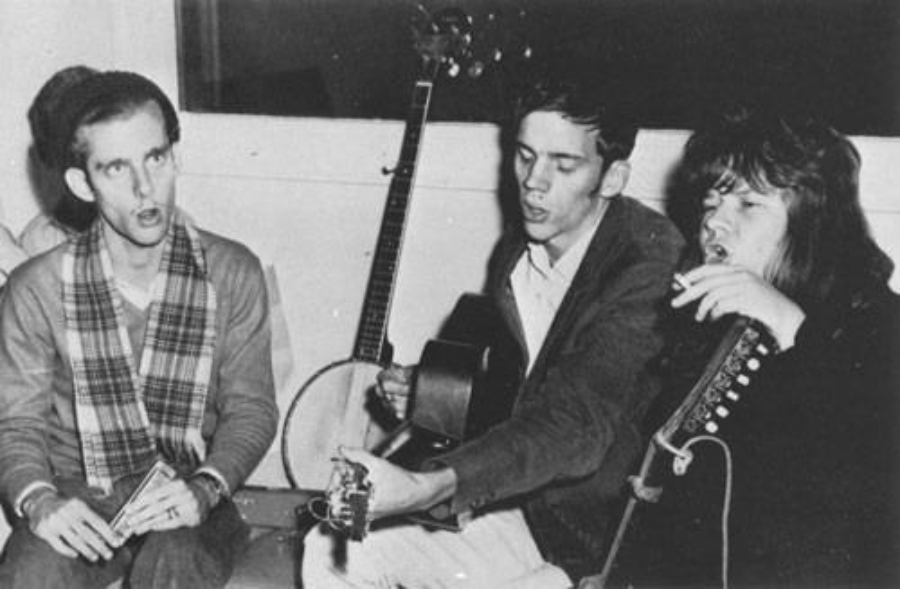 The Waller Creek Boys played whenever we could. We were just a couple of guys at first, OK, but nothing special. Then Janis hit town.
Now Janis, being somewhat of a counterculture type herself, naturally made her way to the Ghetto, and there, in the backyard, Janis and the Waller Creek Boys met. She sat in on a song and, needless to say, she became one of the boys immediately.
Coincidentally as luck would have it at this same time in history more or less, home tape recorders hit the consumer market. This was quite a breakthrough. Before this home recording was not common at least among the people I knew. Ghetto resident Jack Jackson got a recorder and I soon got one too. I still have two reel to reel tapes made back then. One tape of Janis and various instrumentalists recorded in my living room, and one tape of The Waller Creek Boys with Janis at Threadgill's Bar. I listen to them from time to time, they are a treasure and people should hear them.
After Janis joined us, our playing opportunities broadened. We won the Zilker Park talent contest, we got listened to at parties and invited back, but most importantly we summoned the courage to go to a country bar way out on the edge of town and there we met bar owner and Central Texas songster Ken Threadgill. We found a home at Threadgill's. We found acceptance there that we hadn't found from "corporatized, commercial folk. We were too scruffy for that. I learned much from Lanny, Janis, Mr. Threadgill and the people and pickers I met at his bar. This was my real college education and it gave me a foundation in music that was solid from the roots up.
After Janis returned to the west coast at or near the end of the year the steam sort of went out of the Waller Creek boys, Lanny married and became a much more serious guy. We carried on for a bit but drifted off in different directions.
Around this time Threadgill invited me to join his simi-acoustic country band he wanted to take around to bars his friends owned and pass the hat. Lone Star Beer sponsored us. They gave us shirts, nice western jobs with the Lone Star logo on the back and across the shoulders the name of the band. THE HOOTENANNY HOOTS. We always got free beer at least. Threadgill always gave me $5.00 no matter what the take.
Powell St. John Singer/Songwriter
Sometime in the mid 1960's, (my memory starts to get hazy here), I was working with Threadgill on weekends and meeting some of the younger talent that Austin had to offer when I began to consider the idea of playing the electric music commonly called Rock N Roll. After all, Bob Dylan had gone electric, the Beatles and the Stones had invaded America playing electric instruments, it seemed to be a trend. Besides, I came to realize that most of the old blues guys whom I idolized as folk musicians broke out the beat up old acoustic guitar only when the folknicks came around and if they had their druthers would be playing electric guitar instead as they did when they played for people in their own communities. Mance Lipscomb, whom I considered my "unofficial grandfather" told me exactly that. He played electric guitar when he played for gigs around home in Navasota but brought along an acoustic if he was to play for an audience of folk music fans. Mance
Lipscomb and John Lee Hooker turned my conception of folk music on its head.
By this time I was trying my hand at song writing and the power of electric music appealed to me. My thinking was that the sheer volume I could achieve electrically would compel people to listen to my message whether they wanted to hear it or not. I liked that.
So, I had ample reason for wanting to play amplified music, but the main reason was that in 1965 my friend Tommy Hall came up with a novel idea. He wanted to put together a first class rock n roll band, but no ordinary band, this would be a band with a message. The message would be: "Expand your mind through the use of LSD". It sounded crazy to me given Austin's buttoned down conservative atmosphere at the time, crazy but intriguing. The band was to be named "The Thirteenth Floor Elevators".
At first our community of non conformists and social deviates was skeptical about the whole idea and Tommy's ability to pull it off. At length Tommy and his wife Clementine took me to a club called the Jade Room to hear a group of high schoolers that had a band named The Spades. Tommy had plans to woo away the eighteen year old lead vocalist, from The Spades and put him with some guys he knew from down on the gulf coast. That eighteen year old was Roky Erickson, a super talented, dynamic and highly energetic performer. I must say I was impressed.
Tommy succeeded in enlisting Roky in the enterprise and The Elevators went into closed rehearsals. By the time of the band's debut, (at the same Jade Room), rumors had been running rampant in the community for weeks. Everyone turned out just to see what if anything Tommy had accomplished.
I think I'm safe in saying that everyone was blown away by the performance. The band members were all accomplished musicians and well rehearsed, John Ike Walton on drums, Bennie Thurman on bass, Stacy Sutherland on guitar, Tommy Hall on electric jug and Roky up front delivering the vocal electricity. To everyone's delight and amazement the group was dynamite.
Since the object of forming the band was to proselytize for the use of psychedelics, they found it necessary to create original material that would contribute to the message. Tommy knew that I was a song writer and that I had recently been having experiences that were leading me to write songs of a psychedelic nature. He asked me to contribute material for the band. Ultimately The Elevators worked up six of my songs. I thought the results were spectacular.
In late 1965 or early 1966 my friend and music major Ed Guinn and I decided to try to put together an electronic band of our own. The success of The Elevators was our inspiration and the numerous bands that had formed around Austin in response to the surge in the popularity of rock music, The Wigs, The Baby Cakes, etc., these guys were our competition. These bands were getting work playing for the frat parties and student gatherings that were a frequent occurrence around the university. We thought we could get in on that action.
A thick brain fog obscures the exact details of the formation of The
band. I seem to remember that in addition to Ed and myself we enlisted the aid of other musicians and writers we knew. I am not certain how we came up with the name except to say it was a play on words based on the myth of High John the Conqueroo. This legend concerned a folk hero in southern black culture, High John, who had all the success with the women. The story was that if a man wanted to have the same success as John he would need to carry on his person the root of the herb St. John's Wort, known as "the conqueroo root". The magic power of the root would make him irresistible to women. So, the band became "St. John and the Conqueroo".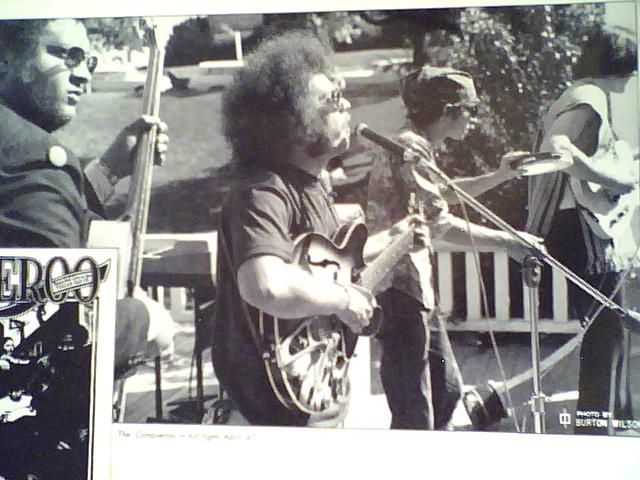 My memory is very hazy with respect to the personnel that made up the initial iteration of the Conqueroo. Ed Guinn played the bass, Tom Bright was on drums, Charlie Prichard on guitar, there were others involved, Bob Brown and Henry Stopher, (Wali of Austin) on guitars as well. At this point I simply can't remember if they were with us at the onset. For my part I sang and played the harmonica and amplified kazoo.
Funny, the one thing I remember most about the Conqueroo has little to do with the band or the music, it had to do with my paranoia and events in Austin at the time.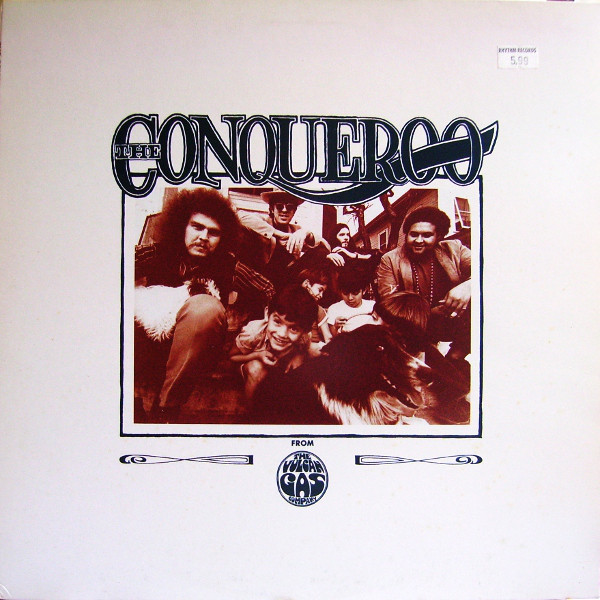 Powell St. John Goes West
By mid 1966 things were heating up in Austin and not just because of the weather. Drugs had come to town and the establishment was up in arms. The Austin PD, the University police and the FBI were working together to fight the menace. As they saw it if they could bust a few of the "ring leaders" and make an example of them then the rank and file would simply fold and the issue would be settled. High on the list of suspected druggies were university students, especially the scruffy nonconforming types. I think the authorities were most afraid that some Dallas oil man's daughter would get involved in a drug related incident and cause great embarrassment to the university and Austin as a whole, not to mention the loss of endowment money that would surely follow.
Needless to say I was high on the suspect list, this was in spite of the fact that I had never been in any trouble, and never arrested or even questioned. I was being followed by an anonymous car wherever I went. The atmosphere was stifling with a new mass bust rumor circulating every week. All of this has been verified in recent years. Documents and surveillance films have come to light which prove that the authorities went to these lengths with their crime fighting activities. I felt especially vulnerable having been associated with The Thirteenth Floor Elevators. They had been busted earlier in the year but slipped out of the net due to a technicality and so couldn't be made into the example that the constabulary wanted. I began to seriously consider getting out of town.
One afternoon in August The Conqueroo had been rehearsing at a place out on Lake Travis west of town. I had to leave rehearsal early to go into town to get tickets to see James Brown who was appearing that night at the Austin Municipal Auditorium. The ticket outlet was clear across town on the east side in the black community. We had gotten a report that there was something going on on the UT campus. Some lunatic was on top of the university tower picking off students with a rifle, some as far as a quarter of a mile away. The guy was an expert marksman. On my way across town my curiosity took me down 19Th street,(now named Martin Luther King), and though I didn't know it at the time as I passed by campus I was well within the shooter's range. He shot a person off a bicycle who was riding down that same street.
When I got to the ticket outlet over in East Austin I found the black folks at the place listening as the radio gave a play by play description of the events on the UT campus. There was an atmosphere of dread in the room. I think those folks were worried that the shooter would turn out to be black, and if that was the case what grief that would bring to their community. I know that in my scruffy community our fear was that the shooter would turn out to have long hair or a beard or some such. If so what sort of repercussions would that bring? As it turned out we all got to breathe a sigh of relief because the gunman turned out to be a former Eagle Scout and marine veteran. Oh the irony!
I had been thinking of leaving Austin before but this event proved to be the catalyst that finally lit a fire under my butt. I put my affairs in order and ran for the boarder. I was in Mexico for about three months before I was able to arrange a ride to San Francisco.
San Francisco, The Summer Of Love, And My Career As A Rocker
After three months in Mexico I managed to arrange transportation to San Francisco with a carload of American college students from the American University in Mexico City. It took us two days and nights to make the trip and although it was not in the bargain the driver took me all the way to SF and deposited me at the doorstep of the house full of Texans where I was to be staying.
So I had made it to San Francisco, practically broke and with no prospects. For the next few months I knocked around, getting to know the place. I was fascinated, it was the Big City.
At length it became obvious that I would need some way to earn money, picking up cans and bottles just didn't bring in enough cash. At that point an old friend of mine from Austin, Travis Rivers, stepped in. At the time Travis was the editor in chief of The San Francisco Oracle. The Oracle was an alternative newspaper by and for the Haight/Ashbury community. As editor Travis had his finger on the pulse of the community, he knew what was going on, who was in town and so forth. He introduced me to a guy named Ira Kamen.
Ira had made it all the way from Chicago with his Hammond B-3 organ and two Leslie speakers, and he was looking to be in a band in San Francisco. Ira was friends with the Chicago blues cats, the guys who eventually formed The Electric Flag, Mike Bloomfield, Nick Gravenites, and others.
So, after Travis got the ball rolling Ira and I began seeking out other musicians. Ira said he knew of a dynamite chick singer who was staying in Berkeley just across the bay from SF. Her name was Tracy Nelson. She came from Madison, Wisconsin where she was known as a blues singer, and she too had come west intent on getting into music in San Francisco. We paid her a visit.
At our meeting the three of us decided that we would like to work together. We had an organist, a harmonica player and a female vocalist, not much of a start for a band. We needed more help. At this point Travis Rivers stepped in again. To this day I don't know how he did it but he managed to convince the rhythm section from The Sir Douglas Quintet to leave Doug and sign on with us. They were sitting on their hands in Prunedale and getting bored so maybe that's why they baled on Doug. Anyway that gave us three more individuals, George Rains on drums, Jance Garfat on bass and Wayne Talbot on piano. We added Herbie Thomas, (the baby of the group), on guitar and went into rehearsal.
We decided to call the band "Mother Earth" after the song by Memphis
Slim, and we made Travis Rivers our manager. After that we played lots of benefits, made numerous appearances in the park etc, building our fan base.
Our big break came while we were playing a gig at The Matrix, a small club in the Marina district of San Francisco. Word came to us that the Steve Miller Band, which was supposed to be opening for Donovan at Winterland Auditorium that night, had a problem and wouldn't be able to play the gig. They asked us if we could play the engagement instead of them. We instantly began packing up our equipment and explaining to the crowd the opportunity we had been presented. We apologized profusely to the patrons and the (highly agitated) club owner and split for Winterland.
I never have felt good about having to leave like that but it was a necessity. It ushered us into the big time, albeit through the back door.
We continued to build our fan base and eventually we caught the attention of Mercury Records. Travis got together with music lawyer Brian Rohan, and he and Travis went into negotiations with representatives from Mercury. We were tough, these negotiations went on for almost a year. When we finally got the deal we wanted Variety Magazine announced the event with the headline, "Mother Earth sighs, signs and sings".
After some personnel changes, Ira resigned and we replaced the guitarist and the bass player with two guys whom I had known in Austin, guitarist John (Toad Man) Andrews and bassist Bob Arthur, we immediately went into the studio to cut Livin' With the Animals, our first recording as a band. We were very lucky with personnel. We were able to get the services of The South Side Horns from San Antonio, we had great background vocals thanks to The Earthettes and a lot of help from really good musicians, saxophonist/flautist Martin Fierro and trumpet player Louis Gasca for instance, and especially Pianist Mark Naftalin. It was a labor of love.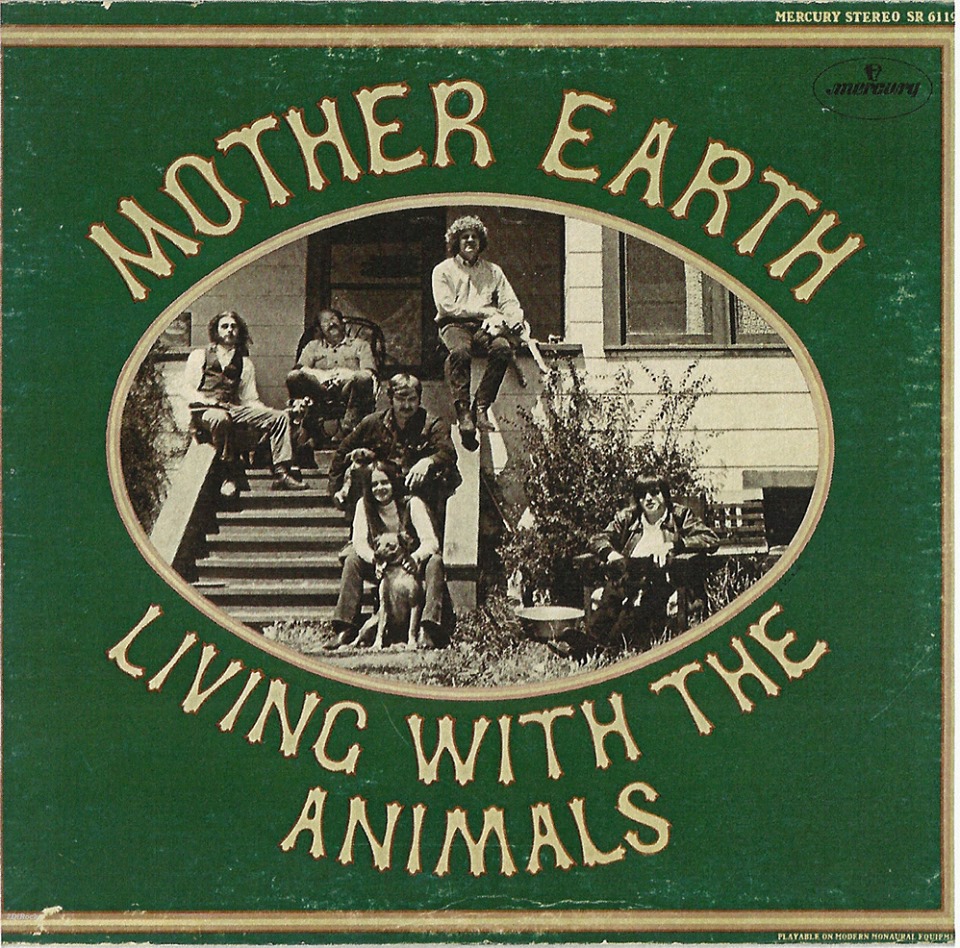 As soon as the album was in the record stores we took off on a promotional tour of the northeastern US. The tour was grueling and long. I was sitting in a motel room in Dearborn Michigan on a cold and dismal day in January when I began to think about bailing on the music scene.
I resolved to myself that if I survived the tour I was going back to California. The tour ended in Nashville where we began cutting our second album, Make A Joyful Noise.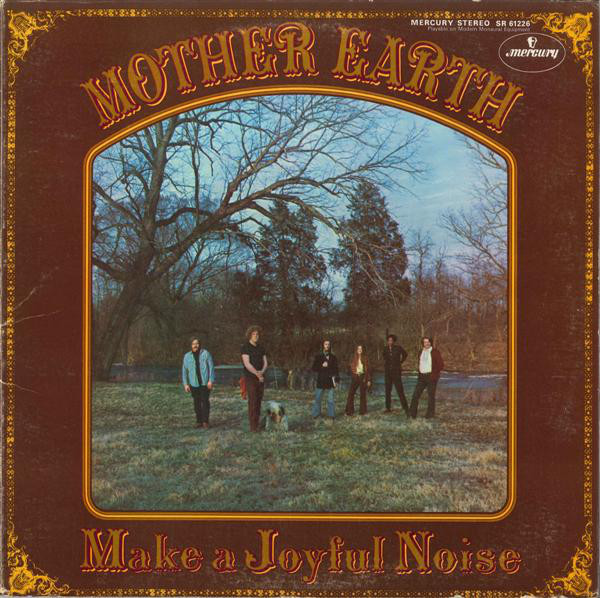 What Followed
So I went home to San Francisco, well Berkeley actually, with no career and no prospects. Times were hard, I lived on unemployment benefits while I looked for a job in music. I told the unemployment people that I was seeking employment as a band leader. There never were any jobs for unemployed band leaders. Shortly before I exhausted my benefits unemployment posted a job offer for work at a small jewelry company in Oakland. I applied for it and was hired. For the next fourteen years I made my living as a costume jewelry fabricator.
After I took the jewelry job my activity in music was distinctly limited. I continued to play and write songs but with no real prospects to actually work in the field. My good fiend the late Jerry Lightfoot helped me keep one foot in the door by coming by my place from time to time to play and inviting me to rehearsals of his band.
The most significant thing that happened during that time was the court case my publishing partner and I mounted against Mainstream Records and Brent Music to get back the rights to the song Bye Bye Baby. Janis signed away those rights when Big Brother recorded their first record. It took five years of court dates to get them back, but we finally prevailed.
The jewelry gig finally played out around 1990 when My job was exported to Asia and I was back on unemployment. The unemployment people couldn't help me find a job making jewelry any more than they could help me find band leader job. Ultimately they suggested that I take a test that would get me into electronics school. They extended my benefits for a year while I was being retrained.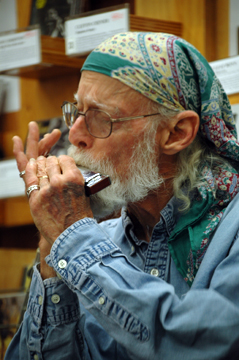 So I became a computer tech and got a job working for a firm that handled contracts for the federal government. As a field tech I went all over northern California and as far east as Reno Nevada, wherever a government computer was having trouble. I liked being out on the road and the job was interesting but mostly it was a lot of anxiety and hard work. I worked with computers for the next fourteen years or so, retiring in 2005. In that year I was brought back to music.
That same year I received an invitation from the South By Southwest Music Conference to attend their event and be part of a panel discussion with the topic being The Thirteenth Floor Elevators. As an example of how out of touch I was with the music scene by this time, I did not even know there was such a thing as the South By Southwest Music Conference, and that it was being held in Austin of all places, and that they would be hosting a panel discussion of The Elevators was both puzzling and intriguing. I attended.
Austin was a revelation. The town I had fled almost forty years before had transformed dramatically. Instead of viewing musicians with suspicion and disdain, musicians and their music were now embraced. The town's bad boys were now heroes and the subject of a panel discussion. Austin was calling itself "The Live Music Capitol of the World" What th' f@#k!?
The timing was perfect. Being retired I was looking for something to do and music seemed to be a possibility. After all, I could still play. At this point an Austin friend, Fred Mitchim, contacted me with a proposal. He had a friend in Houston who had come into money and wanted to bankroll a recording of Powell St. John doing all his old songs and playing harmonica. It isn't every day that someone offers to pick up the tab for something like that. I jumped at the chance.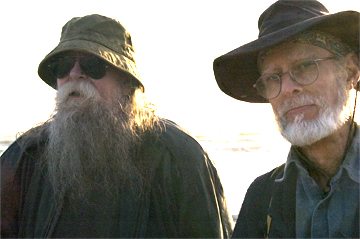 Mitchim (the producer), and Gershin, (the backer), pulled out all the stops on this one. They obtained the services of some of the best musicians in Austin and we started to work. The project fell together quickly. Due to the caliber of the musicians, the basic tracks were laid down in one week. I, having not recorded or done much singing an the previous thirty years, had to work hard to keep up with these guys. In fact I had to return to Austin later to do the final vocals. To say the CD exceeded my expectations would be an under statement. I was delighted with the results.
After returning to Berkeley I began to try to put together a band, again. This time though I had a lot of support behind me. My wife Toby began handling the day to day business, working tirelessly on my behalf. A break came when a friend of mine, Craig Luckin suggested that I contact some guys he knew from when he managed Roky Erickson in the 1970's. These guys were Roky's band during those years. They called themselves "The Aliens", electric autoharpist Billy Bill Miller and guitarist Duane Aslaksen. We hit it off and after finding a bassist and drummer we began trying to book ourselves into various venues. We worked together as an electric band for about three years after that. It was this band that cut the second CD, "On My Way To Houston" at Wally Sound Studios in Oakland for the Tompkins Square label. Ultimately however an illness forced me to give up driving and since most of the members of the band lived and rehearsed some fifty miles north of Berkeley, the logistics of getting back an forth became daunting. I decided to change my game. Today I work with two members of the Aliens, Bob Fagan who played bass in the rock ensemble, now playing guitar, and Duane Aslaksen also on guitar. We play acoustically as a trio, two guitars and me playing harmonica and singing. Mostly we do my material with a few covers and folk material scattered through our performances. This is full circle for me. I am back to playing the roots music I learned at Threadgills so long ago.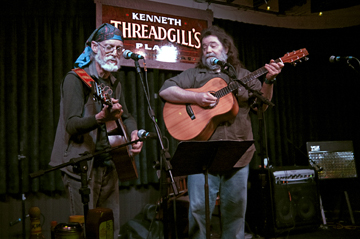 As for the future of this, who knows? Today we are simply staying close to home, playing every chance we get, trying to build our fan base and improve our skills. Cash is distinctly limited so that has an effect on what we can do. At present there are no plans for recording again, but I have added a new wrinkle to the show. It is a little known fact but I have dabbled in graphic art for years and have recently started attempting to sell my productions. To this end we now try to find venues where it is possible to hang examples of my visual art as a backdrop for the music show. The jury is still out on this approach, but it seems to be working.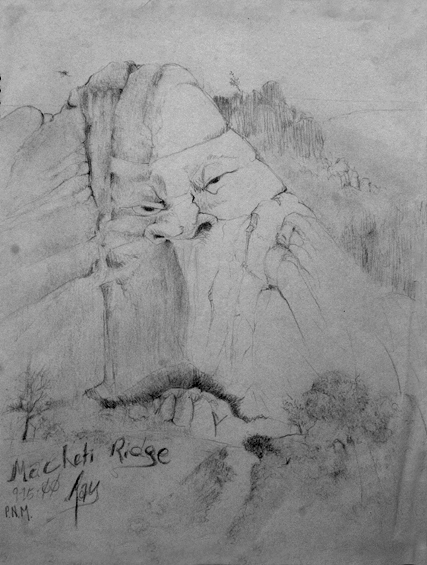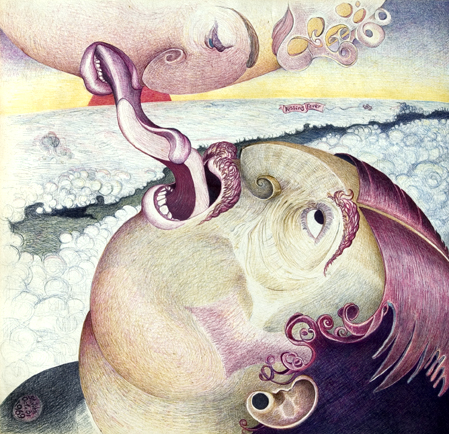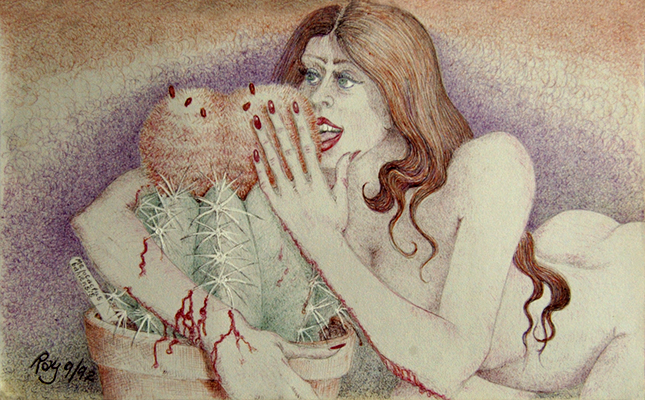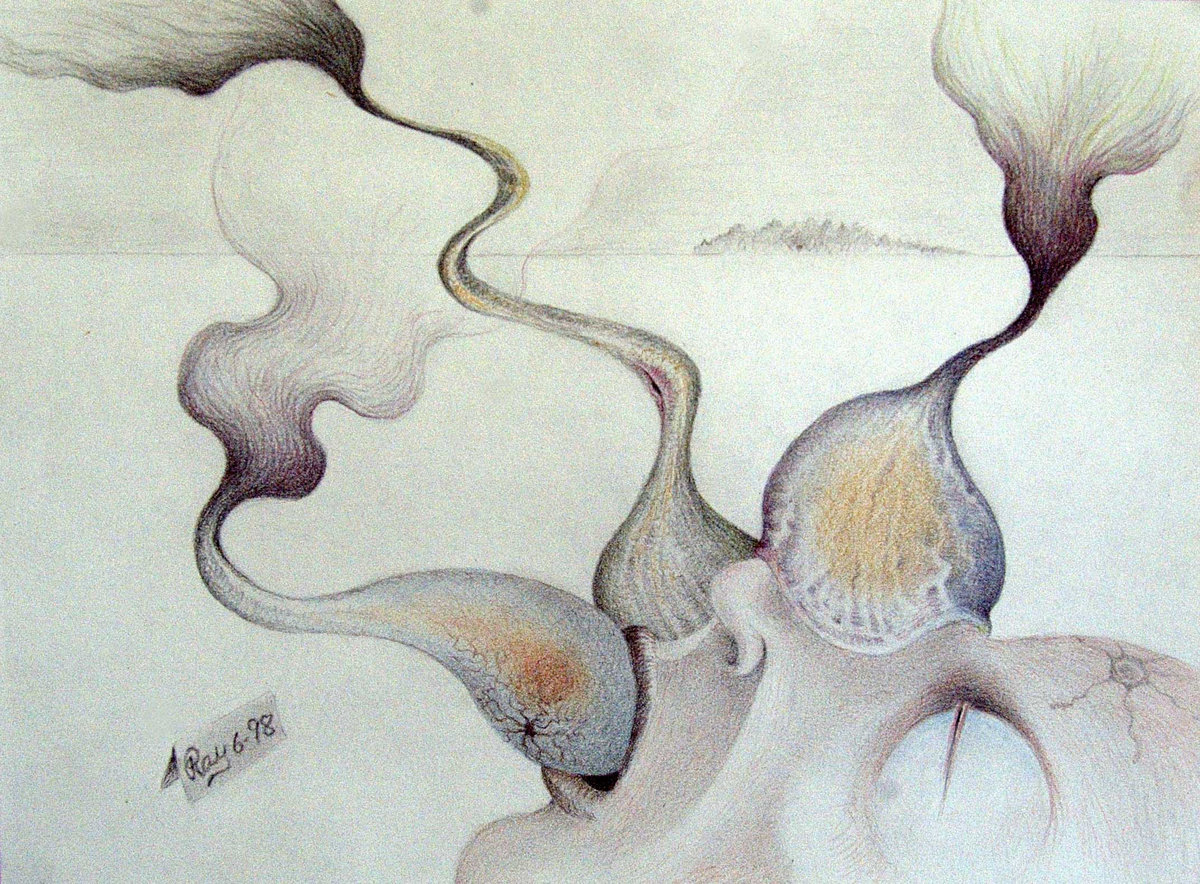 You asked me how I feel about young people listening to my music. I think it is remarkable and a great tribute to me. It makes me feel that perhaps my efforts have not proven in vain after all. The thought that people who were not even born when so much of what I do was first created know about The Elevators, Mother Earth etc., what a feast for my ego.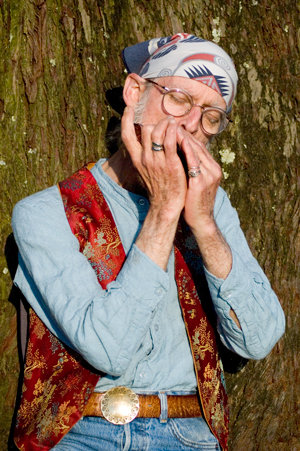 Well this is the end of my story. Thank you for giving me the opportunity to tell it.
Powell St. John
– Klemen Breznikar
---
Powell St. John Official Website
Mike Jensen shares his memories of Roky Erickson of the 13th Floor Elevators