Interview with Freddie Steady Krc of The Explosives
Recently noted drummer/vocalist/songwriter/guitarist/producer/record label owner Freddie Steady Krc, especially known for his work with The Explosives, who cut a fine album of their own and two with psychedelic rock legend Roky Erickson, took some time to answer some questions for It's Psychedelic Baby Magazine readers.
---
Where were you born and was what was the role of music in the Krc household?
I was born in Houston, TX. No professional musicians in the Krc household. However, my father's mother, Annie Krenek, played music along with her brothers and their father. The Krenek family came to Texas from Czechoslovakia, entering the country at Galveston Island, in 1863. They formed their band that year and are still together playing music today. They are arguably the oldest family band in the USA!
What was the music scene like where you grew up and how big an influence did it have on you?
I grew up in a little town called La Porte, TX. It was between Houston and Galveston on the Gulf of Mexico. It was a wonderful place to grow up as the music scene was very diverse. Along with great top 40 radio, which included Beatles, Stones, Buck Owens, Roger Miller, Supremes, Otis Redding, etc., we had great regional and local stuff. Local and regional acts included Roy Head, Barbara Lynn, Archie Bell, Fever Tree, 13th Floor Elevators, Johnny Winter, Clifton Chenier, Joe Tex, Sir Douglas Quintet, Boogie Kings, just to name a few. There were many clubs, record labels and recording studios including the world famous SugarHill Studios, the oldest studio in the USA in continual operation.
When did you begin playing music? What was your first instrument and how did you acquire it?
I began playing music at nine years old. My first instrument was drums. My parents bought me a new set of red sparkle Slingerland drums after a few months of playing an old Ludwig "loaner" kit when they saw I was serious. I did not start playing guitar until age twelve then picked up other instruments including harmonica, keyboard, etc.
How old were you when you joined your first band? What was the name of the band and how did the band come to be formed? Who were the other members of the band? What kind of music did you play? Did you start out doing cover versions or have you always played original tunes?
I was ten years old when I formed my first band, the Sound Kings. Remember, it was a very small town I grew up in and there weren't a lot of other kids my age playing music. There was one other kid named Joe Bob Santos who played guitar so we were a duo. We preceded the White Stripes as a guitar and drum duo by about four decades! We played Beatles, Stones, Rufus Thomas, Kinks, the cool stuff on the radio. I do remember we played the Beatles' "There is a Place", which I think was fairly ambitious for ten and eleven year olds. Original songs would not come until high school.
How and when did you form The Explosives? Who were the other members of the band? How would you describe the sound of the band? Did The Explosives always play original tunes? Did you play any cover tunes?
I formed The Explosives in 1978. I started my musical professional career in 1973 at age nineteen. I played in a lounge cover band before moving to Austin, TX in January of 1974. I was a "sideman" and played drums for BW Stevenson and Jerry Jeff Walker before forming The Explosives. The other band members were Cam King on lead guitar & vocals, Waller Collie a/k/a WC3 a/k/a Sonny Collie on bass guitar and vocals. Originally, we had a keyboard player named Reese Wynans, best known for his work with Stevie Ray Vaughn, then another guitarist named Tom McMahon. Reese played on early demos and Tom played on our first release, a 7" EP titled The Explosives. It was released on our own Black Hole Records and was reissued last year on Munster Records out of Madrid, Spain. Tom left before the record came out. We thought of replacing him but decided we were meant to be a three piece band. The Explosives always played original tunes with a good sprinkling of well chosen covers.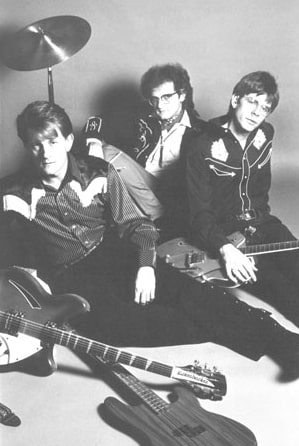 How long did The Explosives play gigs before doing any recording? What sorts of venues did you play? What sort of following did The Explosives have?
The Explosives started playing in fall of 1978 doing a few "warm up" gigs in Austin clubs. We started recording very soon after we started gigging. Cam, Waller and I all wrote songs so we were ready to go at the start. We played punk rock & new wave venues along with traditional rock clubs. We were very lucky and our popularity grew around Texas very quickly. We were hard workers and played in town and on the road all the time. Very soon we were playing clubs and concerts in Texas and the west coast. We opened for Ramones, B-52s, Joan Jett, X, Joe Cocker, The Records, Nick Lowe and many more. We shared bills with The Plimsouls, Textones, Phil Seymour, Flamin Groovies to name a few.
The Explosives released a series of singles in the 1980s on Black Hole Records? How did the band come to sign with the label? How would you describe the band's sound? What studio was used and who was the producer? What were the songs released? How were sales of the singles? Did any of the singles receive radio airplay?
The Explosives released two 7" EPs and one 7" single on our own Black Hole Records. That's when I got my record label chops. Man, it was tough in those days. Not many distributors. I had Bomp! on the west coast, Seideboard for the east coast and one for the midwest out of Chicago whose name is presently lost to me. Sales were pretty good but collecting our money could sometimes be difficult.
I am comfortable describing our band sound as power pop. We were described as power pop along with new wave and sometimes punk. We were not a punk rock band.
We used a studio in Fredericksburg, TX called Loma Sound. The owners, John & Laurie Hill were our friends. It was a perfect situation. John & Laurie had just opened the studio and needed "guinea pigs" to record to get their equipment and sounds together. The Explosives needed a studio to work out our sound and recording chops. All three of us in The Explosives had studio experience but not much working together as a unit. Waller and I had done one LP together as sidemen. So, the Black Hole recordings were engineered by John Hill and co-produced by John and the Explosives.
The songs that were released were- "THE EXPLOSIVES" EP: I'm an Explosive, I won't Go Back to Work, Summertime Come, Come Clean. "PUSH THE BUTTON" EP: UFO, Cola Brain, Fortress Europe, If I Touch Her. "A GIRL LIKE YOU"single featuring "A Girl Like You" b/w "Headhunter".
The sales of the EPs & single were all good. Our records were sold in retail record shops and off the stage. We pressed 1,000 of the first EP and had to press another 1,000. I still have some left, but not many. The second EP pressing of 1,000 sold well. No second pressing but I have maybe five copies left and that's it! They are scarce. The pressing of 1,000 of the single "A Girl Like You" b/w "Headhunter" sold very well. All three recording received airplay in Texas and California. The first EP got much play in Austin and I believe really helped our draw at the clubs. The single charted very high on the west coast college radio charts. I imagine as a result of our heavy touring schedule in northern and southern California. Also, reports of airplay in Europe and Scandinavia.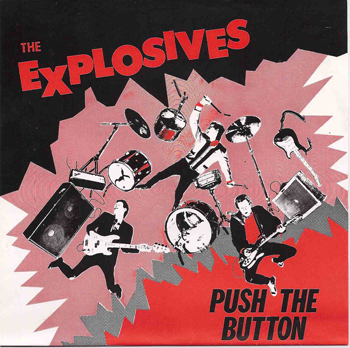 When and where did The Explosives record their first album? Who produced? What was the songwriting process of The Explosives? Describe, if you would, the recording sessions from that LP?
The Explosives recorded their first album in late 1981-early 1982. We did most of the recording in Austin, TX with some overdubs at a studio in Marin County, CA. Stu Cook, bass player of Creedence Clearwater Revival, produced our first and only 12" record titled "Restless Natives". In the beginning of the band, Cam King and I wrote together and separately. Waller Collie always wrote alone. By the time we were writing for "Restless Natives", we were writing alone although Cam and I would offer each other a lyric line or melody hook or two on some of each other's songs. Not enough to consider it a co-write. Cam and I continue to co-write to this day.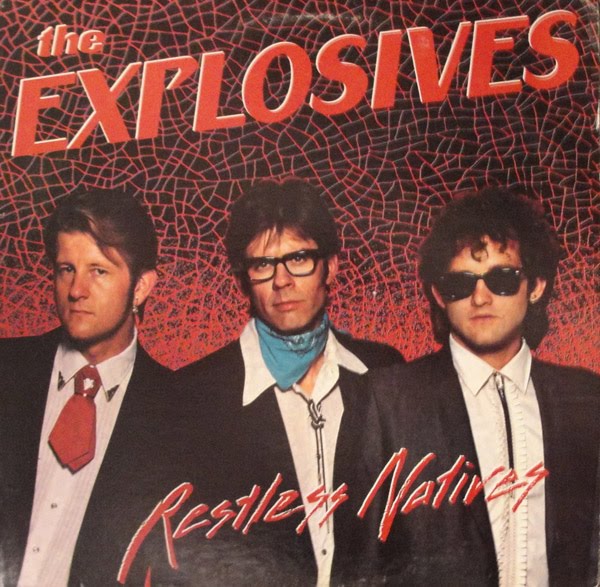 The recording sessions for "Restless Natives" were very memorable. The Explosives LOVED Stu Cook and we are still close to this day. Stu was a great producer and really knew how to bring out the best in all of us. I remember our girlfriends being at the studio, which made it a bit of a "This is Spinal Tap" situation. One girlfriend didn't like the other, etc. but the distraction wasn't too bad. We got our original keyboard player, Reese Wynans, to come in and play piano and organ and he rendered a great performance. We had Link Davis Jr. on saxophone for "Headhunter". Our original saxophone player on the "Headhunter" recording that was on our single was in jail and unavailable. Kim Wilson, lead singer and harmonica player for The Thunderbirds, did a killer harmonica cameo on our only cover on the LP, "I Gotta Move" by the Kinks. He knocked out a stellar performance and then he and I tried to take care of "getting rid" of all the beer and tequila that was there for the session. We were so ready to do that recording and had played the songs live so much that the recording went fairly quickly. We did do some vocal overdubs at Marin Recorders in Marin County and those went well too. What's not to love about working in northern California?!
What label was the album released on? How pleased was the band with the finished product? How were sales? Did the album receive radio airplay? What are some of your favorite tunes from the album and why?
The album was released on ReadyGo Records. It was a label named by me, financed by Stu Cook and run by our manager. The idea was to release this 8 song LP and shop for a major label deal. That didn't happen. We were completely pleased with the finished product. Sales were good and I believe the record had good airplay. By the time the record was released, I and the rest of the band were "running out of gas". We had worked incredibly hard for over three years. It just didn't happen big enough and soon enough for us. We had great success but couldn't get to "the next level" for business reasons I would rather not discuss at present. I loved all the tunes on that album and don't have a favorite. Well, maybe "Lonely Street". Then, there is Cam's "I'll Never be Good for You" and Waller's "Sunsets". See what I mean. I can't pick favorites!
Five years passed before the band's next album was released? What did the band do in the interim? Was material written for a follow up album? What sorts of venues were The Explosives playing at this time? Were any singles released in connection with the LP?
The Explosives ended in 1982. No singles were released for the "Restless Natives" album. The band was finished with a few occasional reunions until 2005, when we released our work on CD and started playing some shows again. After the band ended in 1982, we went our separate ways. I went back to playing drums for hire until 1986. That's when I recorded my first solo album in England and started fronting my band, Freddie Steady's Wild Country, playing guitar and singing.
In 1987 the album "Casting The Runes" with Roky Erickson was released? How did the recording with Roky come about? What label was the LP released on? What tunes were recorded for the album? Where was it recorded?
The album "Casting the Runes" by Roky Erickson & The Explosives was a bootleg. The first of many more to come. I believe those recordings came from Raul's Club in Austin and the Island in Houston. The tunes included on the record are "The Wind and More", "Night of the Vampire", "Mine Mine Mind", "For You", "You're Gonna Miss Me", "I Walked With a Zombie", "I Love How You Love Me", "Don't Shake Me Lucifer", " Bloody Hammer" and "Stand for the Fire Demon".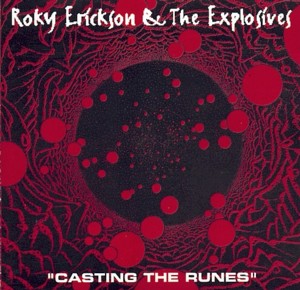 What was it like to play live with Roky? How long did The Explosives serve as Roky's band? How many gigs did you play together? What sort of venues did the band play? What were some of your favorite gigs played during this period?
The Explosives loved playing with Roky. He was on top of his game from 1979 til the end of 1981 although he was struggling with mental illness. He was singing great and playing great guitar! The Explosives would open almost all the shows and then bring Roky out for a set. We served as Roky's backing band from 1979-1981 playing approximately 45 shows together. We played mainly clubs in Texas including Austin, Houston, Dallas, San Antonio and Baytown. We played on the west coast in clubs in Los Angeles, San Diego, San Francisco, Berkeley and Palo Alto. We played a club in Phoenix, AZ on the way home from the west coast once. I remember having a blast playing the Whisky a Go Go in Hollywood, CA in 1981. Really, all the gigs were memorable favorites!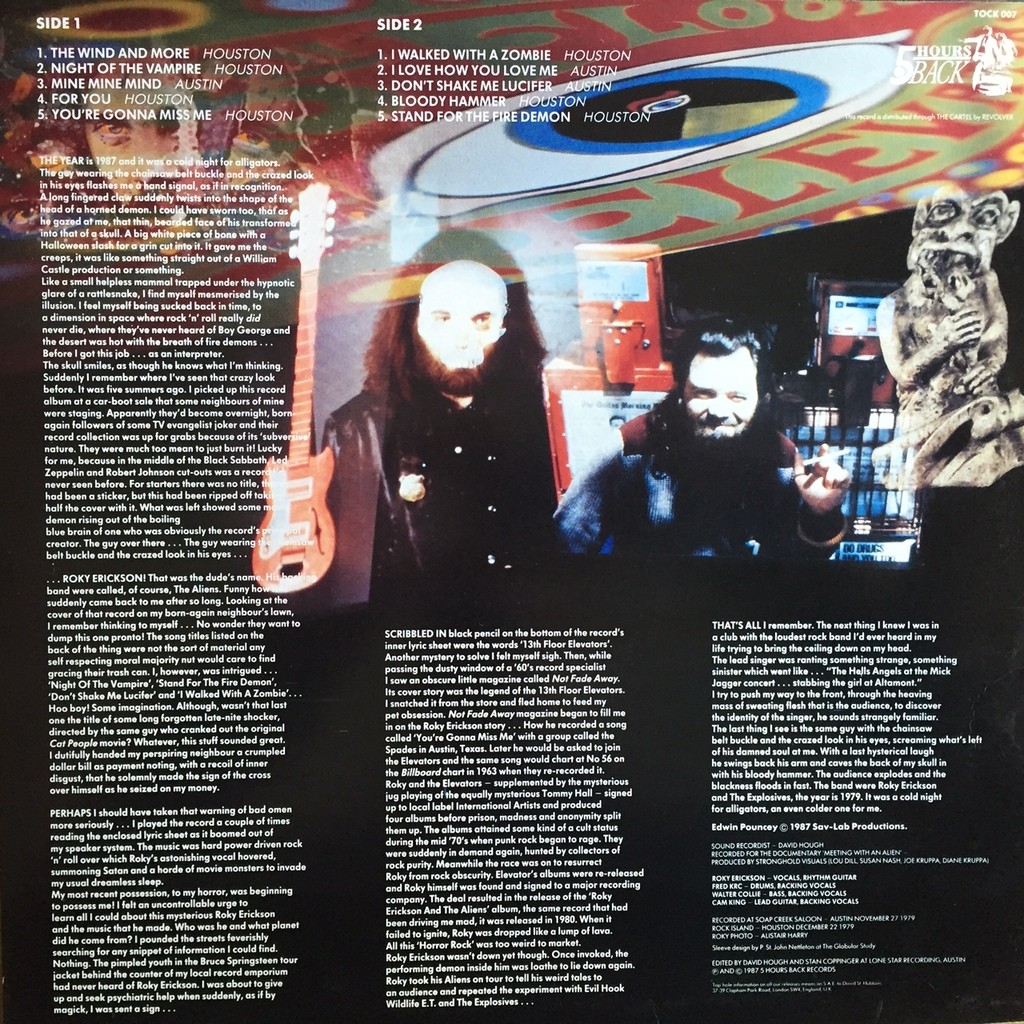 1987 also saw the release of the album "Lucky 7" credited to Freddie Steady's Wild Country. Who were the other members of the band? What kind of music did the band play?
I went to London in 1984 to play drums with a great British singer/songwriter/guitarist named Wes McGhee. I went back in 1985 to tour and record and in 1986, I spent half of the year over there working with Wes. I started getting some of my songwriting "mojo" back and wrote a bunch of new songs. The music was a reflection of my beloved Texas that I was beginning to get a bit homesick for. Do you know what it's like in an art gallery to look at a painting close up then step back away farther from it for perspective? That's what it was like writing those songs. I started to recall all the detail about what I was missing. I was writing rock, country, cajun, blues and tex-mex music. It is what people call "Americana" now. I just called it Texas music. The other member of the studio band were Wes McGhee ( lead guitar), John Gordon (bass guitar), BJ Cole (pedal steel guitar & dobro), Bob Loveday (fiddle), Rory McLeod (harmonica),Ian Bartholomew (guitar & backing vocals) and Patty Vetta (trumpet & backing vocals). I played drums and sang lead vocals.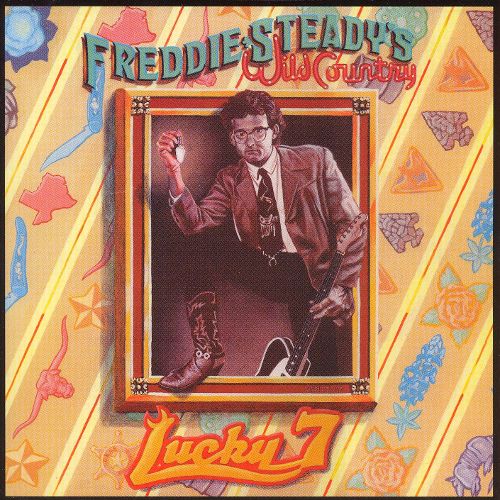 Describe, if you would, the sessions for "Lucky 7." Who produced the album? How happy were you with the finished product? What label was the album released on and how were record sales? Did the LP receive radio airplay anywhere? Were any singles released by the band? How did they fare, sales and radio airplay wise?
The sessions for "Lucky 7" were wonderful. Wes McGhee produced the record. He found a cool, modest studio in Croydon, outside of London. Dave Goodman, the Sex Pistols' engineer, engineered the sessions. Everyone was delightful and so helpful to me on this, my first solo record. I brought the tapes back to Texas and got a deal for release on Amazing Records out of Austin. Then, I went back to UK on tour and got a licensing deal for "Lucky 7" on Heartland Records out of London. The both sold great and really helped get me a "toe-hold" as a new solo artist. I even played the International Country Music Festival at Wembley Arena in London in 1987 as part of an extensive tour over there. I did lots of radio in UK and in USA in Texas and California mainly. One single was released by Amazing Records here in the USA. We re-recorded "I Hear Neon Angels Sing" (shorter radio friendly version) b/w "Big Blue Diamonds" featuring Tom Brumley from Buck Owens' Buckaroos on pedal steel. Man, I loved that guy! What a great musician and great person! Oh, and really funny jokes too!
When did The Shakin' Apostles form? Who were the other members of the band? What sort of music did the band play? What types of venues did the band play?
The Shakin Apostles formed in late 1989-early 1990. I began to feel a bit "boxed in" as a songwriter doing the country/americana thing and I still wanted to rock. I began writing more rock tunes and used two of my all time favorite bands, Moby Grape and Buffalo Springfield as my blueprint. The original lineup was me on lead vocal and rhythm guitar, John Inmon on lead and rhythm guitar and backing vocals, Danny Thorpe on rhythm and lead guitar and backing vocals, Ronnie Johnson on bass guitar and David Bender on drums. Cam King from Explosives came in the studio and played some electric twelve string guitar.
We played what was described by a local journalist named Rob Patterson as "Electric Western Folk Rock" which was as apt title as could have been offered. We played mostly clubs with the occasional concert or festival mainly in Texas. We toured California a couple of times and did a six week tour of Germany and Austria and a two week tour of northern Italy. The band lineup changed over the life of Shakin Apostles, which ran from 1989-2004.Explosives guitarist Cam King appeared in the live lineup and played on almost all the Shakin Apostles recordings which included a few Freddie Steady Krc/ Cam King co-writes.We made records for USA label East Side Digital, a subsidiary of RykoDisc and Blue Rose in Germany. We are included on many compilations on different labels, my favorite being a Hollies tribute called "Sing Hollies in Reverse" on the eggBert label out of Fullerton, CA. We did "Dear Eloise" for the compilation. Cam played pump organ along with killer electric 12-string!
The Shakin' Apostles released a series of albums. What were the titles and what labels were they released on? How did the band's sound evolve? What was the songwriting process of The Shakin' Apostles like?
The Shakin Apostles released the following albums for East Side Digital Records – "Shakin' Apostles" and "Tucson". The next release was titled "Austin, Texas" and was released by the Blue Rose label out of Germany. It was comprised of a compilation of some tracks from the first two East Side Digital albums along with some live tracks and a couple of studio recordings only on this release. This was followed by an album titled "Medicine Show", which was released on the Blue Rose label in Germany and Big Tex Records in USA. Next came "Frontier a Go Go" on Big Texas Records and was followed by Shakin' Apostles acoustic recording featuring Freddie Steady Krc & Cam King live at the Old Quarter Acoustic Café in Galveston, TX. As aforementioned, we were include on many various radio compilations, etc. For my full discography, visit www.FreddieSteadyKrc.com.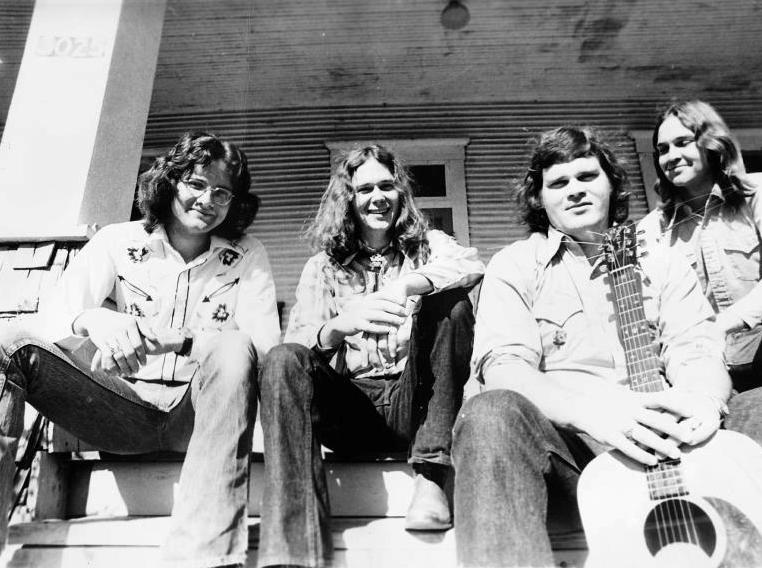 The sound of the group remained true to the original vision, think three guitars, bass and drums with the occasional keyboard and percussion overdub in the studio. Live, it was loud and rockin. The songwriting process was me mainly writing by myself with the occasional co-write with Cam King.
The releases of The Shakin' Apostles spanned nearly a decade. Describe, if you would, some of your recollections of time in the studio with the band? What are some of your favorite recordings from this period?
The Shakin' Apostles lasted really closer to fifteen years rather than a decade. All my studio experiences with that group, even with different lineups, were great. Very creative and productive. Of course, the first two are the most special to me. The second album, "Tucson" comes with a western short story printed in the booklet. I wrote all the songs to stand on their own but if you read my short story, you see the songs fall in sequence with the story line. It is now being developed for a play/performance piece by my old college mate John Garrison, who is a terrific actor and writer.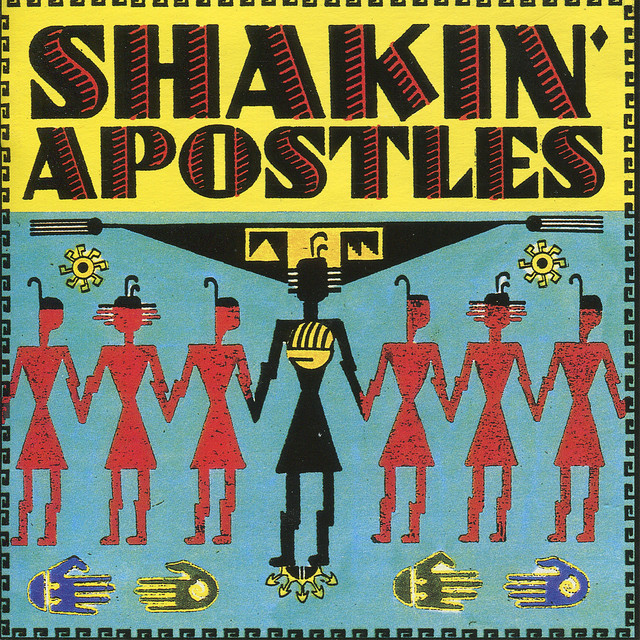 It was 2007 before the The Freddie Steady Five released an album. What were you doing musically in the interim? Who were the members of The Freddie Steady Five and what sort of music did you play? Where was the album recorded? How were sales of the album and did any of its tracks garner radio airplay?
Actually, the Freddie Steady 5 had their recording debut in 2005 with a compilation of some of my favorite 1960s Texas rock covers with two of my originals which were recorded by me with my band mates from high school. It was titled "Freddie Steady Go!" and was so much fun! The first release of originals was "Tex Pop" which came out in 2007. The band line up was me on lead vocals, rhythm guitar, harmonica and drums, Cam King on lead guitar, Layton DePenning on bass guitar and Patterson Barrett on keyboards. We used different drummers for live gigs including Bon Wier and "Waco"Jack McVery, who also played with me in Shakin' Apostles. The album was produced by me and recorded by Layton DePenning at his home studio called Elmo's Lab. Reviews were many and all great and sales were great. It is long out of print and will be reissued soon on CD and, hopefully, vinyl, with a new cover created and painted by my old friend, Cyril Jordan of the Flamin Froovies. Much of "Tex Pop" garnered great airplay.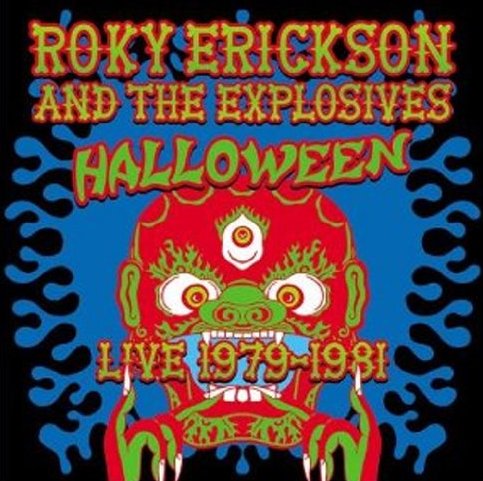 2007 also saw the release of another live album by The Explosives with Roky Erickson, "Halloween." How did this recording come about? How many gigs did The Explosives play with Roky? What venues did you appear at? What was it like to play with Roky again? How pleased were you with the recording? If you would, share some memories of touring with and playing live with Roky at this point.
"Halloween" was the first official full release of live recordings from the 1979-1982 period of Roky & Explosives. This idea came from Roky & Explosives ex-manager Craig Luckin. We discussed and lamented the fact that so much Roky & Explosives recordings had been bootlegged and "given away" on internet. There had been a few official releases containing a few Roky & Explosives tracks but this was the first full album of recordings. I discussed with Craig the fact that we had some photos that hadn't been seen before and poster/handbill images that would be included. Professor Jud Cost wrote the liner notes and we were good to go. Graphic artist Dennis Loren did a great cover and layout. I am very proud of that record! It was licensed and released on vinyl as a 2-LP set by Norton Records. So, as stated earlier, The Explosives played approximately 45 shows with Roky from 1979-82. From 2005-2008, when Roky made his big comeback, we did about the same amount of shows. As my friend John Ike Walton, original drummer of the 13th Floor Elevators, once told me "You guys (The Explosives) played more shows with Roky than the Elevators did!"
Touring and playing live with Roky was always great. If it wasn't, we wouldn't have done it! The Explosives loved and still love Roky and really dug playing with him but when his mental health got bad and his performance started getting less than great, we decided that to stay would suggest we were "OK" with him not being on his meds and we weren't. It was a hard decision to leave him. Whenever we played with Roky, he was a pro and it was thrilling to make music with him. Most people don't know Roky has a great sense of humor and is very playful. We always enjoyed kidding around with him. It was lighthearted on the road and that really helps when other factors of touring and playing become difficult.
In 2007 The Explosives were joined by Billy Gibbons of ZZ Top for an Austin City Limits television show for PBS. Would you describe that particular appearance? What songs did you play? What was the experience like first hand?
I have to say playing with Billy Gibbons was a thrill. I first saw Billy when I was still in high school in LaPorte. His group, ZZ Top was brand new and I saw them play a very cool listening room in Houston called Liberty Hall. I don't mean a listening room like a folk club. This was an old hall where music prevailed. People went there to hear great music rather than it being a "pick up" joint and people just drinking and trying to score dope. It wasn't that it didn't happen, but it certainly wasn't the main reason people went to that club! Man, those places are rare! ZZ Top was fabulous. I learned so much watching and listening to them. I have played with Billy on a couple of occasions and he's simply the best. There was some back room political BS going on with that ACL TV gig which made me come very, very close to not doing it. It had nothing to do with Roky, The Explosives or Billy. I decided to let music prevail and I am glad I did. I don't remember what songs we played. I know we did "You're Gonna Miss Me" We always played that song. I have such bad memories of the BS I have never watched the program.
In 2008 Freddie Steady's Wild Country released an LP "Ten Dollar Gun." Who were the members of the band at this point? What was the band's sound like at this point? Where was the album recorded and who produced? How were sales and radio airplay? What are your favorite cuts from the album?
"Ten Dollar Gun" was the follow up to FSWC "Lucky 7" which was recorded twenty years earlier. The members of the band were all the same that played on "Lucky 7". It was so much fun to round everyone up after twenty years and make another record. The band's sound was very much the same as "Lucky 7". By this time, Wes McGhee was living in Bishop's Stortford in the Glebe House. It was previously owned by Dave Gilmore and it's where Pink Floyd used to get together to rehearse and work on new material. When Dave sold it, the house was split into a separate four family dwelling with a common entryway. One of the dwellers was Nick Griffith, who was Pink Floyd's recording engineer who had left with Roger Waters to work with him. It was Nick who hired me to play drums on Roger Water's record "When the Wind Blows" back in 1986. Anyway, Nick had a recording studio in the basement of his place so when he had it for sale, Wes bought it. It is a lovely old manor house with a moat around it! We would work in the morning then go have afternoon tea in the garden. So, the studio was called Glebe Studio and the record was produced by Wes McGhee, just like he produced "Lucky 7". Sales were OK with a bit of radio play. It did get on the USA Americana charts for a few weeks. I love all the cuts on the album but I really liked covering Wes McGhee's "(They Used to Say) Traintime, my old friend Jimmy Johnson's "Black Cowboy Boots" and my friend Powell St John's "You Gotta Take That Girl".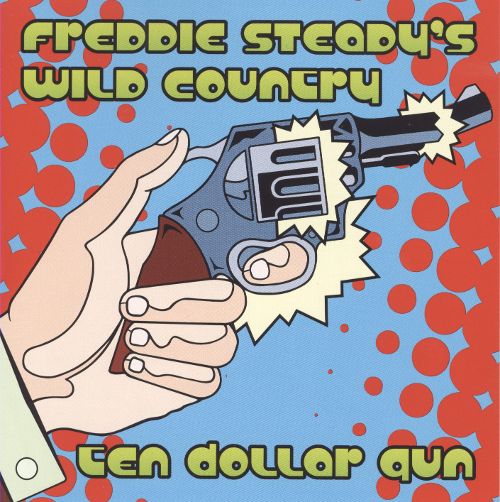 In 2010 The Freddie Steady Five released "Live From Sugarhill Studio." Who played on this album? What was the band's sound like? What label released this album? How pleased were you with the recording? Did any of the album's tracks receive airplay?
The Freddie Steady 5 lineup for this record was my current live band. It included me on lead vocals & rhythm guitar, Cam King on lead guitar, Chris Johnson on bass guitar, Will Ivy on keyboards and Eric C Hughes on drums. The band recorded live in the studio. We were all playing and singing at once, like a live performance but in the studio. It was so fun. We were well rehearsed and there were only a few mistakes. Some, we kept! It was five piece garage rock with combo organ. Heavenly noise! By this time, my label, SteadyBoy Record, was well up and running with great distribution by Burnside Distributors in Portland, OR. I was "over the moon" with the recordings. Some liked the rough edges and some didn't. It was mostly my originals with some choice covers including "Niki Hoeky" by PJ Proby (also from Houston) and, to date, the only Beatles song I've covered "No Reply". The recordings were engineered by Chris Longwood at SugarHill and he was one of the most professional, bright, helpful engineers I have ever worked with. He really added to making the experience great! I know the record got airplay but it was many tracks, not just one or two.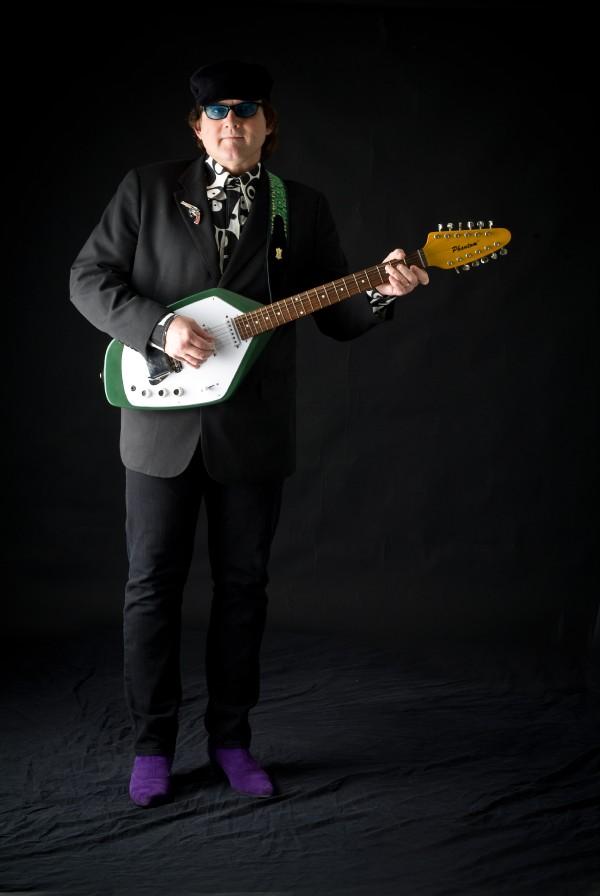 In the years since, what has Freddie Krc been up to musically? What band or bands have you been playing with? Have you made any more appearances with Roky Erickson or are there plans for more? Have you played live or in the studio with any members of The Explosives? Have there been any further releases? Are there any releases in the works?
I have been doing lots of solo and band gigs. Roky Erickson just turned 70! There was a big party/show in Austin and the Explosives had a mini reunion with Roky playing a few songs with him at his party. He is happy and doing great. There may be an Explosives reunion in 2019 to celebrate the "Live at Raul's" album 40 year anniversary! By the way, I host a day party every year at Antone's Record Shop in Austin during sxsw festival and it's a gas. I have been doing this for the past 18 years. Guests have included Sal Valentino of Beau Brummels (I produced a solo record on him a while back), Peter Case, Paul Collins, Cyril Jordan of Flamin Groovies and many more. Always fun with a killer lineup for 2018! I am currently writing songs for a new recording which will include my current band David Hargraves on lead guitar ( we played together in Jr High and High School!), Chris Johnson on bass and Waco Jack McVery on drums. Rock, pop w/ blues R& b feel. Think "Beggar's Banquet". Since "Live From SugarHill Studios", I have been songwriting, playing lots of shows mainly in Texas and the west coast. I have done drumming gigs with The Charlatans for their 50th anniversary of their first gig at Red Dog Saloon in Virginia City, NV. I co-produced and played drums on a record by Moby Grape's Peter Lewis called "Just Like Jack". I released a solo record, Freddie Steady Krc "The Mockingbird" in 2014. These are all titles on my own SteadyBoy Records label. I have been fronting my own band, currently called The Freddie Steady Revue.
In retrospect, what have been your favorite musical projects and why? What are the most memorable events in your career? If you could name one song, one album and one gig that you consider your best performances what would they be and why?
These are tough questions. My favorite musical projects are all of mine! I loved recording with Carole King, Augie Meyers of Sir Douglas Quintet, producing and playing drums with Al Staehely of Spirit. Also, Peter Lewis "Just Like Jack" and Sal Valentino "Come Out Tonight". I produced their record and played drums, guitar, keyboard, harmonica and percussion on them. These two guys are musical heroes of mine. I must say it means more to me than you could imagine to have the opportunity to work with them. Well, then there is Roky Erickson, Ronnie Lane and Roger Waters. I have been blessed!! Of course, there has been some hard work along with all the blessings! Oh, I got to play a set with Neil Young when playing the 1985 Willie Nelson Picnic in Austin with Jerry Jeff Walker and Neil Young sat in with us! Oh, and I got to play drums filling in for David Getz with Big Brother & the Holding Company for an outdoor show in Austin. I recall a really fun acoustic show with me, Sam Andrew and Darby Gould in Berkeley. There are many, many more memorable shows!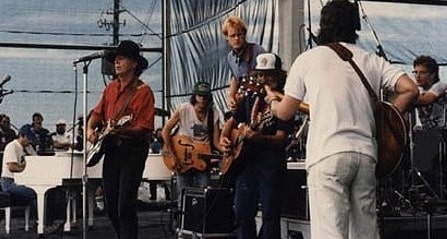 In conclusion, I am so thankful to all my fans around the globe for supporting my music. I am also so very thankful to all the great musicians I have had the honor to work with and learn from. Last but not least, I am thankful to my wife Karen for her constant love and support for all these years.
Freddie, thank you so much for taking the time to discuss your incredible musical career with It's Psychedelic Baby Magazine readers. On behalf of one and all, thank you so much for all the wonderful music and please keep us informed on any upcoming projects.
– Kevin Rathert
---
Mike Jensen shares his memories of Roky Erickson of the 13th Floor Elevators