Zaharas – 'Livin' Ain't Easy' (1978)
I have long been a fan of Zaharas's 1978 self-released LP Livin' Ain't Easy after finding it in my search for vintage North Carolina rock music online. They were from Hickory, and being a native North Carolinian I always had high hopes I would find the LP around locally as it commands hundreds of dollars in the collector's marketplace. As luck would have it I eventually found it in a record store that didn't know what they had.
---
Zaharas was the brainchild of Mick Lail, who played lead guitar and sang and wrote the brunt of the songs on the LP. It is safe to say he was the leader of the band and ran the show. The Zaharas sound is hard rock, but with a definite influences from boogie and blues. A certain rural vibe is prevalent that is not southern rock or country – I have always dug this style and it is featured also on Dryewater's Southpaw and J Teal Band's Cooks, two other NC/SC albums I have also been locally seeking. Lail's voice only features a touch of Southern-ness, and is tough and powerful. I am sure they listened to most major rock bands of the day such as Purple, Zep, Sabbath and Foghat, yet they have their own unique flair that sets them apart from being a standard derivative of such groups.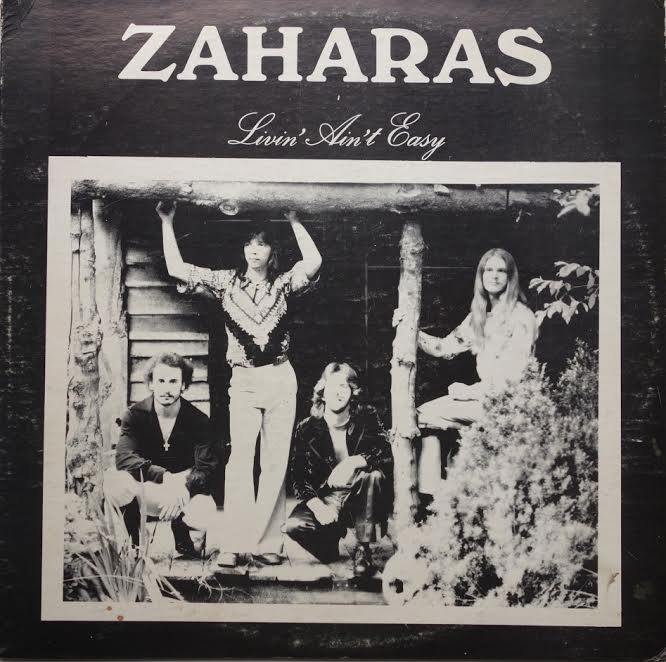 Recorded at Harry Deal's legendary Galaxie III studio in Taylorsville North Carolina circa 1977-1978, Livin' Ain't Easy has excellent sonics and production for an independent release. It has minimal overdubs and seems to be mostly live and raw yet the recording has much presence and warmth which one can only fully experience owning an original pressing, not listening to the average sounding transfers circulating on the web (I have a good transfer up on YouTube). The guitars are not heavily overdriven, and Lail relies on a mostly clean tone, whearas Cecil Crotts (rhythm guitar) has the crunchier, slightly overdriven tone. The rhythm section is solid, consisting of two brothers, Glenn & Gary Freeman, who contribute to the overall chemistry and are the glue that held the band together.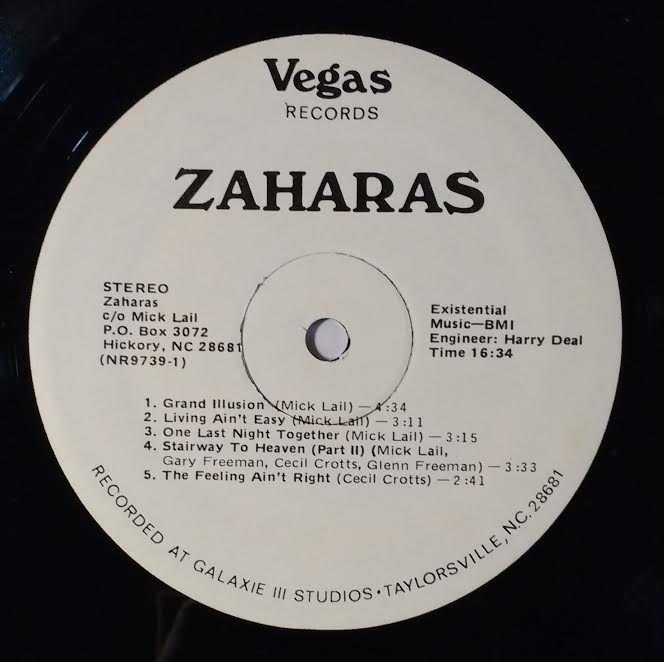 The music varies between riff-driven rock with lighter, melancholy love songs to change the flow and give the LP a bit of an eerie feel which has actually brought me to tears at times. The lyrics for the most part are simple but there is meaning behind each song. The opener "Grand Illusion" is about a young man who overdoses on drugs and hallucinates his dead girlfriend, and is slower and somewhat psychedelic unlike the rest of the songs on the LP. I feel it would have benefited with more varied chord changes, but it is a very interesting start to the LP.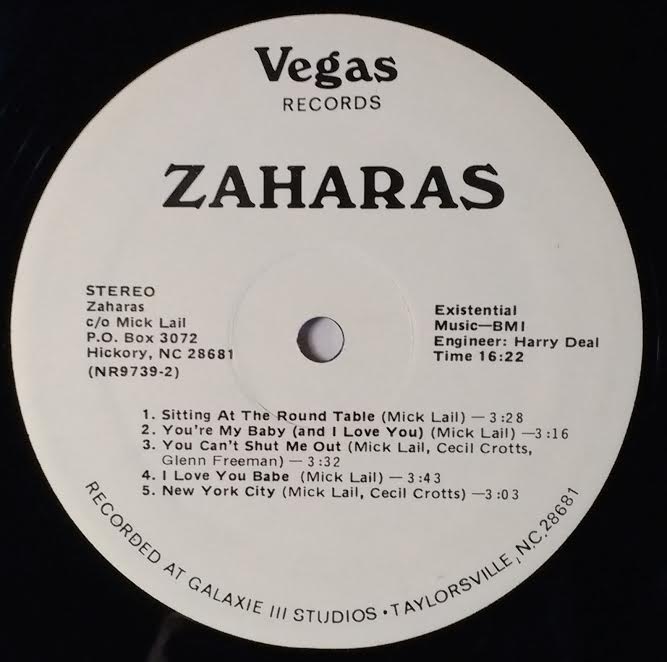 The song "Livin' Ain't Easy" is the definition of local bands struggling to make it, playing two gigs a night and barely getting enough to pay for a motel. The angst is palpable and it's one of my favorite songs on the LP. "One Last Night Together" is a melancholy minor key love song and about Lail's wife. The ethereal harmonies and dreamy effects-laden guitars make the song one of the more emotionally charged cuts on the album. "Stairway to Heaven (Part II)" is a nod to Zeppelin, and tells a story about how money can not quite buy salvation. It sports high-octane guitar chugging and is full of grit and soul and Lail's yelping vocals. One can imagine these songs going over well live with the amps cranked to the max. "The Feeling Ain't Right" is a moody love song with lovely harmonies and is rhythm guitarist Cecil Crotts's sole contribution to the LP. His voice is more Southern and less aggressive than Lail's, and leans on minor-key chords.
Side two continues the tough hard boogie riffing with "Sitting at the Round Table" which is about a patient in a mental hospital. It's tough to not crank the volume high on this one! The band really keeps it simple – they were not necessarily diverse but aimed for punch and feel more than flashy riffs or complex chord changes. Though some of the tunes are typical love songs lyric-wise there are more than enough flashes of inspiration drenched with themes based on the reality they lived being a band that keep them from being generic or falling flat. An example of the guy-girl lyrics at their most basic is "I Love You Babe" which is the saddest song on the LP, a poignant love song that never ceases to emotionally affect me. The boys inject their heart and soul into this record and even though it never got them the success they desired the fact it is coveted by collectors is well deserved. The rest of the songs on this side are more testosterone-fueled boogie rockers about women and closes up with a number about "New York City."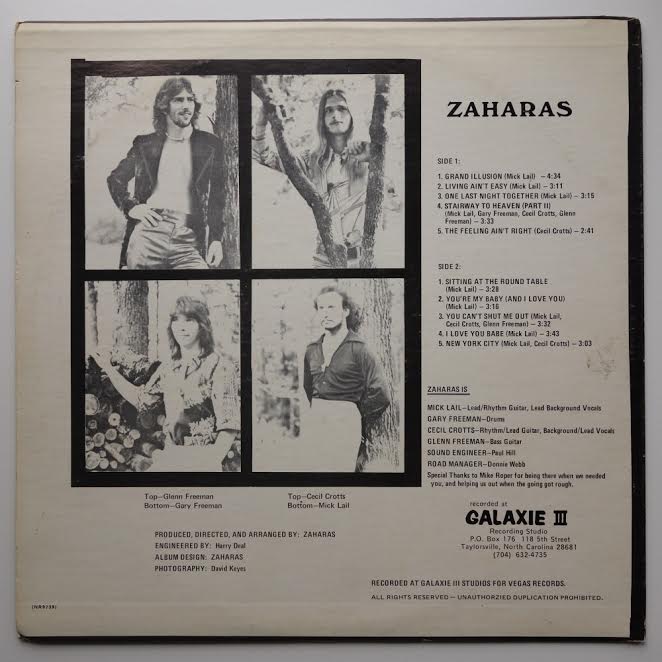 Although I dearly love this record, I don't quite feel that Zaharas had what it took to make it on a major label, and the time period in which they played certainly had to be a factor in their lack of success. However this is the sort of thing I seek out in self-released or private press music – no overproduction or blatant commercial appeal, just bands doing what they loved and sticking to the styles which suit them best. Locally I am sure they were a good club draw but the type of music they played was going out by 1978, and I can see why a lot of people thought the album was recorded and released in 1974. They put out one more album entitled "Blackbird" in 1979 which has more varied lyrical content and seems to continue the theme of a few of the deeper cuts on the Livin' Ain't Easy LP. I have heard a few songs but not the album in its entirety. What I like most about Zaharas is the feel and swagger of the group, and it's an album that captures what a kick-ass late 1970s North Carolina rock band should be. I have heard the original tapes do exist but I can not see it being reissued due to lack of demand. However for fans of local hard rock which doesn't deviate too much from one style, this is worth seeking out.
– Josh Robertson