Loud and Proud: The Best Heavy Psychedelic Rock Albums Ever! | 'Population II' by Randy Holden
Chapter 2: 'Population II' by Randy Holden
---
It is 1966, Jeff Beck has just announced he is leaving the legendary British blues rockers, the Yardbirds. In turn, the job is offered to a noted American guitarist who is faced with a choice of either joining the Yardbirds or the American psychedelic garage band, The Other Half. In the end, Randy Holden chose the latter, leaving the band soon after the recording of their sole, s/t 1966 LP. He did, however, leave a sizzling solo behind on the non-LP single track "Mr. Pharmacist" immortalized by its inclusion on the 1998 'Nuggets: Original Artyfacts from the First Psychedelic Era 1965-1968' box set. After recording one side, three Holden originals, of Blue Cheer's 1969 LP 'New! Improved!', the classic "Fruit & Iceburgs" among the three Holden compositions, he toured for a year with the band before deciding it was time to realize his musical vision, which would culminate in the sonic extravaganza 'Population II' an album that, despite its brilliance, cost Holden dearly, resulting in him leaving the music industry for more than two decades, twenty eight years passing before his next release, 1997's 'Guitar God'.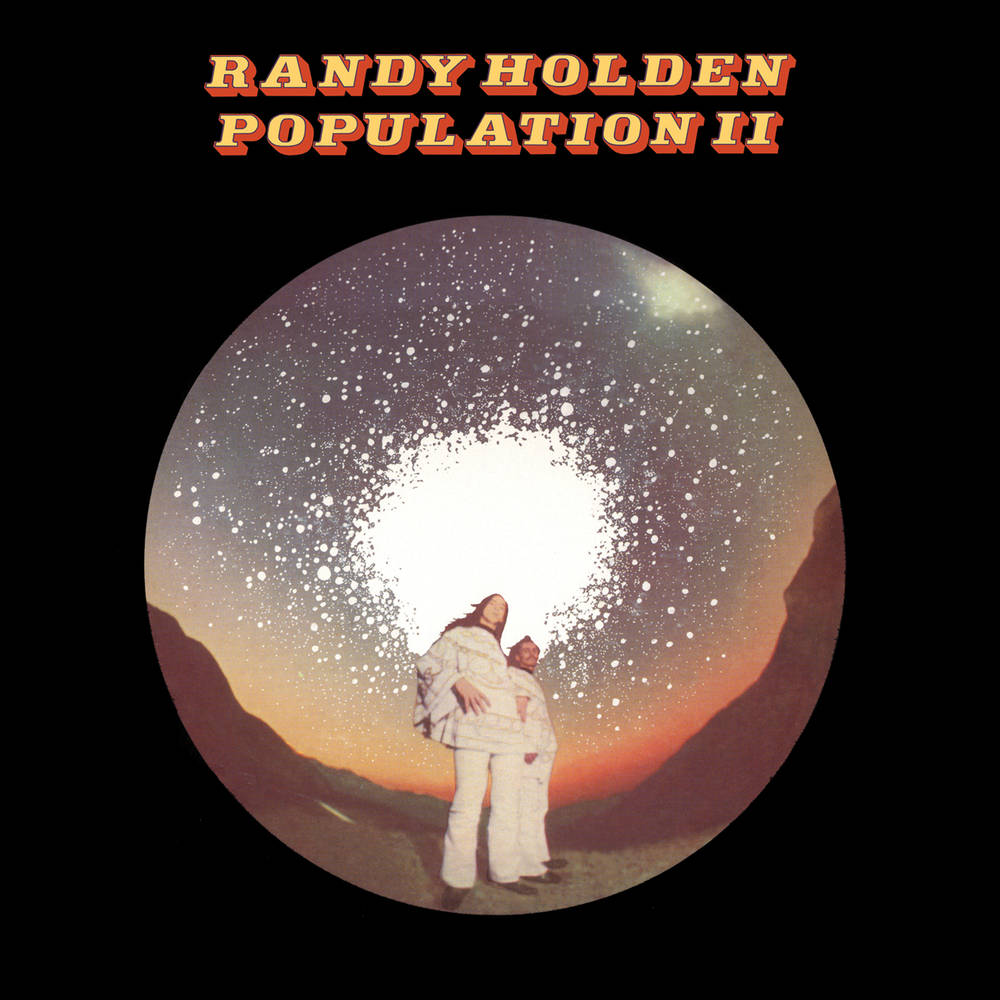 That is a rough sketch of the occurrences between 1966 and 1969 in the musical career of Randy Holden. However, the quality of the recordings making up his recorded legacy is high and in particular, 'Population II' deserved a much better fate than it received, as described and discussed here.
After his departure from Blue Cheer, Holden was approached by drummer Chris Lockheed, who had manned the drum kit for California psychedelic rock legends, Kak. The drummer knocked on Holden's door, informed him that he had seen Blue Cheer in Stockton, and he knew Holden had left the band and was in search of a drummer for new band. Lockheed said he played keyboards as well, to which Holden responded "at the same time?" The drummer assured him he could, and indeed, in concert he did, so Holden replied, "Cool, ok lets do it!" And they did.
Holden got sponsorship from Sunn amplifiers and he received his legendary sixteen 200 watt amplifiers. It was the amp power he had always wanted and he knew exactly what he wanted to do with it and if he happened to blow a jetliner sideways on the runway from the sidewind created by the amps all the better! However, transferring the sound from the stage to the studio created the challenge of taking all that sound and reproducing the illusion of it onto a vinyl disk. But, Holden had a plan there as well. His idea was to get the illusion of the "gigantic" sound of a studio through the kind of system most people would be listening to it through. He did not want to be fooled by the excitement created by the sheer volume of the large studio play back systems. So, the sound engineers rounded up a couple of 4 x 9 oval car audio speakers, and a car radio amp, and that is what the whole mix of 'Population II' was done through. Although it was unorthodox, Holden thought he had done it. Unfortunately, the mix was destroyed when it was put through mastering, chopping off the tops and bottoms so that the needle would not skip on the album when it was played. But it destroyed all the work that went into the dynamics and according to Holden it has "sounded dead to me ever since." Worse yet, the original master tapes have been missing for some time.
Wow, all this and nothing about the music contained in 'Population II' whatsoever yet. Time to take a look inside and give a listen to Randy, who wrote all the songs, plays guitar and bass, sings all the vocals, and produced the album, and Chris Lockheed whose inspired drums shine throughout. The album itself is composed of six tracks, but not in the conventional sense, in that "Fruit & Iceburgs" is split into two parts, with a brief interlude separating the six minute first section and the two minute conclusion. However, let us back up just a bit to the album's opening track.
'Population II' opens with the appropriately titled "Guitar Song" which gets the ball rolling with some blistering guitar before settling into a Hendrixesque riff, featuring thundering bass from Holden and pounding drums from Lockheed. Holden's use of sustained feedback is nothing short of amazing. "I love the sound of a guitar player" sings Holden as his distorted guitar drives the tune. "A Bridge Of Sighs" a few years early? Spoken lyrics fit the driving beat perfectly, with Holden's feedback adding a voice. Wringing every note out of his guitar, feedback flows like water and distortion is here in heaping helpings. Snaking lead lines from Holden flow to and fro with the ever present feedback. Six minutes of guitar wizardry!
Holden's remake of "Fruit & Iceburg" opens with feedback, roaring loudly. Vocals reminiscent of Jack Bruce add greatly to this take, Holden's vocal efforts being greatly underestimated. A building riff grows and grows with guitars probing all about, quivering into bursts of feedback. The lower end is locked in. Somehow he is able to make his feedback take on the sound of a theremin. How does Holden do it? Doesn't seem possible to control it so seemingly effortlessly.
"Between Time" is a most interesting two minute tune, with an obvious nod to Keith Richard's guitar riff from "Jumping Jack Flash" and a not so obviously vocal nod to Neil Young's Buffalo Springfield number "Mr. Soul." Holden goes so far as to sing "and it's alright now." A tasty combination as the tune segues into the conclusion of "Fruit & Iceburg" with its insistent, heavy riff and Holden's guitar racing over the top. Holden, once again, has incredible control over his guitar's feedback.
"Blue My Mind" opens with probing lead lines from Holden leading into a doom/stoner rock riff and more mind bending feedback. His lead line pushes the song, Lockheed not missing a beat. Again, Holden's guitar becomes a vocal instrument. The waves of feedback are non-stop and the stoner riff insistent. A cacophony of guitars builds as the song screams to a finish.
The album's magnum opus, and ten minute closer "Keeper Of My Flame" opens with a real Hendrix feel, lead guitar bounding about. After a brief slowing of the pace, the band gives a nod to The Beatles' "Revolution" before more feedback and sustained distortion booms in, guitars roaring, bass booming, Lockheed beating his kit into submission. The sustain on this song is simply mind blowing, whether it be distortion or feedback. Holden solos again, six minutes in, before the inevitable hail of feedback. Hints of Deep Purple in the riff, despite the absence of a keyboard. Holden's vocals are delicately lovely, sounding again much like Jack Bruce. Swirling guitars fill the air leading to a tasteful play out for the song and album.
Despite the quality of material found on 'Population II' it did not find release following its 1969 recording, leading first to financial ruins for Holden, then later to numerous unofficial releases, before finally having a limited edition vinyl release in 2005 and a CD release in 2008 remastered by Holden himself. What a horrible situation at the time, however. As mentioned, Holden would go more than two decades before his next release. But, regardless of its release status, 'Population II' includes some of the finest heavy psychedelic music ever to make its way onto vinyl! Looking back nearly half a century later, it seems impossible that labels would miss out on this unique recording. Holden's ability to use sustained distortion and feedback is top drawer to say the least. The late Gary J. Quackenbush, of SRC aside, I can't think of an equal in that department. Holden's vision for the album may have been unorthodox, but despite the destruction of the original mix in mastering, and subsequent loss of the original master tapes, the album sounds better in its 2008 CD version than even the original vinyl release. Try as they might, they (the music industry) couldn't kill 'Population II'.
One last thing, 'Population II' was the perfect title for this release as it makes reference first to the number of members in the band, but it also defines a special kind of Star Group cluster, having Heavy Metal in its composition. Fitting name for the band and a good description of the music documented on the LP. Six tracks, 31 minutes of the best heavy psychedelic rock music you'll ever hear! Without question 'Population II' has earned its place among the Loud and Proud!
Kevin Rathert
---
Loud and Proud: The Best Heavy Psychedelic Rock Albums Ever!