Interview with "Space Rocker" Rustic Rod Goodway about Magic Muscle, …
Rod Goodway is without a doubt an important name in UK's progressive rock scene. Sadly he never got lucky enough to gain sizable popularity with the labels, which didn't understand yet, what "far out" ideas in music were all about. Rod Goodway is definitely one of the most underrated musicians and we are really happy that we sat down and discussed his story.
---
From the start in blues oriented bands like Rod & The Sceptres, The Pack and the legendary Artwoods, to psychedelic "summer of love" projects like J.P. Sunshine and White Rabbit. Rod was also an important part of freaked-out mind mischief which culminated in group called Rustic Hinge and the Provincial Swimmers (a commune of freaks) that took considerable amount of psychedelics that got linked with their ideas of what music can sound like. After having a bit of bad luck with how the project ended, Rod moved on to form Magic Muscle, which by the end of 1972 had built a strong cult following. They were space rockers. Something similar to Hawkind. Read much more in the following interview.
It was a bit difficult to find all the information about your musical involvement but I'll try my best to capture the essence of it. How did you first get interested in music?
Music was an ever-present part of my life, as it usually is for all of us really. But there was so little music back in the 1950's that was an alternative to middle-of-the-road muzak / showbiz tunes. I took a few piano lessons but wasn't allowed to play anything I fancied. It HAD to be classical or nothing. I stuck drawing pins in the piano hammers to give it a harder, honky-tonk sound and so my piano teacher quit.
Like many others of my age I began tuning in to Radio Luxembourg on 208 meters in the Medium wave. This was the only decent Top 20 pop music deliverer back then and, when I was really young, I used to listen to it in bed (under the bedclothes) in the middle of the night.
My first record was a 78 rpm 10 inch shellac beast called "Keep a Knockin" by Little Richard. That voice was just completely untamed craziness that made Rock and Roll hit me sweet and hard and I was hooked.
But I was also a big fan of Buddy Holly and the sweet, sad harmonies of The Everly Brothers … around 1957 / '58 I suppose.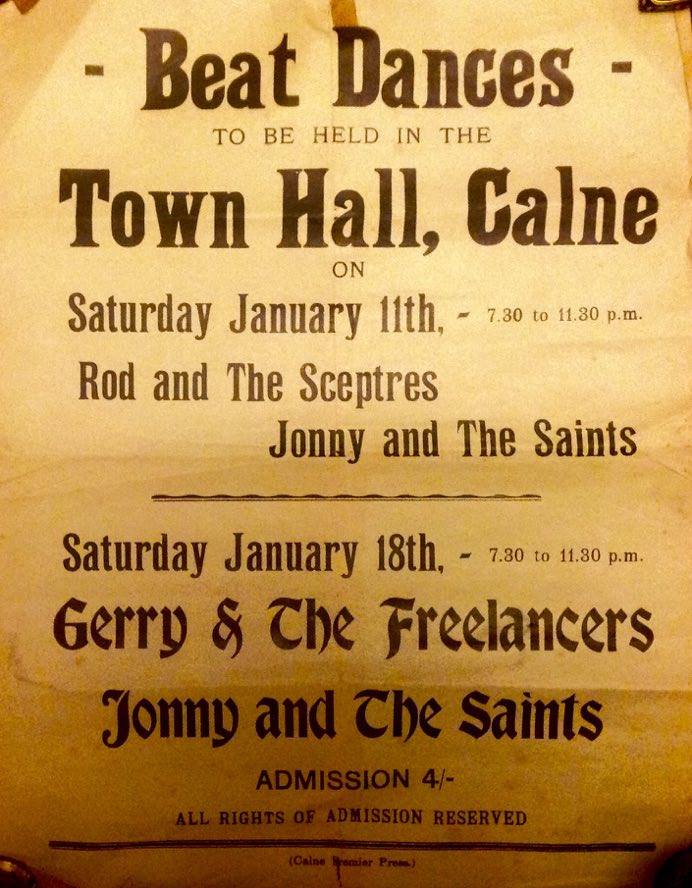 Anyway, it was only a couple of years later that I got my first guitar and my friend Pat (Murphy) could sing as well so we both did a few songs at the local Youth Club. My parents owned the local grocery shop in this remote Wiltshire village called Goatacre so we could always rehearse upstairs in the evenings without annoying people. By this time we were about 15 years old.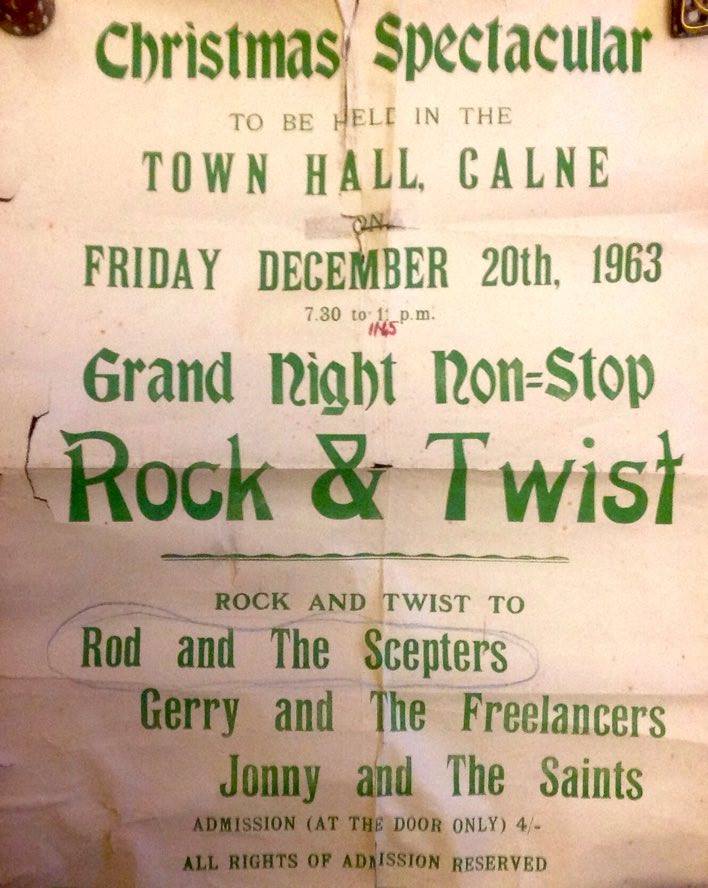 Later on, Pat bought a drum kit and said there was a duo he knew of in the nearby town of Calne who played guitar instrumentals (like The Shadows, Duane Eddy, The Ventures, and Link Wray) so we rather grandly went along to 'audition' them. They were a bit younger than us so thought it was a much bigger deal than it actually was, having these older lads who had actually gigged showing interest. They were actually amazing. The rhythm guitarist, Roger Hartley, was playing all these amazing chords that I didn't even know existed at that time and Andy Rickell, the lead guitarist, was just brilliant. (He pops up a lot during my musical adventures and was later in J.P. Sunshine, White Rabbit and Rustic Hinge, as well as The Crazy World of Arthur Brown). But, back then, they had just passed their first audition (ha ha) and we soon linked up with a bass guitarist called Mic Andrew, who had the nickname Goldfish, and we hit on the name of Rod & The Sceptres, my first proper band.
Anyway, after supporting some local groups we suddenly began getting a following of our own and, within a year, we were playing 2 or 3 gigs a week and planning to make some sort of living out of it. Then, after one late night gig too many and on the way home, I hit a tree! Total write-off of the vehicle and I was in a coma with blood transfusions and a broken hip!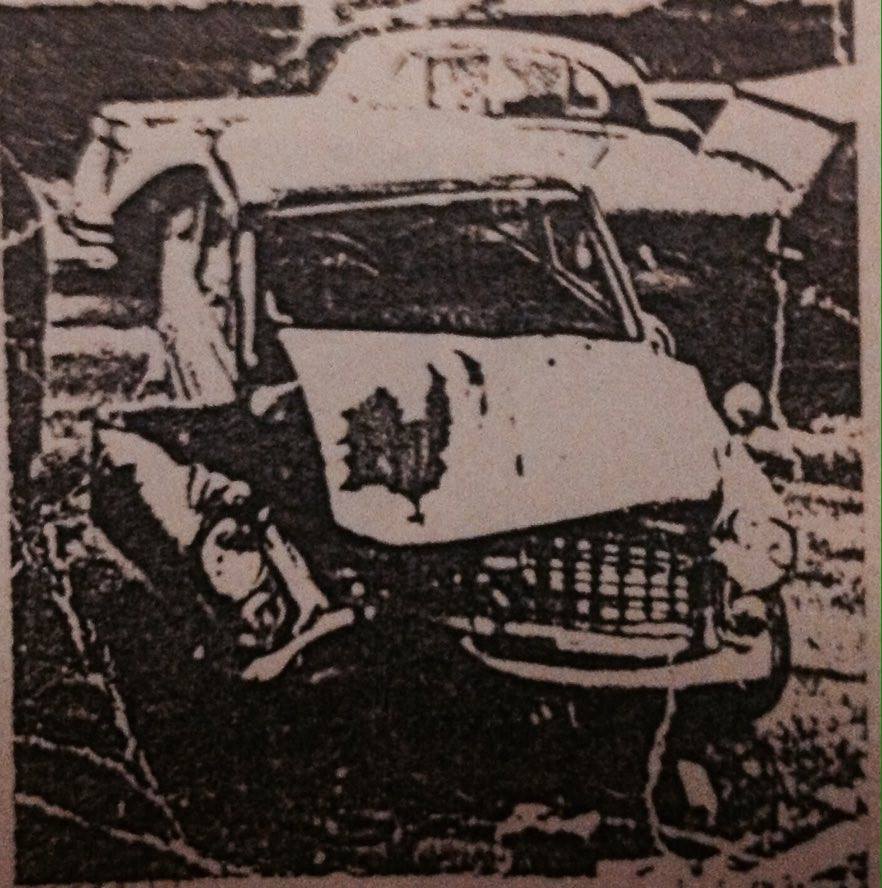 It took a couple of months to get back onstage, but I managed it, on crutches … with a stuffed parrot on my shoulder! However, we used the time off to update things a bit and renamed ourselves The Pack.
Now … before I get into the wild and woolly story of The Pack I'm going to leave you with a couple of links.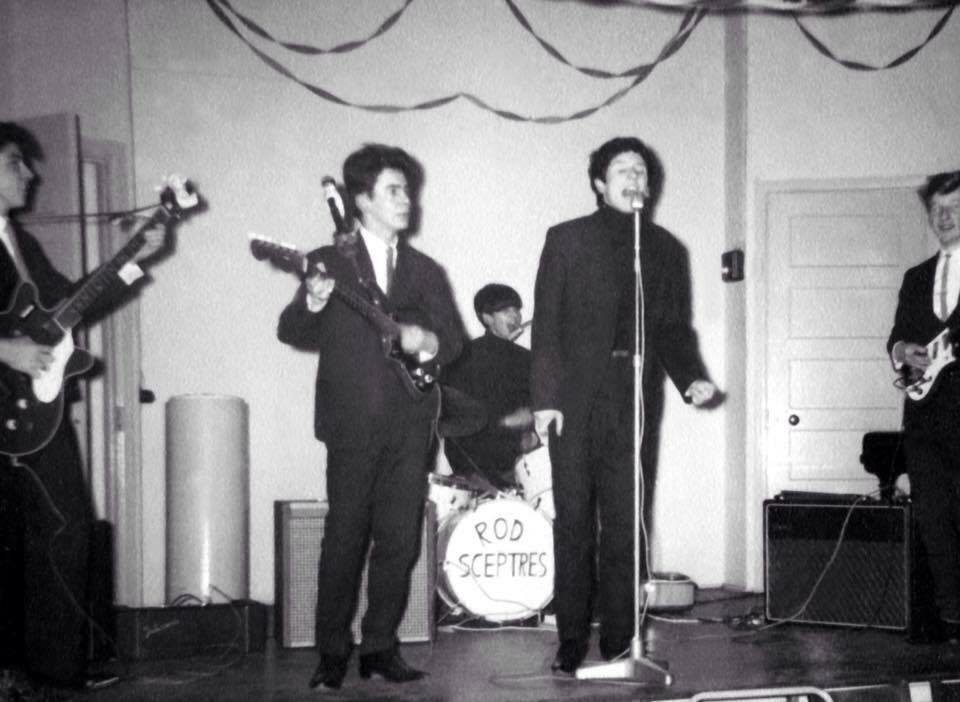 Tony Prince was a DJ on Radio Luxembourg so it was quite a thrill (a couple of years back) when he did the following jingle for a Radio station using my band, The Pack, playing "Do You Believe In Magic", which the station played in its entirety several times each day; Here is the jingle.
And here is the B side, from 1965, with the same bass player that played "Shaking All Over" by Johnny Kidd & The Pirates.
While I was browsing through your recording discography I found that you were in bands recording and releasing already as a really young man. The Pack was your first band with whom you released "Do You Believe In Magic".
The Pack began life with the same line-up as Rod & The Sceptres except for bass player duties, which were taken up brilliantly by Kev Tinson.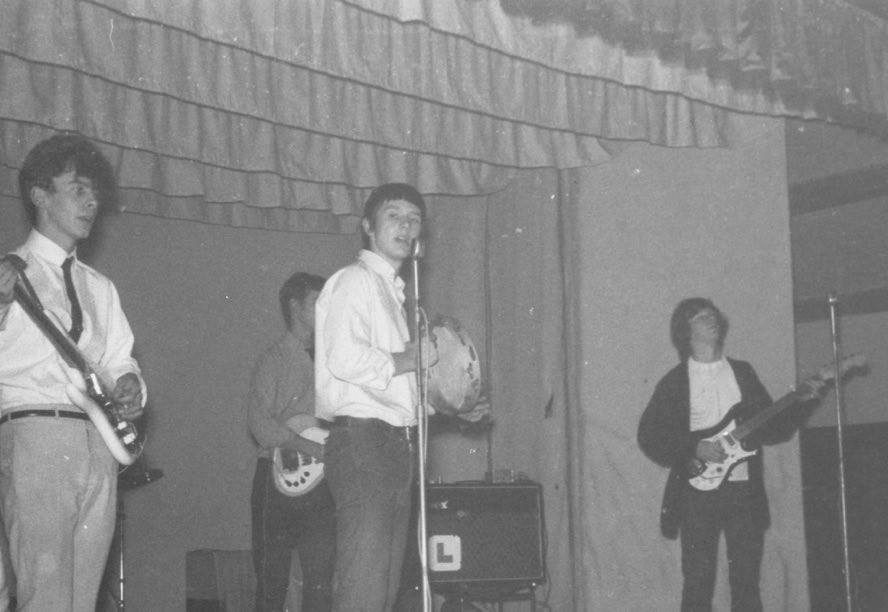 I had left school at 16 and had moved on to college. At the beginning of The Pack I was now 17 years young (1964) and would be 18 in October of that year. We carried on gigging much the same as before but our music included less pop and more blues numbers which I discovered by importing rare records from the USA … sometimes just because of strange names. I would choose material that I wanted us to play and Andy would decide if we were capable of doing them justice. We were both very impressed by Howlin' Wolf and the guitar playing of Hubert Sumlin and we had our own distinctive style and delivery.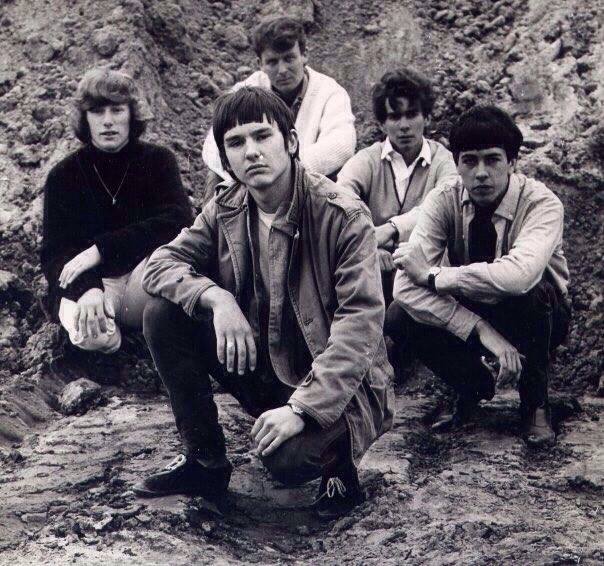 Around the time that I turned 18 we were playing a gig at the Plume of Feathers pub in Calne when were approached by a tall man who introduced himself as Brian Gregg and asked if we had a Manager. I had taken care of management and gigs myself up until then (I owned the PA system and even drove the van) so we arranged to visit Brian Gregg at home.
It transpired that he had played with Johnny Kidd & The Pirates and had actually composed the mighty bass riff and played on the magnificent rock hit "Shaking All Over", apart from being in chart group The Tornados and having backed Billy Fury and many other British rock & roll legends of the 1950's and early 1960's.
As a prominent member of the London 2i's coffee bar scene he knew all kinds of people, including 1960's pop Svengali Mickie Most.
After meeting Brian, many changes occurred within a short space of time. We agreed that we could cut a record and go professional … but our good friend and fine bass player, Kev Tinson, was committed to his education so had to drop out. Pat Murphy, my own personal friend since we were toddlers, also had to quit. Very upsetting. So, the line-up for any forthcoming session was:
Rod Goodway (lead vocals); Andy Rickell (lead guitar/ backing vocals); Roger Hartley (rhythm guitar); Brian Gregg (bass guitar) and new drummer Bob Duck.
Then, the long wait began. Mickie Most was in the USA looking for new songs.
Eventually we were sent a demo of "Do You Believe In Magic" by Mickie Most and invited to record it at his Kingsway Recording Studio in London W1 … the following Tuesday!
Having been away at the beach (chasing girls) over that weekend, I had a sore throat and only heard the song for the first time on Sunday night, 22nd August 1965. We learned and rehearsed it on Monday 23rd August and drove to London to record it on Tuesday 24th August!! The session began at 7 pm and we recorded both A & B sides within a couple of hours. The B side, "Things That Bring Me Down" was self-penned by Brian Gregg. It was all incredibly rushed and I was just 18 years old. Our Personal Manager was Peter Grant … just prior to him taking on Led Zeppelin … and our Recording Manager was Mickie Most – so things looked very rosy. Until the The Lovin' Spoonful decided to release THEIR (original) version of the song in the U.K., and suddenly our sales were dashed … along with our hopes.
I wrote a succinct piece for the RADIO LONDON website which you can read here.
Who were some of the artists you shared the stage with back in the mid-sixties?
Not many. Bo Diddley (TV show); Dusty Springfield (Hammersmith Palais); Chris Andrews (his hit "Yesterday Man" was climbing the charts); Sandy Shaw; Tornados; The Applejacks; Hedgehoppers Anonymous; Jonathan King; Jeff Beck introduced himself, backstage at a Radio show. I've forgotten the rest.
A load of us shared a show at The Marquee where we were queueing up to go onstage to 'mime' to our latest hits. Not our scene. In the queue was a sad who's-who of the showbiz contingent of 1960's chart pop music … plus The Lionel Blaire Dancers…
Me and Showbiz have always had a love/hate relationship: Love the SHOW, hate the BIZ!
Despite lots of gigs, radio and TV appearances The Pack eventually fizzled out. Brian Gregg left and Andy and I began a rock & soul Revue band. We took on Steve Brass on bass and new drummer Terry Stannard (who eventually played in Kokomo and on Marianne Faithfull's Broken English LP and tour … plus much else). We also had a small brass section, Dennis Lammin (sax) and Micky B (trumpet) and called ourselves Flower Of Wisdom.
1967 was coming up and the times they were a'changing.
Then came The Dodo's with "I Made Up My Mind"…
After we broke up the band, I signed a contract with Alan Caddy, ex Johnny Kidd and also The Tornados. Caddy was then working as music director and arranger for Polydor Records and so I moved to London to work (with the help of Alan) at Wessex Sound Recording Studio in Highbury New Park. Part of my duties with Alan Caddy was as a session singer. I sang on several records that were Various Artists cover versions of the latest hits and sold as cheap Top 20 LP's. I got paid a good session fee and met various others like John Paul Jones who was a very in-demand bass session player back then. An exception to all this was when Alan sent me an original demo by Alan Hawkshaw. The problem was that 'the Hawk' had written good songs for this new band The Dodo's ( some new 'discovery' by Cyril Stapleton I believe ) and everything was now finished, recorded by session men; all The DoDo's had to do was actually sing these 2 songs and nothing else. I think they looked like stars but couldn't actually sing. They got as far as completing the B side (not very well sung) but could NOT sing or even get the timing right for the A side. This was where I was brought in. I got it right first take. We probably did it about three times, but it was perfectly OK from the start … and Alan Hawkshaw himself does the harmony. I have a lot of respect for Mr Hawkshaw. A good and very talented man. We had a great session and I actually heard it play on the radio a few times … so I've always included it in my Discography.
In late 1967 you went full-hippie on and recorded an album long of material under the name of J.P. Sunshine. The album was not released until 1995 on your own label – Uncle Glitch. What's the story behind recording it and why was it shelved? Was this a complete DIY project or did you have a deal with a label while recording it? It's a real time catcher. Perfect hippie, summer of love atmosphere. Those times seems so surreal for us today.
While I was still working at Wessex Sound recording studio in 1967 (the place was owned by songwriters Les Reed and Barry Mason), Arthur Brown came in one day in July or early August to add a vocal to "I Put A Spell On You", and he had that phenomenal voice of course, but he was accompanied by his manager Kit Lambert who was completely black and blue with bruises. His face was a mess. When asked what had happened he said he had got "beaten up at the International Love-In at Alexandra Palace" and everybody just fell about laughing. Terrible really, but it was just so awfully absurd; like a Frank Zappa song "Beaten Up at the Love In".
Anyway, when I came to London I left behind my girlfriend of the time, a lady named Julia, who now wanted to come up and join me. But I was sharing a flat in Hyde Park Mansions with Ricky, an old college friend, so she came with a friend of hers and moved into a block of rooms in Swiss Cottage. Elsewhere in the same block lived a friendly neighbour, an artistic lady named Pat Morfin. One night, Pat's boyfriend Jorj was visiting and he told me he had written a lot of trippy psychedelic poetry and wondered if I could put music to any of it. By now it seemed like everybody I knew was tripping out on LSD so I asked him to visit me at Hyde Park Mansions where I put a few chords to some of his words and sang them. He was delighted. The very first one was called "J.P Sunshine". He said it was like magic.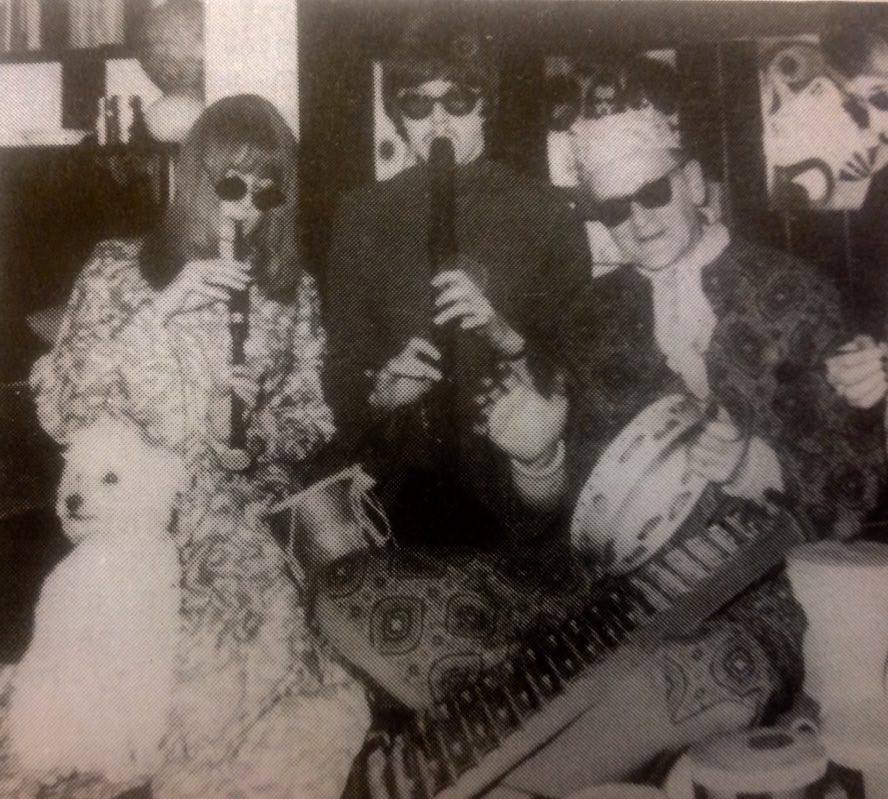 I subsequently visited his lovely flat in St Mary's Mansions near Little Venice and met some of his friends, two of whom have remained my best friends ever since, Adrian Shaw and his (soon to be) wife Maureen.
At that time Ade played an ordinary 6 string guitar, Jorj played xylophone and bongos and Pat made various percussive sounds. Along with my old nylon string Aria guitar we simply jammed away, musicians and non- musicians, stoned free improvisation, very tribal. I would compose music to one poem at a time and we would try it out next time I visited and then spend the rest of the evening getting high and jamming.
Meanwhile, I had quit my job at the Studio and had a hankering to go back on the road. I began looking for jobbing vocal slots with bands.
Old friends Andy Rickell and Pete 'Bongo' Biles (from back home in Wiltshire) had moved in with Ricky and I. So I began taking Andy and Pete along to Jorges and with Andy's added lead guitar we began to sound a bit more like a real band.
Jorj owned a decent reel-to-reel tape player and we began recording our improvisations. Around this time Ade decided his 6 string guitar was superfluous to the actual songs so he bought his first bass guitar.
Yes, the bass you hear on "J.P Sunshine" is the first time Ade Shaw ever played bass guitar!
By the time 1968 dawned I had passed an audition (at Malcolm Poole's family home dairy ) to join the ex Artwoods as Art Wood himself had quit and they had a number of outstanding dates to fulfil. But now they were awfully named The Saint Valentine's Day Massacre. More later.
But the J. P. Sunshine sessions continued … and an album of finished songs was coming together. And, in answer to your question, yes, it was a complete DIY project. Once the album was complete Jorj got an acetate cut which was apparently played to Andrew King (or one of the then current managers of Pink Floyd ) and he said the songs were good but no record company would ever take it seriously recorded as it was. It should be "re-recorded with a full drum kit".
It would have lost so much feeling if it had been re-recorded in a soul-less studio with uptight engineers working on a budget … and we didn't have enough money to book studio time anyhow. But I am glad it remained the same. A drugs bust put an end to the entire Sunshine dream anyway.
And we never actually 'shelved' it. We just never had the money to release it. You would be shocked at the amount of unreleased gems that exist and remain unreleased because musicians, especially old hippy musicians, never had enough business know-how or spare cash to get them released.
Even in the mid 90's it was only the love and commitment of a fan, Chris Furse, that got J.P . Sunshine into production. He was a customer of my Rustic Rod's Mail Order concern and he asked why JPS had never been released. Even though the recording quality was poor there had recently been retro releases by other artists that were even worse and many of these sold in limited editions of 500 or less and sold for high prices. I explained that, even though I had to borrowed money for stock in my business, I at least managed to just pay the bills and get out of debt each month. I had no extra money to spare on a 'risk investment'. In fact we were very poor.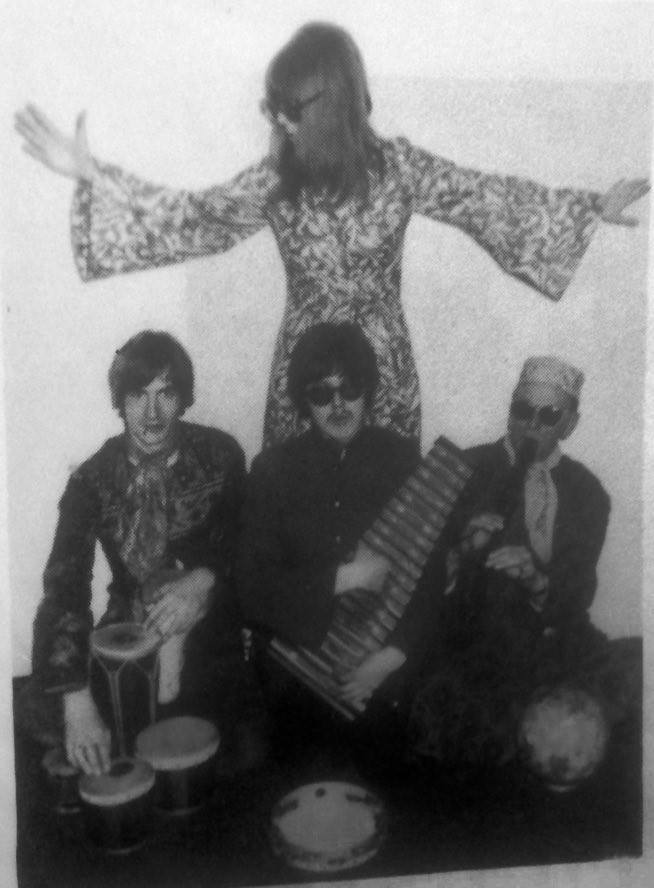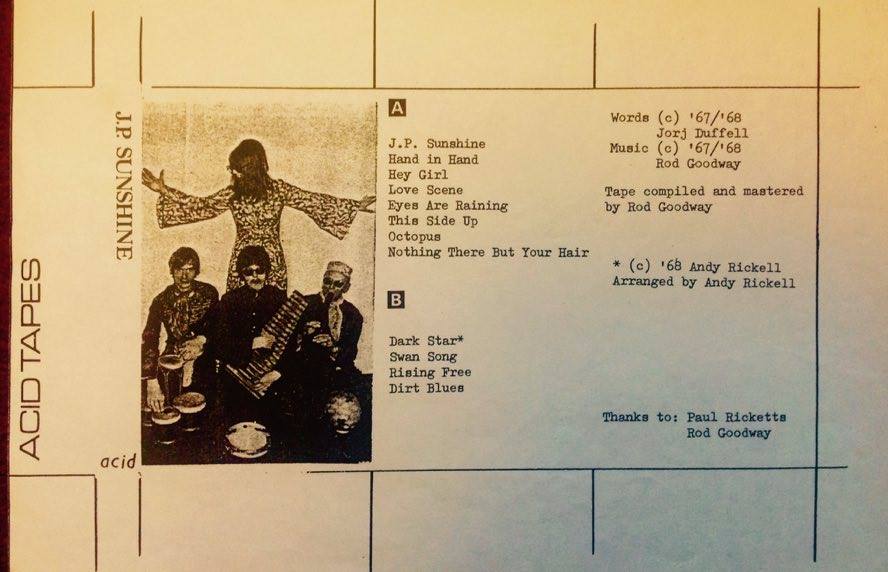 So he offered to put up the money! We had Pat Morphin's original art and my dear amigo Richard Allen (of Freakbeat magazine and Delerium) helped with the pressing & sleeves … And photocopied ALL the inserts by hand. He was an enormous help. And my old neighbour Paul Ricketts of Unhinged magazine made sure we got plenty of coverage. It was only thanks to others that it got released at all. Even then it made a financial loss but at least it was finally RELEASED!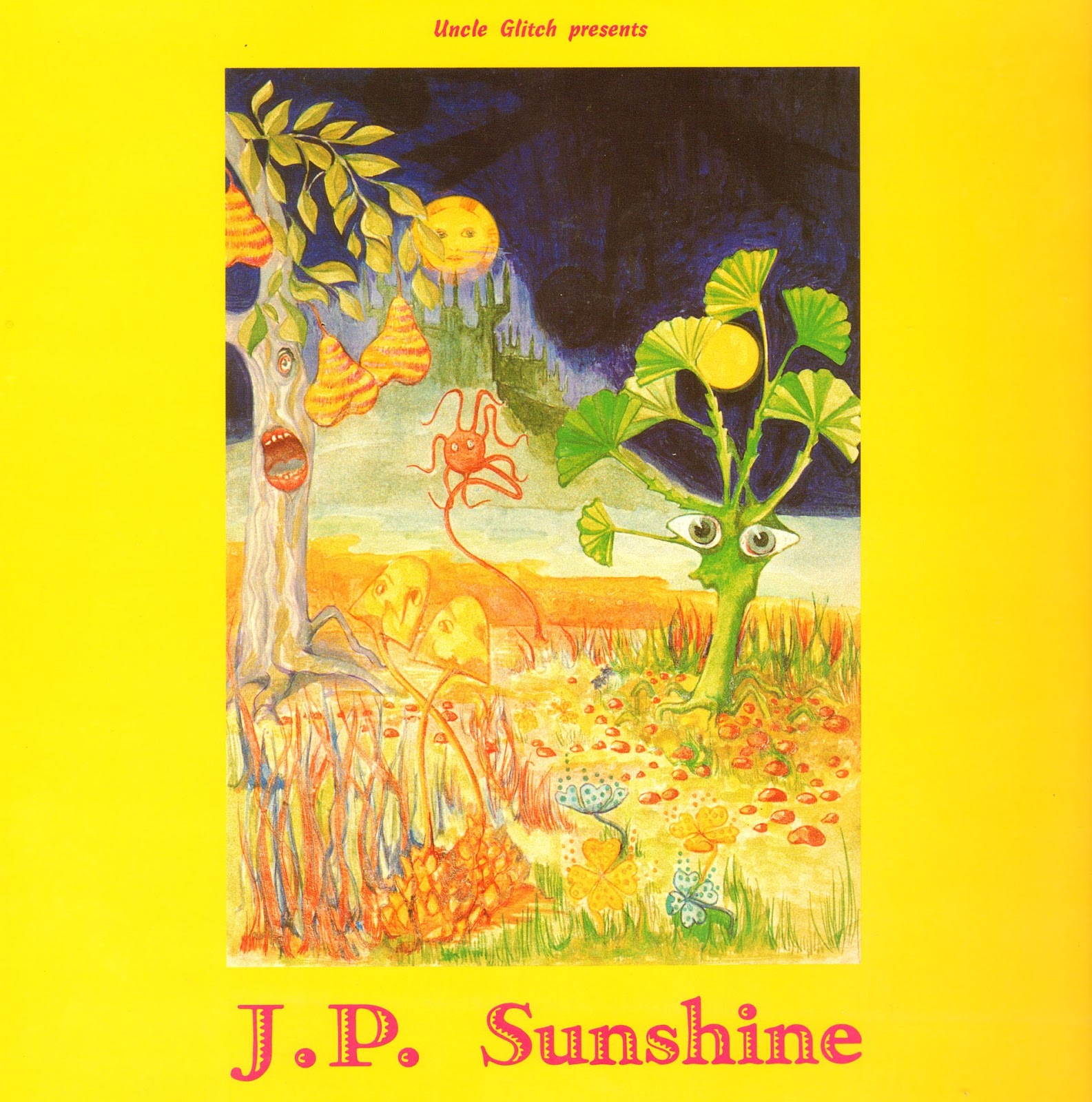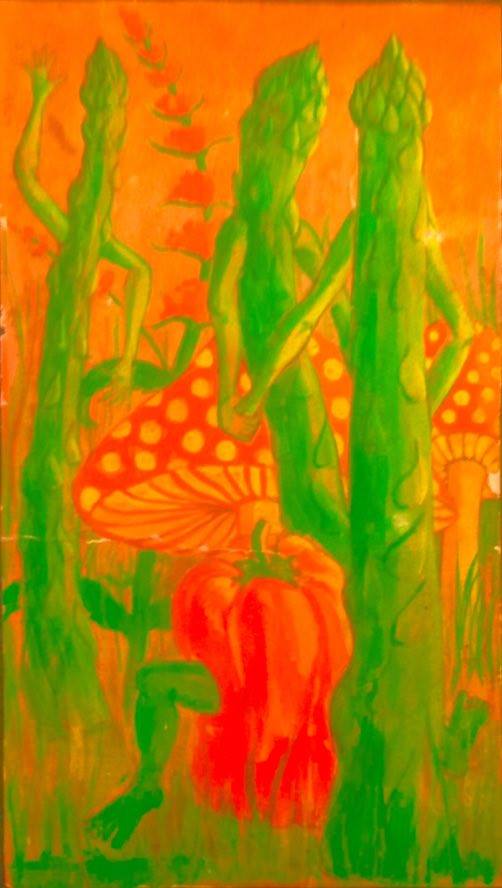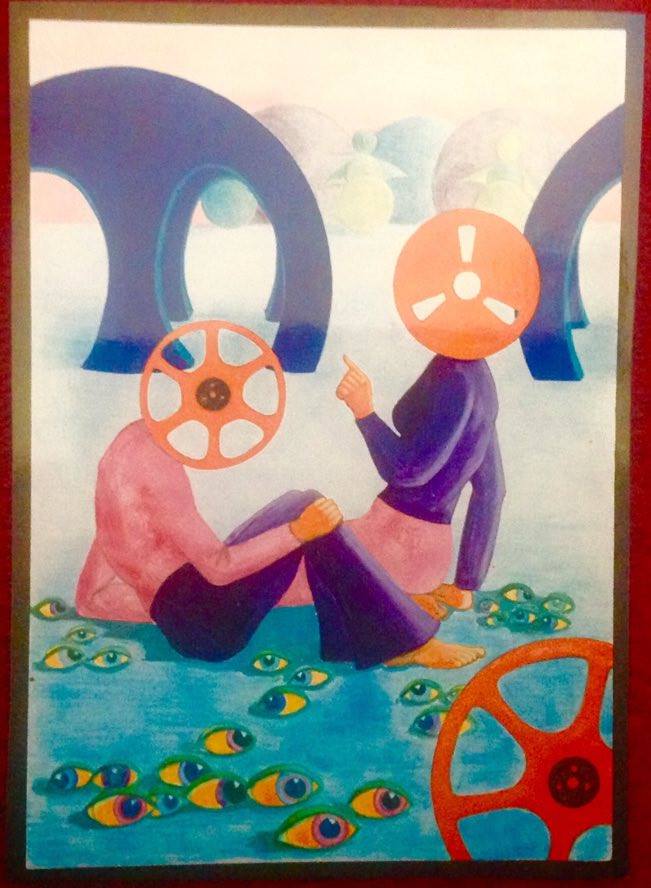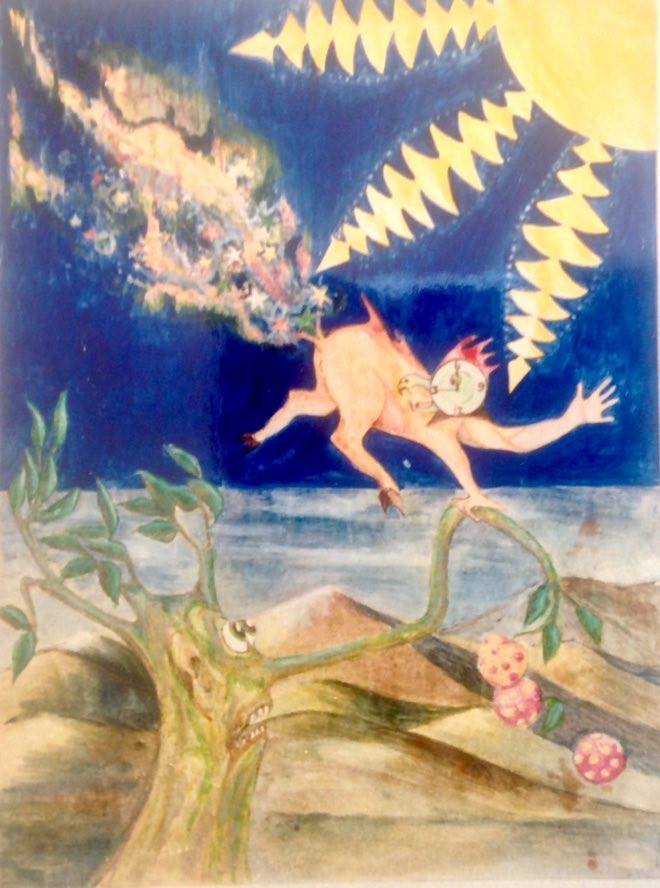 What albums influenced J.P. Sunshine?
Jorj had a fantastic record collection. He would buy all the latest imports and it was at his place that I first heard Captain Beefheart Safe As Milk; LOVE Forever Changes; Jefferson Airplane After Bathing at Baxter's; Donovan's Gift From A Flower To A Garden; Zappa's We're Only In It For The Money and many many more. We didn't knowingly copy any of these but Forever Changes, at least, must have entered our joint psyche. Although, I think the finished sound of the song "Love Scene" is truly unique.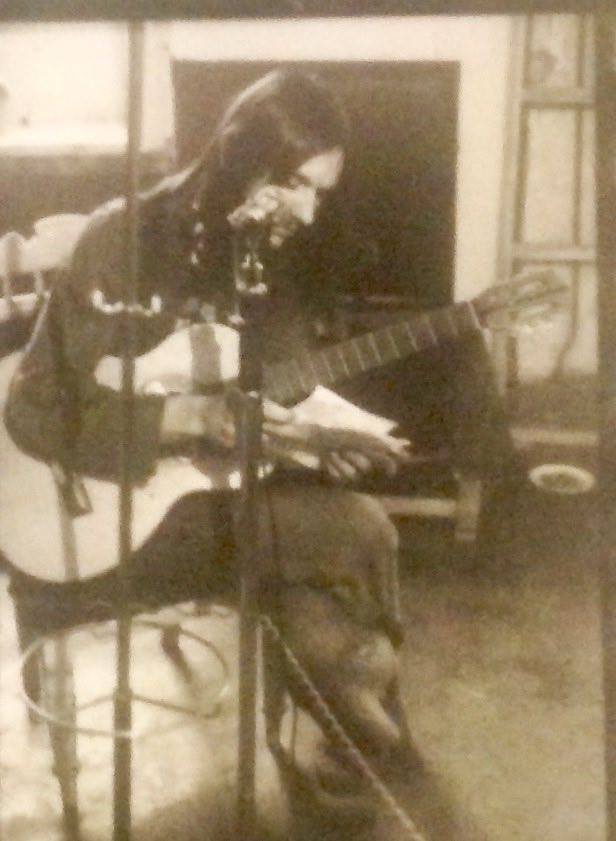 From January 1968 – April 1968 you were part of The Artwoods with different name and lineup change. The original line-up of Art Wood on vocals, Keef Hartley on drums, Jon Lord on keyboards, Malcolm Poole on bass and Derek Griffiths on guitar were, by mid 1967, down to Derek Griffiths and Malcolm Poole with Rod on vocals and Colin Martin on drums to make up the numbers. Keef Hartley went on to John Mayall's Bluesbreakers and Jon Lord to the Flowerpot Men and then Deep Purple.
After hankering after live performance again (I had never been offstage for so long since I was 16) I answered an advertisement in Melody Maker for "Vocalist/frontman needed for LIVE work – ex ARTWOODS" – apply Malcolm Poole. I had loved the first single by The Artwoods "Sweet Mary" / "If I Ever Get My Hands On You" so I made my way to Pooles Dairy in Hayes End, Middlesex where there was a full scale audition in progress. Colin Martin had already replaced Keef Hartley on drums and there was a new guy named Steve auditioning on keyboards. But Malcolm Poole and Derek Griffiths were still there. I passed the audition and our first gig was in France, at somewhere huge like the Paris Olympia!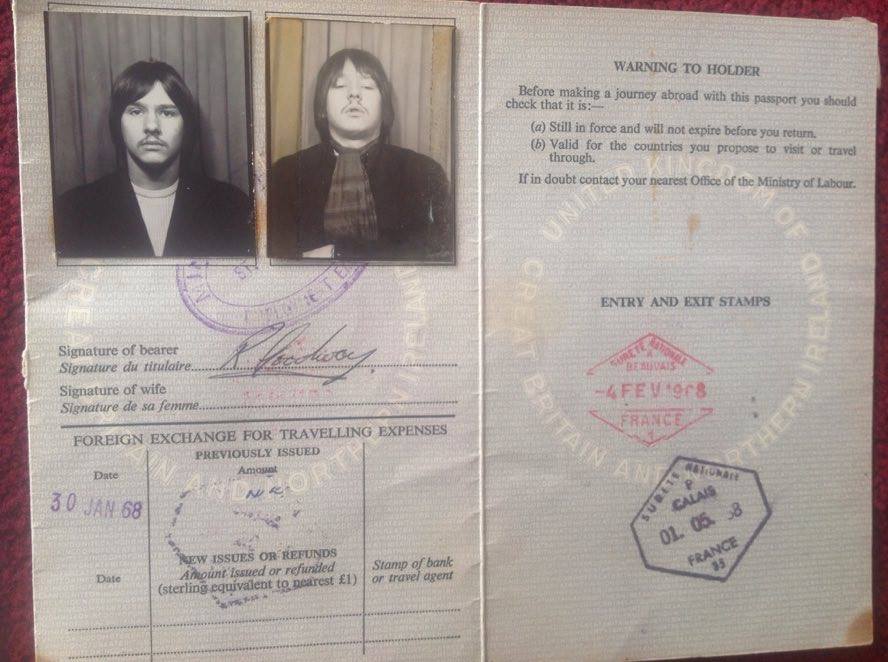 Jon Lord's section on the following DEEP PURPLE website has this to say:
"In 1968 a new vocalist and keyboardist to St. Valentine's Day Massacre (Rod Goodway, vocals and Steve on keyboards)
The itinerary was; two gigs in Paris & then back to England for fourteen nights without a break. A grueling enough schedule without the accompanying tour partying with such bands as The Spencer Davis Group, The Bonzo Dog Doo Dah Band & The Move.
Once this tour ended, there was no work on the horizon, so the band disbanded. Malcolm Poole went on to play with John Mayall, Derek Griffiths went on to be a session musician & then joined Satisfaction in 1971. Colin Martin went on to be a BBC Producer & Rod Goodway ran into Andy Rickell who was playing with a band called White Rabbit." (More here)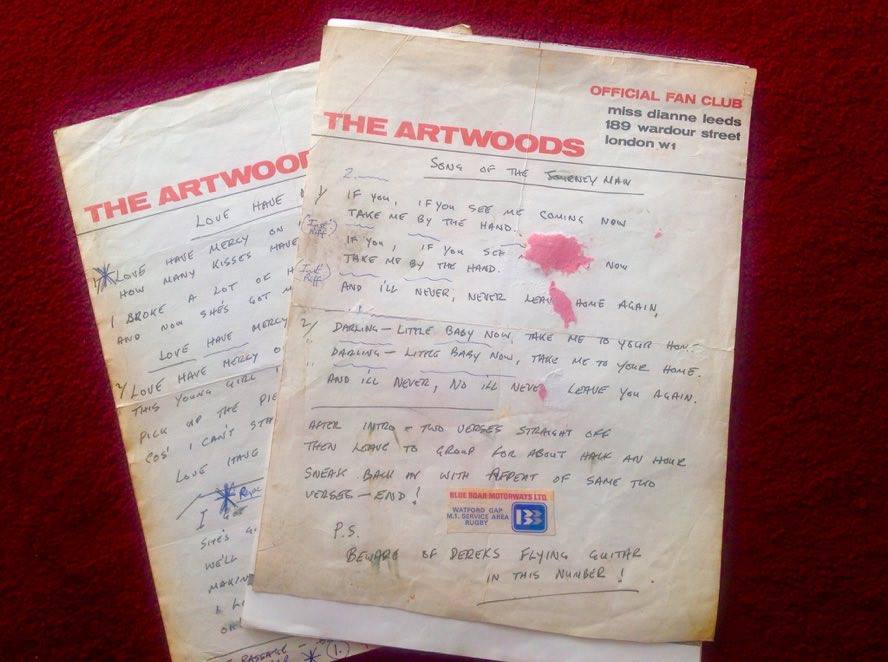 You were drifting from one project to another. Another band was born in 1968 – White Rabbit. Who were members and what can you remember from it?
Yes, although we consistently returned to ongoing sessions with J.P. Sunshine, both Andy Rickell and myself were working in professional bands. He was with White Rabbit, but they were about to break up.
They had been working with two singers at that time, Linda Lewis and Junior Marvin! (Yes, Junior of Bob Marley fame) and included two ex Pack members: Andy Rickell on lead guitar and Terry Stannard on drums.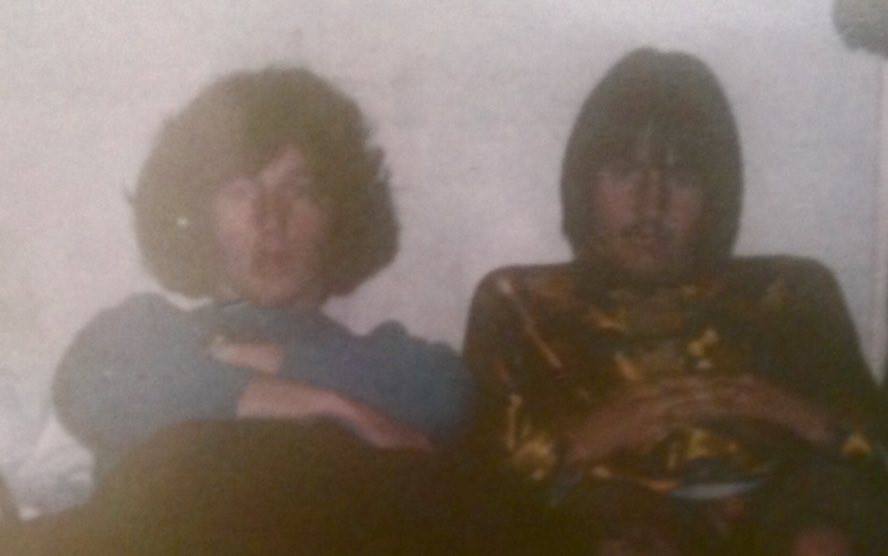 Andy said it was a pity they were splitting because there was a residency coming up at the Papa Gayo club in St Tropez and it would be nice to grab some real Sunshine!! Well, my own set of contractual gigs with The Massacre was about to expire so I said I would be available if they got stuck.
Next thing I know there is another audition, this time for White Rabbit. Their manager was Ian 'Sammy' Samwell who I knew by reputation from Brian Gregg. Sammy had written the Cliff Richard hit "Move It" and co wrote The Small Faces' "Whatcha Gonnna Do About It" before going on to write the hugely successful "A Horse With No Name" and working with The Grateful Dead, Joni Mitchell and Frank Zappa. But back then you could tell he knew what he was on about. Although I passed the audition he warned me that there would only be a number of contractual gigs and, unlike my predecessor, Junior Marvin, I could concentrate on rock oriented material and leave the 'soul' stuff to Linda.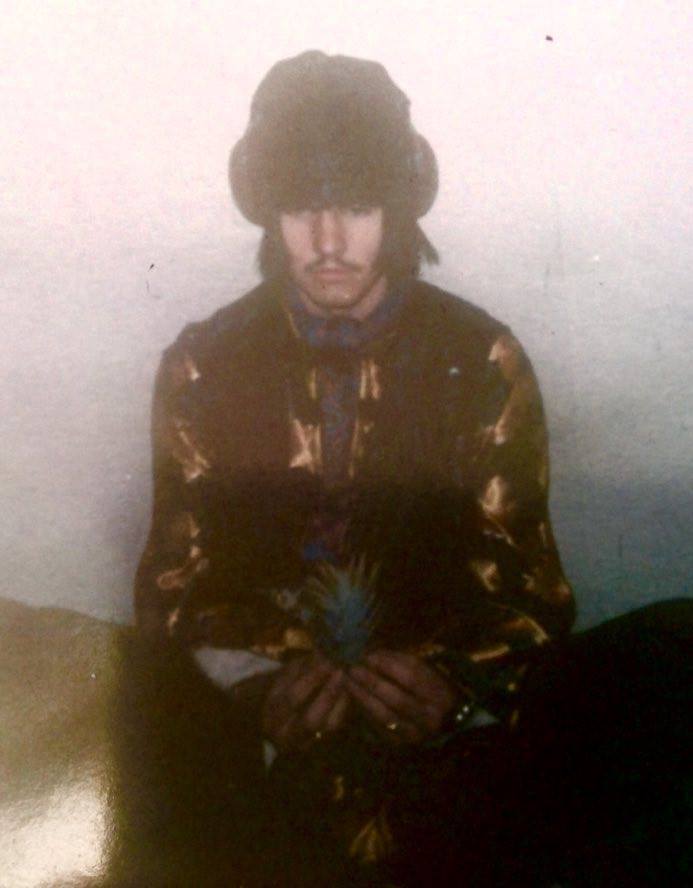 Unfortunately Terry Stannard had already left but his replacement was Ron Berg (just prior to him joining Blodwyn Pig) on drums, with new bassist Pete Pavli (just prior to him joining the wondrously heavy High Tide) with a keyboard player named Mick Aron … alongside a very young Linda Lewis. So … quite a band.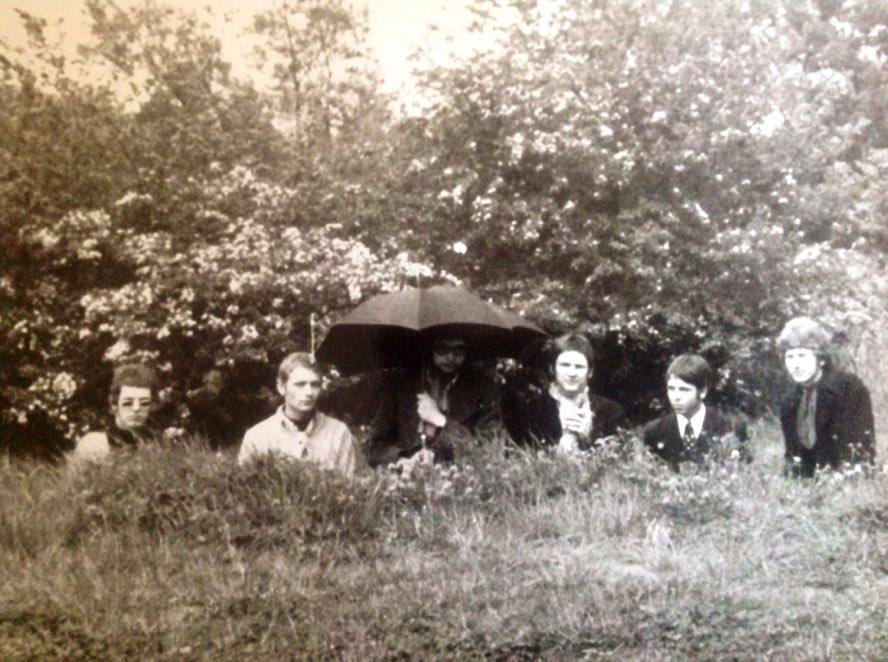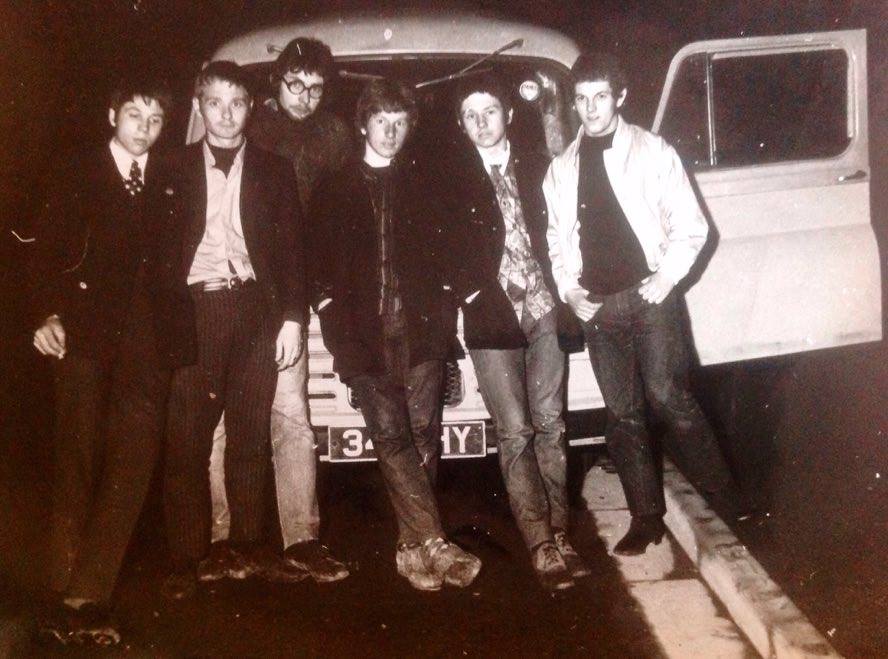 I remember quite a lot, probably more than your space allows, but even before we ended up on the ferry to France, en route to St Tropez, the van broke down and we had to stay in a b&b overnight until the manager was able to send a replacement. Our driver was the highly respected photographer Pete Sanders, but the replacement van was short of seats by one. So we had to take it in turns to use the 'torture' seat which was an upturned wooden box ! Bad enough for even a hundred miles but (having been turned back at Calais because we didn't have enough money to legally enter France, with Pete Pavli not even owning a pair of shoes) by the time we actually got back to France we had less than 24 hours before we were due onstage! Therefore we had to drive non stop complete with torture seat. There are wild tales about our time in St Tropez but eventually we were sacked! Quite a feat as the Papa Gayo was directly above the outrageous Les Allonges (or laying down) Club and known worldwide to be very, very naughty.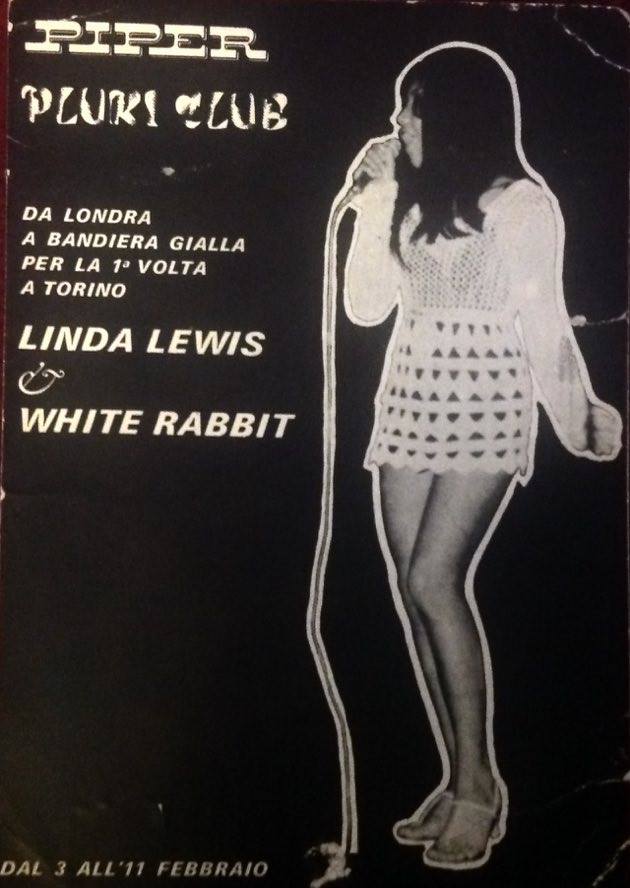 Another remarkable gig, back in London, was at Middle Earth supporting the wondrous Captain Beefheart and his Magic Band. And, after melting our minds with a totally far out set, it was Don, the Captain himself, who came over and complimented US on our set!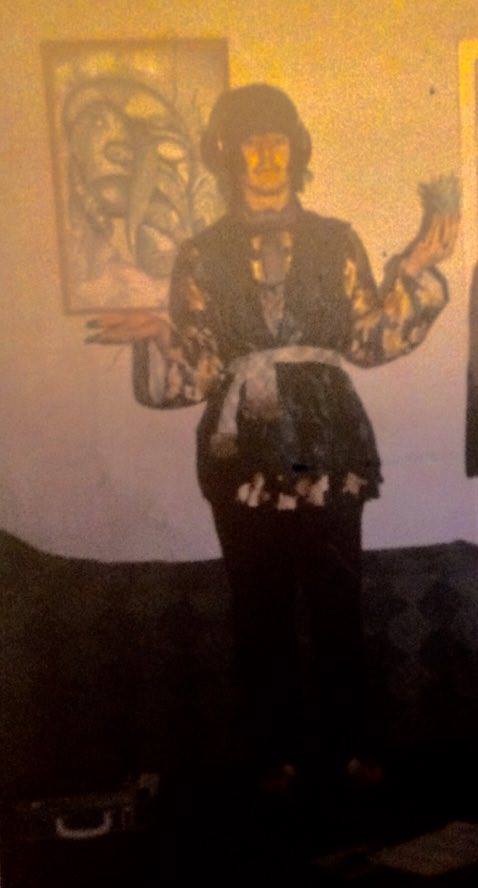 It was then he noticed that Pete Pavli (still) wasn't wearing any shoes! I've told this story a few times but it bears repeating that the good Captain sternly (but good naturally) rebuked Pete, warning him of the health issues of barefoot living … But then, astoundingly, he handed over a £5 note and told Pete to buy a new pair of shoes! "Don't just spend it on dope, man. Get yourself some footwear!" What a beautiful man.
(p.s. It was spent on dope)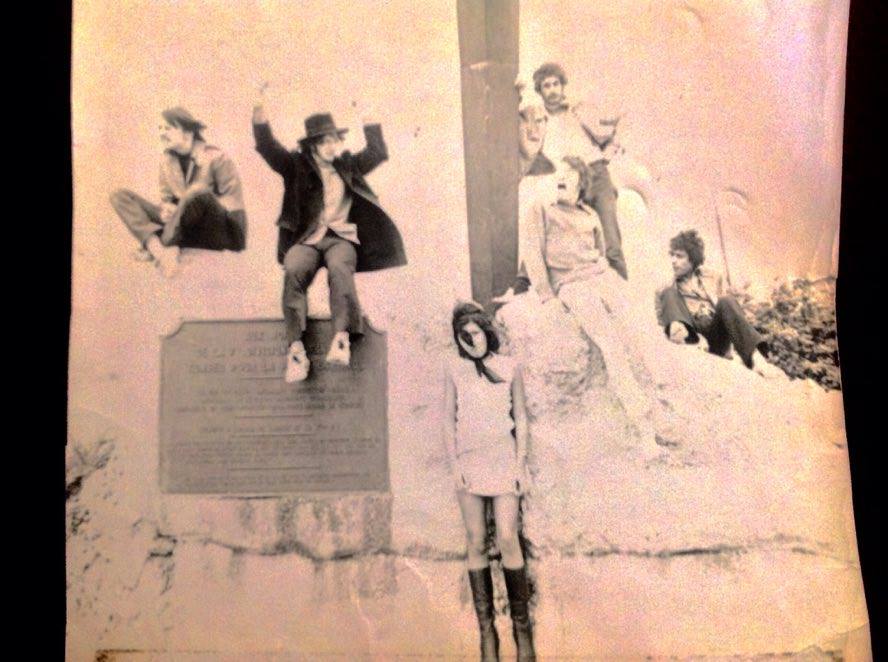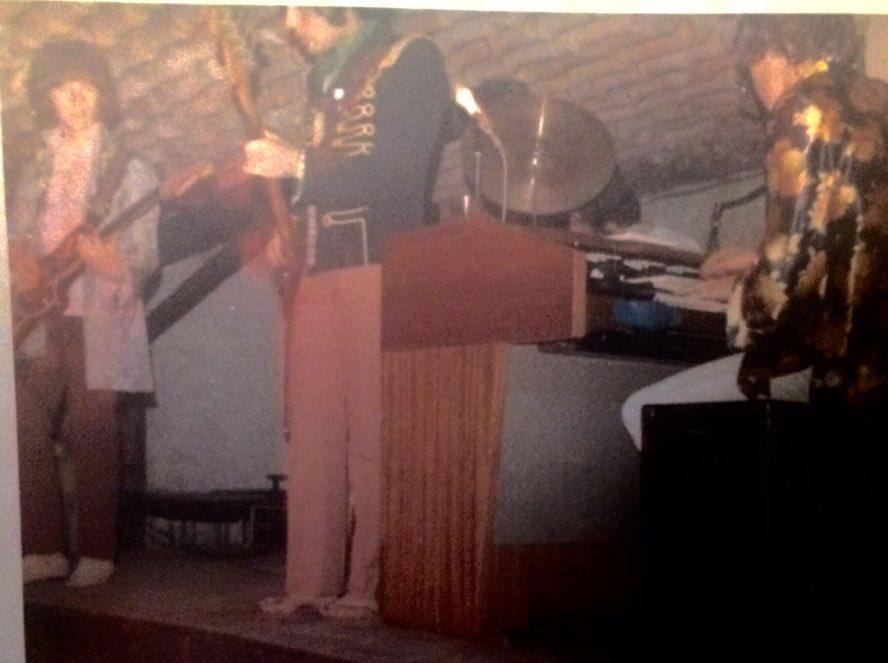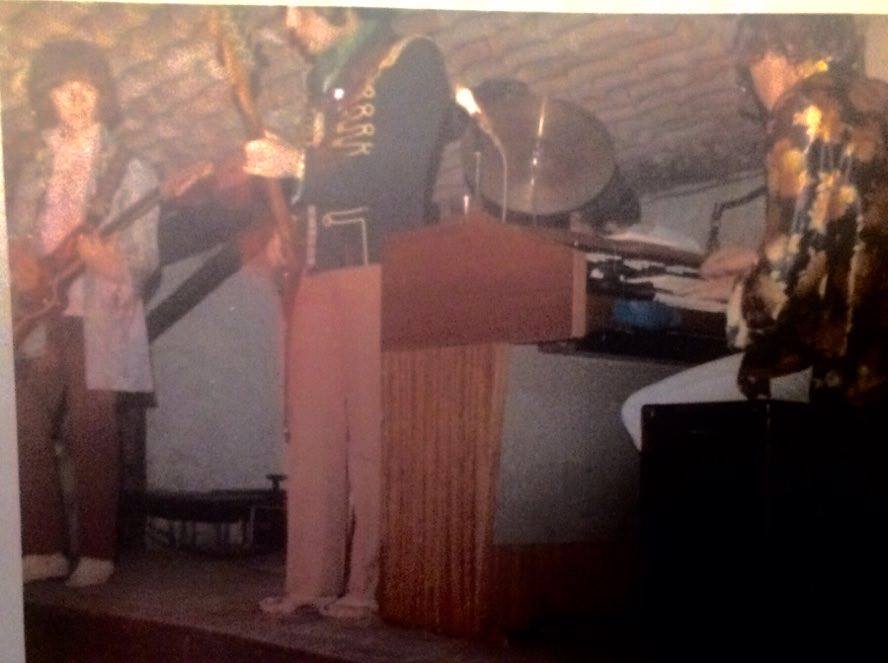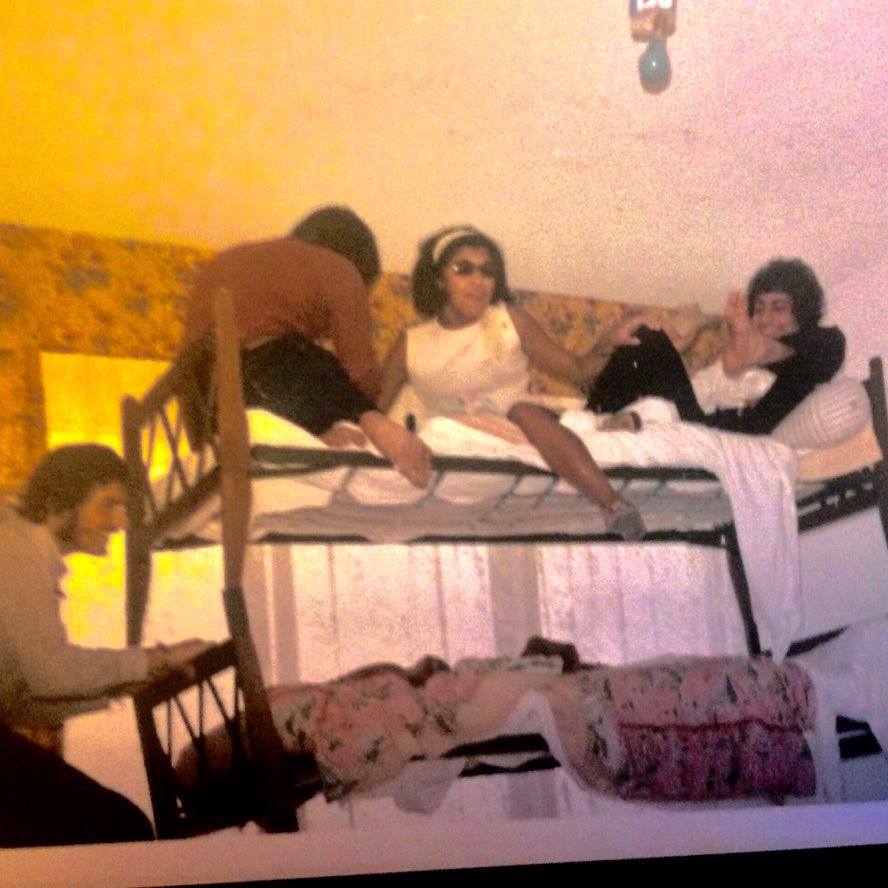 One of the most interesting projects from your discography is definitely Rustic Hinge & The Provincial Swimmers. Avant-garde improvisation, start of what would later evolve into space rock but still wasn't really what you were doing in Magic Muscle later on. At the time you were living a commune-like lifestyle and experimenting with LSD… I think this anarcho-music approach was rather unique at the time and you were definitely one of the pioneers. Were you inspired by Captain Beefheart, The Fugs and other non-commercial artists?
Well, to put it in perspective, after the J.P. Sunshine drugs bust, I returned to London for a while during 1969, but Andy Rickell and Pat were now married and sharing a flat with Ade Shaw & Maureen. I just completely 'dropped out' and took a lot of acid, got stoned all the the time. (Similar to 1968 but without making all the music at the same time). Pete Pavli and Simon House used to visit regularly and we all had many psychedelic adventures. High Tide lived just around the corner.
But the mood of the times for many freaks was "get out of London" and I went to visit old friends in Bristol, in an old house that had been divided up into rentable rooms. Micky B (from the old Flower Of Wisdom group) was living there and Pete Biles had also moved in, with other people I knew plus a whole new group of wonderful freaks. The huge house was at number 49, Cotham Road and it would soon become the most infamous Commune in Bristol.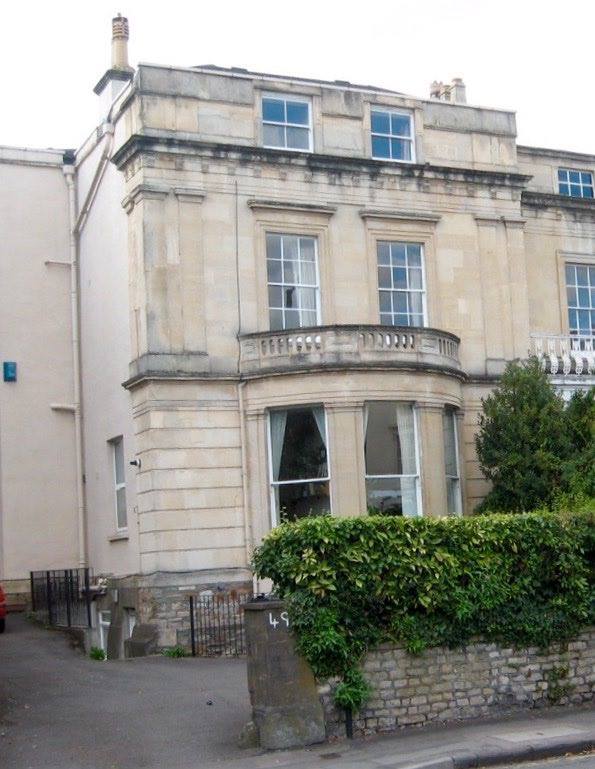 Meanwhile, time drifted into 1970 and I had been writing lots of songs again (including one called "Fly Brohers") and jamming with assorted friends & neighbours. We had lots of musical visitors, including drummer Kenny Wheeler (latterly a respected studio Producer and Artist) and Gordon Strong (now a prolific author) … and very soon after we had returned from this, on June 25th, I got a telegram from Andy Rickell from a place called Puddletown in Dorset. I had never heard of such a place.
It said: "PHONE THIS AFTERNOON URGENT – ANDY"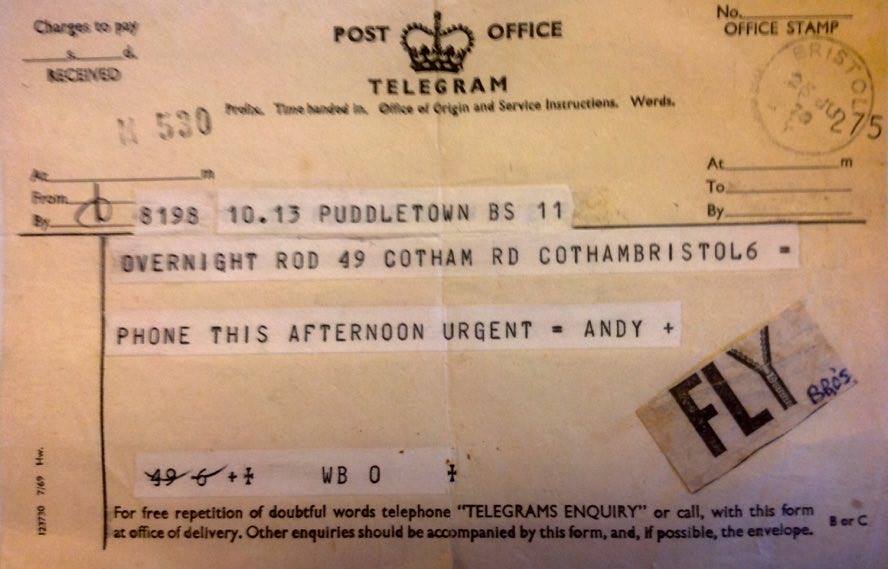 When I rang he explained that Arthur Brown had freaked out and left his own band, in a beautiful house with a recording studio deep in the Dorset countryside. He said Pat and Adrian Shaw & Maureen were there too. Did I want to come down and make music?
This is really the time where your question about Rustic Hinge & The Provincial Swimmers comes in. There was no question of ME 'replacing' Arthur Brown, simply an opportunity to make new music.
When I first arrived at the Dorset farmhouse to see if I could help Andy, I reunited with my other old friends Adrian Shaw & Maureen, and Pat (now Andy's wife), and I met drummer Drachen Theaker and a charming 'mad professor' type they called Boob (real name Ian Bowden).
I also learned that our neighbours (about a mile away) was our old chums High Tide. That vibe about "get out of London" was catching on fast.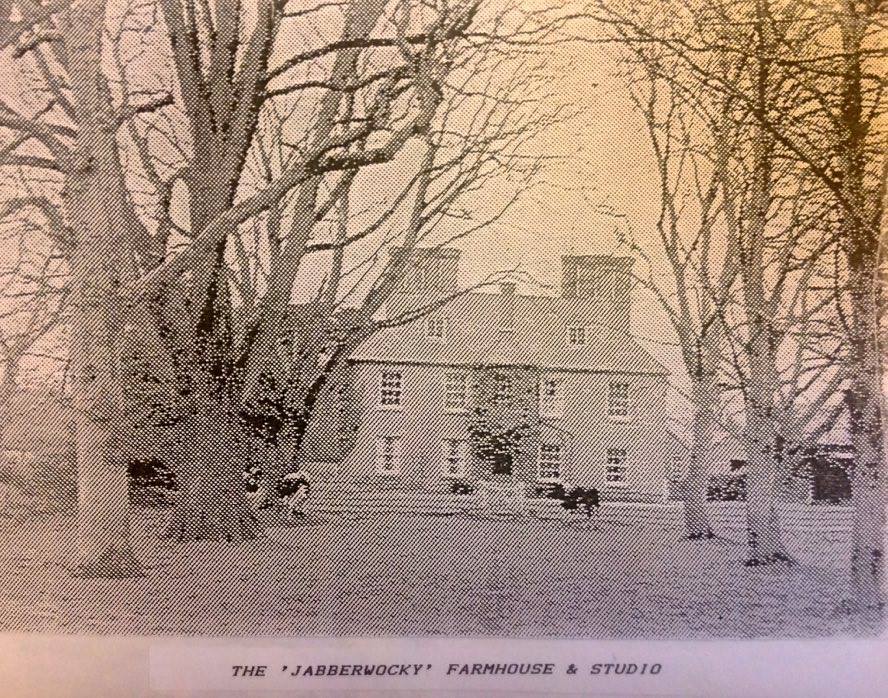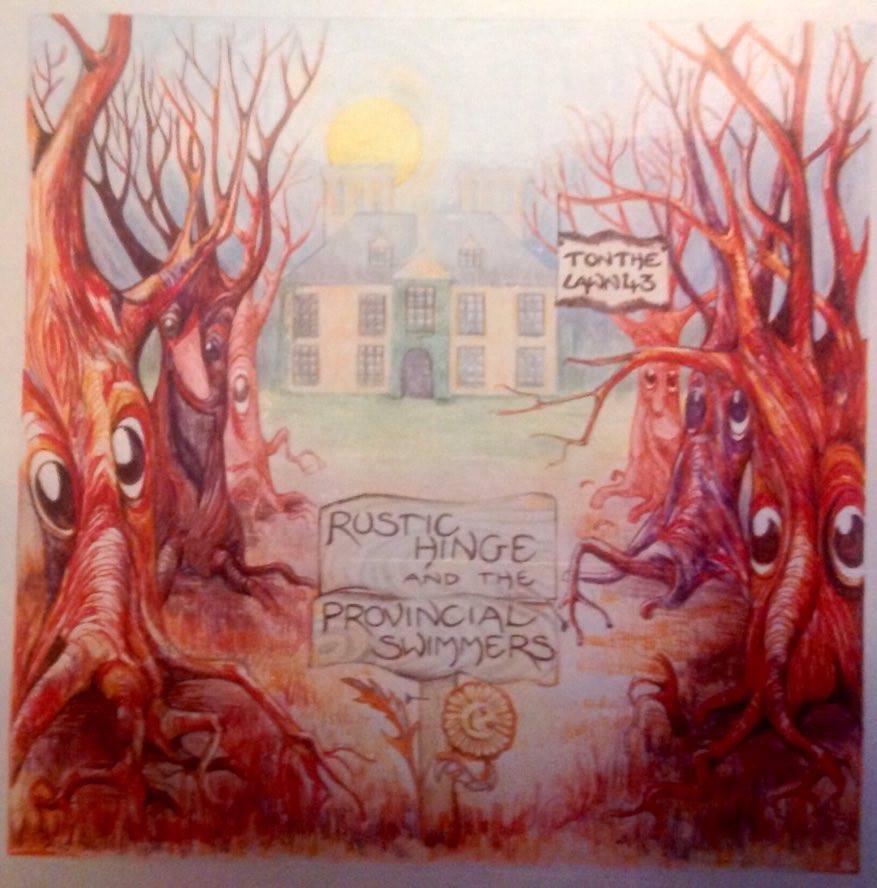 But now Andy revealed his master plan. He was now calling himself Android Funnel and he took me into the studio and played me the extraordinary music that he and Drachen had been working on. Now, something which many, many people have remained ignorant of (thanks to Drachen Theakers' heavy-handedness) is that the original "T On The Lawn" opus was as much Monthy Python's Flying Circus and Goon Show-on-acid as serious 'clever' time signatures and high impact musical ego massaging. The genius of "T On The Lawn" included an Introduction by what sounded like a typical BBC announcer (spoken by Boob Bowden) sounding like the beginning of a serious Classical Proms concert at the Royal Albert Hall … gradually ruined by shouts of "Get off" and "Rubbish" etc. etc. (We did the cat-calling one night, all sat in the lounge in front of a LIVE microphone ) … THEN the music starts.
A completed piece of gorgeous, often disjointed & discordant, manic splendour. From a vocalists perspective there is no wonder that Arthur Brown found it more of an insult than a challenge. But it was magnificent!
The recorded sounds were much as you hear them on side one of the original Replicas album release, inspired as much by Bartok and Stockhausen as by Beefheart … but Android and Drachen expected lyrics & vocals as well!! They even asked if I could come up with a NAME for the band, now that Arthur was seemingly no longer in the picture. I came up with RUSTIC HINGE & The PROVINCIAL SWIMMERS which everyone loved and has since been used with abandon but something I have NEVER officially been given credit for!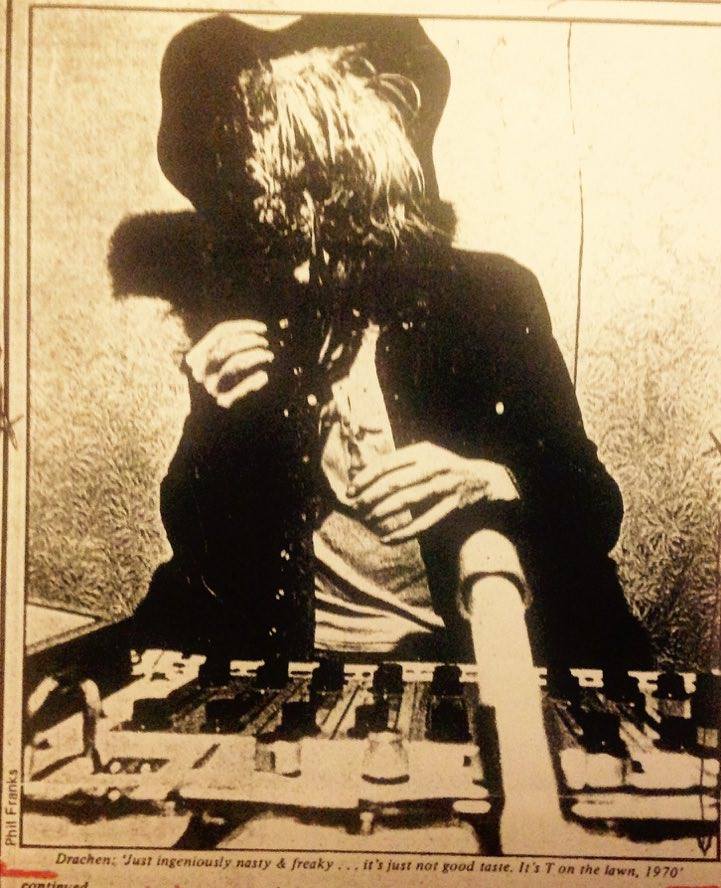 I think it would be very interesting if you can remember what was going through your head at the time of recording Rustic Hinge material?
My immediate feeling was "this is a challenge … but I love musical challenges and, let's face it, I can sing ANYTHING!" That had to be my attitude from day one.
There is no doubt that in confronting this complex maze of time signatures and chord changes my immediate vocal 'guru' at that point (in my head) would have been Captain Beefheart, but let's face it, much of this instrumental music is VERY Beefheart's Magic Band! But I also found that my recent "Fly Brothers" song could actually fit rather well over and among the instrumental piece which was subsequently titled (on the Replicas release) "Opus Pocus", and which really does sound like the Magic Band. But even then, Android felt the results of the vocals needed to be made 'weirder' so he got Boob to invent something he called 'The Wobbulator' which made the vocals sound like I was singing underwater.
The results are so weird that they were never used.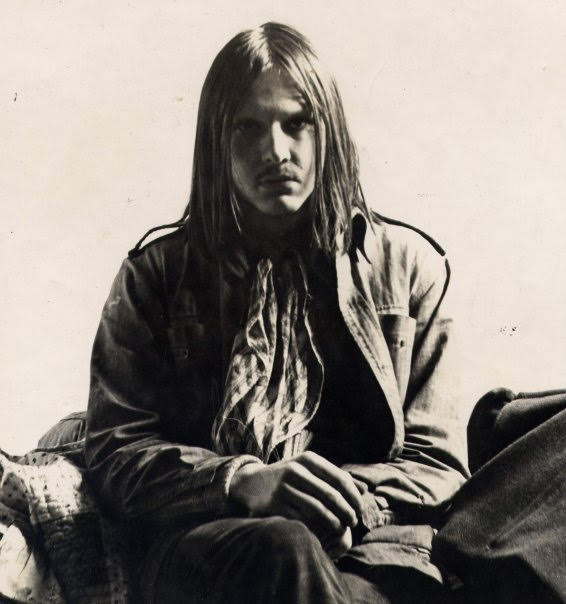 Another one my vocal was used for was "Lychee" a poem that I chanted rather than sung over a 'backing' which was subsequently released (instrumental only) on Replicas titled "T On The Lawn 4 3" … which is odd because the original entire album was supposed to be called "T On The Lawn 4 4". Because they didn't like me and Ade leaving when we did, I believe there was always a vendetta about never releasing anything with my vocals on.
But often, throughout the entire original piece, Boob speaks … and it's sometimes threatening and often hilarious!! So it's HIS voice that was deleted as well as mine. All missing from the finished Replicas album and a great shame that it's NEVER been released in its entirety anywhere!
I can completely understand why this album was never released in 1970. It wasn't until 1988 that Reckless Records issued Replicas.
Well, John Peel was very interested in releasing it on his Dandelion record label, complete with my vocals, back in 1970/71. He actually visited the Rustic Hinge farmhouse and everything but I had already left by that time so maybe it had something to do with whether to include my vocals or not. It didn't help matters when Drachen himself quit either, so it wasn't that there was no interest … there just wasn't anybody seriously pushing it to record labels in London. They were marooned in their country farmhouse.
But I was not included in the eventual Replicas release anyway, NOT AT ALL.
Not even a namecheck, like "Rustic Rod Goodway thought up the NAME of the project." Nothing at all!
At that time, in the early-to-mid 1980's, it seemed to me that ANDROID had rather lost control of his life and seemed to spend most of his time, when not visiting old friends, wandering aimlessly from one pub to another. He was an alcoholic and 'of no fixed abode' much of the time. Drachen Theaker had acquired ALL the Master tapes from the Jaberwocky Studio experiments and gave Android some financial offering to buy out all 'control' over the project. So, everything you hear on Replicas is what Drachen wants you to hear, whereas I believe at least a THIRD of the 'magic' is missing. Not just my vocals but the words of 'Boob' as well.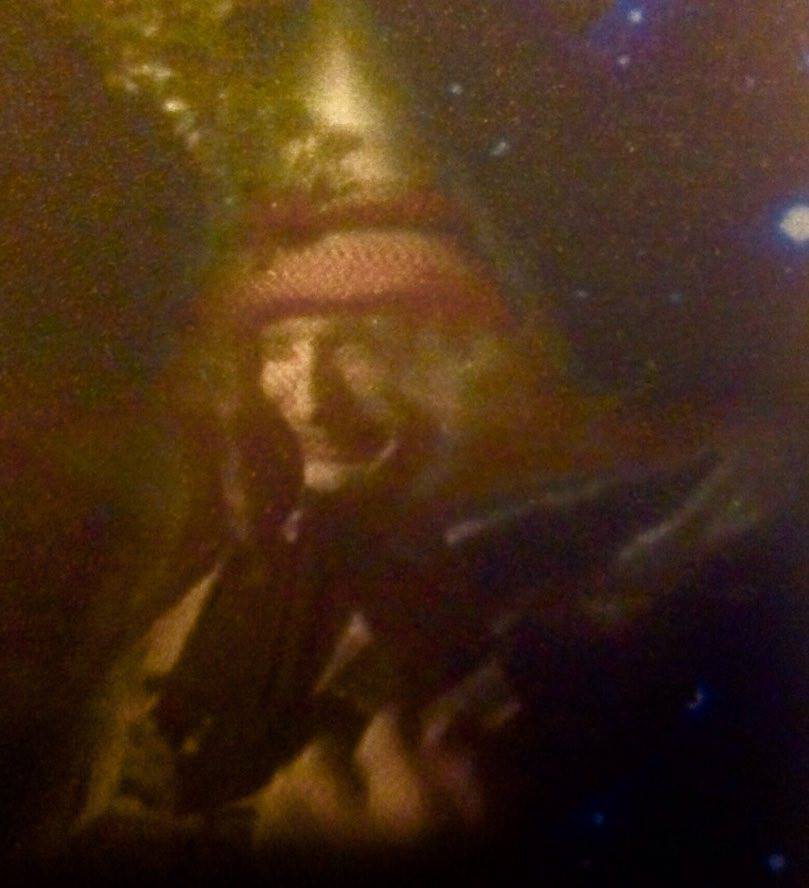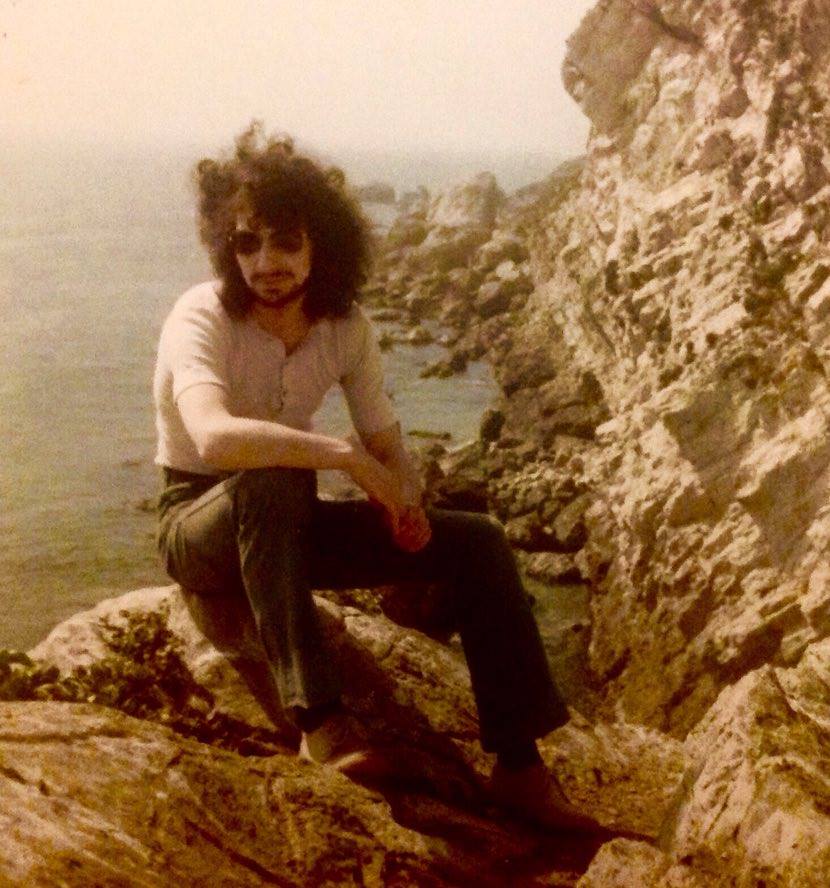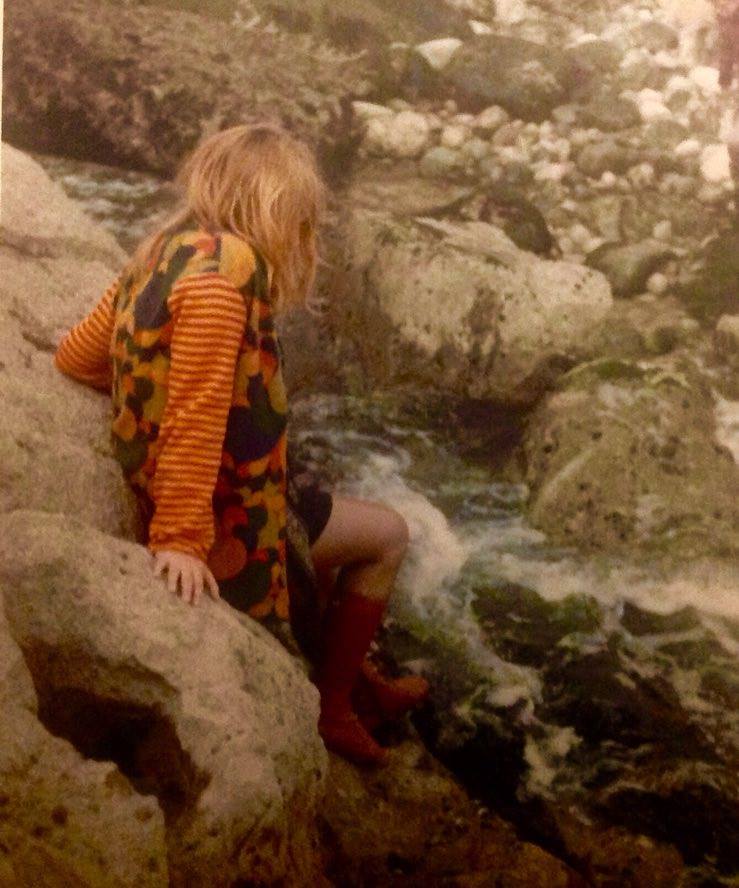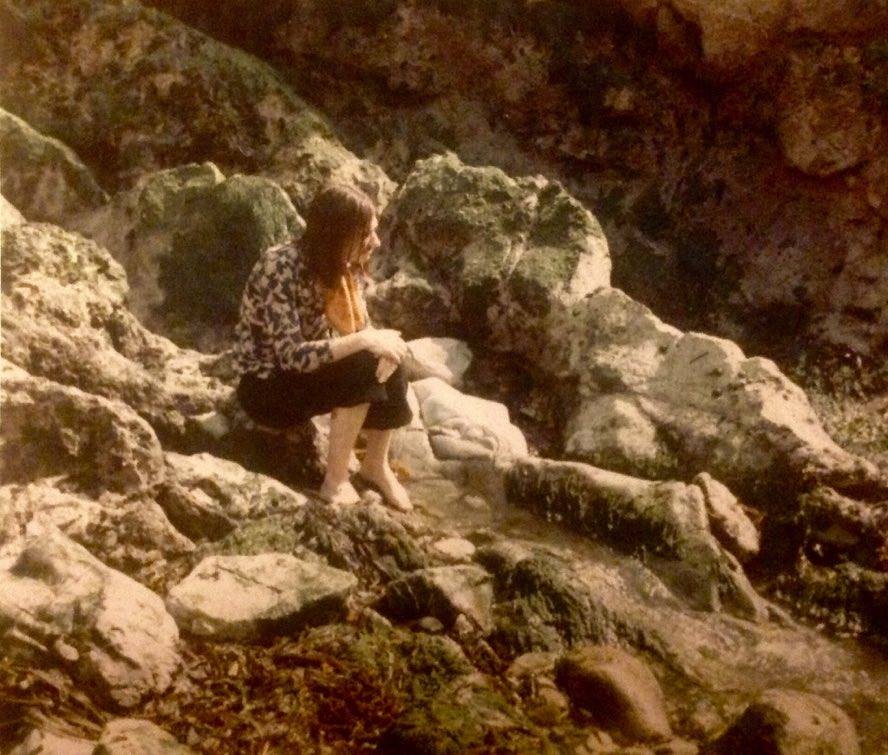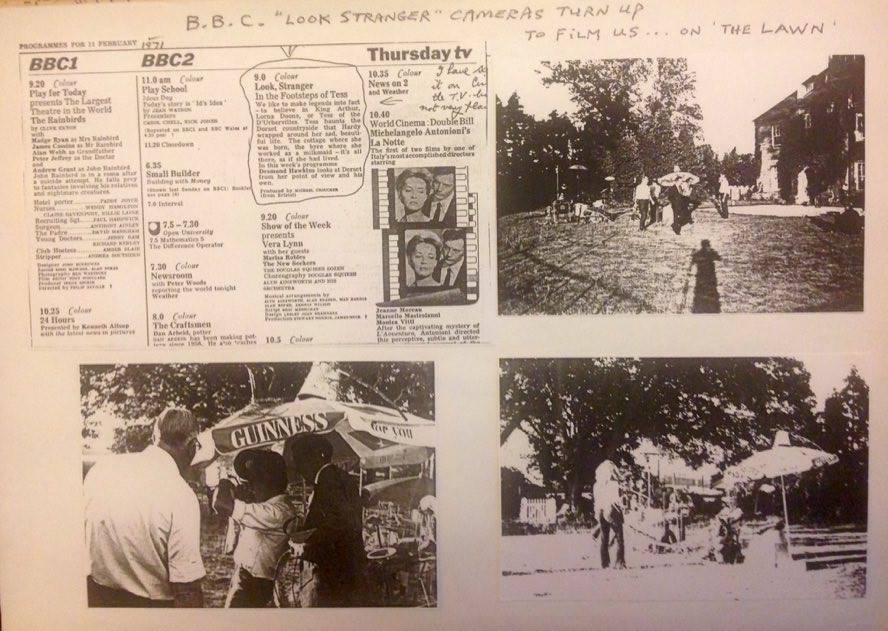 "First they were Spaced, soon to be transformed in Magic Muscle."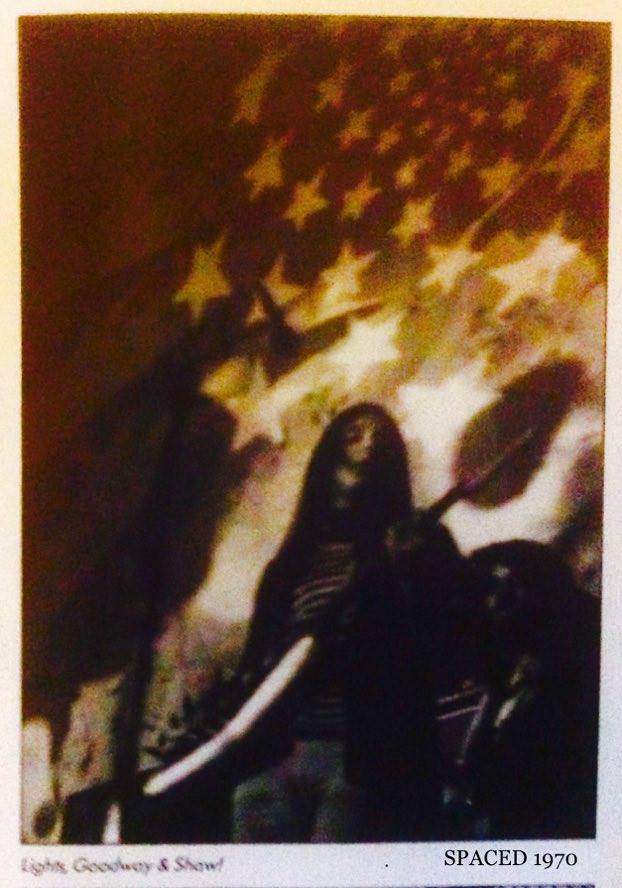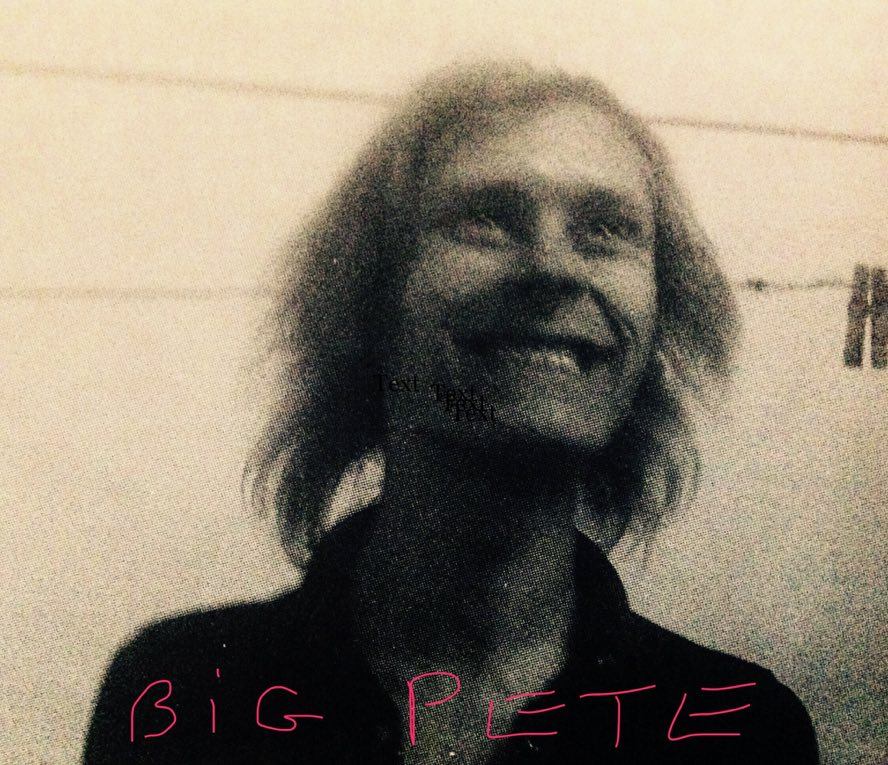 "And this one features Big Pete singing the blues at the start. It is taken from the RUSTIC HINGE recording studio (Jaberwocky) and Produced by Andy … aka ANDROID FUNNEL."
What's the story behind formation of Magic Muscle?
When Ade Shaw and I came back to Bristol after the Rustic Hinge debacle, we began looking around for fellow musicians to form a band that expressed our OWN musical feelings. One of my flatmates at Number 49 was Keith Christmas who had been booked to play at the Pilton Pop Blues & Folk Festival (which has since been referred to as the First Glastonbury Festival, 1970) so various members of the Commune attended.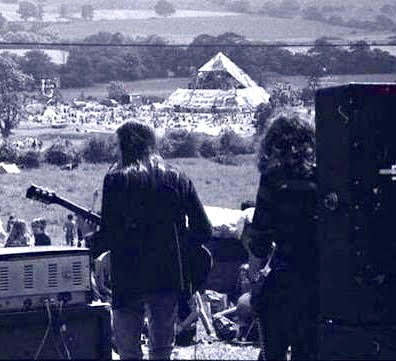 Ade and I gathered together some like minded people like Ken Wheeler, Gordon Strong, Pete Airie and old friend Pete Biles and we rehearsed and even recorded a couple of sessions. One LIVE gig at Bristol Art College came our way and I was asked by the promoter WHAT we were? (Probably referring to our name or whether we played 'Prog' or whatever?) I thought he was asking our state of mind at the time and jokingly answered "spaced"! So we ended up being advertised as Spaced. Having no other name at that time it stuck for a while.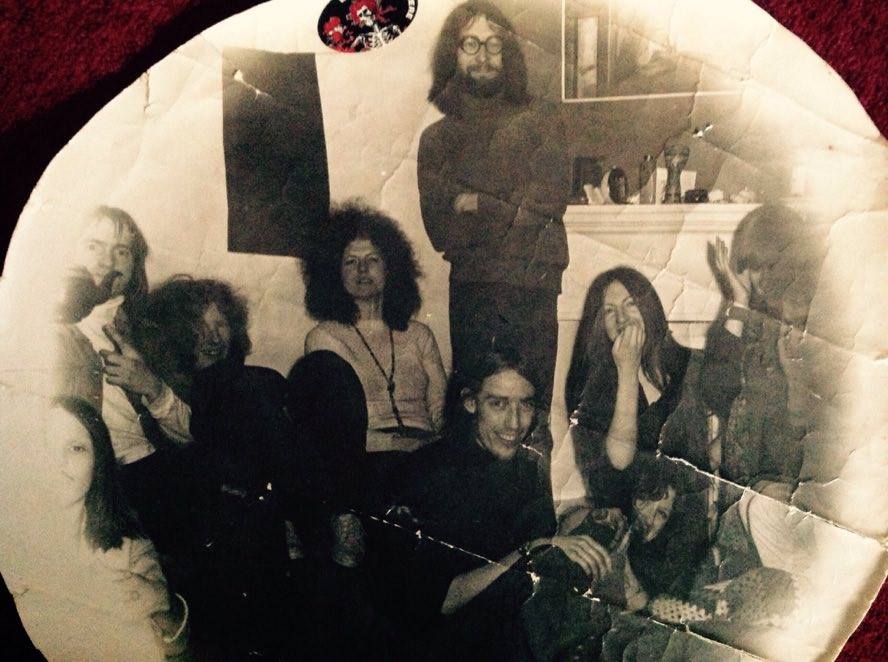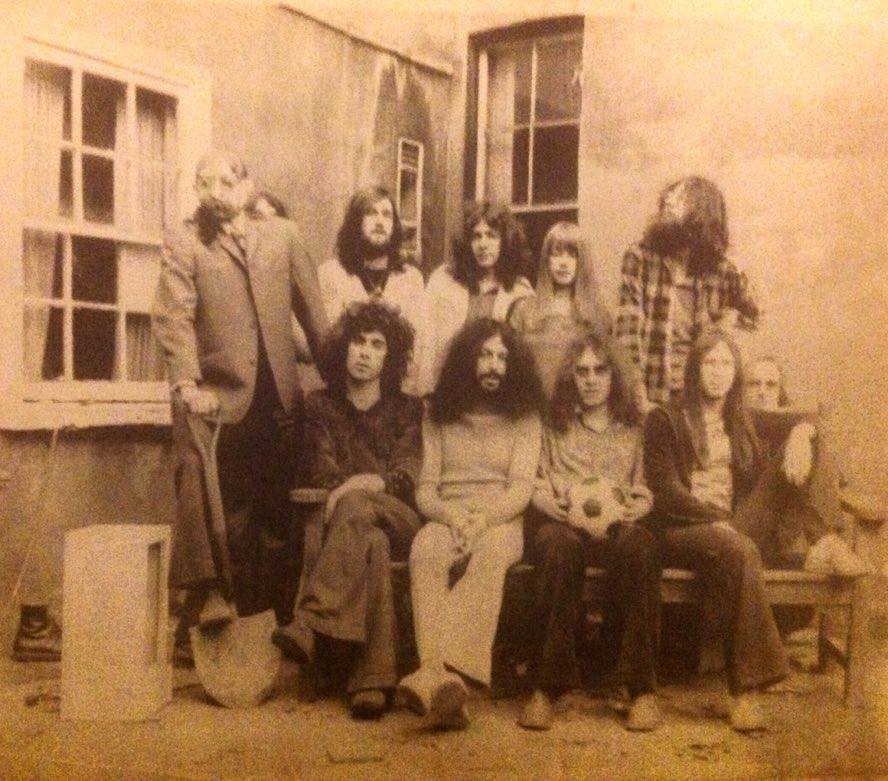 Keith Christmas was offered some free studio time at HTV Studios in Bristol. They were a television company but they had no experience of recording ELECTRIC music in their newly equipped studio. Keith had been jamming with us in the converted cellar at 49 Cotham Road and this was his first experiences of playing electric guitar. When it came to the HTV studio time, Ade Shaw (bass), Ken Wheeler (drums), Pete Biles (congas) and myself worked on 3 of my songs: A newly vamped version of "Fly Brothers" and "Days Majestial Splendour" (which we ended up welding together into one, long number) and a ballad "Woodcarver Man". The studio wanted one uptempo ('rock') song and one slow (ballad) song. Then, Keith Christmas played lead guitar over the top. These songs open Side 1 of The Pipe, The Roar & The Grid LP.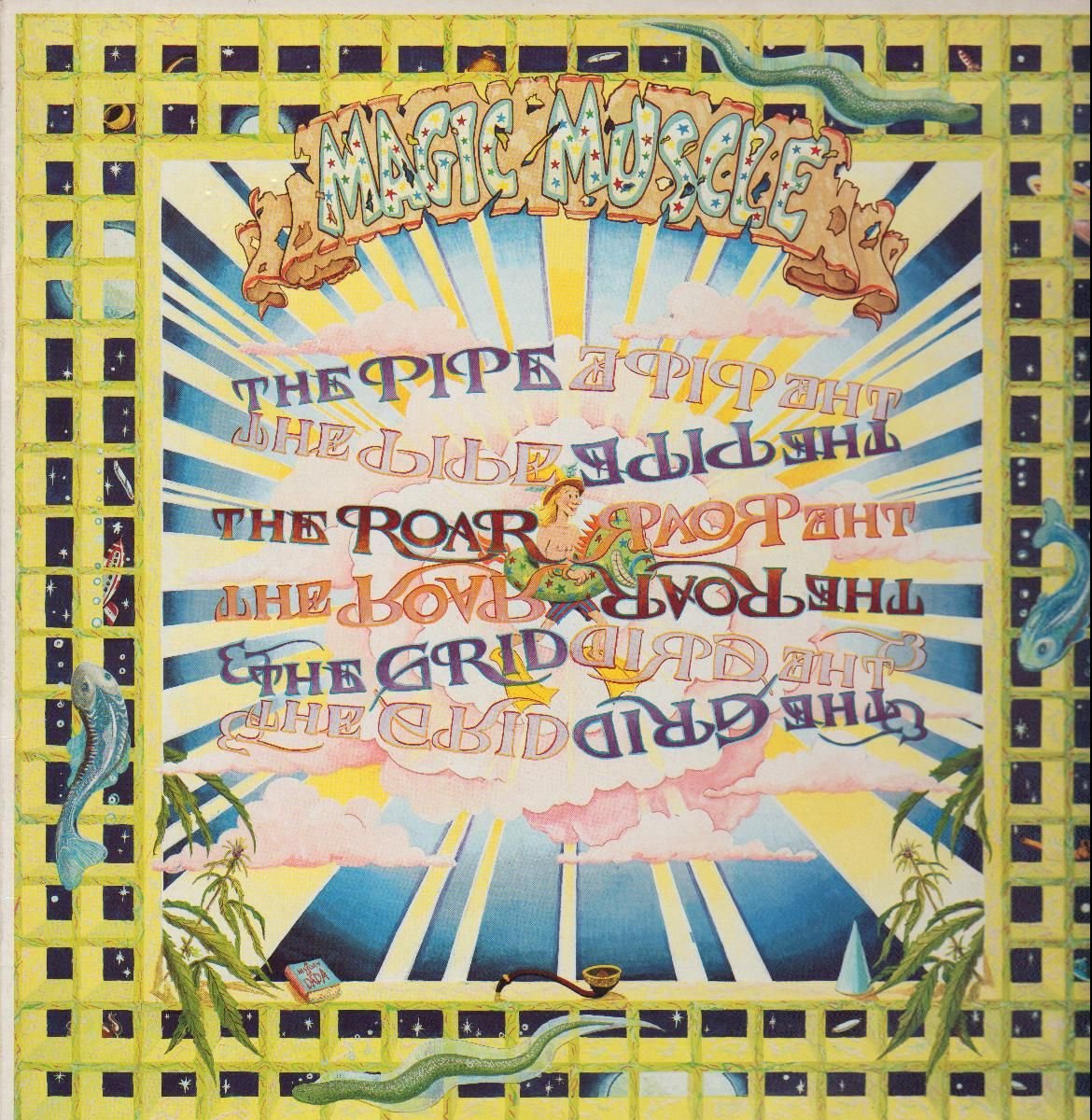 Why the name "Magic Muscle"?
Ken Wheeler bought the Beefheart Lick My Decals Off, Baby LP and suggested Magic Muscle as a band name. We ALL agreed it was a perfect name. "Space age couple why don't you flex your Magic Muscle".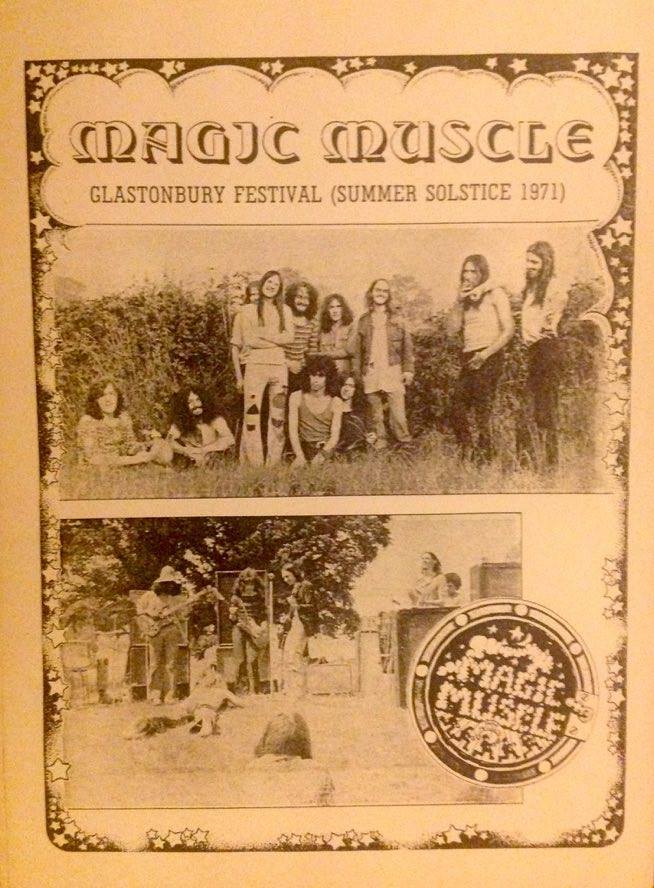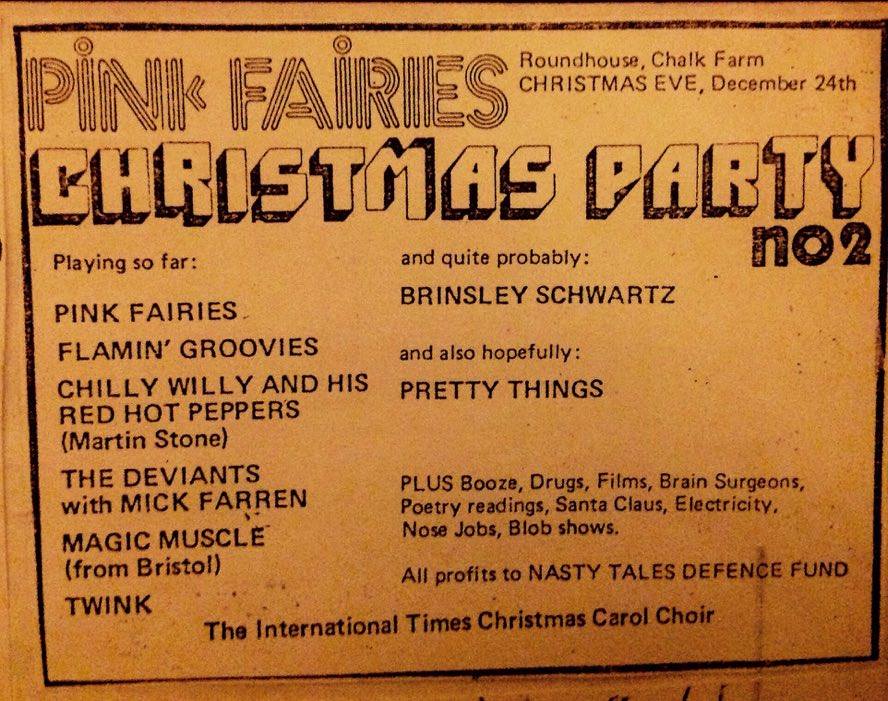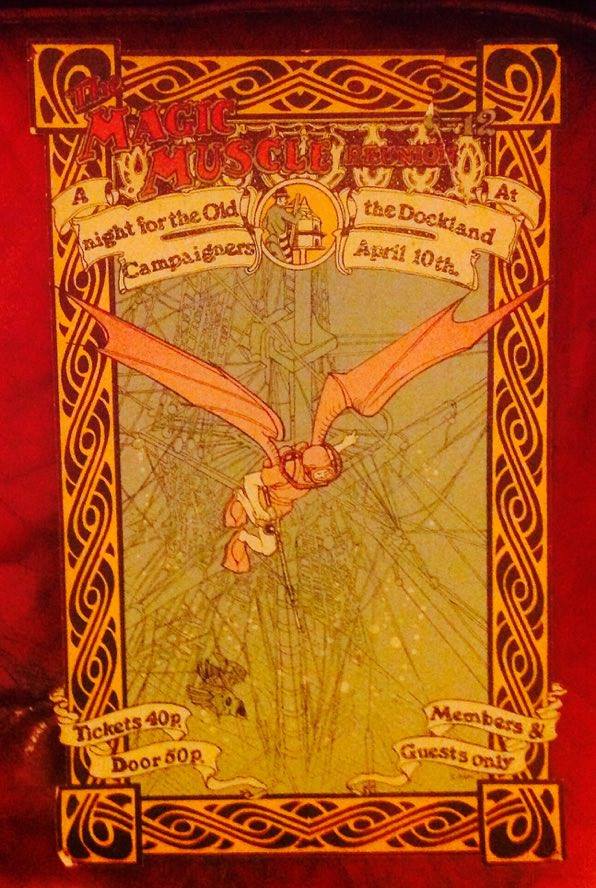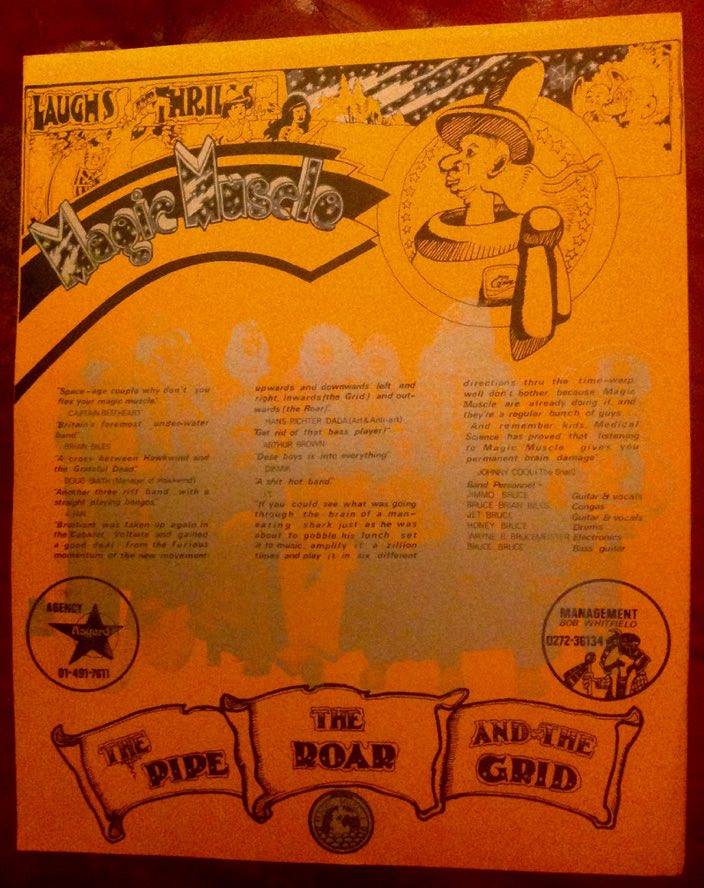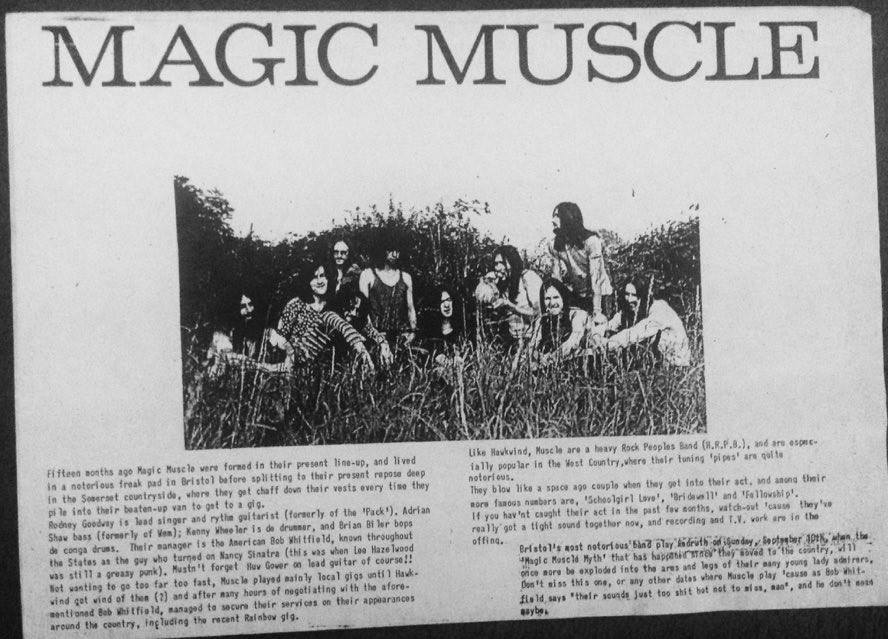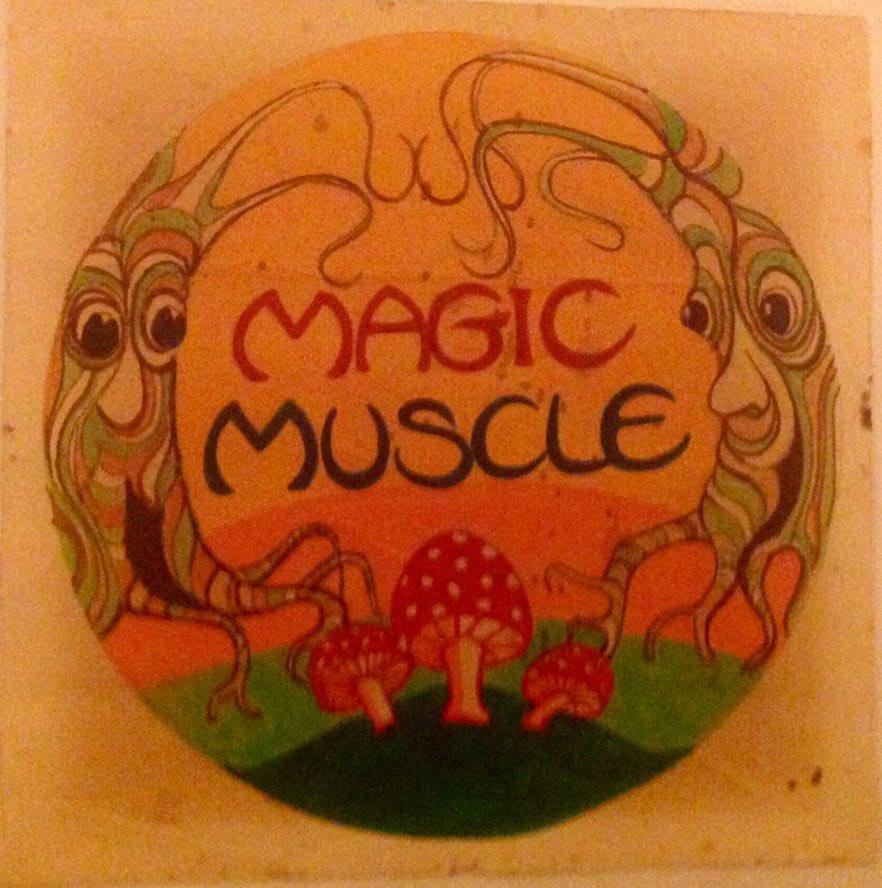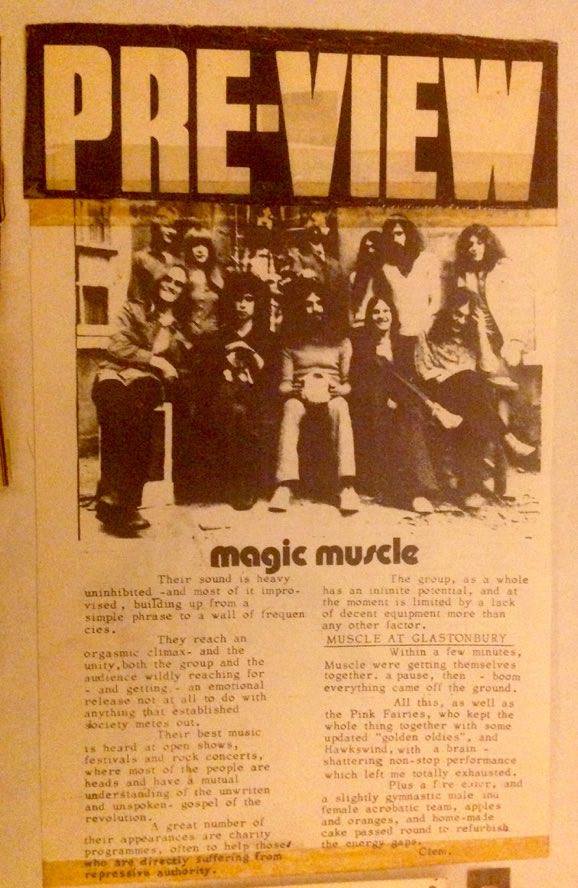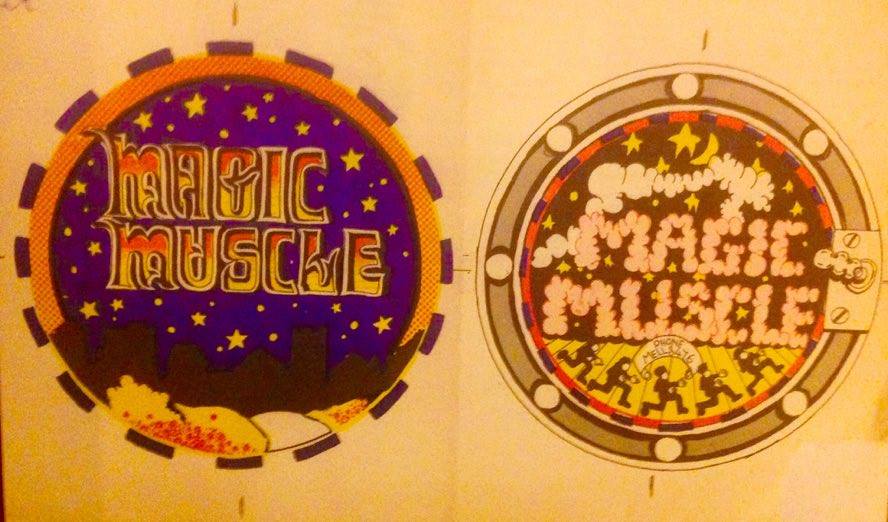 What were early concerts of Magic Muscle like?
After the HTV studio experience we knew we would have to audition for a full time lead guitarist. We tried Pete Ayrie, Gordon Strong and even future Only Ones supremo John Perry … but the man who really grabbed our attention was the psychedelic free-flowing wah wah of 19 year old Huw Gower. We had a reel-to-reel tape recorder so we were able to record lots of this free flowing material. We also had a huge water pipe that would be lit and passed around the room before we began playing. After that our basement blows began to really grow … in length and mind-expansion. We began drawing audiences!
Our first proper concerts were simply extensions of these massive jams. We would just plug in, choose a key and make it all up as we went along. I've always had the ability to make up words and rhyming songs and the band were becoming musical mind-readers. In 1971 we had an uncanny knack of tuning in to any gathering we attended and gleaned fans from hippies to Hells Angels. We supported Hawkwind on several West Country gigs. And then we were suddenly playing the upcoming Glastonbury Fayre – the FIRST one with a Pyramid stage (the 'gossip' on the underground made it sound like the biggest, freak 'happening' since Woodstock … but in secret, only those in the know) and our plan was to play on the hillside, overlooking the Pyramid stage and play using a generator for electricity.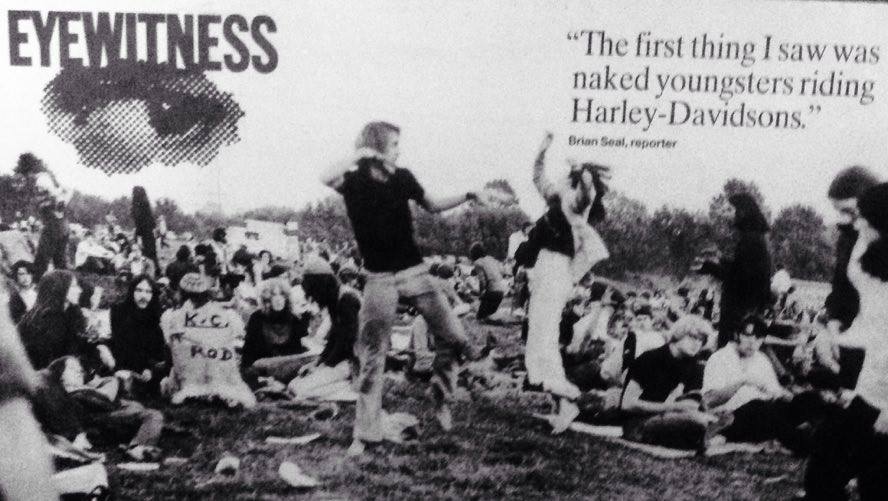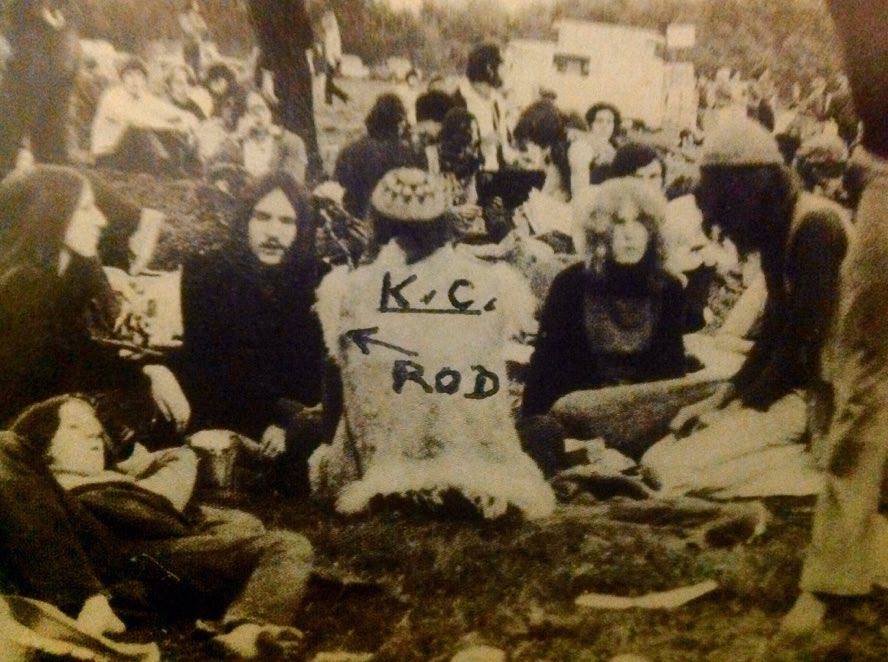 Also, Gordon Strong had recruited John Perry and they were going to play under the name Flash Gordon. Followed by Magic Muscle. And the most amazing thing was it all HAPPENED!!
Extract from a free festival in Bristol with Flash Gordon, Magic Muscle and full supporting cast, including the West Coast Chapter of the Hells Angels.
"All the band members are jamming with each other. The guy playing left-handed lead guitar is Huw Gower and the drummer is Ken Wheeler. A Hells Angel is playing Pete Biles' congas."
What's the story behind Laughs & Thrills?
More and more gigs came in after that including with the Pink Fairies and Steve Peregrine Took … and as we entered 1972 Hawkwind visited us at 49 Cotham Road to talk about a forthcoming UK Tour. I think that's what they were doing there; I was next door with LEMMY playing an advance copy of Hendrix In The West.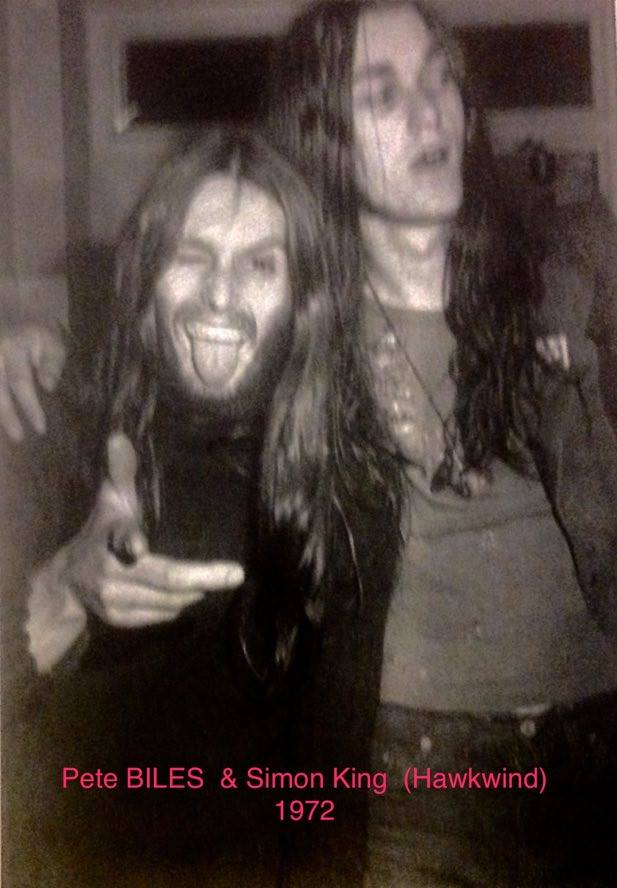 But we not only managed to go on Tour with Hawkwind all over England, Scotland and Wales but they had a HIT record with "Silver Machine" so the audiences were massive. We actually found ourselves playing more structured material, even though the songs were never played the same way twice. Our trusty reel-to-reel was with us at all times and it is a selection of these songs that I selected to be released on the ACID TAPES cassette label in the mid 1980's under the title Laughs & Thrills.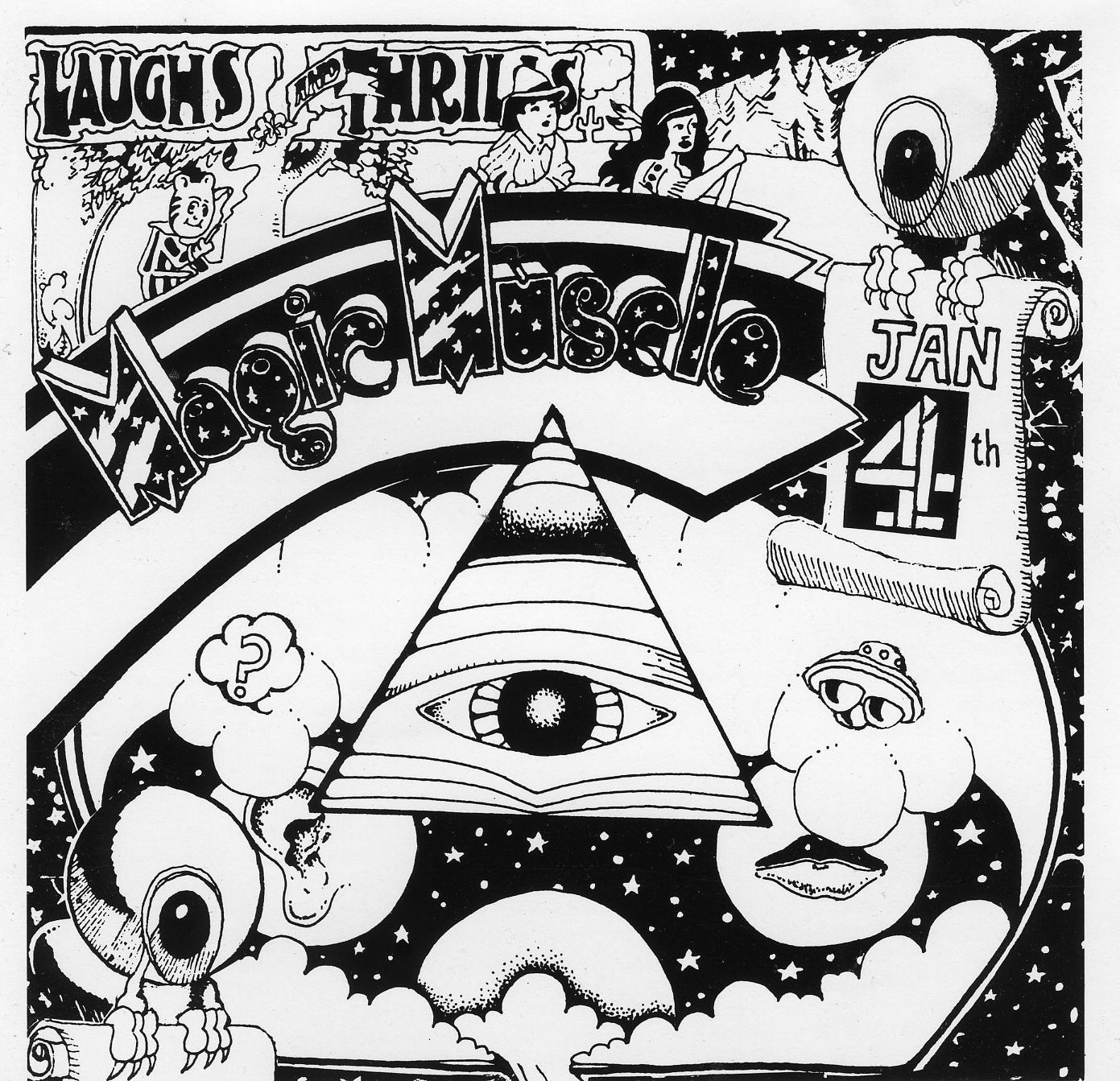 It was unreleased until 1991. Why? It's a real shame because you were absolutely an amazing band.
Well, it was 1991 before the SPM label in Germany released Laughs & Thrills on CD but it had already been out on cassette for about 6 years.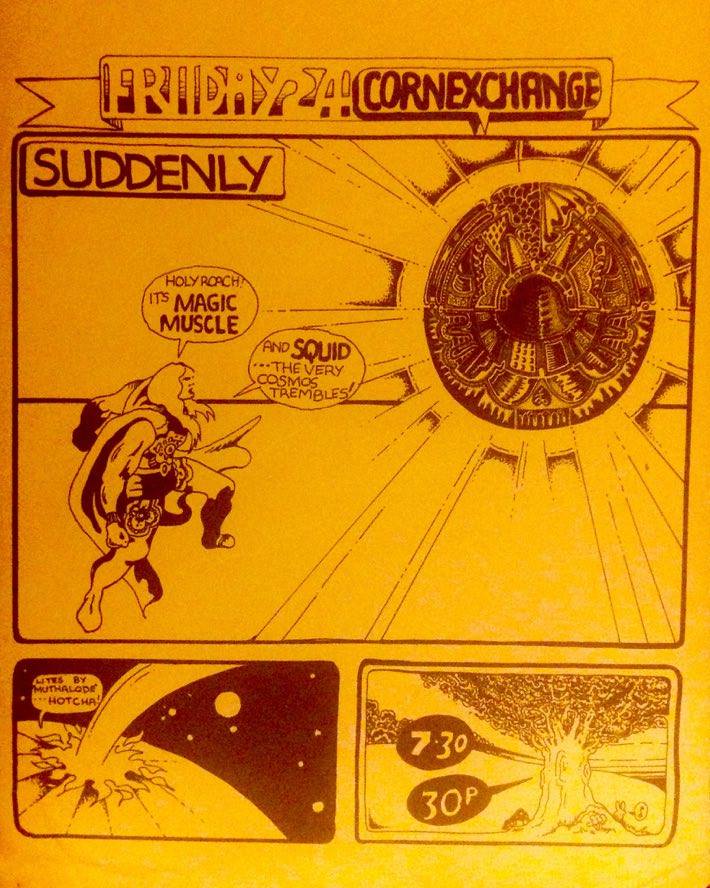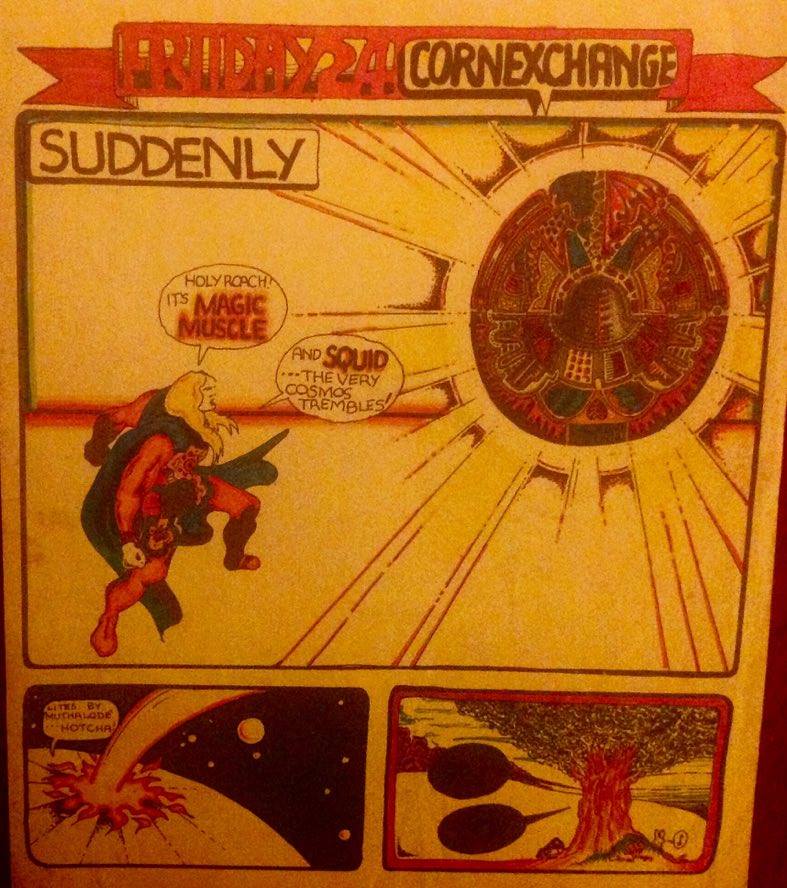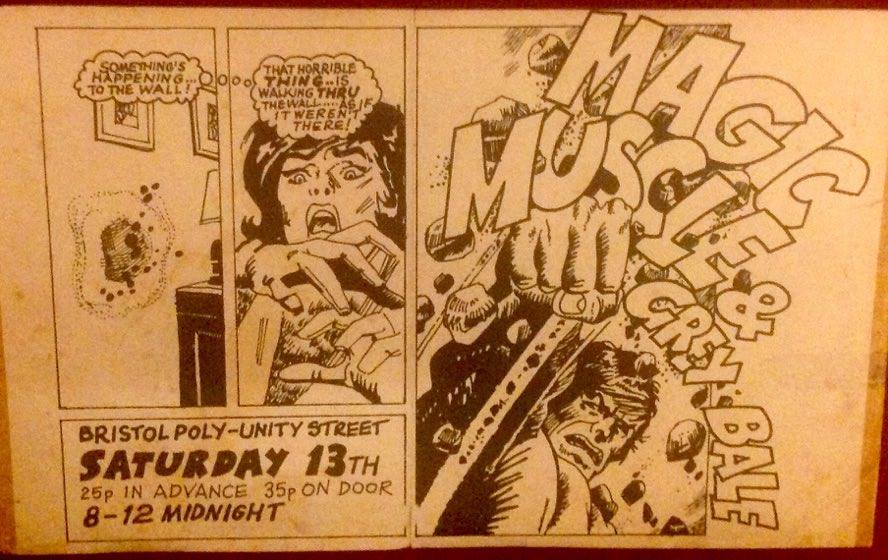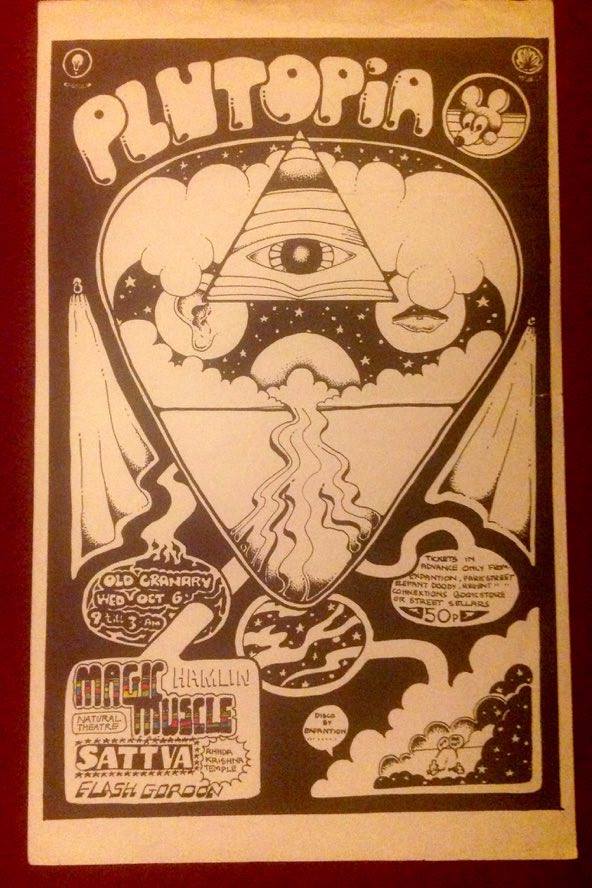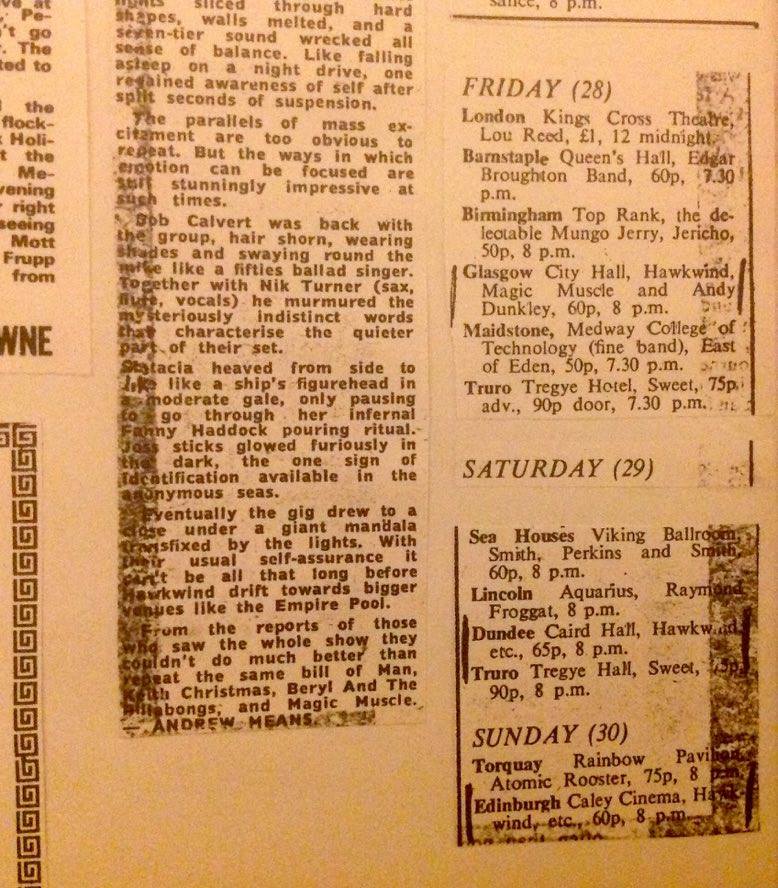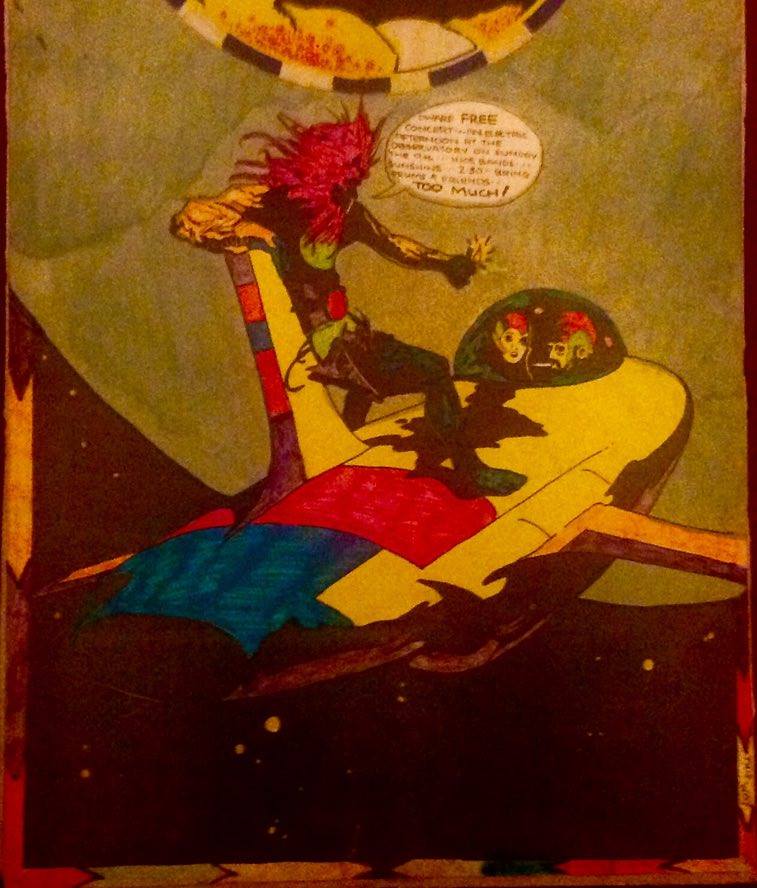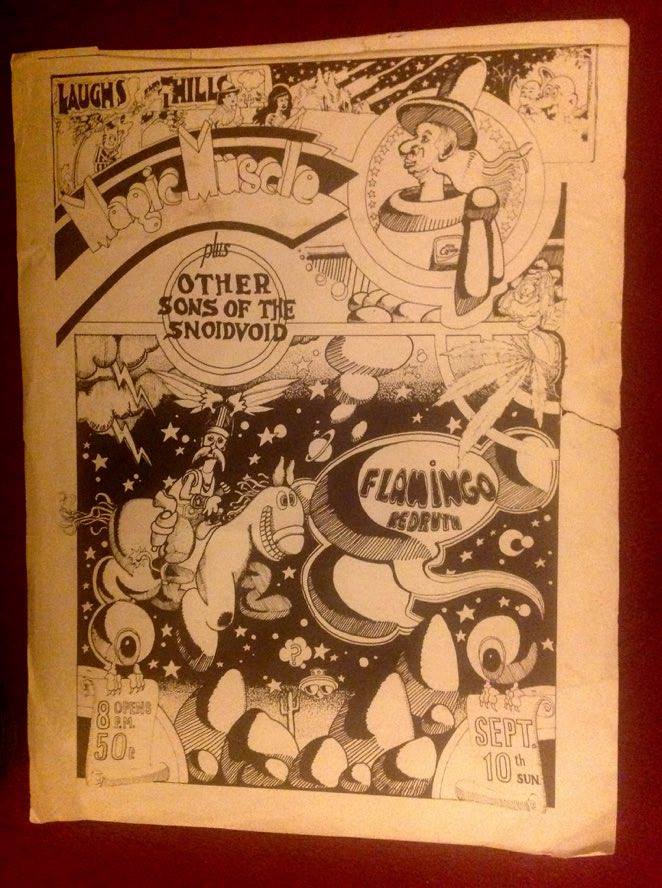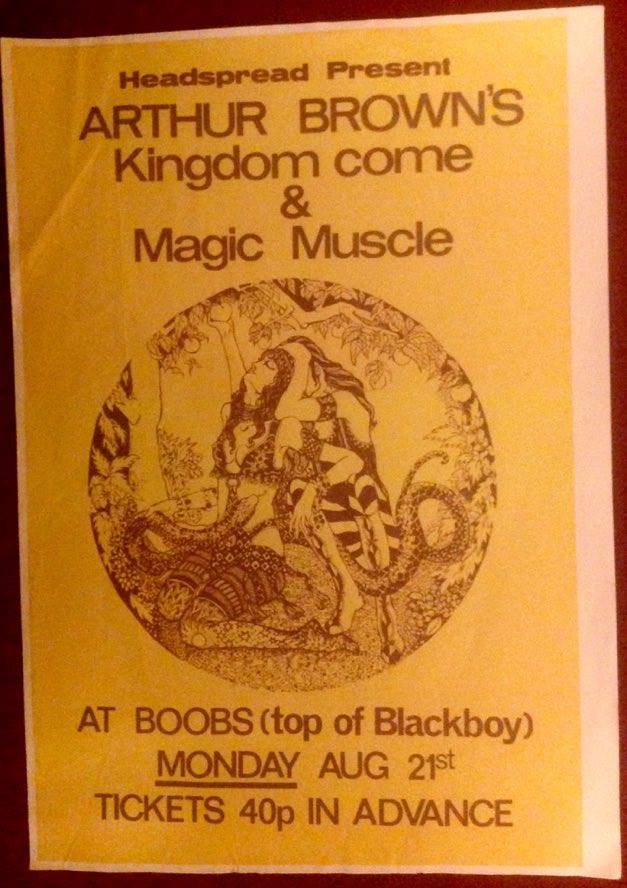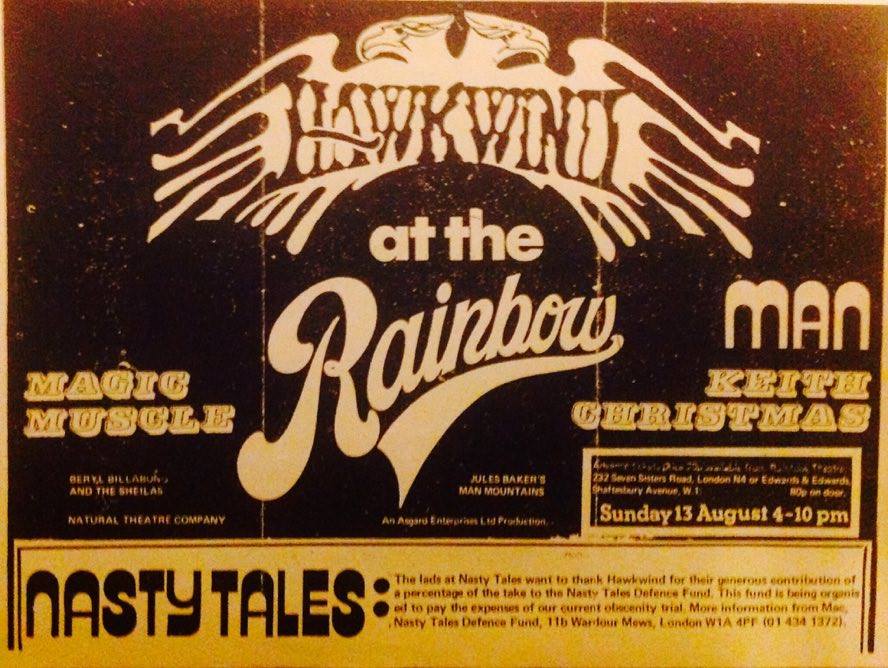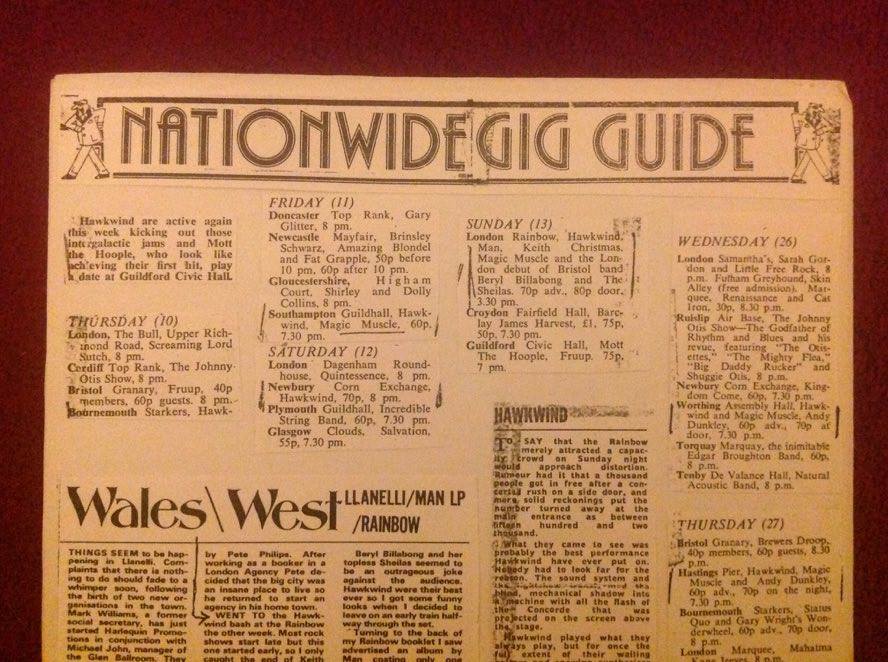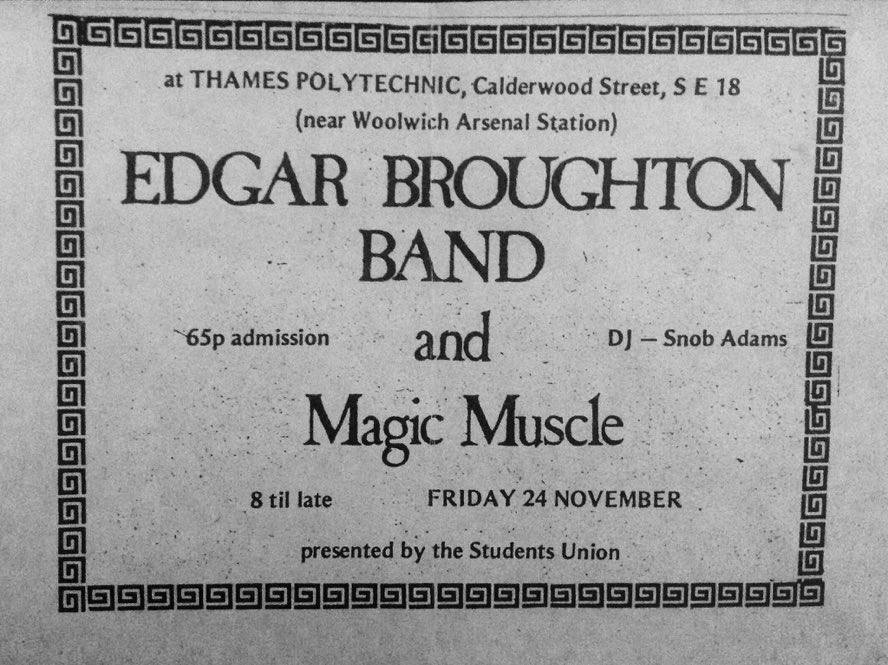 Luckily there was some more material recorded and released in the late 1980s and early 1990s. One was The Pipe The Roar The Grid (the two sessions that appear on this were recorded in 1970 and 1973) and Gulp!.
In early 1988 I was approached by Pete Flanagan of Zippo records with a suggested Magic Muscle 'retrospective' project. I sent him lots of tapes but he only chose the tracks that were the clearest studio recordings as opposed to the most ''far out' musically.
However, the resulting LP was called The Pipe The Roar & The Grid.
The last session to ever be recorded at the Jaberwocky studio in Puddletown was actually Magic Muscle, produced by Android Funnel.
This takes up side 2 of the LP.
After Magic Muscle split up in January 1973, I had been admitted to an isolation ward in a London hospital with hepatitis. When I came out of hospital I began furiously writing pop songs and Ade Shaw and Andy Rickell managed to secure a reel-to-reel tape machine to record them.
The eventual sessions took 2 days to complete and involved Ade Shaw, Andy Rickell, Simon House and myself. They were called the "Large Transit Van" demos.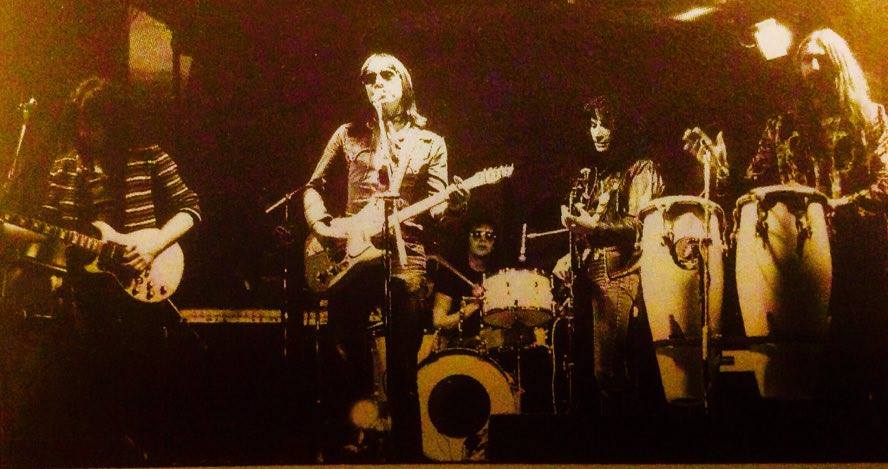 So, Side 1 of the LP begins with the first songs we ever recorded, with Keith Christmas at HTV studios, and ends with the final songs we recorded, the Large Transit Van demos.
This release kick-started an intense period of activity as I attempted to re-form the old band. Drummer Ken Wheeler was about to become a Father for the first time and couldn't make it, BUT he provided the most exquisite sleeve art for us. Superb! To replace Ken, I acquired the services of Twink (from the Pink Fairies, etc) and the rest of the band seemed to be up for it. Unfortunately Pete Biles would be in Canada but Ade Shaw was available along with Simon House, and although Huw Gower now lived in New York City. He was up for it as well.
So we set up a short Tour, starting in our old stomping ground of Bristol (aboard a white ship called The Thekla); followed by Birmingham; Brighton and finally Bath (Moles Club) which had its own top range recording facility.
This album was released as One Hundred Miles Below LP / CD the following year (1989) by which time we were unable to promote it with Huw Gower as he was stuck in New York so we did a few select gigs (including the Hawkwind 20th Anniversary All-Dayer) with just me on guitar & vocals; Ade Shaw on bass; and Nick Saloman (lead guitar) with his pal Martin Crowley (on drums).
This same line-up played shows as The Magic Bevis Muscle Frond before Ade Shaw and I joined The Bevis Frond for the bands first Tour of Europe in 1990.
It was also Nick Saloman who played lead guitar on the Gulp! album in 1991 & released it on his Woronzow label. Other players were Ade Shaw (bass); Simon House (violin); me on guitar & vocals and our old pal from the Edgar Broughton Band, Steve Broughton (drums).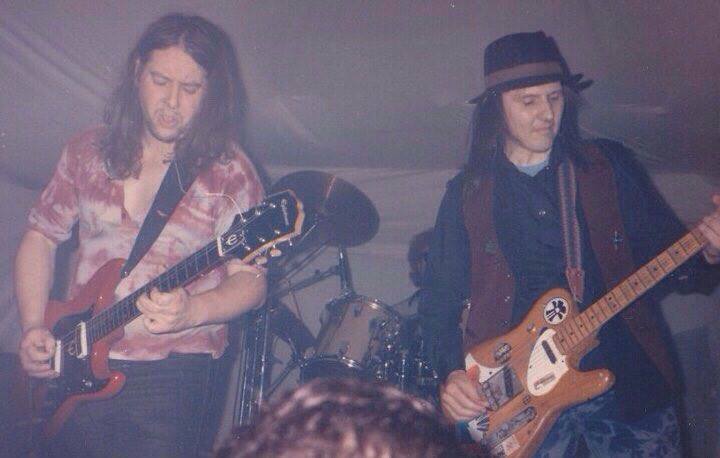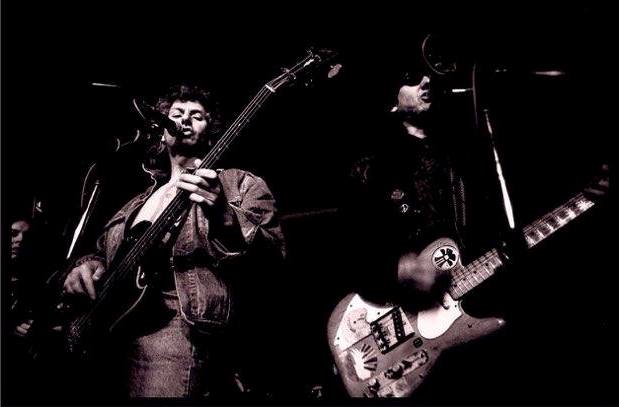 There's an interesting story behind it, involving Lemmy of Hawkwind.
The only thing involving Lemmy around this time (1973) was when he came to my girlfriend (and future wife), Mally, in central London to borrow some money. She wasn't there (and neither was I) but her Mother was and Lemmy offered her his Fender Telecaster guitar as collateral so she gave him the money he needed.
The next time I saw Lemmy and reminded him that I still had his guitar he said "Just look after it for me" … and I still have it to this day!
You were also involved with other bands like Alehouse, Buzzard, Dragons, In The Clinic, also Third Ear Band and so many others. I kinda lost track on all projects you were involved with and would appreciate if you can tell us how it went on.
OK. After 1973 and the recording of "Large Transit Van" I left London to go and live in a remote country cottage and heal. I had been told to stop drinking alcohol so my liver could mend properly. Mally & I got married & I swore I would keep away from rock n roll bands & the resulting excesses … but it wasn't long before I was gigging with local band, Alehouse.
We had a dual lead guitar line-up, one of whom was Dave Gregory prior to him joining XTC. Other than that we never managed a record release although we came close by cutting a demo for the EMI Harvest label, both sides written by Dave Gregory & myself: he wrote the music, I wrote the lyrics. Unfortunately it was never released. When Dave left the band in 1975 we carried on with a new name Buzzard.
My own band Ethereal Counterbalance saw a LP release on Woronzow in 1990 with a follow-up, Mellifluous Confluence, on the September Gurls label LP/CD and made several other releases and appearances in London, Europe and the USA. I made an album with Simon House called House Of Dreams, a limited edition with Barry Melton in 2004 and, in more recent times, the Oxygen Thieves album with Ade Shaw. We have another full album in the can, but we're not sure how to go about releasing it just yet. Just not famous enough?
What currently occupies your life?
I have only recently retired after running my music business for over 25 years! It was called RUSTIC Rod's Mail Order, which sold vinyl LP's, CD's, Tapes and Magazines. All my musical adventures since 1989 have been accomplished alongside this Mail Order Business, so it has been hard sometimes. But many old customers are now good friends and so I like to believe that I became more than just a commercial hub for rare music.
However, the political Socialism that I learned about in the 1960's and early 1970's is currently taking up much of my time. I write thousands of words each day for various online concerns and I am involved in activism too. The Revolution continues …
What are some latest albums you're listening to?
I am actually taking time out from listening to new individual albums (having spent 25 years doing it for a living) and have reverted to what we used to call 'mix tapes' or playlists (fave tracks from various music sources). I must admit, I use Spotify on my PC and iPad a lot … and I recently discovered something of my own that I am actually quite proud of, namely "Radio Bloodbeast" on The Bevis Front Spotify collection (also the "Medieval Sienese Acid Blues" song by Nick Saloman but sung by me) from the 'LIVE in Copenhagen' tracks, originally on the "Earsong" extended 12-inch EP but now a part of the Any Gas Faster album. A nice surprise, finding that.
But I still listen to bands I used to stock, like Califone, The Green Pajamas, Wilco, and Spacious Mind … but also 'cool' jazz like Jimmy Guiffre, 'classical' music (especially Erik Satie) and, yes, I still listen to Captain Beefheart & His Magic Band … but there's just too much to even think about listing here.
By the way, little to do with actual music, but I absolutely LOVE certain PODCASTS.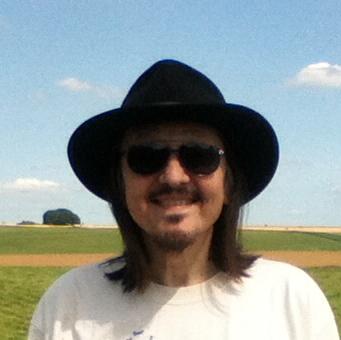 Last words is yours.
I am not sure I have any actual 'fans'but I can assure everyone that, although I have little money, I feel fully satisfied by the life I have led. You have to do your own thing so keep searching until you find something you love and then GO FOR IT!
Love, Peace & Pleasure,
Rustic Rod
– Klemen Breznikar
http://www.achingcellar.co.uk/
Adrian Shaw talks about Magic Muscle, Hawkwind and The Bevis Frond …