Adrian Shaw talks about Magic Muscle, Hawkwind and The Bevis Frond …
Adrian Shaw has an absolutely incredible music career. He's been involved with many different bands including Magic Muscle, Hawkwind and for the past 30 years with The Bevis Frond. On that note I would like to mention to check out latest Bevis Frond reissues by Fire Records.
---
Where and when did you grow up? Was music a big part of your family life? Did the local music scene influence you or inspire you to play music?
I moved around London quite a lot as a kid. I started off in Tottenham, then Notting Hill, Putney and then Wembley. I was born in 1947 and consequently was there at the very start of Rock and Roll. I remember hearing the likes of Elvis, Little Richard and Jerry Lee Lewis in the 1950's and was hooked immediately. Then the Beatles came along when I was 15 and they just blew me away.
When did you begin playing music? What was your first instrument? Who were your major influences?
I started playing guitar when I was about 12. I thought that being in a group had to be the most exciting thing you could do, but unfortunately had no idea how to achieve that. I started going to gigs and saw a lot of bands, locally at first and then at venues like the Marquee. I think the first band I ever saw was Neil Christian and the Crusaders with a very young Jimmy Page on guitar. I was a fan of Dylan as soon as he started putting albums out so started teaching myself finger style guitar with a view to trying my hand at being a folk musician. I knew a few like minded people and we played together on and off. So I guess my early influences were pretty varied, the original rockers, then the Beatles and Stones plus Dylan, Phil Ochs and so on.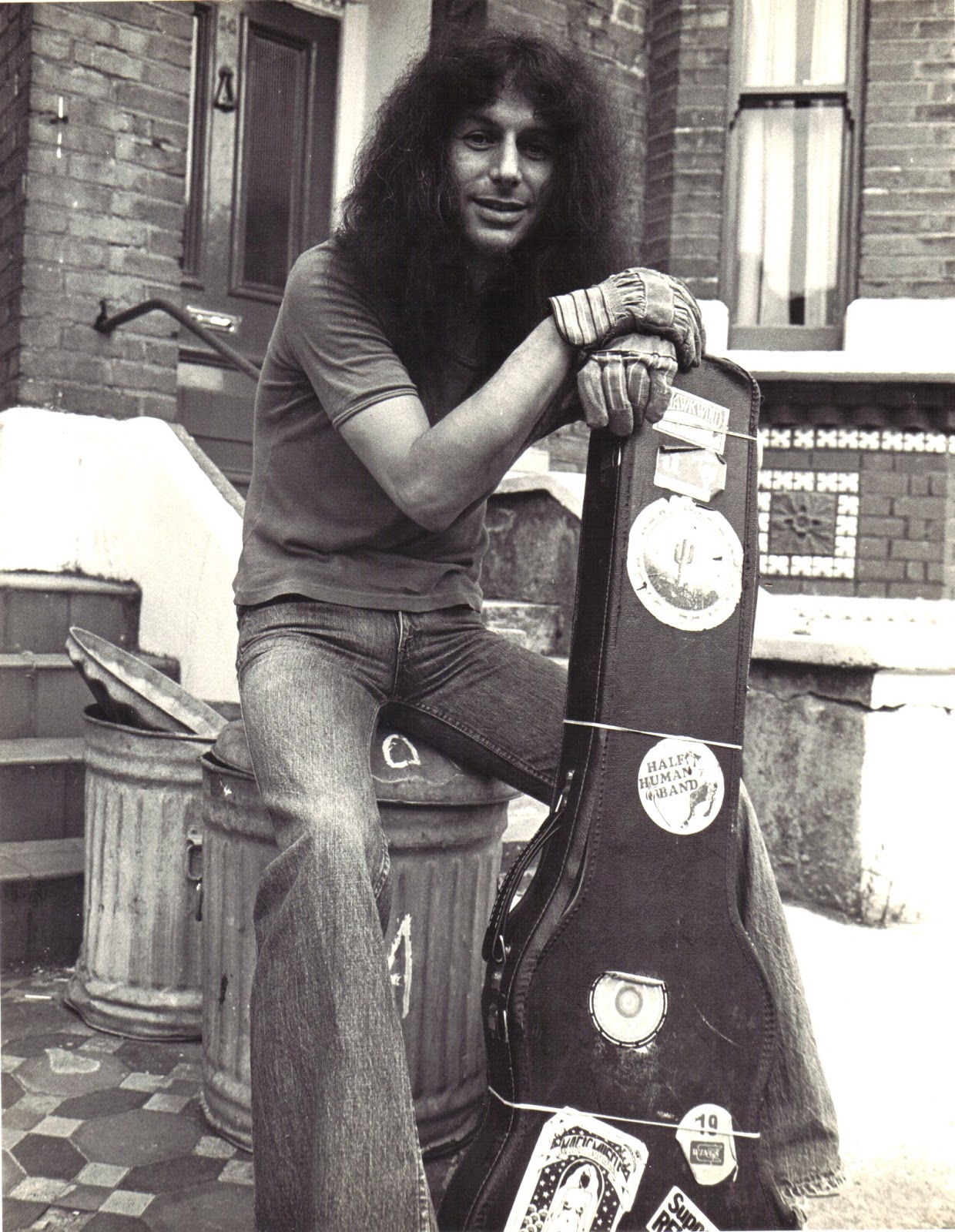 What bands were you a member of prior joining J.P. Sunshine? How old were you when your first band formed? What was your role in these bands? When was the first gig you ever played? Do you recall the first song you performed before an audience?
J.P. Sunshine was my first band. A friend of mine was living with a guy who had a friend who wrote lyrics and wanted to put a band together. He was looking for a guitarist and I got mentioned. So I went to where he lived in Little Venice in central London to meet him. It turned out on top of his lyrical ambition he was a drug dealer and therefore able to finance this musical project. He already had another guitarist/singer but he disappeared after a while and the next thing I knew another musician had been recruited namely Rod Goodway. I had no idea then but Rod is my oldest and closest friend all these years later. Now unlike myself, Rod was a veteran of the music scene already even though he was the same age as me. He had a minor hit record with his band, The Pack and was playing in a Psyche/Soul outfit called White Rabbit along with Pete Pavli (High Tide) and Linda Lewis. One night Rod brought along the lead guitarist of The Pack, Andy Rickell, later Android Funnel. So we now had 3 guitarists and no bass player. Consequently I moved to bass.
I was 20 at the time. After we recorded The J.P. Sunshine album there was a drug bust and that was the end of that. I then joined a band called Dobbin and did my first gig in a small club in South London. If memory serves (and it probably doesn't) the first song I played live was something by the Who.
What's the story behind recording material for J.P. Sunshine?
Well, Jorj the lyricist and Rod made a fine writing combo. We recorded the whole album over a period of a few months in Jorj's flat with the help of some fine marijuana and some pharmaceutical Methedrine. Rod's friend Pete acted as engineer although in his stoned state we sometimes found him surrounded by metres of ¼ inch tape which had mysteriously come off the Tape deck and then got thrown out of the window. It might have been a longer album if he hadn't been so stoned…
One of the most interesting projects from your discography is definitely Rustic Hinge & The Provincial Swimmers. At the time you were living a commune-like lifestyle and experimenting with LSD… I think this anarcho-music approach was rather unique at the time and you were definitely one of the pioneers. Were you inspired by Captain Beefheart, The Fugs and other non-commercial artists?
Rustic Hinge came about from the ashes of The Crazy World of Arthur Brown. I was asked to move down to Arthur's farmhouse in 1969 originally to drive the band around and do their lights. Andy Rickell was the guitarist at the time. Then the bass player and keyboardist left and Arthur asked me to join on bass. However Andy and the drummer, Drachen Theaker, had for some reason taken against Arthur. I never understood why as Arthur is the nicest guy you'll ever meet. They would do things like play songs in the set either way slower than they were supposed to be or way faster just to throw Arthur. As a result Arthur quit the band leaving us without a singer. So naturally we asked Rod to come down from Bristol and join us. He actually coined the name Rustic Hinge. We were all listening to a lot of Beefheart and contemporary composers like Stockhausen, Bartok and Stravinsky. But Rod and I weren't prepared to put up with the behaviour that drove Arthur away any more than Arthur was. Andy and Drachen are both dead now and I don't want to speak badly of them so all I will say is they were impossible to work with at that time. Not to mention they didn't want to play live. So Rod and I and our wives decided to quit and to go and form a proper band.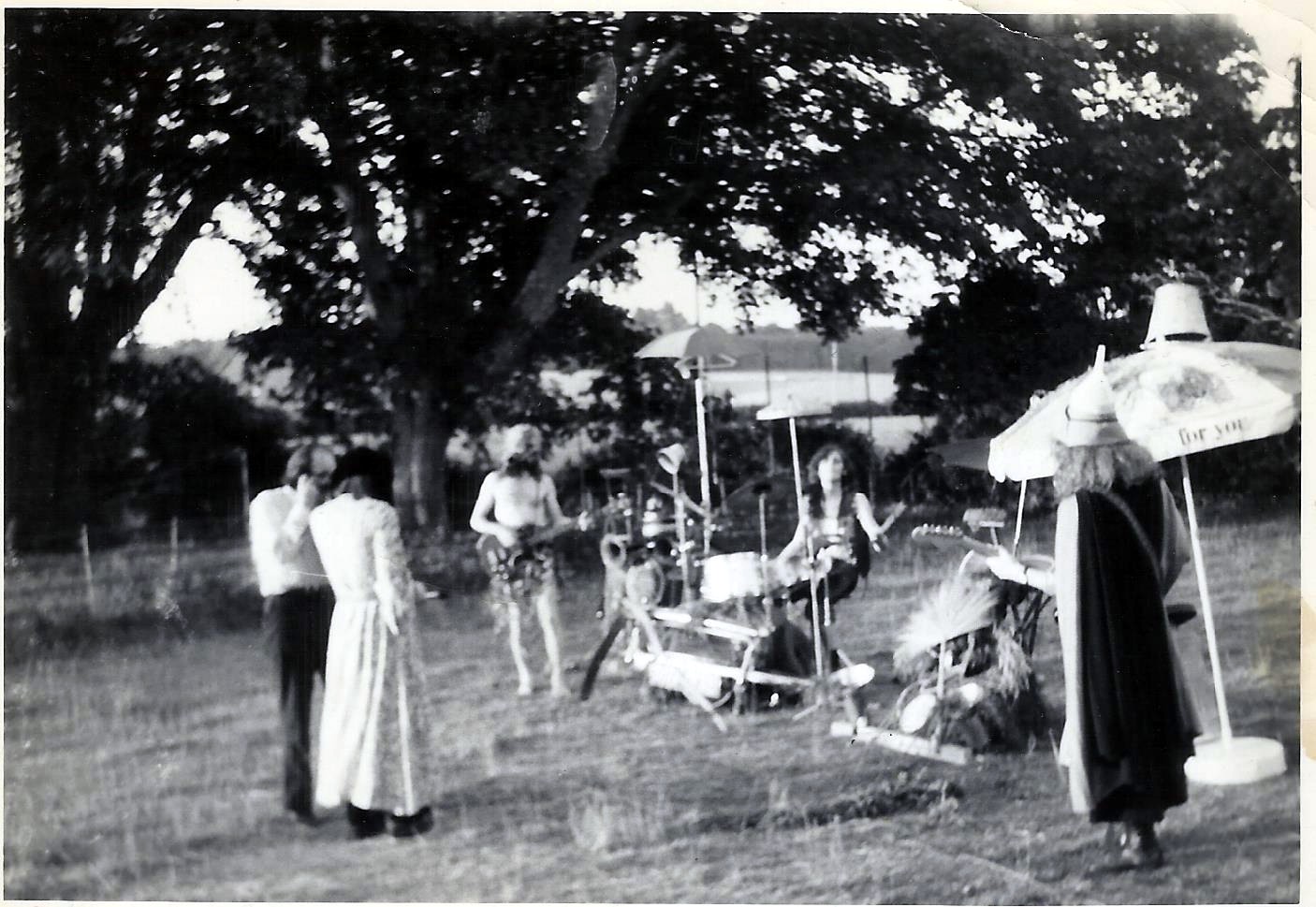 I think it would be very interesting if you can remember what was going through your head at the time of recording Rustic Hinge material?
Mostly what was going through my head at that time was I wanted to kill Andy and Drachen. But at least we have the film the BBC shot of us performing a couple of songs and I've included a couple of photos taken that day.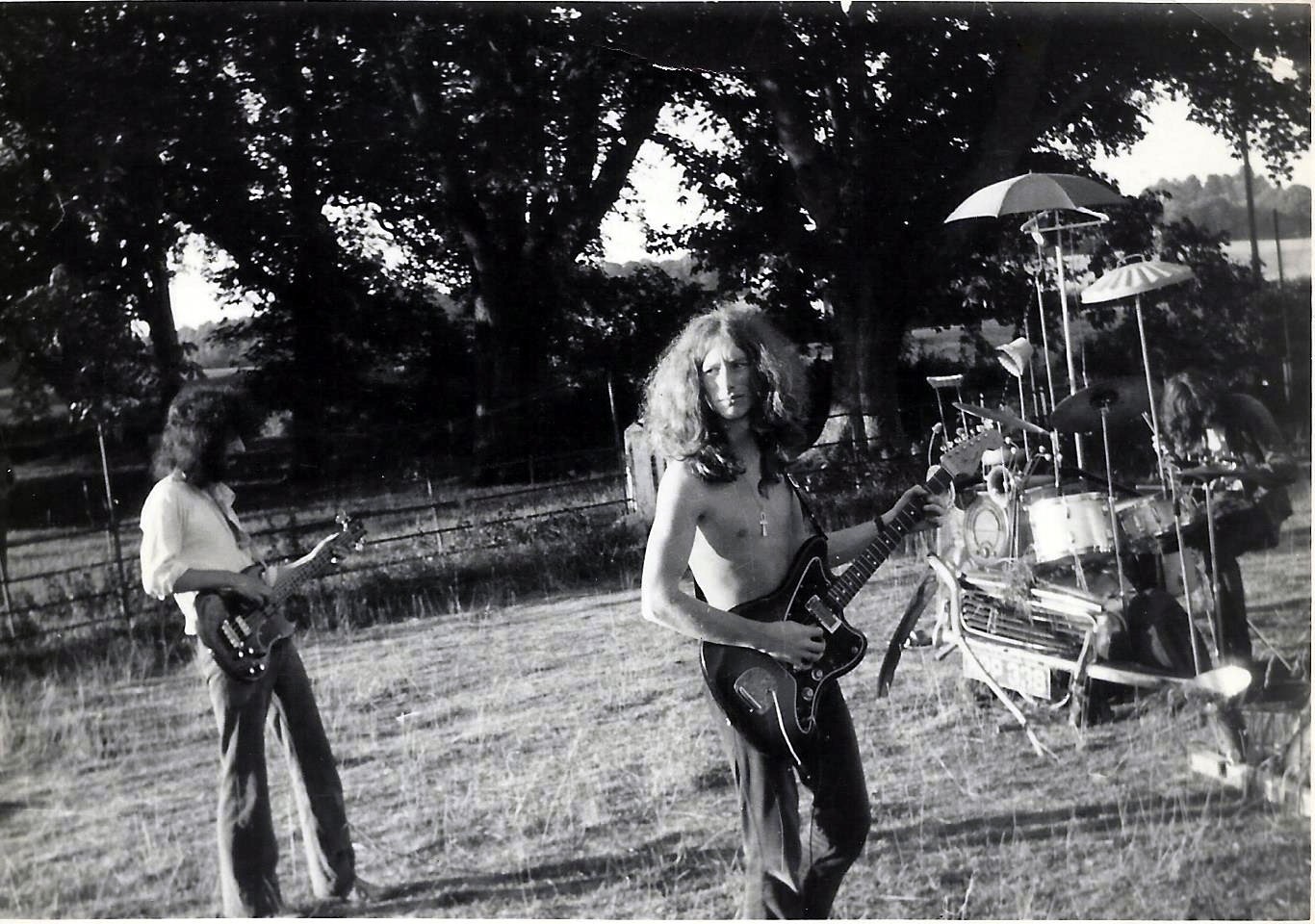 I can completely understand why this album was never released in 1970. It wasn't until 1988 that Reckless Records issued Replicas.
The proper album of Rustic Hinge has never come out. They wiped all of Rod's vocals after we left, ruining the whole project in my opinion. The version on Reckless is a pale version of what it should have been.
What's the story behind formation of Magic Muscle?
When we quit Rustic Hinge we moved up to Bristol and formed Magic Muscle. At last Rod and I were playing in the kind of band that felt right to us. We considered ourselves primarily Psychedelic musicians and found like-minded people to play with. We were taking industrial amounts of LSD and I think our music reflects that. We all lived in a large house in the Cotham area of Bristol with a basement where we could play whenever we liked. It was owned by a founder member of the British Anarchist Party so we felt completely at home. We played every night, fuelled by LSD and Marijuana with just a strobe light flashing away and an audience of friends. We gigged a lot at that time playing various local venues and were befriended by the local chapter of Hells Angels which culminated in us playing an "All England" run at Worthy Farm which was an interesting experience. We were escorted to Worthy Farm by the West Coast chapter whilst being followed by 2 bus loads of the Special Patrol Group, the police heavy brigade. We had to stop to fuel up just outside of Bristol and as we were doing so the senior officer got out of one of the buses and told us to move on. We watched with interest as Denny the Pervert confronted him saying "we're just filling up and then we'll be on our way. If you want though, we'll have it out with you right here. Just get your guys out of the bus and let's sort it out here and now". The head cop looked at our assorted entourage, thought about it for a moment and just said, "OK, just fill your bus up and fuck off". He obviously didn't like the idea of a full scale brawl on a garage forecourt.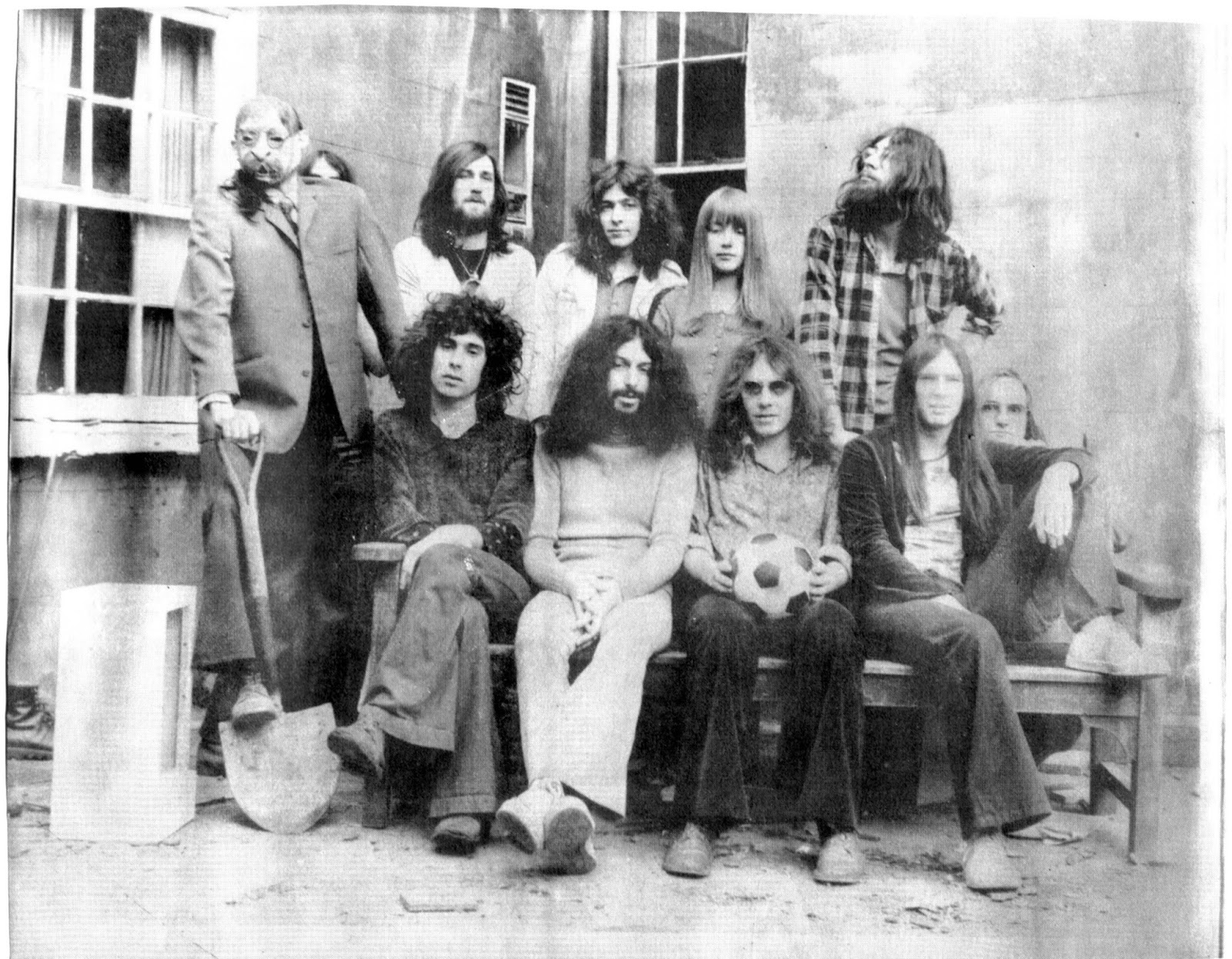 Once we got to Glastonbury we were greeted by a scene that looked like the Mongol Hordes had relocated to rural England. A few hundred Angels from all over the UK (with the exception of the London chapter who were at war with the others) doing what Angels do when they're off the lead. One fun thing was what seemed to be a game of throw the Prospect on the fire. This involved the Prospect (a prospective candidate to join the chapter) being thrown on the huge bonfire and having to prove his stoicism by remaining on it as long as he could bear. I guess we played for a couple of hours as mayhem ensued all around.
Before I moved to Dorset my wife and I were sharing a flat with Andy Rickell and his wife in Maida Vale. Just around the corner was the office of Clearwater Productions who managed Hawkwind, High Tide, Cochise and Skin Alley. I was friends with High Tide who lived in Abbey Road, just around the corner from our apartment. Consequently I got to know Doug Smith who was managing Hawkwind and is still a close friend. I went down to London to see Doug and to ask if he could get us on as support to Hawkwind at any gigs. As it happens they just had a hit with "Silver Machine" and were embarking on their Space Ritual tour. Doug booked us as support on that tour which was very helpful as it gave us exposure all over the UK. The downside was that on a regular basis we would arrive at a venue and get busted by the local police who assumed we were Hawkwind. Luckily we were wise enough to have stashed our pharmaceuticals where the police never found them.
The one time we were caught out was in Exeter. Our drummer, Kenny, and Doug Smith were caught with a little dope on them and taken down to the local police station to be charged. They were away for several hours and as a result we couldn't play until they were released. Our dressing room was full of police as we waited, they were totally unaware that we had hidden Boschburger, our huge hash pipe in the cistern of the toilet along with various pharmaceuticals. Eventually Kenny arrived back but we had a dilemma. Muscle never went on stage without having a communal hash pipe just before walking on stage and didn't want to break this habit. So I thought, nothing ventured, nothing gained and went up to the head cop and said "we're about to go on stage and need a couple of minutes to meditate before we play so would you mind taking your guys out of the dressing room while we do so"? To my amazement he agreed to and ordered his officers out. We immediately got the hash pipe out of the cistern, loaded it, all took a couple of hits, hid the pipe again and then staggered out coughing past the cops and straight on to the stage.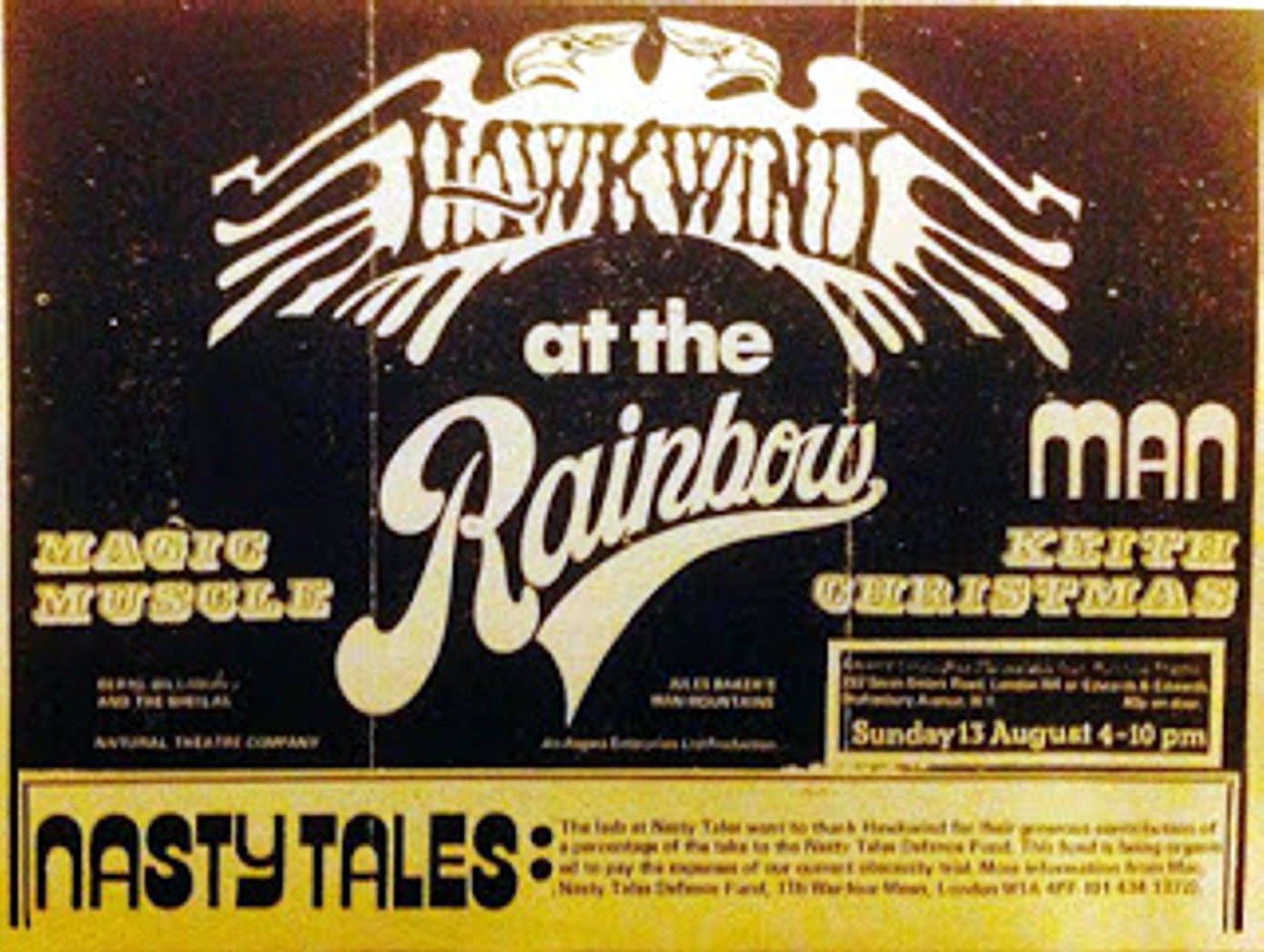 After a while we were drawing a little too much attention to ourselves in Bristol. Our folk-singer friend Keith Christmas who had lived with us in Cotham before moving to a farmhouse in Somerset asked us if we'd like to decant there. So we moved en masse to the country. The week after we moved the police bust our old house but unfortunately for them it was empty.
What were early concerts of Magic Muscle like?
The local gigs were pretty wild. Being friends with the Angels was a mixed blessing. They were good guys but did manage to get us banned from several venues. We played a lot of free festivals, Windsor being especially memorable. We ended up jamming with members of the Pink Fairies and Hawkwind at one stage. We also played Glastonbury Fayre. Another fun show was with Dr. John as I recall.
What influenced the band's sound?
I think the Grateful Dead probably had the most influence on us. Their combination of songs and long improvisations seemed to fit our mindset pretty well. All the West Coast bands had an impact on us as well as miscreants like the MC5 and Velvet Underground.
What's the story behind Laughs & Thrills?
Laughs & Thrills is mostly a collection of live performances plus if memory serves some Cotham Road basement recordings. Not great audio-wise but it does capture the spirit of MM pretty well.
Were you inspired by psychoactive substances like LSD at the time of writing the album? What's your opinion about it?
We were very much inspired by Acid and Mescaline. I have to say Psychedelics didn't do me any harm, quite the opposite really, but they're not for everyone. I have known several casualties…….
Luckily there was some more material recorded and released in the late 1980s and early 1990s. One was The Pipe The Roar The Grid (the two sessions that appear on this album were recorded in 1970 and 1973) and Gulp!.
It's difficult for me to remember exactly what's on The Pipe The Roar The Grid. I never play albums that I'm on and it's a long time since I heard that album. I remember 1991's Gulp! better though. That was a fun album to make and gathered together quite a few Psyche luminaries. Apart from Rod and myself it had Nick Saloman from the Bevis Frond on lead guitar, Simon House on violin and Steve Broughton on drums. We recorded it at Steve's studio in Barnet where I was living at the time. Barnet that is, not Steve's studio. Plus we had reformed in 1988 for a tour and the album 100 Miles Below. That line-up was Rod and myself, Simon House on violin, Twink on drums and Huw Gower on lead guitar.
Your discography also mentions names like Reds, Whites & Blues, Arthur Brown, and Keith Christmas…
In the 70's I played in a lot of different bands. Reds, Whites and Blues was a band I formed with a Canadian guitarist called Richard Moore. We had a variety of drummers including Roy Dyke from Ashton, Gardener and Dyke and Tim Roper, an old friend from Ducks Deluxe plus another guitarist called Mike Rogers. I'm sorry to say Richard died recently. We were commissioned to play on the soundtrack of a porn movie called "Sensations" which was interesting. It basically involved sitting in a studio in Wardour Street, Soho, watching the movie and improvising the soundtrack as we went along. We were joined by a girl singer who mostly had to sing orgasmic ooohs and aahhhs as the film rolled.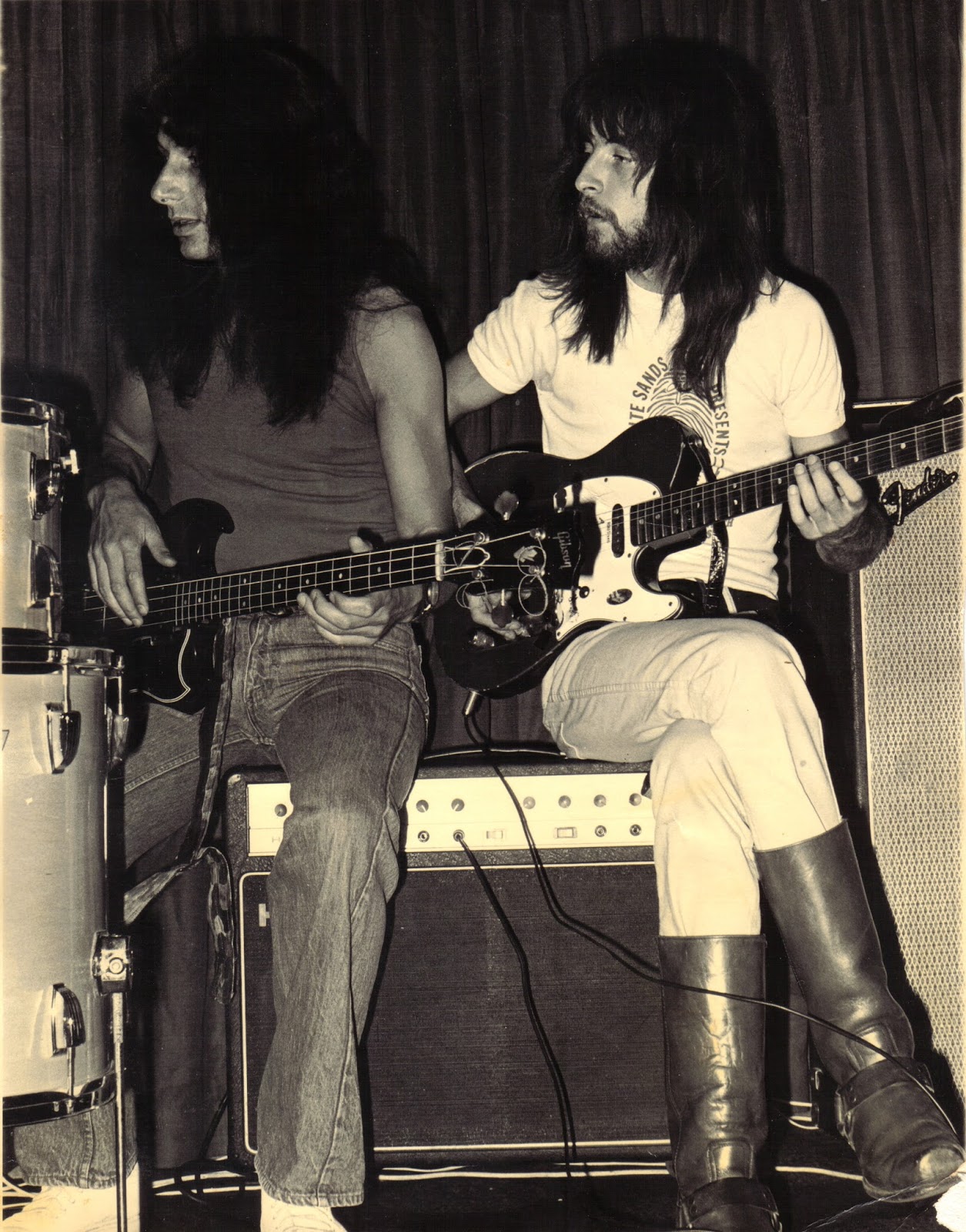 I recorded some tracks for Keith around that time for a couple of his albums and joined his band for some radio shows and gigs. The band had Andy Dolby on guitar from Arthur Brown's Kingdom Come. I also recorded a single with Arthur called "Gypsies/Dance" with Simon House and Android Funnel. I remember that single got the worst review I ever read in Melody Maker. A little unfair to my way of thinking but I'm sure the reviewer had fun writing it.
I played a date with Atomic Rooster having gotten a call from Vincent Crane asking me to play bass with them. A bit tricky as I didn't know any of their songs and we didn't have time to rehearse. But I muddled my way though the show. I'm just glad that in those days mobile phones didn't exist or it could have been recorded for posterity.
There are too many bands to mention here so I've provided a discography for anyone who's interested.
Then came your involvement with Hawkwind. You were part of Quark, Strangeness, and Charm and PXR5 albums. What are some of the strongest memories from recording and touring with the band?
I really enjoyed my time in Hawkwind. I think that period was one of their strongest creatively. Bob Calvert was on superb form despite his mental problems and we recorded some classic Hawk tracks. "Damnation Alley", "Quark", "High Rise", "Spirit of the Age", "Robot", etc. etc.
The tours were a lot of fun too although Bob did struggle with what would be thought of as a Bi-Polar condition nowadays. I remember him knocking at my hotel room door one night at around 4 in the morning with black foam flecking his lips. He had an idea for a song that he had to talk to someone about and I was the lucky one that night. Poor Bob, he was taken far too young, a major talent…..
I was actually asked to join the band when I was still in Magic Muscle in about 1972 but turned them down out of loyalty to Muscle. A bad move as it turned out as Muscle split acrimoniously a few months later and I didn't get asked again until 1977 although I did deputise for Lemmy on a short European tour sometime in the mid '70s.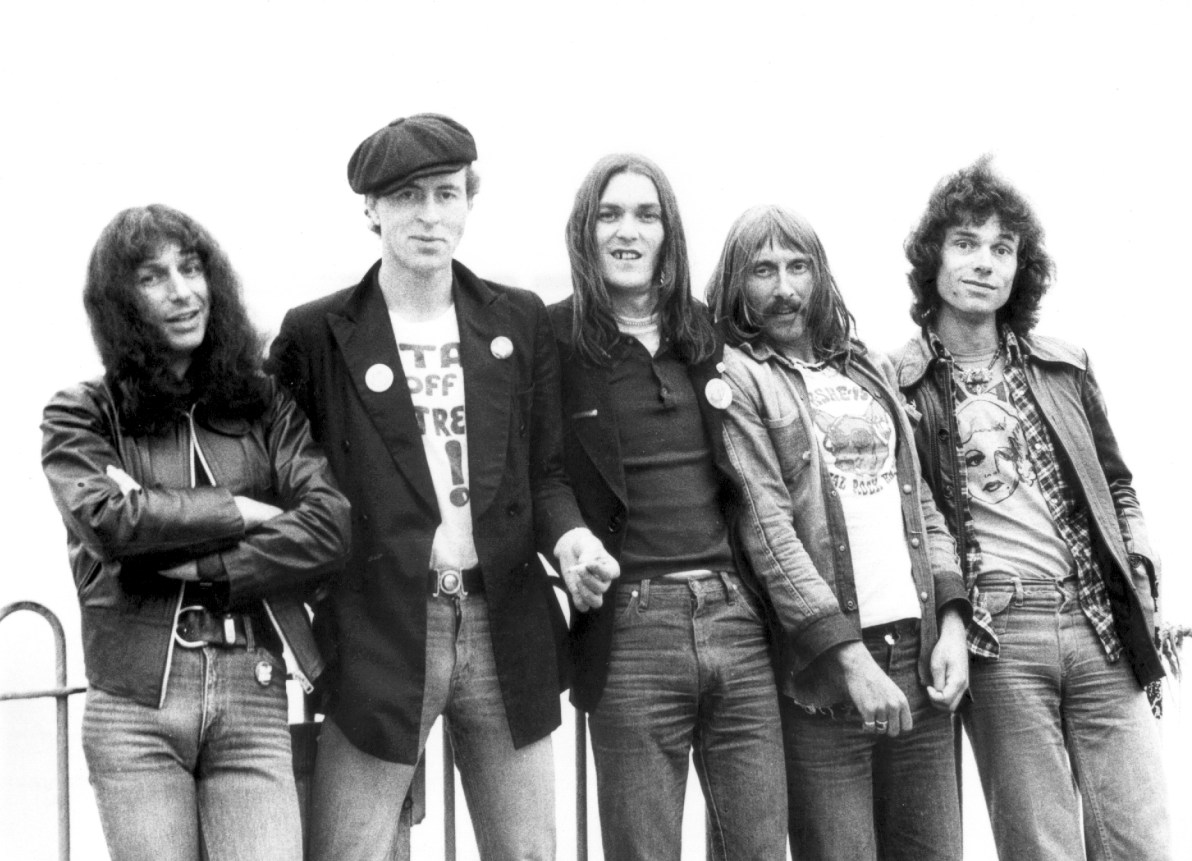 When I finally joined Hawkwind in 1977 the first tour I did had Motorhead supporting us. I had always gotten on very well with Lemmy, partly because we both had a liking for Amphetamines. But the first date of that tour was a little awkward. Lemmy was obviously still sore at being sacked by Hawkwind and as we were sitting having a drink said to me "well you got what you wanted then" meaning I'd gotten what he thought of as his gig. Now I could have told him how I'd turned them down years before and would never have tried to take his place while he was in the band but I thought what the fuck and just said "yes, I guess I did". After all, you really had to go some to get sacked for bad behaviour in Hawkwind but Lemmy managed it.
Strange to tell, when Cherry Red reissued The Hawkwind catalogue a few years ago one of the bonus tracks on PXR5 was a version of a song called "Jack of Shadows" that I co-wrote with me singing lead. The version that came out in the 70s had Bob singing. I have no memory of singing it. I think that says something about those times….
From 2012 to 2014 I was a member of the re-formed Hawklords with a selection of ex Hawkwind musicians and recorded three albums with them.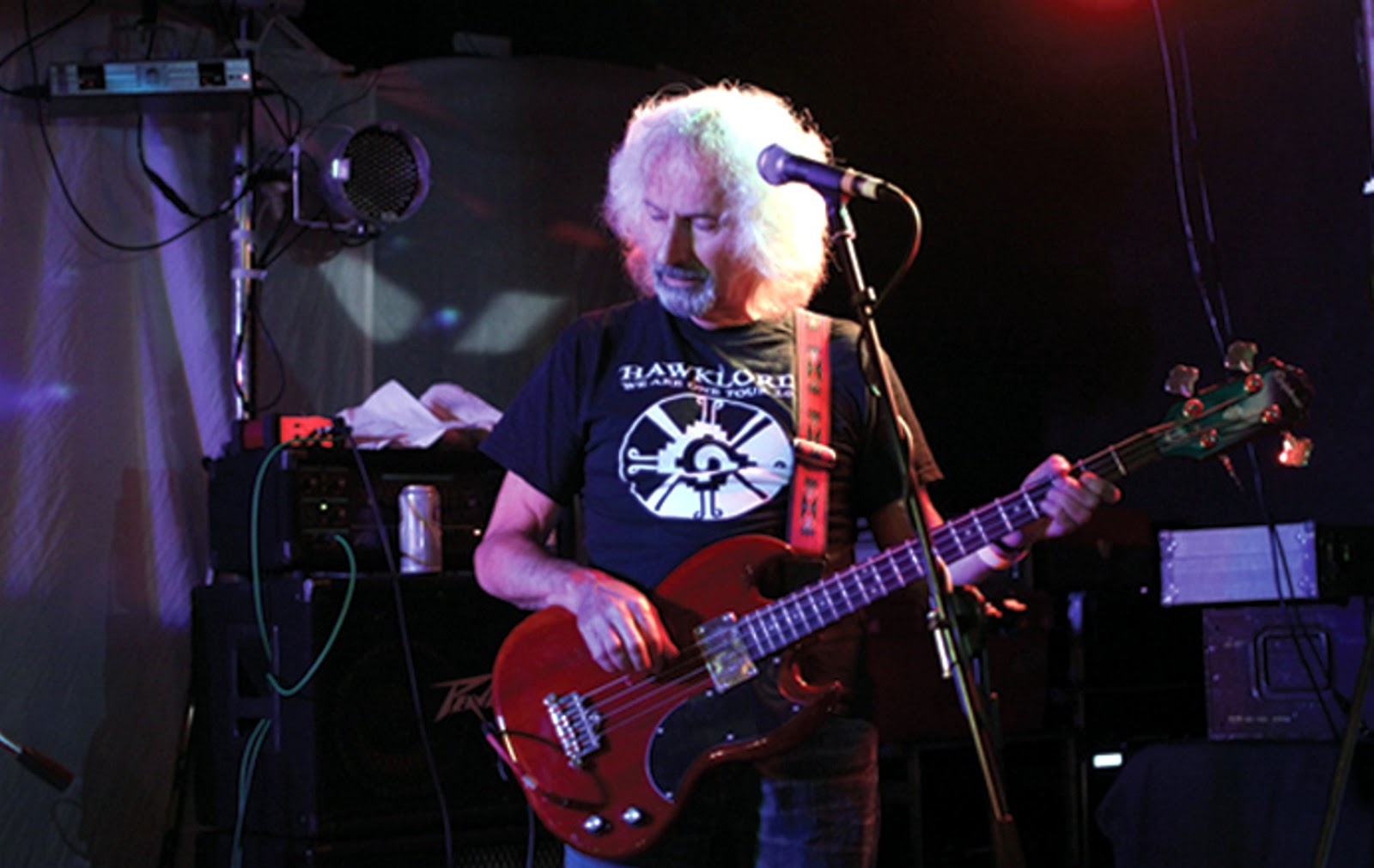 I enjoyed playing with the Hawklords. Always interesting with a constantly diminishing line up. It started with, amongst others, Nik Turner, Jerry Richards, Ron Tree, Harvey Bainbridge, Steve Swindells, Alan Davey and myself. Yes, 2 bass players. And full credit to them, the after show parties would put many a young band to shame despite having a combined age of 932 or thereabouts.
How about your involvement with The Bevis Frond?
Ah, The Bevis Frond. I've been playing with them for around 30 years now.
Rod phoned me up one day and said "there's a guy living near you called Nick Saloman that you have to meet. Like you he's a Psychedelic musician, he loves football, he's a family man, most of all he writes amazing songs". So I gave him a bell, met him in a pub and we've been great friends ever since.
Nick at that time didn't like playing live and was doing a one man band thing on record. I got a call from Doug Smith asking if I'd reform Magic Muscle for the Hawkwind 25th anniversary show at the Brixton Academy. This was a little problematic as Kenny our drummer wasn't playing at that time and Huw, our lead guitarist was living in New York. Just Rod and myself as a 2 piece wouldn't really have cut it. Knowing Nick didn't want to play live I asked him about Bari Watts who he rated highly as a guitarist but at that time I hadn't met. To my surprise Nick said he'd do it and what's more had a drummer, Martin Crowley, who could play with us too. So we played that gig, went down really well, and Nick realised that gigging could actually be fun.
After that we did a couple of shows as the Magic Bevis Muscle Frond and then did a European tour as the Bevis Frond.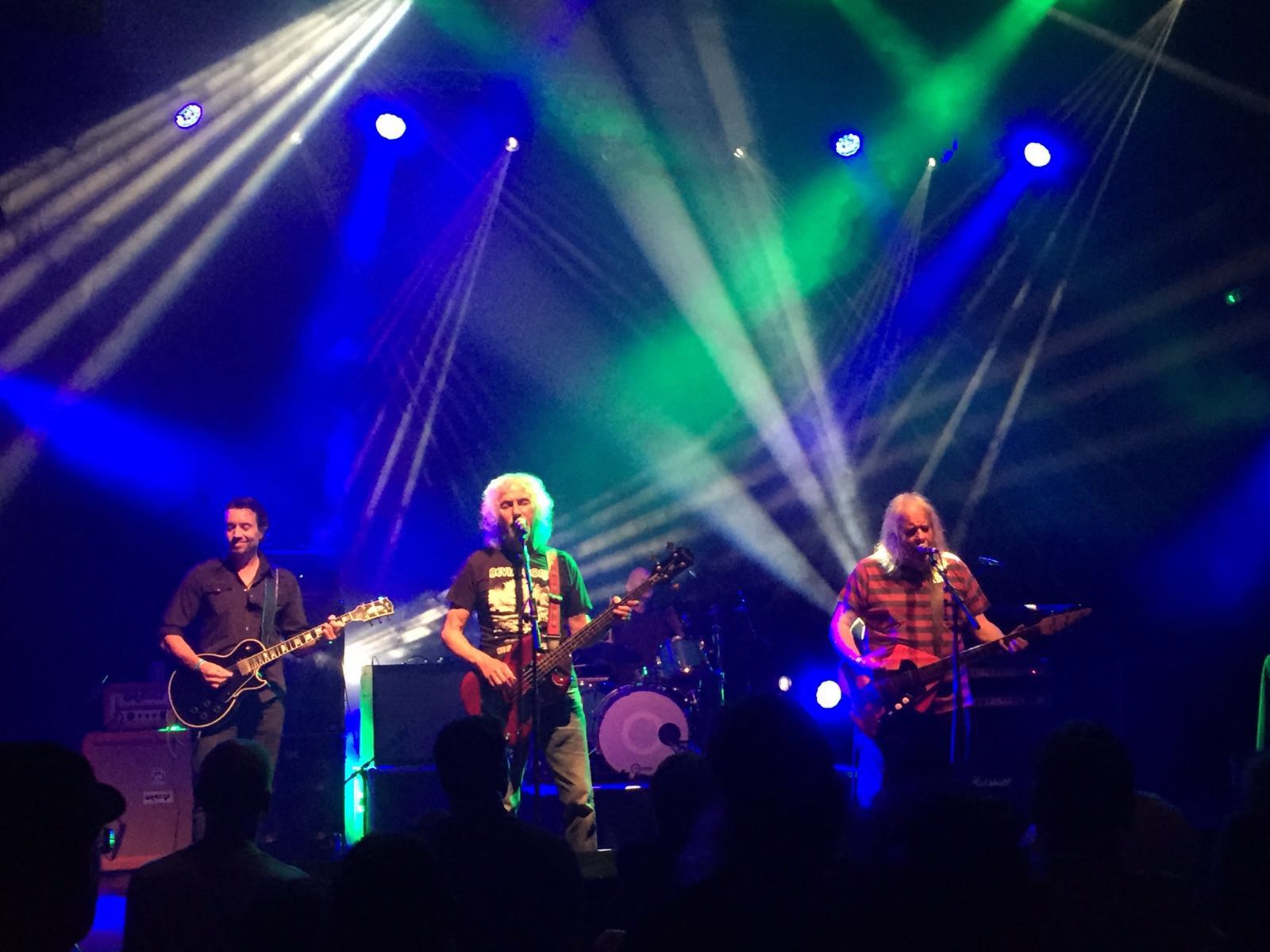 There have been a variety of personnel changes since then but always with Nick Saloman (of course) and myself. A bit like Spinal Tap we've had a multitude of drummers (Martin, Ric Gunther, Andy Ward, Joe Propatier) and a few guitarists including Rod Goodway and Bari Watts. We've done more American and European tours than I can count. Last weekend we were playing in Spain and the weekend before we were in Norway so we're still keeping as busy as we want to be. Nick is simply the best songwriter of the last 30 years, right up there with the Ray Davies's and Pete Townshend's. Not to mention a great guitarist. It amazes me that he isn't better known.
I think the current line-up of the band with Paul Simmons on guitar and Dave Pearce on drums is the best yet and a real pleasure to play in.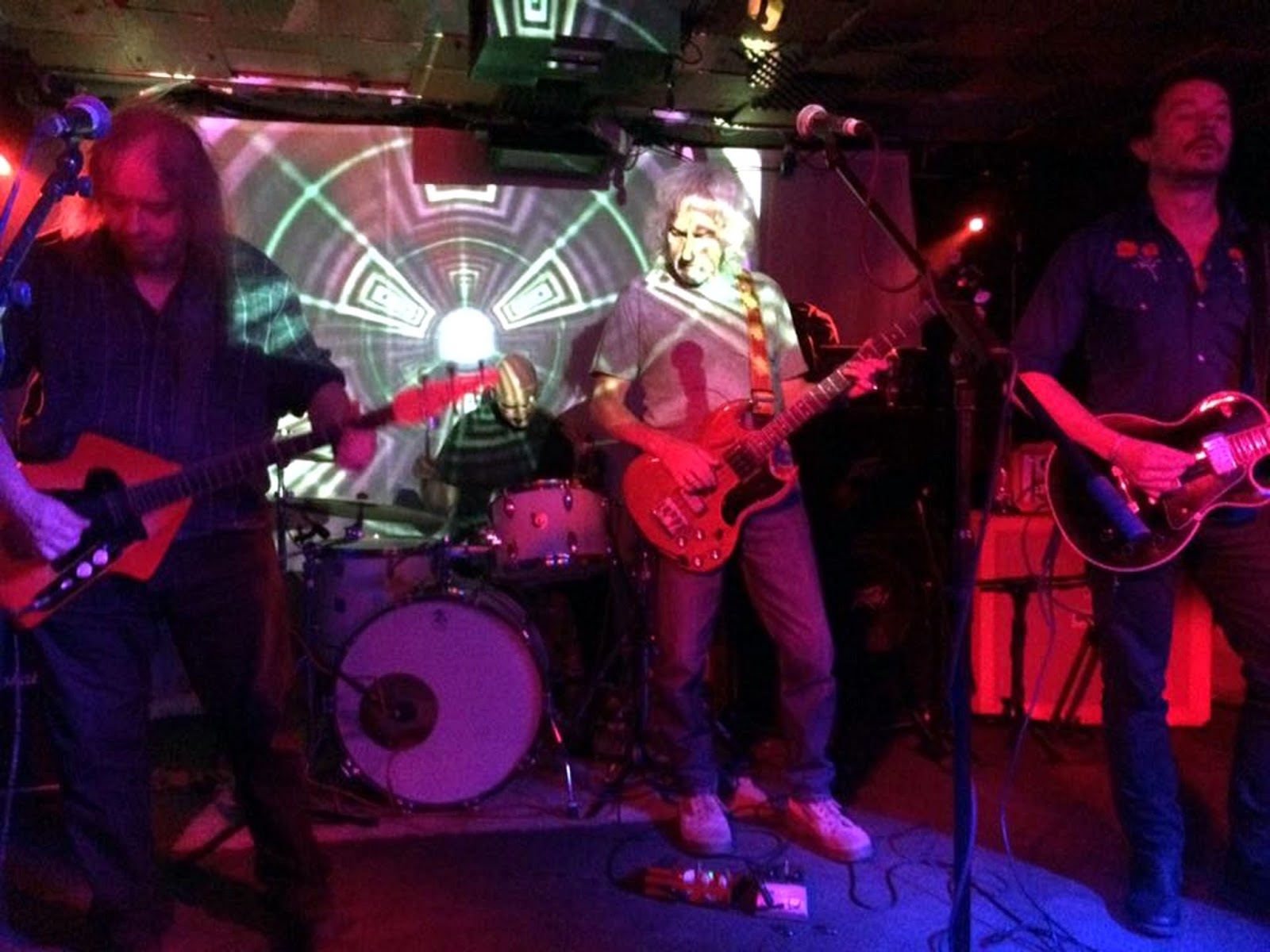 You also released a lot of solo albums. There is still a lot for me to discover. Would you like to discuss your solo albums? Where should we start?
I think I've recorded 6 solo albums if memory serves. For me they are an interesting addition to my work with bands. Much as I enjoy collaborating in a band setting it's nice to do whatever I like in a solo environment. And over the years I've been able to call on a lot of my musician friends to contribute. So I've had contributions from Nick Saloman, Simon House, Andy Ward, Bari Watts, Ric Gunther, Paul Simmons, John Perry, Tony Hill, Pete Pavli, Brendan Quinn and my son Aaron (a fantastic guitarist and keyboard player incidentally). It also gives me a chance to play instruments that I don't usually play in a band setting.
I've also recorded 2 albums with Rod Goodway. Oxygen Thieves being one of them and we have another in the can waiting for a release.
What are some of the favourite memories from the bands you were involved with?
I just feel so lucky that I've been able to make a living as a musician. I would never have guessed in 1967 that I would still be playing 50 years later. I've met and worked with some fantastic musicians and some great personalities. I wouldn't have missed it for the world. Some highlights would be some of the venues I've played. I played the Marquee many times, likewise the Roundhouse. Playing the Great American Music Hall with the Frond was a great experience. Reading Festival with Hawkwind and the Footsbarn Theatre Company was fun too. And when the Frond acted as Country Joe McDonald's backing band at the Queen Elizabeth Hall, that was memorable especially as my son, Aaron, augmented the band on guitar and keyboards. I could go on and on (and often do).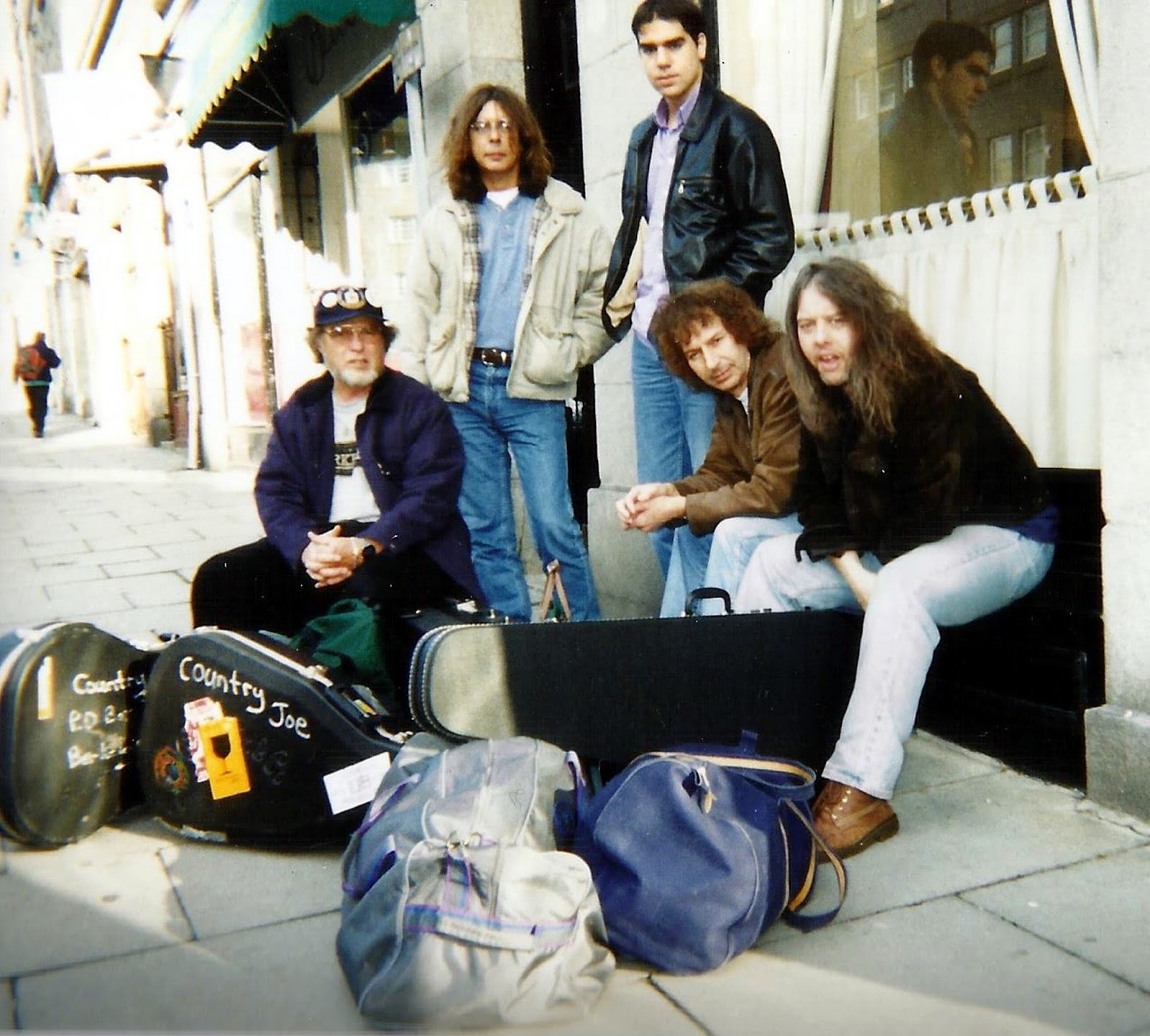 What currently occupies your life?
My wife, Maureen and I moved out of London around 11 years ago. We live in deepest Sussex now with our Jack Russell. I have a recording studio which I make use of whenever the muse strikes and mostly live a quiet life interspersed with bouts of gig madness. This suits me very well.
What are some latest albums you're listening to?
Now I could look up what's hip at the moment and pretend I'm in touch with what's happening musically. But the truth is I rarely listen to new music. I'm not a fan of modern recording techniques and I find most contemporary music anodyne and soulless. There's so much great music from the last 60 years that I missed first time around I tend to listen to that. There's a fantastic double CD of The Smithsonian Folkway Roots collection for instance that has some mind blowing music on it.
Last words is yours.
The world has gone mad. What with Brexit and Trump it seems the madmen have finally taken over the asylum. Well, fuck them all.
Oh, and don't eat animals.
– Klemen Breznikar
DISCOGRAPHY
Ade Shaw solo
Aerial Dance, Cyborg 1, 1990.
Aerial Dance special edition, Cyborg 5 double CD. 2003.
Heroes Everyday, 1991, Acid Tapes 050,
No Place To Go.
Maurice The Mole, charity release, 1992.
Pretty Pictures, Pretty Lies.
Woronzoid, WOO 10 LP, Final Solution.
Ptolemaic Terrascope issue 2, free EP, Paths Of Time.
Tea For The Hydra, Woronzow, WOO27 LP, WOO27 CD. 1996.
"Audio" magazine (Greece) CD sampler, Teeth of the Hydra 1997
Displaced Person, Woronzow, WOO29 CD. 1997
Head Cleaner, Woronzow UK, WOO32 CD. 1999. Rubric Records USA, RUB 14, 2000
Look Out, Woronzow WOO 51 CD, 2002, also Rubric Records, US
Rubric Records sampler, RUB 01, Mobius Trip
Woronzow sampler, Like it, It's Yours, WOO 34, Symbiosis.
String Theory, Woronzow WOO 55, 2004.
Colours, Preamp CD, 2015.
Magic Muscle
100 Miles Below, 1989, CD/LP. UK One Big guitar-OBG9005, also US, Skyclad- Trip 48
Laughs & Thrills, recorded 1972, released on Acid Tapes Tab 038 and then German CD in 1991, SPM 0021.
The Pipe, the Roar & the Grid, CD/LP recorded 1970 & 1972, released on 5 hours back, 1988, Tock 009.
Living Weeds From Ancient Seeds., Archive recordings 1970-72, limited edition cassette in presentation box.
Gulp!, 1991, Woronzow-Woo 17 CD/LP.
Hawkwind
Quark, Strangeness and Charm, 1977, Charisma, CDS 4008.
Re-issue Atomco 2008
Quark, the single, Charisma, CB 305.
PXR5, 1978, Charisma, CDS 4016.
Many re-issues of various tracks on compilations, as well as both albums re-issued on Virgin.
Re-issue Atomco 1010
Hawkwind live 1976-77, Weird Tapes 105.
Hawkwind Live & Hawklord's, Weird Tapes 102.
Free Festivals, Weird Tapes 103.
Hawkwind live 1976-77, Weird Tapes #5 Hawkvp10 CD
Hawkwind Live & Hawklord's Studio, Weird Tapes #2 Hawkvp7 CD
Free Festivals, Weird Tapes 3 Hawkvp8 CD
Hassan I Sabha/ Damnation Alley (part 2). 7" single , Atomhenge, AtomCD2009. 2016.
Keith Christmas
Pigmy, 1977, The Waiting Grounds, Nova-LC3311,
Brighter Day, 1974,
My Girl, Manticore, MA6-503S1,Single-K13509
Reds, Whites & Blues
Sensations soundtrack, LP, United Artists, UAS 29924, 1973
Robert Calvert
Revenge!, Cyborg 2, 1991, B-side with Pete Pavli, "Turn The Tape Over, Part 1", also featured as a hidden track on the Voiceprint CD version, BP 320CD, 2000.
Michael Moorcock
The Brothel in Rosenstrasse, Cyborg 3, 1991, B-side with Pete Pavli, "Turn The Tape Over part 2".
Hawkwind Friends and Relations, 30th Anniversary Volume, SHARPCDA11051.
The Bevis Frond
Rythmposten CD, live Wild Jack Hammer.
New River Head, 1991, Woronzow, WOO 16, Miskatronic Variations 11. Solar Marmalade, vinyl only, also Gathering of Fronds CD.
Earsong, 1991, Reckless, Reck 20,
Live versions of: I've Got Eyes In The Back Of My Head.
Mediaeval Sienese Acid Blues.
Olde Worlde.
Radio Bloodbeast.
Dollybug, Damaged Goods, 7" single , Damgood 81, 1995.
Superseeder, 1995, Woronzow, WOO 26,
Introducing Vol. III,1995,Gema 7046-2,
Cut To The Quick.
Livewired, Vols. 1 & 2, 1996. Cassette only release
Radioactivity, Radio sessions, 1996. Cassette only release
Live at the Great American Music Hall, San Francisco, Woronzow, WOO 39 CD, also Flydaddy, FLY 038, 1999.
Valedictory Songs, Woronzow WOO 42 CD & LP 2000, also Rubric Records, US.
What Did For the Dinosaurs, Woronzow WOO 50 2002. Also Rubric Records, US.
Hit Squad, Woronzow WOO 56, 2004. Also Rubric Records US.
Head Music Krautrock tribute compilation, China, Fruits De Mers 26, 2011
Leaving of London CD/LP, Woronzow 58 2012
White Numbers CD/LP Woronzow 60 2013
Live from the 4th Psychedelic Festival 2011. Sunhair Music 2xLP 2013, Woronzow WOO61 CD
White Numbers, Woronzow WOO60 2 x CD, 3 X LP. 2013.
Example 22, Woronzow WOO CD/LP 2015.
Split LP with Fraudband. Kasumuen, KAS SPL. 2016
Mojo CDs
In Search of Syd, Portobello Man 2008.
Yellow Submarine Resurfaces, Hey Bulldog, 2011
The League of Psychedelic Gentlemen, EP, I'm a Stone, Fruits de Mer, Crustacean 36, 2012
Beatles White Album tribute, double EP, Glass Onion, Fruits De Mer Crustacean 38, 2012
Hollies Tribute, Re-Evolution, Hard Hard Year, Fruits de Mer, 2013
Head Music, China. Fruits De Mer, Crustacean 26 LP. 2011.
Sideways, China (23" extended version), Fruits de Mer, Crustcean 62, 2015.
Nick Saloman & Ade Shaw
Acoustic tour-live, 1993. Cassette only release.
Debbie Duveen and the Millbanks, Neon Classic, CD, Woronzow WOO 57, 2010.
Ade Shaw & Rod Goodway
Oxygen Thieves, CD/LP, SeptemberGurls SG35
Tom Rapp
A Journal of the Plague Year, Woronzow, WOO 35CD, LP. 1999
Arthur Brown
Gypsies, C/W Dance. Single. Gull Records, Gull 4, 1974
J P Sunshine
J P Sunshine, Uncle Glitch, UG 001,Vinyl only release, recorded 1968, released 1996.
Bari Watts
Soulcatcher, Dark Skies Records, DS003CD, 1997.
There was a Time, Darkskies 2015.
Country Joe McDonald and the Bevis Frond
Eat Flowers and Kiss Babies, Woronzow Records WOO 33 CD & LP. 1999.
Mick Farren & the Deviants
The Deviants Have Left The Planet, Captain Trip, Japan, CDDEVIADISP, 1999
ACID JAM 2
Woronzow Records WOO 41 CD UK, Rubric Records US, RUB 13. 2000
High Tide
Open Season, Black Widow Records (Italy), BWRCD050-2, 2001
Tony Hill
Inexactness, Woronzow Records WOO 46 CD, 2001, also Rubric Records, US
Not of This Earth
Silent Running, Black Widow Records, BWRCD 059-2, 2002
The International League of Telepathic Explorers
Free City Media, FRCD003, 2002
Anton Barbeau
King of Missouri. Woronzow Records WOO 53. 2003
Spirits Burning
Alien Injection, CD/LP 2008, Black Widow, BWR 103, BWR 103-2
Healthy Music in Large Doses, Gonzo HST07 CD, 2013
Hawklords
The Barney Bubbles Memorial Concert double LP, Black Widow, 2010
Live in Concert CD, Hawklords UH2012, 2012
We Are One CD/LP, Hawklords 2012, 2012
Dream CD/LP Hawklords 2013, 2013
Censored, CD. Hawklords 2014. 2014.
Adrian Shaw, Rod Goodway, John Perry
Portobello Shuffle, Boss Goodman Tribute Album, Half Price Drinks, Easy Action,
B0047ZXV8C, 2010
Todd Dillingham
Songcycle2011 Discofair. 2011.
Interview with "Space Rocker" Rustic Rod Goodway about Magic Muscle, …