Old Testament – 'Old Testament' (2014)
Old Testament is a new quintet fronted by Dead Meadow singer/songwriter, Jason Simon. Unlike their riff-heavy fuzz monsters, Old Testament is more jangly Americana pop in the vein of Golden Smog, Dylan the Younger's Wallflowers, and legendary 80's desert dwellers, Green On Red, with a smidgeon of Creedence Clearwater Revival's vintage swamp gas tossed in for good measure.
---
'Skin and Bones' gets you in the mood with some travelling music for a sunny afternoon with the AM radio blasting out of your shiny red convertible, but the swampy, bluesy snarl of 'Trip Light" shows an affection for ol' Neil Young and his Crazy Horse drinking buddies. Oak Munson's wailing harp deserves special mention for adding the right amount of wrong to this appropriately trippy number.
'Summer Grass' suggests Simon's been listening to a few of his Cracker records (right down to David Lowery's trademark drawl), but it's the 'Smokestack Lightnin'' riff that'll grab your attention first and gnaw at you throughout. Nate Ryan's revival-meeting organ grinding is at the heart of 'Key To The Kingdom', and I was all over the sleepy, drunken cowboy tale 'Movin' On'.
Side Two offers more of the same, from the wah-wah, two-steppin' 'Dallas' and the 99 bottles o' beer on the wall singalong, 'Let Me In' to the train kept-a rollin' chooglin' of 'Josephine' and the lengthy (10 minute) bluesy shuffle of 'Now As In Ancient Times' that'll prick up the ears of all you Canned Heaters and Brian Jonestown Massacreants out there.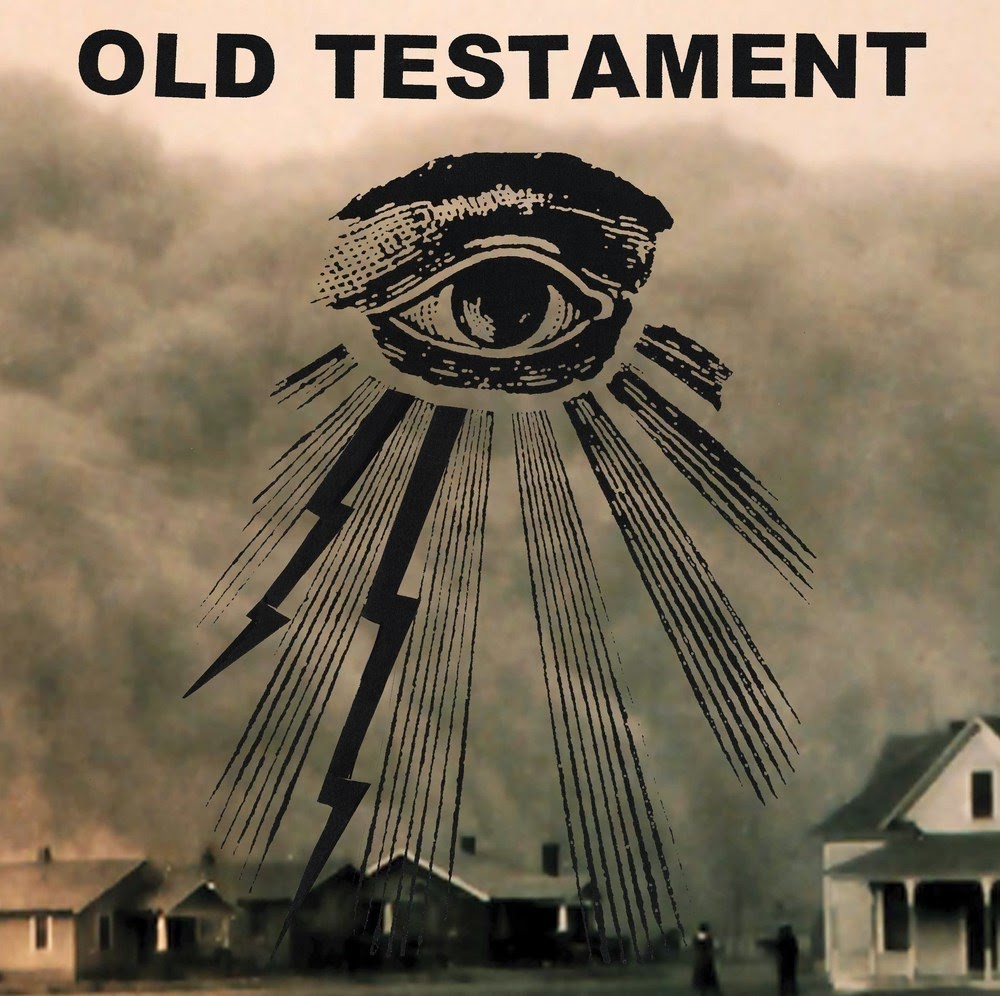 So if you're in the mood for some good ol' sloppy, drunken, good-natured, good ol' boys howling at the moon, then pull up a chair, take a swig of this here moonshine, and try not to fall into the campfire.
– Jeff Penczak
---
Old Testament "Old Testament" (Cardinal Fuzz / Evil Hoodoo, 2014)