Embryo – 'Message From Era Ora' (1976/2013)
Let me start by saying that I'm a big fan of Kraut Rock. I may not have the most comprehensive knowledge of artists beside the behemoths of the genre, like CAN and Amon Düül II but I adore what Kraut Rock stands for, which is boundless creativity; essentially, keeping music defined as art.
---
That said, when I was introduced to Embryo and their extremely rare 1976 live jam session Message From Era Ora, featuring legendary Italian jazz artist Massimo Urbani, it introduced me to elements I never would have thought to pair with Kraut Rock. I was taken aback at first by the harsh sound quality, but upon further listening those reservations melted away like butter and I became wholly enthralled by what I had been introduced to.
Here are primal Afro-funk drumming rhythms paired with psychedelic guitar noodling and an ultra-cool saxophone that pipes in, taking us on a leisurely trip through space and time. When Side A transitions into this Jazzadelic foray it leaps back and forth between saxophone and keyboard with ease and comfort among one another, like lovers whispering silent affections back and forth. The smoothness of a guitar takes over for the saxophone and they flirt shamelessly. Then the bass kicks back in and stirs the pot. Deep and heavy, it makes its presence known with its steady melody. The keyboard and the cymbals duke it out amongest one another until Side A comes to a close.
Side B picks up with an extremely driven bass line. This seems more along the lines of Kraut Rock & Roll, but we're given reminders throughout the track that this isn't just any Kraut Rock experiment with saxophone lurking beneath the scathing guitar wahs, crashing cymbals and that killer bass. As the track continues, the saxophone chimes in more prominently, with the deadly precision of the band to back it. There's no need for vocalists here, the instruments speak for themselves and they do it confidently. After the back and forth feuds between players and their instruments, the drummer breaks things up and introduces to us something new to wet our beaks in. The coordination in these live tracks are like threading needles with so much improvisation but Embryo have a musical understanding that is far reaching. We're given another driving melody in the guitar with the drums setting our ears in a mystical blaze. Pictures are sketched in our minds with delectable and articulate guitar soloing that would make any modern Rock guitarist blush. If you can imagine the scene on stage, it is altogether mesmerizing and chaotic. But in chaos there lies immeasurable beauty.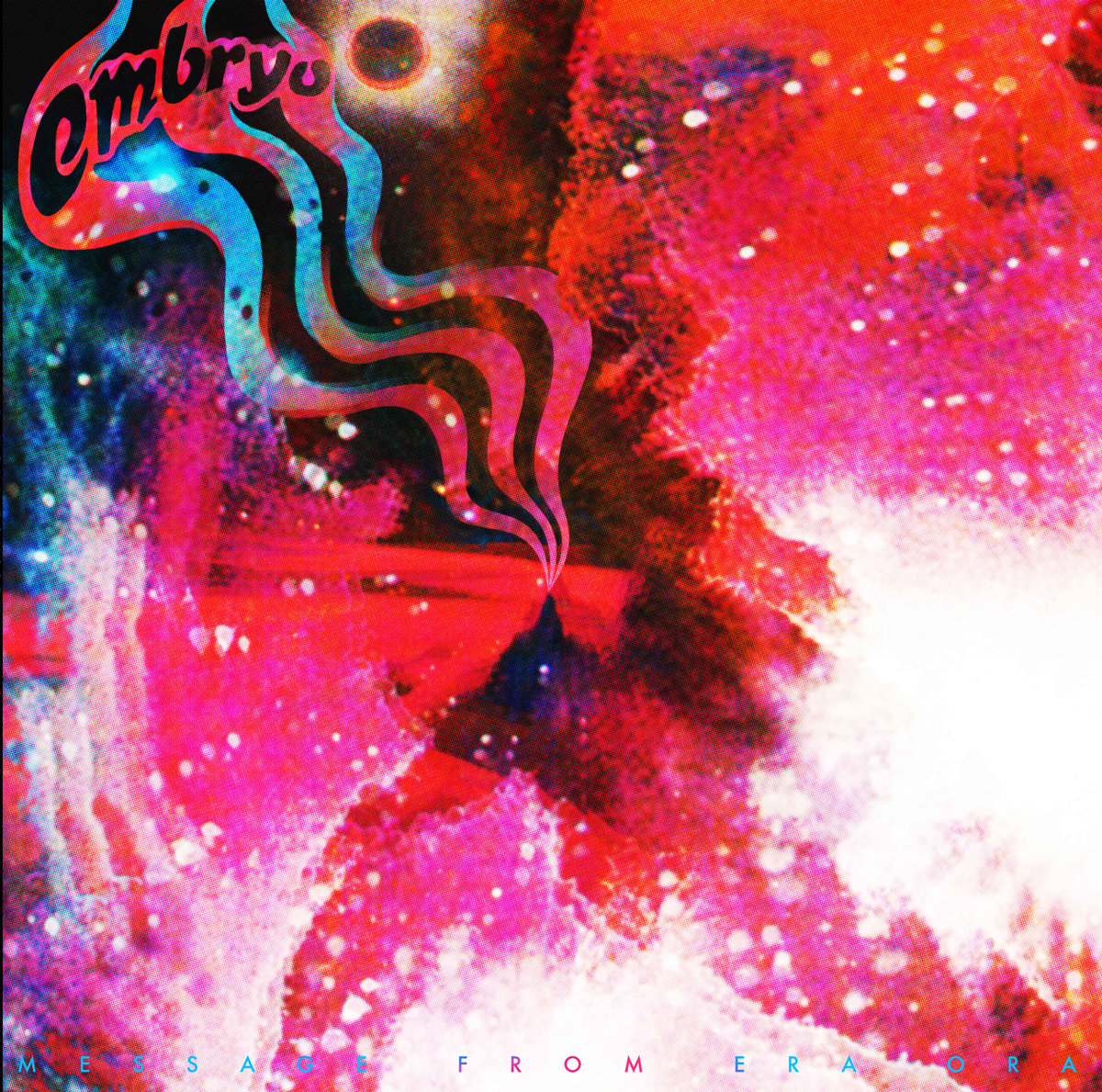 If you have a mad hunger for music that will blow your mind and expectations, then please, do yourself a favor and indulge in Embryo's Message From Era Ora. It is a uniquely colorful example of where Kraut Rock can be taken, as well as music as a whole. I almost can't bring myself to call this Kraut Rock―it's Kraut Soul!
– Hunter Gatherer
---
Embryo – Message From Era Ora (Sound Of Cobra Records, 2013)