Roman Bunka interview
Roman Bunka is one of the most accomplished oud players in Europe. His music unites different styles and cultures. His compositions and playing can be heard in pioneering experimental bands like Embryo and Missus Beastly, not to mention countless collaborations with variety of musicians. Roman Bunka is one of the most 'colorful' musicians coming from Germany.
---
What were your first musical involvements?
Playing music with my family.
Who were your major influences?
Different at different times. For electric guitar, when I started, Hendrix and later Ollie Halsall, both left-hand players. But sure also Zappa, John McLaughlin, Terje Rypdal and all other great guitarists of the early 70's.
German bands?
Xhol Caravan impressed me, they had a great version of "Love Potion No.9", they called it, after their LSD experiences, "Love Potion 25". We played the same festivals, sometimes together with Tangerine Dream. I remember Edgar Froese from Tangerine Dream playing electric guitar on the roof of their tour bus. I jammed with Amon Düül II, but this was not my thing. I preferred Guru Guru. Uli Trepte (their member) was the bassist with us (Embryo) for one tour. I liked some of the music of Can, but never heard them live. Exmagma were good friends, they did some great stuff.
How did you first get in touch with Arabic Oud? What in particular fascinated you to begin playing this instrument?
I touched my first oud in Istanbul around 1972. I started seriously playing it after I heard the music of Riad Al Sunbati, composer for Oum Kalthoum, on Radio Tanger, while touring in the south of Spain. In 1982 I went to Cairo, Egypt, to look for a teacher for classical Arabic music. One of the reasons I like the oud is that it is (like the Indian Sarod) a plucked instrument without frets, so you can go in any microtonal direction. If you want to do this with an acoustic guitar, you need very thin strings for the same purpose, and then the instrument doesn't sound so good anymore, and you have to plug it in again. And there are times in your life when you want to avoid electricity.
I believe one of your first more 'serious' involvement with music was when you joined Embryo. When was that and how did you get in touch with Christian Burchard?
What means serious? I always had an ambivalent relation with music. But for sure, 'psychedelic experience', or maybe call it 'shamanistic experience', pushed me into a deeper listening and understanding. I performed with Missus Beastly, don't ask me where, in Germany, Spring 1971, and after us played Embryo. For me it was the best German band I ever heard live and I was happy about the invitation from Christian Burchard, who liked my playing, to visit the band in Munich and jam with them.
Were you in any bands before that?
I played in a local band in Würzburg, 'The Blues Campaign', between 1967 and 1969. Sax-and flute-player Jürgen Benz played with us, later he started the group 'Munju'. Our drummer was Klaus 'Funky' Götzner who later joined 'Ton-Steine-Scherben' in Berlin to record the legendary Black Album with them. In 1970 I joined Missus Beastly and a long tour started…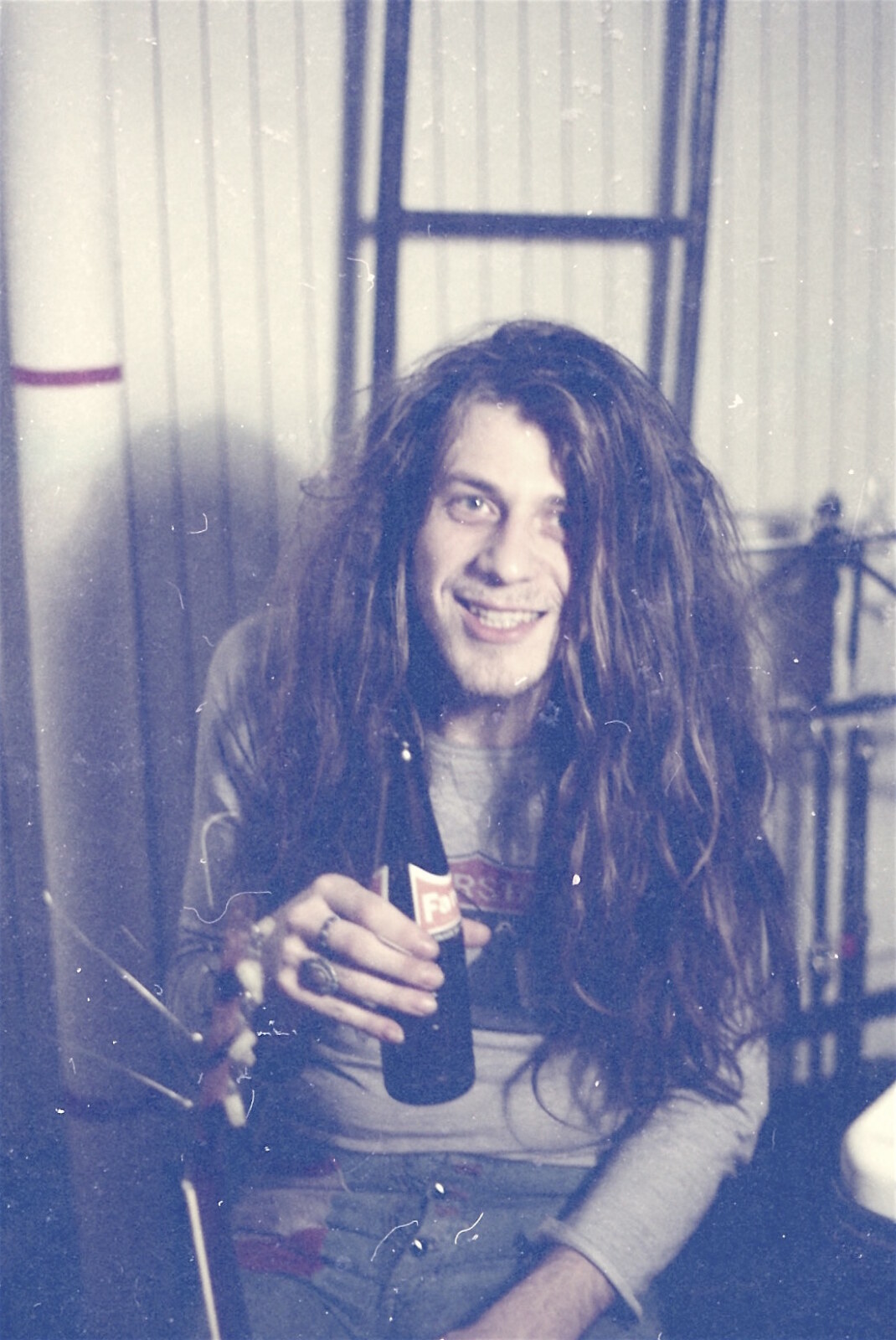 Your first appearance was on Embryo's Rache. What do you remember from it?
I did not play one note. I just had joined the band and Christian Burchard wanted to have the actual line-up on the cover. As there was no bass player (bass was played by the keyboard players with the left hand on a Hohner Clavinet) he invented the 'Rache bass'. Live, I played bass in some concerts, but soon Dave King, Mullah Stiletti, Jörg Evers and later Uve Müllrich took over and I could play my guitar.
We Keep On album featured Charlie Mariano (American jazz alto saxophonist and soprano saxophonist). The album sounds a bit different compared to previously released Rocksession. What was the dynamic between you, the band and Charlie Mariano?
He was just on another planet and we had so much respect for him! But he enjoyed the fresh sound with Embryo and was a very warm and open, beautiful personality. I think the recordings of We Keep On were some of the best in European Rock Jazz scene.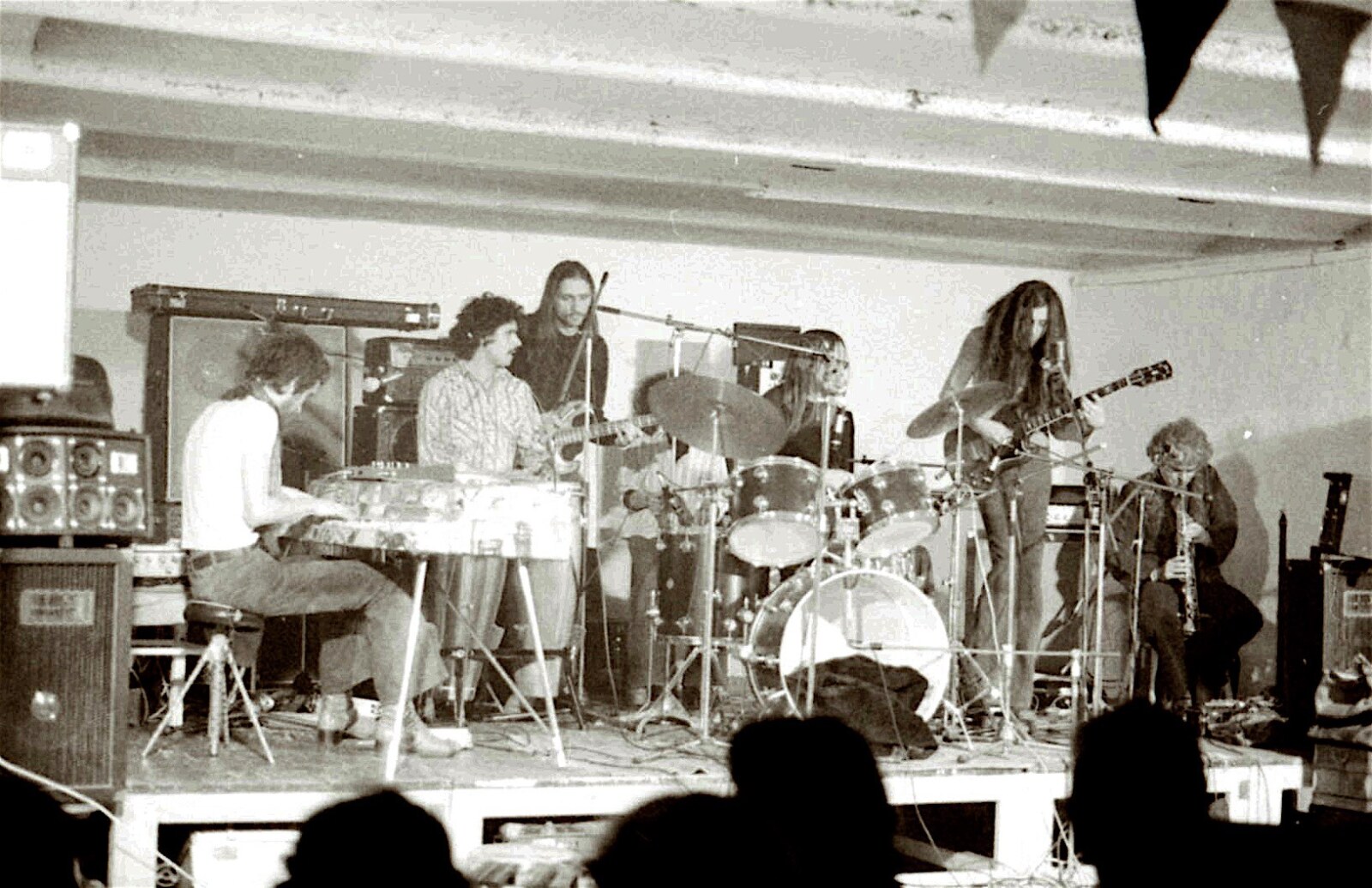 You continued to play with Embryo and recorded several albums. Surfin' followed in 1975 and it's probably the first album that focuses on more tight arrangement.
 Yes, we were writing songs and we wanted a different concept on the album, which followed the more open jam-session like concept of We Keep On.
"The meetings with the musicians in Afghanistan was for me personally the strongest experience."
Bad Heads And Bad Cats, Apo Calypso, Live, and Embryo's Reise followed. The latter is regarded as a World music masterpiece. It's a wonderful fusion of middle eastern folk elements and typical Embryo sound. What are some of the strongest memories from working on Embryo's Reise?
It was a long process and a quite long journey. If you watch the movie 'Vagabunden Karawane' you can feel it. The meetings with the musicians in Afghanistan was for me personally the strongest experience. I was in India already in 1976 to record with Trilok Gurtu in Bombay and had strong meetings with musicians there, so it was not so new, but the Afghan musicians blew my mind!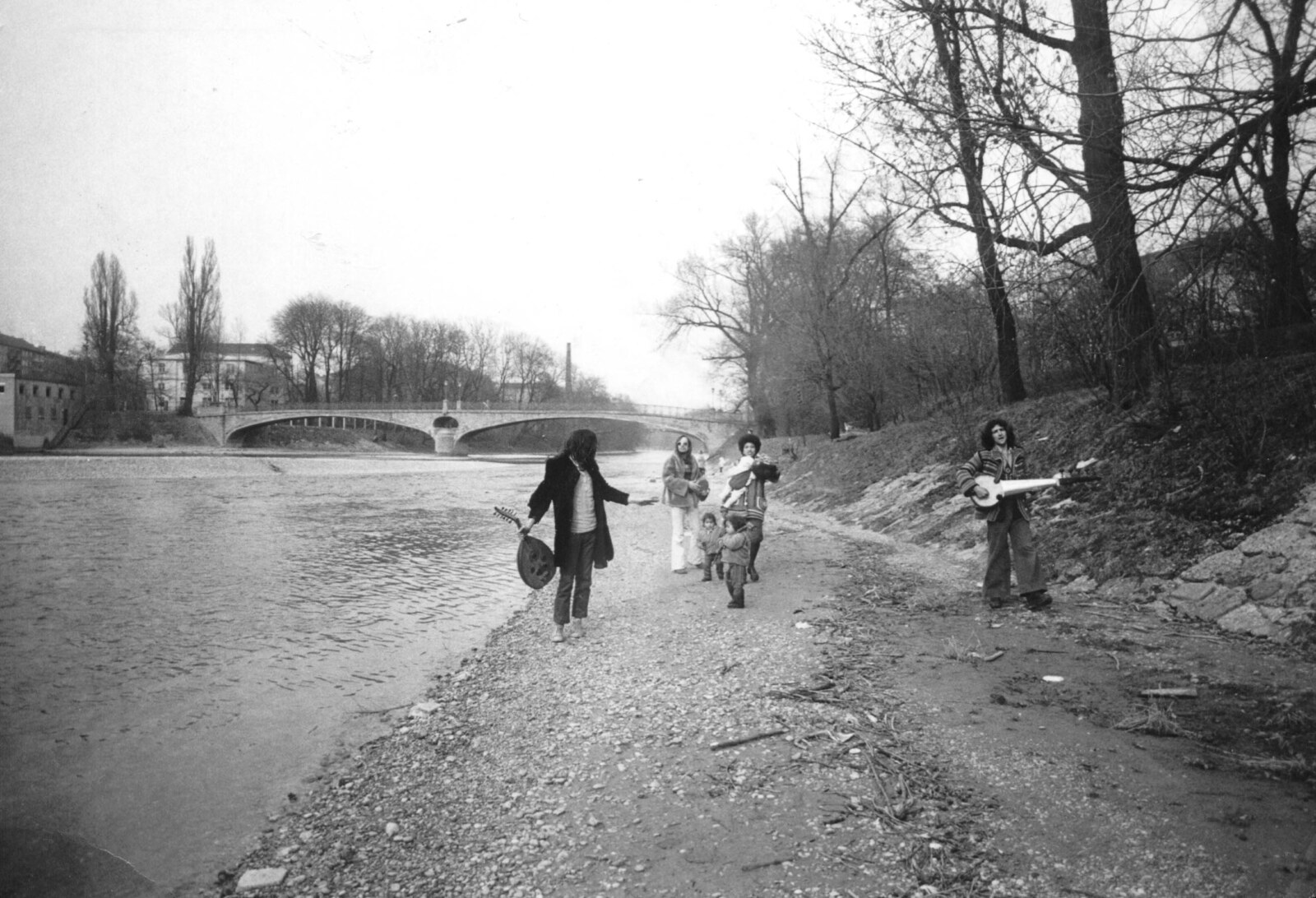 What about your solo release Dein Kopf ist ein schlafendes Auto?
After the India Tour with Embryo I left the group. I felt that this formation needed different musicians around me and Christian Burchard. Remember, we composed most of the material. But he insisted of having this musicians with him, so I left. A little later everything broke apart anyway, the others left and they formed the 'Dissidenten' and Christian Burchard was looking for new musicians. I played for some month with 'Aera'. Their drummer Lutz Oldemeier played there and invited me again, like he did when he was with 'Missus Beastly' 1970. After one live record (Aera Live 1980), I formed a trio to go back to my roots – actually the classic rock-trio. Fender Stratocaster into a Marshall amp. But I already started using my oud to digest the oriental experience. We got the support of the Movie director Werner Penzel, who made the documentary 'Vagabunden Karawane' about our trip to India with Embryo in 1978/79. We bought a new P.A. system and he shot the movie 'Heartbeat' with us.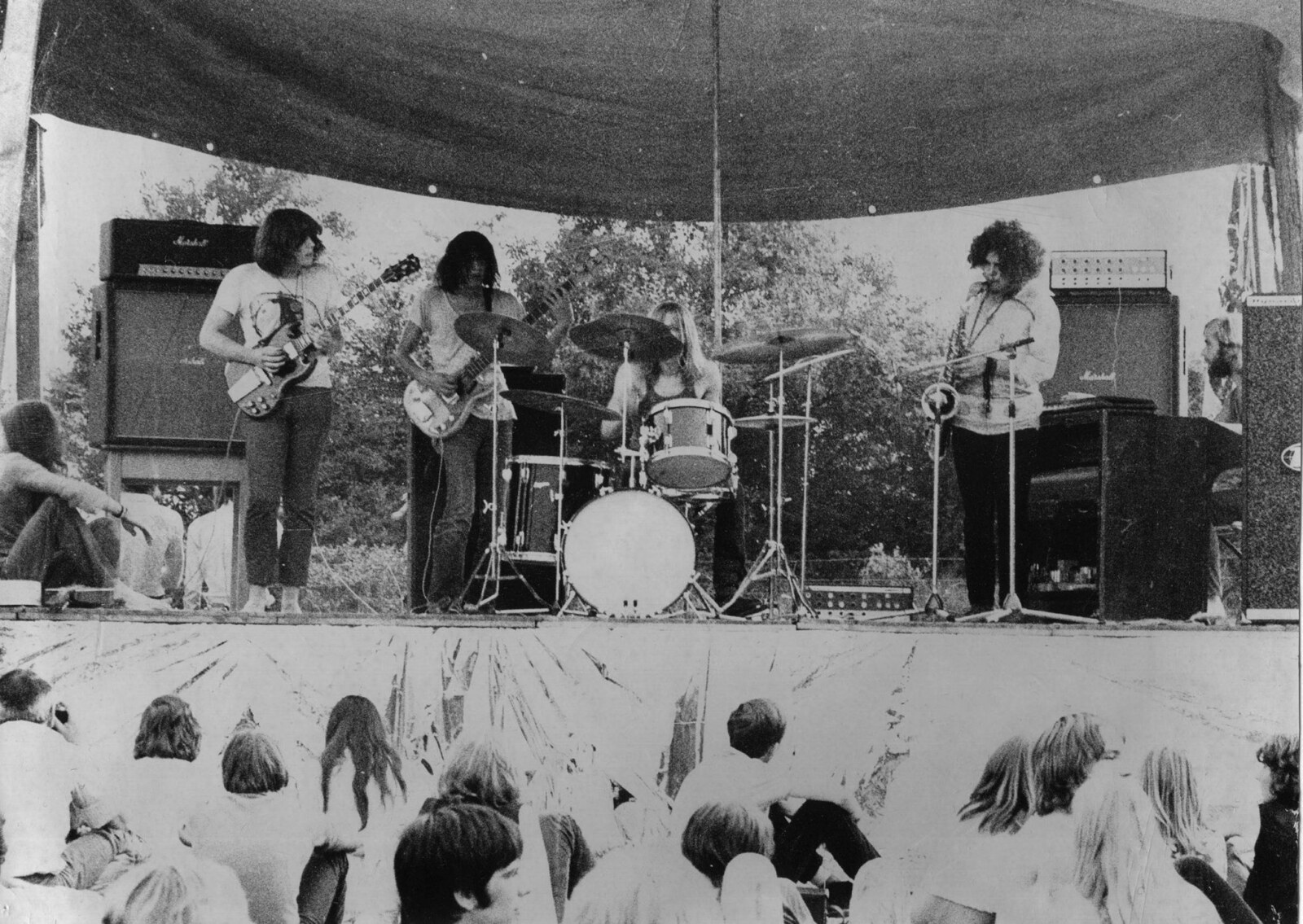 There's one less known project that I've been very keen on called 'Sadja'. It was released only as a tape and it consists of Christian Burchard, Kenneth Wells on sarod and you on guitar and oud. Recently I found Kenneth Wells and I'm hoping he will get us some insight. Would you like to share what you remember from playing in this trio?
Kenneth got stucked in Munich with his family and his camper on his way from India. It was a great chance to dive into Indian music with him. We made this recordings but had only a few performances together.
How was your collaboration with Aera and Missus Beastly?
In both groups my good friend Lutz Oldemeier played the drums, it was a family thing too. We had small kids and with Aera we lived in an old house with a huge garden in the countryside. A paradise for the kids and a retreat for me after the trip to India.
How about your collaboration with Carsten Bohn's Bandstand?
We never played live together, it was a studio job, he liked my playing very much, but I was busy with Embryo.
Would you like to comment your technique? Give us some insight on developing your technique.
I can say that I always preferred modal music to harmony's, so I never got into too many chords, but tried to get along with the melody lines. I'm practicing, normal, not too much, and was never so much into guitar-techniques. Sound was always important to me, this helped me later to compose film music. Since I got deeper in the oriental music, the oud playing coloured my guitar playing, certain licks and rolls and all the rhythm attack with the right hand and the pick.
You also worked with some other well respected artists like Mohamed Mounir, Abdu Dagir, Dissidents and Fathy Salama. In the 1990s also with Heiner Stadler, Fritz Baumann and Doris Dörrie? 
Mohamed Mounir opened the door to my Egyptian experience, through the work with him I met so many musicians, classic, folk-musicians, street musicians and stars like Baligh Hamdy.
But through my own research I met the 'cream' of oud players and composers from the whole Arabic world, like Ziad Rahbani, Hamza el Din, Mohamed Zine el Abdine, Charbel Rouhane, Nasseer Shama, Sayed Chraibi, Fathy Salama, Abdo Dagir, Jill Jillala, Gnauwa Musicians etc.
The film-director Fritz Baumann made our movie 'Al Oud' in the 80's, which is a cult movie now. Together we worked for years, I composed his film music. Other movie directors like Heiner and Doris liked my work and I got more into composing.
What's the difference in making solo releases as opposed to something you're doing which has to fit others' requirements (meaning film soundtracks)?
I had a lot of freedom in creating the music for these films (like working with Tomatito), and the difference was that I got paid! Which was not the case in other releases. The film-music gave me a chance to develop my playing in a non-commercial frame.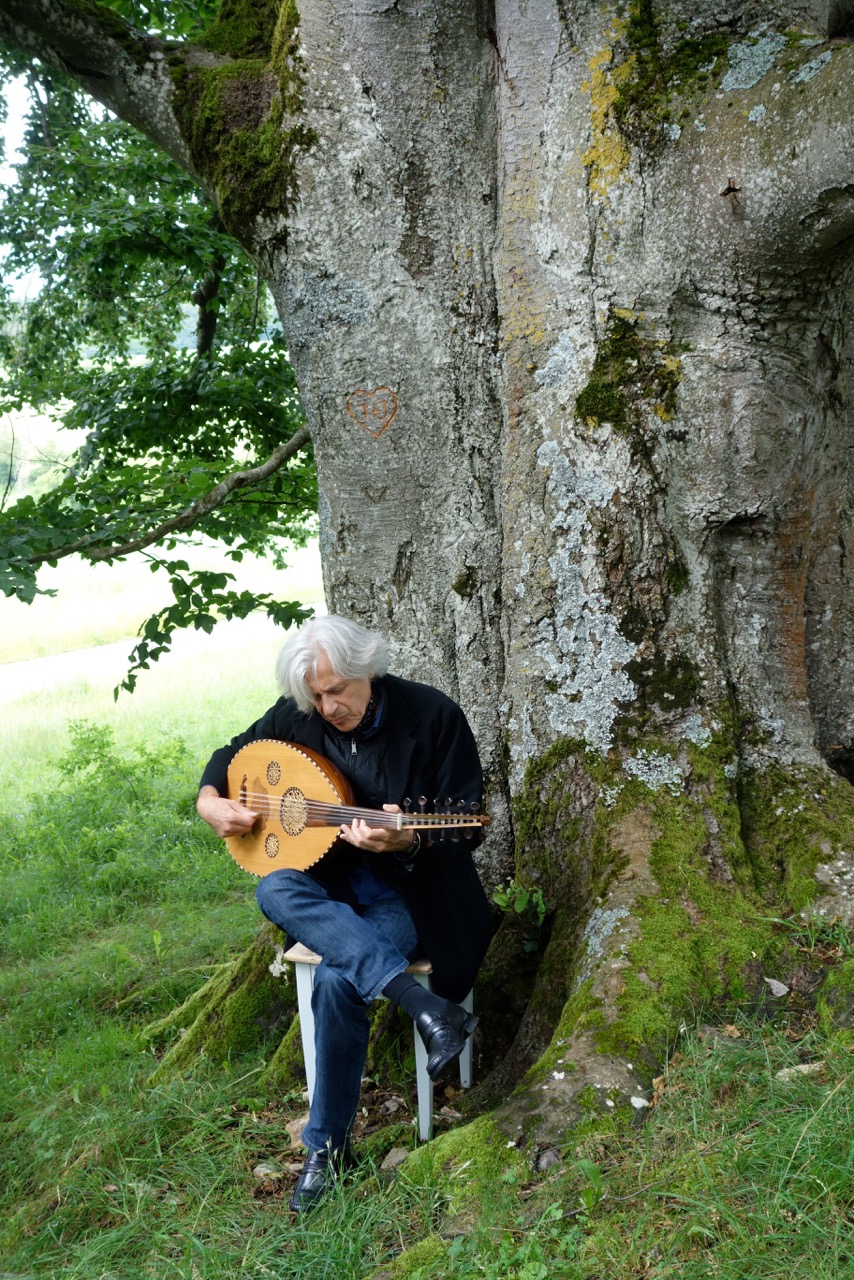 What currently occupies your life?
I don't want any 'occupation' in my life, I'm still in the flow and I'm still learning my instruments. My grandchild keeps me busy sometimes and I have concerts, solo and with ensembles once in a while. Sometimes I also perform with the second generation of 'Embryo'.
Any future projects we should expect?
I think there will be a continuation with 'Dissidenten' next year, they are now 40 (!). Activities with my beautiful musician friends in Egypt, like Ayman Mabrouk and Ayman Asfour, with Syrian refugee-musicians like Ehab Abu-Fakher, who stranded in Munich, with 'Jisr', a project of my Moroccan friend Mohcine Ramdan, with brother Mohamed Mounir and there is some film-music to create this summer.
Thank you for taking your time. Last word is yours.
Last words – are lost words – in a world – of sound – hard to believe – that it can end – easy to accept – the continuing noise – in all its beauty!
– Klemen Breznikar
All photos from personal archive of Roman Bunka