Micah interview with George, Gary, Marty & Bob
Micah were a progressive rock band from Indiana. They played mixture of psych and prog and they are for sure one of the best "American" prog bands. They released "I'm Only One Man" back in 1971. Now after so many years Shadoks will be reissuing their legendary LP. It will be out on June 2012.
---
Where did you guys grew up and what was the scene in your town?
George Robert Wolff: I grew up in Hudson NY and started playing drums at 8 years old. I had many influences at that time. Gene Krupa, Buddy Rich, were the first that I remember. I played in the High School Band and in Drum and Bugle Corps.
Gary Taylor Ohlson: I grew up in Red Hook and Clinton Corners, New York – in Dutchess County. These are small, picturesque upstate New York towns with a lot of history and a variety professions, including a large art and music community. It was the typical 60s and 70s scene.
Marty Horne: I grew up in Bridgeport, Ct. It was a blue collar factory town with some excellent rhythm and blues bands.
Bob Rowe: Hello there! I 'm Bob Rowe, born and raised in Terre Haute, Indiana. known as the crossroads of America, and with three colleges here, there was a variety of musical influences.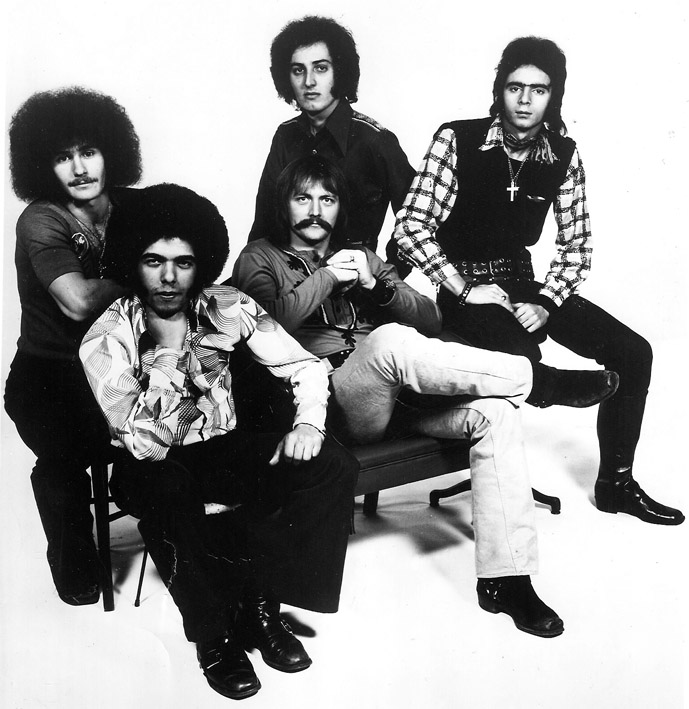 Were you in any bands before Micah?
George Robert Wolff: At the age of 16 I joined a band called "The Shades Of Brass". The band performed at the Apollo Theater, appeared on TV and did some Collage tours as well as doing some recording at King Studio's in NYC. The group mainly played James Brown style music with a few jazz numbers. The band only lasted about 2 years as we all went on to college.
I went and heard Jimi Hendrix, and that was that, Mitch Mitchell was someone to listen to, and I just loved it. I loved the big sound he had with his drum set. I went to NYC and had the Drum ProShop in Manhatten put together a new set of drums for me made from Mahogney which I still have at my home and play today, and love.
In 1968 I formed the band AXIS with some really fine musicians from Hudson NY, and we played a lot of Jimi Hendrix, and Doors music at clubs in the Hudson Valley area for about 1 year.
Gary Taylor Ohlson: Yes. I played keyboards and did vocals with Hardstone Farm and a couple of high school rock bands.
Marty Horne: I was a drummer in my first 2 bands.
Bob Rowe: My first band was formed in 1963 called the 111 Deuces.We were one of the first rock bands in the area, so consequently we were well known in the Midwest areas. I was in a few bands after that,while attending Indiana State University where I hooked up with Robert Wolff,where we had a group called Soul'd Out , then Frogmeat, being the house band at clubs while finishing school.
You formed in Terre Haute, Indiana in the summer of 1971.
George Robert Wolff: I left Hudson and went to College in Terre Haute Indiana to complete my education in 1969. I met Bob Rowe and he hired me to play drums. During the summer I went home and jammed with Gary and Marty at the Hardstone Farm, and told them about Bob having a house gig in Terre Haute. Gary and Marty came from NY to Indiana where we put the band together.This was the beginning of MICAH, which was Gary's idea in naming the band. We all had different backgrounds but all loved the music of ELP, Alan Parson's the Beatles, and YES. I also listen to Mahavishnu Orchestra and Billy Cobham who influenced my personal style. These different styles all added to the unique sound of MICAH, with each member adding his own taste to every piece of music.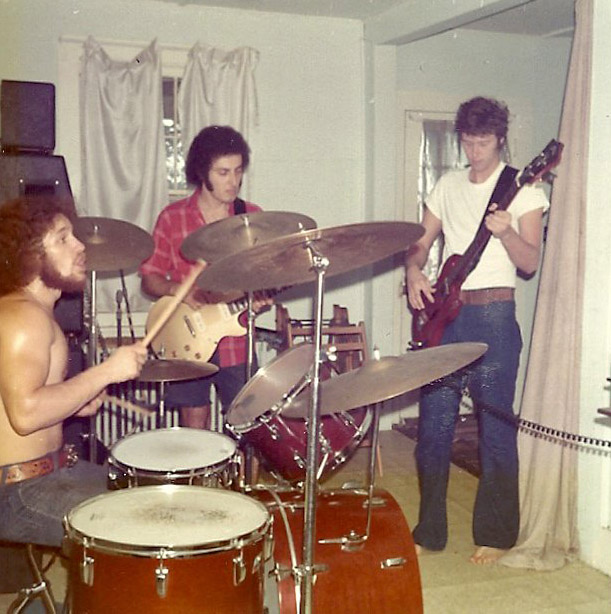 Gary Taylor Ohlson: Marty and I were with the Hardstone Farm band in upstate New York, and we went to Terre Haute to get Robert and form Micah. Robert had auditioned for Hardstone Farm, and I loved his drumming. I wanted to form a rock band without horns and to start to write and perform my own music.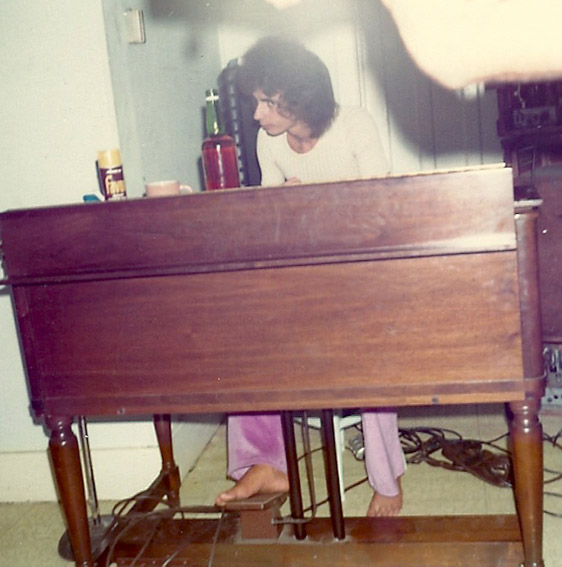 Marty Horne: The summer of '71 in Terre Haute was one long party! Gary and I were in Hardstone Farm together. We left that band to form Micah. We were originally called Max but Gary wanted to change the name to Micah. We were the house band at a popular club called Willie's Part 2.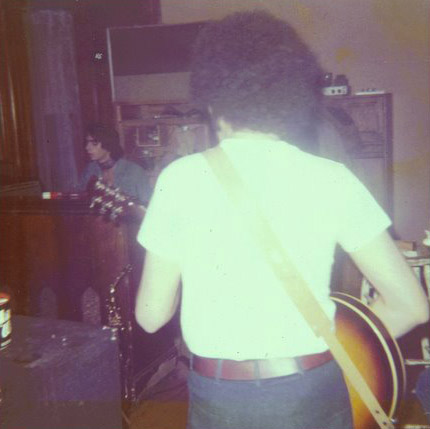 Bob Rowe: The Vietnam war was in full swing at this time. Finishing school, we were all of a sudden in big demand. Tom Gillis, a great bassist, who I'd played alongside from the beginning, was unfortunate in the draft lottery. Robert and I had to start anew. Robert,being from New York, went home where he jammed with Gary, Marty,and Gus, who had just split a band called Hardstone Farm. Consequently,We put the group Micah together in Terre haute where I had bookings set up.
You later moved to New York. Did you perform in Indiana? What happened in New York?
George Robert Wolff: MICAH stayed in Indiana for about 1 year. We thought NY State might be a better place for the band. We relocated to the Albany, NY area. I had a business relationship with Jack Carpinello who booked both the Shades of Brass and Axis. He loved the band and asked to represent us. We all agreed. Jack had a business relationship with the owner of Advantage Studio and we proceeded with recording "I'm Only One Man".
Gary Taylor Ohlson: Yes, we played a lot in Indiana and, well, members of the Hardstone Farm band came out to Indiana out of nowhere to beg me to come back to the band and, well, I did. I went back to NY with Hardstone Farm, then Micah came back to NY, as we had already booked gigs. I went to see them play and they were playing all my music without me, and it kind of hit home. I asked if i could come back and left Hardstone Farm again, and Micah went on again as we were.
Marty Horne: After Indiana, we moved upstate N.Y. and signed with Jack Carpinello , our manager. Jack brought Monroe Pastrel of Sterling Award Records to a Micah gig and we played the "I'm Only One Man" suite for him.
Bob Rowe: The guys were a couple days late from New York. We had time for a three hour rehearsal before our first gig. I think we were all surprised how tight the group was. We played here until we found a place to land in New York. I remember having about forty bucks in my pocket when we headed east. Fortunately, Joe Carpenello, who became our manager, had us booked at The showboat in upstate New York. We got us a good size house, and Joe kept us booked from there.
Soon you got signed by Sterling Award Records.
Gary Taylor Ohlson: Ha! There is many observations and opinions on this subject. Suffice to say, Micah's talent and potential was recognized.
Marty Horne: Jack brought Monroe Pastrel of Sterling Award Records to a Micah gig and we played the "I'm Only One Man" suite for him.
Bob Rowe: I believe Joe set it all up.
There aren't many Prog bands from the States in the 70's. What influenced you?
Gary Taylor Ohlson: We played a lot of Santana music along with our own music, then Emerson Lake and Palmer and groups like that came along. Of course, as a keyboards player, I was impressed with and very interested in the complex style, progressions and movements of this style of music.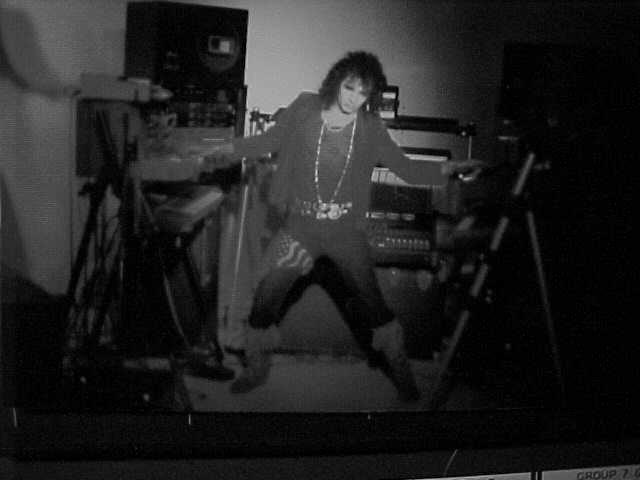 Marty Horne: The prog rock influences were mainly from Robert Wolff and Gary Ohlson. I was more into Rhythm and blues, blues, and jazz guys like Wes Montgomery and Howard Roberts.
Bob Rowe: If we're talking early days, I would say Yes, Cream, Yardbirds, Beatles…long list.
I'm Only One Man was released in 1971. Where did you record it and what are some of the strongest memories from producing and recording this LP?
George Robert Wolff: Truth be told. The record was never finished. If you listen there are no overdubs. In addition there are no backup vocals on side B. We recorded the record live on the studio floor with the intent of the tracks to be only used as a reference for the producer. The producer had a different view of how the band should perform the Suite. Micah felt it's a Suite, you will notice one song ties into another. We really liked the concept recordings released at that time THE BEATLES and ELP for example. So a difference in opinion led to a crashed project. What you are hearing with this recording is an engineers mix, just to appease the band, with no production at all, and no effects. Sterling Records went on and pressed the record without the band even knowing what was transpiring. Sadly, the band sounded much better than this recording with our own amps and drums and with or own sound man. The record is, on the other hand, the positive result of many work hours with material we all loved and believed in. The band reeled from this experience and it led to our demise. We all went in different directions in 1972.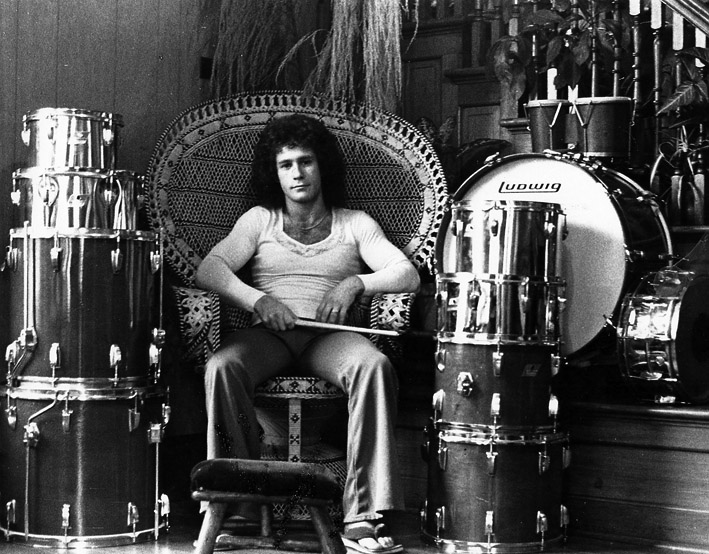 Gary Taylor Ohlson: The album was recorded live in one afternoon at Sterling Sound in NYC. The owner and his son were having issues, and we never got to finish the album. The album music was just a live take in the studio, recorded and released in its non-produced, non-reengineered form. Memories are not good of the situation between the father and son at that time. The father had signed us – we were his pet project. It is a long story and a situation in which we got caught in the middle. I don't know how much the other guys really know about the situation, but I knew everything, as most of the communication was done between the father and me personally.
What kind of equipment did you use?
Gary Taylor Ohlson: All I had at that time was a Hammond B3 Organ.
Marty Horne: Except for my guitar and Gus Hernandez' bass, we used the studio's equipment. My guitar was a mid 60's Gibson SG and Gus had an old Fender Jazz Bass.
What can you say about the cover artwork?
Gary Taylor Ohlson: Not much. We did not have much say in anything.
Side A of the album was recorded "live" in a quadraphonic studio. Side two is only 11 minutes long, what can you tell me about that?
Gary Taylor Ohlson: It was our live show of our original music – we just went in and recorded it live, and the album was distributed "raw".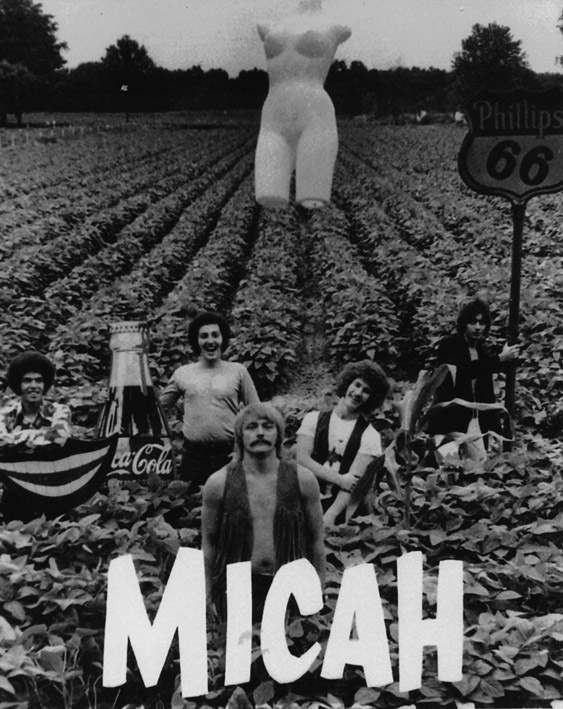 Was there a concept behind the album?
Gary Taylor Ohlson: It was just after the 60s with all the changes going on in our generation and the Viet Nam war, etc., and my personal thoughts about life. "I'M ONLY ONE MAN" – inner thoughts of life and changing things. It was my first attempt at writing anything, and I was contemplating how is one man supposed to change anything in a world that is so bent on killing each other over greed – and I was dreaming of a better world.
How many copies were pressed?
Gary Taylor Ohlson: I don't really know how many albums and 45s were distributed, and, "Yes", we did get some airplay.
Did you tour? 
Gary Taylor Ohlson: We never had the chance to tour in big venues but played many, many clubs, large and small, and did our own concerts.
There was some lineup changes around 1972?
Gary Taylor Ohlson: Yes, we let the singer and bass player go, and Tom Gillis took over the bass playing and David I Feder became the singer. We started to get very progressive in our writing and playing, heading more into ELP and British prog style. At this time I got my first synth, and, well, that is a whole different story, as I played my synth and in a very different style than most. I wanted to play it like a guitar, as well as explore the virtually limitless capabilitiles of the synth, and that led to a whole new part of my life that changed everything for me – musically, personally and professionally.
What happened next?
George Robert Wolff: We all went in different directions in 1972. As a Micah member I can tell you I am thrilled that so many people are enjoying our efforts. It only took 41 years to get the word out about Micah, it's better late than never.
I moved shortly after to Louisville KY to join friends I knew from College. We formed RAVEN, the band gained success and toured the Midwest and East Coast. We recorded a record at the SoundPit in Atlanta GA. in 1976. As with many bands things came to and end when the market turned to DISCO music.
I then traveled as a hired drummer throughout the South and moved for good to the Atlanta area in 1979 where I reside today. I have done some modest recordings and live performances in the Atlanta area. Most recently I did some tracks on a CD named "Hello" by Doug Mason in 2009.
There is some really good news to all of this:
The members of MICAH have decided to pick up the pieces and record more music together. I personally can't wait to see what Gary and Marty have up their sleeves for a new release. This time the members will have total control of the project.
Gary Taylor Ohlson: After Micah split up I went on with Great Speckled Byrd (GSB), and we opened some pro concerts on the east coast. Then I went on to play on the Dick Clark Show and tour with Dick Clark's Caravan of Stars – doing his New Year's Eve show, etc. I played with tons and tons of people from Chubby Checker to Chuck Berry and tons of the 50-60s-70s stars. That band opened for and backed up a lot of name groups. We played Madison Square Garden in NYC and a lot of other big venues around the USA, tons of clubs and Vegas.
Marty Horne: After Micah, I joined Tommorrow Morning in New York City and recorded an album on Casablanca Records. We did 2 TV specials from NYC and toured the US and Europe. After that, I spent 2 years in Cyndi Lauper's Blue Angel Band. While living in NYC I did some session work. I played on jazz percussionist Candido's album "Candi's Funk", and J.J. Mack's album "You Can Make It Dancing". I also wrote the music and played guitar for 2 adult movies.
Bob Rowe: After Micah, I returned to Terre Haute area and played with regional acts. I then moved to Arizona for about 20 years, only to return to Indiana where I now reside. In 2011 I was inducted in the Wabash Music Hall of Fame. I am retired but still loves getting up and singing with many local bands.
Axis, Hardstone Farm, Shades of Brass any of this names sound familiar? They are noted as being connected with Micah and I would like to know how, and if any of this bands released something?
Gary Taylor Ohlson: I was the keyboards player and did vocals with Hardstone Farm before forming Micah. I was not in those other bands, but some of my Hardstone Farm and Micah band mates were. Hardstone Farm did not release an album.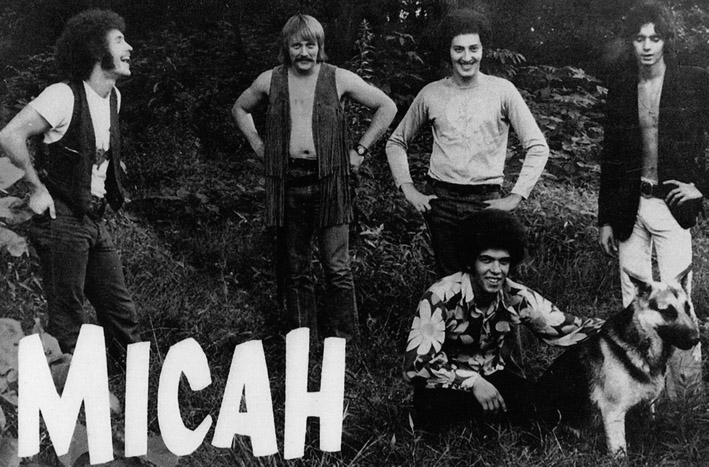 Why did you choose the name Micah?
Gary Taylor Ohlson: From the Bible.
After so many years your music will be reissued.
George Robert Wolff: Keep your eyes and ears open. YOU ARE NEVER TO OLD TO ROCK…Thank you to all the MICAH fans for your support, REMEMBER good music never dies.
Gary Taylor Ohlson: I think it is a wonderful thing and appreciate all the interest. It looks like a Micah reunion is taking shape, as I own a recording studio and we are all getting together again. David Feder and I have been working on music together for years, and we are also releasing our old and new work, individually and as joint collaborators.
– Klemen Breznikar
---