Brewer & Shipley interview with Tom Shipley
What were some of your influences when were growing up?
I grew just outside of Cleveland, Ohio so I became interested in rock 'n roll at a very early age. I went to some of Alan Freed's rock concerts that became so infamous. I had played music and been in choir and band since I can remember. In high school I had a very bad rock band, an equally horrible doo-wap group and I played trumpet in a Dixieland band at the basketball games. My dad was the coach. Our whole family sang together all the time. Usually it was in the car. My sister, Mom, Dad and I singing all of those corny songs we learned at summer camp.
Your first musical involvement?
I can't remember not being involved in music. I went to Baldwin-Wallace College in Berea, Ohio at the same time the folk music scene began gearing up. I started playing guitar and writing songs in the summer between high school and college and once the coffee house scene exploded there were plenty of places to play on "open mike" nights. It was kind of like the Vaudeville of it's time. In fact a whole lot of musicians I later met in the business started out that way. So I got my education while getting my "education." One was in Geology and Geography (I was always facinated with other places in the world and extreme adventures) while my other "education" was studied in the evenings at La Cave or one of the other Cleveland coffee houses. And, of course, I would go to see Pete Seeger every time he played one of the local colleges.
I know Michael had a duo around 1966 with Tom Mastin, called Mastin & Brewer. They opened for Buffalo Springfield, The Byrds and the like. How about you? What were you doing before forming the duo with Michael?
By the time I graduated from college I was a regular at La Cave and opened for a lot of great musicians – Josh White, Bob Gibson, Ian and Sylvia, and so on. I also started to get work at other clubs in the Great Lakes region and Ian Tyson got me an audition at The Village Corner Club on Avenue Road in Toronto. From that point on I split my time between Cleveland and the Canadian folk circuit finally sharing an apartment above a French restaurant in the Yorkville district of Toronto. I kicked in 1/2 the rent and spent 1/2 of my time there.
Those were great days. It was at La Cave in Cleveland that I met Lance Wakely who was playing guitar with Bob Gibson. We would hang out at various places from Toronto to New York along with Monty Dunn, Ian and Sylvia's guitar player. You should have heard Lance and Monty play together. Lance eventually headed to Europe. He lives in Krakow these days and is known as Dr. Harmonica. Best damn busker on the planet… Manu Chao not-with-standing. Check out his Facebook page. Lance played the solo on "Truly Right" from the LA sessions. He broke a string on the last note and the session was over. That is the last I've seen of him, in person. From that point on he was just a rumor but thanks to the web we are back in touch. I have to say I'm often very envious of his lifestyle.
How did you meet?
I first me Michael at the Blind Owl, a coffee house in Kent Ohio just south of Cleveland. Later I ran into him at the Lemon Tree, a coffee house in Dayton, Ohio. One of us was just finishing up a week and the other was coming in. However it worked out we hung out some there. We had a lot of friends in common and a lot of very common friends so we got to know each other that way. That is very much the way the groups of the 60s got together. The first time I met David Crosby was at a Coffee House in Cocoanut Grove, Florida. Everybody knew everybody else – or at least knew of them.
Down in L.A. is your debut album. What do you remember from recording sessions?
I think we were very depressed. Neither of us were LA kind of people and the songs pretty much reflect how we felt. We wrote and recorded a song "Mass For My Lady" that is the single most depressing song I have ever heard. Once in awhile we would get a chance to get out of LA and play a couple of the coffee houses we had played as solo acts. We played the Vanguard in Kansas City, Missouri one Christmas with Steve Martin who was just starting his career.
Later we wrote "Dreamin' in the Shade" … "and I think I saw Missouri. But I know my eyes will find me down in L.A." That pretty much says it all. I had the good sense to gather up my camping gear on a trip back to Cleveland and spent the last few weeks of the sessions camped in Michael's back yard. From there we were headed out of LA and back east. I took off first and camped on a Hopi Indian reservation in Arizona. Michael and I touched base one afternoon at a dance the Hopi were holding in a pueblo called Old Orabi on Third Mesa. He was headed back to his family home in Oklahoma where we had our first road gig on our exit from California. How we ever hooked up in Arizona I will never know. That was in the days of phone booths and trying to find change. I think all of those experiences were summed up in "Down In LA" and I believe those experiences laid the foundation for our "Weeds" and "Tarkio" albums. Both of those were very much influenced by Native America.
I really like the cover artwork.
Our ladies had made leather capes for us from scraps we found in the dumpster of a high end leather goods place on Rodeo Drive in Beverly Hills. It was time to have our album cover shot so the photographer took us to a place where there was a little water and some cattails. That is about all I remember about that. I think I was at least one toke over during that shoot. Good thing they didn't show my eyes.
Weeds is your next album, which is another great album you recorded. A year later you released probably your most well known album called Tarkio. What's the story behind it?
As I said earlier, I think the experiences we had getting out of LA and back to the heartland very much influenced both of those albums. To me it was more like one long album that the record company divided in half. We got the first 10 songs finished and they released them as "Weeds" and "Tarkio" came up next. I think the success of those recordings came about because of the times. We were on the run from LA and everyone else our age was on the run from somewhere or something. What was happening to us was happening to all of us and we were writing about it. I don't think a lot of people really understand that there was a whole generation in motion at that time. Nobody knew where to land so we just kept moving. Fortunately we found our way back to Kansas City where we had friends and it was a good place to hang our hats.
"One Toke Over the Line" is your most well known song that soon after release became a hit.
I was blitzed. A friend had warned me to just take two hits from something he gave me. Of course I wasn't about to believe him and continued on. We were playing the Vanguard that night and I was in the dressing room playing a banjo "frailing" rhythm on my guitar when I said to Michael I'm "One Toke Over The Line" and he broke into song. There was a refrain that night and some verses the next day and that was about it. We were trying to make ourselves, and some of our friends laugh. I never would have guessed what it would lead to. We played and opening act show at Carnegie Hall and the record company president was in the audience. He demanded we record it for the album and the rest is infamy.
How well known were you before having a hit song?
I guess we were pretty big. It's hard to say. I know we were making a lot of money but who could count. We were on the road all the time. There was a three year period when I was hardly anywhere but on the road. We would do week long shows at the Bitter End in the Village, the Cellar Door in Washington a few times each year, go to San Francisco to record, head back to New York to get with the record company people, and do all of those TV shows. Everyone says I had a lot of fun but it was mostly a blur to me. Maybe something I ate.
What's the inspiration behind your songwriting?
To me that is the saddest thing about how our musical careers turned out. We were and still are ballad artists but our hit was a novelty song. Once you have one of those you are pretty well stuck with it. However, had we become famous for our ballads we probably would have had more hits, more money, and maybe be dead by now.
Seriously, "One Toke Over The Line" was a fluke but it paid the bills and the phrase has made it into the lexicon of America. That is something to hang your hat on. I'm really glad you like our ballads. I'm a sentimental kind of guy and I like writing about and reflecting on the good things in life. There are good times even in the worst of times… if you look for them. That is what I have always tried to do and I always hope it comes out in our music. Love is a really good reason to live your life.
Touring?
I'm afraid you will have to go to our website to get the touring information. We have played with everyone from the Eagles to Elton John. We played Central Park in New York with Bruce Springsteen. At some point they all run together. I'm embarrassed to say that I remember the faces of the young ladies better than I do the bands we played with. The music, the audiences and the ladies. I think that was all that was thinking about when we were constantly touring. There were, of course, special shows. I loved touring with the Eagles, Linda Ronstadt, The Ozark Mountain Daredevils, and some others but my favorite show was playing with James Taylor at the Cellar Door in Washington D.C. The club would only hold about 150 people. "Sweet Baby James" had just been released and James was just sitting on a stool with an acoustic guitar. No band. Just James. That is the only time I ever watched every show done by the act we were on the bill with. That was one very cool week.
Any crazy stories that happened while on the road?
I think I just told you some. We did play back in Cleveland one Halloween night with Black Sabbath when Ozzie was with them. There was, of course, a riot outside the hall. Police on horses doing battle with the fans trying to get in. As ballad artists, a night with Ozzie playing in front of twenty five thousand drunk kids was kind of a tough on us. Who puts these things together? Then there was the Jethro Tull tour. We did 28 cities in 28 days with them. It was like I had joined the circus. In fact I think I did join the circus. It was their "Passion Play" tour. Every night Tull's road manager would watch to see what the audience was throwing on stage…fireworks, etc. and make a list. Then he would go out on stage after our set and tell the audience Tull would leave the stage if the audience did… and he would read down the list he had made. It was like we were the lead Christians checking out the lions.
I told you about playing the Vanguard in Kansas City with Steve Martin who was still working as a banjo/magic act. We were in a car pulling up to the hotel and got hit from behind by a drunk driver. Michael got some dings on the leg and our guitars and Steve's banjo go stuck in the smashed in trunk. That was really scary because we were just starting out and those were the only instruments we had.
Without a doubt, the most intense tour was one we made to Kansas City as we were bailing out of LA. The news that Dr. King had been shot broke just as we were leaving LA. We didn't learn he had died until we got to the Arizona. I had been active in the Civil Rights movement in college and was overcome. By the time Michael and I arrived in Kansas City there were one hundred and twenty two American cities in flames. Kansas City was under curfew so the club was closed. Some friends with an old Yellow and Black Civil Defense panel van took us to Columbia, Missouri where we me stayed with a group called the Sound Farm until the riots were over. We are still friends with some of them to this day.
Along those same lines, Michael and I met at a club in Kent, Ohio – home of Kent State University. Kent was just a few miles from where I grew up and I headed down to the demonstrations early in the morning. We were playing the Cellar Door in Washington that night and while I was on the plane from Cleveland to Washington the Kent State massacre happened. That still haunts me. There are so many stories about those times it could fill a book. Which it might.
More albums followed like Shake Off the Demon, Rural Space, ST-11261 and Welcome to Riddle Bridge. What happened next?
By the time "Riddle Bridge" came out I was burned out. I was an artist with no time to practice art of any kind and I work in more than one medium. My life had become that of a performer, not an artist. The music we were writing was all about living on the road. But we had taken our "One Toke" money and moved to the Ozark Mountains in southern Missouri where we still live. That changed everything for me. I had found the love of my life and I just had to get off of the road to make it work. I tried a few things. I had always been a fly fisherman and began designing trout flies. I also began working in television as a producer. I ended up with my own production company and eventually took a position as videographer for Missouri University of Science and Technology. Both that position and my production company have turned out to be very successful. I love telling stories with television. Several of the songs on our most recent album "Heartland" were songs Michael and I wrote for various productions.
What are you doing these days?
I have just cut back my time at the university where they created a new position for me to do special projects. Michael and I still tour and my new position at the university will give me more time to pursue that. I'm also very involved with an organization called Engineers Without Borders which is made up of engineering students taking the time during their breaks to travel to places in the third world to solve the problems of lack of clean drinking water and sanitation. I have been to the Andes of Bolivia twice and once to the Amazon to do videos the organization can use to raise money. That may be the most rewarding and probably the best thing I have ever done. Having the opportunity to use my talents as an artist to raise money to help the people who are sick and starving is a good way to return some of the blessings given me. I hope to go back to Bolivia sometime. I fell in love with the placw while I was there.
I'm also working with my son Marc who is also a singer/songwriter. We have written a lot of songs together and I am trying to help him produce an album. He is also a budding busker in his own right so don't be surprised to see him singing, dancing, riding a unicycle or breathing fire on the streets of Slovenia.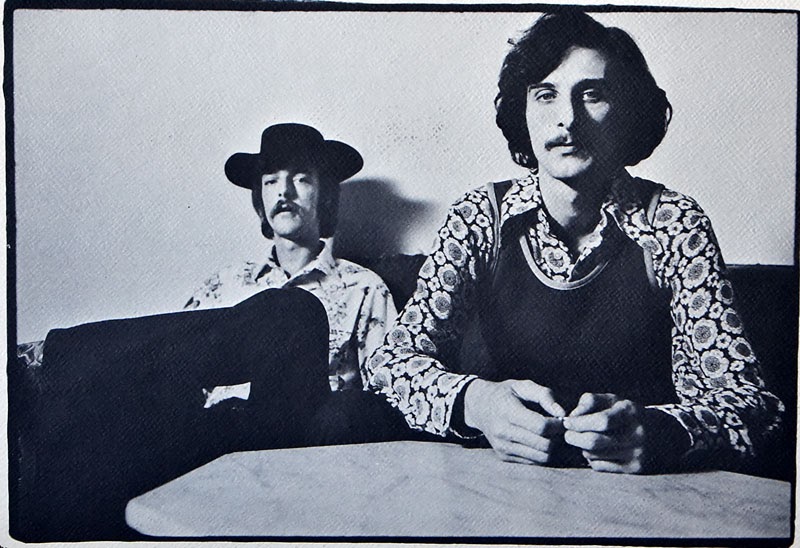 Any future plans?
Make love, write songs, and continue to look for new ways to embrace the artistic side of life. I've been truly blessed to have been able to make a decent living in the arts. I believe I can continue to do so until someone tells me I have to stop. Maybe then I'll go back to being a geologist and adventurer. And I have begun a book which I am about a quarter of the way through. Guess what it's called.
Would you like to add something else?
The one gapping hole in the Brewer and Shipley resume is our lack of appearances in Europe. Everyone always says our music would do well there but no one has ever told us how to get there. We did one Tour of England in the early seventies and that was it. Maybe we will get lucky and someone will book us into some summer festivals sometime. But then we have been trying to do that for years.
I hope I have been of some help. Thanks for the interview request. It was fun reliving some of the days gone by.
Stay well. Tom
– Klemen Breznikar