Kaleidoscope interview with Chris Darrow
Formed by multi-instrumentalists David Lindley and Chris Darrow, with a membership that also included multi-instrumentalist Solomon Feldthouse and multi-instrumentalists Max Buda, Chester Crill and Fenrus Epp (all the same person!) along with drummer John Vidican, this wildly experimental outfit pioneered what would become the world-music genre by darting deftly between rock, folk, blues, Cajun, country, Middle Eastern, good-time ballads and Eastern European styles, with plenty of full-blown psychedelia on the side.
---
You started in a band called the Re-Organized Dry City Players back in 1963.
The band was my first group and it was a bluegrass/old timey band. There were four guys: Roger Palos, my best friend and he played guitar, Pete Madlem, on banjo and Dobro, Pete Fullerton (later in the We Five) on bass and me on mandolin, fiddle and vocals. We all sang harmonies but I sang most of the lead vocals. We were all in high school and lived in Claremont, California. Later on the members changed a bit and Bob Warford took over on banjo and Bill Stamps played bass.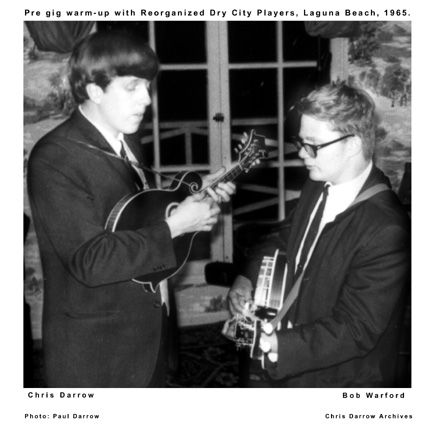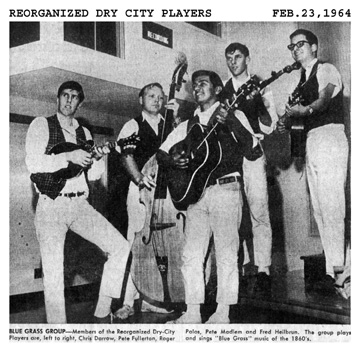 David Lindley was in the Mad Mountain Ramblers. How did you meet?
We met at a place called the Cat's Pajamas in Arcadia, California. They had a hootenanny night on Thursday night and anyone could play there. It was mostly bluegrass bands and guys like Clarence White would play with his band, the County Boys (later the Kentucky Colonels) regularly. I was there with Charlie Zetterberg on banjo, Fritz Mulhauser on guitar and I played mandolin and sang. David came up after our set and asked if I would be interested in joining their band, as one of the members was quitting. I said I would, but that I still wanted to stay with my own band, The Dry City Players as well. He said fine and that's how it started.
Did the Re-Organized Dry City Players or the Mad Mountain Ramblers ever recorded something?
No, we never did.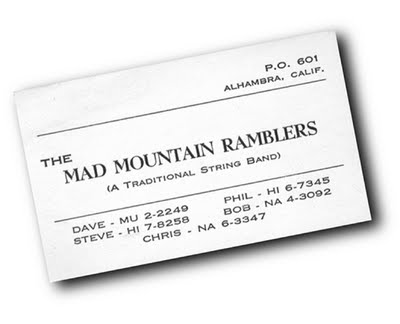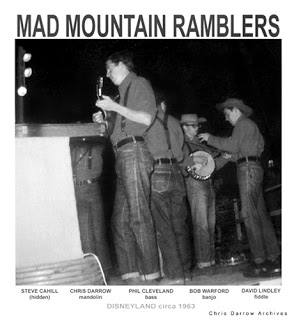 Around 1964 you and David Lindley started a band called The Dry City Scat Band. There was also Richard Greene on the fiddle, Pete Madlem on banjo and Steve Cahill on vocals and guitar. You released an EP called Sounds.
The band became a combination of the Dry City Players and the Mad Mt. Ramblers, with some of the same members blending together. When The Mad Mt. Ramblers played at Disneyland (1962-64) there was David Lindley on banjo and fiddle, Steve Cahill on guitar, Bob Warford on banjo and Dobro, Phil Cleveland on bass and me on mandolin, fiddle and vocals. This was the band that transformed into the Dry City Scat Band. Pete Madlem came back and Richard Greene was the new guy. We played a lot all around southern California and were one of the best bluegrass bands in the area. We played a lot at the Ash Grove in Hollywood, and did a major summer tour for Pepsi Cola in the summer of 1964. I had left the band before they recorded the EP.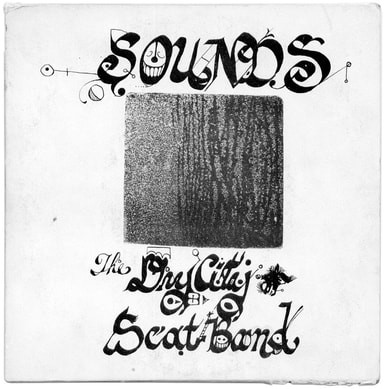 Then you went to form a new band called The Floggs. 
After I left the band the Scat Band in 1964, I decided, after hearing the bands from the English Invasion, like the Stones, Them, Beatles, Animals, etc., that I would start my own band. We were originally called the Fabulous T.J. Floggs. T.J. is short for the border town of Tijuana, Mexico. It started out with Roger Palos on bass, Bill Stamps on lead guitar, Tommy Salisbury on drums and me on rhythm guitar and lead vocals. We played covers and originals, mostly written by me. An organ player named Hugh Kohler joined after a while and then we were a five-piece group. After Roger left to get a job, I took over the bass role. We were a great band and recorded a 7-song demo that should come out sometime on Taxim Records. Three of the songs from the demo, "If the Night", "Move on Down the Line" (became "Pulsating Dream") and "Hesitation Blues" were later to appear on Side Trips, the first Kaleidoscope record. I was married, had a child, was going to school full time and wanted to play music. The band was not as serious as I was at the time, so I dissolved the band. While working in the Scripps College Art Gallery one night, I got a call from David Lindley asking me if I would be interested in joining a band that was forming. I said yes, immediately. I quit school and jumped right in!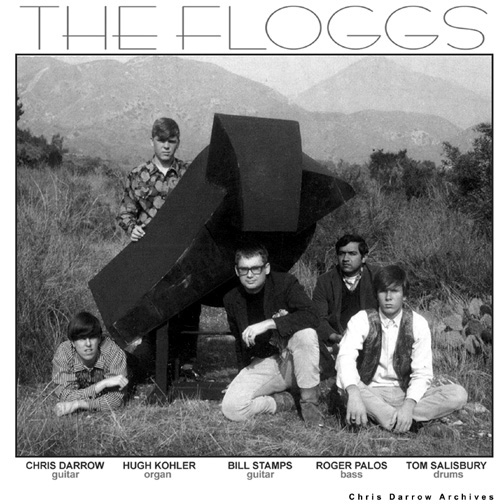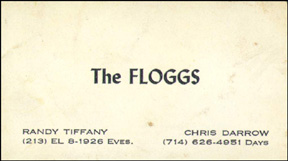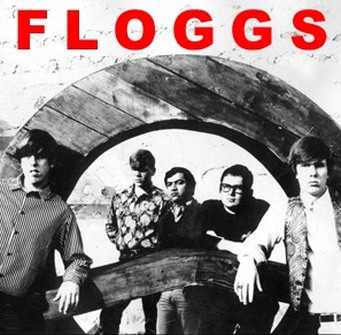 "The band was originally supposed to be a 'leaderless band', and for a time it was."
David Lindley started playing as a duo with Solomon Feldthouse. Kaleidoscope was formed soon after.
I was the last to join, so I have very little information on the early part with David and Solomon. They had done a couple of things in the studio for Epic with Barry Friedman, and were pretty sure that there was a recording deal in the works. The band was originally supposed to be a "leaderless band", and for a time it was. Anyone who brought a song to the group, and we agreed on it, got to be the leader for that time. The first two albums were pretty much that way!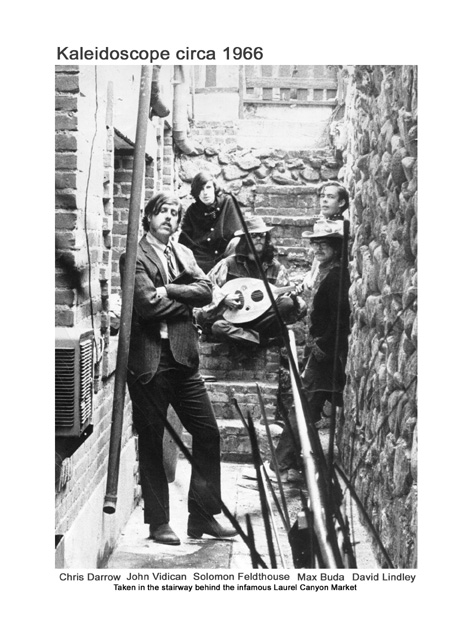 How do you remember some of the early sessions? 
The first session produced seven songs. We were very well rehearsed and had hardly any experience in the studio, so it was quite a feat. I don't remember anything specifically, except that we recorded in the big CBS studio where they recorded the big bands like Benny Goodman. It was a very large room with high ceilings. Brian Ross-Myring was the engineer. That was where I learned a lot about how a record was recorded and made. It changed my life!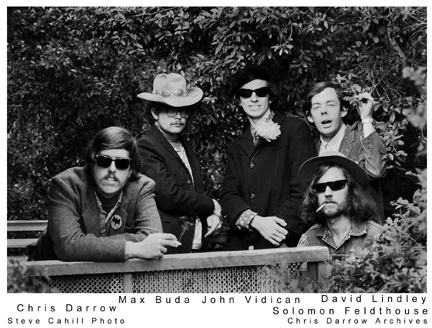 Around 1966 you released your first 45 "Please"/"Elevator Man" on Epic. How did you get signed by Epic?
I was young and didn't know anything about the music business. We had a manager named Michael Goldburg, who handled our affairs, so I presume he was the one that got the deal for us.
Other singles followed. In 1967 you released your LP Side Trips.
The songs were mostly recorded as we did them live. We did overdubs and things like that, but the recording was very straightforward and was produced by Barry Friedman, who would make suggestions that we tried to comply with. Not that many copies were made, maybe 10,000, but I am not sure. It didn't ever sell that well in the old days. The cover was done by an artist that Columbia picked who did covers for ESP Records, an avant-garde label from New York. We were promised an all color album cover, but got the black and white one instead. There was blue lettering on the back, however. That's what they meant, I guess. I was a very low budget album, to be sure!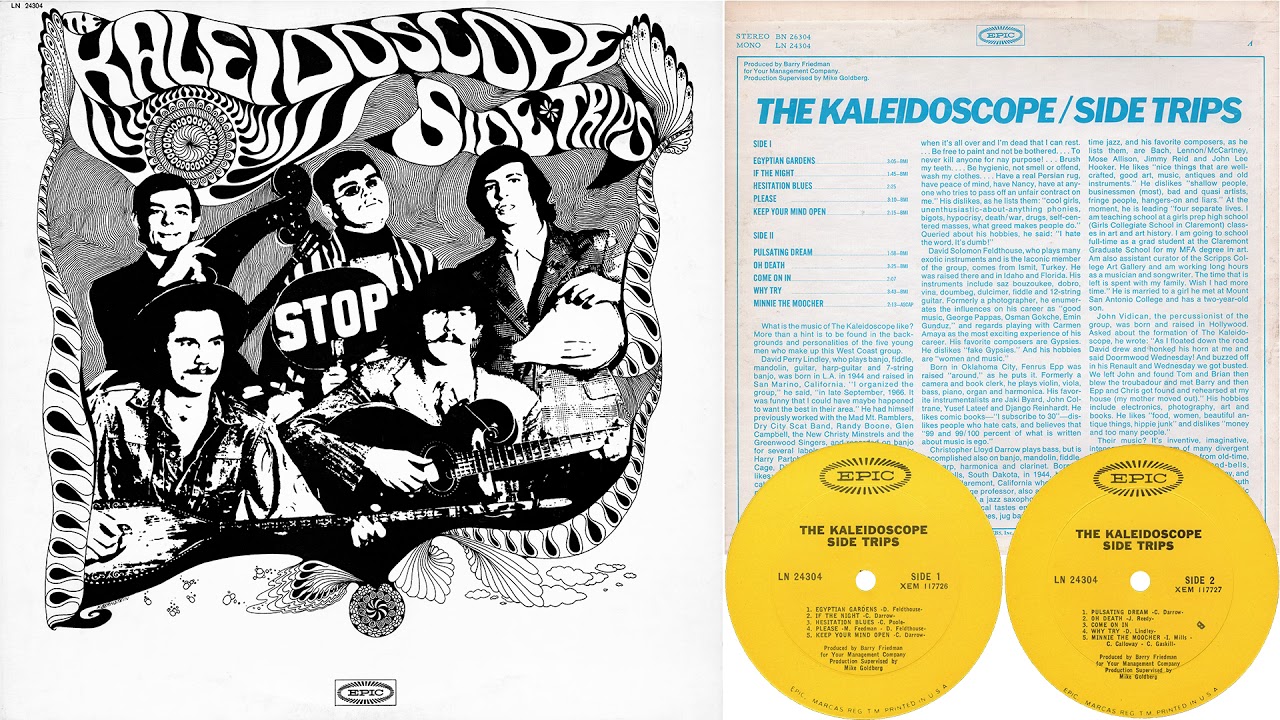 "No overdubbing, nothing but a live sound with mikes set up in the room."
A Beacon From Mars followed. It was released in 1968 on Epic. 
After recording the first album with a producer, we wanted to be our own producer, and wanted to record everything live, just like onstage. That's why the record sounds so much different than the first one. Both "Beacon From Mars" and "Taxim" were recorded just like we performed them on stage. They were always different each night a gigs, but the studio versions were as close to a live performance as we could get. The long cuts are especially astonishing to me. No overdubbing, nothing but a live sound with mikes set up in the room. We changed instruments and everything. So that was the live record, and probably the best one of the first four albums, for that reason. The album cover was a re-working of an old piece of sheet music that we changed to the title, 'A Beacon From Mars'. Marty Nelson, a friend of David and Chester, did the cover itself. I have no idea how many record were manufactured. Like Side Trips, A Beacon From Mars didn't really sell that many either.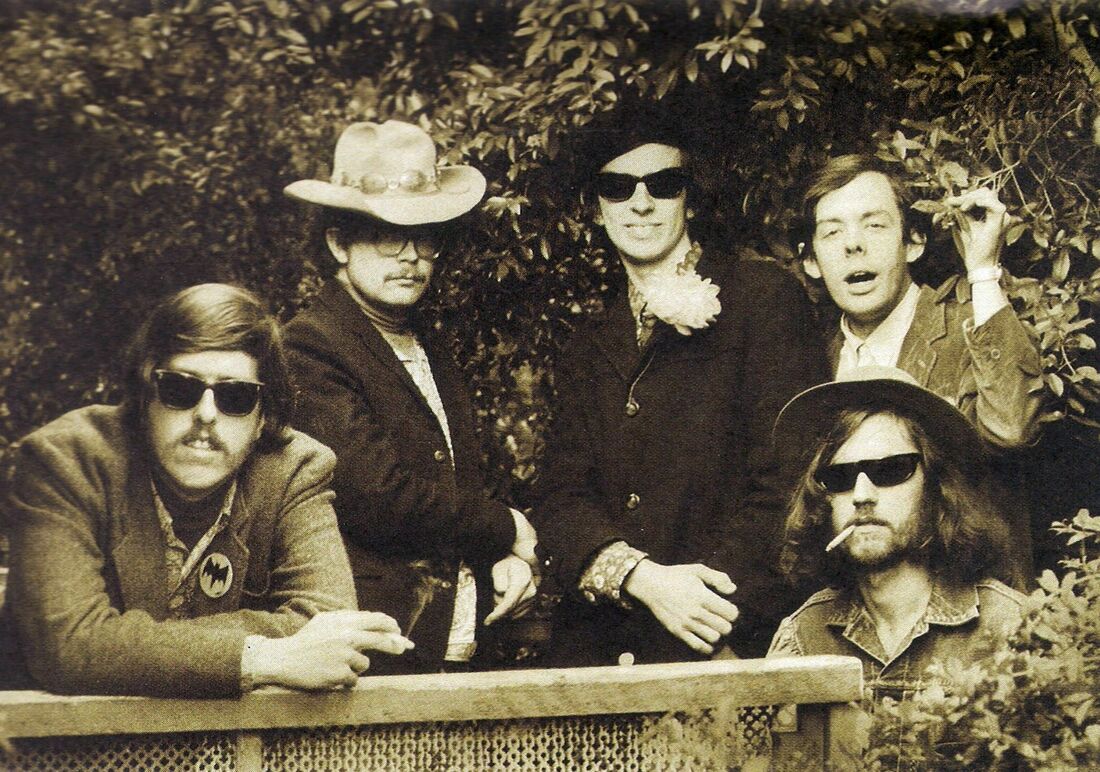 "We know Jimmy Page and Robert Plant came to see us at the Avalon Ballroom and saw us perform the song!"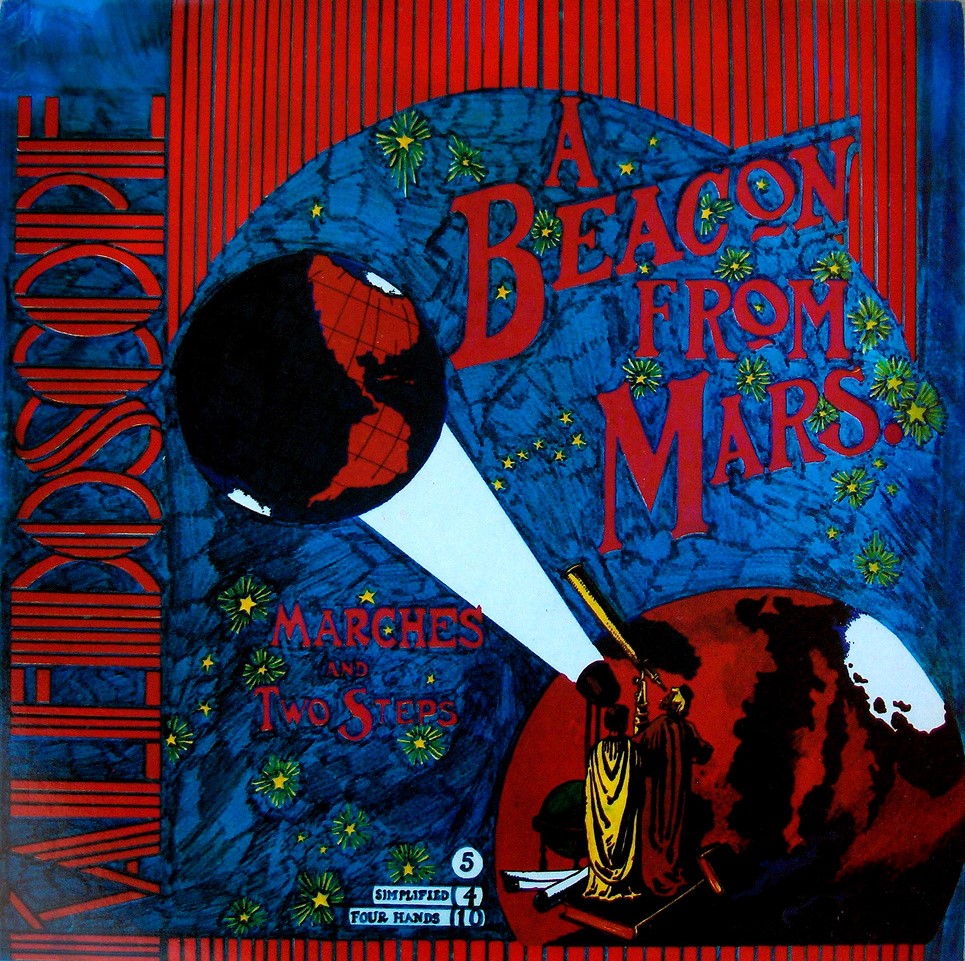 David Lindley used violin bow on electric guitar. Jimmy Page of Led Zeppelin used the same effect later on. Where did David Lindley get inspiration to do this?
I have no idea. We were always trying new things, and since David, Chester, Solomon and I all played violin, it seems a natural thing to do. I am bowing the electric bass at the beginning of "Beacon From Mars". I did it over the harmonic of the bass and got an owl like sound at the beginning as well as some other tones, which you can hear. David was a master of that technique, and we are still not sure if Page took it from David or not. We know he and Robert Plant came to see us at the Avalon Ballroom and saw us perform the song!
What happened after you left the band?
I quit the band over differences in musical direction. As the major songwriter, my songs were not being performed onstage very much, and I felt that it was time to leave. So I did! The band also had developed factions and it was no longer a leaderless band. David became the major decision maker after I left.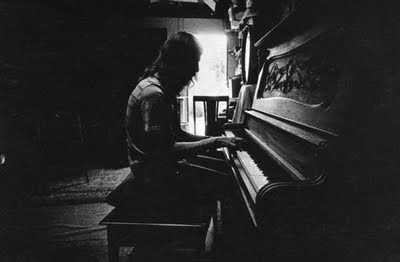 How about touring?
While in New York on our first trip, the Kaleidoscope was performing at The Scene, opening for Nico. We were staying at the Albert Hotel. In our first half hour in town we were robbed of some of our instruments- the van had been left unattended. The next morning I went out of the hotel to see New York for the first time. As I approached the corner, I saw a tall, longhaired guy in a full-length fur coat walking across the street in my direction. It was Frank Zappa, and he called out, "Hey, Chris, what are you doing here?" I invited him to our gig and he invited me down the street to the Mothers Of Invention's rehearsal hall. I had certainly arrived in New York! That night at the gig, Frank and some of his band showed for our set. He was so appalled at Nico's caterwauling that he got up after her set and went up on stage and got behind her Hammond organ. He proceeded to start pounding on the keys and screaming the names of vegetables. That was his interpretation of Nico.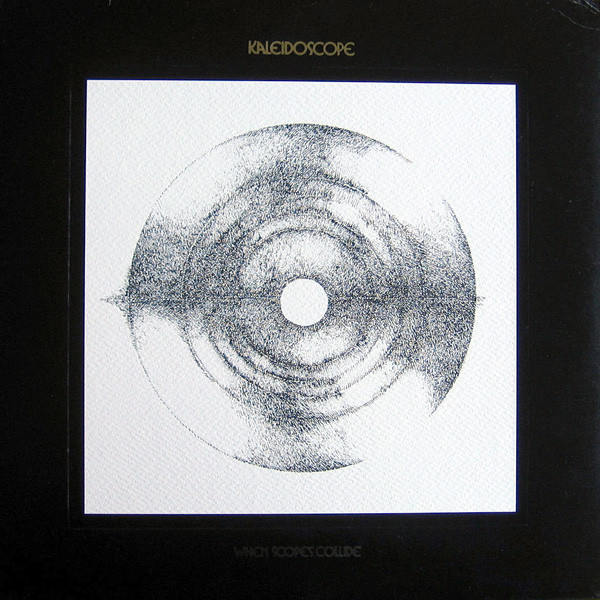 What happened after you disbanded?
I wasn't in the band when it disbanded. Later on, Chester and I got the band together for a reunion and each person had a chance to do something that they wanted. When Scopes Collide was recorded in 3 days and mixed, so it was another low budget record. I happen to like that album. It had members of the first two bands in the same room for the first time. Greetings From Kartoonistan…We Ain't Dead Yet is my favorite of all the Kaleidoscope records. David decided not to show up but everyone was much older and better than when we were in our twenties, so the music is much more mature and sophisticated for my tastes. Once again the roster of musicians was the original band and the addition of Paul Lagos on drums and Stuart Brotman on bass and exotic instruments.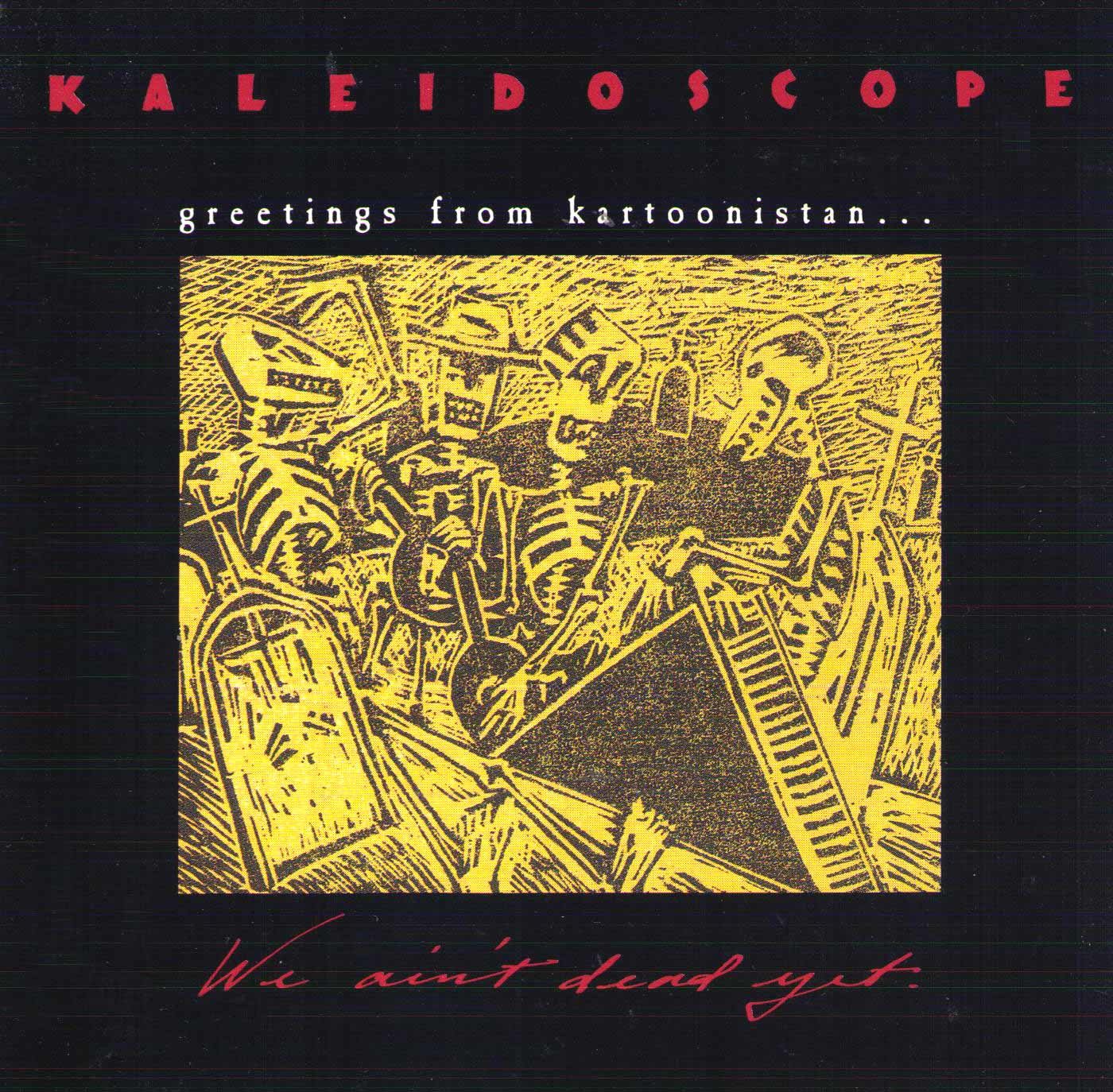 "We probably were the first "World Beat" band."
What currently occupies your life?
I am still making records and writing songs. Last year I won an Emmy for a song I co-wrote, and a label in England, called Shagrat Records, put out a vinyl EP of a band I had with Bob Mosley from Moby Grape, called the Darrow/Mosely Band.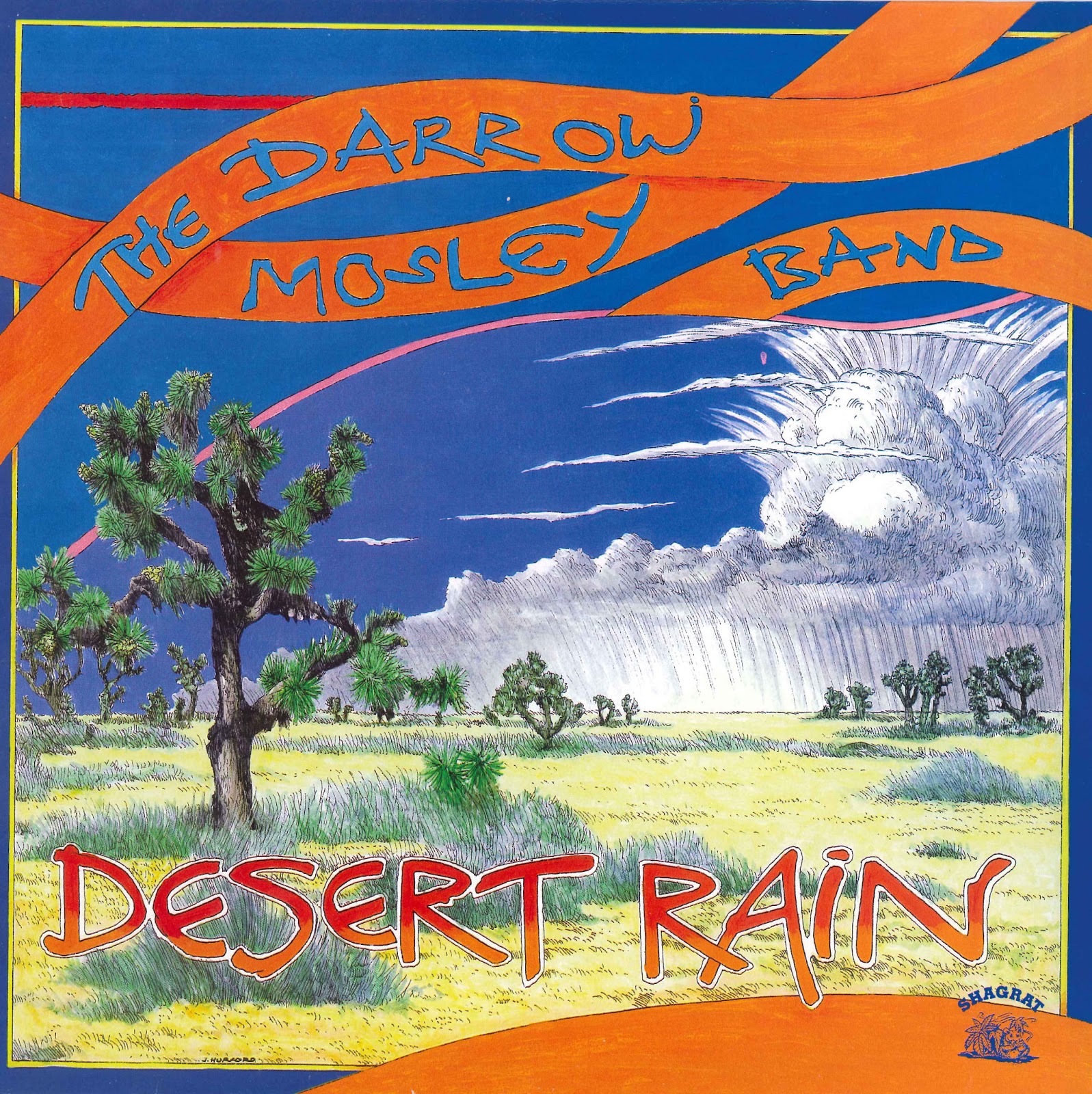 I still have my home studio and don't play out that much anymore, but occasionally. Taxim Records has most of my recordings for sale and they can be purchased online. I am still working with Chester from the Kaleidoscope and we have done a number of projects over the years. Our last, Harem Girl, was released on Taxim. Our latest, Island Girl, should be out sometime in the near future. I have been in a number of documentaries and books recently, Harvey Kubernik's Canyon of Dreams, on the Laurel Canyon scene of the '60s and '70s and very nice documentary called, Troubadours: The Rise of the Singer-Songwriter, which was aired on PBS nationally in America and is now out as a DVD.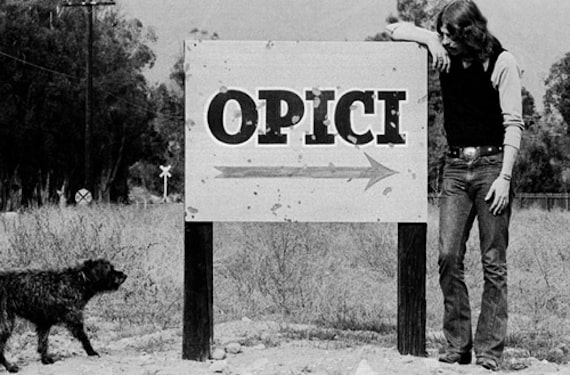 Thank you for taking your time. Last word is yours.
We were all young guys who individually could have had our own band. But, because we were all individuals, who knew how to adapt, we did so with some type of personal intention. We were a one of a kind musical ensemble. All the Kaleidoscope members had to learn musical styles and time changes that they had never played or heard before, and, yet somehow, the band invented a personal style all their own. I think we probably were the first "World Beat" band, as some writers have proposed. We didn't set out to do that, but we sure pulled it off for a while.
– Klemen Breznikar