Iron Claw interview with Jimmy Ronnie
Where did it all start for you?
Music played a big part in my childhood. Every time a few of the family got together it always ended up as a musical event. Uncle Frank played violin, Uncle Jack harmonica, etc. Everyone played something even if it was only the spoons and as a child I wanted to join in. I asked my parents for an accordion but I didn't get one. Instead at 12 years old I was given a guitar by my cousin Bimbo (who played in a real band!) and it instantly I was hooked. When it became obvious that I was getting somewhere with the instrument my Dad arranged for a local guitar teacher to give me music lessons. I didn't go for long though. I wasn't interested in learning how to read music. The way I saw it was "Why read the dots when I can learn the tune in a couple of minutes and then just play it?" I was too young to realise it but that decision took me into improvisation as opposed to fluent sight reading.
If I'm not wrong the band was founded in the summer of 1969 in the town of Dumfries, Scotland by Jimmy Ronnie, Ian McDougall, and Alex Wilson. What can you tell me about forming Iron Claw
There was a local band called Amplified Heat and they were really cool. In the summer of 1969 they played at the main park in town and at the end of that show I approached the band and told them that I could play as good as they could (how's that for confidence!). Someone pointed me in the direction of their manager Alex Wilson who was in the process of trying to set up a band of his own. Alex and I got talking. The following day I went to his house and played some guitar for him and that was it! He told me he knew the best drummer in town (Ian McDougall) and Iron Claw was born.
Were you or other band members in any other bands before forming Iron Claw?
I'm not sure what Alex or Ian did before Iron Claw but I played in a band called Jonah's Kingdom. We played a few gigs in local halls and youth clubs. We didn't have a bass player just 2 guitars, vocals and drummer Jonah. It was his band because he was the mature one. I think he was 17.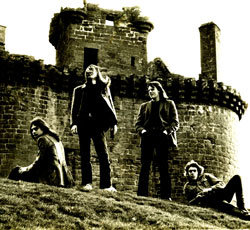 What was the music scene in Scotland at the time?
The music scene was very healthy. Every small town had live events on every weekend. There was always somewhere to play and lots of people went to the gigs. They didn't always want heavy rock though. Unfortunately for them, that's what they got whether they liked it or not! Ah, the arrogance of youth!
At first you played mostly hard blues rock covers of bands like Taste, Ten Years After, what else
There were lots of bands that we covered. Usually of the hard blues / rock variety. Bands like Johnny Winter, Black Sabbath, Keef Hartley, Cream, Free, Hendrix. Iron Butterfly. No Pop, Soul or dance music. The main thing is that we never really learned or copied the original artist but used their songs as a framework for self expression. We weren't interested in replicating what someone else had done. It was inevitable therefore that writing and performing our own material would very quickly be the main point of the band.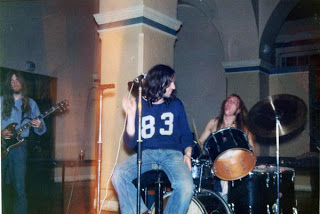 Antrobus is another name of the band?
I don't know where that name came from. It was made up by someone unknown to us. The material was definitely Iron Claw but the record was a bootleg and we had nothing to do with its release. Someone stole the music, packaged it under the name Antrobus and took all the proceeds for themselves. It happens unfortunately!
How much material did you record during the 70's?
The bulk of the material recorded by Iron Claw in the 70's was re mastered by Rockadrome Records and released in 2009 on their Vintage label. There is more studio material existing from the 70's. I'm guessing perhaps 10 or so more songs. Plenty of live recordings!
If I'm not wrong you had a reunion in early 90's?
In 1993 a dear friend of ours, guitarist Jock McBain, died of cancer and the musicians in South West Scotland decided to play a tribute gig for him with the proceeds going to his young daughter. Jock was a great guitarist and a very popular guy. The tribute turned into 2 gigs due to the demand for tickets. For the shows, I took Jock's place as guitarist in his band "Smart as the Devil" (and continued to play with them for years afterwards). Iron Claw also hastily put together a set. This was the first time we had played together since our split in 1974 and it didn't happen again until we reformed last year. A great time was had by all and we sent Jock on his way with a bang!
Audio Archives released your material under the name of Dismorphophobia.
Not many people realise it but Dismorphophobia is a bootleg album too. It was not an official release. As with Antrobus, someone unknown to us took all the proceeds from this record. It was not recorded as an album as such but was material that we had recorded in various studios between 1970 and 1974.
Where were the master tapes?
Alex had the masters all those years. Why didn't we release it ourselves? I don't know is the short answer to that but as I said earlier, Rockadrome eventually released the material. This is the only official record of Iron Claw's work taken from the original master recordings.
Would you share your insight on the albums' tracks?
To be honest I'm not exactly sure what tracks are on Dismorphophobia. I never bought a copy!
Why the name Iron Claw?
The name Iron Claw is taken from the first line of "21st Century Schizoid Man" by King Crimson. We liked the sound of it. It sounded heavy.
What influenced you?
The influences are, I suppose, from blues rock artists some of which we covered in the early days of the band. My personal influences are (unsurprisingly) guitarists and there were plenty of great guitarists around when I was learning my craft. People like Clapton, Hendrix, Kossoff, Beck, Page, Peter Green, Rory Gallagher, Johnny Winter, Mick Ronson, Gary Moore, Joe Walsh……. I could go on forever and still miss someone off the list but I'm sure you get the idea of where I'm coming from. One thing that all of these players have in common is that they are all distinctive. They all have their own signature sound and feel and that's what blues and rock guitar is in my opinion. Just be yourself, no one else can be you.
Did you tour?
Iron Claw toured extensively throughout the UK but most of our time was spent in Scotland and Northern England. There are plenty of crazy stories as you can imagine, most of which are unprintable!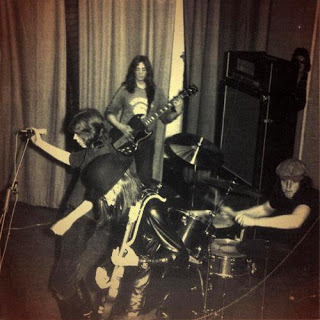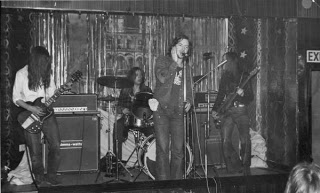 What happened to Iron Claw?
I played around in a few bands. I also continued writing and recording but that elusive record contract never materialized unfortunately. The crazy thing is that after all those years of knocking on record company doors, the deal with Ripple Music came along completely out of nowhere without even trying. I became aware that the Rockadrome album was generating some interest and found this surprising yet encouraging. I suggested the band meet up to discuss possible developments. Following that meeting in a Dumfries pub we decided to return to the studio and to record some new material. "Let's see how it goes" was as far as the commitment went at that stage. I read a review of the Iron Claw album on a Californian review site called The Ripple Effect. It was a cracking review and they were obviously fans of the band so I fired off an email to let them know that Iron Claw was reforming. I had no idea that Ripple were in the process of launching their own record label and publishing company and when they offered to work with us I was blown away. Within a matter of a few weeks we were signed to Ripple Music and work on the new album started in earnest.
You will be releasing new album this year on Ripple-Music.
This is, without doubt, the best studio work ever done by Iron Claw. The album "A Different Game" captures the essence and spirit of live Iron Claw. Previously in the studio, we didn't always capture the raw vitality of the band. This time we've done it. The decision was made at the start of the project to keep it feeling live and not to over produce the work. This is not a highly polished perfect record. It stands on the songs and on the individual and collective musicianship of the band members. There's enough sanitized rock music out there already and we haven't contributed to that body of work. Musically it's pretty heavy with a bluesy feel which I'm sure comes as no shock to those who already know Iron Claw. I'm very happy with it. And of course it will be an introduction for everyone to the vocal talents of our new singer, Gordon Brown.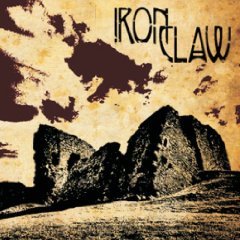 What are some future plans?
We are currently rehearsing with plans to take the songs to a live audience. We're all looking forward to that! We also need to record an additional 2 or 3 songs for the double vinyl version of "A Different Game".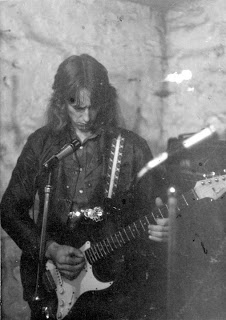 Would you like to add anything else?
Not long now and then the music will do the talking. After all, that's what it's all about! Thanks for the chat!
– Klemen Breznikar