The Drunk Dealers interview Panayotis Boussios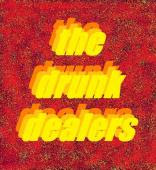 Thanks very much for agreeing to this interview. Would you mind introducing yourself?
We got not serious musical backgrounds.We're just ordinary people who are passionate with music,experimentation,soul searching and having fun!
We're both self-taught musicians who deny to take proper music lessons playing by ear whenever we can, whatever we feel like to play each time.
So, how did you start your music carreer?
We started playing music/jamming together just for fun around 1996 and that's the reason we 're still playing together.The fun & excitement of playing together makes us forget the
every day's difficulties and play music at very unusual times (from 23:00 p.m. till 07:00 a.m. !!!!) because we have to work to make a livin.You see we 're not rich !!!
You recorded song called "Lars Ultrex". What can you tell me about your first song?
It's not exactly our first ever song, but it's the first one that we uploaded at our "myspace"page as a sample of what we're doing.
We don't like to analyze our songs.We prefer to let them talk to the souls of the listeners by themselves!
What is your main influence? Which artists and maybe which genre?
We listen to many kinds of music and we 're consciously & unonsciously influenced by many artists.We admire Miles Davis,John Coltrane,Can,Popol Vuh,Ash Ra Tempel,Cosmic Jokers,Tangerine Dream, Edgar Froese,Klaus Schulze,Pink Floyd,Heldon,Amon Duul II,The Doors,Ultimate Spinach,Cold Sun.Mandrake Memorial.New Dawn,Guru Guru,Magma,Cluster,Harmonia,Conrad Schnitzler,Vangelis,Iannis Xenakis,Lena Platonos, Edward Artemiev,Igor Wakhevitch,King crimson,Banco,PFM,Mahavishnu Orchestra,Aphex Twin,FSOL…plus many many more. We mostly like electronic,krautrock, psychedelic rock, prog rock and experimental music.
What are your future plans?
To make music that WE firstly would LOVE to hear ! The fact that we 're both fanatic music listeners makes us play firstly for us.If we don't like something we play then you won't see it among our songs.We decided to put high standards for our songs and upload only those that we feel they re great for us to hear.We don't like to make just fair songs or fillers.Only songs that we're proud of and we 're not feeling tired to hear them again and again! A proper CD or LP release is also a future plan of ours.
Do you have anything else to say about yourself, that I didn't ask?
Thanks for the interview Klemen!
– Klemen Breznikar