Tapestry of Delights Expanded Version review and interview with author, Vernon Joynson
After eight long years, British music historian Vernon Joynson, offers up this brand new revised and expanded version of his seminal work chronicling UK Rock & Pop Of The Beat, R&B, Psychedelic & Progressive Eras between 1963 and 1976.
---
The new edition contains far too much information to be contained within a single volume. The result is this massive two volume, 2064 page tome published by Borderline Productions and it is more than double the length of its 2006 predecessor, and triple the length of the original 1995 edition! This is no mere update, however, as many new features have been added, and each and every entry has been lovingly and meticulously rewritten. As the author has commented, "this book is lovingly written and compiled by a collector (helped by other collectors) for collectors and lovers of sixties and seventies Rock & Pop." The resulting set indeed lives up to its lofty ambition of being "The Ultimate Guide To UK Rock & Pop Of The Beat, R&B, Psychedelic & Progressive Eras 1963-1976."
So, what does the purchaser get in return for his or her hard earned currency? As with previous editions "Tapestry" consists of individual entries for each and every band or solo artist, presented in alphabetical order. The entries have, as the title implies, been painstakingly revised and expanded, greatly increasing their value to collectors and fans alike. In addition, hundreds of new entries (large and small alike) have been added to this new edition!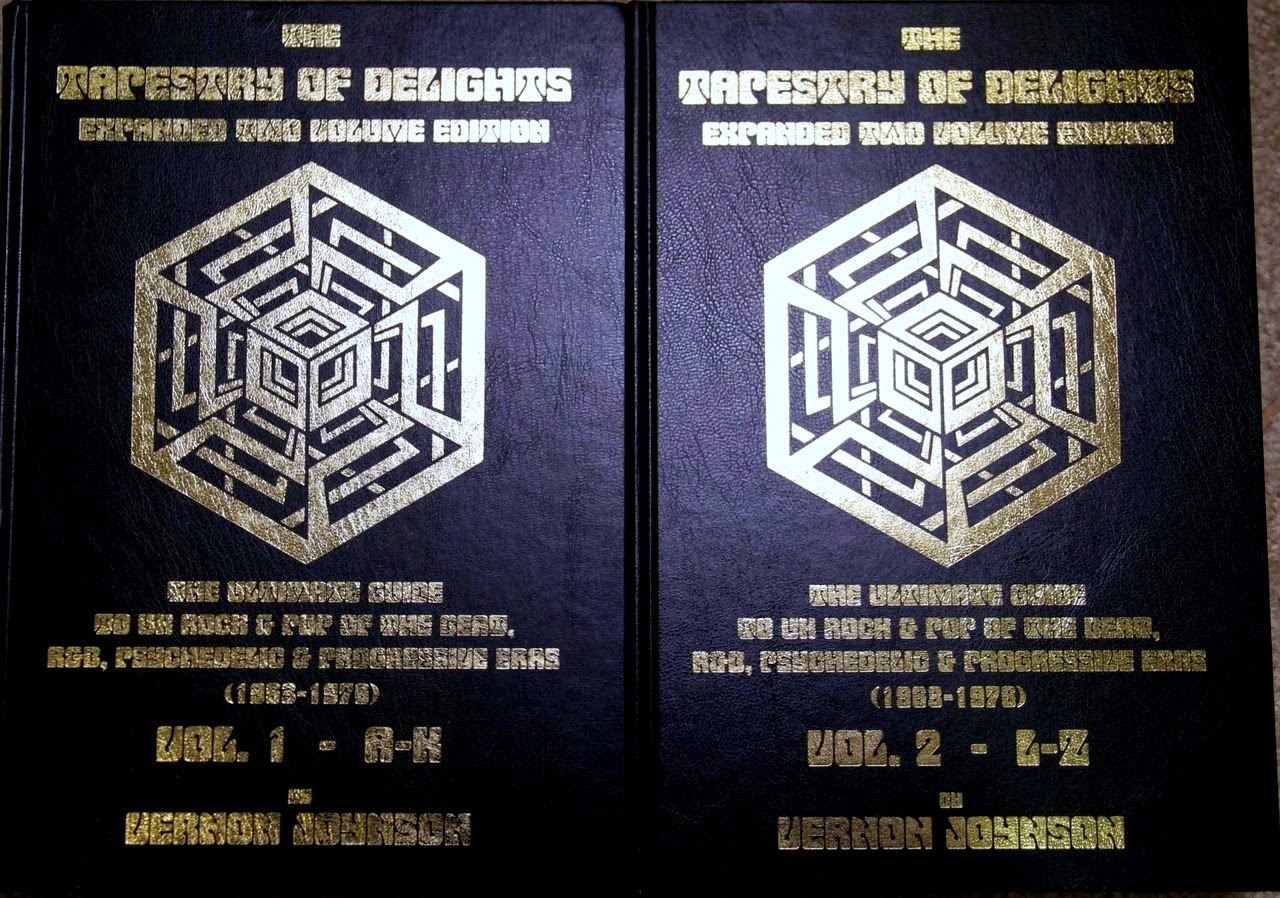 What information is contained in the entries you may ask? First of all, an alphabetic list of personnel and the instrument or instruments they play. Where more than one line-up occurs, they are likewise listed alphabetically. The personnel information, in conjunction with the artist or band's album discography, indicates which album or albums (vinyl and CD alike), if any, the individual played on. The extremely detailed album discographies include the title of the LP or CD, the label and catalog number and the year of release, along with comments on original releases and reissues alike. Where more than one has been released, they are listed in order of release. Compilation albums and CDs are indicated as such in the listing. Unlike previous editions comprehensive information about overseas issues and reissues is included, greatly expanding the discographies of many bands. The incredible amount of information regarding original and reissue releases alike makes this new edition absolutely essential for every collector's library.
An exhaustive section devoted to retrospective compilations of artists' recordings is included where applicable. Detailed descriptions of the compilations (number of tracks, inclusion of essential recordings, rarities, etc.) are given as well as the title, label, catalog number and release date being included. Information regarding box sets and multi-disc releases are covered in this section with an emphasis on the most comprehensive releases available as well as comments on releases to be avoided or purchased with caution.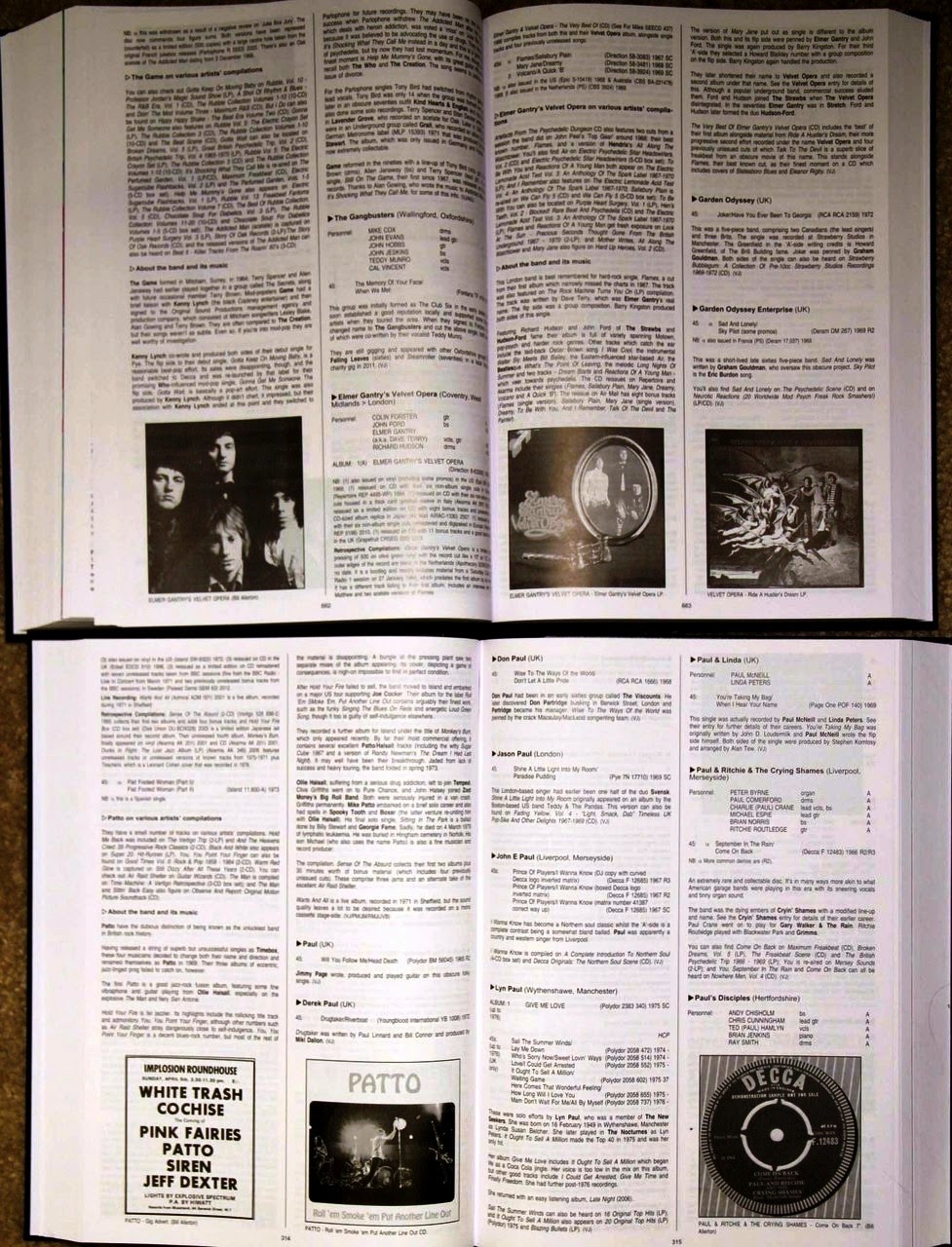 The extensively detailed discographies of EPs and 45s are listed in order of release, but unlike previous editions the EP discographies now include detailed track listings, and overseas as well as UK issues. The EP and 45 discographies also contain label, catalog number and year of release information, all absolutely essential information for collectors.
Without question the most important addition to this new edition is the "About The Band And Its Music" section which offers extensively detailed descriptions of the artist's sound as well as detailed analyses of the music and in many cases critiques which serve as an invaluable tool for collectors, aiding them in deciding which bands and/or releases they pursue. This addition alone may well be worth the cost of the book.
Following the tradition of previous editions the new two volume edition is profusely illustrated. Hundreds and hundreds of photos are interspersed throughout the text. Furthermore, each volume has an 8 page full color section devoted to album cover art.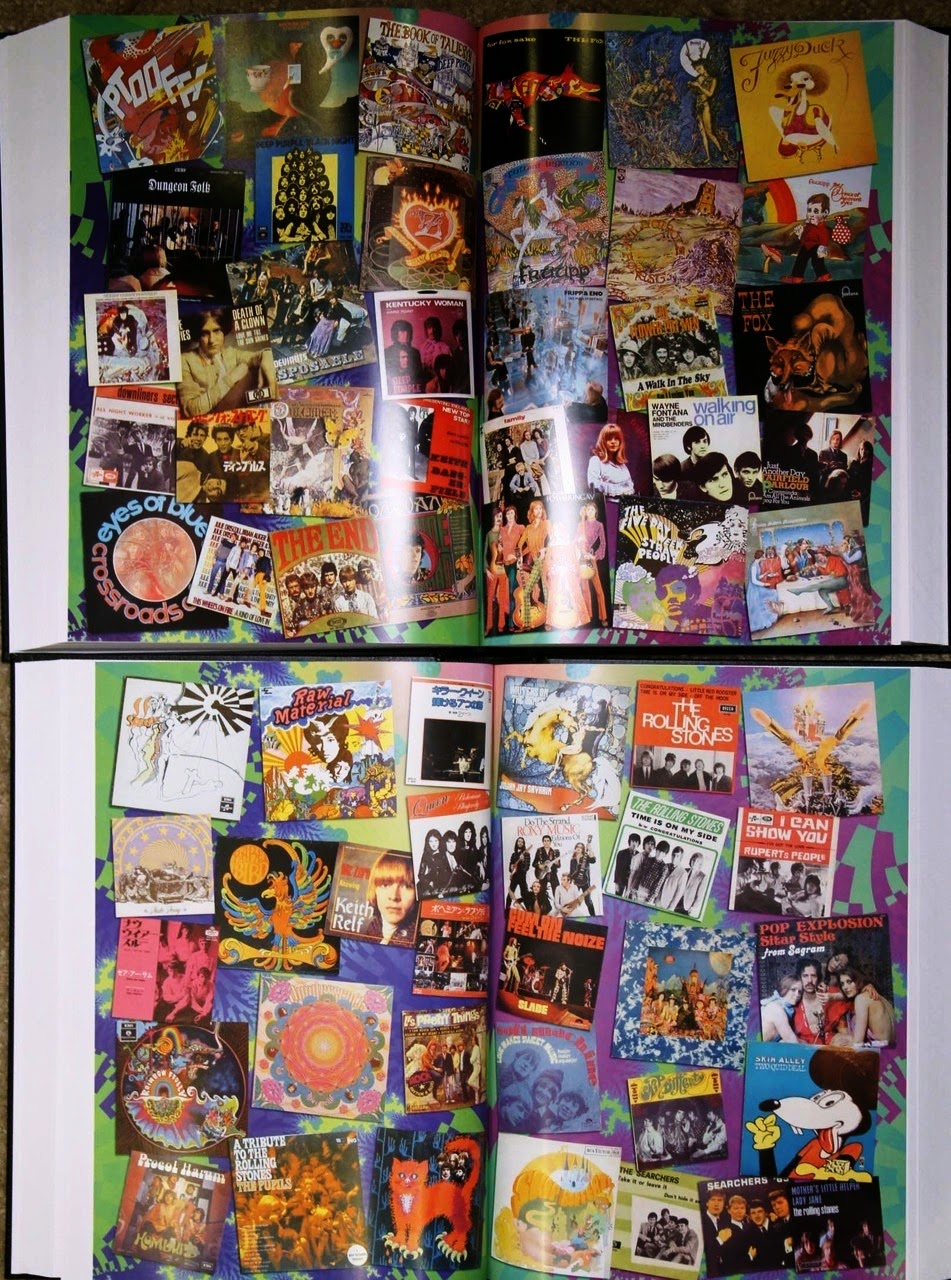 Lastly, the UK rarity scale has been completely revised. LPs, EPs and 45s which are rare and sought after have been given a rarity rating. This scale acts as a guide to the value of particular releases and is yet another reference tool for collectors.
Great care has been taken by the author to assure the accuracy of each entry's contents. With a work of this depth and breadth quality control is of utmost importance. Having given the volumes a thorough examination I can attest to the accuracy and detail contained within the two volumes. It is at once quite obvious that this project is indeed a labor of love executed with incredible passion by the author.
The two volume "Tapestry Of Delights" is available in two formats. The softbound edition is available from both Amazon.com and Amazon.co.uk and can be obtained in the US at a cost of $100 give or take, and in the UK for comparable prices. There is also a strictly limited, numbered (600 copies) hardback set which can be obtained from fine booksellers in the US and UK. The cost of the hardbound copies is approximately $250 plus shipping in the US and 100-125 pounds sterling plus shipping in the UK. I must add that the faux leather bound copies with gold embossed lettering are absolutely breathtaking!

To sum it up, "The Tapestry Of Delights" is, without doubt, the seminal work regarding Rock & Pop Of The Beat, Psychedelic & Progressive Eras from the UK between 1963 and 1976. It should be a mandatory part of any true record collector's library and essential reading for music collectors and fans alike. The only real question is whether to purchase the hardbound or softbound edition. You can't go wrong either way!
It's Psychedelic Baby Magazine has a few questions for Vernon Joynson
Author of "The Tapestry Of Delights Expanded Two Volume Edition"
Hi Vernon, thanks for taking the time to tell our readers about your seminal work on UK Psychedelic & Progressive Rock "The Tapestry Of Delights.' What inspired you to write "Tapestry Of Delights" and how did you decide on the title?
When I was building up my personal collection in the late seventies and early eighties I was frustrated by the limited coverage that many of the Rock & Pop encyclopaedias of the time gave to the albums I was looking for. I set out to try to rectify this and ensure that many bands who may not have got the recognition they deserved originally got more acclaim retrospectively. I wrote my first book "The Acid Trip" an introductory guide to psychedelia in 1982. This predominantly covered the US & UK and as I delved deeper and deeper into the subject matter I produced further volumes under the title of "The Flashback" (first published in June 1988).
By the early nineties I decided to start work on a trilogy of books whose scope went wider than psychedelia. In any case it had proved quite challenging deciding which acts should and should not be included in the earlier "Acid Trip" and "Flashback" books, as many acts went through a psychedelic phase in the 1966-1969 era, whilst their music in other eras was not psychedelic. Incidentally, both of these books are outdated now and I would not recommend that you buy them. If you want to purchase any of my books always go for the most recent edition of the trilogy below.
The first part of the trilogy was "Fuzz, Acid and Flowers: A Comprehensive Guide To American Garage and Hippie Rock 1964-1975", which was first published in August 1993.
The second part was "The Tapestry of Delights: The Comprehensive Guide to British Music Of The Beat, R&B, Psychedelic & Progressive Eras 1963-1976", which was first published in September 1995.
The final part of the trilogy was "Dreams Fantasies and Nightmares From Faraway Lands: Canadian, Australasian and Latin American Rock & Pop 1963-1975", which was first published in September 1999.
I thought of all these book titles (not all at the same time) whilst lying in the sun and thinking deeply in our back garden!! You don't get a lot of sun in England and I find I'm often at my most relaxed and creative when I'm savouring it and no-one else is around!
How many pages long was the first edition of The Tapestry of Delights" and how many artist/band entries were included? How many copies were printed?
The first edition was 600 pages long and I think around 4,000 copies were printed. I don't know how many entries were included but the book's scope aimed to cover mainstream Rock & Pop, Merseybeat, R&B, folk, folk-rock, jazz-rock, blues-rock, psychedelia, freakbeat, glam-rock and progressive rock. The scope of the book was much wider than the Fuzz book because the UK is a much smaller country and had far less acts in this era.
The book was reprinted in September 1996 and again in June 1998. I think each reprint had a supplement at the end with some additional information.
Wasn't there an online version of "Tapestry" at one time?" Who came up with the idea? How was it maintained and how long did it exist? How did this affect the number of hard copy books sold?
There were online versions of all three books ("Tapestry", "Fuzz" and "Dreams") for a while. They were devised and maintained by the publisher but it became too time-consuming and it did affect sales of the hard copy books. In short it became uneconomic to continue to do this.
When was the updated "Tapestry Of Delights Revisited" published? How many entries did "Revisited" contain? How many copies were printed compared to the first edition?
"The Tapestry Of Delights Revisited" book was published in May 2006. I don't know how many entries it contained, but there were certainly a lot more than in the 1995 edition. It was 978 pages long and I'm not sure how many copies were printed, but it would have been in the region of 3,000. There was also a reprint in 2008.
Now, regarding the new Expanded Two Volume Edition of "Tapestry." When was the decision made to expand "Tapestry" from one volume to two? How long did it take to complete this massive project, from conception to publication?
When I started on the latest revision I was aiming for the book to be the same sort of size as the September 2010 revision of the "Fuzz" book, which was just over 1,400 pages.
However, with the much more detailed discographies, more comment on the music and many more new entries, it soon became apparent that the book was going to be too large to be bound as one book, especially if I wanted there to be a hardback edition too, which I did. So mid-way through it became apparent that to include everything I wanted the book would have to extend over two volumes. I do feel bad about this because it is inevitably more expensive and heavier for the punters as a result.
It took four years of intensive research to complete the latest version of "Tapestry". If I hadn't retired from my full-time occupation in October 2012 it would have taken considerably longer. Retirement has freed up much more time for me to work on the books, but I have quite a lot of other interests too, so I always have to juggle my time to fit in all the things I want to do, even now.
How many pages are contained in the new edition? Can you give us an idea of how many entries are included? How does this compare with the previous editions?
Volume 1 (A-K) has 1,024 pages plus an eight-page colour section.
Volume 2 (L-Z) has 1,040 pages plus an eight-page colour section.
So, 2,064 pages in all, plus 16 pages of colour.
I'm sorry but I don't know the precise number of entries. It would take a long time to count them, but there are many, many more than in the 2006 edition and almost every entry has been rewritten and expanded. If you own the earlier editions I think you will want this and it should make a great present for serious fans of music from this era.
The volumes are profusely illustrated, each containing an eight page section of full color album cover art, and photos accompanying hundreds of the entries. Do you know how many photos adorn the two volumes? How was it decided which album art to include?
I'm sorry I don't know precisely how many illustrations in all are included but we aimed for one black & white illustration per page (except in the compilation section at the end of volume two). I have a computer whizz friend of mine called Ivor Truman who does all the lay out of the books (including the colour sections) alongside a full-time job. I give him some guidance about what to include but he has a lot of local discretion too. We aim to use the original album cover art wherever we can, but in the case of many entries the artists did not make albums or we don't have access to them so we have to use CD covers and retrospective compilations, etc. I am much indebted to Ivor. I believe he always does a great job for me. I am also very grateful to my good friend Bill Allerton who supplied lots of interesting illustrations for this edition too.
Since 1994, the cover art for all my books (except the punk one) has comprised extracts from paintings by the artist Andrew Linsell. I am very grateful to him and to Richard Allen, the former co-owner of Delerium Records/Freakbeat who originally put me in touch with Andrew. The feedback I get on Andrew's covers is always very positive.
Entries contain extensive descriptions, complementing exhaustive discographies, of artists' music and in many cases offer critiques to aid collectors in deciding which bands and recordings to pursue. How was it possible to realize this most ambitious goal?
Well it took a lot of very careful and time-consuming research to compile the discographies, which are far more detailed than in previous volumes. Keeping abreast of all the reissues is particularly challenging and I have several sources I work from.
The ability to listen to so much more music online in the last few years (for example, I never cease to be amazed by what I can find on utube) has made it easier to comment on the music of a much wider range of artists than was possible in earlier volumes, when I was largely reliant on my own collection and comments and tapes, etc from other collectors.
The two volume edition is available in two formats. How many copies of the softbound version are available and where can they be obtained? There is also an absolutely stunning hardbound version available. How many copies of the limited edition, hand-numbered, faux leather with gold embossed lettering were printed? How can readers obtain these hardbound sets?
I think around 2,500 sets of the softbound version were printed and they are widely available from most of the outlets you'd expect to purchase a music book from. I don't think anyone will have a problem finding a copy, but they may have to shop around a bit for the best deal.
The hardback version was commissioned by a distributor called F. Minor who is handling its distribution exclusively. Just 600 hand-numbered books were printed. (Back in 2007 the same distributor handled a hardback version of 2004 edition of the "Fuzz" book).
If you live in the UK or Europe you can obtain a copy of the hardback 2-Volume Set of "Tapestry" for £99.99 plus postage from F. Minor, Unit 8, Commercial Mews North, 45a Commercial Road, Eastbourne, Sussex BN21 3XF, Tel: +44 (0)13-2373-6598, Fax: +44 (0)13-2373-8763 or e-mail paul@fminor.com.
The list below is not exhaustive because some stock went to distributors so we've no idea where they've ended up, but I've listed other outlets who currently stock the book.
If you live in the UK, stockists include Rough Trade, Heyday, Spin or Juno. If you live in Germany try Ohrwashel. In Japan try Disk Union and in the US try Lion Productions and Doug Larson.
If you still are having problems getting a copy e-mail paul@fminor.com or enquiry@borderlineproductionsbooks.co.uk, but please note that Borderline Productions do not supply copies directly themselves.
Thank you so much for participating in this short interview and congratulations on bringing this most ambitious project to fruition. Is there anything we have not addressed that readers should be made aware of? Any final thoughts for our readers?
It's been a pleasure answering your questions. Thank you for taking the time to think of the questions and for allowing my project the space on your website. Whilst I do most of the writing of these books myself, I also have a small band of helpers for each project. I always include credits for them in the Foreword of each book. For example, US garage expert Max Waller has played a key role in "Fuzz" books in the past. For the latest "Tapestry" volume, folk expert Mike Warth and freelance music journalist Nick Warburton have been my main helpers, but there are other too who are detailed in the book's foreword.
To my readers, I do appreciate that you are being asked to pay quite a lot of money for these books because of their size and weight (particularly when they are purchased overseas). For this reason I will be sticking to single volume books in the future, so I hope you will view this particular purchase as a one-off.
Finally, thanks so much for all the support you've given to my projects to date.
– Kevin Rathert
---
An interview with Vernon Joynson, author of Fuzz Acid and Flowers, The Tapestry of Delights…