Axe/Crystalline interview with Tony Barford
Axe (also known as Axe Music and Crystalline by the time they recorded their rare acetate) were an obscure British hard-psych band featuring guitar player extraordinaire Tony Barford, one of the most underrated guitar-heroes from the UK underground. In 1970, they recorded a demo album of which only 12 copies were pressed on a 10″ acetate.
---
How are you and what are you currently up to?
I'm fine, thank you, but unfortunately my long curly hair I used to have while playing with Axe died and left me long ago! I still play with three part time bands, a 1940 s swing band, a jazz & blues band & a western swing outfit, in which I play pedal steel guitar. That's good because you get to sit down. So I'm growing old gracefully, but on occasion we can still get psychedelic at the end of the evening, much to the surprise of the audience!
Guerssen Records will be reissuing your album.
It's great that so many people are interested in our music and the music of that era, but it was a great time to play in a band. We were free to express ourselves & improvise so we never knew what each gig would bring. To my mind that's a lot more fun than churning out the same old crap, night after night!
So let's start this interview with some questions about your background. Where were you born and what are some of your memories from childhood and teenage years? 
I was born in Northampton, England and still live there. Not the music capital of the world, but in the 60s it was full of great musicians & characters. Also its central position makes it very convenient to get anywhere around the country for gigs. I started playing the piano (by ear) at the age of five. Unfortunately my Father worked night shifts so the piano eventually had to go, cos I kept forgetting myself and waking him up with boogie woogie. I think it was chopped up, probably where the name Axe first came from! When I was twelve I decided I'd like to be a jazz trumpeter, so I went along to the auction house, but couldn't afford a trumpet, so came back with a guitar. Probably for the best.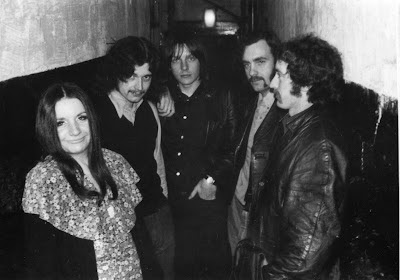 How did it all started?
When I was fourteen we formed a group from our class at school (most classes had at least one) and did a few gigs, aided by flagons of cider (for stage fright, you understand). The best thing about those early gigs was the fact that the girls used to scream continuously, which was just as well cos we must have been making a god awful noise! Equipment was a problem due to lack of funds. I remember we acquired some drums (by extremely dubious means) from a local boys brigade association. Guitar amps were ancient bakelite valve radios, not very loud but great distortion! We could not afford speaker cabs for the PA so we had naked 12 inch speakers lying on the stage and occasionally bouncing off it. The PA amp was an ex police car radio amp with red hot valves exposed on top. These would explode spectacularly whenever some over excited group member spilled cider on to it. The switching gear for the lights consisted of completely exposed & un-insulated lengths of copper tube. The light show bloke was Al Button, the plumber, carrying high voltage. This crude apparatus completely blacked out TV & radio for miles around when we played.
After I left school I started work at an accountants office, which fortunately was just round the corner from The Black Lion, the top local music pub and general den of iniquity. About this time we formed The Mississippi Groovers with Pete Garofalo (vocals, keyboards & harp). Playing mostly R & B. On Saturday mornings we would rehearse in the room next to his Dad's barbers shop, which must have been a bit noisy for his customers, but we had no complaints and most people enjoyed it. After that I turned to the blues & we formed the Custom Built Blues Band with Tonk Rock (drums) & Dennis Clark (bass). We had reasonable success with this line up playing local halls during the blues revival of that time. I remember Dennis was a keen rugby player. We decided to improve our blues appearance by growing beards, but because we were still quite young they grew pale & thin. Then we hit on the idea of dying them with Tonk's mum hair dye. Unfortunately we left this on for far to long & finished up with purple.
In 1968 I joined J J Bender & the SOS (a local soul band) and toured quite a lot, mostly arriving home just in time for work the next day or sleeping in the van (not too good for the accountancy career). We were support act for Slade on one gig. About this time Axe Music were formed at the Black Lion with Roger Hilliard on the bass and Mark Griffiths on guitar. In 1969 Mark left and moved on to greater things (Matthews Southern Comfort, the Shadows etc) and I joined Axe. This terminated my accountancy career (being asleep at my desk and having long hair not being acceptable apparently?). The line up then was John (vocals), Graham Richards (two saxes at once, flute, standing on one leg, foghorn impressions & political comments), Mick Knight (Hammond organ & part time Zulu), Mick Knobbs (stalwart bass player) & Steve Gordon (drums & West Coast musician). After a while Mick Knight left and we missed his great playing, but not carrying the heavy Hammond organ up and down flights of stairs and slippery fire escapes… John left & Vivienne Jones joined on vocals & it was this line up that played the infamous Abington Park band stand gig in Northampton, the date I think was Sunday 31 May 1970 (unfortunately not the summer of '69, as the song goes). This is the concert filmed by Steve Giles (guitarist with The Dark) and it's quite a period piece, lots of hippies, sun shining and a giant inflated balloon for the kids to play in.
This was the first pop concert after the town council tried to move away from the traditional brass bands. So the sun shone, the band played, the audience loved it, everything was beautiful, that is until our old friends the police turned up stopped the music after some miserable bastards complained that we were too loud. It's a good job it was all peace and love in those days, nowadays I think a riot would break out. I'll let you have the press cuttings from the day.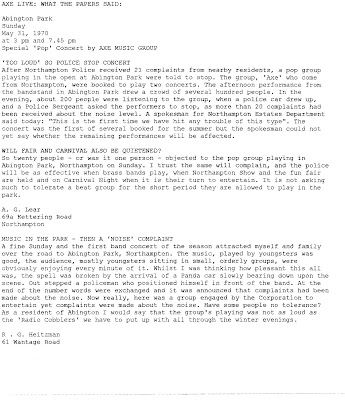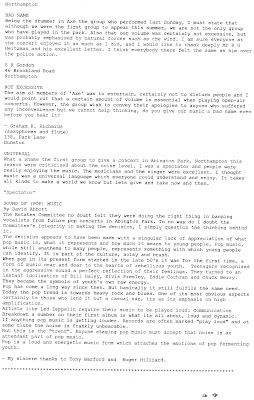 We also played support gigs to Free, Wishbone Ash & The Who. It was certainly an experience to stand in the wings & watch The Who do their set, what energy! The caretaker, however was less pleased; The Who's drum roadies had knocked huge 6 inch nails into his pristine polished stage to try to hold Keith Moon's drum kit together while he smashed the living shit out of it!
Shortly after this gig Graham, the sax player left & Roger Hilliard came back in on acoustic guitar and this was the line up that made the recording that summer. This was made at Beck Studios, Lister Road, Wellingborough and Derek Tompkins was the engineer.
The session only lasted for one afternoon, mostly done in one take with no tracking and surprisingly without the aid of any mind altering substances, not even a beer, but we seemed to have conjured up an atmosphere from somewhere. Only twelve acetate copies were made for demo purposes so no title was given to it.
One copy was sent to John Peel.(RIP). To his credit he did listen to it (he must have received hundreds of demos daily), but declined to play it or endorse it because he did not like the west coast influence and felt that Viv's voice was too pure. This was a pity because if he had done, the Axe story could have been very different.
The songs on the demo were;
Track one
Another Sunset , Another Dawn
Track Two
Peace of Mind
Track Three
A House Is Not A Motel, by Love.
Track Four
Do You remember/ Here from There
Track Five.
Crimson Nights.
Track 2 was written by Graham Richards. On some pressings the first verse repeats the word better. This was in fact a fault but it jumps in time with the music, so it actually sounds OK! On track 4 "Do You Remember" was in fact a separate song, but all of it could not be included, due to lack of space. I'm afraid the rest of the track is lost forever. Derek Tompkins voice can be heard behind Viv's on do you remember. Tracks 1, 4 (2 songs) & 5 were based on brilliant poems by Denise Gordon (Steve the drummers wife), with music by Roger & me. Could have been a promising composing team if the band had got a deal or had more commercial success. Viv's voice sounds great. I believe she did have some classical training. Must have a bit of a culture shock for her, trying to sing in front of a very loud, spaced out band, but she took it all with unfailing good humour. Good solid bass playing from Mick throughout. Brilliant drumming from Steve, especially the use of tympany sticks on several of the tracks Roger guitar playing is full of imagination and forms the backbone to all the tracks. I think I had a reasonable day so maybe being straight was not a bad thing! It does beg the question what we could have achieved with more studio time & better recording equipment.
If memory serves I think I used my cherry Gibson 335 (good sustain) with a Zonk fuzz box, Mick had his faithful Fender bass & Steve played his classic Ludwig kit. Speakers were homemade 4 x 12 cabs with various amp tops. I made my amp top at one time by sawing a perfectly good Vox AC 30 in half. Sacrilege! I also once mutilated a great Hofner guitar by making a hole in it for an onboard distortion unit. It worked well, but was still vandalism! We had just been signed by an agent who was not keen on the Axe name, hence Crystalline, which we did not like, but was better than his first choice, Mausoleum. Did not think our music was that depressing!
Our musical tastes at this time were largely influenced by Steve. He used to harass the local record shop owners to get some interesting and obscure American recordings. We used to gather round his house of an evening to listen to these & get some ideas… Our influences included Airplane, Love, The Doors , Led Zep & The Grateful Dead, whose Live Dead open air gigs we tried to emulate at Abington Park, but with slightly less success!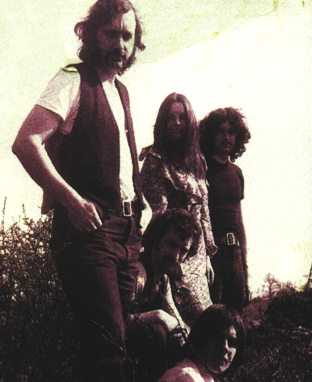 There is a live recording in existence, probably recorded at The Plough Hotel Northampton in 1969.
The sound is pretty rough with some very dodgy singing from me. Normally I'd just sing one while Viv went for another round of drinks, just as well I think! The best track on it is a full version of "Do You Remember" but the rest is pretty average. Must force myself to listen to it again sometime.
In 1971 Viv left to get married & Steve and I carried on the Axe name with Pete (The Duke) Watkins on bass & vocals. This line-up mainly played country rock stuff, but we'd still often end the set with a freak out session, with me sitting on Pete's shoulders… In fact I was talking to a bloke the other day who was there at those The Black Lion sessions and his comment was "my hearing has never been the bloody same!" Praise indeed!
After this line-up disbanded, that was the end for the name Axe, as far as we were concerned.
That track "People Come, People Go" is nothing to do with me, but I see there's some speculation that Mark Griffiths was involved. I'll ask him when I next see him.
I still see Roger now & then, Graham occasionally, but Viv, Roy, Steve And Mick Knobbs all moved away, but it could soon be time for a re-union, I think. Tonk Rock is still playing good and we occasionally gig together. Dennis Clark stopped playing & became a tax man! Regrettably Mick Knight & Pete Watkins are no longer with us.
I've carried on gigging, mostly with my old mate Uncle Eric (The Singing Gnome) and we've had some hilarious adventures, but that's another chapter.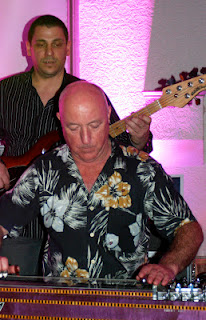 So the message is (of course), Keep On Rocking!
I intend to for as long as possible, I'm 64 now but the drummer of our swing band, Mr. Roy Holiday is 86 and still as good as ever. He's been a pro drummer since 1942! It's obvious to me that music therapy is good therapy.
Hope You all enjoy the Axe tracks. My kids & grand kids do and that's a compliment!
Thanks to Klemen and Good Luck Everybody,
Tony Barford, Northampton. July 2012.
– Klemen Breznikar