'Bring The Kids' by Hamell on Trial | Album Premiere + 'Jelly'
Exclusive album premiere of 'Bring The Kids' by Hamell on Trial, out November 17th 2023 via Saustex Records. To accompany the album release we are also premiering the video for 'Jelly'.
---
Hamell on Trial is the musical alias of folk punk hero Ed Hamell. A one-man explosion, he is loud-as-war one minute, stepping off the microphone to whisper to an enthralled audience the next. Hamell's unique and dynamic performance style is informed by politics, passion, intelligence and an irreverent sense of humor. 'Bring 'The Kids' is Hamell at his most musically adventurous, dabbling in pop hooks and production while delivering his signature biting and subversive humor.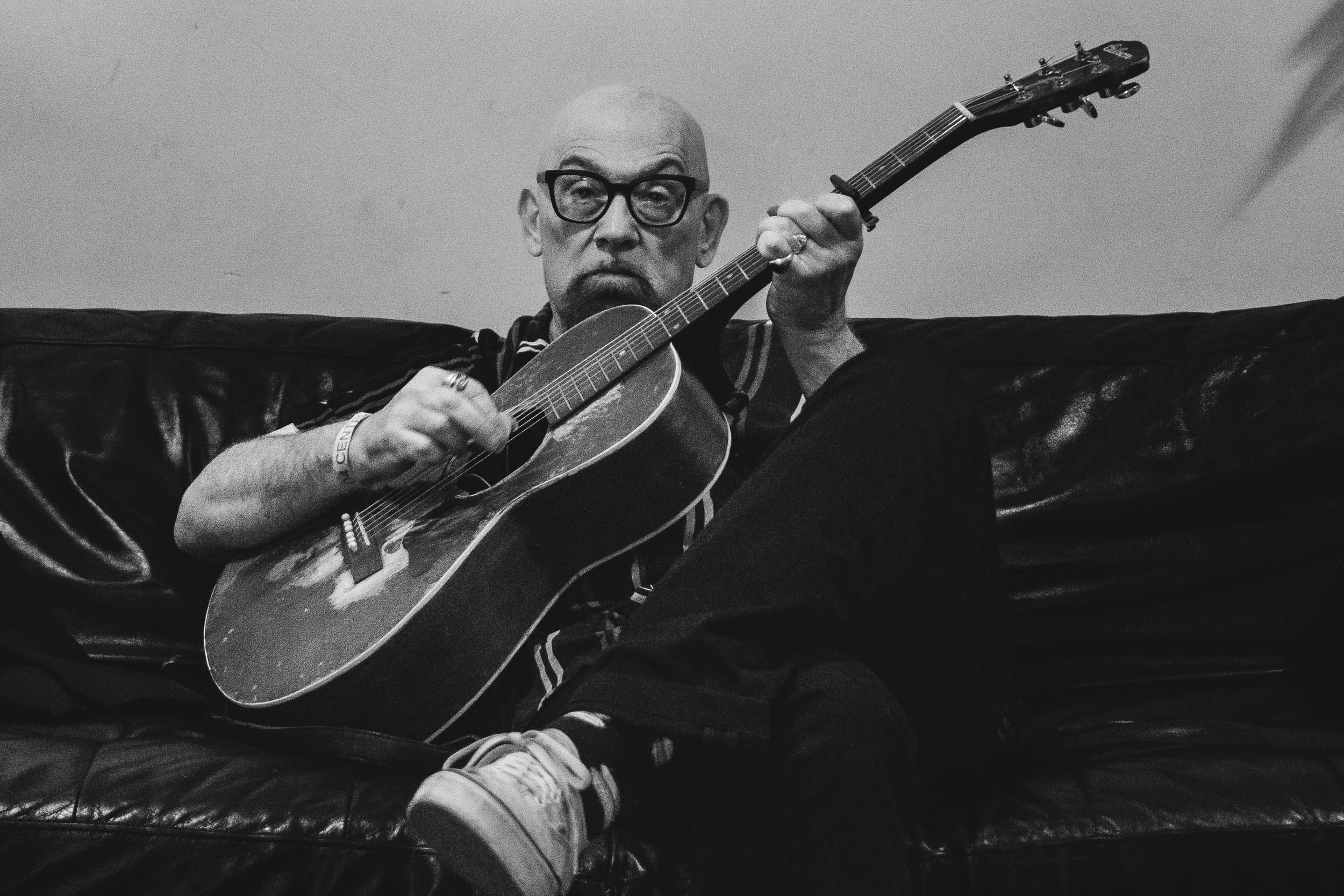 Armed with a battered 1937 Gibson acoustic guitar that he amplifies mightily and strums like a machine gun, a politically astute mind that can't stop moving, and a mouth that can be profane one minute and profound the next, Hamell sets his sights on the new America. He shoots straight with his audience, whether unraveling topical issues or sharing confessional tales from his own past.
In addition to world-class songwriting, a Hamell show is a multidisciplinary experience drawing from the worlds of theatre, stand-up comedy and storytelling. His performances invoke thoughts of the great rebellious satirists and social commentators of the past, from Lenny Bruce to Richard Pryor to Bill Hicks.
Living as an artistic renegade on the fringes of the traditional music industry, Hamell has toured the world tirelessly for decades as an underground DIY artist whose joyous followers pack into dive bars, coffee joints and house concerts, burning over a million miles across the map as an enigmatic punk proletariat. Over 200,000 of those miles have been shared with his son Detroit, who has joined his dad on annual tours since he was seven years old.
Hamell has shared countless stages with fellow anti-establishment icons such as Ani DiFranco, Kimya Dawson, Aesop Rock and The Pogues, as well as winning the coveted Herald Angel Award at the Edinburgh Fringe Festival.
Hamell's 2023 full-length record, 'Bring The Kids,' marks the seventeenth release in a discography overflowing with four star reviews and critical acclaim, ranging from major label releases (Mercury / Polygram) to top independents such as New West and Righteous Babe Records. 'Bring The Kids' will mark Hamell's third record on Texas indie Saustex Records, helmed by Hickoids' lead singer Jeff Smith.
On the new record, Hamell teams up with NY-based producer Matt Labozza to meld his punk rock hooks into the most beat-driven and expansive production approach in the history of his catalogue. "This is definitely the most musically adventurous record so far," Hamell explains. "I recorded my last two albums on my phone. I think some of my fans have been wondering what the songs would sound like if I were to open them up to every musical idea and tool that swirls around them in my brain. Here's your answer."
---
Headline photo: Kyle Cuneo
Hamell on Trial Official Website / Facebook / Instagram / Twitter / YouTube
Saustex Records Official Website / Facebook / Instagram / Bandcamp / YouTube