Rrrags | Interview | New Album, 'Mundi'
Exclusive album premiere of 'Mundi' by Rrrags, out September 15th via Lay Bare Recordings.
---
'Mundi' is the new double album by the Belgian dark psychedelic space rock band, Rrrags. Known for their raw energy and heavy live performances, Rrrags has consistently impressed audiences with their unique blend of hard-driving sound, soulful vocals, rumbling instrumentation, and strong melodies. Comprising of guitarist Ron Van Herpen (Astrosoniq, Molasses, The Devil's Blood), bassist Rob Zim (The Lords of Altamont) and singer/drummer Rob Martin (Bliksem), Rrrags formed in September 2017 and made their explosive live debut at RoadBurn 2018. Since then, they have built a solid reputation through their jam-infused yet song-based live shows.
Having gained significant attention with their previous release, 'High Protein' in 2020, Rrrags took the time to delve into their inner thoughts and sentiments, leading them to venture into a darker psychedelic direction for their latest project. The result is the mesmerizing double album, 'Mundi,' evidence to their evolution as artists and explorers of sound.
The new album stands as a testament to Rrrags' growth and willingness to embrace a more diverse range of influences. This album is an aural journey through the cosmos, a blend of genres and moods that showcases the band's versatility and creativity. Drawing inspiration from their personal influences, Rrrags has crafted a unique experience that takes listeners on a ride through various sonic landscapes.
"Experimenting with sounds"
Rrrags has been around for a couple of years now, would you like to tell us how you originally met and what led you to where you're currently musically?
Ron Van Herpen: Rob Zimmermann and I have been friends for a long time. We grew up in the same city and we knew each other from bars and places we hung out. Couple of years later Rob joined a band I played in called AP Lady. Later on that band became Astrosoniq. Rob played bass on a few tracks but never was a full time member. The musical direction of that band was never his type of thing. I met Rob Martin at an afterparty at Bidi's place. (Maybe you heard that name somewhere in the past). It turned out that Rob Martin was a big Astrosoniq fan. So we kept talking, stayed in touch and one day we had the plan to go jamming and see how things worked out. Walter from Roadburn heard of this and he immediately asked us to play at Roadburn 2018. We only rehearsed two times or something. So that was quite a challenge. But it turned out great!
How much time and effort went into the creation of 'Mundi'?
From the first rehearsals till we finished the mixing process in the studio I would say somewhere around 18 months.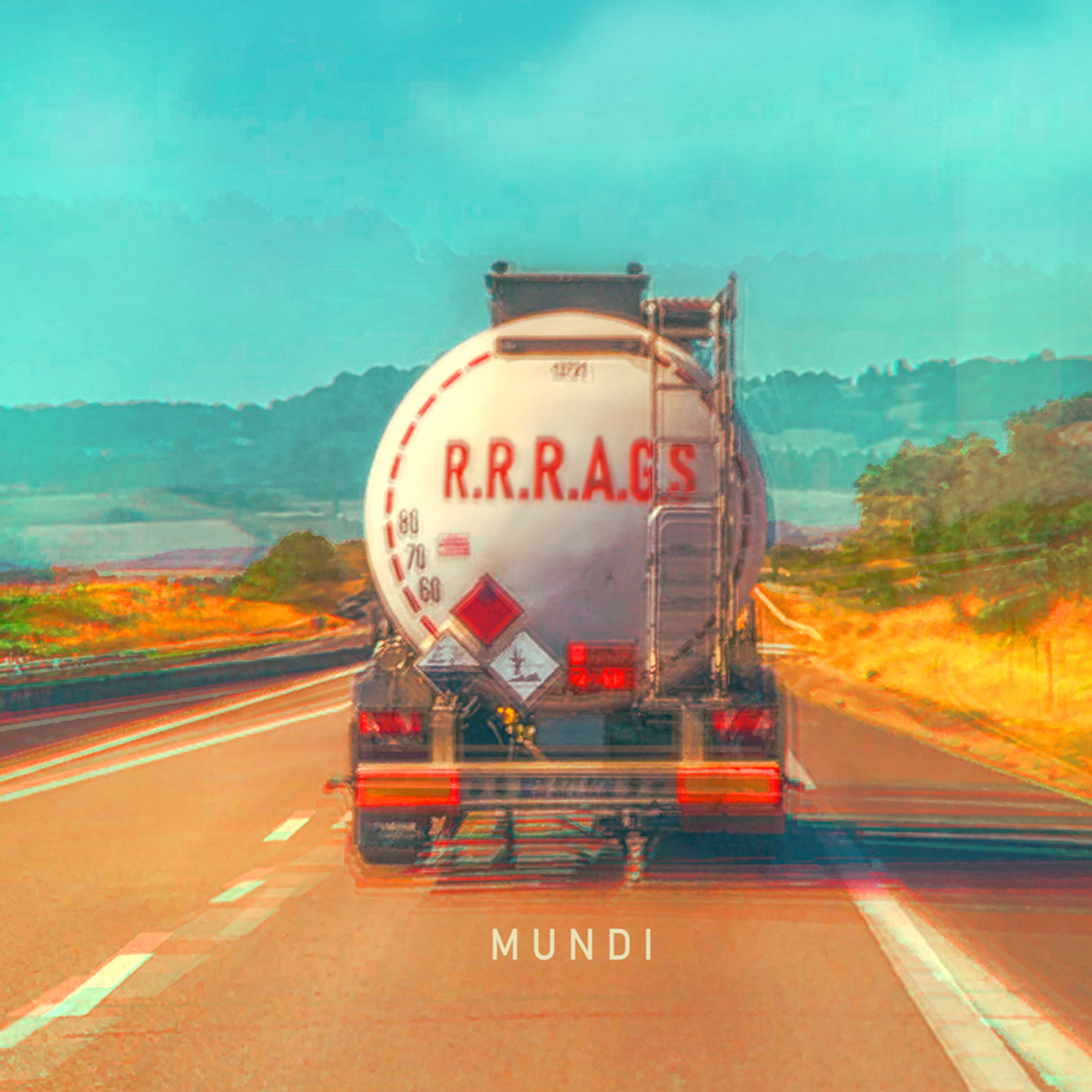 It's not often that the band has enough material for a double album, would you like to discuss the songs on it.
'Walkers' is the opening track. The first version of this had a more standard song structure. We decided it could use a more psychedelic approach. That's why we added more jamming parts to it. To make it more free. Second track is 'Slavic Heat'. We are all big Celtic Frost fans. This song was influenced by the early Celtic Frost albums and we wanted to make a more psychedelic approach, but with the same heaviness. Heart of the Hive' is the third track. This song is more Stooges combined with a Black Sabbath ending. Fourth track is 'Final Word'. A psychedelic almost happy song with a weird 60's vibe to it. 'Wiped 'is the fifth track. Fuzzy rock'n roll in Jimi Hendrix / Blue Cheer style. Sixth track 'Visitors' is a dark, slow song built around a flanger/fuzz basslick. 'Moon' is the seventh track and is a more proggy rock song. Slow psychedelic intro, up-tempo second half. 'Sparrows' the eight is one of my personal favorites. Rob came up with this really complex bass guitar part. I added swelling guitars. It ends with a noisy wall of sound. 'Galactic Strut' is a long jam built around a hypnotic bass guitar part. This song was recorded in one take and it ended on the record just as we played it. The tenth track is 'Ararat'. This is a track Rob z wrote with his former band called Asgard. It's built around a specific scale which gives the song a kind of oriëntal atmosphere. Then the last track called 'It Feeds'. Heavy Black Sabbath riffing and a kind of krautrock jam ending combined with soundscapes.
What kind of gear, amps, pedals et cetera do you have?
I use a 1971 Fender Bandmaster amp. In my effect rig I got a Morley volume pedal, Behringer superfuzz (enhanced by Rob Z), Morley bad Horsie wah wah, Electro Harmonix Small Stone phaser, Electro-Harmonix ring modulator, TC Electronic delay and a MXR reverb. I prefer my black Fender Telecaster guitar. I like the sharp singing tone from the Telecasters.
Would it be possible to compare it to your previous releases and what are some key differences in your opinion?
Well, this album is quite different then the previous ones. We added some krautrock elements in it. Also we wanted to experiment more with different song approaches. Different sounds, experimenting with sounds. More a heavy psych approach.
What's next for you? Are you planning to go on tour?
First of all we're gonna promote this album. Hopefully we can do some festivals next year. A tour would be very welcome and we are looking for opportunities to make this happen.
Are any of you involved in any other bands or do you have any active side-projects going on at this point?
Rob Zimmermann and I are playing in a black metal band called The Wolves of Ŝkan. Couple of years ago we released our debut album called 'Death Crown'. Right now we're working on its successor. Rob Zimmermann is also playing in The Lords of Altamont. Rob Marti sometimes fills in with a band called Bütcher. In 2020 I made an album with Molassess with my former bandmates from The Devil's Blood.
Let's end this interview with some of your favourite albums. Have you found something new lately you would like to recommend to our readers?
I always think this is a very difficult question. It changes from day to day but I will give it a try. At this moment: Rainbow – 'Rising,' Queen – 'Live Killers,' 'Sons of Northern Darkness,' Nick Drake – 'Five Leaves Left ' Nick Cave and the Bad Seeds – 'Let Love In'. When it comes to something new, I would say King Gizzard & the Lizard Wizard. Kriegsmachine – 'Apocalypticist' is an album I recently discovered. It's from 2018 so not exactly new, but for me it is.
Thank you. Last word is yours.
I want to thank you and your listeners for your interest in our band. Hope to see you all at one of our gigs and share some beers together!
Klemen Breznikar
---
Rrrags Official Website / Facebook / Instagram / Twitter / Bandcamp / YouTube
Lay Bare Recordings Official Website / Facebook / Instagram / Twitter / Bandcamp