Asgard | Interview | Jake "Gelon" Lau | "Lost San Francisco Album from 1972"
Asgard was a psychedelic San Francisco band that recorded an unreleased album in 1972. Guerssen sourced this masterpiece from the original master tapes.
---
Asgard was initially known as Osgoode, named after the street where Blue Cheer had their headquarters. The band featured ace guitar player Bob Hardy (a veteran of many Bay Area bands since the early 60s) and Jake "Gelon" Lau (Gideon & Power, Mary McCreary, Tribe…) on electric violin and vocals. 'For Asgard' is their lost album, registered at Roy Chen Recorders in 1972, now released for the first time. It features nine original tracks, perfectly recorded and played, dominated by Bob Hardy's outstanding fuzzy lead guitar and the cool touch of Gelon's Lau electrified violin that recalls UK prog-psych bands like the similar named Asgærd or High Tide at times. Hard to believe that such a pro-recorded, top quality album like this was never released at the time. After playing a celebrated free concert at the Provo Park in Berkeley alongside bands like Cat Mother and Summerhill, the band slowly disintegrated. Bonus tracks include one studio track from the same album sessions plus three raw rehearsal tracks.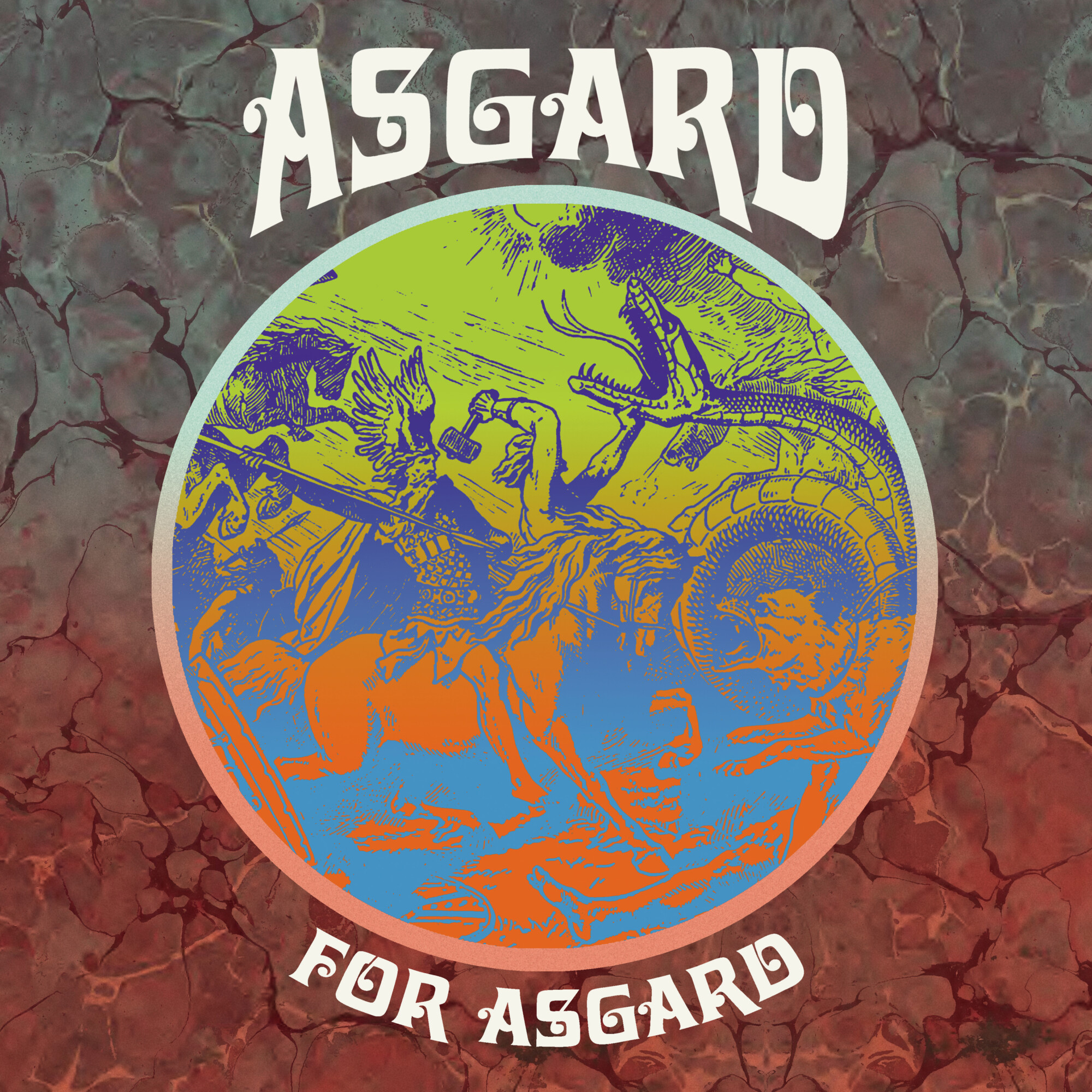 "I commissioned a San Francisco violin maker to create a custom hard-body electric violin with five strings"
Would you like to tell us where you were born and what could you say about your upbringing?
Jake "Gelon" Lau: I was born in Hong Kong and became a naturalized US citizen. My parents immigrated to the U.S. to flee from communism. When we arrived, we had to present names to customs/immigration and the official wrote down "Gelon". I grew up in Oakland, California and began pronouncing my name "JayLon," which later evolved to "Jake".
What did your parents do and when did you first get interested in music?
My parents did a fantastic and very difficult job of providing for and raising four children in a totally foreign country (U.S.A.). They always stressed education and encouraged us to play music. At eight years old, I told the school music teacher I wanted to play the violin. They already had plenty of violinists in the school orchestra, so she suggested learning the cello. After a few weeks of lugging an instrument back and forth that was bigger than I was, I switched to violin.
Do you recall a certain profound moment when you knew you wanted to become a musician for the rest of your life?
My brothers and I formed The Combe, as we referred to it (two electric guitars and a snare drum with cymbal), when I was around twelve years old and I thought we were so cool. We played popular surf rock; 'Walk, Don't Run' by The Ventures, 'Pipeline' by The Chantays, et cetera.
Later in middle school (mid-1960's) I played electric guitar in a band called The Barons. We performed after school in the school gymnasium. All the girls were screaming and wanting our autographs! I was hooked.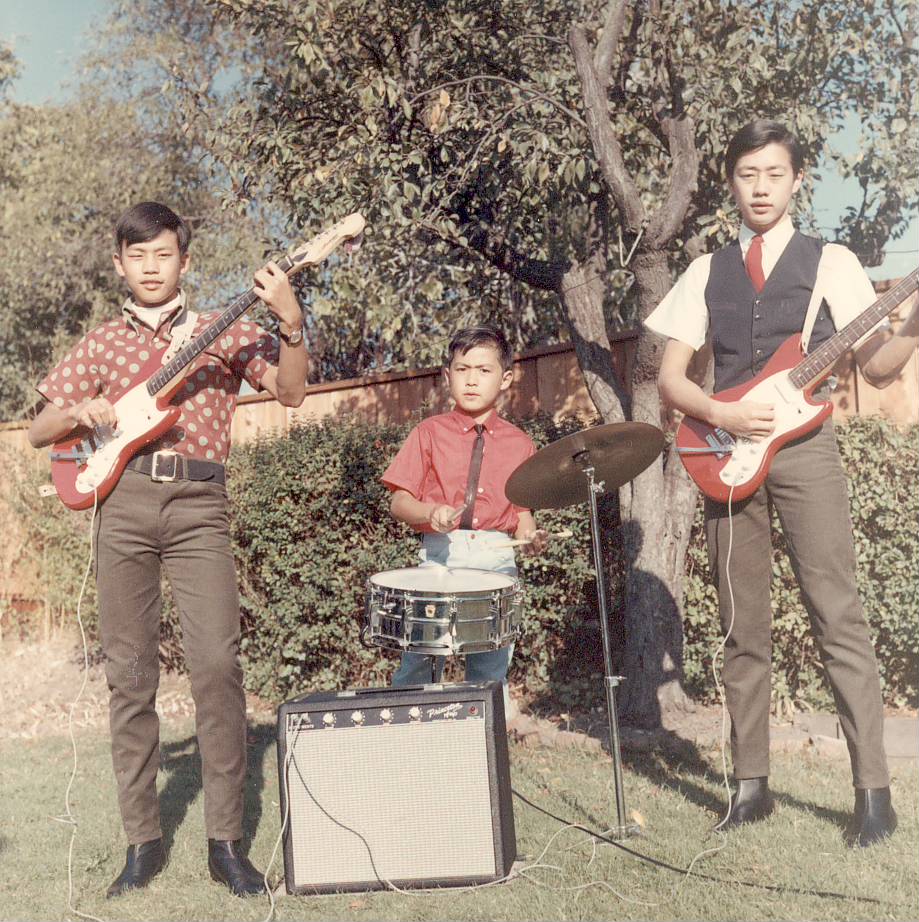 What are some of the very first high school bands you were part of? Did anyone record a single or are there any unreleased recordings left?
The Barons soon became Marty and the Barons. We had a cute female singer/guitarist (Marty) whose mom had a great house for us to rehearse in. We had three electric guitars and a drum kit.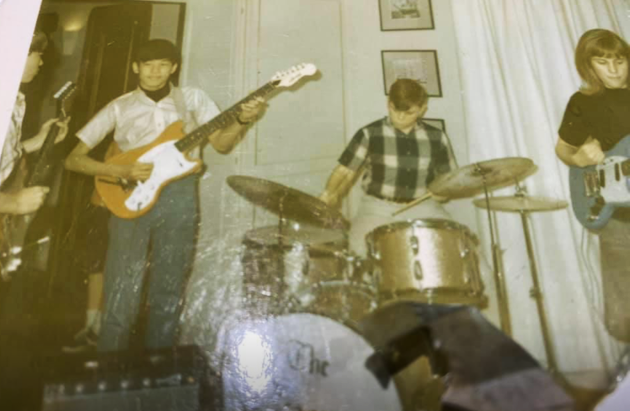 One of our first gigs was a Battle of the Bands in front of a music store in downtown Oakland. After our set, someone walked up and said "You guys really need a bass player and some bottom!" Todd took one-for-the-team and switched from guitar to bass. Later, we changed the band's name to The Halogen Society. Marty's mother took some of our rehearsal tapes and had the songs cut on vinyl as a momento gift for each of us. Very thoughtful of her, but alas, a fairly embarrassing unreleased recording. Our drummer Jim went on to become a music teacher.
How would you describe the music scene back where you lived in the mid to end of the 60s?
For most of the 60s I played violin in many school orchestras, including becoming concertmaster of the Youth Chamber Orchestra (YCO) of the Oakland Symphony. The YCO did some touring around the country and released a couple of albums. I began playing rock music in the late 60s.
What led to the formation of Osgoode and how did the band transcend into Asgard? What's the story behind the band name and who were the band members? Did the band go through any lineup changes?
In 1971 I answered an ad for a cover band in San Francisco looking for a guitarist. At the time, electric violin was rare. Country music had its fiddle players and there were a few jazz violinists, but the violin was not considered a rock instrument. If I could convince a band to give me a listen, I would usually blow them away with my sound; an amplified violin capable of playing searing guitar-like licks as well as very melodic lines and melodies.
Osgoode, took its name from the street, Osgoode Place, where our rehearsal space was located. The original band members were me on violin and vocals, Phil Robyn on bass, Steve Hall on drums and vocals, and a lead guitarist whose name I can't recall. Subsequently we added rhythm guitarist Jack May to provide more texture to our sound.
I began bringing my original songs to rehearsals and soon we were no longer a cover band, but an original-music rock band. Mr. Lead guitar didn't care for the musical direction and left the band. Jack, originally from Davis, California, brought in Bob Hardy (also from Davis) to audition for the lead guitar vacancy and a sound was born.
Jack was a very funny and charming man who did a great job onstage as the "between songs voice-of-the-band". Unfortunately, we realized our sound was no longer jelling. Jack was experimenting more with drugs. As the de-facto band leader, I initiated his leaving the band.
One of our songs was called 'For Asgard'. We hooked up with a manager who said that the response and reaction to the band's name "Osgoode" was usually pretty negative. He said, "Why don't you change the band's name to Asgard?" And a new name was born…
You were from the San Francisco area, there was a lot of happening back then. Did the counterculture and the whole hippie revolution inspire you as a band?
The Summer of Love in 1967 and the Monterey International Pop Festival brought us historic performances, innovative bands and new music. The Who and Jimi Hendrix Experience had breakthrough shows there that really made an impression on me. San Francisco, of course, was the epicenter of the hippie movement and psychedelic music with bands like Jefferson Airplane, the Grateful Dead, Janis Joplin (Big Brother and the Holding Company), among many others. It was a great time to be young, in San Francisco and the Bay Area. Scott McKenzie famously sang "If you're going to San Francisco Be sure to wear some flowers in your hair."
What clubs did you like to visit back then? What are some memorable acts you saw?
I was never much for night clubbing, but was a frequent rock concert patron. In the early 70s I wandered into a small club in Jack London Square, Oakland's waterfront marina where quite a crowd was gathered. When I managed to squeeze inside, I saw that performing onstage was none other than the Oakland band Tower of Power. They were local and nationally unknown at the time. I remember remarking "how can a 10-piece band make any money playing small gigs?" Then in 1972 'You're Still a Young Man' hit the charts, rendering my rhetorical question moot.
I attended many concerts at the iconic Bill Graham's Fillmore West in San Francisco, enjoying shows and bands including Johnny Winter, Boz Scaggs (pre-'Lowdown'), It's a Beautiful Day, and many more. San Francisco's Winterland was another big venue where I saw the likes of David Bowie, Crosby Stills Nash & Young, and others.
Berkeley Community Theater was another favorite concert hall where I saw many shows including Faces with Rod Stewart. The Who performed their entire rock opera 'Tommy' (double album), every song back-to-back non-stop. Incredible! I remember attending a Jimi Hendrix concert there. Walking into the auditorium, I noticed banks of lighting on the sides of the room that normally weren't there. Midway through his show, those lights came on and Jimi launched into 'Foxy Lady,' rolling around on stage and other signature Hendrix moves. The crowd went crazy! When the song was over, he played it again! The audience again went wild. After this repeat performance the side-fill lights went out and Jimi continued on with the set. It wasn't until much later, when I heard about the film documentary "Jimi Plays Berkeley" that I realized I was there for the filming.
Tell us how you first heard of Blue Cheer and what was your connection with them? I'm asking since you were named Osgoode, after Osgoode Place, a tiny street in North Beach where the Blue Cheer offices were located.
I really had no connection with Blue Cheer other than my two bandmates, Jack May and Bob Hardy were both from Davis where Blue Cheer started.
Osgoode began in 1971?
Yes.
Who left the band when they started playing as Asgard in 1972?
Jack May.
Tell us about the material you recorded in January 1972 at Roy Chen Recording in San Francisco's Chinatown, and was finished by Asgard in March.
All original songs, written by me, Bob Hardy, and one by Jack May.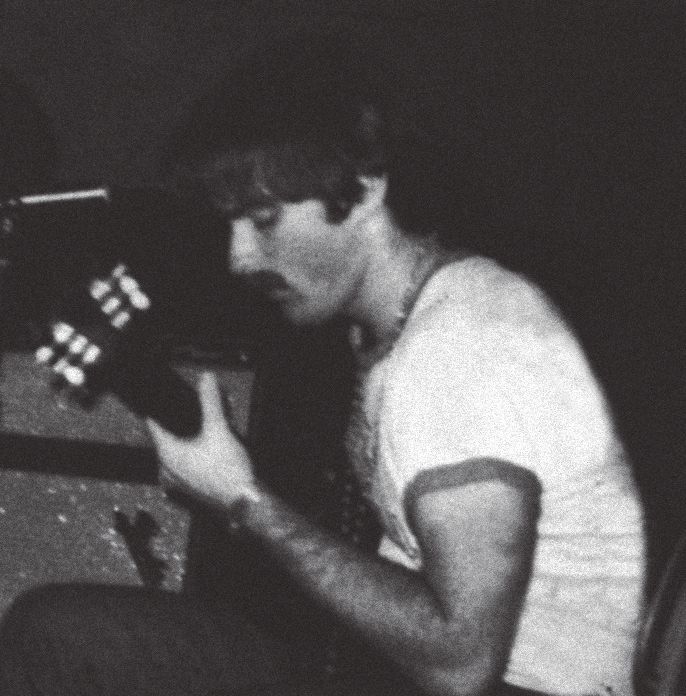 What kind of gear, amps, effects et cetera did you use?
In 1971, I commissioned a San Francisco violin maker to create a custom hard-body electric violin with five strings, i.e. a combination violin/viola. This gave my violin extended notes and texture with the addition of the low C string. I played through an Ampeg SVT amplifier which was normally an amp for bass guitar. The rig included a 300 watt head straddling two huge speaker cabinets, each with eight 10″ speakers. Huge sound and physically intimidating; also big and heavy to schlepp around! I used an original analog Maestro Echoplex, Vox Wah-Wah pedal, Boss CE-2 Chorus and Boss BF-2 Flanger effects pedals.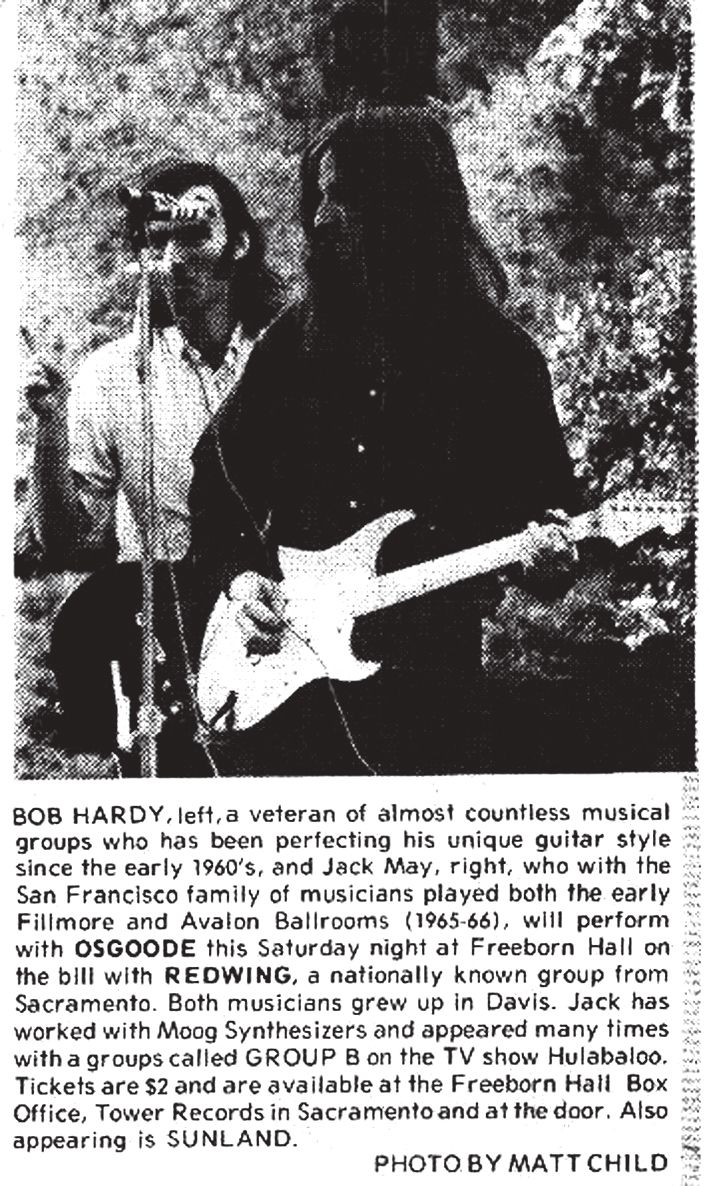 What are some of the memories from recording there? Who was the producer and how long did it take to record?
As a child, I visited SF Chinatown frequently with my parents to shop for food, attend banquets, go to movies and restaurants. To actually record at a studio there was totally unexpected and frankly, very cool. All songs on the album were self-produced by us.
Did you have an album artwork in plan as well? What were the circumstances that the record wasn't released?
No artwork was envisioned. We had a friend/manager shopping our demo for us, but alas, no record label interest.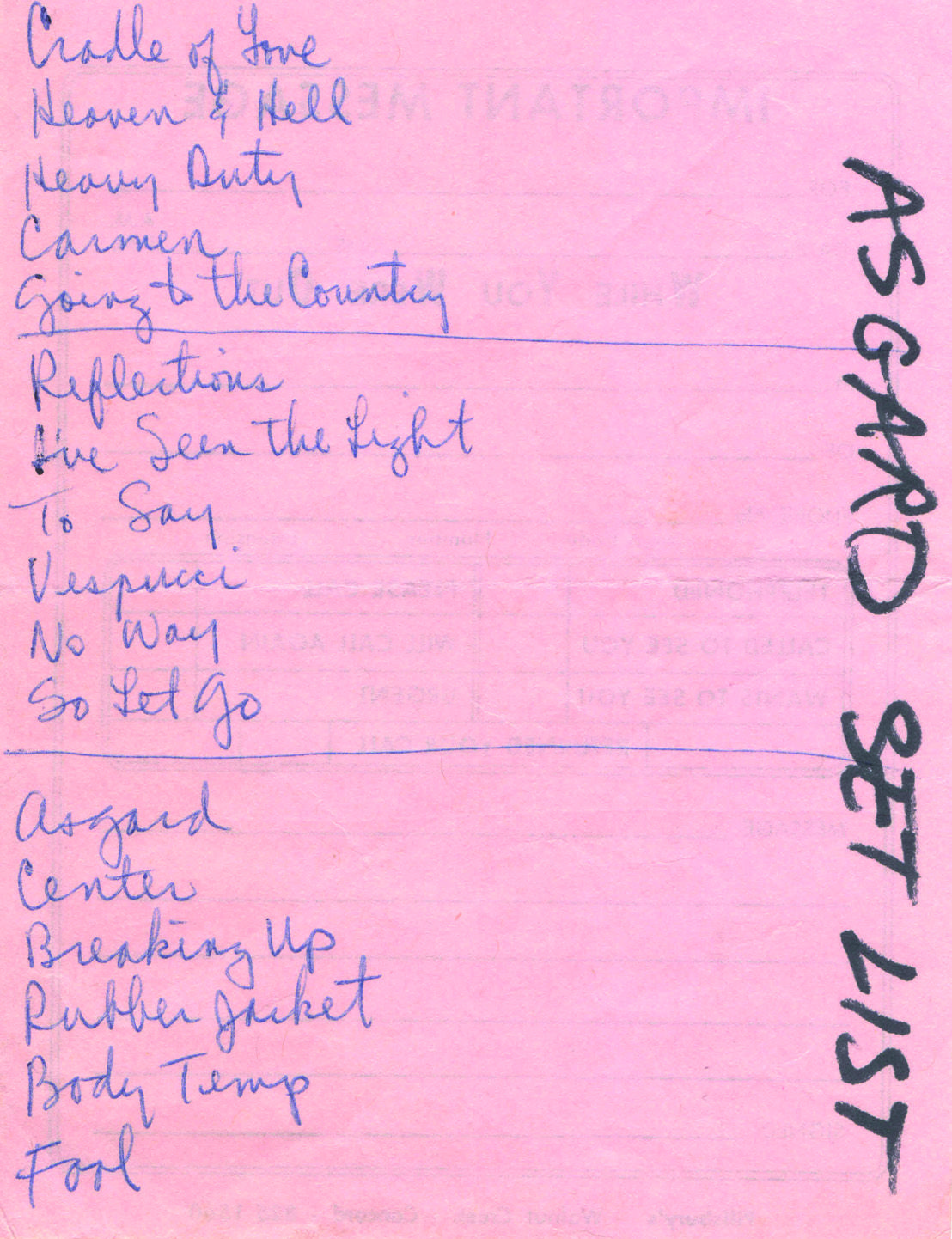 Did you have a demo / acetate out so that you could send it to the labels and/or radio stations?
Yes.
Would love it if you could share some further insights about the material featured on this unreleased album.
'Carmen' (Lau)
One of my day jobs was selling donuts and coffee from a concession stand at the main entrance of the UC Berkeley campus. One of the other concessions was a flower cart, owned and operated by Carmen, a shy pixie and her husband. She would buy a donut and coffee most days and our hands would sometimes touch as money was exchanged. Hence the lyrics "Camen sells you flowers from a wooden roadside stand. She gives me sweet looks, but I want more than that. I know that she wants me from the touch of her hand, but her spirit's imprisoned and she can't understand"…
'For Asgard' (Lau)
I was always an avid fan of Marvel Comics and owned several first editions introducing new superheroes like Spiderman, Iron Man, The Incredible Hulk. Oh how I wish I still had those editions today! This was fifty years before Hollywood brought any of the Marvel superheroes to the big screen. My two favorites were Spiderman and Thor: God of Thunder. One day in 1971, when fooling around on my guitar, the riff from "For Asgard" came to me, quickly followed by lyrics detailing Thor, Loki, and the battle for Asgard waged between Good and Evil. The guitar solo represents the war that was fought and the mellifluous violin solo symbolises the peace and harmony of the victorious aftermath. "Fear thee not my Princess, for men…call me Thor!"
'Your Mouth Tastes Like You Just Woke Up' (Hardy-Harkens)
'Vespucci (The Dutiful)' (Lau)
In 1501 Italian merchant, explorer and navigator Amerigo Vespucci from Florence was actually the first person to identify the New World as a new continent. "America" is derived from his name. (See, I was paying attention in history class!). The song title and the first verse are wordplays on "America the Beautiful." The song sardonically addresses politics, pollution, crime, but ends by saying "America, I'll stay true to you."
'Fool' (Lau-Robyn)
Classic guy loves girl, girl takes advantage, guy's not using his head, guy realizes he's a fool. The fun part is the vocal vamp near the end: "I'm leaving you baby, I'm already on my way…"
'So Let Go' (Hardy)
'If I Had Anything To Say' (May)
'You Raise My Body Temperature, Baby' (Lau)
Another tale of a young man's overactive hormones and fantasies. As the proprietor of the above mentioned donut stand, I saw no end of young college coeds parading by everyday. One, whose name I never knew because I was always too tongue-tied, always wore short-shorts (hot pants) and high platform shoes. She would saunter up to the donut stand and buy a cinnamon roll, or was it a jelly roll? Then she'd continue onto the campus, fully knowing that she looked just as good walking away.
'Center of the Sky' (Hardy)
'Reflections' (Lau)
I composed the violin solo/intro and thought of expanding it into a full blown instrumental, but then realized it needed to be a song. The lyrics kind of wrote themselves and reflect living your life and not playing the man's games.
Did you do a lot of shows? What are some clubs you played? What are some bands you shared stages with?
We performed whenever and wherever we could, including free concerts at Embarcadero Plaza San Francisco, Provo Park Berkeley, and on the UC Berkeley campus. Some club gigs included The Shed, a gay bar/club in San Francisco's Castro district, The Longbranch in Berkeley and The Cave in Davis.
Where did you have your jam space?
We lost our rehearsal space on Osgoode Place when the original guitarist quit. We relocated to the abandoned American Standard Bathtub Factory in Richmond, CA.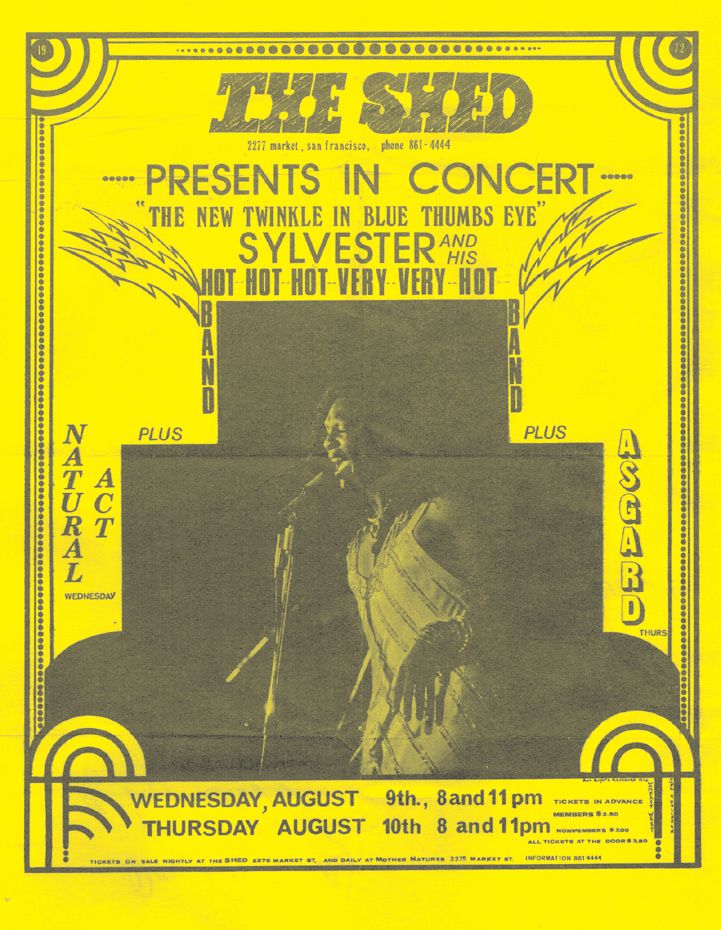 Did you play with Blue Cheer as well?
No.
How long was the band around and when did you decide to stop?
Asgard was together for about two years.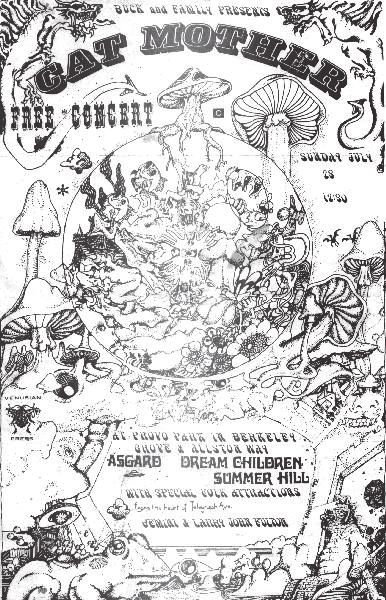 Since you were from the epicenter of "happening," did you experiment with psychedelics? Did that have any impact on you as a musician or/and as a person?
Almost everyone back then experimented with pot and other substances. I didn't inhale…
Tell us about the Provo Park gig in Berkeley, California, on July 4th, 1972
Provo Park was the site of many free weekend concerts from 1967-1972. Many unknown bands as well as soon-to-breakout bands performed there including: Big Brother and the Holding Company, Blue Cheer, Country Joe and the Fish, Santana, Steve Miller Blues Band, The Youngbloods, and Asgard!
Our July 4th, 1972 show was not especially memorable to me, other than it was always exciting and fun whenever we performed live.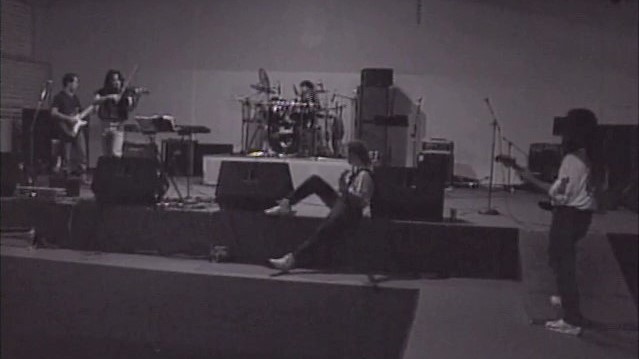 What followed for you? I would love to hear more about Gideon & Power.
In 1972, we finished the Asgard recordings. The group was aimless and not gigging. I met Gideon Daniels, a gospel rock singer, at one of his shows in San Francisco. He had had some success and notoriety on the SF music scene and was experimenting with his sound and personnel. He liked my "look" and asked me to be one of the background singers in Power. Gideon & Power consisted of himself, a piano player and three male singers performing high energy, motivational gospel rock. One of my fellow singers and roommate was Mickey Thomas, a great voice from Valdosta, Georgia. He went on to sing 'Fooled Around and Fell in Love' with Elvin Bishop and later had many hit records as the vocalist for both Jefferson Starship and Starship.
When Gideon learned I was an electric violinist, he revamped again and now Power became keyboards, drums, bass and violin. We gigged all around the Bay Area and were invited to A&M Records in Hollywood to record a demo produced by Billy Preston (who played keyboards with The Beatles, prior to his own success). However, nothing came of it.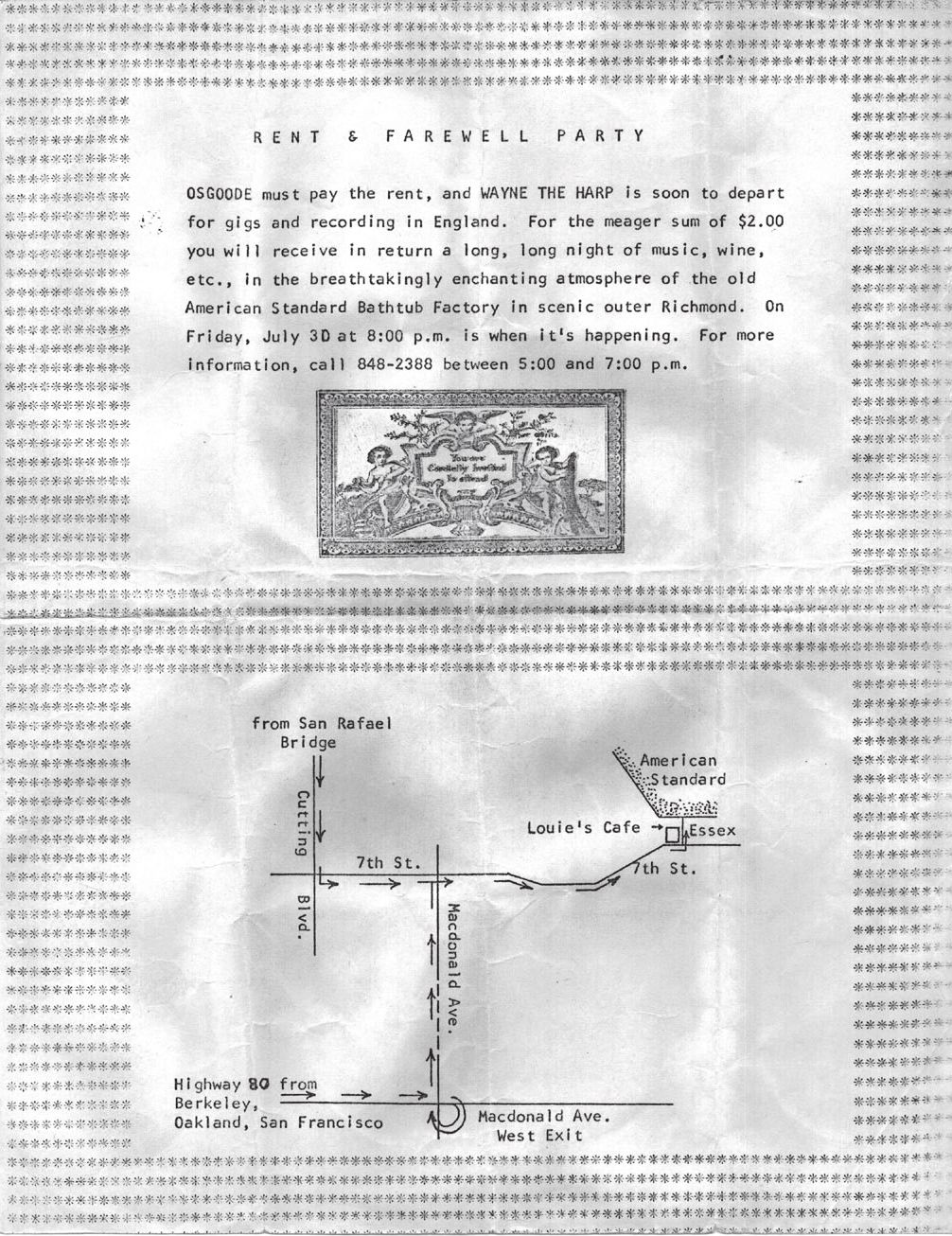 How did The Mary McCreary Band come about?
One day in 1973 I received a phone call from the manager of Mary McCreary, a Shelter Records recording artist, singer/songwriter who would soon be opening for Leon Russell's summer tour. Mary had seen me performing in San Francisco and invited me to come to Los Angeles to audition for her band. Of course I was excited and delighted to do so. When I walked into her rehearsal space at Studio Instrument Rentals (SIR) in Hollywood, she gave me a blank look and said, "You're not who I expected." What, I thought?! There's more than one long-haired Asian electric violinist in SF? "Well, you're here, why don't you play something?" I plugged in and launched into the solo/intro from Asgard's 'Reflections,' and was hired on the spot. Mary had me open every performance with that violin solo.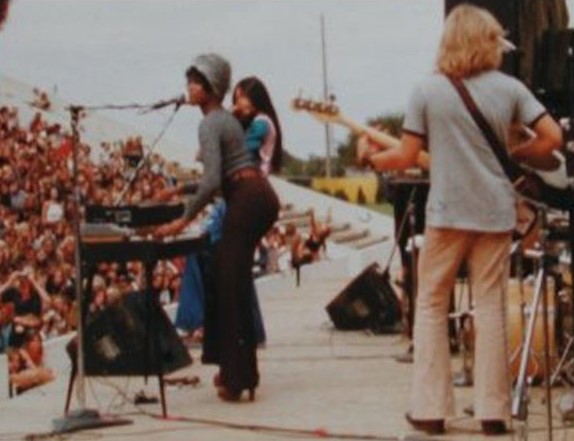 The violin solo/intro from Asgard's 'Reflections' became the show opener for Leon's big-arena tour that summer.
That summer, Mary McCreary joined Leon Russell on his big-arena concert tour. Our first show was on July 29, 1973 at Ontario Motor Speedway in Southern California. We opened the show; it was such a thrill to play music in front of 50,000 people! We were followed by Loggins and Messina. Then Leon flew in suspended from a helicopter, dressed in a white tux, playing a white Les Paul and sitting down on a white grand piano. Quite an entrance!
After the tour ended, I played on Mary's second album 'Jezebel'. We stayed at Leon's house in Tulsa, Oklahoma and recorded at his famous Tulsa Church Studio and his Grand Lake Studio, as well as at the Record Plant in Los Angeles.
You were also playing with Tribe ('Tribal Bumpin").
I was playing in a Los Angeles club in 1975. Dee Ervin, the producer for ABC Records' Tribe, was in the audience. He was looking for a new sound for Tribe's second album 'Tribal Bumpin" and wanted me to join the band. We recorded the album and I began gigging and touring with them.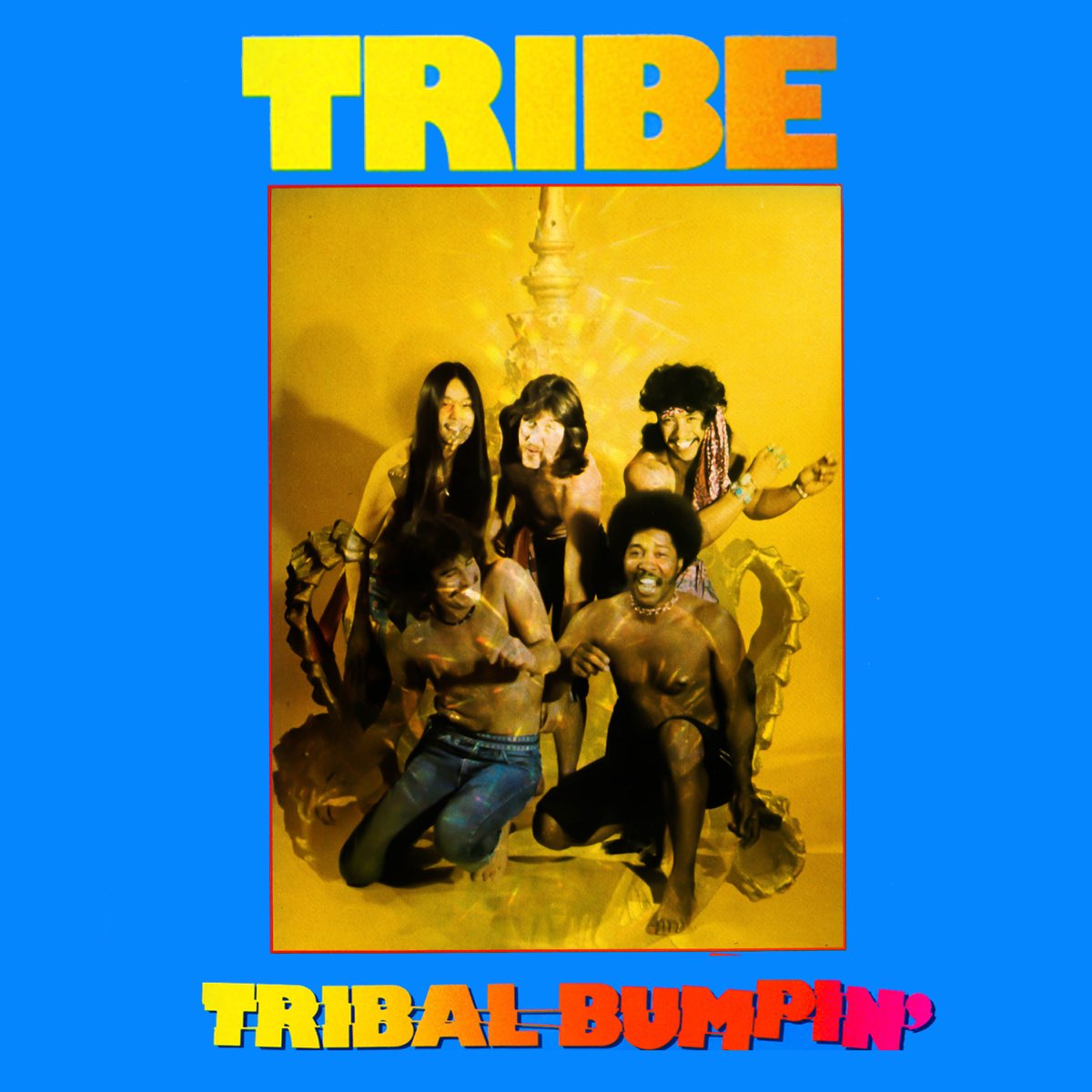 Is there any unreleased material you were part of still available?
My Los Angeles band in 1984 Buck Wing, featured vocals, electric violin, keyboards, guitar, bass and drums. We recorded an album of nine original unreleased songs. A bit 80s, good songs, and excellent musicianship.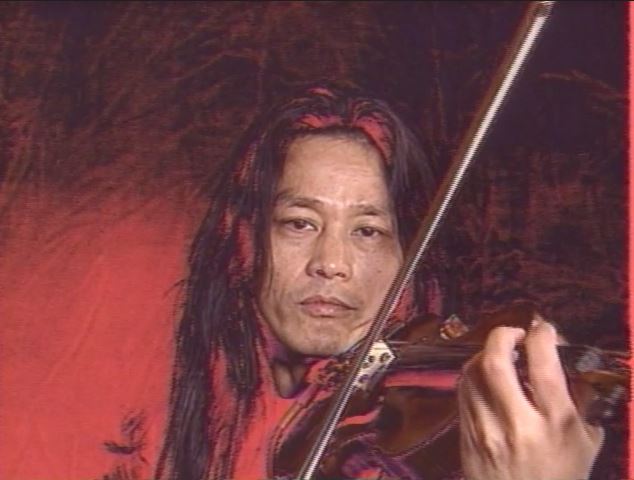 Looking back, what was the highlight of your time with all the bands? Which songs are you most proud of? Where and when was your most memorable gig?
It's hard to imagine a bigger thrill than being onstage as part of the Leon Russell tour playing before 50,000 people! The night of the Ontario Motor Speedway concert, ABC Eyewitness News in Los Angeles reported on the event with "Opening the show today was Mary McCreary!" They showed video of the masses of people in attendance, then zoomed into the stage and onto me, playing my opening solo! What a kick, although I'm not sure how happy Mary was about the media coverage confusing me with her…
Give us some insights on developing your violin technique.
I was classically trained from the age of eight, playing in orchestras, recitals and studying violin concertos. Classical music is very defined and structured. My musical world shifted as a teenager when I heard the likes of Eric Clapton ('Disraeli Gears' album) and Jeff Beck ('Truth' album). I began emulating their guitar licks on my violin, playing along to their records. That was the beginning of ad-libbing and being creative on the violin as a rock instrument.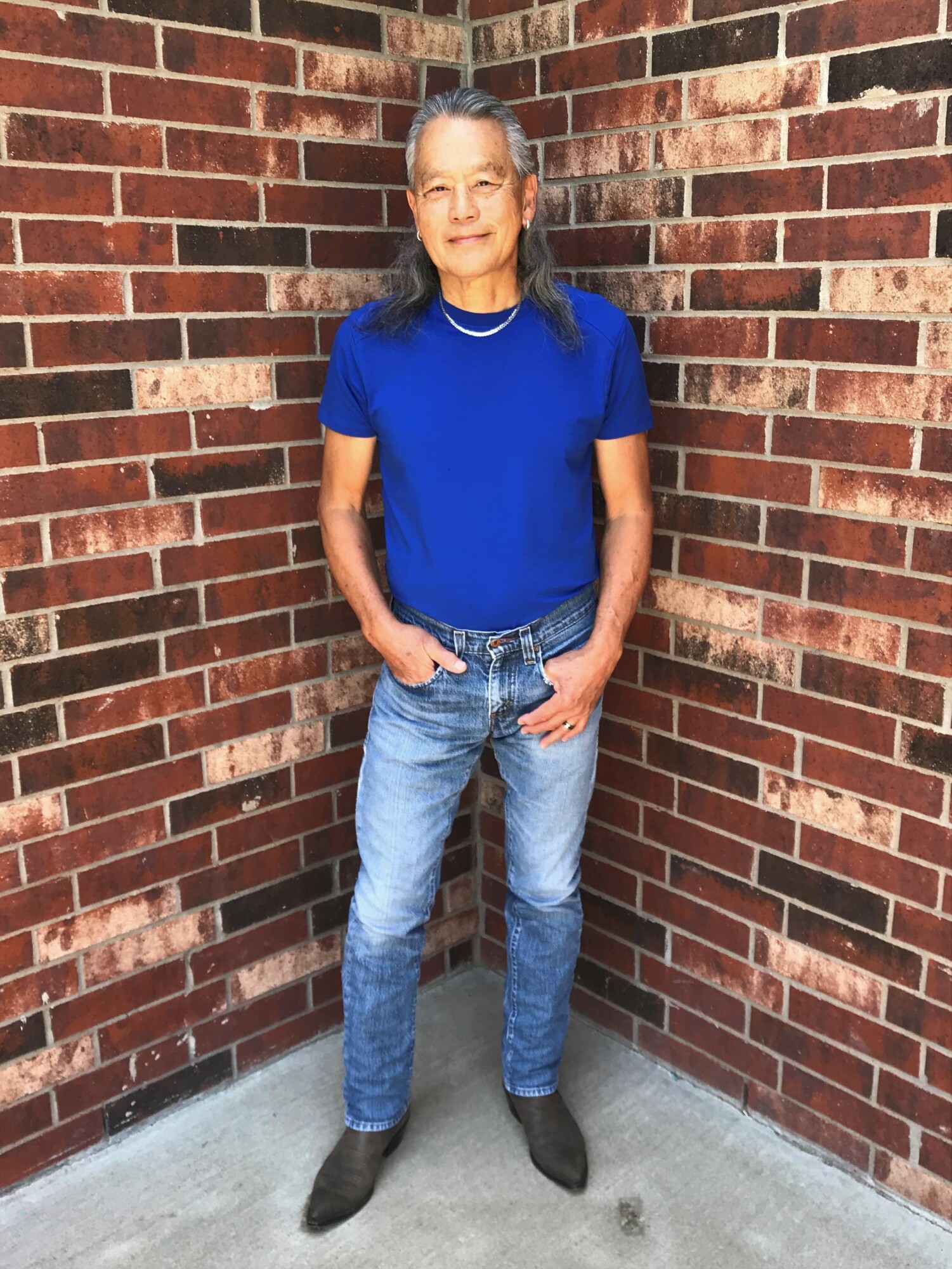 What currently occupies your life?
My wonderful wife and I love traveling, exploring, reading and just enjoying life. I'm a self-taught pianist and continue to love singing and playing music.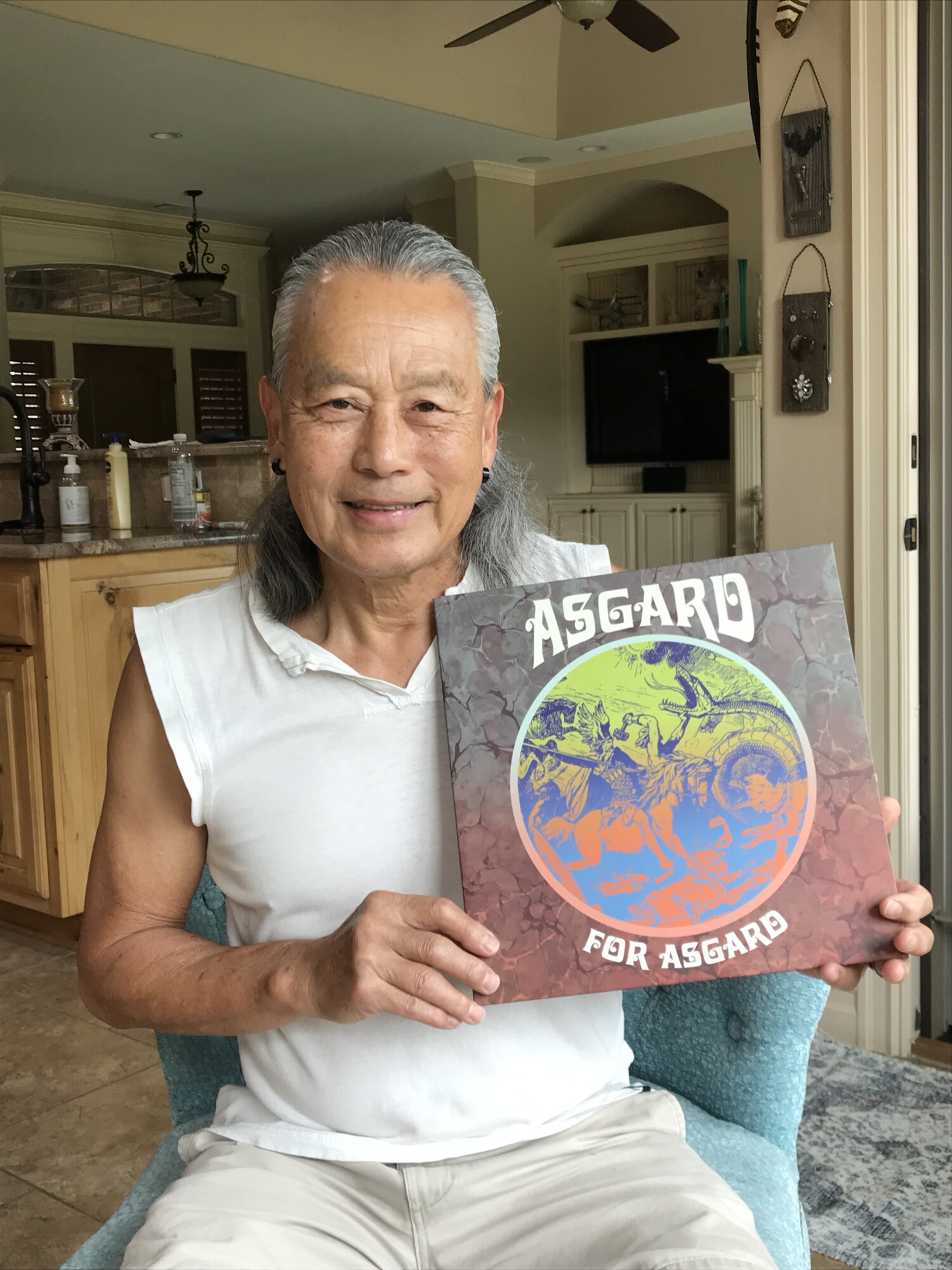 Thank you for taking your time. Last word is yours.
Thank you, Klemen for your very thoughtful questions which have enabled me to travel fondly down memory lane. I hope the readers have enjoyed my reminiscing and gotten a few laughs. I've made some good and bad choices on the journey. It's been a long and adventurous road that has made me who I am today.
Klemen Breznikar
---
Guerssen Official Website / Facebook / Instagram / Twitter / Bandcamp / YouTube