Suzan Peeters
Suzan Peeters is a Brussels-based accordionist, experimentalist and improviser from Belgium.
---
Peeters is constantly looking for new timbres and sound textures within her accordion. She experiments with the acoustic sound possibilities of the accordion and likes to create the illusion of a synthesizer sound, using the bellows in a very extensive way. The combination with electronics makes the line between acoustic and electronic sounds even more blurry.
"The accordion has an electronic sound character on its own"
You started playing the accordion at the age of 8 at the music academy in sint-niklaas. Can you remember what your initial motivation was to learn the accordion? Why did you choose the accordion?
Suzan Peeters: When I had to choose an instrument, my older sister and my dad were already playing the piano. At first, I was tempted to choose the piano as well, as we owned a piano at home so it would be an evident choice. But I noticed while my sister was practicing, my dad often couldn't resist correcting her or giving her advice, which she considered very frustrating. I didn't want to be in the same situation, so I decided I wanted to do something different. In the end I chose the accordion because it was like a "portable" piano. It maybe wasn't love at first sight, as the accordion is not the most "elegant" or "prestigious" instrument, which made me wonder if I shouldn't have chosen a more "girly" instrument. But along the way I realized what a magical, versatile instrument the accordion is.
You add live electronics when you play the accordion. Why?
Adding electronics to my performances gives me so much more possibilities. Since September I have been studying Live Electronics at the Conservatory of Brussels because I want to further develop and explore new ways to use electronics in my live performances to broaden the acoustic sound of the accordion even more. I am still mostly fascinated by the acoustic sound of the accordion. I have been experimenting with extended techniques by preparing the instrument, for example by putting little pieces of papers inside. For a few months I have been using a massage board in my performances. This makes the accordion vibrate, which sounds like an oscillator. It's an effect which sounds very electronic, being created completely acoustically. It doesn't even need electronics anymore!
Do you feel you carry the folk tradition of the accordion with you when you play the accordion?
My work is not related to folk. I am trying to show other facets of the accordion, focusing on timbres and textures, rather than actual melodies. However, I really enjoy listening to Scandinavian folk music on accordion. During lockdown I've been playing many folk melodies by listening, which is a fun way of training your ears.
You say you want to play your accordion as a synthesizer. Why? How are a synthesizer and an accordion linked to each other?
The accordion has an electronic sound character on its own. There are several similarities to a synthesizer. The instrument has a wide tone range as well as many registers. These registers all have different timbres just like a synthesizer has many options. But the real magic of the accordion are the bellows: the lung of the instrument (this is the middle part of the accordion, which opens and closes while playing). You can make many dynamic shifts by changing pressure on the bellows. Besides that, you can also make oscillator sounds come out of the accordion by giving little shocks to the bellows with your leg, or like I do, with a massage board.
Do you do live compositions or improvisation?
I always start making music by experimenting and improvising on my instrument. But when I have a concert, I like to structure my performances into compositions. Recently I have also been working on audiovisual compositions, where sound and visuals go hand in hand. Movement and humor are two aspects I often like to include in my work as well. My newest piece is called 'Gymform Leg Accordion,' written for accordion, massage board, visuals, and electronics. It will premiere at the end of June, which I am looking forward to!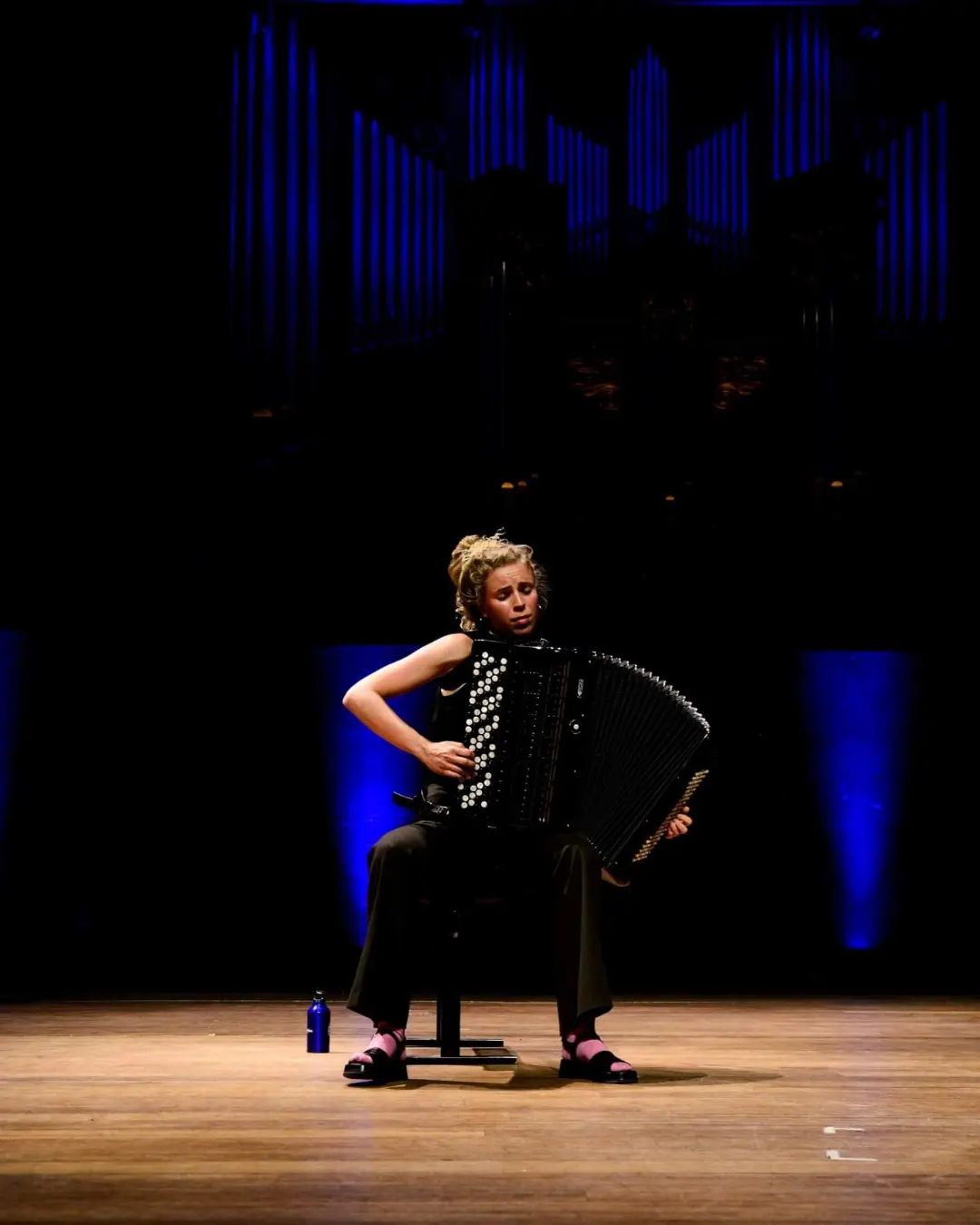 You play live a lot but have not released music. Why do you concentrate on playing live (and not on recording)?
I am trying to do both, but I haven't shared any of my recordings yet. I will release music in the future, but I am currently really enjoying exploring my instrument and my massage board as well as composing. Playing live gives more space to experiment and try out new stuff. After a performance, I can restart or adjust things, whereas released music is something permanent and not adjustable anymore, which scares me in a way. I am still figuring out my musical language by experimenting and creating, which is what I love doing the most.
Joeri Bruyninckx
---
Headline photo: Raphael Gimenes
Suzan Peeters Official Website / Instagram / YouTube