'Fungal Mountain Breakdown' by JD Pinkus & Tall Tall Trees | New Album, 'Ponder Machine'
Exclusive video premiere of 'Fungal Mountain Breakdown' by JD Pinkus, taken from the upcoming album, 'Ponder Machine,' out June 30th  via Shimmy-Disc/Joyful Noise.
---
Today, Shimmy-Disc announces the forthcoming release of a brand new record, 'Ponder Machine,' the heady new concoction from banjo virtuosos JD Pinkus (Butthole Surfers) & Tall Tall Trees (Mike Savino), due June 30. The new LP — which contains the spirit of high mountain bluegrass, laden with profound and somewhat sinister depth — is introduced with the following: Take a Deep Dive into their secluded mountain stream, but beware the rapids and hang tight to your tube! That heretic howl is not in your imagination, and yes, the ancient trees may shift slightly as you rocket past, just enough to offer a glowing glimpse into the strange new world illuminated by a pair of passionate, psychedelic banjo masters.
If a trembling string fails to find its traditional fret, the network of fungi beneath your feet may be alerted by the wanton sounds of SpaceGrass (or is it "SlowGrass" ?) shifting magnetically in the cosmic blue-lit forest. Watch out for boiling soils beneath your feet. Hold tight in that brainy space between your ears – better just lay back and enjoy the long slow slide.
Alongside the record announcement, today also sees the arrival of its first single, 'Fungal Mountain Breakdown,' with an accompanying video.
On the track, Pinkus wrote: "Only two Banjo pickers in the world know how to play this song and when played at the proper tempo and tuning, it can transport the players and the listeners to other dimensions. We were lucky enough to capture it on tape one day…"
In August of 2022, Kramer parachuted into Asheville, North Carolina to record a mysterious LP of collaborative banjo studies by JD Pinkus & Tall Tall Trees. Pinkus is best known as the bassist who replaced Kramer following his exit from the Butthole Surfers (and his years with The Melvins), and Joyful Noise Recordings artist Tall Tall Trees (aka Mike Savino) is a stunningly talented multi-instrumentalist, known for his work with Kishi Bashi, along with his pioneering excursions into the world of his Banjotron 5000.
Within hours of Kramer's arrival, things got entirely out of hand (in exactly the manner he had hoped), and the results are sure to rewrite the way people see, hear and think about the banjo. 'Ponder Machine' proves in a thousand ways that the possibilities are limitless, and the extra 30 minutes of music you get when you buy the cassette version (or download the digital-only tracks) just hammers the point home. There is a method to their madness. Listen closely and you will hear it.
Think John Cage meets Bela Fleck meets Brian Eno. The banjo has never been chewed up and spit out so lovingly. JD Pinkus brought his mushrooms and effects pedals. Mike Savino brought his sourdough and his psychedelic street-smarts. Sweet dreams, y'all.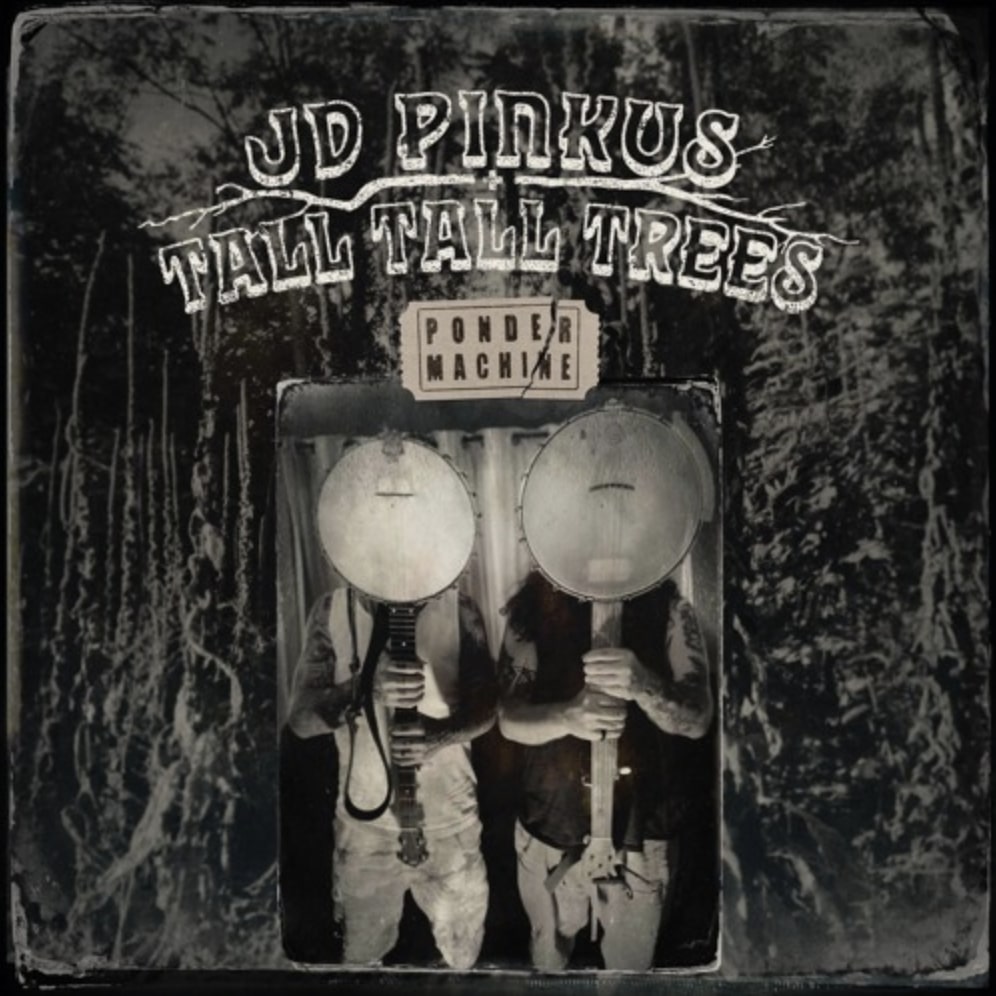 On the recording of the LP, Savino wrote: "The unlikely-hood of two traveling one man psychedelic banjo bands living on the same hill in Asheville, North Carolina is well, possibly less rare than in other places, but definitely a good start to a one-liner. Having JD Pinkus and Kramer in my studio for 10 days during a record setting August heatwave has permanently altered my consciousness. We began recording with the semblance of a plan and soon abandoned that plan to chase rabbits. I honestly cannot remember recording much of this music, not due to substance or faulty memory, but because I completely let go. I became a spectator. The entire record feels like a collective fever dream and I will cherish the time we spent making it for a long long time. I no longer want to think about music, I just want to do it. I don't even remember."
---
Headline photo: Sandlin Gaither
JD Pinkus Official Website / Facebook / Instagram / Bandcamp / YouTube / SoundCloud
Shimmy-Disc Official Website / Facebook / Instagram / Twitter / Bandcamp
Joyful Noise Recordings Official Website / Facebook / Instagram / Twitter / Bandcamp / YouTube
'Fungus Shui Trinity' by JD Pinkus | New Album, 'Fungus Shui'
'Woke Up Dead' by JD Pinkus | New trippy banjo album, 'Fungus Shui'