Foghat – 'Road Fever – The Complete Bearsville Recordings 1972-1975'
Mistakenly believed by many to be an American band, Foghat actually emerged from the British blues boom, forming in London in 1971 when Savoy Brown's "Lonesome" Dave Peverett (guitar and vocals), Tony "Tone" Stevens (bass and harmony vocals) and Roger Earl (drums) joined forces with Black Cat Bones' Rod "The Bottle" Price (lead guitar and slide guitar).
---
The band was quickly signed by Bearsville Records, home to Todd Rundgren among others. Over the next three years Foghat released five studio albums which Cherry Red Records has compiled, supplemented by a disc of single versions, in the new six disc 'Road Fever' box set on its HNE imprint.
Disc one contains the July 1972 LP 'Foghat' which opens with the band's signature song, a cover of Willie Dixon's 'I Just Wanna Make Love To You', a rocking guitar oriented number which although peaking at a disappointing #83 when released as the group's first single has been a classic radio staple and remains so until this day. The long player, produced by Dave Edmunds, topped at #127 on the Billboard charts but sold consistently enough to give Foghat its first gold album reaching sales of 500,000 units. The LP consists of six originals written or co-written by Peverett and three covers including a take on Chuck Berry's 'Maybelline' and a nearly eight minute version of Deadric Malone and Andre Williams' 'Gotta Get to Know You' the album closer with future band producer/member Nick Jameson contributing Mellotron. Price's slide work is dominant throughout, shining on such tunes of 'Trouble, Trouble', 'Fool's Hall of Fame' and 'Leavin' Again (Again!)', while he displays his use of the wah wah pedal on 'A Hole To Hide In' which appeared in edited form on the b-side of 'I Just Want To Make Love To You'.
Disc two has the nine tracks composing Foghat's second s/t album, which has come to be known as 'Rock And Roll' with its cover artwork consisting of a photo of a rock and a bread roll, this time produced by Tom Dawes, formerly of American pop rock band The Cyrkle ('Red Rubber Ball', 'Turn Down Day'). The LP reached #67 on the charts with Price's slide guitar again to the fore, straight from opening track 'Ride, Ride, Ride', a Peverett, Price composition which failed to chart when released, in an edited version, as a single, followed by the group's take on Chuck Willis' 'Feel So Bad' and 'Long Way To Go', the first release credited to the entire quartet, which also failed to chart when issued as a single, as well as Peverett and Price's uptempo rocker 'She's Gone' and the box set's title track, a 50's influenced mid-tempo tune with horns, and the Peverett written 'Couldn't Make Her Stay', a gentle, acoustic blues number which closes the long player. 'What A Shame' penned by Price is a showcase for the guitarist's flat-picking and also failed to impact the single charts.
Disc three's eight tracks comprise January 1974's 'Energized'. Again produced by Dawes, the album opens with 'Honey Hush' a Big Joe Turner tune, done in uptempo fashion with a soaring slide solo by Price, bringing to mind The Yardbirds' 'Train Kept A Rollin''. The band composition 'Step Outside' features outstanding wah wah-aided lead guitar and an extended solo by Price, but failed to chart when released in an edited single version. Also notable is the band's rocked up cover of Buddy Holly's 'That'll Be The Day' which saw release as a single although it too failed to dent the charts. Price's slide solo on the Stevens composed 'Fly By Night' shines as do his solos on the nearly seven minute 'Nothin' I Won't Do'. The album peaked at #34, going gold immediately upon release.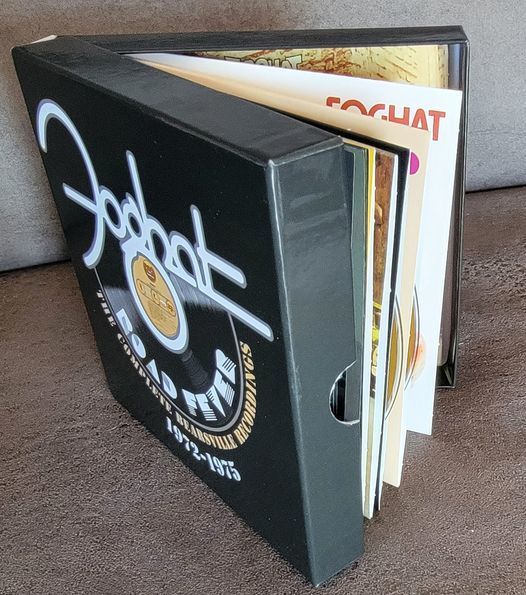 Disc four has the eight tracks from October 1974's 'Rock And Roll Outlaws' which brought a new producer, Nick Jameson, and a fresh sound to Foghat. A change in the way microphones were used on Peverett's vocals brought a more commercial sensibility to the band's recordings. The album opens with a fine cover of the Michael Gayle/Jerry Ragavoy penned 'Eight Days On The Road' with Jameson contributing bass and guitar and Rod Price delivering two tasty solos. Peverett's vocals give melodic, commercial appeal to the album, making virtually every tune a potential single although none was to break the charts. Price's guitar shines, without slide usage, on 'Hate To See You Go' and 'Dreamer', with the band settling into an especially relaxed groove on the latter. 'Trouble In My Way' is a change of pace, with Price's acoustic slide solo and Peverett's gentle vocals to the fore. The LP's title track is a sprite, melodic number, again showcasing Peverett's smooth vocals. 'Shirley Jean' hints at things to come with its roaring slide solo by Price, piano and horns adding to the boogie feel. A cover of David Anderson's 'Blue Spruce Woman' spotlights Price's guitar work, with and without slide. The album's closer 'Chateau Laffite '59 Boogie' is a snappy rocker, Jameson and Earl holding a tight groove, Peverett's vocals delivered smoothly and Price's slide supplying the outro. The LP peaked at #40 and gave Foghat its third gold album.
Disc five spotlights Foghat's breakout September 1975 album 'Fool For The City', again produced by Jameson (who is also on bass replacing Stevens) and containing the band's two biggest hit singles to that point. The LP begins with the title track, Jameson's keyboards and Peverett's vocals giving the tune its commercial hook, complementing Price's slide work. The track was a commercial success, reaching #45 when released in an edited version as a single. A cover of the Righteous Brothers' 'My Babe' is a gorgeous bit of boogie with Price's slide fitting the commercial hook wonderfully. The album's magnum opus is the eight minute 'Slow Ride', penned by Peverett, featuring an insistent riff, funky bass by Jameson, melodic vocals by Peverett and more luscious slide work from Price. The tune features a drum and vocal midsection break before the familiar riff returns. The song was a huge success as a single, peaking at #20 in a four minute AM radio version, and was also issued in a six minute edit for FM, where it remains a classic rock favorite along with 'I Just Want To Make Love To You'. A cover of Robert Johnson's 'Terraplane Blues' is an ideal fit for the band with Price's slide guitar and Peverett's vocals joining an insistent riff held by Jameson and Earl. 'Save Your Loving For Me' has a mid-tempo balladish melody with natural commercial appeal. 'Drive Me Home' is a bluesy boogie tune with Price's flat-picked solo joined by Jameson piano accents, with Jameson and Earl holding a steady beat. The album closes with Peverett and Jameson's 'Take It Or Leave It' a mid-tempo number with bluesy vocals by Peverett. A rare non-guitar driven endeavor, Jameson's keyboards and Price's guitar carry the beautiful melody, Jameson and Earl holding down the bottom end.
Disc six contains thirteen single versions, beginning with three minute mono and stereo edits of 'I Just Want To Make Love To You'. 'What A Shame' is presented in three versions, a stereo edit of just under three minutes as well as mono and stereo edits of just under three minutes. Stereo edits of "A Hole To Hide In', 'Ride, Ride, Ride', 'Long Way To Go', 'That'll Be The Day', Step Outside' and 'Fool For The City' join two stereo edits of 'Slow Ride', one just shy of four minutes for AM radio and another just under six minutes intended for FM radio. This disc is a wonderful bonus and will make this set hold special interest for fans of the band and collectors alike.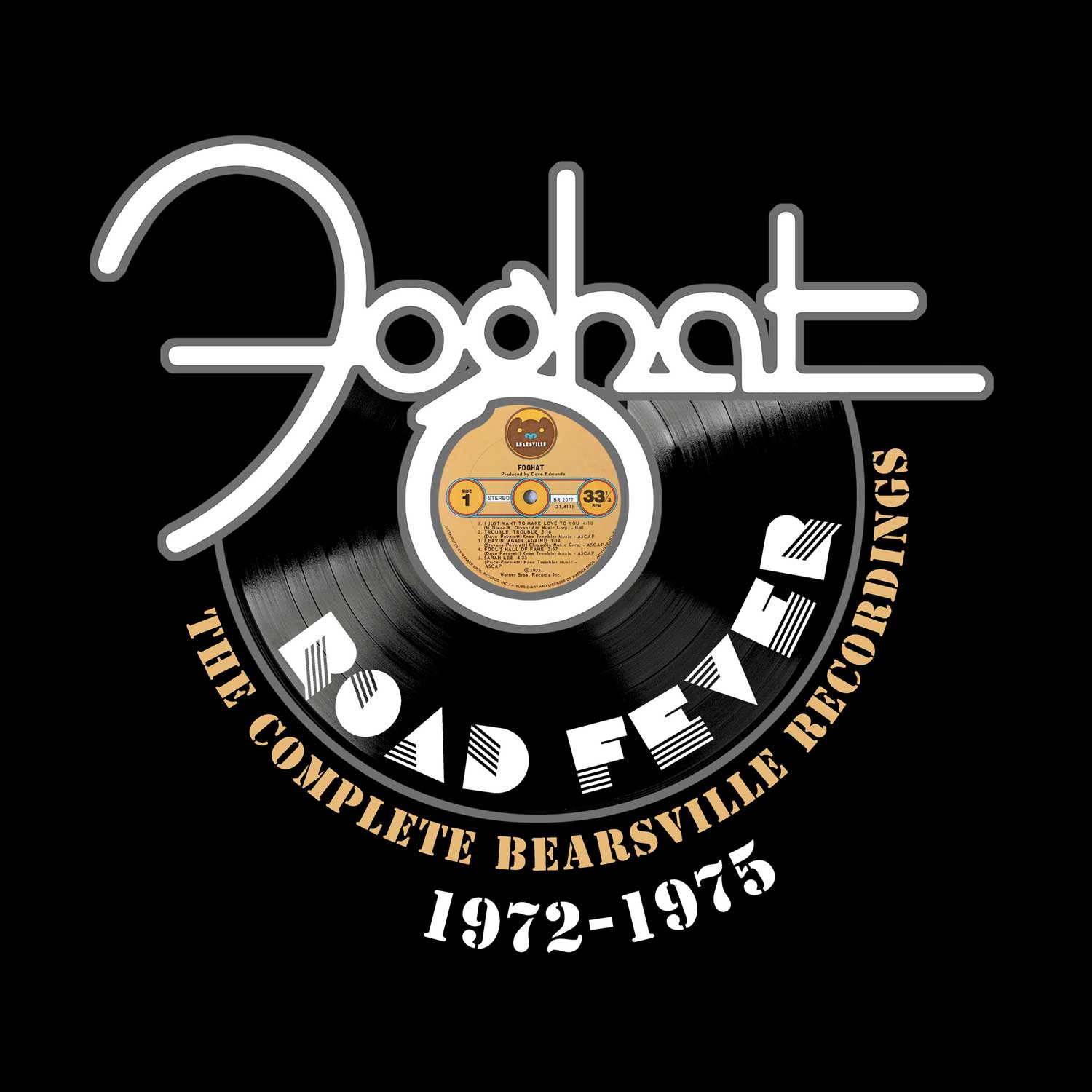 The six discs of 'Road Fever-The Complete Bearsville Recordings 1972-1975' come in cardboard mini-LP sleeves which fit nicely into a clamshell box. The set includes a twenty page full color booklet, with complete track listings and musician credits, liner notes by Xavier Russell, along with band and 45 artwork. Foghat has never sounded better thanks to the mastering job by Tim Debney at Fluid Mastering. The set will be of interest to fans of Foghat, 70's rock and classic rock and comes highly recommended.
Kevin Rathert
---
Foghat – 'Road Fever – The Complete Bearsville Recordings 1972-1975', 6CD Box Set (Cherry Red Records)