Joey Skidmore | Interview | New Album, 'Riot on Kansas City Strip' by The Nuclear Banana
Joey Skidmore has played with several garage psych bands since the 80s, while recording a string of independent releases. He is part of the Nuclear Banana which includes original members of the Standells, the Fuzztones, the Del-Lords, and Vanilla Fudge.
---
Born in Baltimore MD, but grew up in the heart of the Ozarks in Springfield Missouri, after relocating to Kansas City in 1989, Joey reformed the Joey Skidmore Band with guitarist Mike Costelow in 1991.
Over the years the Joey Skidmore Band has played festivals including SXSW in Austin TX, Summer Jam in Kansas City, July Jamm in Lincoln NE, Big Muddy Blues and Roots Festival in St. Louis MO and Skid-O-Rama Fest in Kansas City. They've done five tours of France, and opened up for an eclectic variety of acts including Chuck Berry, Helmet, Blue Öyster Cult, Webb Wilder, Nazareth, Gravity Kills, George Thorogood, the Shadows of Knight and Black Oak Arkansas.
Skidmore is currently promoting a fantastic album called 'Riot on Kansas City Strip' under the name the Nuclear Banana, featuring original members of the Standells, the Fuzztones, the Del-Lords, and Vanilla Fudge.
"Unless I need new material to finish up an album, I may only write a few good songs a year"
I've been really enjoying your latest album, 'Riot on Kansas City Strip' by a project named The Nuclear Banana, featuring members of the Standells, the Fuzztones, the Del-Lords, and Vanilla Fudge. How did the project originally start?
Joey Skidmore: Well, I'd been playing with Elan Portnoy, who started the Fuzztones, for a while since he moved from Brooklyn to Lawrence, Kansas. He'd agreed to play one of the early Skid-O-Rama Fests, and so he kept playing with Joey Skidmore Band, even though we were only occasionally gigging at that time. He's one of these guys who has a lot of irons in the fire, but I think he was excited about getting to play with people like Mitch Ryder of the Detroit Wheels, Jimy Sohns of the Shadows of Knight, and Tony Valentino of the Standells! Elan was the one who suggested "Why don't we cut an album with some of these legendary guys from the '60s? I could probably find a label deal for it, and you know there would be an interest in it."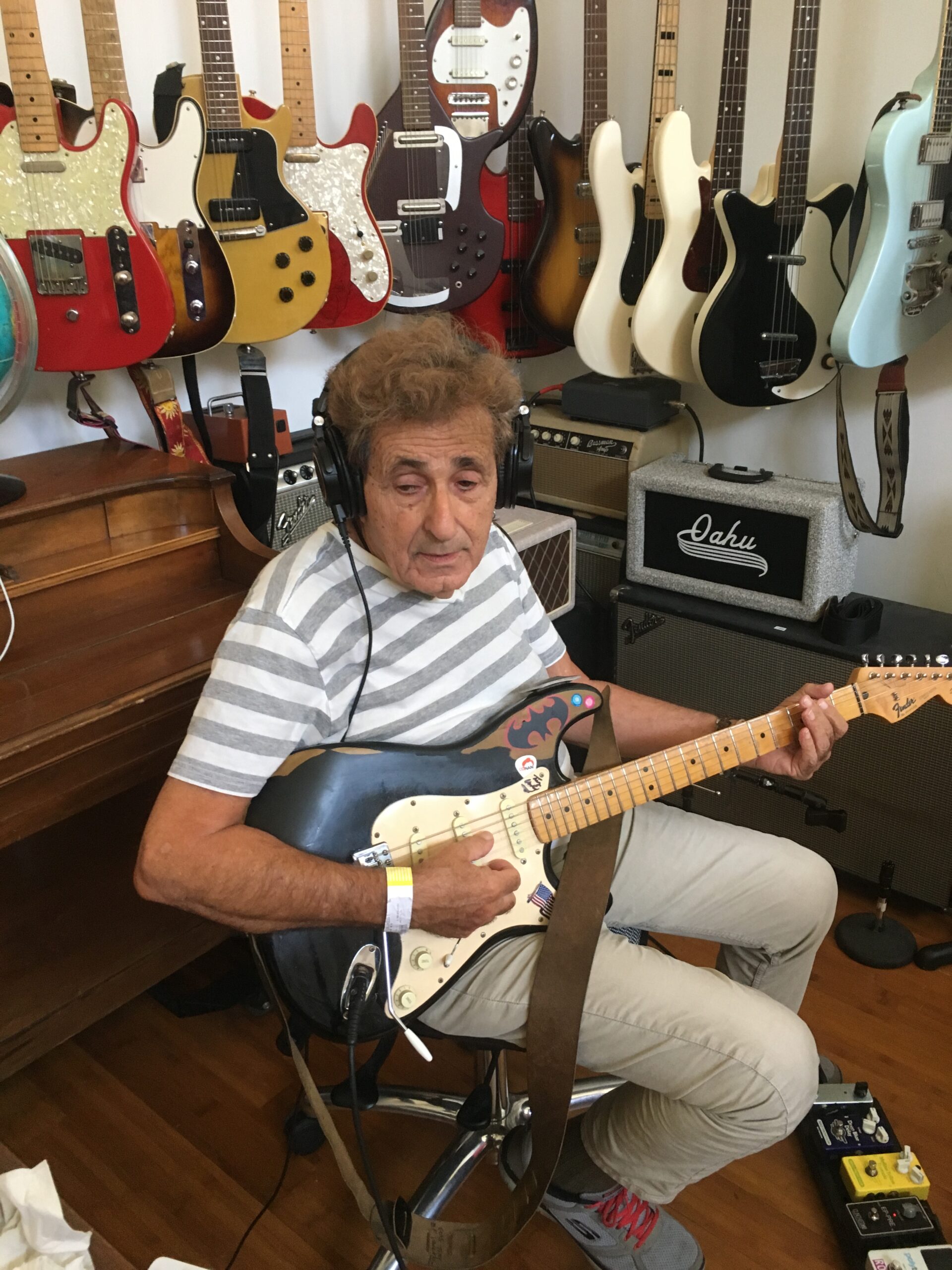 Where did you meet members of those legendary bands?
Tony Valentino and I have been pretty good friends since we brought him to town about five years ago for Skid-O-Rama. The crowd loves him, not only because he's a great entertainer, but also because he's just one of these legendary, iconic figures—one of the original rock and roll guys, and pioneer of the fuzz guitar. Anyway, I'm proud of some of the songs I've written over the years, but I'm not very prolific. Unless I need new material to finish up an album, I may only write a few good songs a year. This year has been better, 'cause I've been doing music full-time, and not working a "straight job." But I'll usually start with the lyrics; not always, sometimes I'll come up with a cool riff first and go from there. I don't really collaborate very often, but I'm good at coming up with a melody and words for someone else's riff or progression. I consider myself a better lyricist than I am a musician. Tony, on the other hand, is extremely prolific and constantly writing and recording new material. He'll have some really cool ideas and string together a bunch of quirky chord changes that work somehow, but he usually doesn't have the lyrics, so that's where I came in. The first song for the new album that we worked on was 'Scooter Girl,' and we sent files back and forth from Tony's studio in L.A. to the studio I was working at in Kansas City, bouncing around ideas, editing chord changes, adding parts, cutting parts, et cetera. Finally, I realized we could keep screwing around with that one song forever, so I suggested going to New York to Eric Ambel's studio, and doing it up right! 'You're Worth the Risk' came together pretty quickly after that.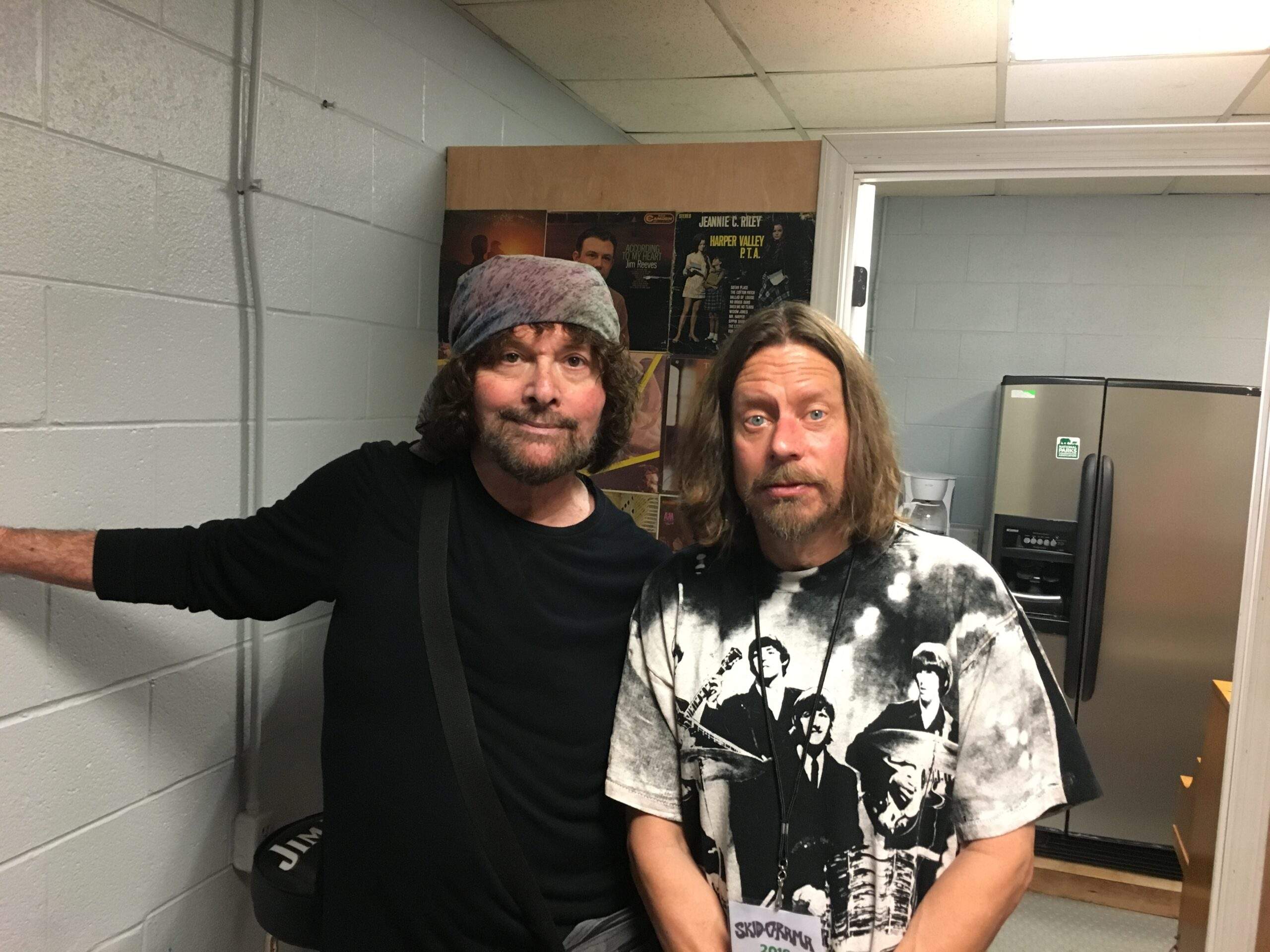 Our drummer, Manga (whose real name is Pascal Manganaro), has been one of my best friends for about thirty years! He'd toured with Joey Skidmore Band several times, played with Les Fossoyeurs du Rock (the Gravediggers of Rock) for forty years, and played with a million other bands such as Les Marteaux Pikettes (which roughly translates to female jackhammers), Guillotine, Killing Flies, the Gelateens, Dimi Dero Inc., 3 Headed Dog, et cetera. He's one of the best drummers in Paris, but he's also done a lot of touring in Europe, Australia, Asia, the U.S., et cetera. So I just sent him a message and said let's meet in New York, and cut an album, and he said "Let's do it!."
As far as bass goes, I'd really only worked with four bass players in the last thirty years, but neither of my friends Cory Corbino or Mike Costelow were able to do it, so Roscoe (Eric Ambel) called Jeremy Chatzky, a well-known New York guy, and asked him to do it. Although we've gotten my friend Stephanie Shelton to do the live shows, Jeremy did subtle, but rock-solid tracks for the entire album!
Besides Tony Valentino playing some Farfisa or Vox, or whatever it was on a couple of tracks, the two main keyboardists on the album are Mark Stein of Vanilla Fudge, and Ken Lovern. For anyone who's ever heard the hard rock version of 'You Keep Me Hangin' On,' Mark Stein needs no introduction. He's not only a virtuoso, but he also has a great voice. He actually sounds just like he did on the first Vanilla Fudge album from 1967, which is one of my all-time favorite albums, by-the-way! Ken Lovern is a Kansas City rock and blues and jazz legend. He now plays Hammond B3 organ at the Green Lady Lounge–which is one of the coolest joints in Kansas City—five or six nights a week, and teaches school during the day. He's an old friend of mine. I haven't really known Mark Stein and his wife Patty for that long, but we developed a good rapport rather quickly. Mark comes across as a bit reserved or even shy, but he also struck me as just a really nice, unpretentious, down-to-Earth guy. I felt like we clicked really well, and when Mitch Ryder was unable to sing the duet of 'Eve of Destruction' with me due to his back surgeries, Mark stepped right in. Mitch Ryder and I did a duet of 'Mama Told me (Not to Come)' together on stage in 2017, and I still hope to be lucky enough to work with him again in the future! I've never gotten to work with him in the studio, so far…!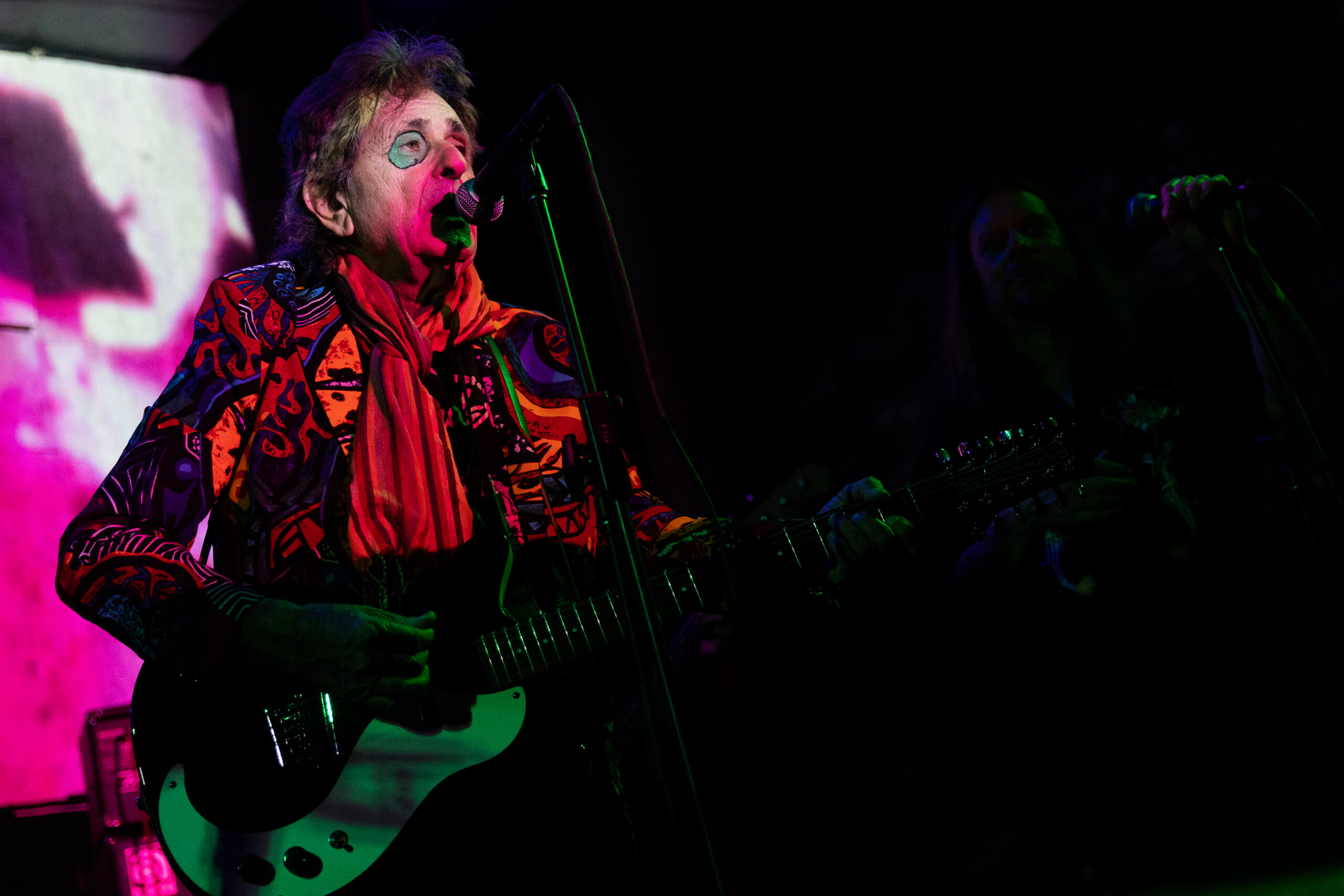 And last-but-not-least, Jazzbo! Bill Hargrave is an old Kansas City hippie, with his personalized license plate proclaiming "Jazzbo." Besides being Kansas City's "One Man Band," he's a trumpet player by trade, but also gets some amazing sounds out of a giant conch shell! He was an interesting addition to this project, playing on my song 'Harry's Ghost' with all these brilliant musicians from all over. Although he'd played on the Fossoyeurs album that I produced, this was the first time he'd played on one of my tracks since Manga, Mike Costelow, Nikki Sudden and I recorded 'Ventriloquist Doll' outside of London in 2003! To be more specific, it was WBRS, Woodbine Street Recording Studio in Leamington Spa with John Rivers. The Spanish label Sunthunder Records finally released the finished product in 2008! One of my best albums, I think.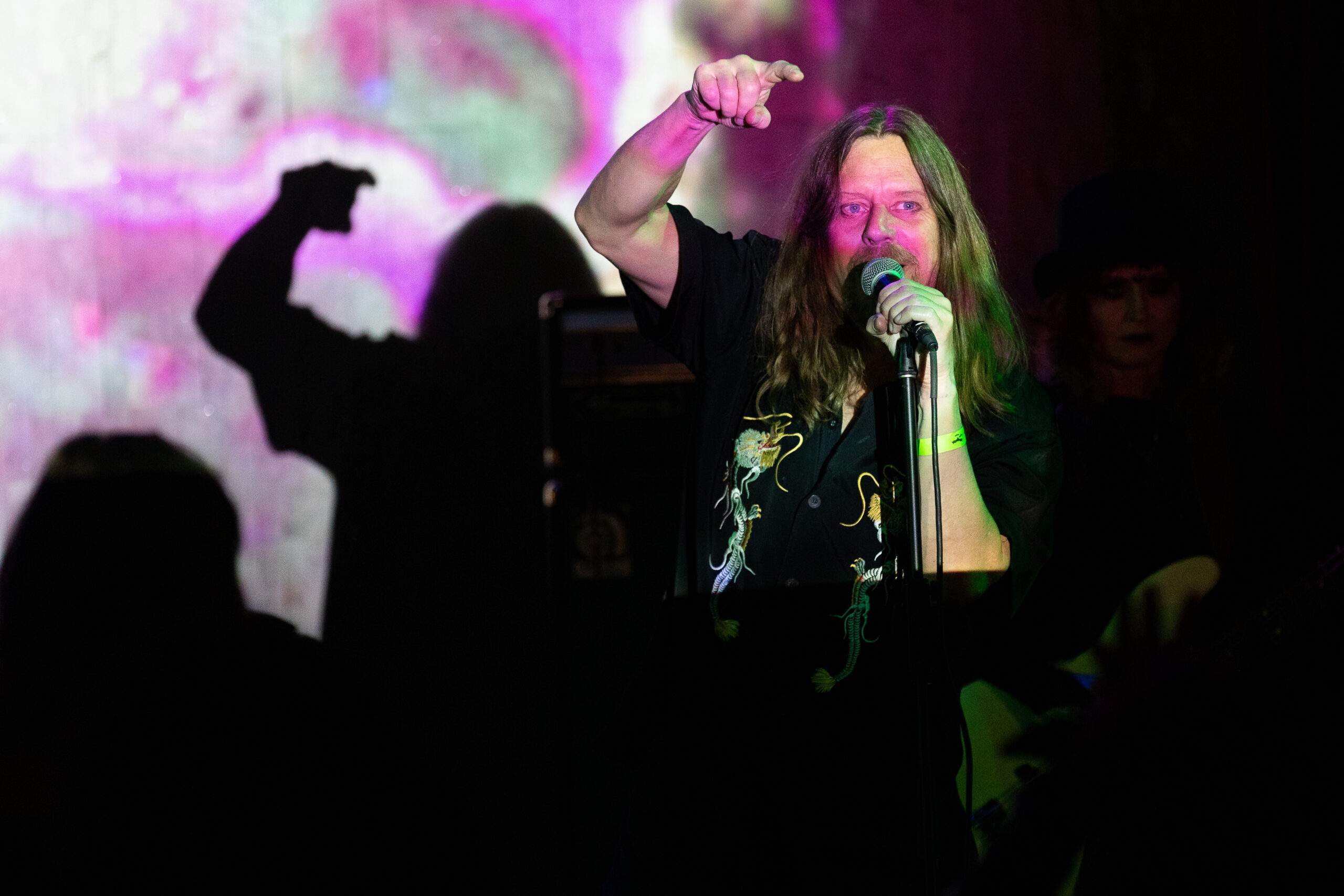 Jazzbo was also featured in two of the films I've done: a short called "Legend of the Shoe Man" in 2000, and "Kiki Meets the Vampires"–alongside Manga, Kiki and Les Fossoyeurs–in 2004. He's also performed in productions like "Shakespeare in the Park."
Would you like to share some further words about the writing, recording and producing of 'Riot on Kansas City Strip'?
Sure! Basically, Pascal (Manga) flew to New York from Paris, Tony (Valentino) flew in from Los Angeles, and I flew in from Kansas City. Elan was unable to make the trip due to personal reasons, and overdubbed his tracks later. Tony almost didn't make it, either! He was in the emergency room the night before until 2 or 3 in the morning, and actually had to cancel and rebook the trip at the last minute. Fortunately, it was something like kidney stones or gallstones, something that took care of itself at the last minute, and he was able to make the flight—albeit, I think he was still kind of fucked up from the pain meds, and of course the entire horrible experience! So most of us made it to New York to record with Eric for two days. Unfortunately, JFK is a huge airport and by the time we'd all arrived, gotten our luggage, and Manga had cleared customs, it was already 2 am or something like that.So we finally got organized, and took an Uber to our Airbnb, arriving about 3 in the morning. I had the printout with most of the information on it, except for the most important part: How to get into the building! No instructions, no sign of a key. After several unsuccessful attempts to contact our host, we asked the driver if he knew where a decent, inexpensive hotel was. He grunted, "yeah, he could take us to one, so we ended up at the King's Hotel." I'm unfamiliar with Brooklyn and New York City, but it was at 2416 Atlantic Avenue, and was lit up all over with bright colored, pretty lights, like a strip club. Apparently, it was a hooker hotel, with several "ladies of the night" hanging out, out front—many of them black, trans, girls. None of us wanted guests, and I even secured my own room by telling my buddies that I snore, which is true—especially when I'm travelling! It may have been a hooker hotel, but the rooms were clean and nice, and the desk-clerk was polite and accommodating, speaking in a thick, West African accent!
The next day, we needed to get an Uber, but my old phone was dead! Of course I had no charger. And of course I was the only one with an Uber app that worked in the United States! The desk clerk was nice enough to let me borrow his charger; however, it was some kind of cheap, trickle charger, and my old phone took about a half hour to fire up!
We got to Eric Ambel's studio an hour or two late, but I'd called ahead of time and told him what was going on, so he was cool with it. The first day was spent cutting the basic rough vocals, rhythm guitars, bass, and drums for the first six tracks. The second day was strictly for overdubs, with a final product of rough mixes to take home and listen to when we flew out the next day. It seems like it took an eternity to get started, and the files for 'Scooter Girl' that we were trying to transfer to Brooklyn took forever to download. Fortunately, they were on time with a drum machine or what they call a "click track," which is like a metronome to keep everybody together! So from that point on, things went pretty smoothly for the most part. Pascal is a rock-solid drummer, and Jeremy is a well-schooled, professional bass player who has even worked with people like Bruce Springsteen. The overdubs were tougher, but I believe we managed to get all my initial rhythm guitar tracks done, along with most of Tony's remaining tracks, including his lead vocals on 'Sometimes Good Guys Don't Wear White,' which he originally did with the Standells, back in the mid-'60s, resulting in a top-40 hit in the United States and elsewhere. We also got our backup vocals done with Roscoe, Manga, Tony and me. There were some disagreements over what harmonies to sing—if any—or whether to sing "gang vocals" in unison, but thanks to the patience of engineer Mario Vielle, we got the job done.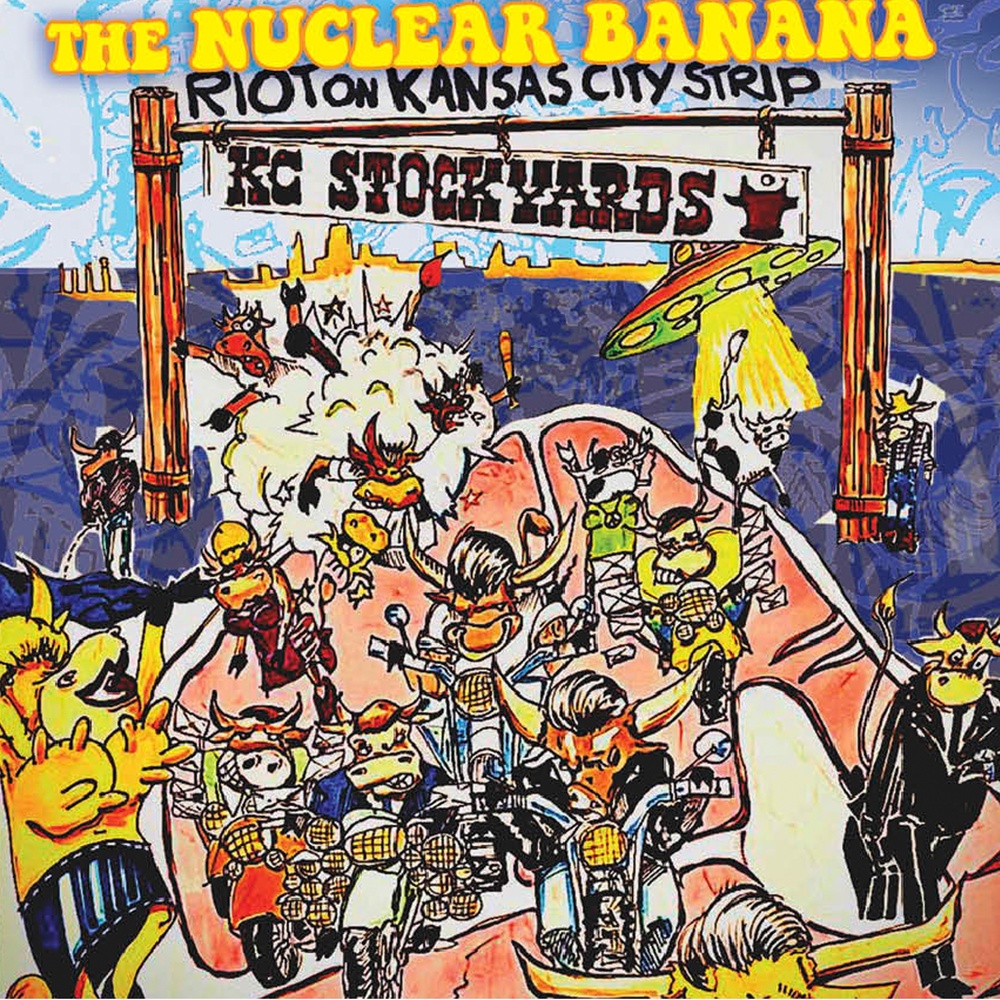 Mark Stein did his overdubs at some studio near Ft. Meyers, Florida, where he and his wife live, and even though the engineer flaked out and took forever to send the files to me, Mark made sure I got them and that they sounded great! Ken Lovern did his overdubs in his garage in Overland Park, Kansas and they sound great too!
Then the pandemic hit! Everything was shut down! Everybody freaked out! My wife, Iryna Stroganova, and I got Covid before there was a safe, effective vaccine (or any kind of vaccine). We survived and figured it gave us some limited immunity, at least. So we weren't too worried, but everything went under lockdown. Night clubs and concert halls shut down. People walked around grocery stores with gas-masks and hazmat suits on…. Can't really say I blame them, but one of the funniest things we saw was a dude wearing a mask with a hole punched through it so he could smoke his cigarette through the mask. The tinfoil hats were interesting too….
In other words, everybody was forced to adapt, and we were forced to record the final two songs at numerous different studios around the world. The first additional track was one I wrote called 'Harry's Ghost'. I recorded it with a talented, young guy named Justin Mantooth at Westend Studios, right on the state line in Kansas City (which borders the Midwestern states Missouri and Kansas; contrary to popular belief, the city of Kansas City is actually in Missouri, although there is a separate town of Kansas City, Kansas). I started out just playing acoustic guitar on it and singing, along with a click-track. Then it went to Paris, and Joshua Hudes recorded a POUNDING drum track from Manga, along with many different layers of percussion for the middle part, which I suppose was a sort of bridge in the song. Eric Ambel referred to it as "an event," when he and Mario mixed it in New York. I did all the guitar parts on the song, and recorded everything from the sound of a creaky, old, antique, wooden, children's wagon to recording backwards, psychedelic guitar tracks, like I'd done on 'Madras Monkey Man' forty years earlier.
The final track was an instrumental that Tony Valentino had written called 'I Wanna Know'. Tony Valentino and Manga had recorded it in my old rock basement on some simple device like a cell-phone or something. It might have just been the two of them, but someone like Mike Costelow or a keyboardist named Jason Beers might have been jamming with them, too. I'm not sure at this point. But what I do know is that it sounded amazingly good—especially for such a primitive recording! I tried to write lyrics and melody for it, but nothing worked except for the bridge (which is sort of a transitional part of a song). I finally decided it sounded great as an instrumental, if I could just beef up the sound quality and fidelity. Mastering will only do so much. Again, I sent it to Paris for Manga to play drums on it (along with the recording of himself in my basement). I also went into Westend Recording with Justin (Mantooth), and mimicked Tony's original guitar several times, so they would sound "stacked" or full. The sound was weird and phasey, or out-of-phase, and the timing was weird and needed a ton of editing; however, eventually it sounded good enough to send to Jeremy Chatzky for the bass. At this point, Ken Lovern overdubbed the organ in his garage, and I laid down what I consider to be some of my best lead guitar tracks to date! It was certainly my best guitar sound I've ever gotten, thanks to my 1974 Fender Deluxe amp, which Elan Pornoy had just refurbished for its optimal sound, and thanks to engineer Justin Mantooth, who not only isolated it and miked it just right, but accidentally knocked the volume, turning it up to "10," orfull-blast, all the way, before plugging in a beefy overdrive pedal! Too bad the amp didn't have an "11," (laughs) and fortunate it didn't blow it up! Like many engineers, Justin wanted me in the control room with him while I did the solos, to facilitate communication, but as a guitarist, it just isn't the same. I have to be in the same room with my amp so I can really control the sound, from the ground, so-to-speak!
So that's how the tracks were recorded. Justin Mantooth at Westend in Kansas City did the final mastering job. I've worked with some good mastering guys in the past: Most of the albums that Lou Whitney recorded, mixed, and produced were mastered by a guy named Randy Kling in Nashville. I don't know if he's still around or not, but I think he was Lou's go-to guy. He did an incredible job—especially for the vinyl! He'd actually do the lathe-cutting, and the plating, and the records always sounded great! John R. Rivers, in the U.K. also did a fine job. He recorded and produced many of the late Nikki Sudden albums, as well as Love and Rockets, the Specials, et cetera. Paul Weller of the Jam and the Style Council also worked with him….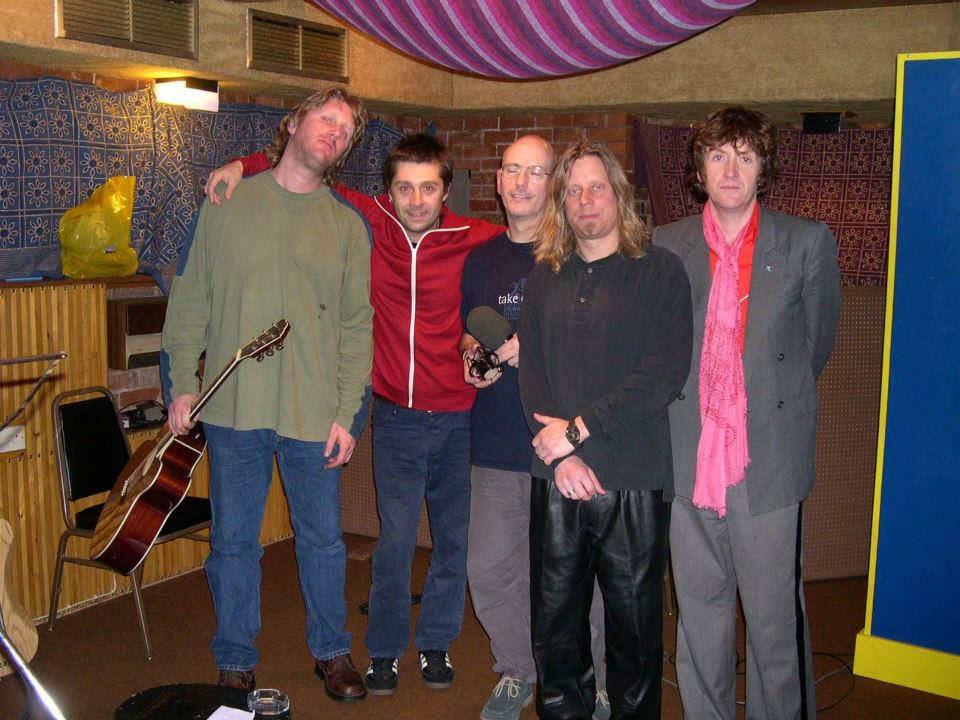 The name must be a tribute to the Riot on Sunset Strip?
(Laughter) Ha, yeah obviously! Although graphic designer Isaac Meek sort of packaged it up for us, my gorgeous wife, Iryna Stroganova, did the front cover art! It's a mods versus rockers theme—except…? Yeah, you guessed it…they're cattle, and we're considered a cow-town, ha ha! We are a classic, Midwestern American city, right on the Missouri River, which facilitated trade a hundred years ago. The home of outlaw Jesse James is also near here. Oh yeah, and Chuck Berry is from Missouri! I was lucky enough to meet Mr. Berry, the real King of rock and roll, a couple of times before he died. I also got three albums autographed by him (and he is NOT known for enjoying signing autographs). The Joey Skidmore Band even opened for him in the late 1990s, in the Duck Room of Blueberry Hill in St. Louis!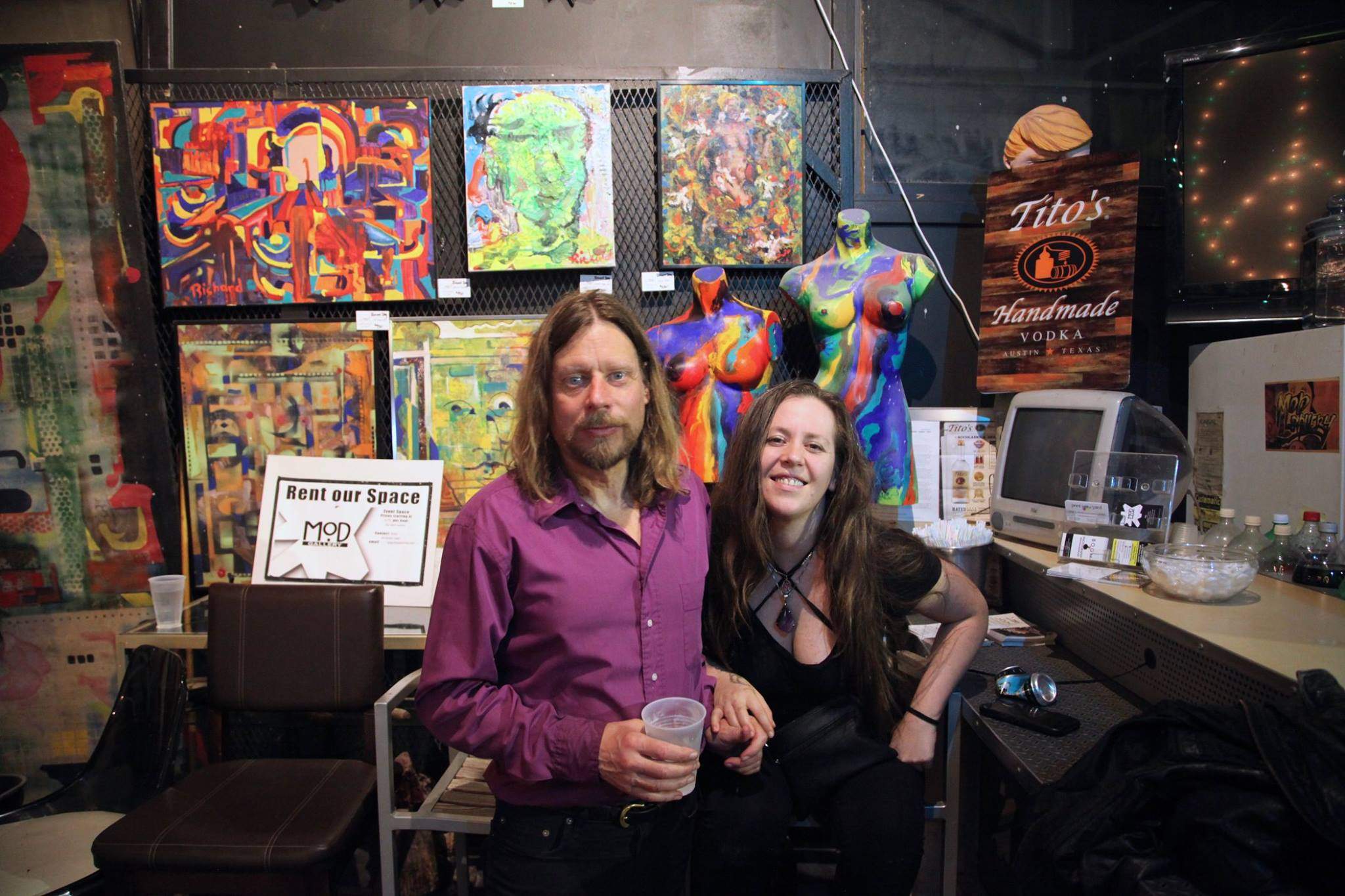 Anyway, I digress… If you'll notice the cover of the Nuclear Banana album, not only are the cows escaping the Kansas City stockyards, but the mods and rockers are fighting amongst themselves! When I first mentioned the concept to artist Isaac W. Meek, he looked at me like I was crazy! For people who don't get the references, try watching the classic films "Quadrophenia" and "Riot on Sunset Strip"! Being a big fan of the Who, I was a bit disappointed with their film "Quadrophenia," but consider the album, with Pete Townshend's story on the liner-notes to be one of the best albums of all time! I actually got to hang out with Townshend almost forty years ago, believe it or not, and he indicated he'd been a bit disappointed with some aspects of the film too. There's no way he'd remember me, but I actually got to talk to him for a couple of hours at a small party.
Do you recall how you first got in touch with the music of the Standells, the Fuzztones, the Del-Lords, and Vanilla Fudge?
The Standells, was simply through the single 'Dirty Water'. We listened to the Standells' 45 when I was a kid, and we listened to the Inmates' cover of 'Dirty Water' on their 'First Offense' album when I was in college! Mitch Ryder covered it a few years ago on his album "Detroit Breakout," with the late Syl Sylvain of the New York Dolls playing on it. It was great, but he should have invited Tony Valentino to play on it too, I'm sure Tony would have been honored! Tony and Dick Dodd were the heart and soul of the Standells.
I listened to bands like the Fuzztones, the Fleshtones, and others back in the '80s and I remember my girlfriend Beth, had a copy of the first Fuzztones 12″ record. They were popular in Springfield, MO, and the guys in the Royal Nonesuch worshipped them. I started playing with Elan Portnoy of the Fuzztones, after he moved from New York to Lawrence, Kansas.
Lou Whitney of Springfield, Missouri's Morells produced the first Del-Lords album, right after "Top Ten" Scott Kempner quit the Dictators, and Eric Ambel quit Joan Jett and the Blackhearts. I met them, partied with them, and jammed with them at Lou's studio. They were a really big deal!
When Rod Stewart did his version of 'You Keep Me Hangin' On,' with Carmine Appice, I'd forgotten how it was identical to Vanilla Fudge's version, except for the vocals. Back then Rod seemed like a cool guy, and had a passionate voice, but he didn't really add anything to Vanilla Fudge's rendition. The Supremes original is still awesome too. What impressed me about Vanilla Fudge, though, was they put the keyboards out in front. Lee Michaels pulled it off, Edgar Winter pulled it off, and certainly Leon Russell and Billy Preston put the keyboards front and center, but it was rare for a hard, psychedelic band to have the Hammond B3 organ featured that prominently!
Let's get back to your early days… where did you grow up?
I was born in Baltimore, Maryland, and spent my earliest years in the Washington D.C. area with my parents, 'cause my Dad had some kind of government job. He'd wanted to be an opera singer, but eloping and marrying my Mom kind of killed that one. So as a small child, I lived in Baltimore, and Suitland, Maryland. So then, my parents moved to—of all places–Tuscaloosa, Alabama, a small town outside of Birmingham.
This was the peak of the Civil Rights era, probably between the John F. Kennedy and Martin Luther King assassinations, so I have a lot of weird memories from that period. I remember my Dad walking into a Kentucky Fried Chicken (KFC) place with a "Whites Only" sign in the window, declaring segregation was illegal! I think they thought he was some kind of FBI agent or something! I also remember a big insecticide truck driving by on a regular basis spewing giant toxic clouds of mosquito-killer up and down the residential streets. Some of the children recommended running through the clouds of poisonous, carcinogenic gases, because "It's just like being in heaven!" There was also a giant, stinky, paper mill to further embellish the atmosphere!
At some point, we moved to Springfield, Missouri, where my parents got divorced, and immediately remarried a couple times. After sixth grade, my Mom and her husband Calvin dragged me down to Springdale, Arkansas, which I considered to be the armpit of the world at that time. I was a skinny, scrawny, little kid who didn't fit in (they thought I was "a Yankee")! It was dangerous to go to the bathroom at school, because the windows were all boarded up and the big bullies would come in, turn the lights off and start swinging backpacks, clubs, baseball bats, or any other sort of weapon in the dark—aimed at whoever was unlucky enough to be in there. The Principal and some of the teachers would also beat the kids regularly, and the Principal was said to have "an electric paddle machine" in his office. My dad told me if the Principal ever tried to paddle me to tell him that he would drive down there and break his nose! He wasn't kidding either; he probably would have broken his nose and stuck his head through the glass case enclosing the dead, stuffed panther—the school's trophy and mascot!
So after a year of that I ended up back in Springfield, MO which was a tad better—at least I had friends there. I wanted to play guitar and start a band called "the Psychedelic Psychiatrists," but my Mom wouldn't let me have an electric guitar. I also wanted to have a "dance" with boys and girls, instead of a "boys-only" birthday party, so all the other kids' parents thought I was weird.
Anyway, I stayed in Springfield through high school—where everybody continued to think I was "weird," and for the most part I was an outcast. I even went to college there, as an undergrad.By the time I went to grad school, I was in Kansas City.
What was the scene like in Springfield, Missouri? Were you influenced by mountain music to a certain degree?
Springfield and Branson Missouri were huge country music towns (or hillbilly music as it was originally called). I did get to see Jerry Lee Lewis open up for Porter Waggoner, which was an amazing experience; however,I didn't really appreciate country music that much growing up, and associated it with right-wing bullies, rednecks, and racist cowboys. As my tastes got broader, and more nuanced I've appreciated it more—especially working with people like Lou Whitney and Eric Ambel.
I always loved folk music of a sort, though, and some of the first records I bought were Bobbie Gentry's 'Ode to Billy Joe,' Jeannie C. Reilly's 'Harper Valley P.T.A.' and Nancy Sinatra's 'These Boots are Made for Walking'. I even listened to my Dad's Kingston Trio album, and I've always loved Dylan and Johnny Cash. 'Ode to Billy Joe' is still one of my favorite songs!
Although Springfield, MO was a weird mix of drunken, dope-smoking, rednecks; young, white, Republicans with identical short militaristic haircuts, snorting coke and praising ideologies bordering on neo-fascist ideas, and clean-cut Evangelicals that would make American politician Mike Pence look like a wild and crazy guy. However, there was also an underground scene always threatening to boil up and blow through the surface! Although some of these people's parents might have been associated with Springfield's International Assemblies of God headquarters, this was an odd mix of old hippies, punk-rockers, artists, musicians, writers, poets, gays, and all sorts of intellectuals who sort of marched to the beat of their own drum as Thoreaux once said, or followed their own path.
Bill Brown of the Misstakes, and D. Clinton Thompson of the Morells were two of the best guitarists anywhere, and Lou Whitney's Studio brought an odd mix of country and underground rock stars into the Midwest. Live music clubs were abundant and even the lower-tier bands could draw 100 people on a weekend night! P.A. systems and lighting systems got bigger, brighter, and louder, and dudes wearing makeup, large baggy suits, and skinny ties made their mark! Cheesy cover-bands played songs like 'Free Bird,' 'Riding the Storm Out,' and 'Every Rose has its Thorns' seven nights a week, while good original bands sprang up left and right (and some not so good).
There was also an incredible blues scene in Springfield, Missouri in the 1980s! Springfield's oldest tavern, Lindberg's (also called Lindburg's at some point) was an old bar and brothel from the late 1800s! It has not changed much since then. It was on the north side of town, just south of numerous railroad tracks where homeless people would congregate, and hobos would jump on and off the trains. The few African Americans in town lived in one small, geographic area, and most of them were dirt-poor. Their ancestors had been lynched on the Park Central Square in the early 1900s, or run out of town. This area was mainly abandoned buildings, but one black club, and numerous scary, violent white bars remained, along with a handful of flea markets, and such. Besides Lindberg's, the Buffalo Bar popped up as a smaller blues club. Both of these clubs' audiences were predominantly white; however, it was the braver, more interesting people that frequented the bars, and everyone was welcome! Lindberg's had apartments upstairs where the brothel used to be, and the same original bar downstairs. They just added a stage at one end of the bar. The place had incredible original woodwork, a giant sculptured horse in the front window, and the world's largest moose-head above the giant bar! Apparently, the moose had reached down and torn many bras and panties off of the different girls who patronized the bar.
The sign on Lindberg's door stated "Hours: Open: When Bruce gets Here; Closed: When Bruce leaves," and it was no joke. When the time came for the club to close, Bruce would simply look around, see if he recognized everyone, pull down the shades, and put a padlock on the door. The beer would keep flowing, and he rarely charged anybody; almost everybody in the place would fire up a joint, and sometimes girls would strip off their tops and keep on dancing! An old girlfriend of mine, named Melissa, told me that Bruce had taught her how to use a gun—firing shots at the back of the stage, and blowing holes in it after-hours! I think Liquor Control was afraid to go down there!
I cut my teeth at both the Buffalo Bar, and Lindberg's, first with a rough band called Van Gogh's Ear, and then with bands like the Royal Nonesuch and the Remnants! The first band that I ever played out with was called the Works, with a chick singer named Erin Engel out front. Van Gogh's Ear was another one of the early bands I formed with my drinking buddy, Curt Baldeck, and Walt Ressmeyer (sometimes called "Walter Paisley"). Curt was the master of the SG (1963 Gibson SG guitar), and would play full volume up in his attic, blasting the neighborhood. Walt and I were still just starting out, and were really pretty amateurish. For a while I reformed the band with another one of my best friends, Brad Broyles. Dr. Brad is now a psychiatrist in Orlando, Florida, but he still loves heavy metal.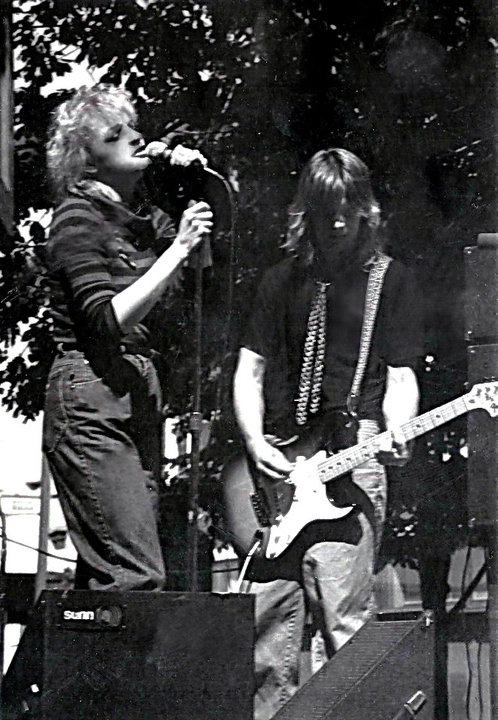 I also started doing shows with a young band called the Remnants backing me, and doing regular guest-appearances with a hardcore sixties revivalist band called the Royal Nonesuch. We were trying to ride what we hoped would be the "new wave" of garage psych-punk, and I played some of the Royal Nonesuch's best shows with them. The Nonesuch also played on my version of 'You Lied to me Before' on my 'Welcome to Humansville' album, along with D. Clinton Thompson, Eric Ambel, and a pop singer named Carolyn Mas. This was an old cover by a sixties garage band called "the Treez," and one of the regular tunes that I played with the Nonesuch for several years. We also did a small tour up the East Coast, and got to meet and perform with JimySohns of the Shadows of Knight at a bar in the Chicago suburbs called "Batteries Not Included." There was also a bootleg of the tour circulating under different names, such as "Live at Reruns, Dearborne, Michigan;" or "The Royal Nonesuch Live in Detroit." It was recorded on cassette by another musician on the garage psych scene, Freddy Fortune. A few of the tracks were also remastered and released on the B-disc of 'Rolling With the Punches,' or 'Out of the Garage, the Worst of Joey Skidmore'. In the early 2000s I also recorded and produced a new demo for a reformed version of the Royal Nonesuch in Kansas City, but as far as I know the tracks are unreleased.
As a younger generation, how did you first encounter psychedelic rock and what did you like it about it?
I'm actually not that much younger, but I wish I was (laughing). I first encountered the genre on the A.M. radio, and on the black and white TV! This was an era where the pop stations threw everything into the mix! They'd play a song from some lame, old-fashioned crooner from my parent's generation, then they'd play one of Elvis' later songs, and then they'd play something really crazy like the Rolling Stones, the Beatles, or even Jimi Hendrix, Alice Cooper, Led Zeppelins, or Steppenwolf. In the later years, they added the Black artists and the Motown artists into the mix with the melodramatic balladeers, the old pop bands, the sleepy country-rock bands, and the weird new metal stuff! They might play Burt Bacharach, and then Elvis, and then Black Sabbath, so it was a weird time! Springfield, Missouri was usually five to ten years behind the times, so some of the really crazy rebellious hippie movement stuff didn't really hit there until the mid-1970s, and people freaked-the-fuck-out!
What kind of records and fanzines would we find in your teenage room?
As a pre-teen, it would have been mainly 45s, 'cause albums were expensive, and I barely had enough money to buy my beloved comic books—which were about 12 to 25 cents a piece! I still collect them to this day! So you'd find things like, as I said, Bobbie Gentry's 'Ode to Billy Joe,' the Beatles 'Twist and Shout' on Tollie Records, or Vee Jay Records—something like that–'Honkey Tonk Woman' on 45, probably 'the Pusher' by Steppenwolf, 'Summer in the City' by the Lovin' Spoonful, 'Snoopy Versus the Red Baron,' by the Royal Guardsmen, and every Creedence Clearwater Revival Record that I could possibly get my hands on…! Oh, and this is funny, but if a song was released by one band in the UK, the American record labels would scramble to have an American band record a separate version of the song for US sales! So I'd have 45s like 'I Love You,' by People (instead of the Zombies), 'House of the Rising Sun,' by Frijid Pink (instead of the Animals), and of course 'Gloria' by the Shadows of Knight (Them released the UK version).
Later, I'd hear stuff like Alice Cooper's 'I'm Eighteen,' and 'Under my Wheels' on my bicycle radio—all the stuff that really freaked your parents out—so I had to have it! While the Beatles freaked out my Grandmother, somebody like the Rolling Stones or Alice Cooper would freak my Mom out even more—but she was a whole 'nother story, as they say! So, by the time I hit my teenage years, I had every Beatles album ever made! When one teenage punk (I mean "punk" in a derogatory sense, not in a cool sense) stole my entire album collection and took it to St. Louis to sell them, I could not find 'Let it Be' anywhere! It was out-of-print for a while, after Apple Records turned into Capitol. I finally found a replacement copy at the Book Rack, a cool, dusty, moldy, old used book store that had lots of records and comic books!
So as a teenager, you might find a poster of Farrah Fawcett crouching in her swimsuit with her nipples sticking out, and her cheerleader smile just waiting for someone to take her from behind, on my bedroom wall, some strange Stones poster would be hanging up there somewhere, as well as a Tolkien "Lord of the Rings" poster! Stacks of comics would be everywhere. You would find every single Beatles, Stones, Rod Stewart, Faces, Creedence Clearwater, Iggy Pop, Alice Cooper, and Jeff Beck album ever made, along with some Led Zeppelin, Yardbirds, Small Faces, New York Dolls, Ian Hunter, Mick Ronson& Mott the Hoople, and you might also hear something like Nazareth's 'Hair of the Dog,' Black Sabbath's 'Sweet Leaf,' Rick Derringer's 'Rock and Roll, Hoochie Koo,' Mountain's 'Mississippi Queen,' or anything by Leon Russell blasting out of my locked teenage bedroom! After discovering bands like the Animals, the Young Rascals, the Stones and the Beatles, I took it back a step further and started listening to Chuck Berry, Jerry Lee Lewis, Little Richard, Bo Diddley, Screamin' Jay Hawkins, Willie Dixon, John Lee Hooker, et cetera. Primarily because of Lindberg's and the Grand Emporium in Kansas City, I actually got to see and meet many of those artists!
You'd also find a lot of old Playboy magazines, hidden in the attic—the ones that my Mom didn't throw out! I'd pilfer my Dad's old worn-out magazines, neighbors' trash bins, and also trade with friends. I remember trading a giant "Moon Bus model" to a buddy's older brother for a stack of beautiful, old Playboys, I think it was my friend Terry from grade-school! I remember his brother telling me he could get me the hard-core "pussy-magazines" if the price was right! I also remember him throwing a big knife around his house, sticking it in the walls or floors. I remember worrying about what his parents might think of the damage, "Naw, I'll just tell my Maw the rats did it," he responded. "It's just a rental!" He showed the "pussy mags" to me, and they were kind of weird, old-school black & white porno, not the most beautiful girls to my 12-year-old eyes. Not necessarily good or band, I just wasn't that interested. The Playboys were great though, with lots of special moments with Bridgette Bardot, Debra Jo Fondren, Raquel Welch, et cetera.
Plus, I would have had a big stack of Creem, Circus, Hit Parader, and also some very cool independent fanzines for both rock and roll and comics, some of them even local from Springfield, MO! Rolling Stone Magazines, too! At some point, I think I accumulated most of the Marvel comic books from the mid 1960s until, well maybe 2000. So now I'm trying to complete that collection!
Tell us about your first bands?
Oh man, I already mentioned Van Gogh's Ear, the Remants, the Royal Nonesuch…. The very, very, first band I played in was… I guess the first band I ever jammed with was maybe right out of high school called "Ricochet," with some guys named Chris Fiedler, Wesley Waller, Tarver Woodall, and Brad Cox. I petitioned to get a drummer "friend" of mine named John Marshall in the band, and when I did they abruptly conspired to replace me—so much for loyalty! (Laughter) Brad Cox was really a cool guy though. I remember him writing down all the blues scales for the neck of a guitar on a sheet of notebook paper. It took me forever to make sense of them, but I think I still have them to this day! Great guy, too!
How did Joey Skidmore & The Cellmates come about and what do you recall from writing 'Stop The Nukes!' in 1981?
I remember actually reading some weird shit about genetic mutations caused from the radiation leakage after the Three Mile Island disaster, in 1979 and how farmers were finding, literally "Five Pawed Dogs & Three Legged Hogs" due to the radiation leak. It was actually late '79 or early '80 that I recorded it, and I recorded the original demo and distributed it in late 1980, although the E.P. didn't trickle out there until 1981. I had more frustrated energy than talent, but I just decided to write the weirdest, most "futuristic" thing I could think of! I also got the best players in town—my old friends from high school—to play on it! So that's the late Bill Brown, who tragically died in a house fire, John Marshall, who was the original drummer for the Royal Nonesuch, and Joe Terry, who I met my first year of college over in Ellis Hall at MSU (affectionately referred to as "Elvis Hall"); that's them pounding away in a blistering-hot attic studio, direct to 8-Track analog tape at Mau Mau Studios in Nixa, Missouri, in a 100 degree Fahrenheit attic, cause the dude "forgot" to turn on the AC (or perhaps was trying to save a buck).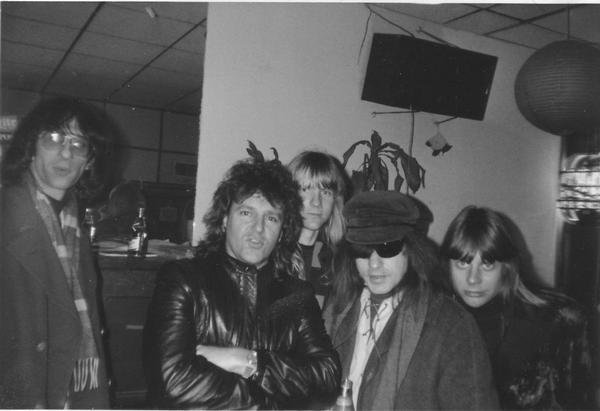 So I remember, pulling up to this farm-house, out in the country and this pack of huge dogs running out and barking and growling at the musicians while we carried our instruments in! Finally, the owner, Steve Smith, would run out and yell at them, and the dogs would retreat! So Marshall would be pounding away with no shirt on, and I'd be wearing nothing but jeans, too; Bill Brown would be shredding away on guitar, and I'd be poking around on a mini-Moog synthesizer and pounding away on my 1976 Univox Les Paul copy, which later got stolen by another smarmy musician who was run out of town! Anyway, after recording in the steaming-hot attic that was Mau Mau Studios, we would look like we had taken a shower with what little clothes we had on!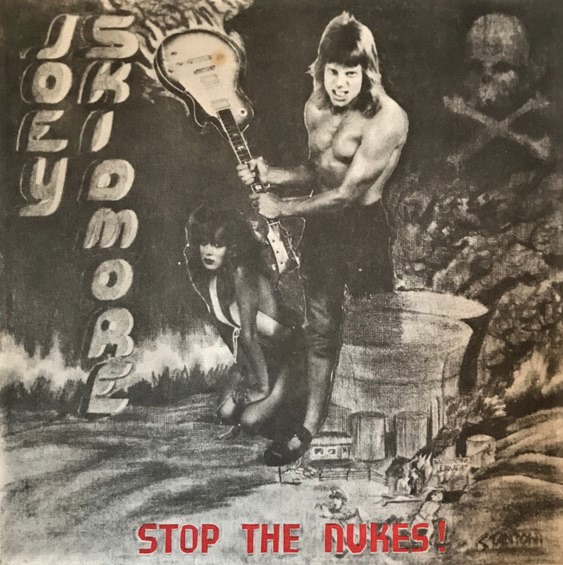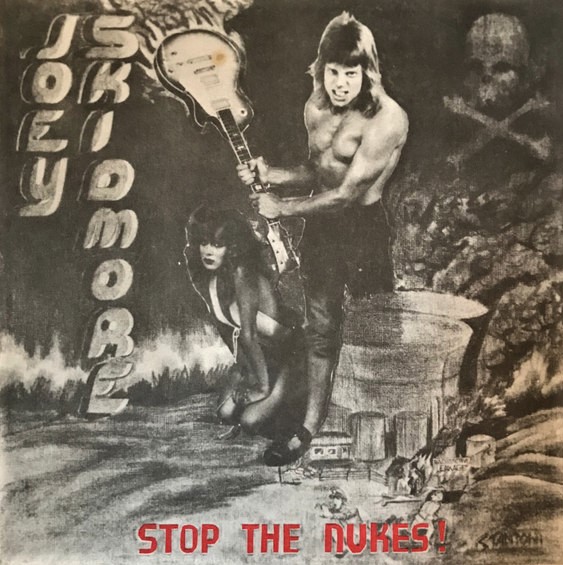 "The Cellmates" was sort of a joke, I think. I asked Bill Brown what I should call the E.P. and he said "How about 'the Inmates, First Offense'," so I took it and ran with it, even recording an awful song with an out-of-tune acoustic guitar called 'First Offense'. Shortly after that, I obtained a copy of the great album 'First Offense' by the Inmates! I asked Bill about it and he was kind of apologetic, saying "I thought you knew; I was just kidding." So I quickly changed the label to "Joey Skidmore and the Cellmates." One of the few reviews I got was from OP Magazine, which turned into Option Magazine, proclaimed that it was "Kinda an engaging cross between Conan the Barbarian and David Bowie." Adding that the "Mix it up in the garage approach is neither conventional, nor outstanding."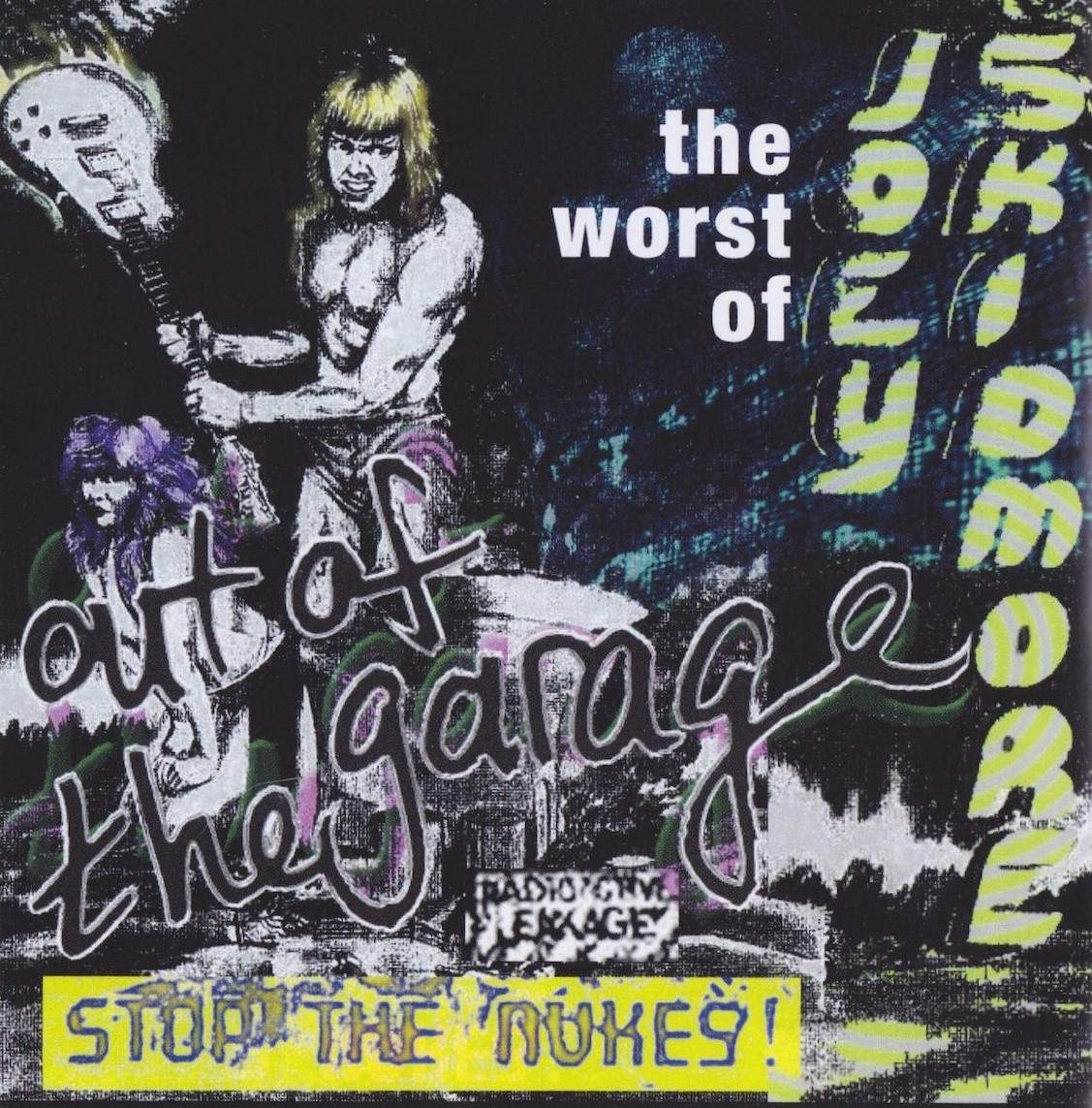 Another 7″ was issued on your own label. Tell us about 'Second Chance'?
Similar story; a couple of years later. So again I rounded up John Marshall, Joe Terry and Bill Brown, with a batch of new songs and headed to the Mau (Mau Mau Studios in Nixa, Missouri)! Wanting to mix it up a bit, and tie it in with a band I was trying to form, I added other musician friends that I've been hanging out with, and playing with, such as Curt Baldeck and Paul Guss. Nicer cover by Greg Logan and Kathy Luginski, doing a Warholish screenprint with my face—as opposed to my rough cut-and-paste Conan the Barbarian spoof on top of Jon Stanton's really cool comic book art! I'd been reading the "Savage Sword of Conan" magazines, when I did 'Stop the Nukes'!
Unfortunately, Mau Mau was hit by lightning and destroyed before completion of 'Second Chance,' and I had to scramble to find someplace to cut and mix the last couple of songs!
Would you like to share some words about 'The Word Is Out'?
So this was my first "real album," or 12″ that was really done right. Producer Lou Whitney had a small, professional studio on the outskirts of Springfield, MO. The building was once a country dentist's office. Lou worked the "down-home" atmosphere and even recorded acts like Boxcar Willie ("the World's Most Famous Hobo"), as well as hip New York bands such as the Del-Lords, and members of the Dictators, and Jason and the Scorchers! You might find somebody like country music legend George Jones popping in there or members of a band like Jason and the Scorchers walking around in their cowboy boots—with spurs on them, no less—and their '80s blonde hair!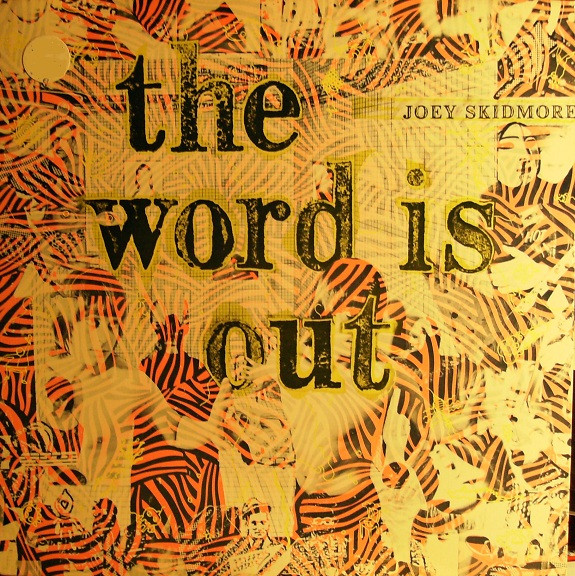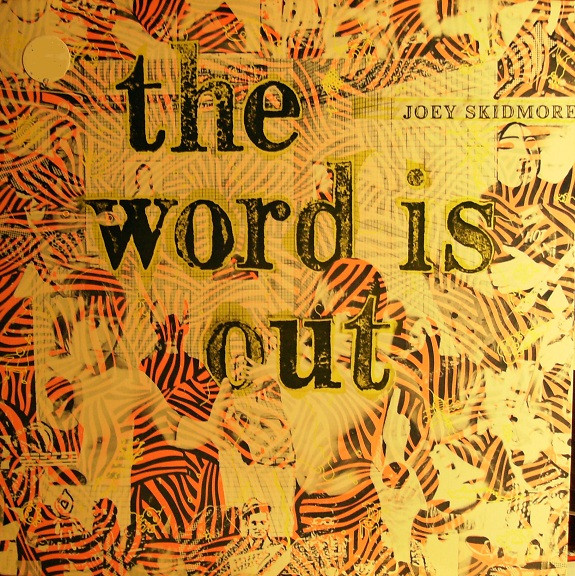 So, Lou produced this album, and did it right! Two-inch, 24 track, analogue tape, did the job right! A Hammond B3 organ and grand piano for Joe Terry, and a stack of Marshall and vintage Fender amps for the rest of us! Lou and D. Clinton Thompson also suggested I include a live version of myself sitting in with the Morells at a bar that looked like an old, airplane hangar called "the Hangar!" These two songs were recorded right off the board. When Option Magazine reviewed it and ran a picture of it, they said something to the effect of "This guy sounds just like Tony the Tiger," the reference is from the old American cartoon character, in the commercial for Kellogg's Frosted Flakes. On a different note, Springfield, Missouri had an old-fashioned steak house or "supper club & lounge" featuring "Terry the Tiger does Elvis," for about ten or twelve years straight; "Held over! Twelfth Big Year!"
Anyway, 'the Word is Out' started getting press, and attention—especially in France and neighboring countries in Western Europe. It also got picked up for distribution by Semaphore, out of Holland (Relativity Records' distribution arm), Ton Um Ton out of Austria, Important Record Distribution and Venus Records in New York, Systematic Distribution, in Los Angeles, and many more!
Tell us more about the Royal Nonesuch.
Well, the three main guys originally were Walter Ressmeyer (or Walter Paisley), the bassist; Jabez Petefish, the lead guitarist, and John Marshall, the main vocalist and drummer. I ran around with John and Walt in high school, and college. Walt turned into an obsessive fan and emulator of sixties music and culture—much like Mark Stahl of the Red Headed League–everything had to be 100 percent authentic! I follow that philosophy to a point because the people from that era made so much incredible music, looked so cool, and probably had so much fun! However, if they'd had better technology, they might have sounded even better so it's a double-edged sword, in my opinion, good and bad, so to speak!
I can't remember if the Nonesuch's original rhythm guitarist was Chris Fiedler, Dink Smith, or J. Doyle (Jim) Holopter, but they all played with them for a short time. Anyway, Mad Jon Mckinney became the face of the band, their promoter, and their rhythm guitarist for most of their original existence. I don't know if they ever considered me an official member, but I filled in for Mad Jon for a period, and I also became sort of an auxillary member singing a set with them to promote 'the Word is Out' album, and filling in wherever needed.
In the late 80s you relocated to Kansas City. How did you like it there?
I love Kansas City, and my wife Iryna and I own two nice houses here! We're kind of settled, and she's doing her art thing, but we're also doing the annual Skid-O-Rama Fest, and have other projects in the works, but Shhhh, they're classified, ha ha!
I also love Paris, and wish we had the money to have a flat there as well as some other major cities…! Kansas City is changing from a backwards "cowtown" to a really cool, progressive city, though. We live right off Troost Avenue, which is on the East side of town, and sort of a cultural mecca of sorts! The east side of Kansas City is tied in with the history of jazz and blues!There is also a famous jazz and blues museum at 18th and Vine, in the historic black entertainment zone.
You got the band together with Mike Costelow in 1991 and recorded 'Welcome To Humansville' in 1991 and 'Joey Skidmore' in 1994.
Well, that's pretty accurate. I actually formed the Kansas City band with Jim, or J. Doyle Holopter, who was an old friend of mine from Springfield Missouri! So Jim, or Doyle, and I formed the band along with Cory Corbino, and actually did a few shows with Eric Ambel, here in the Midwest to promote the "Welcome to Humansville' album. 'Butt Steak' (a politically incorrect song about food) was actually getting a bit of airplay on a bizarre novelty show called "Dr. Demento," as well as on some other odd-ball radio shows in the U.S. and Europe!
When Jim Holopter quit the band to play with Mike Niewald in the Bindlestiffs, Mike Costelow joined us on lead guitar! He played with Joey Skidmore Band for about eighteen years, and I was sorry to see him go. He did return and play bass with us for Skid-O-Rama 2019, and also got to play with Tony Valentino of the Standells (and the Nuclear Banana), and open up for Vanilla Fudge. He was really excited when I called him and asked if he'd mind picking up Carmine Appice from the airport!Mike actually didn't play on 'Welcome to Humansville'. He joined the band right after that; however, he played on at least four or five of the albums after that!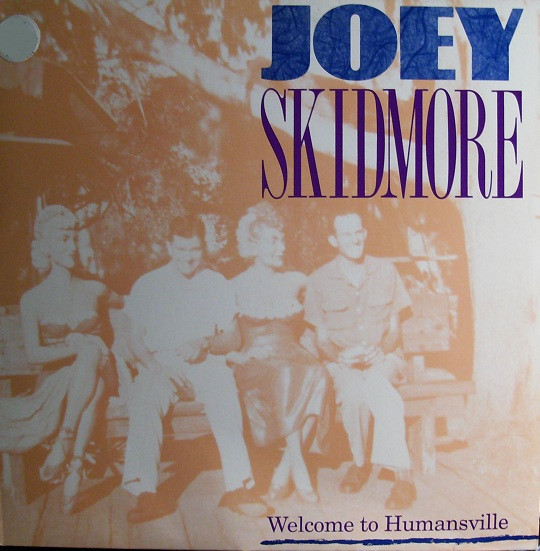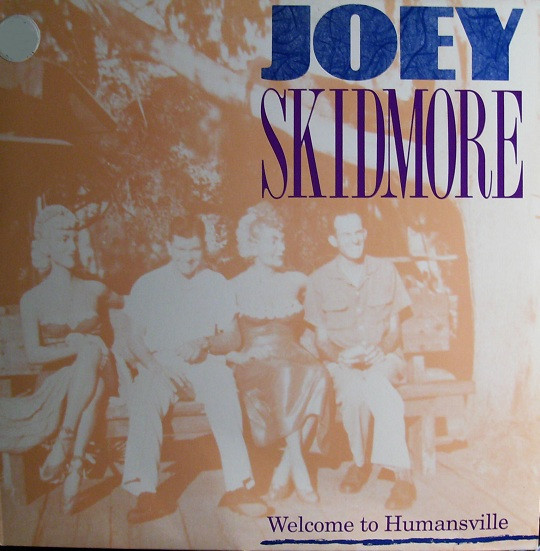 So Mike and I flew over to London with our acoustic guitars, around 1992, stayed at a friend's flat who taught at University of London, and then took a ferry over to France the next day. We did a couple of acoustic shows outside of Paris, and in Bordeaux France, and solidified contacts such as our Road Manager, Lionel Dekanel of 442 eme Rue fanzine, radio and record label! I also met a tall pretty black girl named Tina, who was working as a cocktail waitress, as well as a disco/pop singer. She ended up introducing me to a lot of record company people and we did some recording there, even though nothing much came of it in the long-run. She seemed to know all the high-rollers and "money people," and really took good care of me while I was over there.
At some point, Lionel Dekanel sent my 'Welcome to Humansville' CD to Philippe Langlois at DixieFrog Records. He not only wanted to license it, he wanted to produce a new album for release in France and Europe! He arranged for Warner Chappell Music-France to handle the publishing rights. When it came out in France in 1994, we returned to do another tour—even though we didn't have any tour support! The shows were smaller places, but they were always packed, and the crowds loved it! When we played in Fountainbleau, people were lined-up down the street trying to get in, and supposedly that was the last time they ever allowed live rock music in their city! Apparently, we were so loud and disruptive that all rock bands were permanently banned from this beautiful, iconic town!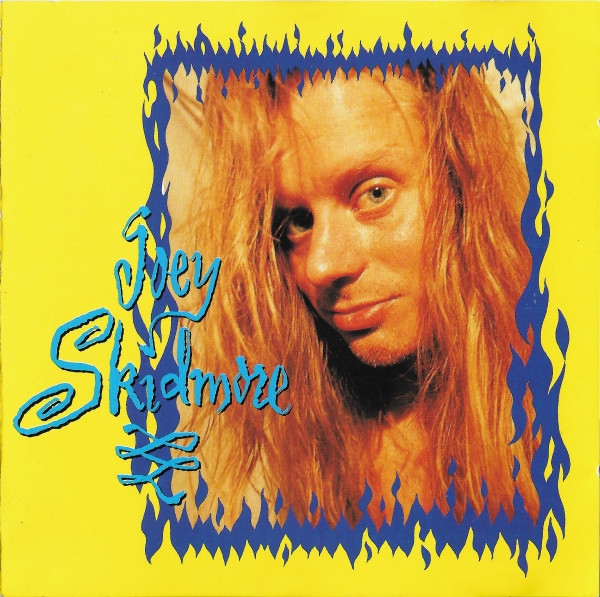 Mike Costelow actually played some of the early songs in France?
Yeah, Mike played with me early on, and we recorded in England, France, Springfield, MO (laughs), pretty much all over!
Our trip over there, and Lionel Dekanel led to the deal with DixieFrog Records. Apparently it didn't sell enough for a follow-up, and the label really did not do a lot to promote it, but I got enough back in royalties from airplay on the rock and "New Music" stations that I actually funded the recording sessions for 'Bent,' which was the follow-up album! I couldn't believe it, the first time I got a check from Warner Chappell Music-France for almost a thousand bucks! Producer Lou Whitney said "You know, you get about five cents a play in royalties, so a thousand dollars is a lot of plays!" This was back in the '90s, so it was really a lot of money to me then! The only BMI check for royalties I've ever gotten in my life was a check for my song 'Creature of Habit' for $18.25 from Indonesia, of all places—no idea how it ended up there!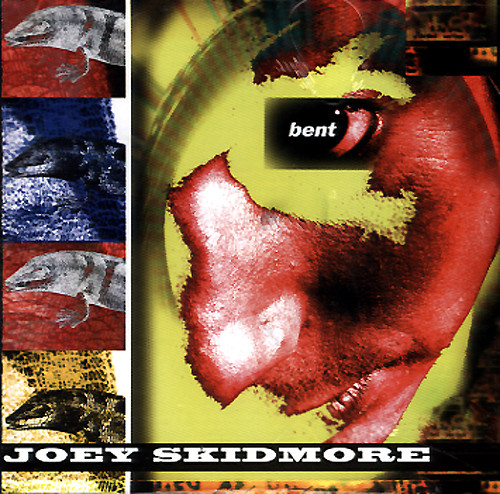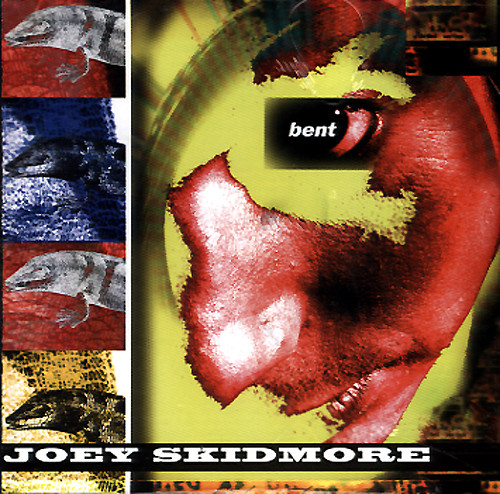 Who were The Gecko Brothers?
The Gecko Brothers were actually a short-lived blues band, with Joey Skidmore Band members MOON on drums (Steve Moon), Mike Costelow on bass, and myself on vocals, along with a hotshot shredding blues and rock guitarist who lived next door to me, named Steve Sutherby. We recorded a live demo with Lou Whitney, and played two or three bar gigs—that's about all she wrote, ha ha!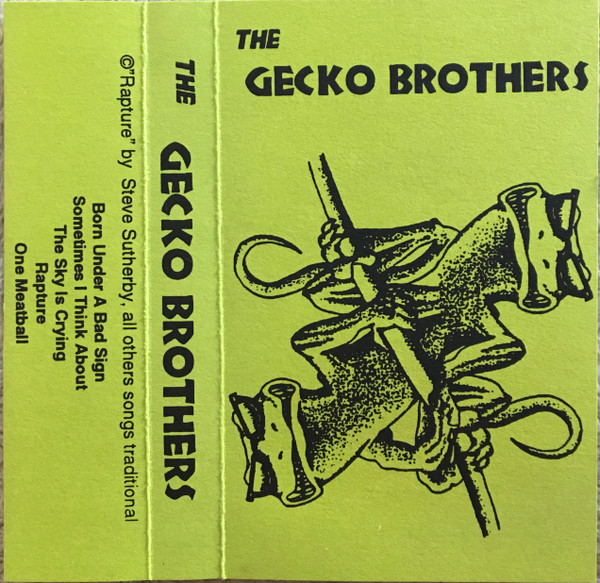 You also played with Black Crack Revue?
Yes, funny you mention that, because I am playing with them again! Currently doing shows and new material with the Reverend Dwight Frizzell, Dr. Tom Abers, Allaudin, Julia "J.T." Thro, Mark Theis, Pat and Thaylia, and the rest of that crazy crew B.C.R. crew again, after what, fifteen or twenty years?! Yup, I'm playing with those crazy old cosmic hippies once more. They're heavily influenced by Sun Ra and Captain Beefheart, if that gives you any idea…. Went to a solstice party with a giant bonfire at Allaudin's house, and sort of reconnected with them!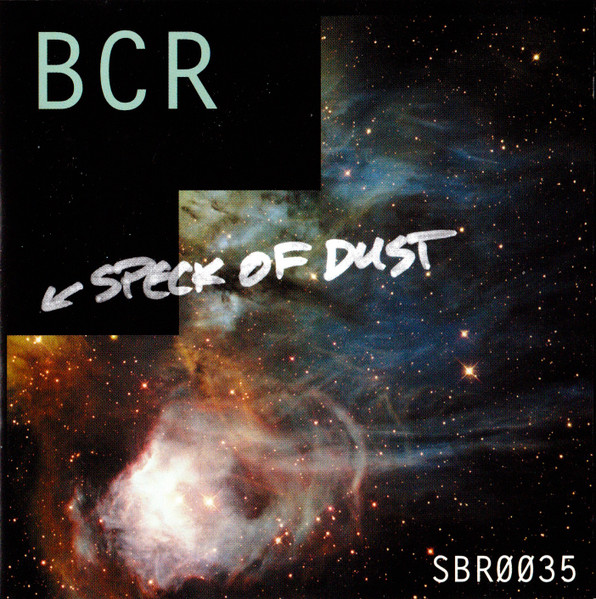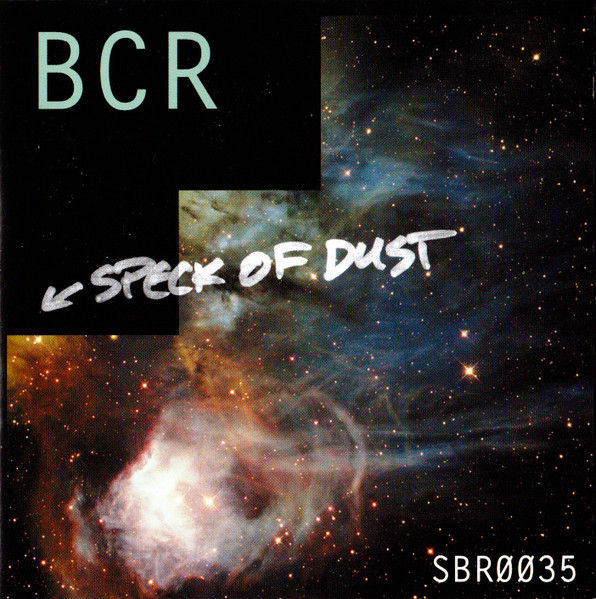 How did your 2008 album, 'Ventriloquist Doll' come about?
Well, it was a mix of a handful of tracks that I already had in the can from Lou Whitney's Studio in Springfield, and a major collaborative effort with the late, great, Nikki Sudden in Germany and the UK! So, in 2003 Joey Skidmore Band toured in Europe, and Nikki Sudden picked us up at the airport. Now we were worn out, exhausted, and he was several hours late, but that's another story…! So we hung out for a few days in Berlin with Nikki and his friend Marlies Damming, who's Mick Taylor's manager and partner. We jammed together, and managed to write and record a demo of 'Pistol in my Pocket'. Later that year, we joined forces outside of London to record 'Pistol' and two or three other songs! Mike Costelow and I flew into London, at our own expense; Pascal Manganaro (Manga) came in from Paris at his own expense, and Nikki Sudden came in from Berlin, Germany at his own expense. We recorded at John R. Rivers' Woodbine Street Recording in Leamington Spa, England—apparently it's a retirement community about an hour outside of London. Nikki's parents lived there, and his Dad, Trevor Godfrey, booked Mike and me a cheap room somewhere, a sort of Airbnb type place. I can't remember where Pascal and his friend, Vinz, stayed. I remember Nikki's friend Tim Chaplin sat in on backup vocals, and Nikki got an incredible guitar sound out of some old, German tube amp!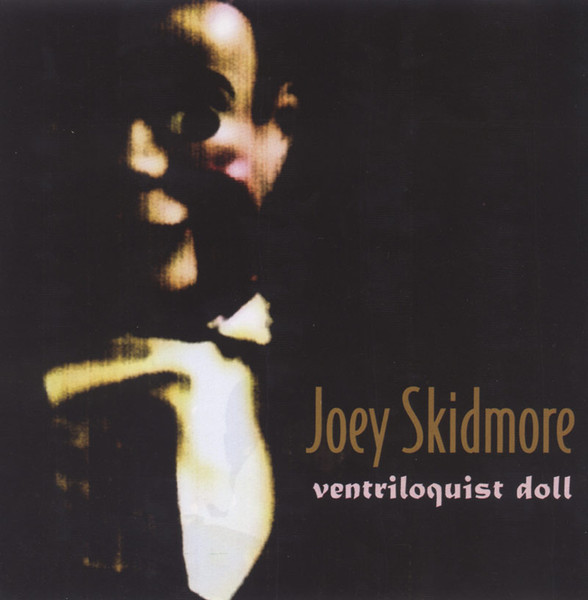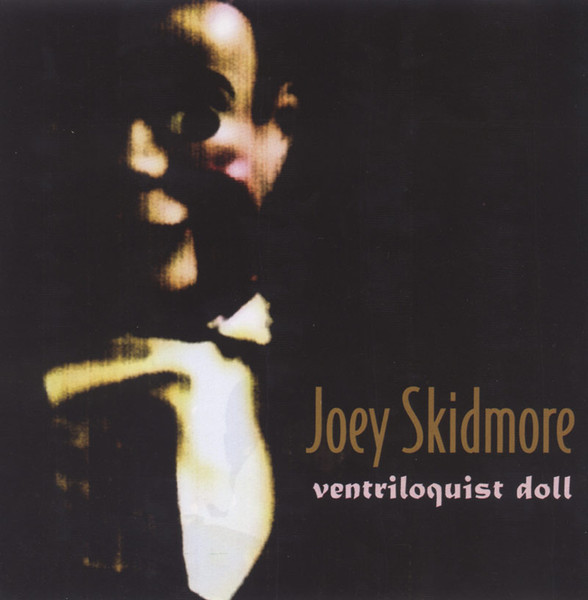 In 2006, we did some shows in the Kansas City area, and Nikki Sudden played with us, and recorded with us in Springfield, Missouri. With overdubs done in New York at Eric Ambel's CTS Studio, and Kansas City at the UMKC Conservatory studio where I was going to graduate school, we finally finished the album in 2007, and a small label in northern Spain, Sunthunder Records released 'Ventriloquist Doll,' as a follow-up to the wonderful Nikki Sudden tribute album "Suddenly Yours." They released it after he died in 2006. He was at my house in Kansas City one minute, asking me if I could take off work and head to Iowa to do a show with him in Sioux City…and then the next minute the news reports he died in New York, after playing a show with Evan Dando and the Lemonheads backing him in New York City! I talked to Evan Dando about it later, and we agreed that Nikki did what he wanted to do, and lived life to its fullest! It was still quite a shock, and although he didn't have any children, as far as I know, I heard that his parents never got over the deaths of his younger brother, Epic Soundtracks, and Nikki Sudden, some years later. They'd both broken big on the independent scene with the Swell Maps, and Nikki later with the Jacobites; but they both died awfully young! Really sad.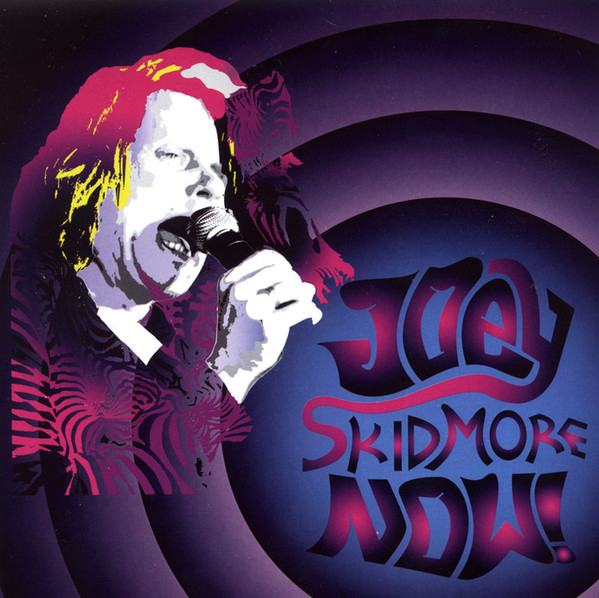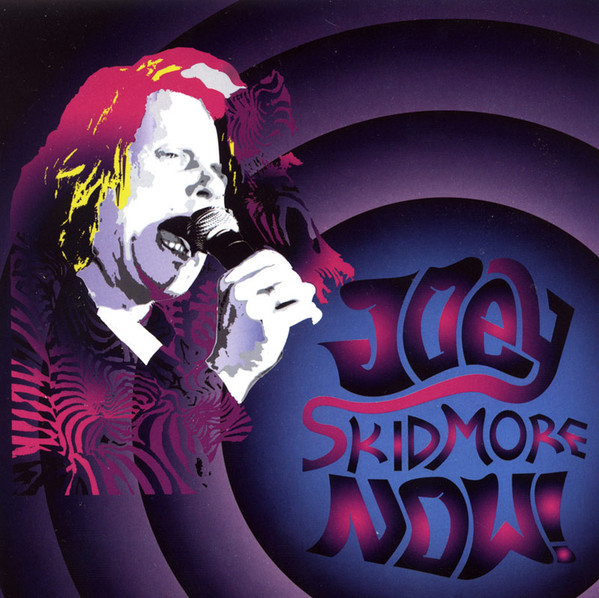 Anyway, the way the Nikki Sudden sessions came together with people flying in from all over the world, reminds me of the Nuclear Banana sessions, and I hope to do a follow-up someday!
I would love it if you can tell us about The Red-Headed League and the release of 'Fistful Of Dharma'?
Sure. I joined the band about half-way through the recording of that album, but I've been a member for over five years now (which is kind of hard to believe that time flies that fast)! Mark (Stahl) wrote most of those songs, and he has an interesting way of recording: He does it in our practice place in Dan and Dave's living room with two live condenser mics on the drums, left and right, and a large diaphragm mic in the kick! Dave Olds plays really loud, and there is no sound separation on anything! At some point, when the drums and bass are somewhat solid, we go in and overdub the final guitar, vocal, and keyboard tracks! Then Mark does a ton of editing, and at some point it goes to this guy named George who works in a real studio to mix and master. I think I only played on about half of that album, but I'm really proud of my lead guitar solo on 'Love me Three Times,' even though those guys buried it in the mix. Since then we've done another E.P.: 'the Chupacabra Project,' which is very cool, and a follow-up album 'Phonehenge,' which was prematurely released digitally, but still needs some work, and a right proper release! Possibly the only song I've written for those guys, 'Nellie's Ugly-Ass Table' is supposed to be included, and Tony Valentino even did a harp solo for one song—even though Mark said Tony wasn't happy with the mix, so he cut it out. Big mistake in my opinion! Lots of good live footage of us floating around out there from the Skid-O-Rama Halloween Fest 2022, though!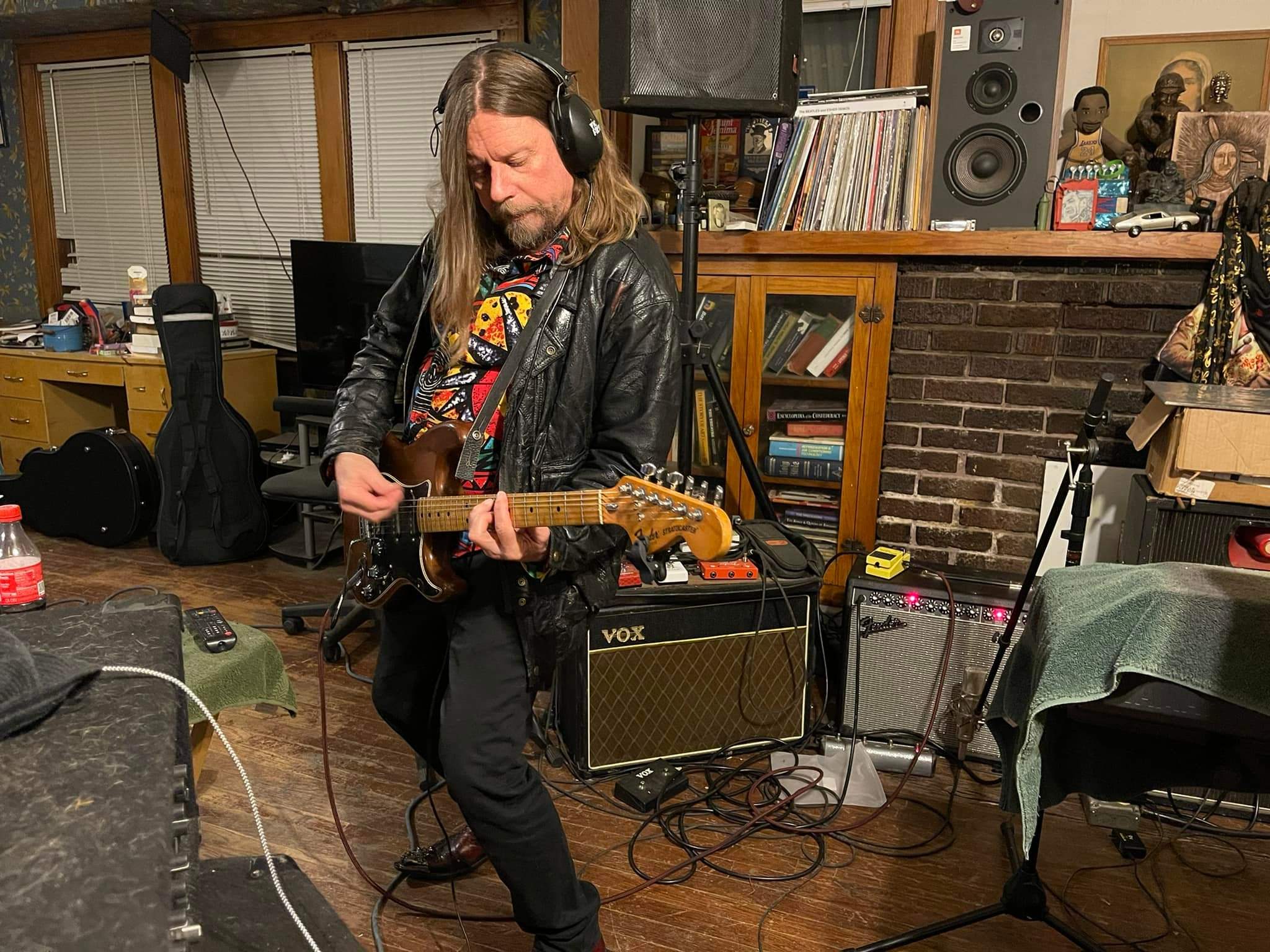 What else did I miss?
Absolutely nothing! You guys do your research, listen to your music, and know how to dig and ask the right questions! I appreciate you, though, more than you can imagine, and please feel free to contact me any time before publication with follow-up questions! Great magazine!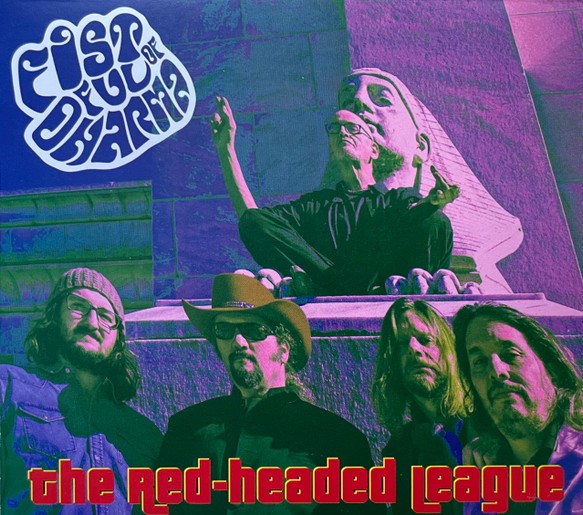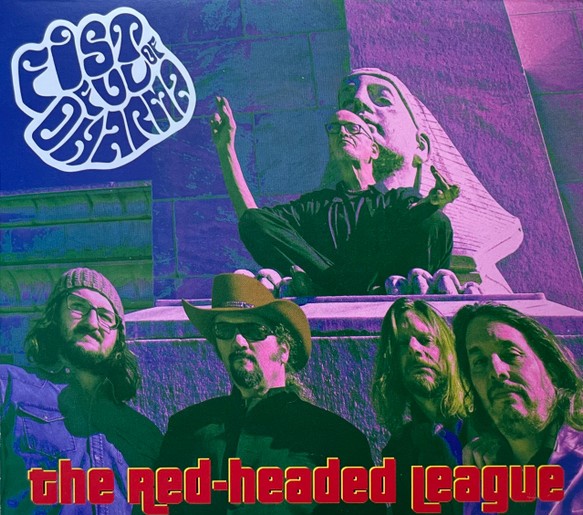 Are you involved in any other bands or do you have any active side-projects going on at this point?
Nothing really confirmed at this point, I think you've covered all the bases.
"I also really want to get into the studio with Mitch Ryder"
What are some future plans for you now?
I am talking to some legendary people from the original psychedelic era about Skid-O-Rama 2023, but I can't really talk about it just yet. I also really want to get into the studio with Mitch Ryder, if he has the time, and is able and willing to do it!
Let's end this interview with some of your favourite albums. Have you found something new lately you would like to recommend to our readers?
My all-time favorite albums would include the Who's 'Quadrophenia,' Iggy Pop and James Williamson's 'Kill City,' the Rolling Stones' 'Sticky Fingers,' 'Metamorphosis,' 'Get Your YaYas Out,' Rod Stewart album, and 'Every Picture Tells a Story,' the Beatles' 'Let it Be,' and 'Magical Mystery Tour,' the Doors' 'Strange Days,' Vanilla Fudge's first self-titled album, 'Vanilla Fudge,' Roky Erickson and the Aliens' 'I Think of Demons,' and Creedence Clearwater Revival's 'Willie and the Poor Boys'.
The best really new band I've heard was El Perro; it features Parker Griggs from Radio Moscow, and their latest album is called 'Hair of El Perro.' I also heard a cool demo from D. Clinton Thompson of the Morells, called 'the Faces of Donnie,' or something like that. Very cool, unusual record that is almost entirely instrumental. He is an incredible guitarist, and it should be released soon! Also, I'm still listening to a Tame Impala album I picked up a couple of years ago. It may not be everyone's cup of tea, but he or they reminded me a lot of the Revolver-era Beatles. Sings like John Lennon, drums like Ringo at his busiest. I also heard a cool band called Glove open for Jack White last year, and a nice soul, R n B act called Black Puma open for the Stones in Minneapolis, but haven't heard the albums yet! I like what I've heard off of the new Arctic Monkeys' album, but haven't picked it up yet, either. Oh yeah, I love the Seeds' new single 'Butterfly Child,' with the flip side 'Vampire'!
Thank you for taking your time. Last word is yours.
Hope to see you in Slovenia someday! You guys are awesome, and thank you so much! However, the last word is yours!
Klemen Breznikar
---
Headline photo: Elan Portnoy and Joey Skidmore | Photo by Todd Zimmer
Joey Skidmore Official Website / Facebook / Instagram / YouTube