Arco Iris – 'Los Elementales (Fuerzas Mágicas De La Naturaleza)' (1977/2022 reissue via PQR-Disques plusqueréel)
PQR-Disques plusqueréel recently reissued the 1977 'Los Elementales- Fuerzas Magicas De La Naturaleza,' the fantastic prog / jazz fusion masterpiece by Arco Iris.
---
Arco Iris was an Argentine progressive rock band that was never shy to experiment with their signature sound which included some very experimental pieces among their discography consisting of several albums. The band originally formed in El Palomar, Buenos Aires, Argentina in 1968 and disbanded in 1975. In 1977 the group reformed with a bit of a different lineup.
As per usual, PQR-Disques plusqueréel surprised when they recently reissued their sixth album. 'Los Elementales- Fuerzas Magicas De La Naturaleza' was composed and originally released in 1977. At the time the band became very experienced with five albums under their belt. Listening to their albums we can hear many different sound phases they went through. One of the interesting facts about them is that they never remained loyal to a particular sound – they were always on the hunt for something new and with the release of 'Los Elementales- Fuerzas Magicas De La Naturaleza' the band showed what a special group of individuals they are. 
The aforementioned album is their most progressive-oriented record that in my eyes stood as a swan song to their rich career, at least when it comes to creativity. Here the sound becomes more matured and filled with wonderful compositions ranging from tenor sax, Andean woodwinds and Moog. Influences are also noticeable from other jazz fusion bands that they certainly admired. 
As it might be suggested from the first view of the cover artwork, this album is a concept prog masterpiece that sadly got buried in time, although the musicianship and creative ideas are very complex and well executed. Their previous album, 'Agitor Lucens V' released in 1975 might be their most well known work, but here on their sixth album, the band actually managed to incorporate the interesting ideas touching progressive rock and marrying it with jazz fusion of the times.
A bit more research shows that the lineup for this album was only consisting of Ara Tokatlian (flute, tenor & soprano saxes, piano, Fender Rhodes, Mini-Moog & PS 3000 synths, native winds, vocals), Ignacio Elisavetsky (guitar, vocals), Guillermo Bordarampé (bass, acoustic guitar, bandura, alto vocals) and Jose Luis Perez (drums, percussion). Guillermo Daragui who seems to be a very important part of the band was now gone, although he probably was still part of to a certain degree – at least as far as composition goes. And then there's Dana (Danais Winnyck) who was part of the band from their beginning when she arrived in Buenos Aires and got to know the band members of Arco Iris. She is considered as one of the most influential characters in the history of Argentinian Rock.
The original members of the band were Gustavo Santaolalla (guitar and voice), Ara Tokatlian (winds), Guillermo Bordarampé (bass), Horacio Gianello (drums and percussion), and Dana as their spiritual guide. Her influence must not be overlooked as she introduced the band with mysticism, vegetarianism and the commune lifestyle which the band practiced in the early years. 'Los Elementales (Fuerzas Magicas De La Naturaleza)' and its concept of four elements will be remembered as one of the most creative South American progressive rock / jazz fusion releases that somehow got overlooked due to the many releases that the band later released in the lineup of just Ara and Dana – creating New Age music while relocating to USA. An interesting era for the band, although 'Los Elementales (Fuerzas Magicas De La Naturaleza)' was where they reached their peak.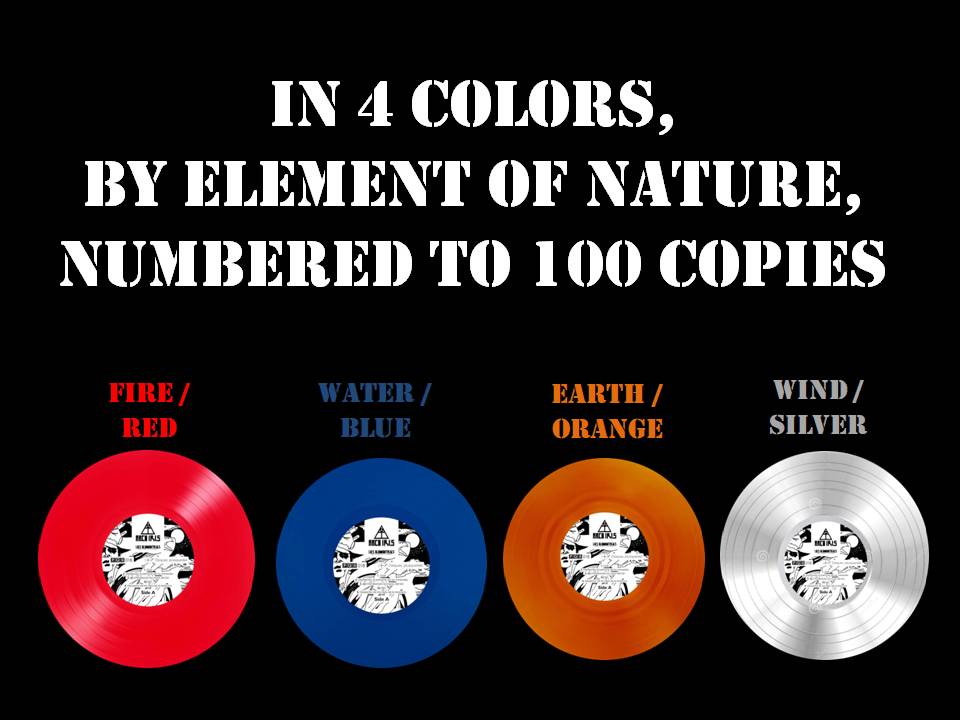 To make this reissue even more appealing than it already is, PQR-Disques plusqueréel made four limited editions of 100 numbered copies, in 4 different colors, one for each element of nature (water/blue, fire/red, earth/orange, air/silver), with the original gatefold cover and insert.
Klemen Breznikar
---
'Los Elementales (Fuerzas Mágicas De La Naturaleza)' – Arco Iris (1977/2022 reissue via PQR-Disques plusqueréel)