Gilles Yepremian | Interview | "The day I met Jim Morrison"
Gilles Yepremian is a legend of French underground music, being manager of Lard Free and Urban Sax for decades. He is also the one who took care of Jim Morrison when he was in a bit of trouble in a Parisian nightclub.
---
Yepremian recently worked closely with Fred Baggen on his book, Stronger Than Dirt. Ridin' Jim Morrison's HWY Until The End. This book reflects on the fact that the legendary singer of the Doors died half a century ago.
Gilles has been a massive fan of the Doors since first hearing their hit single, 'Light My Fire,' back in 1967. In May 1971 he unexpectedly met Jim Morrison himself. He soon realized that Jim was a simple guy, not wanting to follow the rock star image. Enjoy the following chat and the incredible photos he took of Jim Morrison.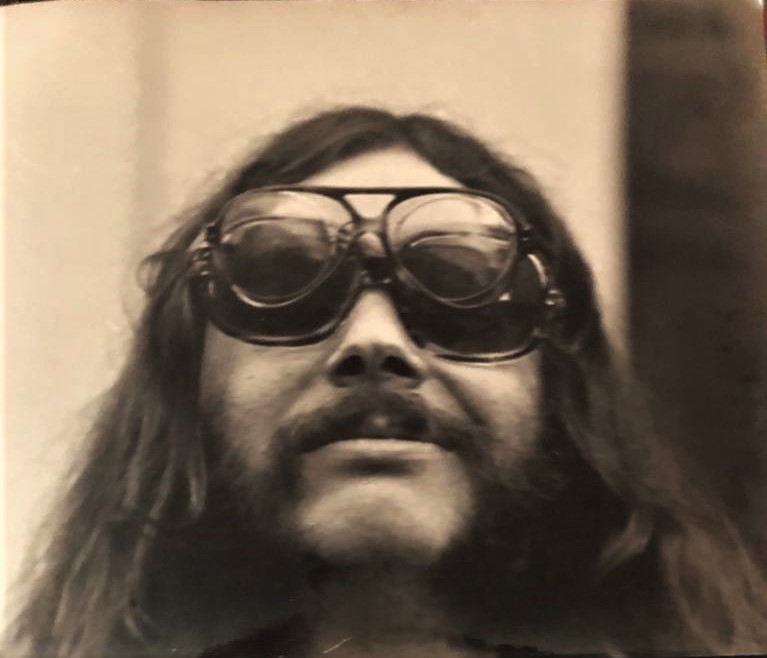 Would you like to talk about your childhood? Where did you grow up?
Gilles Yepremian: I was born in Paris and I grew up in Paris.
How did you first get interested in music?
Like most teenagers, I was listening to the radio very often.
What are some of the early records that you bought?
I bought a record by the Kinks, which for me is the most important band, even more than the Beatles and the Rolling Stones. I also had records by Gene Vincent, Vince Taylor, Soft Machine, Pink Floyd, Jimi Hendrix Experience, Miles Davis, the Byrds, Pharaoh Sanders, Tim Buckley, 'Les Premieres Annees' by Michel Polnareffm, Rahsaan Roland Kirk, Terry Riley.
What was the scene in Paris back in the late 60s?
There was the "yéyé" scene and on the other hand you had underground and politicized groups that played concerts in universities and high schools.
Did you study in Paris?
Yes, I did but not for long. Music was calling me [laughing].
You once recognized Jim Morrison when he was trying to get in a club called Rock 'n Roll Circus. Would you like to tell us what you actually saw and what was your contact with Jim Morrison?
Around 4 am I was leaving the Rock'n'Roll Circus (57 rue de Seine 75006) and there was a drunk man who wanted to re-enter kicking the door. He had just been kicked out by security and no one had recognized him. Even his face was vaguely familiar but I didn't recognize him immediately. I could not ask where he lived, he was too drunk, and I could not welcome him home as I was still living with my parents. I decided to bring him to Hervé Muller.
Jim wasn't exactly in the state to remember that he was living in Rue Beautreillis, so I decided to call him a taxi and we went to my friend's apartment. After finally finding a taxi we went to Herve's place. Jim was extremely drunk and stopped the taxi at a bridge crossing the Seine. I paid the driver and Jim wanted to jump up the railing… this was at the same moment as two police officers were approaching. Morrison shouted, "Fuck the pigs!" We luckily got in another taxi and Jim wanted to tip him 5.000 French Francs. The driver thought we were insane and he left without the tip.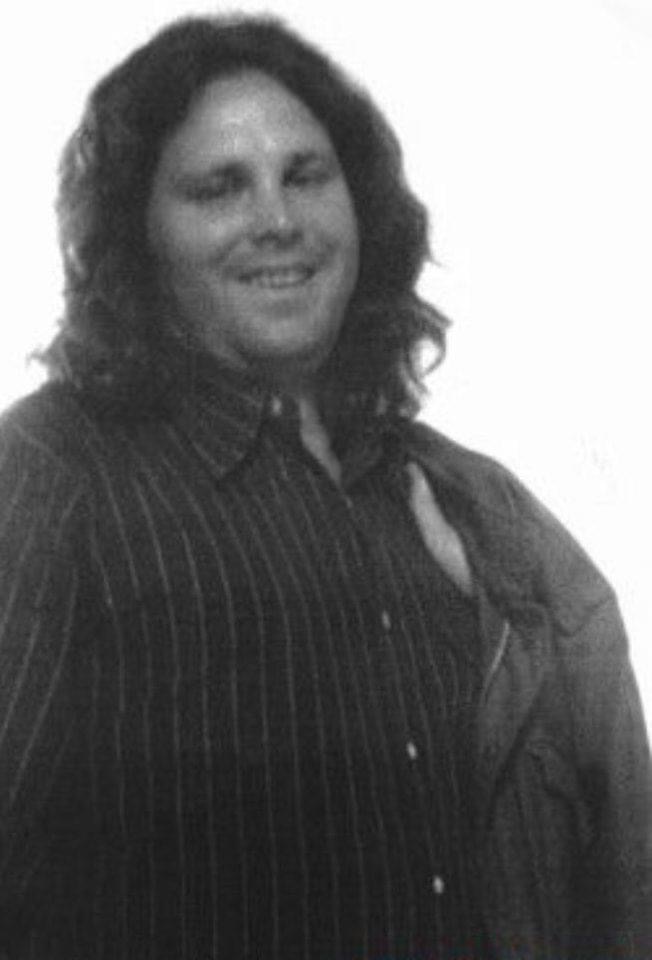 Hervé Muller was a French underground journalist who was your friend… What followed?
Hervé was a Rock critic and was at the time writing for Best magazine. I was still living with my parents back then and I couldn't see myself bringing him back at this hour dead drunk as he was in no condition to give me his address so I decided to take him to sleep at Hervé's. He was living with Yvonne Fuka, she was making illustrations for Best magazine.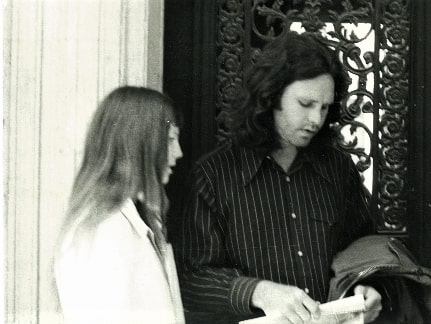 After a very loud entrance I rang Hervé's door and Yvonne Fuka opened. Nobody believed me when I said I'm with Jim Morrison. "Fuck you, Gilles", Hervé responded. The best part was when Jim just entered the room and crashed in bed.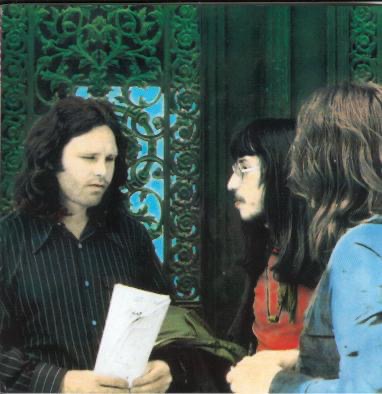 "I wanted to talk to him about the Doors but it was a taboo subject"
You took some fantastic photos of Jim Morrison in front of Hervé's house at Place Tristan Bernard. Would you like to talk more about that?
It was after lunch at Hervé, Jim had come with Pamela. That day Jim was sober and very approachable, not at all a rock star. There was Corsican rosé at lunch and Pamela liked it and asked us where the Corsica was. It was thanks to this wine that they decided to go to Corsica. I wanted to talk to him about the Doors but it was a taboo subject and he refused.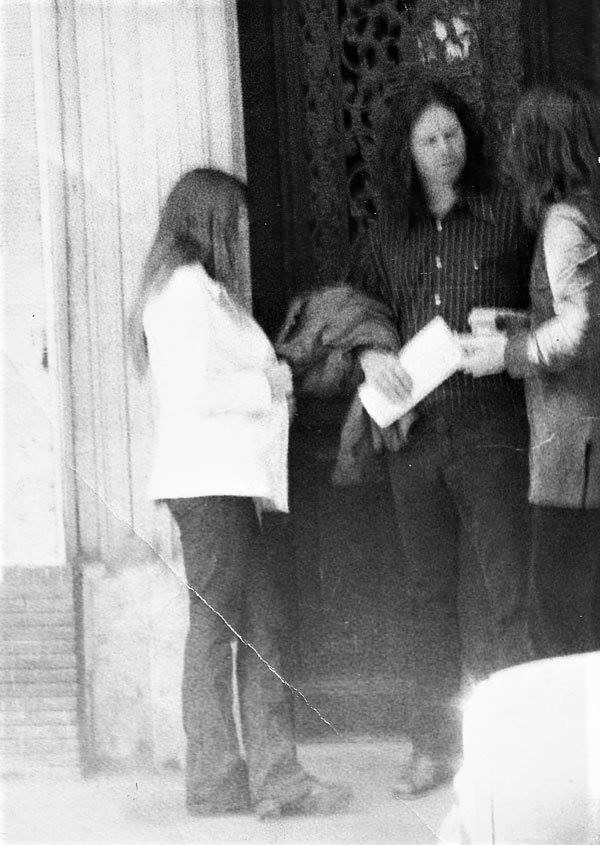 Let's move on, what occupied your life in the very early 1970s?
I spent my life in concerts and I started to book concerts for certain groups. From time to time I was also involved with restaurant related jobs.
When did you start working on Le Parapluie?
I met Henri Jean Enu at a concert. He asked me to write about music in 1970, I think. He was the owner and editor-in-chief of Le Parapluie (and leader of the group Fille qui Mousse).
What was the scene for underground rock fans in Paris? What were some of the early experimental groups that played in clubs?
Yes there was a whole alternative scene in Paris. There were a few clubs for this kind of music. Lard Free played at Gibus and Golf Drouot.
You were manager of Lard Free and Urban Sax. François Mativet told me in an interview that you met in March 1972.
Yes, one day Le Parapluie designer Dominique Mulhem took me to a Lard Free concert and I really liked it.
What led you to become manager of Lard Free?
I had interviewed them for Le Parapluie and one day I gave them a booker contact, which went well and Gilbert Artman asked me to take care of the band.
The band was really special. What attracted you the most in their music?
The music was different, the attitude also and I felt pleasure in listening to them.
What can you tell us about their debut album?
The recording was done in London in three days at Island studios, it was the first time the sound engineer saw a synthesizer.
How would you compare it with the second album?
The debut album is more "wild," while the second is more complex.
Looking back, what was the highlight of your time in the band? Where and when was your most memorable gig?
It's really hard to say. There were many concerts at political parties, … a concert with a light show with works by Victor Vasarely, a jam session between Lard Free and Arthur Brown Kingdom Come in Parisian club… and many others.
Is there any unreleased material?
No, unfortunately nothing by Lard Free. Maybe some fans have bootleg recordings?
What currently occupies your life?
I still manage Urban Sax.
Let's end this interview with some of your favourite albums.
There are many albums by Soft Machine with Robert Wyatt that I enjoy, Kevin Ayers as well. Then the first Pink Floyd and the Doors albums. Pink Fairies, the Pye period Kinks, Third World War, Captain Beefheart, Komintern, Red Noise, Maajun, Ame Son, Gong, Brigitte Fontaine and Areski Belkacem, Catherine Ribeiro + Alpes, Crium Delirium, Moving Gelatine Plates, Catalogue, Fille qui Mousse.
Klemen Breznikar
---
Headline photo: Pamela Courson, Jim Morrison, Hervé Muller | 6 Pl. Tristan Bernard, Paris | Copyright: Gilles Yepremian
Other interviews with Gilles Yepremian can be found here, here, here and here.
Lard Free interview with François Mativet