Garry Gray & Ed Clayton-Jones | Interview | New Album, 'We Mainline Dreamers'
The Melbourne alternative scene pioneer, lead singer, songwriter from the legendary Sacred Cowboys Garry Gray recently collaborated with Ed Clayton – Jones, guitar slinger, composer from The Wreckery and they recorded 'We Mainline Dreamers,' out via Spooky Records.
---
The ride. Across the oceans of time they set sail, in a ragged ship all torn and faded. A skeleton crew attached and a destination unknown – thus began the story of We Mainline Dreamers – the sun was setting but there was a drumming through the jungle that two old sea dogs had met in a bar in Cancun, after thirty years out of touch these men thought there was nothing for it but to build a new ship and sail it out into the uncertain waters, one more cruise to the sirens rocks, to a vortex erasing time and space, the place of certain madness and rabid desires, the Atlantis of 1960's TV horror and perennial loss.
"We are the sum total of our musical experiences and cultural background"
How did you originally meet?
Garry Gray: Ed and I go back to the mid '70s. Ed was at the first gig I played. I was in an outfit called the Reals (which later became Negatives) with Chris Walsh and Ollie Olsen. Also in the audience, our friends back in the day, Tracey Pew, Nick Cave, Mick Harvey (the Boys Next Door and the Birthday Party). The rest of the audience were rockers and hippies and I think the headline band was a prog rock outfit. We played Stooges songs and our own gnarly originals like 'Nothing To Say,' 'Hot Shot' and 'Dumbworld'. Ed and I became friends. We'd grown up in the same amorphous suburban incubator, listening to the same music, inspired by cinema, art, pop culture, and Cold War television.
What led to the collaboration project that produced the fantastic 'We Mainline Dreamers'?
Garry Gray: We got in touch after many years during the height of the pandemic. Ed lives in Sydney, I live in Melbourne … many years and a lot of time traversed … we have lived lives, travelled and made albums (I think this is my 8th) so one left of each, at least …
The things which inspired us when we met way back continue to do so. A friendship rekindled during lockdown provided an opportunity to work together. We're here now partly because it didn't happen back in the day.
So given these unifying elements (our ancestral memories, if you like) it is through this looking-glass that our work takes its form and the idea of the project grows.
There seems to be an interesting story behind the album, would you like to elaborate?
Garry Gray: Ed and I aren't "a new act" … we are the sum total of our musical experiences and cultural background … We were extremely pleasantly surprised at how working together panned out but given the shared history and world view stuff we wonder why we were surprised … if that makes sense. We think it's a great album to the point where we think it's in "our finest hour" territory by a good margin…
So, in one way, a little like the crew of the Icarus, the Liberty 1, in Planet of the Apes, hurtling through space and time in suspended animation and crash landing in the ancient lake of the distant future, we emerge….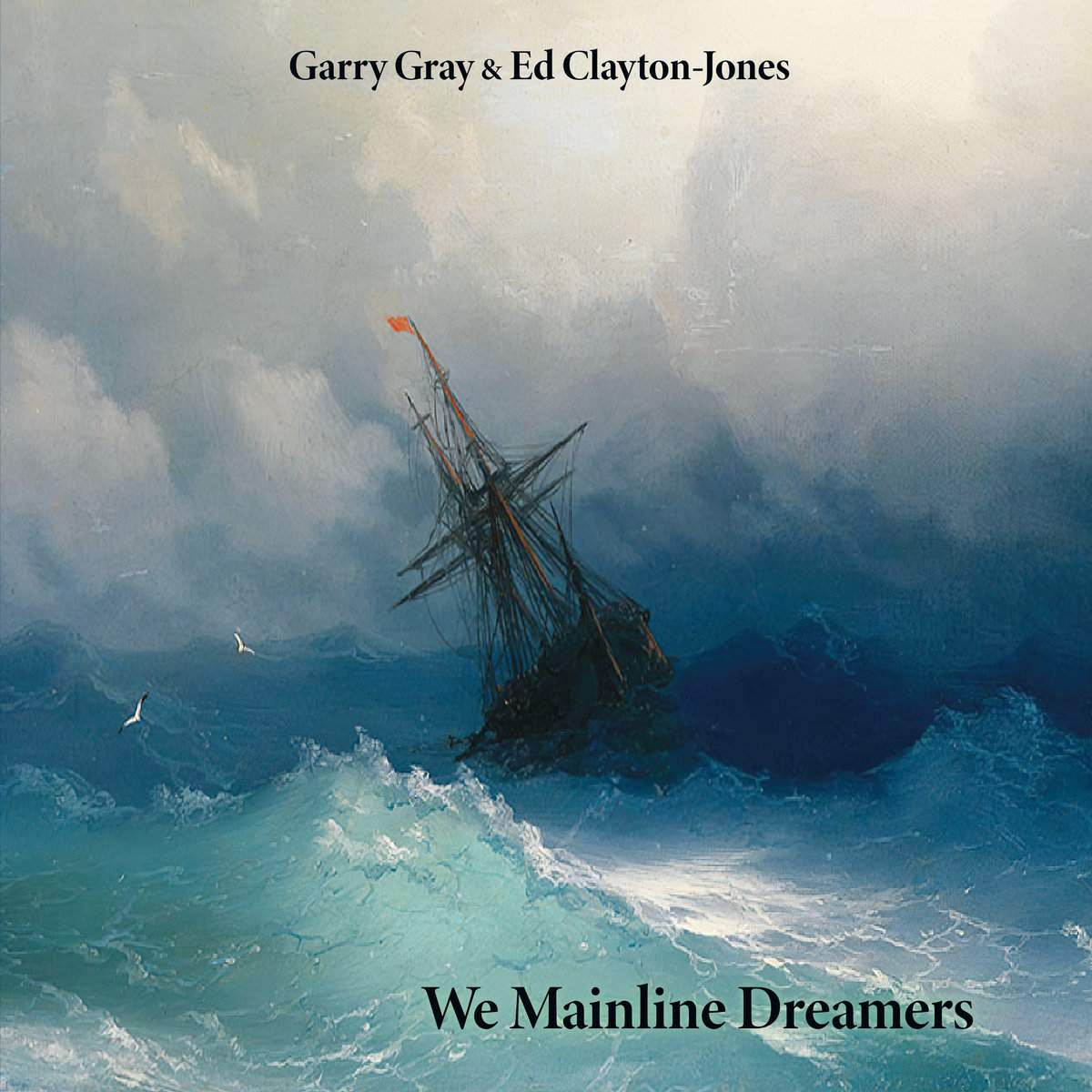 Would you say you did a concept album?
Garry Gray: It was my intention to construct the album in the classic sense. It does that in a way that I am very happy with. From the music department and the cinematic soundtrack dynamics in Ed's work and I'm doing the same, but from the story department. In my department, you find not just the written words but the forms, shades of meaning and the moods they take. Then, when you play the album, Side One takes you on the first part of the ride with Side Two kicking the journey into overdrive. So, with Ed's finely woven gold thread tapestries, I had a pallet loaded with colour to draw from and enable me to work with great freedom.
So, to describe 'We Mainline Dreamers' and what it is doing – it's a series of observations arranged to produce a range of thoughts, feelings, and emotions. The stories have not been inhabited by us per se, no personal exorcisms reside here. The songs shift in and out of different realities … or unrealities. More precisely, it is psychological realism which delves into the "inner person" of a character's mind and motivation rather than focusing on external actions or motivators.
If I can quote Melville here, from Moby Dick, "Across the oceans of time they set sail, in a ragged ship all torn and faded. A skeleton crew attached and a destination unknown …" it begins, continuing, "Whenever I find myself growing grim about the mouth; whenever it is a damp, drizzly November in my soul … then, I account it high time to get to sea as soon as I can." … and Lou Reed, ''I wish that I was born a thousand years ago, I wish that I'd sailed the darkened seas, on a great big clipper ship, Going from this land here to that, In a sailor's suit and cap.''
But I'm not going to join all the dots from here to The Twilight Zone. Listen to the album, folks.
What are some future plans for you two?
Garry Gray: Sacred Cowboys ran on and off from 1982 to 2008 with 6 or 7 albums depending on how you count them. This is my second post Cowboys album. I'd like to make another album with Ed, there are some new songs that have started. It's always down to how the planets align.
You are both coming from a very rich and versatile background being on countless albums, can we start at your teenage years? What are some of the most important records that influenced you to become a musician?
Garry Gray: I think the answer to this question follows later when I discuss the bands I have played in – from the Negatives to psychedelic covers band the Merry Pranksters to the Sacred Cowboys and the Sixth Circle to the current project….
Garry, let's discuss Sacred Cowboys. The band formed in 1982. You were playing with The Reals, The Negatives and Judas Iscariot And The Traitors before that. Would you like to talk about those three groups first?
Garry Gray: Let's kick off from the beginning, the 1970's. I'll include some excerpts from an interview I did with Edwin Garland from the I- 94 Bar…
Edwin Garland: I asked Garry about his music in 1973 and 1974, the demos and rehearsal tapes and how it appears that he was right into proto-punk at the same time as Ed Kuepper and Rob Younger. (Garry's answers were such good post-Kerouac prose, that I left them largely unedited.)
Garry Gray: Proto-punk as you know, was a retrospectively devised genre, so it's probably worth getting that clear. There are some bits I disagree with, but we haven't got all day.
According to the AllMusic guide: "Proto-punk was never a cohesive movement, nor was there a readily identifiable proto-punk sound that made its artists seem related at the time" (and fair enough.) "What ties proto-punk together is a certain provocative sensibility that didn't fit the prevailing counterculture of the time (or I'd say, sat uncomfortably with the mainstream as well). It was consciously subversive and fully aware of its outsider status (sometimes…these artists are in show business, they're not chartered accountants) … In terms of its lasting influence, much proto-punk was primitive and stripped-down, even when it wasn't aggressive, and its production was usually just as unpolished. (debatable) It also frequently dealt with taboo subject matters, depicting society's grimy underbelly in great detail, and venting alienation that was more intense and personal than ever before.'' (Back then, a lot of this stuff hit the mainstream radio too).
In the band listings for proto punk, sure, we find the Stooges, The Velvet Underground, the MC5, and the New York Dolls, the Monks, to name but an obvious few.
The thing that is forgotten is that all of these artists were simply making rock and roll and being themselves. This is why it isn't a cohesive movement. In the same way, Mushroom and the Suicide label tried to sell the public a punk scene with "Lethal Weapons" in 1978. But there was no scene, just a changing of the guard, really. Anyway, basically. I gravitated towards some of these "proto" artists, this so-called "genre", via the mainstream radio…3XY where no wrinklies fly…
The first artist that really got my interest in 73 was Alice Cooper. I heard 'No More Mr Nice Guy' from 'Billion Dollar Babies' – Mick Mashbir's solo – on the radio and had to have the album. Subsequently, I got the Cooper back catalogue ('School's Out,' 'Killer,' 'Love it to Death'), Lou Reed was in the charts, and I managed to track the Velvets down at a jazz store in Melbourne (and to ask them) to import the banana album, which was on the Verve jazz label. It took three months to get it.
David Bowie of course was in the charts. NME and Rolling Stone magazine were the catalyst linking Bowie and Reed to Iggy Pop, and along with Alice referencing Detroit as a rock and roll city, the MC5 and Blue Öyster Cult were found.
My then collaborator, bass player Chris Walsh, found the 'Raw Power' album in the Australian Record Club – on sale next to Barry Crocker in early 1974! Our first garage band Stooges cover in 1974 was 'Shake Appeal'; the song was 12 months old then. At the time, 'Beggars Banquet' was only a few years old. Keith's solo in 'Sympathy for the Devil,' Lou's solo in 'I Heard Her Call My Name,' and James Williamson on 'Raw Power' in general said everything I needed to know about guitar players. And add Mick Ronson, Glenn Buxton and Fred "Sonic" Smith to that. I guess in the lyrics department, I bought Patti Smith's 'Horses' in '75, and 'Marquee Moon' by Television in due course … The artists ticked that box for me as well.
AllMusic talks about "scuzzy production." I don't subscribe to that as a benchmark. Back then, as now, I've been impressed by an array of artists not confined to this retrospectively devised category.
Over the years to follow, I found the music that I was making was attributed to this or that category. When the first Sacred Cowboys EP came out in 1983, I couldn't find it in the racks. I asked then owner of Greville Records, Andrew McGee why he didn't have it. He told me "You're in "Swamp Rock"…surprise, surprise…next to Kim Salmon and the Gun Club. But back in '73, I wasn't aware that other Australian artists were into similar things. We just did whatever we felt like doing, which remains true to this day, at least for me, just making rock and roll music.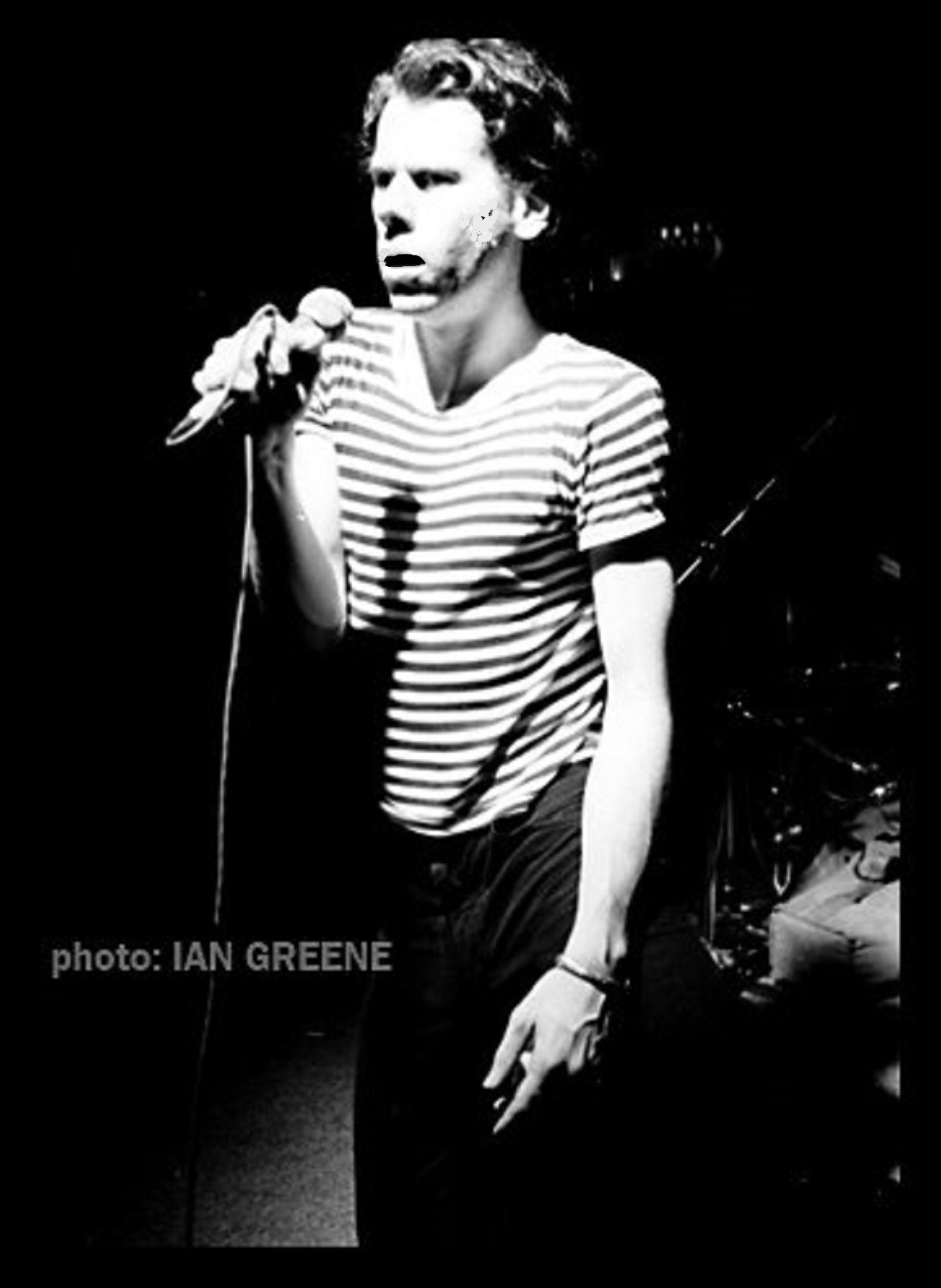 Edwin Garland: He quotes Alice Cooper: "Can't salute ya can't find a flag, if that don't suit ya, that's a drag." I asked Garry about 1978 and how punk really seemed to take hold of certain areas around Melbourne. The St Kilda scene, of course, is legendary.
Garry Gray: I went to primary school with Tracey Pew and Chris Walsh in Mount Waverley……sweet birds of youth……the amorphous suburban sprawl we group up in, we all had ideas, that made us scary…reads like Nicholson in Easy Rider, I know…, we the alienated … on the outside of the great Australian lie …the Colgate invisible shield …but I don't expect anyone to get that en masse today, people didn't get it then …and here we are living in the long predicted zone of the 'switched off majority', a land in which realists are branded cynics and true bread is white bread hunted by shoppers toting hate and fear …of form and substance we hear nothing…blaming everyone but themselves for their inept choices.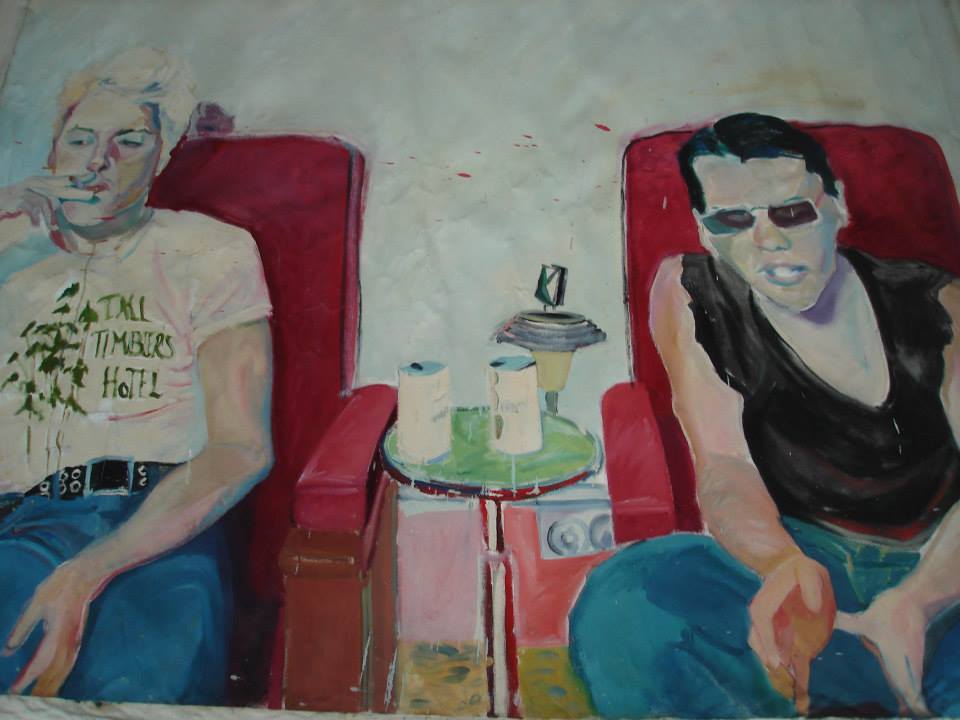 In the early to mid- 70s Chris and Tracey started learning bass. I played guitar for a while and shifted to lead singer when Chris and I formed the Reals with Ollie Olsen. Our gang was Tracey, Nick Cave, Mick Harvey. We used to check out each other's rehearsals. The first Boys Next Door show was at Mick's father's Parish Hall. Chris and I got beaten up at the show by Jordy Boys, sharpies and rockers from housing estate suburb Jordanville. Next night we did our first show with Reals at an event called "Breakfast for Buddha" in Glen Waverley. I had a hundred-foot mike lead. Chris played with boot marks on his face from the previous night's beating which the audience thought was stage make-up…
There we were with original songs like 'Nothing to Say', a version of Loose, a Blue Oyster Cult tune…out there…so this was '76 or '77…Division 4 and Homicide on TV … 'l'enferc'est les autres'…
Chris and I moved to St Kilda; we were the beachhead. Tracey and Nick would crash at our place. Chris and I formed the Negatives and started playing at the Tiger Lounge in Richmond. One day I was drinking in the downstairs bar at the Seaview with my girlfriend and she told Graeme, one of the owners, that I had a band and asked if we could play there. So, we did a show, Negatives and Boys Next Door. This was the first ever Ballroom show with Dolores and Laurie Richards starting to run it about six months later…it became the epicentre of the Melbourne scene.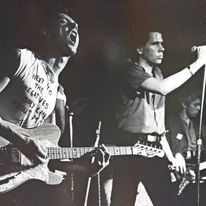 So somewhere there in 1978, Barrie Earl from the Suicide label said he'd make us all stars and signed us up. Chris and I didn't take it all that seriously. We felt we'd been signed to pad out the stable of a non-existent scene. Rather than take the pop route, we unleashed the seven-minute marvel 'Planet on the Prowl' and demanded that it be released. The "Lethal Weapons" era did bring musicians into contact with each other, though. I met Johnny Crash who was the Sacred Cowboys' first drummer, and Ash Wednesday who has worked with the Cowboys live up to 2006 and notably on 'Trouble from Providence'. Both played in JAB, then the Models and via them I met Mark Ferrie.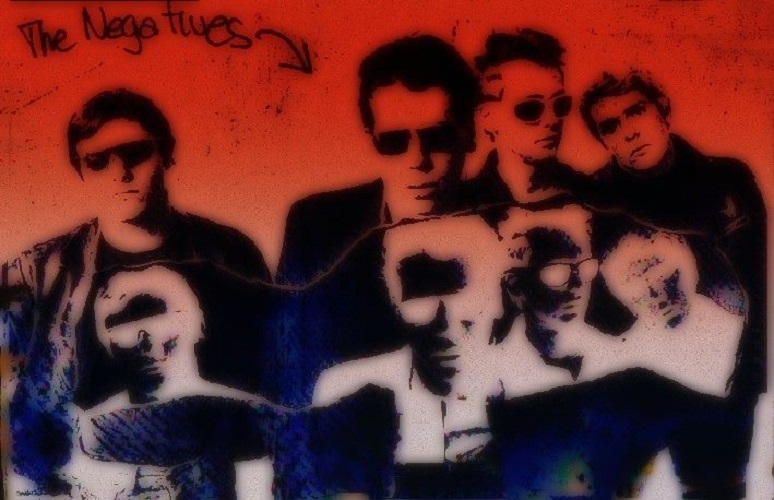 What led you to form Sacred Cowboys?
Garry Gray: Mark Ferrie and I became friends in 1981. In early '82 we formed the Sacred Cowboys after seeing the Sacred Cows on an old episode of "Get Smart" with Larry Storch as the Groovy Guru. It was an iconoclastic idea from the outset and remained so. Avoiding being tagged into genre when we saw one coming, eschewing cowboy hats, fashion statements and rejecting the hype…the band had impeccable taste in music, and we set about our mission of pushing genre and rejecting calls to cash in.
"I launched into the audience with a chainsaw roaring"
You were well known for your gigs… how do you remember some of the early gigs?
Garry Gray: Yes, well I meet a lot of people who recall this show or that. I always find that interesting. I tend to recall things in relation to the songs we were playing at a given time. I wish I'd been in the audience. The early days were a hedonistic JG Ballard car crash, one reviewer said we were, "the machine hum of the ultimate destruction''…my response was to demand we get psychedelic, and so we recorded 'I am the Walrus'. Equally, the theatrics of Alice Cooper inspired. There was a show in '83 that screened Texas Chainsaw Massacre before a show, and during 'Nothing Grows' in Texas in the middle section I launched into the audience with a chainsaw roaring. Folks were hiding under tables, in the restroom. Australian musicologist, Ian McFarlane, described them as "one of the most confrontational live outfits" with their music as "mixed post-punk moodiness and country raunch over a mutant swamp-blues backbeat." Go figure.
After releasing two fantastic singles you supported Dead Kennedys, at their Melbourne gig.
Garry Gray: 'Nothing Grows in Texas' was our first hit. Our manager dared Countdown compare Molly Meldrum to have us on the show. Molly didn't like us when he saw us live but somehow our manager got us on national TV on the eve of our first Sydney tour. Molly told viewers we were the worst band he had seen in five years – with that we had the affirmation that we were doing the right thing – it was fun. The song itself, an ode to existential nothingness and corruption sat awkwardly as I sold Jet Rink an American Dream. After blowing the budget on an unfinished second single, 'Nailed to the Cross,' we were out of favour with our record company but with a second Sydney tour coming we decided to release our own Alex Chilton's 'Bangkok'. It went to number one on the Indie charts.
We supported the Dead Kennedys at that time but also notably, the Gun Club. Our friends the Johnnies formed the back up band for Jeffrey Lee Pierce with band members missing planes and so forth. My good friend, the late Spencer P Jones shone on guitar.
In December Sacred Cowboys followed with a six-track self-titled extended play on the White Label, which was produced by Tony Cohen (Models, the Birthday Party). Tell us about it.
Garry Gray: Tony was a friend to us and many of the bands he worked with. He understood what I wanted and what had to be done to get there – he pulled out the sounds and "weeded the garden," as he would say – drove the machine like a Jesus driven hot rod – set the controls for the heart of the sun –so, out there in the 3 am boneyards pursued by caterwauling zombies and fending off beasts in the darkness as our comrades succumbed to sleep – we would fly on and find the aircraft carrier deck pitching and rolling in the black night sea – "Guys, wake up! Listen to this."
What runs through your mind if I would play each of the Sacred Cowboys' albums. Would you like to share a sentence or two about them?
Garry Gray: In the early days of the band, we were driven by exploring playing everything we ever wanted to play. We followed our own compass, perhaps to our commercial detriment, but it kept us alive creatively over a few decades.
In 1985 a live/demo compilation, 'We Love You . . . Of Course We Do,' named after a cover of the Rolling Stones single, appeared on Man Made Record and shows some of our influences ranging from Suicide to Captain Beefheart, Bob Dylan, The Doors, with our psychedelic side out there in 'I am the Walrus'.
Over time we nailed the things which drew us to music in the first place with our own sound and direction. Our late '80s outing, 'Trouble from Providence' was released on Normal Records in West Germany and Citadel, Australia on vinyl and in the new CD format. 'Canned Goods,' 'Blood and Soil,' 'Pacification Organisation' thematically conjures images of a conflicted Europe in the 1930s and 40s and 'Hell Sucks' and 'Trouble from Providence' traverse the Vietnam War weighing outcomes and giving a cautionary tale of dystopian futures – the world, post-World War II, post the Vietnam war. This is very much a European album musically with a Velvet Underground / Suicide Edge. Ian McFarlane described it as "one of the best independent releases of the year.'' 'Hell Sucks' became the band's signature tune.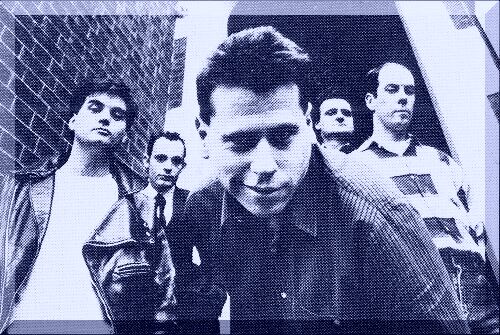 The wall came down a year after 'Providence' and this led to writing the next album which eventually surfaced as 'Cold Harvest' on Bang Records in Spain. 'Black City' is our arrival in the dystopian future envisioned in the last album – at the feet of Ozymandias.
The album delved into the murky side of America – snake oil salesmen, television, movie stars … and looked at the world sketched out on a three-dollar bill … stopping strangers in the street … in the new context … in the now.
Spencer P Jones and Penny Ikinger joined the band in the mid 1990's for this phase of the Sacred Cowboys. Musically the Cold Harvest album expresses our American rock influences. Rock journalist TJ Honeysuckle noted that Ikinger and Jones were "hugely distinctive presences here" while Gray's vocal delivery "swings easily from snarling to caressing – he has a snake oil seller's charm at times, a cursing preacher's tone at others." Radio station, PBS 106.7FM's review described the album "the songs are narrative in style, a kind of urban uprising driven by dysfunctional dreamers and powerless onlookers.''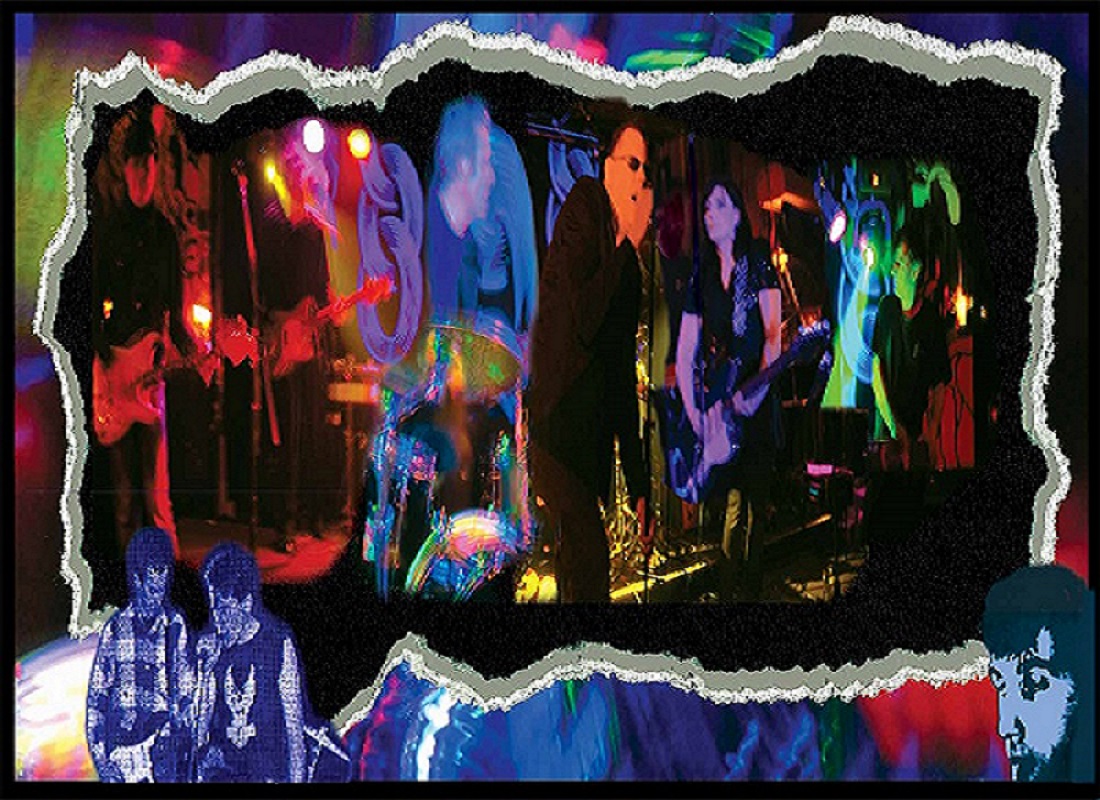 How did the project, Garry Gray & The Sixth Circle come about?
Garry Gray: Having returned to Australia after many years overseas, the Sixth Circle project came about as a Phoenix rising from the ashes of a writing jag with writer Robert Brokenmouth. I had the themes and ideas for the next album and some musical ideas written with a friend in Adelaide. So, when I returned to my hometown Melbourne, I played these tunes to Spencer who was interested in the album project. I met Tex Napalm who was instrumental in making the music work and engineering and producing the album.
What made the project happen was that everyone was into what the album was about, and everyone bought their individual attributes to the album.
Writer, producer and musician Edwin Garland sums the Diamond in the Forehead project up perfectly: The title track 'Diamond In The Forehead' is the benchmark song. It's a moving piece of music, emotively delivered and with intelligent lyrics wrapped in torment ("the hammer strikes like a diamond in forehead") Again, it's the combination of Gray's vocal delivery and the untwining of Tex's and Spencer's guitars. Stinking and working on an underbelly of themes of darkness.
Lyrically, Gray covers the classic dark roads of redemption, sin, alienation and the outside; Melbourne 2016, or the Delta 1926. It all goes back to blues; to the crossroads. It appears that when we were kids and were dragged to Sunday school it was just schooling for blues. A Beasts of Bourbon vibe is also a reference point but these guys have a more sinister feel. There's also a nod to 'Exile on Main St.,' to classic '60s rock and the Delta. Then there's Garry Gray, the suavely dressed hillbilly preacher hollering with his voodoo mask through these tales of darkness and sin. On the final song "No Right", he's there with his arms in the air and the words are spat out like blood. A man who has lost his religion who's on dark journeys.
What makes this album so strong, besides its theatrics? Well, the playing is great and full of soul. It's also the songs and Gray's delivery. So, Molly slagged Gray and his mates all those years ago. Fuck him. "Do yourself a favour" and get this. I reckon it's a killer album. – Edwin Garland
What about your first band, Ed, Piano Piano? Edward Clayton-Jones, would you like to tell us about the formation of The Fabulous Marquises?
Ed Clayton – Jones: Piano Piano was the first professional band that I played in. I was 17 when I auditioned for the job as Bass player. I didn't even own a bass, I borrowed one for the audition, a beautiful Rickenbacker. I think it was the Bass that sealed the deal. It was Ron Schtecher Née Ron Rude's band. He was a very intense man who had a four track reel to reel studio in his house. He recorded a lot of different people and was very generous with his time. He introduced me to Rowland and Nick, we often supported the Boys Next Door. Paul Hester was our drummer, he went on to play with Crowded House. I brought my best friend James McNabb in to play guitar and we were both poached away from Ron by Mr Pierre to form the Fabulous Marquises.
How did you meet Hugo Race and Robin Casinader? Tell us about joining Plays With Marionettes?
Ed Clayton – Jones: There was a buzz around PWM so I went to see them play at a small club in Melbourne. I thought they were great but their sound was terrible. I introduced myself to Hugo and said I would be happy to mix in front of the house for them if they were interested. I hadn't mixed any live stuff before so it was an idle boast. I thought I could do a better job than whoever was mixing them at the Tiger Lounge. Much to my dismay Hugo called my bluff. So I mixed the band for two or three gigs, I learned quickly. The big problem with PWM was that their equipment was terrible and they had to do something about that if they were going to improve overall. I don't know what prompted them to ask me to join but they did and that was the beginning of my friendship with Hugo and Robin. Robin and Hugo went to high school together and were very influenced by prog rock music like King Crimson, Yes, Genesis et cetera. They enjoyed challenging themselves and the audience with their arrangements and I quickly realised I had to sharpen up my skills or I'd be out on my ass. I played guitar and synth. It was a huge educational experience. Robin was endlessly patient with us. He is a genius level player and arranger. An incredibly gifted man who taught me a great deal. I learned more about writing and arranging music from my time with PWM than anything predating it.
How did your collaboration with Nick Cave and the Bad Seeds come about?
Ed Clayton – Jones: Collaboration is not how I'd describe my short tenure with NCATBS. I was hired as a hired gun. Blixa couldn't do most of the European dates for the tour to promote Nick's first solo record. We became the Bad Seeds on the tour. Prior to other band was The Cavemen!!! I got the gig because I was there, Hugo was in the group, I was friends with everyone, I'd spent time with Barry Adamson. I was an easy choice I suppose. There was 1 rehearsal and then I learned as we played. Obviously I was not doing great things. I'd play bass on the easy songs, I played a bit of piano and guitar. It all happened very quickly and then they went to the US, Blixa was back and I was cut loose.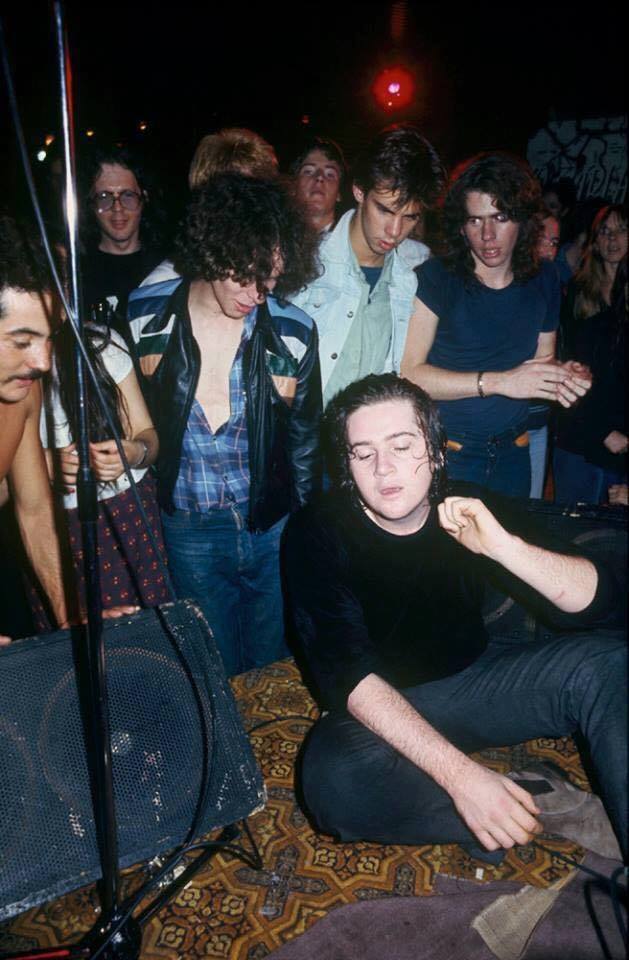 What led you to form The Wreckery?
Ed Clayton – Jones: Hugo and I had been planning what would become the Wreckery whilst we were on tour with NCATBS. We were ambitious and we were hungry to do something different and powerful.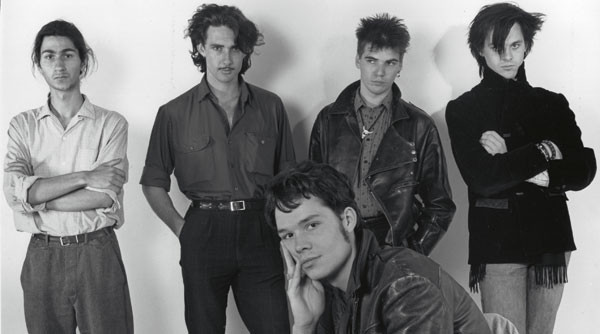 What's the story behind recording 'Here at Pains Insistence' and 'Laying Down Law'?
Ed Clayton – Jones: Not a question I can answer. There was no story per se. Hugo was the architect of the Wreckery records.
What about Noah Taylor & The Sloppy Boys?
Ed Clayton – Jones: I'd been friends with Noah since I first met him when he was an extra on Dogs in Space. He was 15. We played in a few dumb bands around Sydney in the early 90's. Noah was doing a movie in 2010, he'd been living in the UK for years at this point. The underwriters for the movie said that they needed him to stay in Australia for a 6/8 week period rather than him returning home. Something to do with volcanic eruptions in Indonesia. So Noah, having a bit of free time, decided to do an album. The only problem, we had to do it in one day. Fortunately I was used to Noah's eccentric approach and he had engaged Cec Condon of The Mess Hall to play drums. My initial brief was to play lead guitar but when we got to the studio I found that NT hadn't thought about a bass player so I played the bass and did the lead guitar stuff later. We had a great time, Loene Carmen came in and sang. Noah is very clever at mobilising friends to do things like this. We went on tour supporting Grinderman and the brilliant Jed Kurzel , the other half of Mess Hall played bass. Noah is amazing.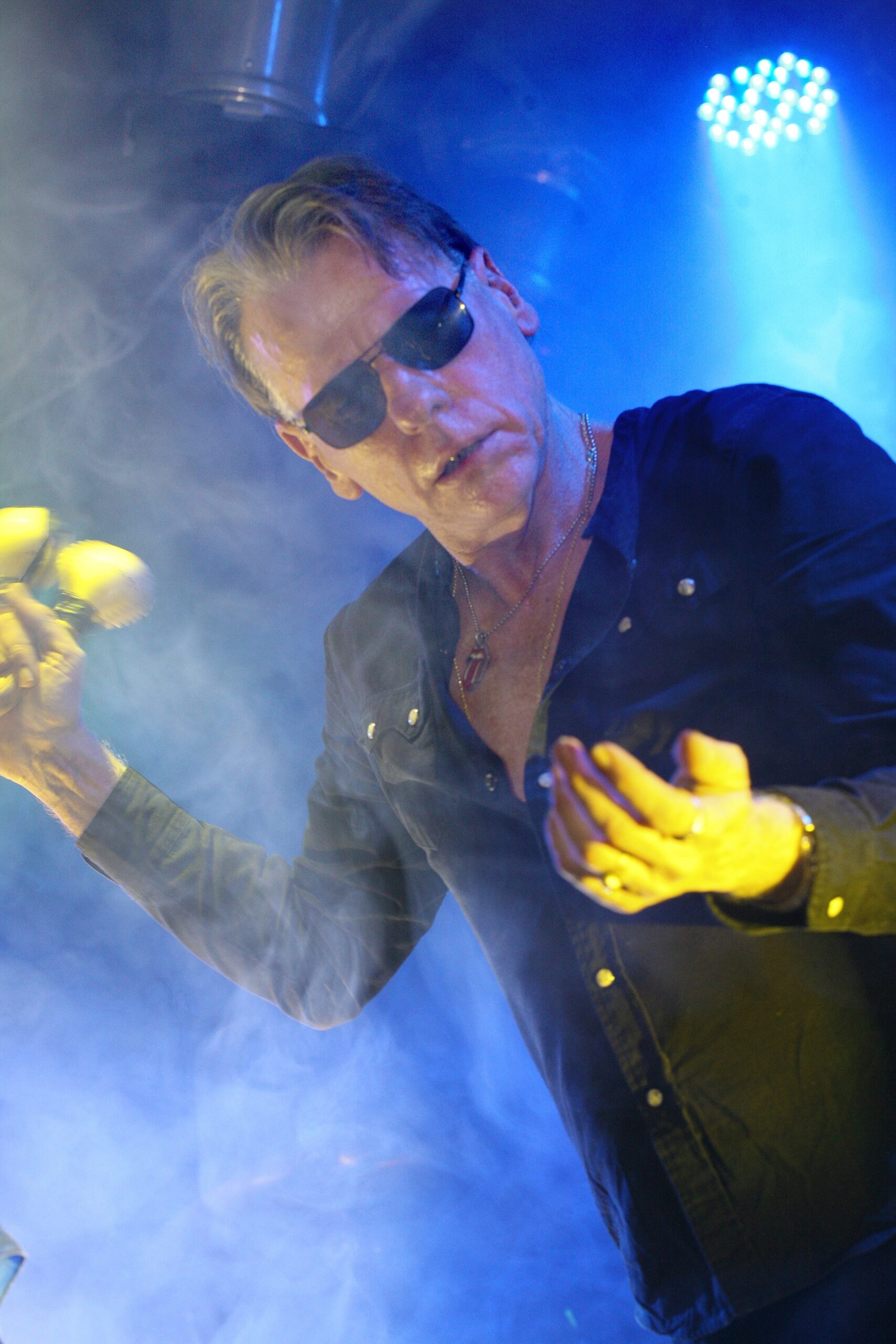 "We take ideas and concepts from our peers and reinterpret them"
Let's end this interview with some of your favourite albums. Have you found something new lately you would like to recommend to our readers?
Garry Gray: I've listened to a lot of music over the last 3 years, things I had never had time to listen to either as a teenager or later in the Sacred Cowboys or in life in general. Not a lot filters through when I am working on my own music until I have finished what I am working on. So, over this recent period I have been listening to a lot of everything from Badfinger to Beefheart. The Beatles to Suicide. Alice Cooper. SAHB, Pink Floyd's early albums. Sinatra. Hazelwood. In the new basket, I've been listening to all the Sean Lennon / Claypool albums, The Delta Riggs.
Ed Clayton – Jones: I have old favourites of course. I like Tropical Fuck Storm. Mannequin Death Squad, The Murlocs, Momma, Lucius. There's lots of good music, new groups that I like. My taste is broad, I really like Einstürzende Neubauten, I really like Simon & Garfunkel, Billie Eilish, Cardi B. I'm a huge fan of David Bowie.
Thank you for taking your time. Last word is yours.
Garry Gray: There is no formula for creativity. I think the closer it is driven by necessity and reality, the stronger the output will be in its integrity as a creative work. I don't think you have to be a live band. I don't think you have to be a studio band. But artists need to record their work if they are musicians, publish their writing if they are writers and never procrastinate on the shores of oblivion.
Ed Clayton – Jones: Our influences are vast and varied and describing this as a band isn't really accurate. Essentially, it's a musical project, we're not a duo either. Influence is something that is a hard thing to answer. To my mind, we're influenced positively or negatively by everything we're exposed to. In popular music everything is derivative. The idea that one is breaking new ground is an ego-based notion. We take ideas and concepts from our peers and reinterpret them. It's just as likely that I will be influenced by a news story as an old Beatles song. Everything is intertwined with everything else. 
Klemen Breznikar
---
Headline photo: Sacred Cowboys in 1982 | Photo by Danae Gunn S.
All photo materials are copyrighted by their respective copyright owners, and are subject to use for INFORMATIONAL PURPOSES ONLY!
Garry Gray Facebook / YouTube
Ed Clayton – Jones Facebook
Spooky Records Official Website / Facebook / Instagram / Bandcamp