Black Nite Crash | Interview | New Album, 'Washed in the Sound with Black Nite Crash'
Seattle-based psychedelic rock outfit Black Nite Crash recently released their new album 'Washed in the Sound with Black Nite Crash,' out via American boutique label Neon Sigh.
---
Black Nite Crash is Jim Biggs (vocals, guitar), John Parker (bass), James Stone (guitar), Tony Zuniga (drums) and Claire Tucker (guitar/vocals). Formed twenty years ago, Black Nite Crash has involved more than 30 members over the years, surrounding Jim Biggs, the last remaining original member. Yet somehow, the band has maintained a coherent sound and vision. Presenting the most diverse set of songs the band has ever released, this album combines their trademark fuzzed out guitars with some newer flavours.
Work on the 'Washed in the Sound with Black Nite Crash' LP began before the pandemic, the songs a reflection of a band finding its feet again, with (then) relatively new members Claire Tucker and Sharim Johnson putting their imprint on this batch of songs. Then lockdowns began before tracking could be completed.
"This is the band's fifth full length in nearly twenty years of existence, and it looks to be the start of a period of more frequent releases as we work through our backlog of unreleased recorded songs, not to mention the surplus of new material we're working on even now," says Jim Biggs.
"Neon Sigh is a totally independent entity"
Are you excited about your newest album, 'Washed in the Sound with Black Nite Crash'?
Jim Biggs: Obvious answer: Yes
Actual answer: OMG YES!!!!
And also terrified. I'm always extremely nervous about any art I put out into the world. This album, in particular, is nerve-wracking because it's a bit of a departure for us. We've been somewhat pointedly trying to play whatever we feel like playing, regardless of how it fits into any preconceived notions (ours or anyone else's) of how the band "should" sound, and this is, quite frankly, the first thing under that ethos that we've released.
How much work did go into it? Where was it recorded and who produced it?
Almost none… It was super easy, barely an inconvenience.
Ha ha! Yeah, right. We started working on this album in earnest before the pandemic hit. Some of the songs actually have roots in the earliest days of the 21st century, it just took awhile for the lineup of the band to be such that those songs started to work. The songs themselves are never much work, though, really. Sometimes it just takes a (metaphorical) minute for the right people to be in place to make those songs work.
It was recorded here in Seattle, mostly at Crackle and Pop (Johnny Sangster's place), but also at the Outhouse and at Space Ranch. We produce ourselves, more or less, with the assistance of Matt Brown (Trespassers William, Hannah Ramone), who is, also, sort of, our secret bonus band member. He and I/Black Nite Crash have been working together for over a decade now…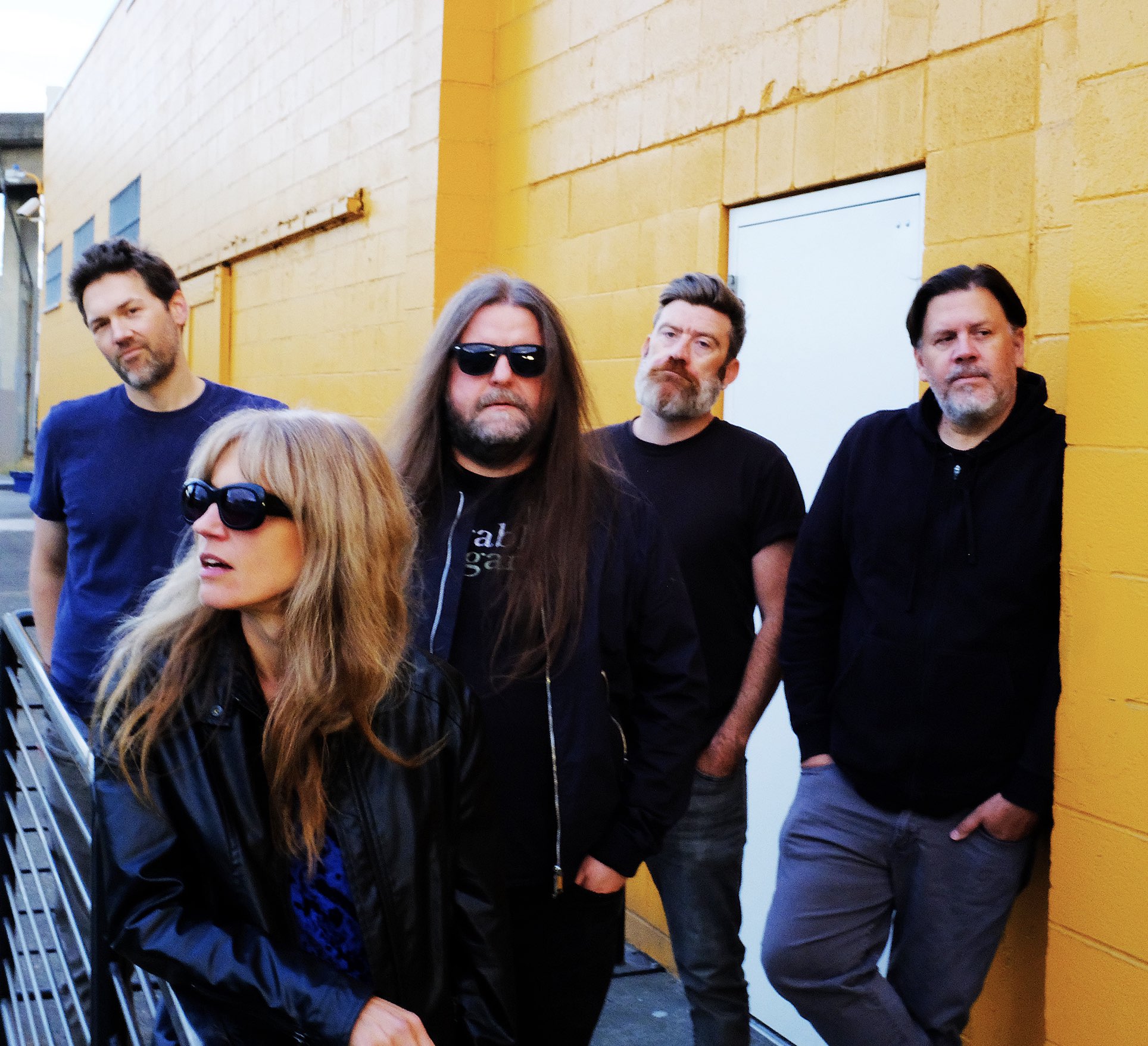 Tell us a bit about the background as a band? How did you start Neon Sigh almost 20 years ago and what's the current lineup?
Actually Neon Sigh is a totally independent entity. We're just on that label. We're probably the most active band on the label, but they have been behind releases by The Telescopes, Dead Leaf Echo, Ringo Deathstarr and Tokyoidaho, among others, independent of us. Chris Bendix is the main man there. We've been working with him for our last 4 albums, including this one. As a band, Black Nite Crash actually made our initial label releases under Dave Allison's Custom Made Music flag. Of the lineup on the first Custom Made LP release, I, Jim Biggs, am the last remaining member. Over the years there have been over 30 people who have passed through the band, but our current lineup, which is slightly different than the one on the album, is me on vocals and guitar; Claire Tucker, also vocals and guitar; Tony Zuniga on drums and percussion; John Parker on bass; and James Stone on guitar and probably keys sometime soon. Our producer Matt Brown sits in sometimes, and our label head honcho, Chris Bendix, has been known to join us on tambourine, when necessary.
Are you still following the same ideas as a band after all these years and what would that be in particular?
I think we are, mostly. And that ethos is simple: K.I.S,S.
Keep It Simple, Stupid.
We may dabble in several genres, but we always try to keep our stuff easy to consume… I like pop music, very loud pop music, and most of that is pretty basic when you break it down into its base components. Plus, simple songs are easier to play when you've been drinking, like, a lot.
Can you share some further words about the recording and producing process of your latest album?
The latest LP was started before the pandemic hit, so, needless to say, getting it done has been complicated. Pile on top of that the fact that most of us have kids and day jobs and other adult responsibilities and the process becomes rather drawn out. We try to capture and keep as much live sound as we can, but we are not afraid of overdubs. I've been working with Matt for so long that he has become an excellent guide for when things are or are not working. It is definitely a process, though. We bring the songs in mostly formed, but they invariably end up getting tweaked in the studio. That's always how it's been for us…
How would you compare it to 'Conflict Of Disinterest' or 2020 EP 'Colony Drive'?
VERY different. Or at least it is to my ears. 'Conflict Of Disinterest' was, really, a bunch of sort of unrelated recordings from past sessions tied together into one album (big credit due to Adam Straney, our mastering guy for making it sound like a coherent whole). It was, in spite of its scattershot pedigree, probably our most consistent sounding release, and probably our most traditionally "rock" record. 'Colony Drive' was a snapshot born of some free studio time we got from our label. I mean, we're still the same band, um, spiritually (for lack of a better word) though all of this, but on the new record we definitely tried to stretch our wings a bit from a stylistic standpoint. We haven't abandoned reverb and fuzz or anything, we've just tried to embrace bits and pieces of other genres…
You don't usually get an opportunity to discuss all of the releases, but please what runs through your mind when hearing 'Nevergreen', 'Drawn Out Days' and 'Array'?
I could talk about any of our releases for hours. There are a thousand stories tied to each one for me. In a nutshell, 'Array,' while not our first release, was really the birth of the band. 'Drawn Out Days' was the sound of the band falling apart. 'Nevergreen' was the sound of the band's rebirth through the aftermath of the band falling apart. I legitimately love everything we've ever done. I listen to my own recordings more than I listen to anything else, and there's a definite reason for that: I make music that I want to hear. I will never understand artists that say they can't "stand the sound" of their own voice or any other such nonsense. If you don't want to hear yourself, why would I want to hear you? I love every album, every single, every crappy practice space demo, we've ever recorded and/or released. 'Nevergreen' reminds me of the lineup that recorded it. 'Drawn Out Days,' does as well. I might prefer one over the other at any given time, but that always changes. Some days I wanna hear the early stuff, some days I wanna hear the new stuff. Some days I just wanna listen to practice space recordings of us covering The Mighty Lemon Drops, INXS and The Gun Club. Given the chance, would I go back and fix things? Sure. Am I happy with what's out there now? Ab-so-fucking-lutely.
Do you often play live? Who are some of your personal favorite bands that you've had a chance to play with over the past few years?
We play out about once a month as a rule, give or take, generally in our home town (Seattle). We're starting to book more in Portland, and we're looking even more at touring. We're old and shows are late, so, y'know… <yawn >… We do what we can. As far as bands we've played with, I will always advocate for the locals… The Purrs are our best buds, and they are consistently excellent (and one of the few bands that have been around, continuously, in one form or another, longer than us). We just played with Sun Atoms from Portland and they kind of blew my mind. I've known Jasun (their frontman) for a long time, and his projects are always good, but this one… WOW. Jupe Jupe, Seattle's answer to Depeche Mode, is also high on my list of bands I love to play with. As far as bigger touring acts go, over the years Adam Franklin and his various projects have always been great to play with. He's a stellar feller, for sure.
What are some future plans?
Recording more music, first and foremost. Most of the next record has been written and a bunch of it has been recorded. We're also planning on a short west coast tour early next year and working on a larger tour around SXSW.
Let's end this interview with some of your favourite albums. Have you found something new lately you would like to recommend to our readers?
New? Meh. I'm having a hard time connecting with new music lately. I just discovered Grave Goods, a self-described Sartre-rock band who feature members of Pins and September Girls, both of which are bands I loved. In the last few years I've really dug Black Honey, Desperate Journalist and The Soundcarriers, none of which are terribly new, but all of which I love. I just saw Tremours (who are pretty new) on tour with Ceremony East Coast (who are not so new) and they were both great. I've probably been listening more to the archives lately than anything else, especially Echo and the Bunnymen (Heaven Up Here, in particular, which is probably my all time favorite album, either that or The Boo Radleys Giant Steps) and the House of Love (their first Creation album) for reasons unknown To be honest, I listen to more Black Nite Crash than anything else. I like my band a lot…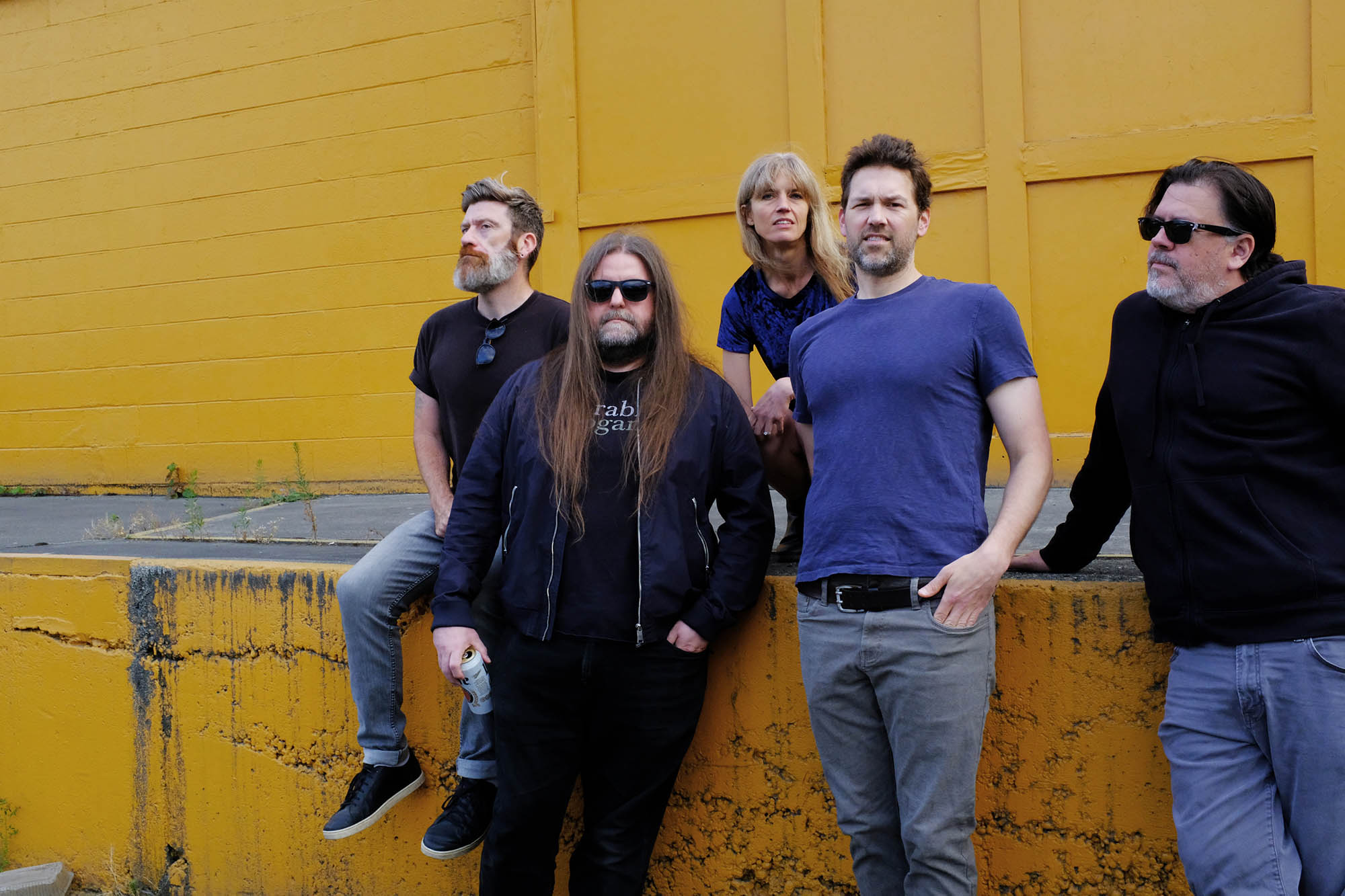 Thank you. Last word is yours.
I think everybody knows that, first, last and always… the Bird is the Word…
Don't you know about the bird? Everybody knows that the bird is the word.
Now go buy our record!!!
Klemen Breznikar
---
Black Nite Crash Facebook / Instagram / Twitter / Bandcamp