'Noël Nouvelet' by Mediæval Bæbes | Interview | New Album, 'MydWynter'
Exclusive track premiere of 'Noël Nouvelet,' by Mediæval Bæbes, taken from the upcoming album 'MydWynter,' out November 25th, 2022 via Bellissima Records.
---
The latest album is a loose sequel to 2013's Christmas themed 'Of Kings and Angels,' which reworked several well known seasonal favourites, 'MydWynter' is a darker reminder of the pre-Christian origins of the winter festival. Produced and arranged by Queen Bæbe Katharine Blake, previously founder of the recently revived Miranda Sex Garden, MydWynter – and yes, the title is a gentle nod to Ari Aster's unsettling pagan horror movie Midsommar – accepts that not every winter mystery can be wholly illuminated. Some things just stay obscured.
The unique, classical chart topping choir Mediaeval Bæbes was conceptualised and formed in 1996 by musical director, composer and producer Katharine Blake. Throughout their many incarnations, the Mediaeval Baebes' haunting classical vocals have led them to tour the world.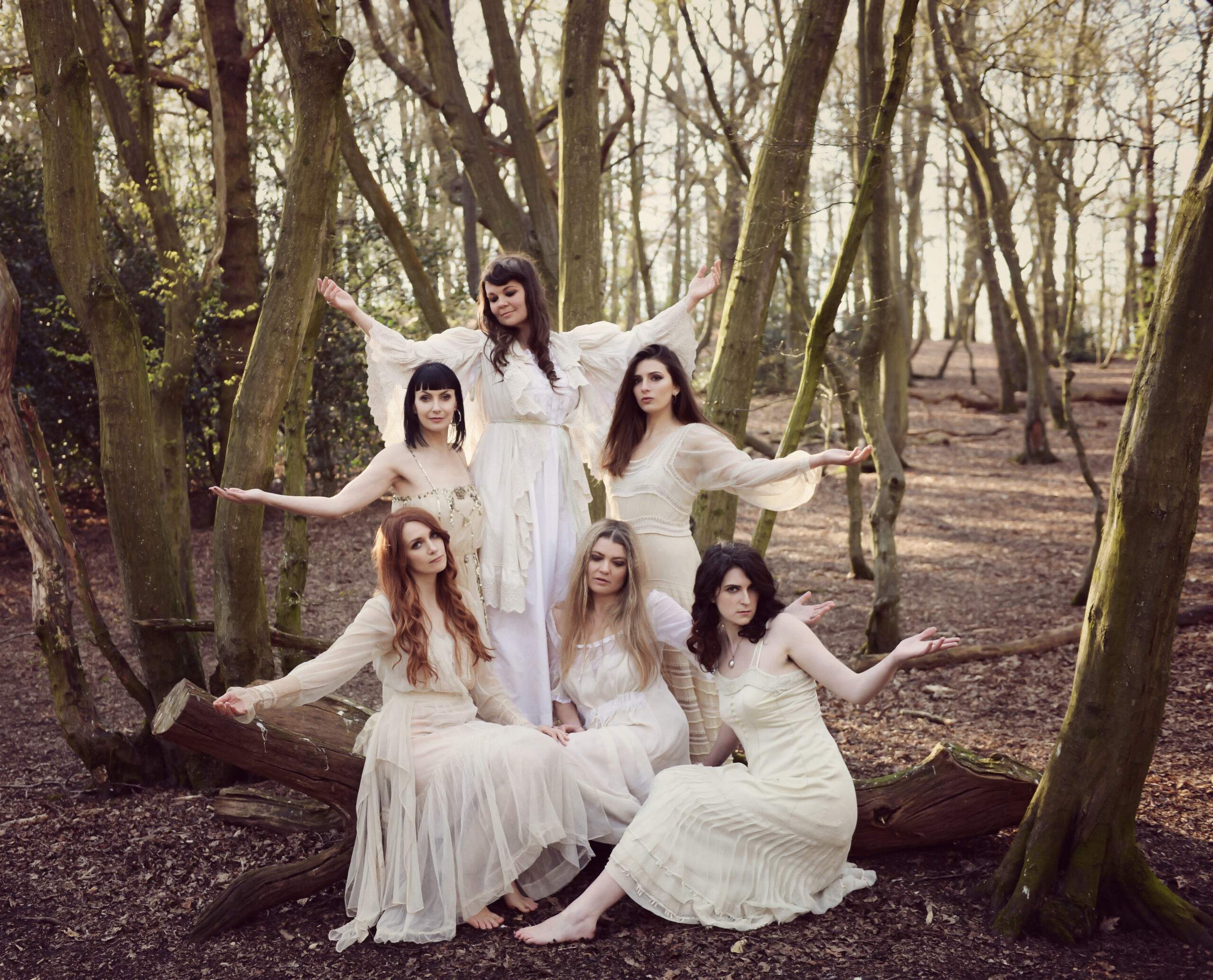 Katharine Blake is known for her unique choral writing style, sourcing lyrics from mediaeval and romantic texts which she sets to original scores, as well as reinventing traditional and folk songs, often accompanied by the Mediaeval Bæbes' plethora of mediaeval and folk instruments. Whilst singing in an array of obscure and ancient languages, the Bæbes offer a beguiling musical beauty and ethereal talent. The choice of mediaeval texts are mythological, philosophical and dark in topic, meditating upon the inevitability of death, the pointlessness of material possessions, the agony of unrequited love or the dangers of vinous hallucinations.
Katharine Blake is also known as the lead singer and song writer of 90s avant-garde rock band Miranda Sex Garden, and has worked with Nick Cave, Michael Nyman and John Cale.
The current Bæbes line-up – Katharine Blake, Fiona Fey, Marie Findlay, Sophia Halberstam, Maya McCourt and Josephine Ravenheart – go on their now familiar tour of sacred spaces in December, performing in churches and cathedrals (and the odd arts centre) from Cornwall to Northumberland.
"I love to arrange traditional music"
Would you like to talk about your background?
Katharine Blick: I am a classically trained musician and studied at the Purcell School of music, where I met two singers with whom I formed the first incarnation of my first band Miranda Sex Garden. We were discovered busking on the Portobello Road, in 1989 singing Renaissance madrigals. Miranda Sex Garden later morphed into an avant-garde gothic rock band.
What led to the formation of Mediæval Bæbes?
I have always loved early music. While performing at a run of shows in Berlin with Alex Hacke of Einstürzende Neubauten, I became very inspired by a woman in the band called Dorothy Carter, now sadly deceased. She was an incredible folk musician who played the dulcimer, hurdy gurdy and the zither. When I returned to London I thought it would be fun to get my friends together to sing some mediaeval songs, with the aim of her being our instrumentalist. It was also a great excuse to hang out with lots of fabulous women, who shared my love of all things romantic and faerie-tale.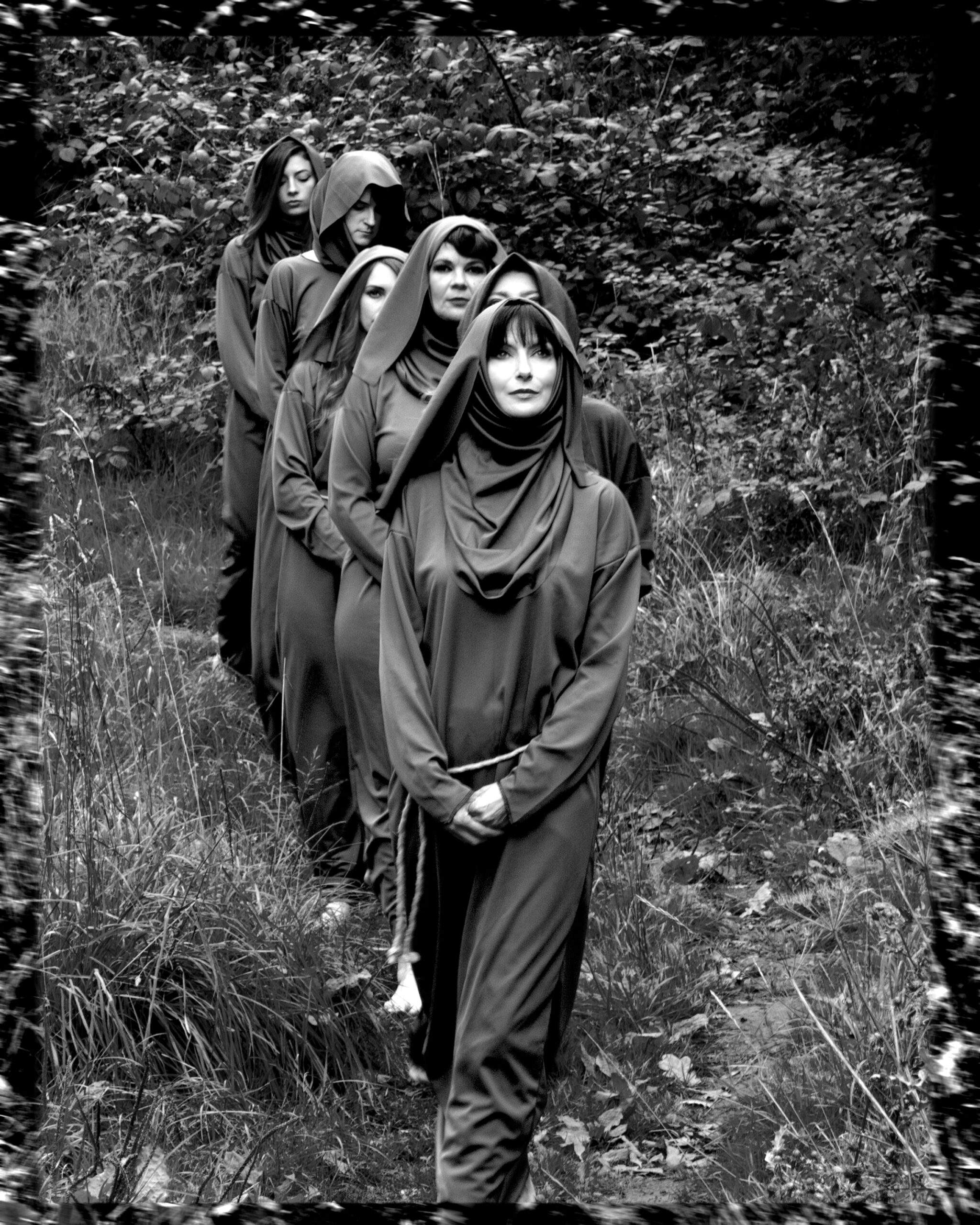 How long did you work on your upcoming album, 'MydWynter'?
I started work on 'MydWynter' in January this year and worked flat out to get it done in time to meet the Christmas deadline. It has been Christmas all year round for me! I love it. Writing music for choir is definitely my main passion, and so motivating when you can write with the knowledge that you will be performing this music at Christmas in many awe-inspiring cathedrals and churches.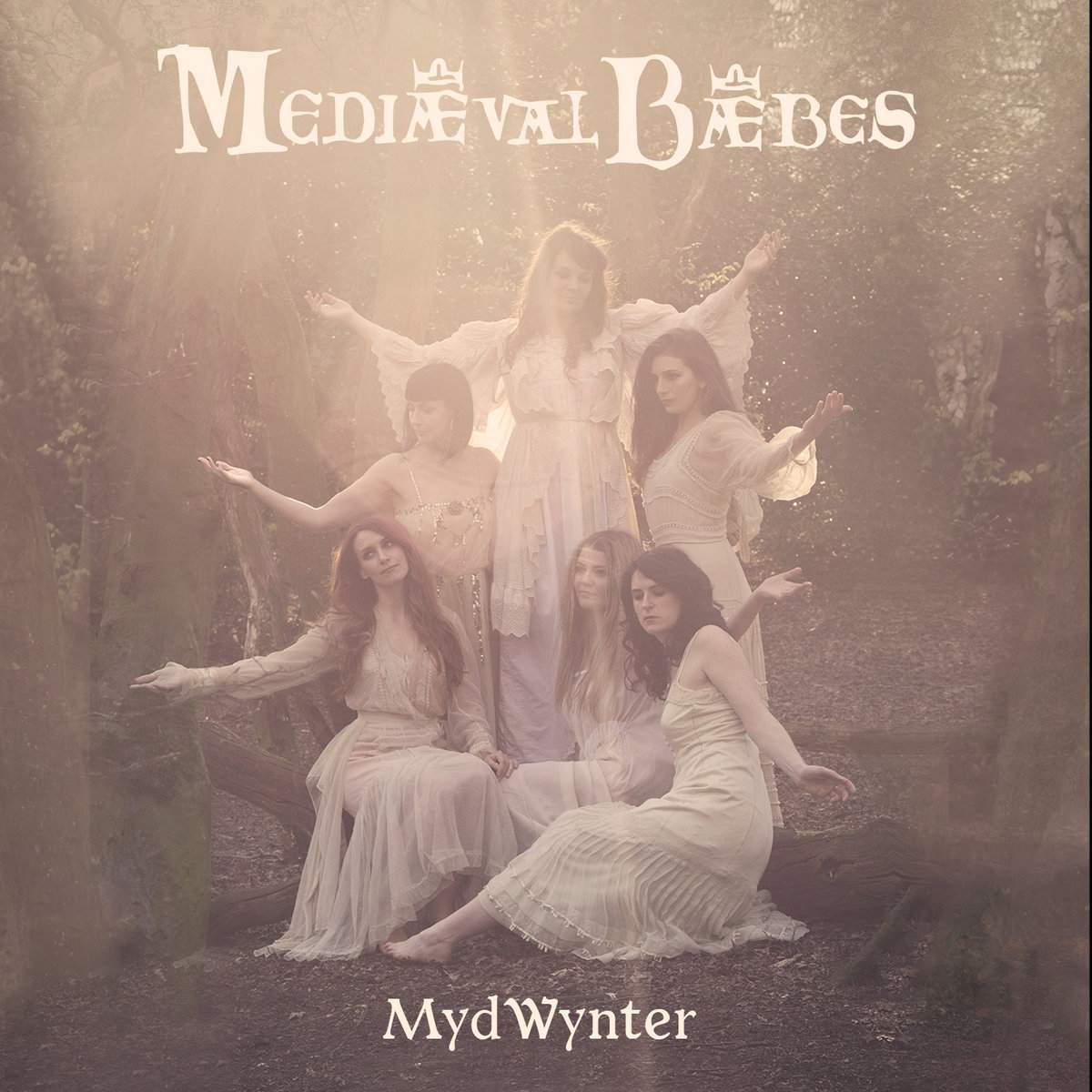 "The album is in places dark and mysterious"
Was there a certain concept you were trying to follow?
The majority of the tracks were Christmas carols requested by our fans. There were so many fantastic suggestions, some that I wasn't previously familiar with, so I have the fans to thank in part for this magical collection of festive choral offerings. I love to arrange traditional music, in the inimitable Mediæval Bæbes fantastical style, and in the case of Christmas music, honouring its Pagan roots. The album is in places dark and mysterious, which I think makes a good contrast from the atmosphere that people are more familiar with from music at this time of year. Apart from the nine arrangements that appear on this album, three of them are my original compositions using ancient texts
How would you say this album relates to your last release?' What about it carries on the themes seen there, are what about it is starkly different?
The last Mediæval Bæbes album 'Prayers of the Rosary' was written and recorded in lockdown, and released for Christmas in 2020. It was an ambient, chill out album, featuring my plainsong compositions, using the words of the Catholic Prayers of the Rosary with psychedelic soundscapes for backing. It seemed appropriate to deliver something meditative and transcendental at a time when people were just hanging out at home. 'MydWynter' overall is more of an up-beat party album, and a soundtrack to what will be a return to normal Christmas festivities this year.
Would you share your insight on the albums' tracks?
The first track 'Carol of the Bells' uses the traditional familiar Ukrainian folk tune and juxtaposes a haunting melody over the top. The instrumentation is inspired by the composer Danny Elfman, famous for his eerie soundtracks to Tim Burton's films.
'Deck the Halls,' originally a Welsh carol, is a very jolly romp, starting off a cappella and building instrumentally throughout, featuring a crumhorn arrangement.
'Personent Hodie' is an old Finnish carol, which I have added a 'We Will Rock You' drum beat to. I was thrilled to recently hear Iggy Pop play this in his radio show, our first bit of radio play for the album. It rocks!
'Mary Fre' is my own a cappella composition, using Middle English text. It features the "Superchoir' ten singers including current and former band members.
'Wexford Carol' is an old Irish carol, one of the most requested by our fans.
'Noel Nouvelet' is a French Carol, featuring the virtuoso musician Jenny Bliss on violin. Gloriously uplifting.
'Gower Wassail' Also very popular with the fans, the feisty wassail is traditionally sung on 12th night, as a spell to make more apples grow in the coming year so more cider can be enjoyed.
'O Little Town of Bethlehem' is arranged in a manta-like fashion, accompanied by tampura, an Indian instrument, similar to the sitar. This chill out track wouldn't be out of place on our previous album 'Prayers of the Rosary'
'Ríu Ríu Chíu' is a Spanish carol, previously performed by the Monkees amongst other people. Also featuring the a cappella superchoir. I have added some epic souring lines over the original arrangement that I think really takes it to the next level. We can't wait to perform this live on our MydWynter UK tour this year. It really is spectacular!
'Flesh of Thee O Mayden Bryght' is an arrangement of the tune Greensleeves using the words of three different middle English poems.
'Laudes Celebret' is another one of compositions. It's a very frolicsome ditty, using the words from the first ever Christmas Carol from the 4th century 'Jesus Refulsit Omnium' (Jesus Illuminates All).
'This Flour Is Fayre' ends the album, an a cappella piece, and another one of my original compositions, featuring again the 10 piece Superchoir. The words are middle English and reflect on Christ's family tree.
What's next for you?
Next year I will be writing albums and gigging for my two other bands. My first band Miranda Sex Garden and also my project with Michael J York, The Witching Tale, as well as playing some festivals with Mediæval Bæbes over the summer.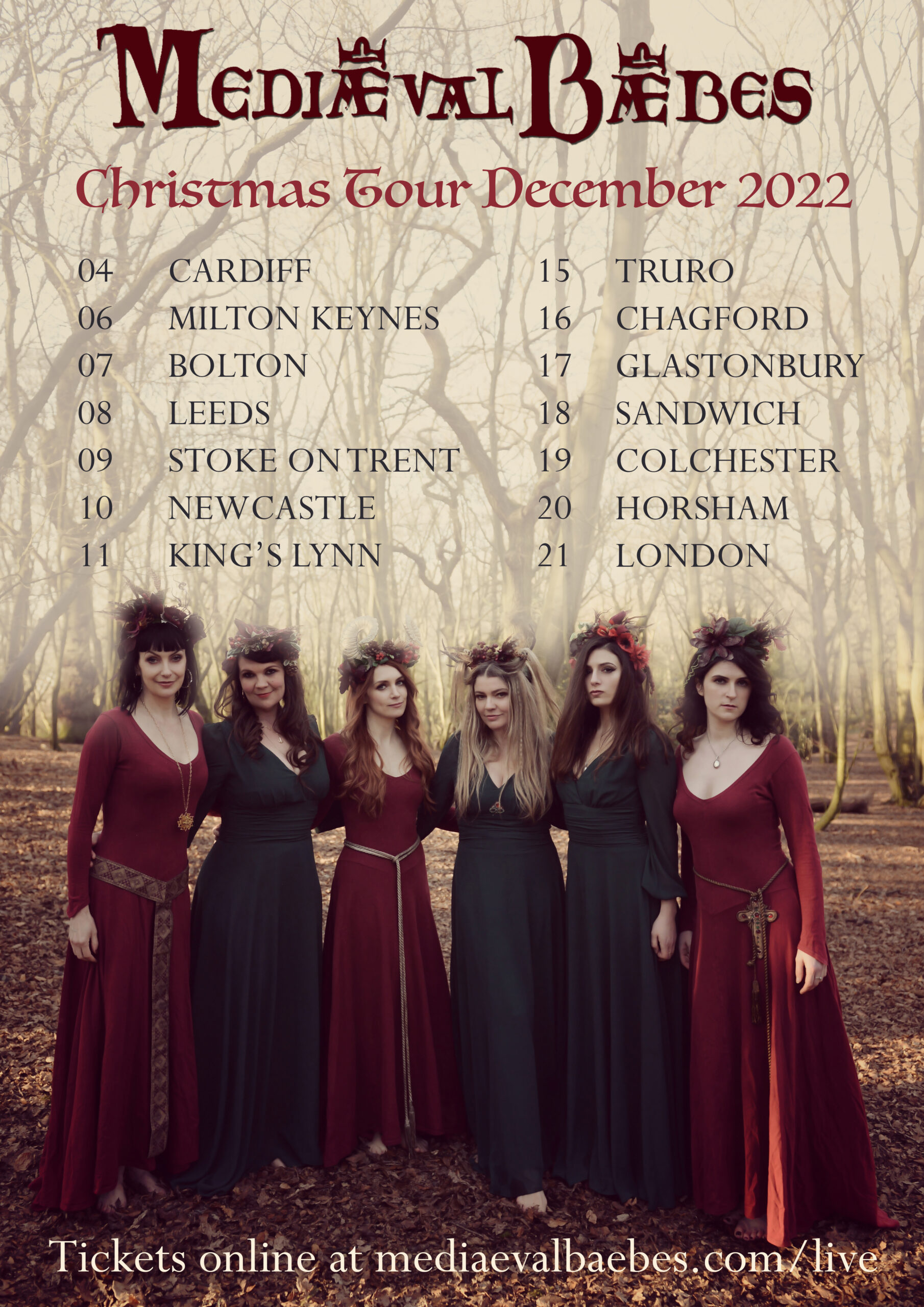 Thank you for taking your time. Last word is yours.
Our new album 'MydWynter' and tickets to our 14 date MydWynter Uk tour are available through our website. Thank you so much.
Klemen Breznikar
---
Mediæval Bæbes Official Website / Facebook / Instagram / Twitter / Bandcamp / YouTube
Bellissima Records Facebook / Bandcamp