TYTO | Interview | New Album, '未来 MIRAI'
Italian multi-instrumentalist Beppe Scardino announces a new album under the moniker of TYTO. '未来 MIRAI' is a very exciting upcoming album by one of the most versatile Italian jazz musician, out October 21st.
---
'未来 MIRAI' is a record about owls and other animals, about Japan, about dreams, about depression, about inanimate characters, about people we don't like, about personal evaluations and about how at this point we're screwed. The album features guests Adele Altro, Valeria Sturba, Gabrio Baldacci, Francesco Bigoni and Glauco Benedetti. Today he's sharing an accompanying music video for the track 'Jerks', taken from '未来 MIRAI'.
"I got so fascinated by owls, I decided to make them my symbolic animal, or more so to become one of them"
What led you to start a project under the name of TYTO?
Beppe Scardino: I'm easily falling into rabbit holes, for just about anything. I don't remember why, but I was once reading basically everything on Wikipedia about owls and discovered how beautiful their Latin names are. Atena Noctua, Asio Otus and Tyto Alba (goes without saying!), the barn owl. I found TYTO to be the perfect name for the perfect owl. I got so fascinated by these creatures, I decided to make them my symbolic animal, or more so to become one of them. I too -as many musicians- am a nocturnal creature; this plus their pure and symmetric looks made me want to use the Barn Owl as a symbol for this music. 
This was happening when I was trying to shape this project, in my mind. It was just before the pandemic when I did two performances, both in spaces for visual art (the gallery Uovo alla Pop and at the inauguration of artist Libertà's exhibition – both in Livorno): I wanted people to think of these performances more as a live music installation than concerts. I asked artist Sara Paltenghi to make a barn owl mask for me, I had this image of me dressed in black with a hood and this white tyto mask as a contrast. I thought it made a strong visual impact with simple elements and the mask turned out great to me. Obsessed with the concept of time, part of these performances were about 4 mechanical metronomes running at different speeds, and all 4 metronomes were midi triggering different samples. Besides these more installation-like features, these performances held some seeds of 'MIRAI', which would eventually develop much differently in a more traditional song-based, album-like way.
As a multi-instrumentalist, do you feel pressured about what instrument to use in a certain situation or do you feel that's an advantage when it comes to music making?
No, I wouldn't call it pressure… sometimes there can be a higher degree of indecision when it comes to picking up a specific instrument to contribute to a certain tune. But I guess this is true for most producers who own a bunch of synths or other music making devices… Being able to play different reed/wind instruments is certainly an advantage when it comes to expanding your sonic palette.
"I spent years studying jazz"
Tell us about your background, where did you learn all the instruments?
I started playing the electric bass (which ironically I'm not playing in the album) in my earliest teens, taking advantage of the super lively music scene of the mid/late 90s of my hometown, Livorno (I read somewhere, someone made a census stating we had the highest band per citizen ratio in Italy in the 90s). Buildings where storage spaces were turned into rehearsal rooms, where people were practicing their instruments, playing with their bands or simply hanging out. So you have to try different things… At the same time my uncle would bring me to the local jazz club and I was fortunate to listen to some great performers, such as the saxophone player Dimitri Grechi Espinoza who would in later years become my mentor. Then I spent my 4th year of high school in Denmark, as part of an exchange program. Besides the mind blowing life experience for my 16 years old self, I was able to pick up a saxophone at the local music school because they actually gave you the instrument you wanted to learn. Also, in Denmark music education was (and still is) light years ahead of Italy: in my school we had two big and very well equipped music rooms, and during classes teachers actually made us play instruments we had little to no familiarity with, which certainly helped. Back to Italy I kept studying the saxophone and eventually picking up a baritone saxophone, the instrument I'm now mostly known for, and fell in love. I spent years studying jazz and the baritone, refining my improvisational and compositional skills as well as trying to learn a bit of piano. If you add all this up and mix it with the fact that some of my closest friends over the years were and are percussionists, you kinda get the idea of my musical path. Then electronics and synthesizers and samplers were added to the equation… but I must say I know much more extreme multi-instrumentalists than myself.
How long did you work on your upcoming album, '未来 MIRAI'?
Some material in the album is quite old. For instance I think I wrote 'Mannequin' more than 10 years ago… but I conceptualized, assembled and recorded everything between 2019 and 2021. Antonio Castiello mastered the album in September 2021.
The album consists of a variety of different arrangements and is full of surprises, would you like to share some more words about its concept?
I wanted to make dark and nocturnal mostly electronic music, groovy and contemporary, with weird sounds and beautiful voices and of course using all my wind instruments (baritone, tenor, alto saxophones, bass clarinet, flute). Another aspect I wanted to develop is the contrast between all this and tender almost intimate melodies. I wanted to have at least one song in the traditional way and a cinematic thing here and there.
These are all ideas and concepts I wanted to use, a kind of red thread connecting all tracks which I think can be found in 'MIRAI'. In regards to the big differences between tracks I can say that's a hot topic for me right now. I mean, something I actually gave a lot of thought lately… I always take pride from the fact I performed almost any type of music (which kinda made me a genre denier LOL). This omnivore approach reflects in the album, where I basically was just trying to be myself and making music I like (and to tell a story of course – but that's a different thing). To me it all makes sense because I'm so used to this genre-less approach. But people and things (algorithms, labels, festivals, the "industry" in general) tend to be quite genre-specific (which I now understand is just a way to deal with the enormous amount of music being created every day) and this hybrid approach is rather un-functional and yields lesser results. Also I think it takes concentration and power of synthesis to make a homogeneous work, to work with maybe less ideas but focused in one direction. I think I will try to use this approach more in the future. We're always learning.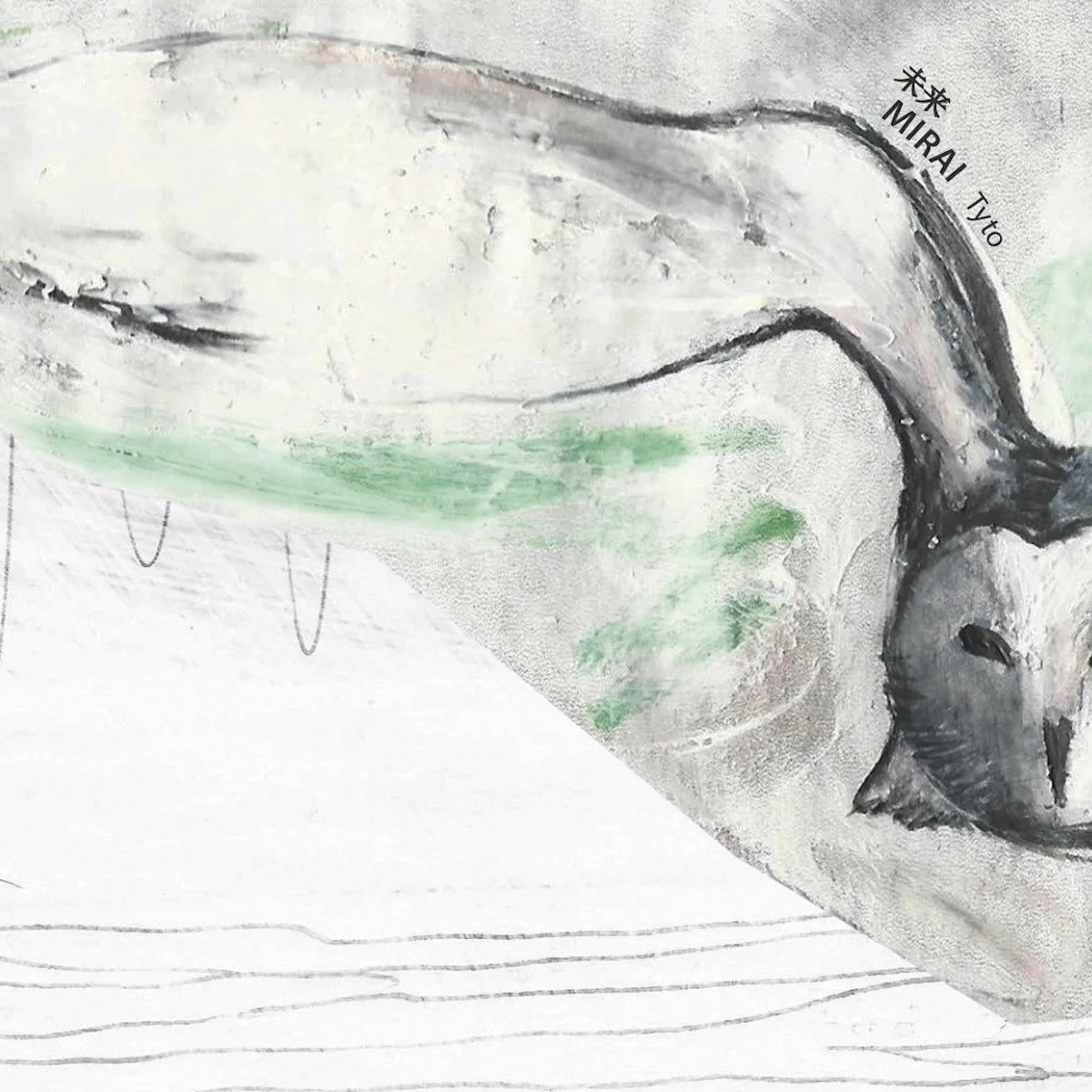 You had quite some guest appearances, tell us about it.
I'm so proud and grateful about them! I had the privilege to have some of my all-time favorite musicians performing on 'MIRAI'. I could never thank them enough. Adele Altro is an incredible multi-talented musician (check out their band Anyother), with an amazing voice (which basically meets all things I love in a singer) and a great English pronunciation for an Italian – which was important for me. Adele wonderfully sings on the album's single 'Jerks'. When they recorded the vocal track I was fortunate to be there: it was the first time I was listening to someone else singing my songs and it got me emotional and it humbled me. Adele is also a brilliant and quite original composer, guitarist and saxophonist (another multi-instrumentalist): this album features a small part of their possibilities. I also took vocal samples we recorded for another unreleased song, and pitched them down for the dark 'Excessive Empathy'.
Valeria Sturba is another of my favorite musicians, a multi-instrumentalist, multi-talented, multi-dimensional person. I've known her for quite some years (we even worked together in a tv show). She can almost be scary how good she is: she has a photographic memory, her voice is like a synthesizer, and she's amazing both on the violin and on the theremin, plus she's basically a human music making machine, being able to produce an endless array of sounds. I was also well aware of Valeria as a composer, just as amazing as the rest of her skills. I wanted to make a track that tasted a bit like Ennio Morricone, and her tone and endless range were just perfect for the task (we even played some of Morricone's music together in the past). So I sent her my track with everything but the vocals, asking her to sing whatever she wanted. I think I just told her this was a dream-like song and I would have loved to have several voices/harmonizations. She came up with this unbelievable vocal arrangement, I was blown away when I opened her tracks – I could not believe how perfect everything was. Her voice(s) dance with the flute melody, with the harmony and with the baritone sax solo so naturally. The tune is called 'Yume-chan'. Valeria also sings this surreal tune called 'Mannequin'. I know she would have liked that tune being a lover of the weird as I am. She went further, harmonizing the vocal part which changed the flavor of the song quite a bit. 'Mannequin' contains some other of Valeria's noises as well (among other things, her gummy chickens). That song also features a killer clarinet solo by the great Francesco Bigoni, low-key genius and one of my favorite saxophonists. Me and Franz (as we call him) go back a long way, he used to play in my sextet Orange Room and I played in his ensemble 'On Dog'. He lives in Denmark partly because of me.
To end this longer list of guests on this tune, 'Mannequin' has Mr. Glauco Benedetti on sousaphone. He is one of the best tuba players you can ever meet (he's single handedly responsible for the abundance of tuba in Italian jazz records in recent years) and he smashed this tune with that bass line on a rather strange time signature.
Last but not least, my long time friend, guitarist Gabrio Baldacci plays on the apocalyptic 'Minore'. His solo here, on a quite strange chord progression which I won't get into to avoid being labelled a harmony nerd, just stinks of doom. Exactly what I was looking for. We recorded his parts in his rehearsal room (which basically stayed the same as it was in the late 90s) in Livorno's industrial district.
Where was the album recorded?
It was mostly recorded in my studio in Livorno which, being a barn owl, I called "my nest". There I recorded all my winds, synths and drum machines, made all the sampling, drum programming and production. I recorded Glauco's sousaphone at my studio and Gabrio's guitar at his rehearsal room. Adele's vocals were recorded at Cabinessence studio in Milan by Marco Giudici, Adele's long time collaborator. Valeria recorded herself at her studio in Bologna; same did Francesco at his home-studio in Copenhagen. We did some additional production with my long-time engineer of choice Antonio Castiello, at Jambona Lab, a beautiful, big studio in Livorno. At Jambona Antonio also mixed and mastered the record using a lot of his analogue and self-built outboard equipment and his Amek console (which has now been sold and he's making a custom console from scratch). He's a crazy scientist of sound, always soldering and making new machines, and he's got a very special ear. I'm very grateful to him as well, for his passionate, high-level work on this album (also, his then pup Blanco tried to eat all my shoes and trousers).
Can you share some further words about the recording and producing process?
My studio is small but very functional with all my synths, samplers, and other devices plugged in as well as at least one microphone. I do a lot of tracking for other people's music there, so I like it to be ready at all times. I use a Shure SM7 as my main mic: I find myself liking more dynamic microphones as time passes by. In 'MIRAI' I used many different samples, a lot of animal sounds (whales, albatrosses, sperm whales and of course owls) and I wanted to go deep in the vocal possibilities. To do so I was fortunate to have contributions from great professional singers (Adele and Valeria) as I mentioned earlier; I like the almost androgenic touch that Adele's vocals got when pitched down in 'Excessive Empathy'. For that tune I even used an AI singer made by this plugin called 'AlterEgo': I was trying to disorient listeners using these strange voices, which I thought was fitting given what that tune is about. I also used a couple of different vocoders on my own voice (in 'Minore' and 'Underachiever'), adding up to the vocal possibilities. Lastly, on the album's intro (the track 'Intoru' in Japanese fashion) I used Google translate and wrote what a presenter would say to someone who is about to listen to my album (I don't speak Japanese but I'm really fascinated by nipponic culture). I had in mind Blade Runner's hologram commercial. Then I re-amped the audio generated from Google translate and edited it as if it was actually speaking on an almost hip-hop-like beat, almost rapping on it. I like voices as I said before, not only singers but even listening to people speaking, especially languages I'm not familiar with. Some people sing when they talk and I'm just mesmerized by it. For this record we used English, Italian, Japanese and vocal sounds with no words. I wanted to make a song in Portuguese and French as well… next album!
You're a very busy man collaborating and working with a lot of musicians, would you like to share some of the latest projects?
It would be difficult to mention all musicians and producers I'm working with or have worked with/for in recent times; my main and more continuous collaborations this year have been with Diodato and Elisa, two well known pop artists in Italy.
Four years ago I had the privilege to work with the band Calibro 35, playing a lot of concerts with them and recording some baritone sax and flute in their recent work about the music of Ennio Morricone (released earlier this year); an experience which taught me a lot.
A different thing is with the band C'mon Tigre, a project where I feel more than a collaborator; over the years I've been feeling their music more as my own. They are among my best friends and the people I look up to the most when thinking about my own music. They're also one of the reasons I'm desiring more and more to mix my music with other media.
In particular, as a gaming enthusiast, my current dream is to make a soundtrack for a videogame. When I was making this record or, better said, thinking about making this record, I had the thought of naming it 'Music for Imaginary Videogames' – an idea I abandoned when I realized the album was going in a different direction.
Another project which is going slowly but I care about is a trio with the extraordinary bassist/guitarist/singer Roberto Dell'Era (from Afterhours and Winstons) and the amazing drummer Piero Perelli (me and Piero are also about to make a hard grooving record together…).
What else currently occupies your life?
I have too many interests and as I mentioned before I'm easily driven towards obsession if I discover something I find interesting for some reason. At the same time I'm quite boring, and if it was only up to me I would spend most of my days in my studio making music, learning how to do new stuff, never going on vacation. As I said, I like video games, especially single player long and weird adventures. I still play basketball at the playground to try to keep myself in shape, and as most people from Livorno I have a deep connection/obsession with the sea. I have a daughter and I spend a lot of time with her; even if she's just a child, she already displays this sea-obsession and we do some snorkeling together, among other things. I gave her a mini synthesizer encouraging her to develop a passion for electronic music rather than acoustic instruments, but she will be the one to decide of course, and so far she likes to draw.
What are some of the most important players that influenced your own style and what in particular did they employ in their playing that you liked?
I don't know why but I find these kinds of questions super difficult. Most of us are music junkies, we all listen to a whole lot of music and I find it hard to make sense of this magma of sounds and have a lucid understanding of what had a bigger impact on my own music. And how to keep the answer relevant, without just compiling a long list of names?
I can tell you all the people involved in this record have had a big influence in my music, for instance. They and their music taught me even more. I could have learnt by listening to records.
I can also speak about more recent discoveries.
The other day, for instance, I was listening to Caterina Barbieri's album 'Patterns Of Consciousness'. It's a pure electronica work with beautiful, evolving, complex synth sounds. The track 'Information Needed To Create An Entire Body' (and a title like this, sci-fi like, interesting, immediately gets my attention) is conceptually simple: it's basically a sequence feeding into multiple synthesizers and evolving in the span of 6 minutes and 30 seconds. It takes class and knowledge of synths to produce a track like this. Simple ideas, interesting development, beautiful sounds. It made me think: "Brilliant! I wanna use an idea like this to make a song". That's basically how it works (I still haven't done that).
Or if I listen to Daniel Johston's 'True Love Will Find You In The End' I want to understand why it moves me every time. And if you think about it, it's an example of how fragility and honesty can be so powerful.
Another band I listened to a lot, probably lesser known, is the defunct 'Schneeweiss und Rosenrot' from my friend the drummer/producer, Berlin based, Marc Lohr. I've listened to their last record 'Pool' many times. Loving their unconventional polyrhythmic, complex songwriting and the super subtle voice of Lucia Cadosh.
I'm also into Lucrecia Dalt's dark electronic songwriting. She sings in Spanish (she's Colombian), which makes it even more peculiar and alienating. Very creative sampling, surprising sounds, and I love the use of wind instruments recorded with an almost vintage approach. I'm listening to her single EP 'Enviada' right now.
I think 'Construçao' by Chico Buarque is one of the best songs ever with arguably the best orchestral arrangement (Rogério Duprat total maestro of his craft). I've been obsessed with Crystal Castle's song 'Crimewave', especially the vocal part. That song was released as a joint single for 2 bands, Them and Health. It's basically a vocal track from the Health song processed in a way it sounds from outer space. I think all that is super cool.
I feel like mentioning a different kind of inspiration: from YouTube tutorials or interviews. After all that's where we're at these days. Tutorials by deadmau5 have been super helpful for me, as well as interviews to MF Doom or Four Tet all made me discover ideas or techniques I used in my production work.
Music from well known artists and producers is always a must to understand (or at least try to) how higher-end productions work, how much time and effort they put into a single kick sound for instance.
Speaking of soundtrack composers (besides the obvious Italian maestros), I loved works by Cliff Martinez on the series 'The Knick', Gustavo Santaolalla on the video game 'The Last of Us' and Ludvig Forssell on the video game 'Death Stranding'. They all make use of the concept of contrast, one of the simplest yet very powerful concepts. 'The Knick' takes place in New York from the year 1900, following the early days of the Knickerbocker hospital. Martinez' soundtrack goes in the opposite direction: synth sequences, with raw simple square wave-like sounds. Great powerful idea.
Santaolalla for 'The Last Of Us' takes a different path, expressing the hopelessness of that post-apocalyptic world with slow desert-like acoustic guitar sounds and hopeless textures. 
Lastly, when I was thinking about making this record I was listening a lot to Boards Of Canada's 'Music Has The Right To Children' and thought I wanted to make a record like that. In the end my album took a very different path with especially a lot more vocals and weirder sounds I think, but that's also a way to describe inspiration: stuff that just inspires you to do something even if it turns out to be completely different. 
So, I partially avoided the list; and also all this could change next week.
If you could suddenly 'as if by magic' be an expert on any musical instrument that you can't currently play, what would it be?
Another difficult question! I think I'd just make myself a great singer with the super power of speaking all languages.
Thank you for taking your time. Last word is yours.
Thank you! I'll just add that I can't wait to show everybody two videoclips we've been working on, the first one is from the amazing artist Alessandro Gaspari, full video sometime in early November.
The second one comes from a special experience with my friend Michael Rotondi and his students at the Brera Art Institute, releasing later in November/December.
Klemen Breznikar
---
Beppe Scardino Official Website / Facebook / Instagram / Bandcamp / YouTube