Jakob Battick & Tongue Depressor – 'Raise the Dead' (2022)
Jakob Battick, now living in Philadelphia and falling under the spell of the city's influences, has a new experimental psych album featuring like minded friends from Tongue Depressor (a drone duo from New Haven, Connecticut), where together these three hypnotically lay waste to their special corner of the world.
---
'Raise the Dead' is comprises but two tracks that move along at a barbiturate induced heartbeat pace, resounding, evolving, intermingling and morphing drone instrumentation with raptured vocals, all held in check by a continuous microtonal organ, over which violins, a double bass and pedal steel guitar arrange a secular sonic landscape that is hauntingly dark, though not invasive, and very lush. Side B of this opus, 'Under the Wormwood Star,' is dedicated to Marjorie Cameron, both a friend and collaborator of the visionary Kenneth Anger, a conspirator and muse to the noted Thelemite Jack Parsons, who was an adventurous gifted poet and painter in her own right.
This is a thoughtful and ritualistically considered album, one that would be well suited for strolling through massive land-art installations such as Opus 40, or The City, lost in the desert of Arizona, entirely bewitching, with nearly humbling visions of a past and a future yet to fall to ground, where as with 'Raise the Dead,' once created, these visions take on a atmosphere of timelessness. The album is as much fantasy as reality, one filled with not only the ambition of Jakob Battick, but of those that have been coaxed back to life through a singular desire to challenge the listener with the artistic and esoteric esthetic endeavors from history, and how our lofty perceptions of what once was and what should never be, collide and bend headlong with the natural world into something eerily unexpected and unexplainable.
Jakob opened a door to the process by saying, "Originally I'd written four songs, but only these two survived. I spent a long time writing and developing the words along with the melodies, but I always do, as I'm both obsessive and in love with the process. Once Zach and Henry (Tongue Depressor) got in there and manipulated things, I had to redraft some of my melodies, which turned out to be a great deal of fun. It's wild as a singer to work with collaborators who operate so frequently in a microtonal or just an intonation system of tuning, and the things that conceptual endeavors force you to do as a singer writing melodies. Henry spent a long time fine tuning and editing everything on an old reel to reel. He did some absolute wizardry with that tape and I cannot thank him enough. All in all, the record didn't take long, from the time I first picked up my pen to the time Henry had the first complete mix-downs it was only a matter of three months."
It's all available through the eccentric Czech label Stoned to Death, as a cassette (Pro-Duplicated on white cassettes with full color 6 panel foldout J card insert, including full lyrics) and digital release.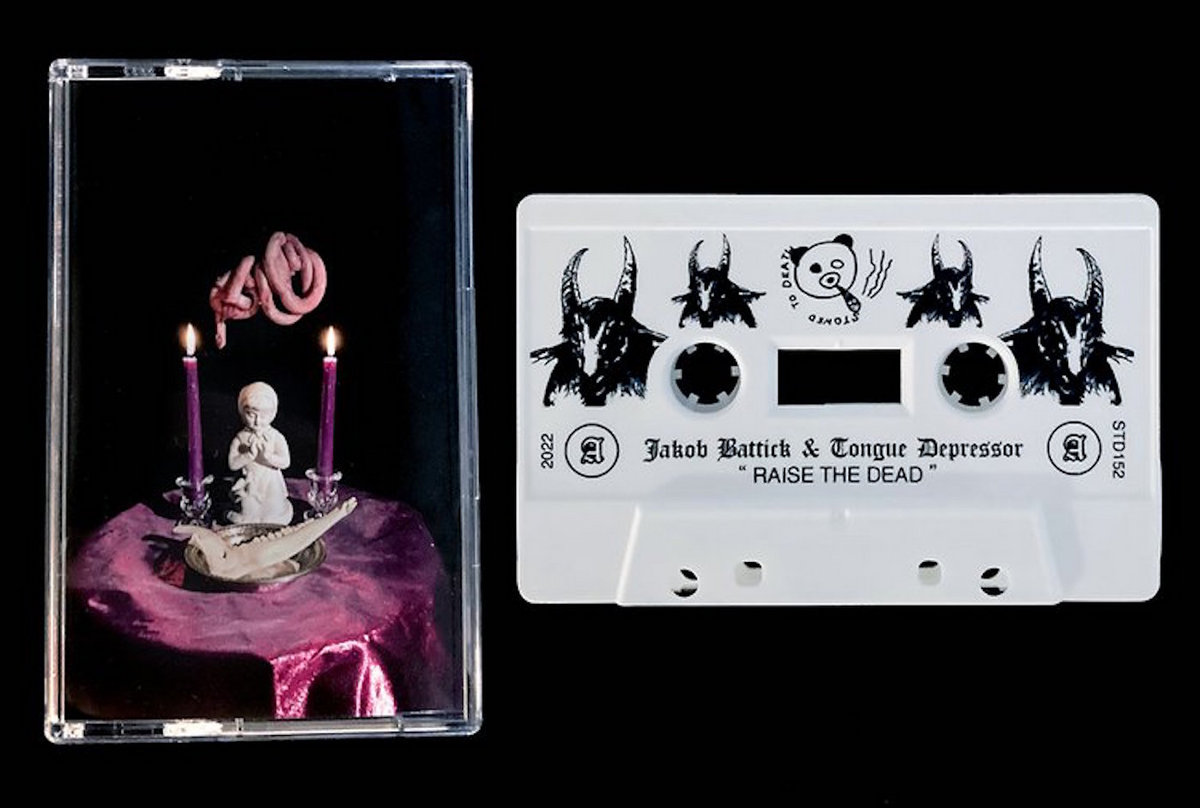 *** The Fun Facts: Thelemite can be described as a Western esoteric and occult social and spiritual philosophy, one established by Aleister Crowley in the early 1900's: one who does what one pleases.
Jenell Kesler
---
Jakob Battick & Tongue Depressor – 'Raise the Dead' (Stoned to Death 2022)
Jakob Battick – 'Rabbit's Moon' (2021)