Joni Mitchell – 'The Complete Poems And Lyrics' (1997)
Published a quarter century ago, 'The Complete Poems And Lyrics' was a celebration of Joni Mitchell's first thirty years in the music industry as well as her induction into the Rock And Roll Hall Of Fame.
---
The handsome 321 page hardbound volume contains Mitchell's work from the non-LP poem 'Urge For Going' through her first 15 studio albums, chronicling 1968's self-titled debut LP aka 'Song To A Seagull' through such early classics as 'Clouds' (1969), 'Blue' (1971), 'For The Roses' (1972) and 'Court And Spark (1974), ending with 1994s 'Turbulent Indigo'. Included are many timeless tunes, some of which are cited and/or quoted in this review of what unquestionably rates as one of the most important collections of song lyrics of the 20th century.
Mitchell's 1968 debut is highlighted by the interestingly titled Sisotowbell Lane' which the author stated stood for '"Somehow, in spite of trouble, ours will be everlasting love". The album was dedicated to her Grade 7 English teacher, "Mr. Kratzmann, who taught me to love words". The LP hardly gained notice, peaking at #189 on Billboard's Hot 200 Album Charts. Things changed dramatically with the 1969 followup 'Clouds' which contained two of Joni's best known songs, 'Both Sides, Now' from which the title was taken and 'Chelsea Morning', the former a #8 singles hit for Judy Collins, while the LP garnered Mitchell a Grammy for Best Folk Performance for 1969. 'Clouds' contains the familiar "I've looked at life from both sides now, from win and lose, and still somehow, it's life's illusions I recall, I really don't know life at all" while the latter surmises "woke up, it was a Chelsea morning, and the first thing I heard was a song outside my window, and the traffic wrote the words". The album was a hit, reaching #22. 1970's 'Ladies Of The Canyon' is especially notable for two tracks, 'Big Yellow Taxi', a mixture of early ecological observation and the breakup of Mitchell;s marriage with its references "they paved paradise and put up a parking lot, with a pink hotel, a boutique, and a swinging hot spot, don't it always seem to go that you don't know what you got 'til it's gone, they paved paradise and put up a parking lot" and was Joni's first hit single, peaking at #14, as well as 'Woodstock' which immortalized the 1969 rock festival, although Mitchell did not attend, when recorded by Crosby, Stills, Nash & Young, for whom it reached #11 in the US and #3 in Canada as a single and was included on their chart topping 1970 album 'Deja Vu'. The latter included such visual passages as: "I came upon a child of God, he was walking along the road, and I asked him, "where are you going?", and this he told me "I'm going on down to Yasgur's farm, I'm gonna join in a rock 'n' roll band, I'm gonna camp out on the land, I'm gonna try an' get my soul free", we are stardust, we are golden, and we've got to get ourselves back to the garden". The album did even better, reaching #6 on the charts. Considered by many Mitchell's masterpiece was 1971's 'Blue' with its title track that observed "acid, booze, and ass, needles, guns, and grass, lots of laughs, lots of laughs, everybody's saying that Hell's the hippest way to go, well, I don't think so, but I'm gonna take a look around it, though, Blue, I love you". Another highlight, popularized by Scottish rockers Nazareth, to that extent that Mitchell often quips "this is me covering a tune by Nazareth" with lyrics such as, "oh star bright, star bright, you've got the lovin' that I like, all right, turn this crazy bird around, I shouldn't have got on this flight tonight". 'Blue' gave Mitchell another Top 10 LP, reaching #9. The 1972 LP 'For The Roses' included Mitchell's #10 single 'Turn Me On I'm A Radio' which quipped "oh honey you turn me on, I'm a radio, I'm a country station, I'm a little bit corny, I'm a wildwood flower waving for you, I'm a broadcasting tower waving for you and I'm sending you out this signal here, I hope you can pick it up loud and clear". Aided by the hit single, the LP charted even higher, peaking at #5. Another masterpiece, and Joni's first and only (to date) #1 album, 1974's' 'Court And Spark' contained Joni's biggest hit, the #6 single 'Help Me' which laments "help me, I think I'm fallin' in love again, when I get that crazy feelin', I know I'm in trouble again, I'm in trouble 'cause you're a rambler and a gambler and a sweet talkin' ladies man, and you love your lovin' (lovin'), not like you love your freedom". 'Free Man In Paris' gave Joni another Top 20 single, #16, and included lyrics such as "the way I see it, he said you just can't win it, everybody's in it for their own gain, you can't please 'em all" as well as "they're trying to get ahead, they're trying to be a good friend of mine, I was a free man in Paris, I felt unfettered and alive". Mitchell's ensuing albums during the period spanned in this work failed to crack the Top 20 on the charts, with 'In France They Kiss On Mainstreet' from 1975's 'The Hissing Of Summer Lawns' her last Top 40 single, reaching #19, which quipped "kissing in cars, kissing in cafes, and we were walking down Main Street, kisses like bright flags hung on holidays, in France they kiss on Main Street, amour, mama, not cheap display, and we were rollin'". The volume contains Mitchell's lyrics from her albums 'Hejira' (1975), 'Don Juan's Reckless Daughter' (1977), 'Mingus' (1979), 'Wild Things Run Fast' (1982), 'Dog Eat Dog' (1986), 'Chalk Mark In A Rain Storm' (1988), 'Night Ride Home' (1991) and 'Turbulent Indigo' (1994), all fine works filled with many more wonderful tunes, which I leave for the reader to explore.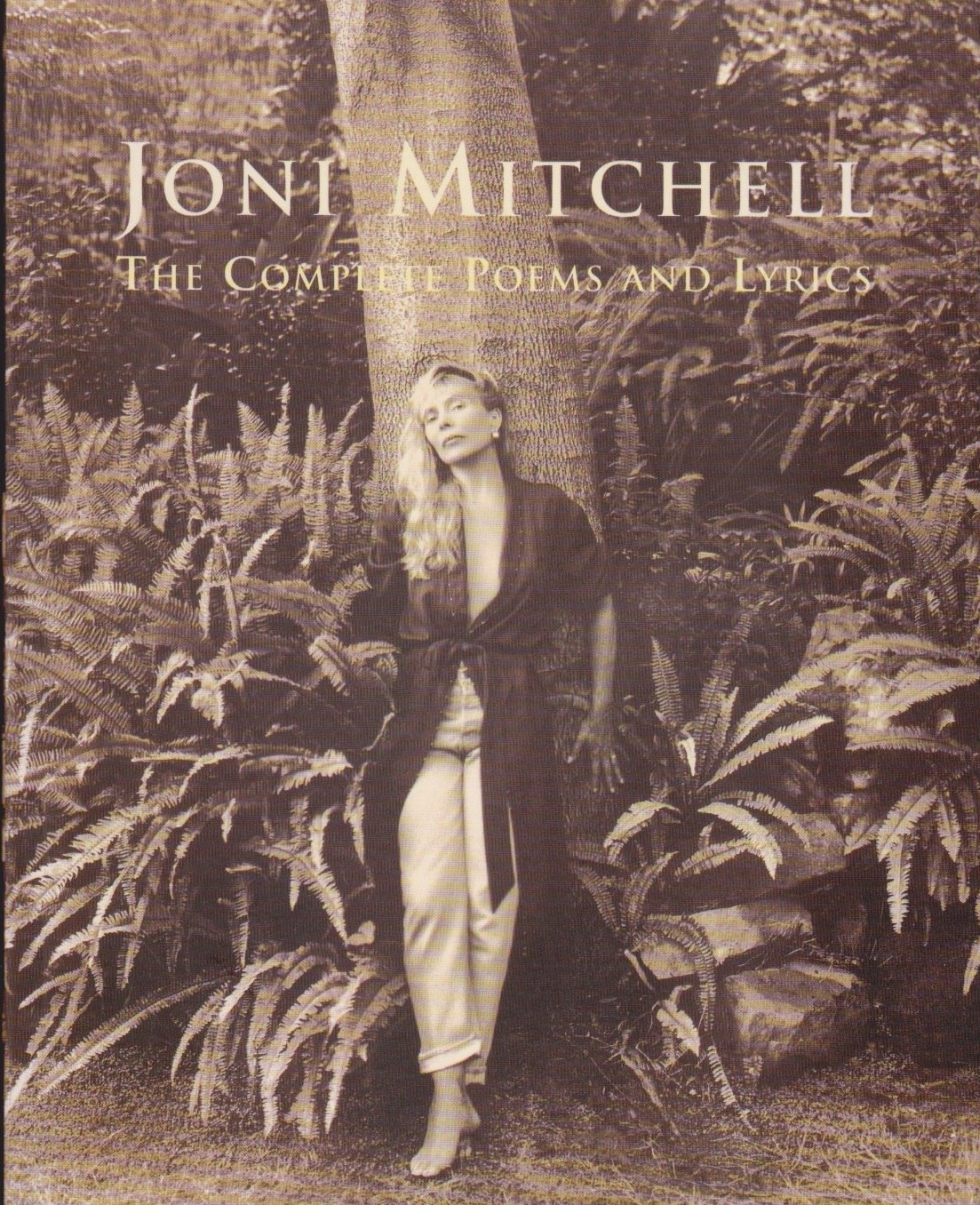 'The Complete Poems And Lyrics' is completed by a Joni Mitchell Discography and contains a table of contents arranged chronically, album by album. The volume contains a gorgeous photo of Mitchell by Herb Ritts on the front cover which fills the back cover as well. The book will appeal to fans of Joni Mitchell and rock music from the 1960s onward as well as collectors of compiled lyric volumes and comes most highly recommended.
Kevin Rathert
---
Joni Mitchell – 'The Complete Poems And Lyrics' (Crown Publishers, 1997)