'I Don't Want Your Drugs' by We Kill Cowboys | New EP, 'DIRTY BUSINESS'
Exclusive video premiere of 'I Don't Want Your Drugs' by We Kill Cowboys, taken from the upcoming EP, 'DIRTY BUSINESS', out later this year.
---
We Kill Cowboys is a Cape Town based, four-piece, psychedelic cowpunk band, the brainchild of tattoo artist and singer-songwriter, Alex Muller. The initial project was born out of the 3-month lockdown of 2020 when Alex had the time to rediscover her musical roots and put together a collection of songs for her first solo EP, entitled 'Let it Burn'. The EP was recorded by long-time friend and fellow musician (and legend in the Cape Town underground scene) Jon Shaban at Atomic studio CT (formerly STFD Studio). A record deal with STFD and Just Music swiftly followed and, with lockdown restrictions easing, thoughts soon turned to turning the EP into a live prospect. While the EP had reflected the more melancholic isolation of the lockdown experience – sparse arrangements, built around acoustic guitar and Alex's plaintive voice, a gut feeling was compelling her to seek a bigger, more electric sound.
Approaches were made to good friends from years gone by in the scene and soon enough, the group gathered in the live room at the label office to spin some shapes. Things exploded from there with the band drawing on their varied influences, spanning metal, punk, rock 'n' roll, country, western classical, indian raga, folk, blues, and a host of other genres. Lyrically, Alex delivers a raw, uncompromising, and anti-establishment polemic, drawing directly from her lived experiences in the music scene and the world at large.
Today sees the release of the video for their new single 'I Don't Want Your Drugs'. The track is taken from their forthcoming EP 'DIRTY BUSINESS' set for release later this year and was once again recorded and produced by Jon Shaban at Atomic studio CT.
"This song is about drugs. The dirty kind, including toxic relationships. The highs and the lows and all the in-betweens. The blank stares at paint-chipped walls, the empty words spilling over wine, and the ego-fuelled trip into Wonderland that you get spat out of and eventually end up with nothing to show but emptiness. And we don't want them. No more lies, no more delusions, and no more blood. Don't need those dirty old drugs to drive, now do you? Leave em be…" comments drummer Andrew Middelkoop on the inspiration behind the track.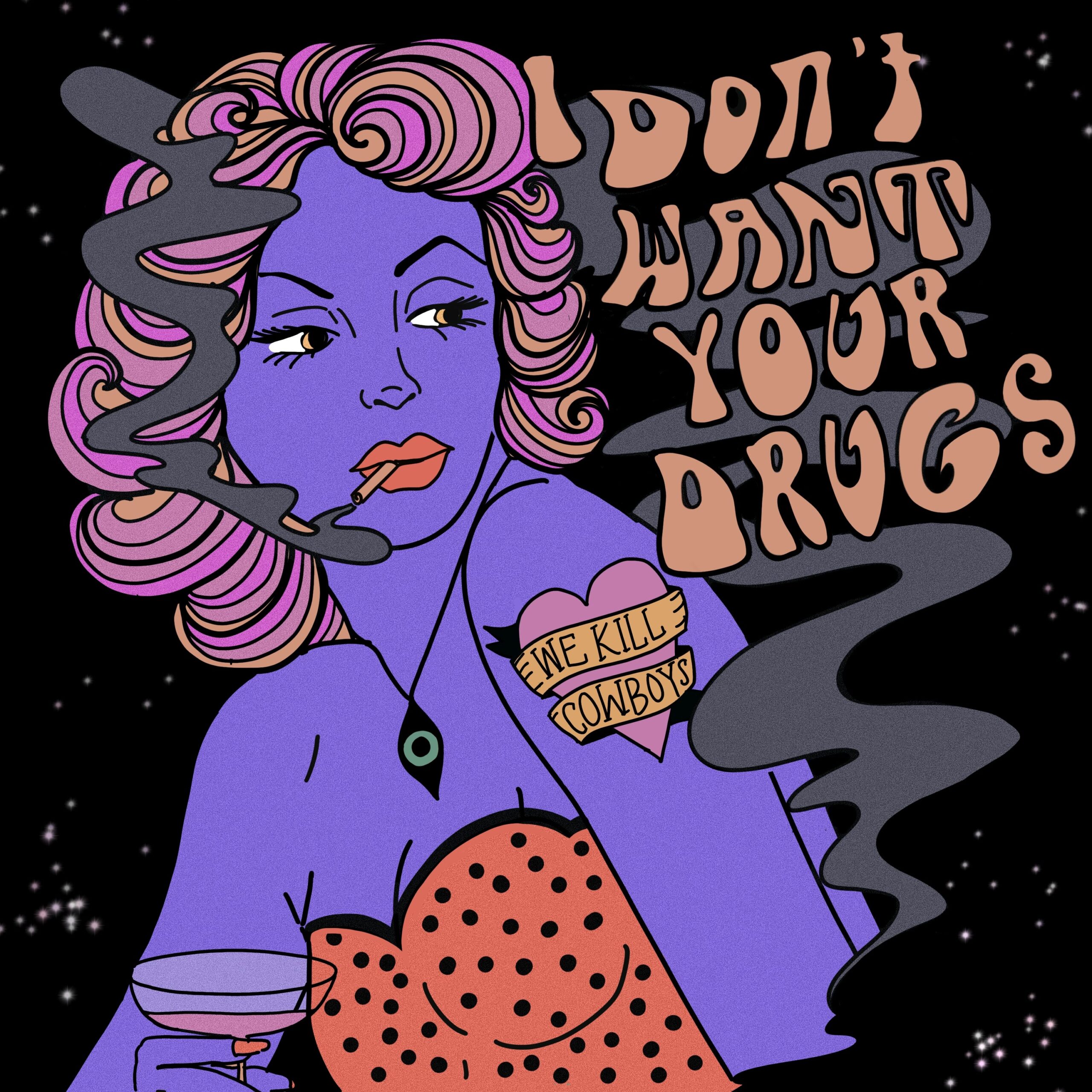 He goes on to explain more about the video, "The video itself, put together by the fantastically talented Owen Wilson, is a visual representation of everything the song talks about. The video compiles both live footage from an Armchair show as well as footage from Alex's tattoo studio; juxtaposing the duality of life's varied experiences. All the effects used represent the adrenaline rush one feels from performing in an unpredictable live setting, as well as in a controlled environment. This speaks volumes to the unpredictability and imposed predictability of life, and relationships; people are a drug too, and sometimes we realise that far too late. Crazy colours, crazy lights, and crazy energy provide a visual outlet for the idea that toxicity can, and often does, come from anywhere, anytime, anyhow".
---
We Kill Cowboys Facebook / Instagram / Tik Tok
Sit The Folk Down Official Website / Facebook / Instagram / Twitter / YouTube
Just Music Official Website / Facebook / Instagram / Twitter