Wesley Announces New LP, Shares 'Glows in the Dark' Single + Video
Louisville, KY singer-songwriter Wesley (the alias of Jacob Weaver) announces a brand new LP entitled 'Glows in the Dark' (due November 11 via Earth Libraries). To kick off the album cycle, he has shared the record's first track, its title track, 'Glows in the Dark', alongside an accompanying music video.
---
Speaking on his newest single, Weaver wrote: "There's a Mike Ditka quote that says, '"If you're not in the parade, you watch the parade". I usually don't do either, but I'd like to. I enjoy parades. The song is about wanting to be a parade, and also, for the parade. About wanting to be for the people, and with them as well".
Home videos of Jacob Weaver's childhood often feature the Louisville singer-songwriter playing a favorite character: Wesley, the sleepiest man on earth. "My brothers, cousins, and I were constantly making videos with our camcorder, and I was a sleepy kid, so the character was born", he retells the story with a smile. "I always enjoyed being Wesley". Years later, there's still a certain comfort to Weaver's voice, a floating pillowy ease. Once again using the name Wesley, Weaver's new album 'Glows in the Dark' utilizes those soft tones to deliver disorienting dreams, languid memories, and dusky contemplations in the tones of honeyed tea.
Weaver embraces the depths of that comforting mixture from the titular lead single, a wash of metallic glow and Weaver's warmly resonant voice warping into an acoustic dreamland take off of Fleetwood Mac's 'Everywhere'. The six-minute track unfolds in blissful leaps and bounds, Weaver joined in harmony by his wife, Kelli White Weaver. The song lyrically bounces between hazily surreal images before striking upon a moment that reveals everything preceding it was a dream. "One day upon first meeting/ We'll know what we're seeing/ Is love at first sight/ And I can't wait for permanent healing/ To find I've been sleeping for all of my life", they sing, the twinkling stars once again centered in the mix.
'Glows in the Dark' brims with a clear adoration for classic Americana and country, for Del Shannon and Jim Ford, and for songwriters like John Cale, Bill Fay, and Townes Van Zandt. "I really wanted to be a hippie when I was a kid, in the most generic way possible", Weaver laughs. But there's also for artists like Arthur Russell and Alex G who incorporate dreamy electronic flourishes into that mix, as demonstrated on the breezy single 'Twins in the Wind'. Weaver wrote the song as a way of exploring the dual identities of childhood and adulthood, the wobbly synth flooding into the immaculately arranged acoustic tune like the misty demarcation between the two halves of life. "Over hills and out to the sea/ Would you walk there with me?/ Don't you know that we'll forever be/ Just twins in the wind?" Weaver wonders to himself, as Nick Roeder's drums push the musical river apace.
Much like the name Wesley, Weaver's fascination with making short films persists from his childhood, including working the past few years in the art department for film projects—as evidenced in the breathtaking videos that accompany this record's three singles. The smoky 'Not Sure That Was Me' once again plays on self-reflection, this time being chased through one's own mind by the demon of self-doubt. Equally inspired by the mysterious creatures with glowing red eyes in Thai drama Uncle Boonmee Who Can Recall His Past Lives and the video for the Cure's 'Boys Don't Cry', Weaver went to great lengths to capture the red-eyed version of himself that represents doubt creeping in." At one point I was standing on the top of a ladder in the dark with red reflective tape over my eyes", he says. "Not something I would want to do again".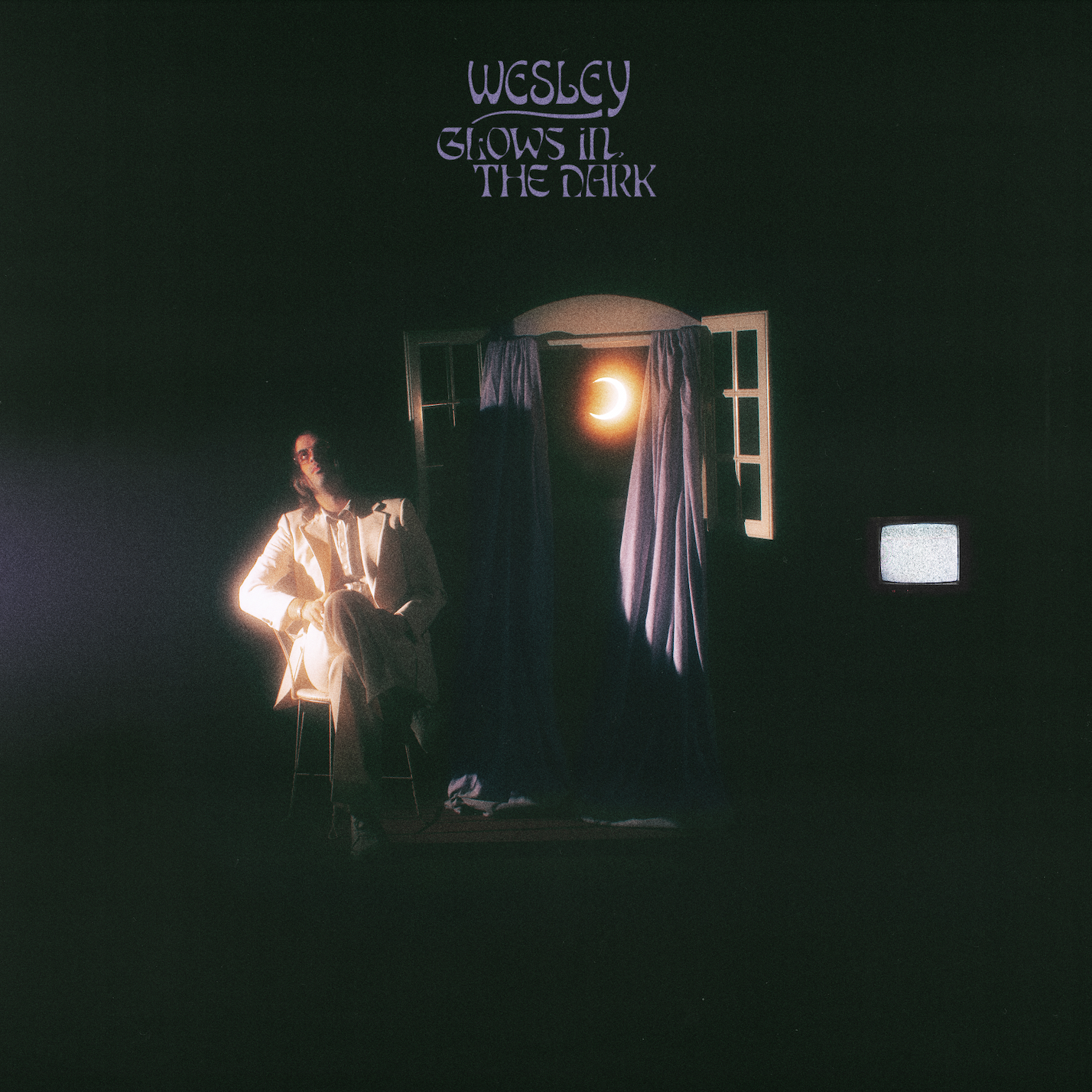 Fitting for a project refound in the midst of pandemic lockdowns, 'Glows in the Dark' is a document of Weaver's loving interrogation of himself. Questions and self-reflection abound, poetic images peppered throughout like serene daydream. "Spell your name out in the water and then watch it flow/ Give the wind your secrets to blow", he sighs on the rangy 'Fire', like a Western-tinged Roy Orbison. That track is especially moving when paired with 'Another Green Morning', in which the lingering threat of destruction that seems to permeate modern life competes with the beauty of a moment's peace: "And I shut my eyes with tears still inside/ And dreams came of fire and flame/ And I watched all life wash away with the tide/ As I awoke to another green morning", Weaver's dewy falsetto rings out, as the twangy track builds to an ecstatic twinkling.
Creating this record was clearly a process of discovery for Weaver. "Writing about problems and joys in my life has helped give me a new perspective on these things at a time where that was needed", he says. But rather than offer simple personal takeaways or diary entries, Weaver shares the meditative process itself. Through 'Glows in the Dark', Wesley helps guide the listeners through a series of dreams, indulging in surreal images and empathic moments alike, hoping that the exploration is as fruitful and meaningful as it was for himself.
---
Wesley Instagram
Earth Libraries Official Website / Facebook / Instagram / Bandcamp / YouTube / SoundCloud / Spotify