'Made To Love' by Sunfruits | More New Music Coming Soon via Earth Libraries + Third Eye Stimuli
Exclusive video premiere of 'Made To Love' by Aussie psych-pop outfit Sunfruits.
---
Likened to other amazing Aussie psych acts such as King Gizzard, The Lazy Eyes, The Murlocs, Babe Rainbow, and Bananagun, Sunfruits throw their own youthful, cartoonish, and heavily melodic tunes into the mix. Their first new single in two years sees the psychedelic pop group venture into an exciting new world. Written by frontman Winter McQuinn over Melbourne's harshest lockdown, MTL is about "running away with your soulmate to escape the hellish landscape of life under capitalism". Inspired by a 70s glam rock resurgence, MTL is laced with fuzzy guitars & duelling vocals.
Nearly two years on from their last single release, ​'​Mushroom Kingdom​',​ Australian psychedelic pop outfit Sunfruits have returned with a new single entitled ​'​Made To Love​'​.​ ​​Produced by Theo Carbo and mixed / mastered by John Lee at Phaedra Studios (The Murlocs, Bananagun), ​'​Made To Love​'​ showcases an exciting, fresh direction for the group. Written by frontman Winter McQuinn over Melbourne's harshest lockdown, it's a fiery 2:30-minute track about running away with your soulmate to escape the hellish landscape of life under capitalism. Filled with distorted guitar riffs, duelling vocals, ethereal strings and crunchy bass and drum combo, this track throws it back to the glam-rock sounds of T​. ​Rex and the 70s revivalism of Ty Segall, showcasing a powerful maturity in the band's sound and songwriting.
McQuinn wrote ​'​Made To Love​'​ while he and his partner Acacia Coates were living in regional Victoria during the 2021 lockdown. McQuinn says, "We wrote the lyrics together when we were both feeling the pull and desire to move out of the city and get away from the nine-to-five lifestyle. The song's message follows this desire about wanting to leave the city life behind and enjoy each other's company as we ride out the Apocalypse"​.​
Complementing the 70s revivalist sound of ​'​Made To Love​'​, the single comes with an equally retro music video directed and edited by the band's guitarist and vocalist on the track, Evie Vlah. Hooning around in a red Ford Mustang, with bright lights, vintage outfits and a stage performance straight out of Countdown, the video aligns perfectly with the song's ode to 70s rock and love. Filmed at Northcote Social Club and surrounding areas, the video depicts the live energy of Sunfruits with lights, outfits and camera work reminiscent of Kiss, T​. ​Rex and Slade videos.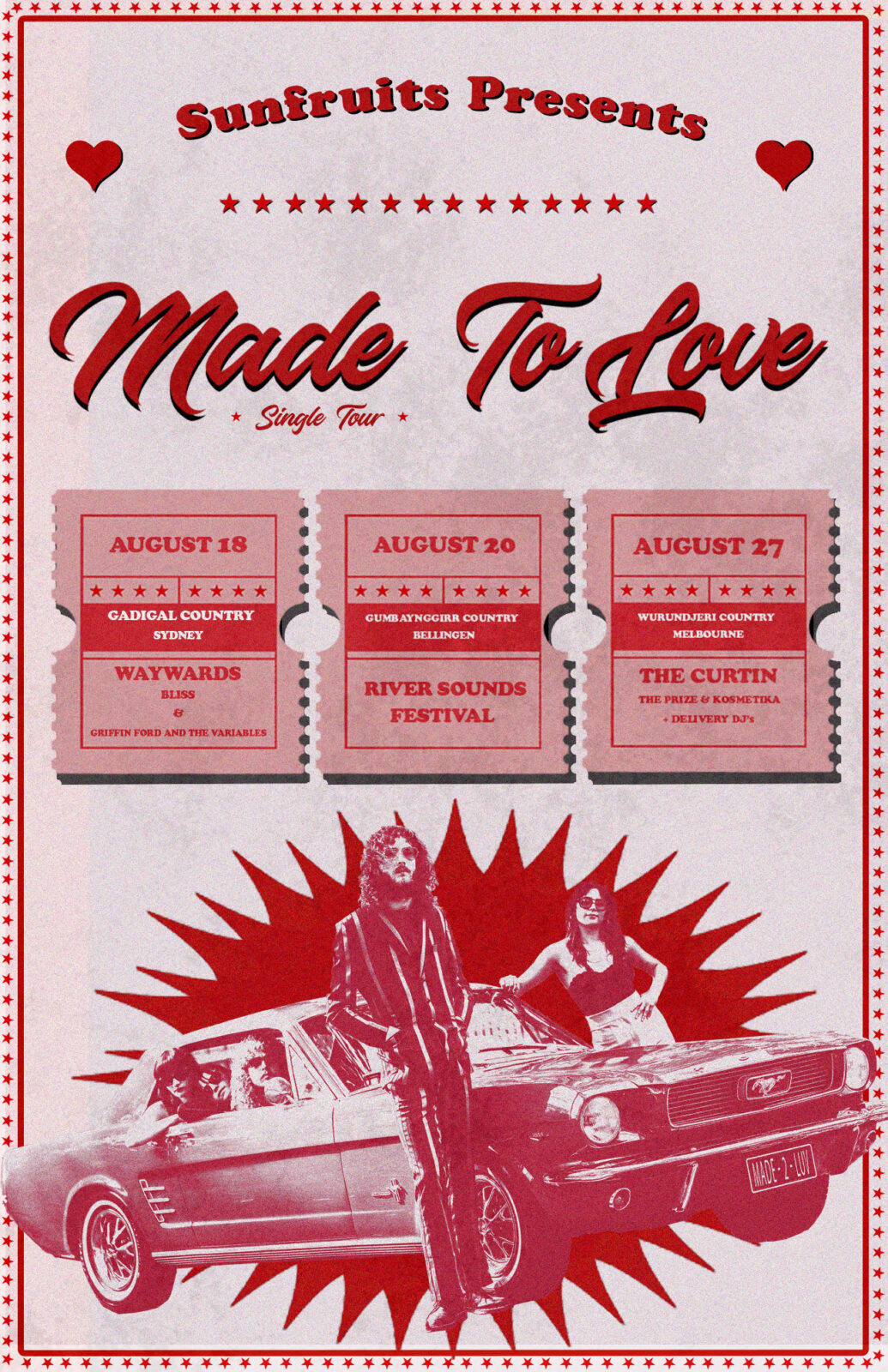 Of the video, Evie Vlah says, "I wanted the video to give people a short and punchy hit of nostalgia. We handmade all the props and edited it ourselves, adding in all the 70s flair we could"​.​
To celebrate the release of their new single, Sunfruits is playing a series of live dates across Australia in August.
Friday August 18th – Sydney, NSW – Waywards with Bliss & Griffin Ford & The Variables
Saturday August 20th – Bellingen, NSW – River Sounds Music Festival
Saturday August 27th – Melbourne, VIC – The Curtin with The Prize & Kosmetika
Sunfruits have been making waves around Melbourne and the Australian music scene for the past three years with their environmentally conscious and politically aware lyricism, paired with their contemporary psychedelic pop sound. Their most recent 2021 release, 'Certified Remixes', saw the band collaborate with Traffik Island, Hachiku, and Candy on three remixes of previously released tracks 'Above The Clouds', 'Mushroom Kingdom', and 'Whatever You Want'. Releasing two 7"s and an EP during their time working with Third Eye Stimuli Records and recently Flightless Records (Distro).
---
Headline photo: Liam Brownville
Sunfruits Official Website / Facebook / Instagram / Twitter / Bandcamp / YouTube
Earth Libraries Official Website / Facebook / Instagram / Bandcamp / YouTube / SoundCloud / Spotify
Third Eye Stimuli Facebook / Instagram / Bandcamp / YouTube / Tumblr / Spotify