Orchestra Gold | Interview | New Album, 'African Psychedelic Rock'
Oakland, CA-based ensemble Orchestra Gold offers up a kaleidoscope of sound deeply rooted in the Malian tradition while introducing a genre-bending nod to the future through their rare and artful fusion of 'African Psychedelic Rock'.
---
Spearheaded by the dynamic Mariam Diakite, whose lyrics are delivered in the highly symbolic Bambara language and supported by heavy swinging rhythms, a funky fresh brass section, and cosmic guitar licks, Orchestra Gold is a testament to transcendence made possible when worlds collide only to arrive at common ground.
It's 1976 and you just stepped inside a smokey club in Bamako, Mali. The air is thick with the gritty analog sounds of funky folkloric music, psychedelic guitar swirling with jazzy horns and hypnotic bass. As the crowd shakes their bell bottoms to the infectious grooves, the singer commands the stage with her soulful vocals and dance moves that give James Brown a run for his money. This is the vibe that Oakland's own Orchestra Gold creates in their live shows as well as their recordings.
This lovingly compiled vinyl experience features the astounding vocals of Mariam Diakite and the surging, danceable, analog sound of Orchestra Gold. Also includes two as-yet unreleased afro-psychedelic instrumental tracks and the rootsy 'Hakili Nyumaya'.
'African Psychedelic Rock' is available here.
"Music is more than a profession"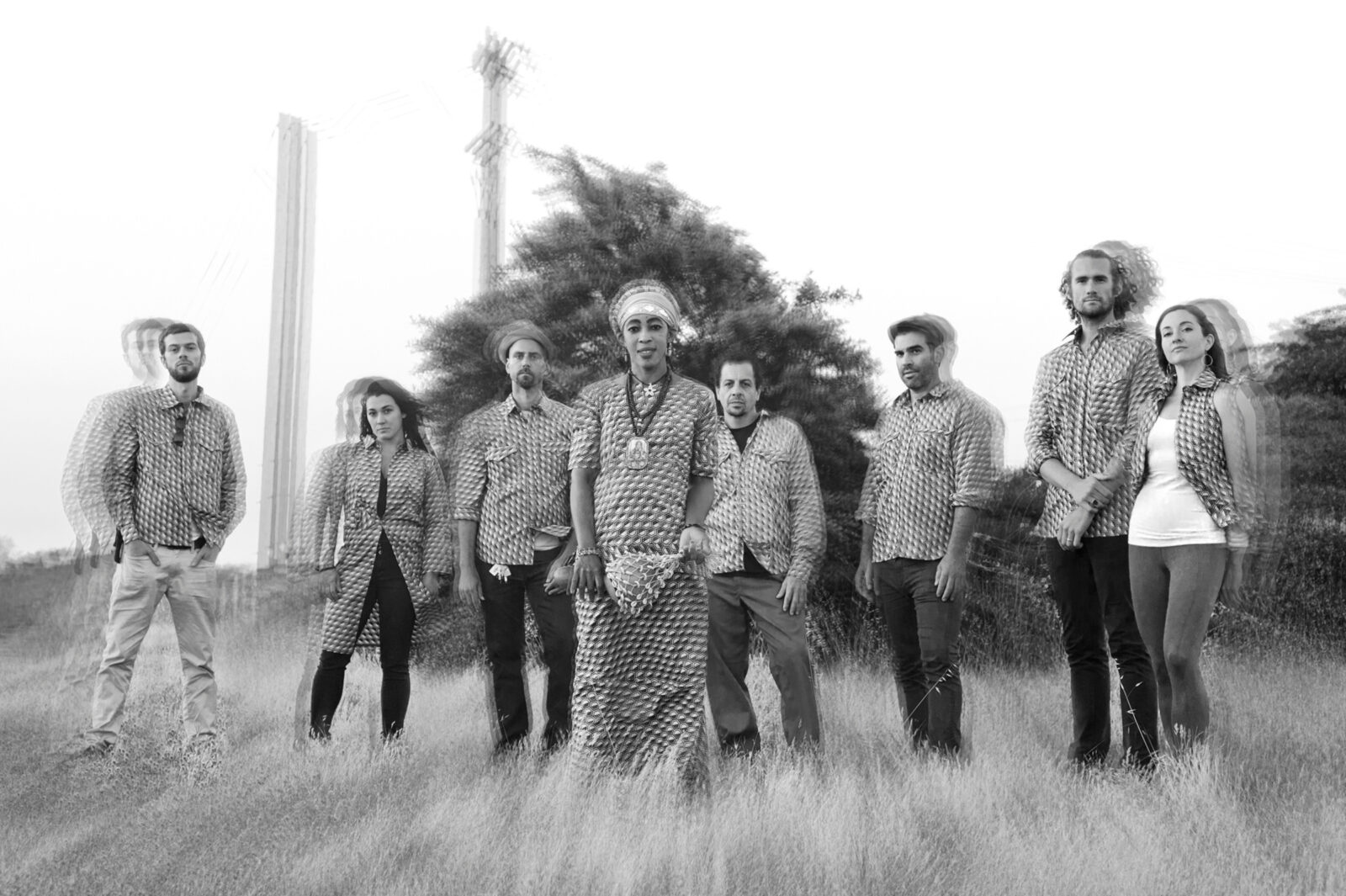 What's the story behind the formation of Orchestra Gold? Would you like to share a bit of a background?
Erich Huffaker: The seed that flowered into Orchestra Gold started actually in 2006 when I traveled to Mali and met Mariam Diakite through my drum teacher, Matche Traore. One day, Matche and I are listening to Toubab Krewe together. Matche and I are listening to one of their songs called 'Bamana Niya'. Matche really got what they were trying to do. He's like, "wow these white guys have an interesting take on our Malian music. You know who could probably sing songs in that style well? Madama".
I am like, "Madama the dancer? She sings?" Sure enough, it occurred to me that I had seen her sing before and didn't even think of it. That was a critical moment. It is the first seed planted in our collaboration. Almost a decade later, we joined forces to blend our respective musical perspectives via Orchestra Gold.
Our first accomplishment was achieving Mariam's artist visa and its renewal two years later. Mariam's well-documented talent and her powerful work as a representative for Malian arts spoke for itself despite the anti-immigration policies of the Trump administration. Since then, Mariam's artistic direction has led us through a successful 4.5 years of producing and presenting innovative new work in the San Francisco Bay Area and California. To date, we have recorded two EP's, a full-length album, and played festivals throughout California & beyond.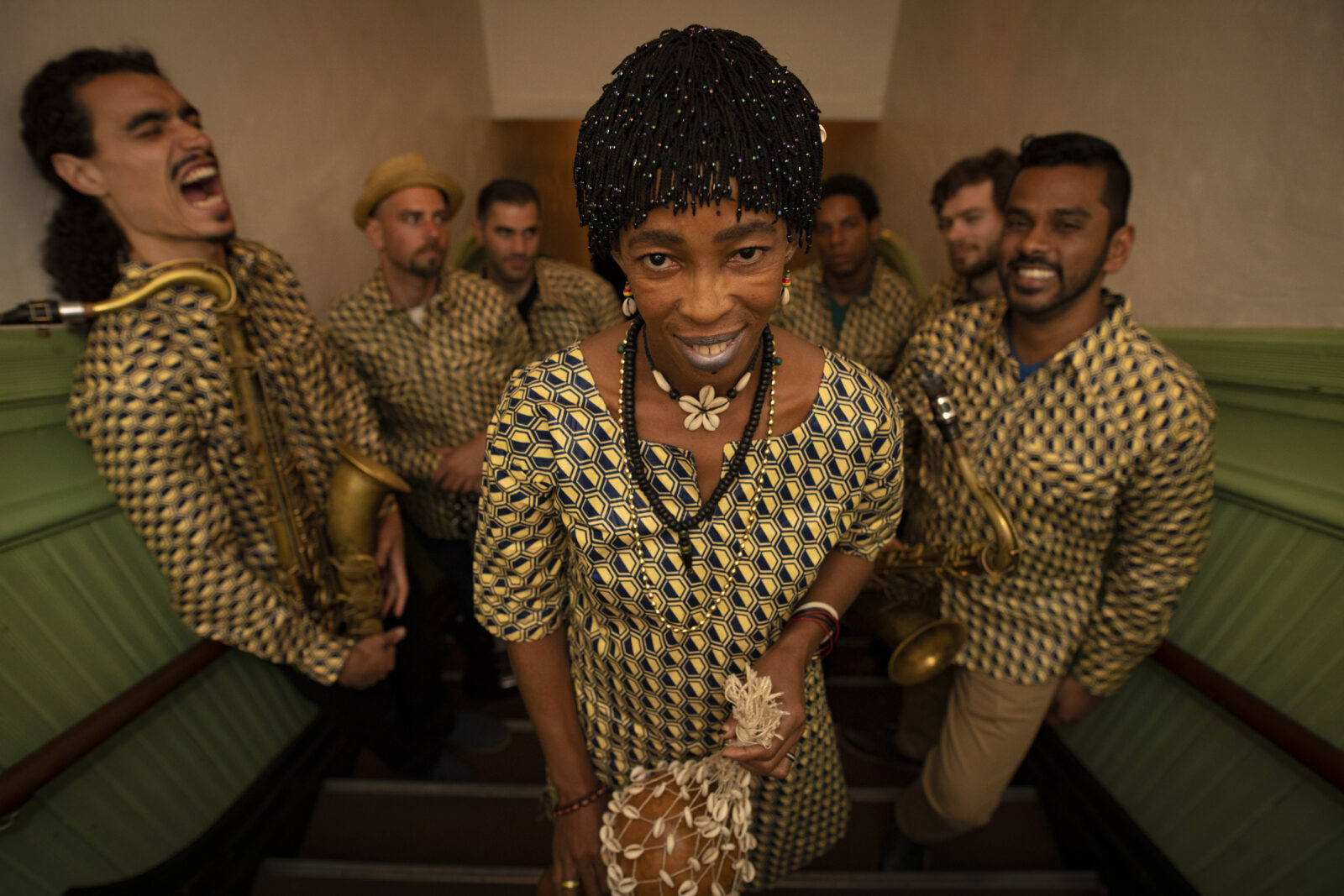 You are releasing a brand new album. Tell us about the concept behind it and details about the recording and production process.
For us, (Mariam & Erich), music is more than a profession. We experience rhythms, beats, and melodies as the remedy for suffering in this world. Music brings meaning to our lives. This is the concept behind our new Album-Experience entitled 'Medicine' which will be released in January 2023.
'Medicine' is an album experience with a narrative underpinning that focuses on healing our community through music. We are at a time in human history of isolation, mass death, and environmental degradation. In the United States, we are torn apart by racism and income inequality. These issues permeate our shared consciousness and create illness mentally and physically. To cure this suffering in ourselves, we (Mariam & Erich) use music as a means of release and creative drive. Tapping into ancient knowledge from Africa, Mariam sings songs to uplift her own spirit, and the audience responds to the call. We intend to create musical landscapes that take the audience on a journey of connection, an affirmation of life, a musical remedy.
The album was recorded in late 2019 at Tiny Telephone studios in Oakland, CA. It was recorded all to tape. We had Jacob Winik & our bass player Luke Bace (at the time) engineering the session.
We're working with some amazing folks to make the rest of the album happen. Marcos Garcia, also "Chico Mann" of Antibalas Afrobeat Orchestra and Here Lies Man will mix the album. He is an ideal choice because of his renowned aesthetic taste, dedication to excellence and mostly his love of great music!
Would you like to elaborate on the music of Mali?
There are many musics of Mali and they are all so different. That makes it difficult to generalize about them. We actually recorded a video with our dear elder brother Yacine Kouyate that answers this question in a very holistic fashion.
What are some of the most important influences for you?
The band is influenced by the sounds of the 60's and 70's from W. Africa and the US. From Super Biton de Segou to Super Djata Band to Jimi Hendrix and Led Zeppelin. I've also been really reconnecting with my rock guitar roots. Probably the most important album to me was 'Blood Sugar Sex Magik' by Red Hot Chili Peppers. I am also a big fan of Dave Navarros guitar playing.
I've also been really loving the renaissance of psychedelic rock we are going through: King Gizzard, Here Lies Man, and especially Songhoy Blues from Mali (check out my interview with the guitar player, Garba: Toure.
How important is improvisation for you?
Pure improvisation is somewhat boring for me. I think that improvisation is best when there is some structure. We have structure in our songs, but sometimes we play them differently depending on how we feel. There are certainly bands that are purely on the improvisational side, and we are kind of in the middle. I love harnessing the energy of improvisation, but focusing it through form & structure.
Let's end this interview with some of your favourite albums. Have you found something new lately you would like to recommend to our readers?
I listen to lots of old music. Perhaps it's new for you?
1. Orchestre Poly Rhytmo: 'The Vodoun Effect'
2. Super Djata Band: 'En Super Forme'
3. Songhoy Blues: 'Worry' (This one is new!)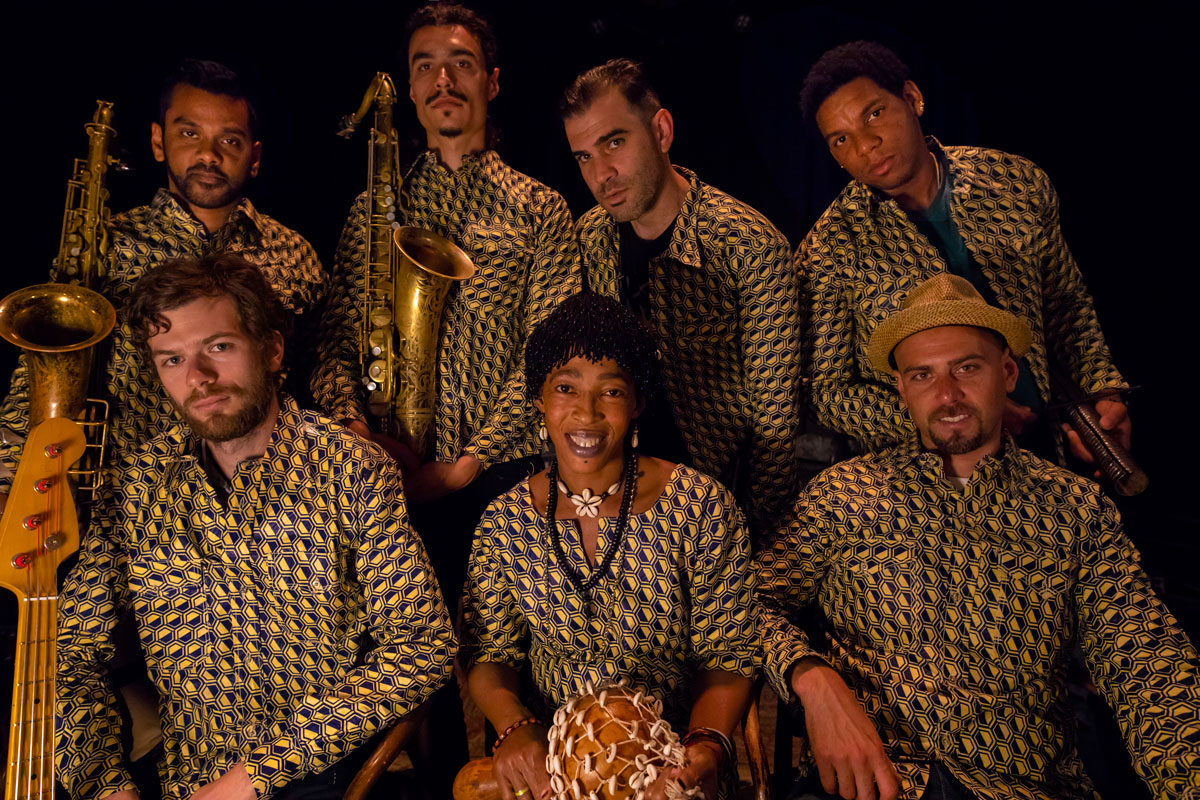 Thank you. Last word is yours.
Thanks to you Klemen, and "It's Psychedelic Baby" for all the great work you do to showcase musicians and their hard work. I love how personal, and organic your work is – so authentic and real! Sending you (and all who read this) our very very best!
Klemen Breznikar
---
Headline photo: Steven Huffaker & Johnny Galvan
Orchestra Gold Official Website / Facebook / Instagram / Twitter / Bandcamp / YouTube