'Come Alive' by Damion | New Album, 'Special Interest'
Exclusive video premiere of 'Come Alive', the second single from the upcoming Damion album 'Special Interest', out July 20th via Earth Libraries.
---
"This is the last song I wrote for the album. It occurred to me that most of my songs are full of augmented, major 7 chords, and other weird chord clusters I can't even name, so I wanted to write a really simple song with only major and minor chords. I recorded a demo by myself and the music sounded so vibrant and confident that I thought I needed to write lyrics from the point of view of a bush-league character. Who produced it? What was the recording experience like? Ben Lumsdaine and Lewis Rogers produced the song. I demoed the song pretty meticulously, and really liked the way it sounded, so the process was mostly about translating that to a more hi-fi context. I asked my friend Drake Ritter to put some pedal steel guitar on the track also".
"After 11 p.m., you stop hearing the regular Eric Clapton-y classic rock on the hits radio station and start hearing more esoteric stuff, one-hit wonders from 1976, or really minor singles from artists I thought I didn't like because I just hadn't heard this one weird song before", says Bloomington, Indiana-based singer-songwriter Damion. Rather than let those offbeat classics fade into the twilight on his late-night drives, Damion returned home and went straight to the Tascam cassette machine. Inspired by both the sound and the bleary-eyed ambiguity, the result of that late-night recording is the bronzy Special Interest, a record bathed in a soup of memory and the antigravity of '70s AM radio.
Once he had finished demoing songs at home, Damion brought the nine tracks that would make up the album to his preferred studio, Russian Recording, and worked with Ben Lumsdaine and Lewis Rogers to polish them up. For his first solo album, Damion tapped into elements of his deep catalog of musical contributions — both as a part of bands like Laffing Gas and Spissy and as a session musician. Aesthetically, Damion aimed to fit within the limits of the era that inspired the songs. "Recording to cassette tape, you either have to play the part right or learn to love the way it sounds wrong, so even in the studio we abided by those same limitations", he says.
Rather than limitations, the structures and styles of vintage rock perfectly suit the album's lithe falsetto, eerily familiar melodies, and hazy storytelling — the listener immersed in a soup of poetic fragments, Damion himself always at a beguiling arm's length. On lead single and opener 'Company Man', resonant acoustic guitar and Super Ball bass provide a platform for Damion's knowing ability to split the difference between confident swagger and laid-back charm. The singer-songwriter pulls joy out of musical echos and lyrical wordplay, in part coming from his love of classic songwriters and long history as a performer. "I am mostly inspired by singer-songwriters like Carole King, Todd Rundgren, Eddie Kendricks", Damion says. "I began as an Elvis impersonator at age three. I think the razzle-dazzle energy he had made an impact on me as a kid".
The glittering 'Your Secret Is Safe With Me' follows, the layered ballad perfectly suited to prom night, meeting your crush under a disco ball. "I wanted to write a song that sounds like it oozes out of the speakers", Damion says of the track. "We kept doing takes until we locked into a tempo that felt a little too slow to play, but was just right to hear." Elsewhere the vibrating and twangy 'Come Alive'", a la Roy Orbison in a bolo-tied Western suit, comes complete with a pedal steel solo from guitarist Drake Ritter. The wordless sing-along backing vocals of 'Roadhouse' further inject a little glam into the mix.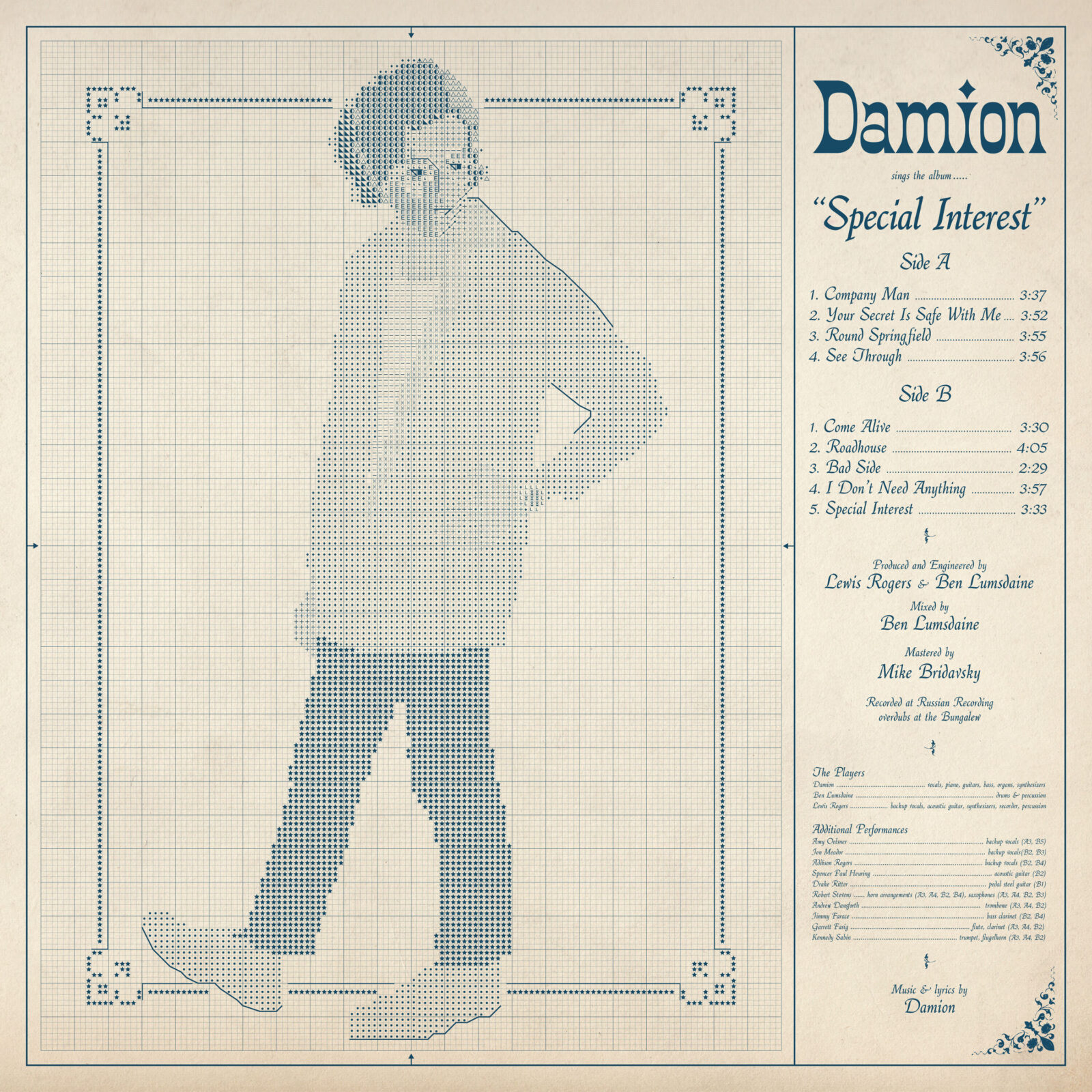 Damion sounds right at home in the ethereal wonderland of 'Special Interest', sinking headfirst into the maple syrup sweetness and impressionistic lyrics. And as the album closes on the title track, it does so on the mystic compulsion of art, of music, of being a musician. "The song is about that feeling you get playing at a bar 1,000 times", he says. "You love doing it, but you still ask yourself why. The easy answer is just that I can't not do it". In 'Special Interest', the young Hoosier singer-songwriter honors the compulsion and the magic, cobbling together a style all his own — instantly familiar and magnetic, capable of breathtaking beauty in its embrace of life's smallest moments. Lior Phillips
---
Damion Instagram
Earth Libraries Official Website / Facebook / Instagram / Bandcamp / YouTube / SoundCloud / Spotify