'The Watchers' by Strange Parade | Album Premiere | Interview
Exclusive album premiere of 'The Watchers' by Los Angeles-based band Strange Parade.
---
Strange Parade was originally formed by keyboardist, singer/songwriter Brian Cleary, former keyboardist and occasional co-songwriter for The Movies and Radar Brothers (Merge). Now locked in as a band, Strange Parade features long-time/former Brian Jonestown Massacre drummer Dan Allaire (Cass McCoombs, Darker My Love), lap-steel/guitar wiz/L.A. music scene vet, Paul Lacques (I See Hawks in LA, Double Naught Spycar, The Bonedaddys) and bassist Ashley Berry.
'The Watchers' was recorded at their home/practice space-turned-studio by Paul Lacques and mixed by Dave Trumfio. A strange-but-familiar blend of psychedelic folk rock and the more shadowy/spacious edges of post punk.
Their sound blends psychedelic Americana, art rock, and the quieter side of early 80's post-punk and shoegaze. Its keyboard atmospherics and urban steel getting along well. Deep pockets and enveloping low end grooves gliding under deep swaths of emotion. Front man Brian Cleary started teaching himself piano at age 5. At age 9, just before moving from Boston to Florida with his family, he started taking piano lessons but never learned how to read music, opting to play by ear instead. His training was further hindered when he read a Brian Eno interview in 1980, touting the benefits of non-musicianship. By age 14, he got his first keyboard and joined a new wave/punk band in Melbourne Beach, FL., where he lived until he was 23.
Enter the 90s. Back in Boston now, Cleary started a solo experimental act called Very, playing shows and occasionally sitting in with friends The Vehicle Birth (Crank). By 1999, that band broke up and Cleary co-formed The Movies with The Vehicle Birth's singer. They eventually moved out to L.A. and split up by 2009. Cleary was then pulled into Radar Brothers, playing keys and co-writing songs for their 2013 album, Eight (Merge). It was during that time Cleary started writing the songs that would comprise Strange Parade's debut, 'Between Us All'. The LP was made with friends and former bandmates, pulling in members of Trans Am, Eels, DNTEL and Radar Brothers. Now it was time to form an actual band. First, Cleary saw Ashley Berry filling in on bass for a friend's band when he asked her to join. Shortly after, he met drummer Dan Allaire at a wedding in New York. Allaire had recently left Brian Jonestown Massacre after 16 years and had also played with Cass McCombs and Darker My Love. Cleary sent him songs and Allaire was in. With all three inspired by similar tastes and sensibilities, the universe then threw their sound a curve ball in the form of guitarist/lap steel wizard, Paul Lacques. Living 2 houses away from each other, they could hear each other practicing. In this way, they auditioned each other candidly.
Lacques' rich background brought some unexpected elements to the sound, meshing the post-punk/early shoegaze-inspired songwriting with his swirling lines and deep-woods twang. The band started playing live and decided to record the new record where they practiced, tucked into the comforts of Cleary and Lacques' homes, they recorded 'The Watchers' as live and organically as possible. The 9-song journey recalls a range of sounds, from early Roxy Music and Fairport Convention to John Cale, Lloyd Cole & The Commotions, and even Elton John. After a few pandemic-related delays, the LP was mixed (by Dave Trumfio), mastered and completed by late 2021.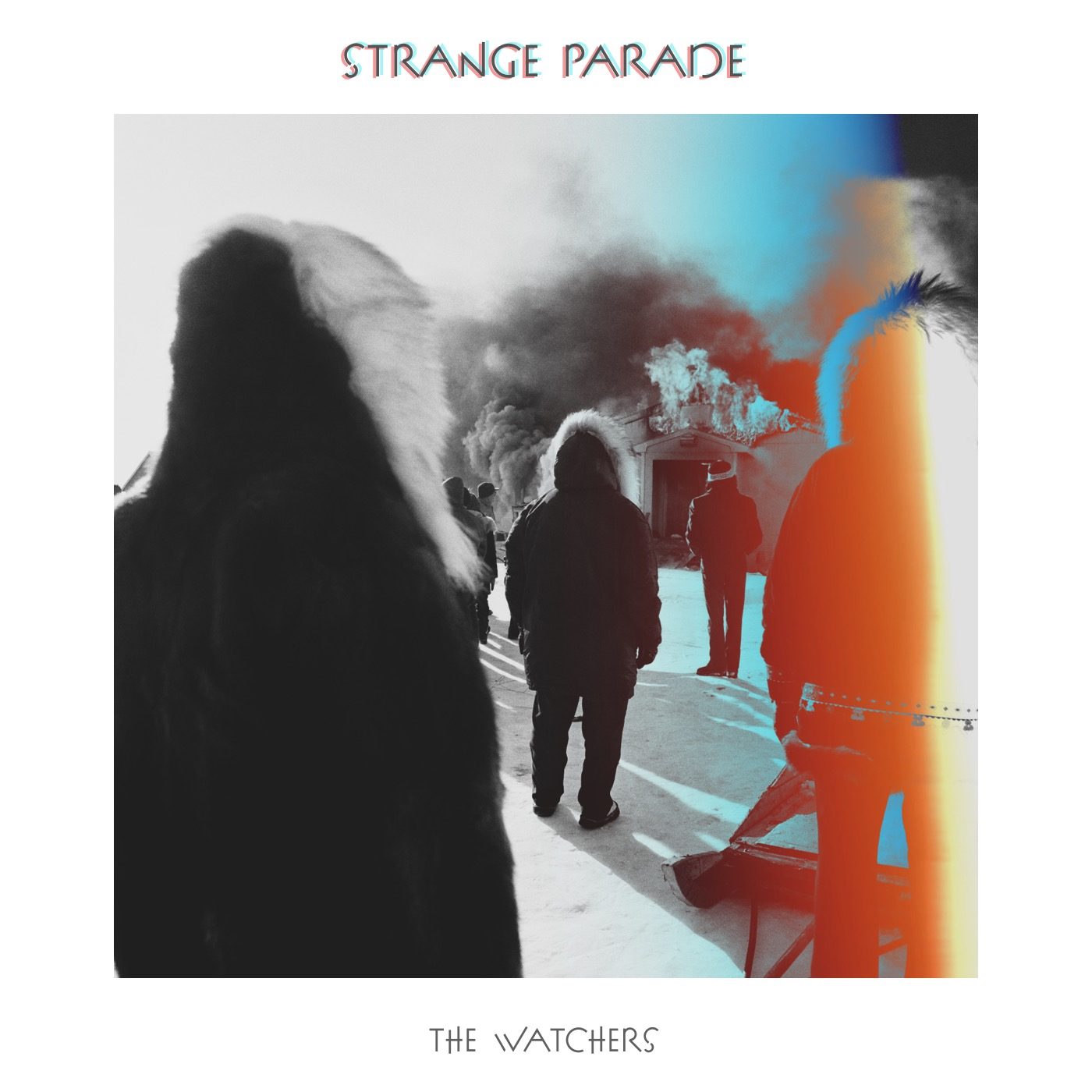 "We were going for a natural, live, organic feel"
What was the process of working on 'The Watchers'?
Brian Cleary: The band had just formed in the Fall of 2018. By summertime, we were playing shows and at that particular time, we all felt like we were doing something that needed to be bottled. Paul is an accomplished recording engineer/producer and had all the gear we needed, so we decided to record it at my place where we had been practicing the past 9 months or so. The room had a great sound and great feel. We recorded about half there and half at Paul's studio (two-doors down).
We were going for a natural, live, organic feel, basically. We had been playing live together and developed a great chemistry. I think the usual process of tracking most of the instruments separately can really deaden the energy, so we decided to record the album as live as possible. Vocals were mostly overdubbed and we added or re-tracked a few instruments here and there, but the instruments were mostly recorded live/on the spot and I'd say we got just what we were after from that. We were more focused on the energy and vibe than perfection. I feel like perfection is one of the worst enemies of rock.
There were a few late 60s/early 70s folk-rock albums I was listening to a lot before we recorded the album and I definitely felt like they became an inspiration for the sound we were after. One was from Tommy Flanders, who was in the 60's band Blues Project. He made a solo album, 'Moonstone' around 1970 that I was really getting into. The other was a one-off early 70s album called 'Tax Free'. It was Wally Tax of the Dutch band, Outsiders, but in 1971 or so. John Cale and an amazing lineup back him up. A close 3rd for inspiration was The Feelies 'The Good Earth', which was one of my favorite records in the 80s. Anyway, we wanted to create something where the psychedelia was more in the songs themselves than from the production. I think that's a lot harder to pull off than say, just cranking up your flange pedal or what not. We may go nuts with effects on the next album, I have nothing against that, we just wanted this one to feel more natural.
Are all of the songs new or did you rearrange some old ones from the vault?
A few of the songs had been written a while back but all of them were shaped and arranged collectively over the months preceding the making of the album. Many were really just skeletons of songs that the band raised to be responsible, full-grown members of society.
'Are You There' for example, was just acoustic guitar and vocals. Like the rest of the songs, what the band brought to it was what made it what it is. 'Headless & Harmless' was another — it was this ethereal, washy, dreamy mess that I had no idea what to do with. When Dan and Ashley threw the rhythm under it and Paul added the sort of "call & response" lines on lap steel, it felt like exactly what the song needed. I would have never thought up any of their parts or changes to the structure they brought in. The band is extremely collaborative. I may come in with ideas but we basically write and/or flesh the songs out together.
Was there a particular story that influenced you to record the tracks for the album? Tell us more about the lyrics…
When I first typed out all the lyrics together on one sheet, I did find some consistent threads (growing up, shedding self-consciousness, letting go of the past, unhealthy relationships, et cetera) but that consistency wasn't intentional. It was tempting to package it all in some kind of a concept but that felt disingenuous in this case. Lyrically, they span an era of my life that I could tie to certain themes but they sort of vary. The Watchers seemed like the most blatant play on any consistent theme, so it felt right as the title track.
As for the lyrics, how someone processes a lyric – whatever movies their words form in their brains – that's just not something I wanna mess with too much. For me, most of the songs have a somewhat melancholic vibe but a positive take away. I think they're relatable but I try to leave them open-ended enough for people to draw their own meanings. Actually, now that I think of it, I'd like to contradict myself on that for a second.
There's a song on the album called 'Mae B'. It was written so that it made sense no matter how you heard the words (maybe or 'Mae B') it would make sense. The lyrics were written years before I discovered the show "Arrested Development" which had a character with that name. The song was loosely based on a real woman I knew in Boston in the early 2000's. When I learned about the TV character I almost ditched the song but the band talked me out of that.
The lockdown resulted in many musicians being able to create projects that have been on a hold. I believe you found the isolation to be very creative, didn't you?
I think we all did to some extent, individually. I was in Salt Lake City for the first year and a half of it all and was pretty isolated. I worked a lot on solo piano/improv music but also wrote a good handful or two of new songs. I'm a very "primal" guitarist and wanted to get better at it, so I think I made a little progress on that.
Paul started a great new band called Ape Pop and recorded two critically acclaimed albums, one with them and another with I See Hawks in LA. Ashley really hunkered down on her bass playing and just got to know her instrument better. Now she's been playing with this great New Zealand band, The Renderers. Dan basically learned how to play piano and I'm still blown away by how quickly that came along. It really seemed like we all dug into our instruments a little deeper. Paul and I also kept pretty busy creating the pre-mixes for the album. Actually, he created them, I just weighed in and made sure it was difficult.
Would you like to talk about the musicians who are part of the record?
Well, we're a 4-piece band that formed in late 2019, played some shows and recorded this record, basically. Dan is from Ohio but he's been out in LA for quite a while. He was the drummer for Brian Jonestown Massacre for about 16 years but has played with a lot of artists on a lot of records. He's one of the most creative drummers I've ever heard, never mind played with. He's also just smart about music and brings great ideas to the table. Ashley had only been playing bass a short time before joining. She has some training on other instruments but more importantly, she has this innate sense of timing. It's amazing. She's an incredibly intuitive bassist who can find or create the "pocket" like it's second nature.
Paul and I lived a few doors down from each other and could hear each other practicing from up the street. We sort of auditioned each other candidly. We started getting together just to jam but quickly discovered that we played off each other's ideas really well. It was like a joint mind-reading that came out musically. Paul has a few other bands (I See Hawks in LA, Double Naught Spycar, Ape Pop, Earthworm Ensemble) but over the years he's played with Stan Ridgeway, Bo Diddley, … the list is huge. He's even won Grammys. Paul is easily my favorite guitarist in LA. He was also really easy to record with as a producer/engineer.
I'm just some kid who always wanted to play in bands and never grew out of it, really. I started playing in a band at 14 in Melbourne Beach, FL. We were called Locals Only and were one of the first punk/new wave bands in the region. Since then, there was only one 10-year span where I didn't play in bands. I was in The Movies from 99 to 2009, then Radar Brothers shortly after that for several years, then right into writing and recording as Strange Parade. Outside of that, I have a solo experimental project I call "Very" and have had a few other projects I either started or bands I played with but those are the main ones. I started teaching myself piano as a tyke and put on a recital for relatives and neighbors when I was 8 or 9. After that, I took lessons for about 4-5 years but never learned how to read music. I'd play the assignments by ear and pretend I was reading. I went through 5 teachers in 5 years this way.
Are you planning to tour in support of the album?
We'd love to but only if and when it makes sense. Ideally, we'd love to land a good support slot on someone else's tour. I feel like a headlining tour at this point wouldn't really do anything for us. For now, we're mostly playing around LA and the outskirts. We have a record release show May 7th at the Silverlake Lounge we're pretty excited about. We wanted a small, classic East side venue with some history. The band that got me out here, The Movies, used to play there back in the day and it was the first place I ever played and sang Strange Parade songs, so the venue feels right. We also have a show coming up in Tijuana that we're super excited about.
Let's end this interview with some of your favorite albums. Have you found something new lately you would like to recommend to our readers?
I'd say we have … a lot of favorite albums. Here are some we really like that came out the past few years:
Jeff Parker – 'The New Breed'
Terri Gross – 'Soft Opening'
Haunted Summer – 'Whole'
Mt. Wilson Repeater – 'Burned Up Ghost'
Brigid Dawson and the Mothers Network – 'Ballet of Apes'
Open Field – 'O.F. II'
Mooncult – 'Swallow Me Whole'
Spray Paint – 'Into the Country'
The No. 44 – 'Venus Eye Trap' (EP)
Chris Cohen – 'Chris Cohen'
Thank you for taking your time. Last word is yours.
Thank you! I'm a fan of It's Psychedelic Baby! so it was really cool to get this. We're looking forward to seeing how this album fares but we're also onto the next thing. We have new songs we're cooking up and can't wait to record them. The sound is evolving quite a bit. I think the next album will be more of a mixed bag. In a good way.
Klemen Breznikar
---
Strange Parade Official Website / Facebook / Instagram / Twitter / Bandcamp / YouTube
Headline photo by Jean-Paul Bondy