E. A. Poe | Interview | "1974 Progressive Rock Masterpiece"
E. A. Poe were an incredible progressive rock band from Italy that only released 'Generazioni (Storia di sempre)' in 1974 and sadly disappeared from the music scene.
---
Top musicianship full of emotion and atmosphere. E. A. Poe would disband soon after the release of their debut album and only released a couple of singles after. Their music however, in our eyes, is among the very best of what progressive rock can offer.
"Concept about the generational differences"
Would you like to talk a bit about your background?
Marco Maggi: I grew up in Milan, Italy and moved to California in my late twenties. Music has always been a huge part of my life and one of the reasons I stayed in California is because in the early 80s just going around local bars, there were tons of incredible bands playing, and I became good friends with some of them. Just to mention a few; Robben Ford and his brothers, Jerry Cortese, Tower Of Power, Garth Webber, Miles Davis, Robert Berry, Emerson, Lake & Palmer and many others not as famous but awesome musicians.
Were you in any bands before E. A. Poe?
Marco Maggi: I started very young playing with other people and I am still doing it every week. I never stopped.
Giorgio Foti: In the 60s, my brother Lello Foti (drums) and Beppe Ronco started a small group consisting of kids. We were called Angelo e gli Spacemen, then E. A. Poe was born in the early 70s with the entry of Marco Maggi on bass.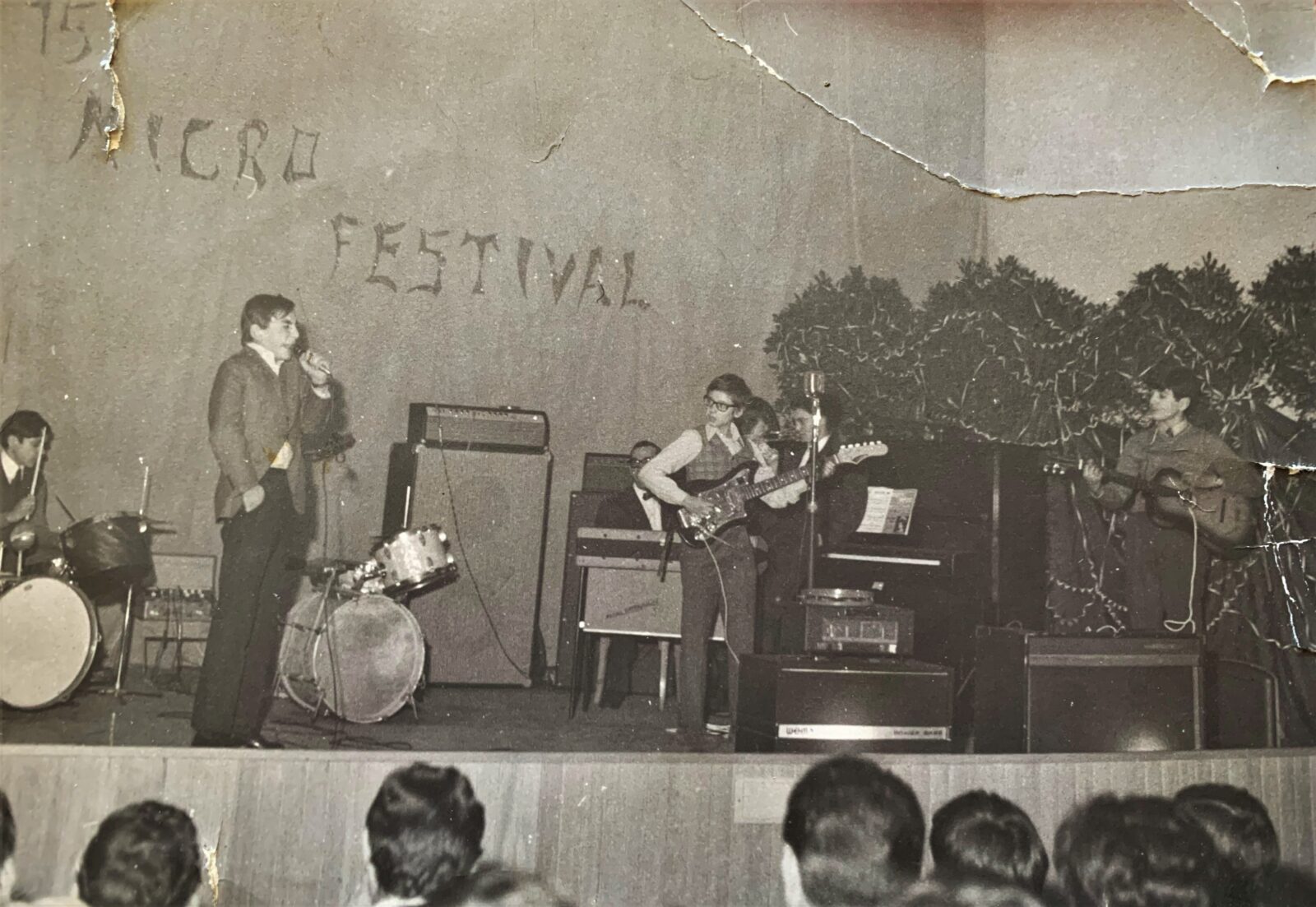 The band was already formed in 1967? What kind of music did you play back in 1967?
Marco Maggi: We played some original songs and also songs that were popular at that time.
Giorgio Foti: We played songs performed by the most famous groups. They were mostly pop songs.
Can you elaborate on the formation of E. A. Poe? How did you know each other?
Marco Maggi: I joined the band around 1972 because Giorgio and I were classmates in high school. One day I went to his house and they started playing music that I enjoyed very much. At the same time I found out that the bass player wanted to quit and although I had never played bass guitar before I joined the band.
Giorgio Foti: Me, Beppe and Lello have always lived in a town called Ornago. We have always had a passion for music, so we bought the first musical instruments and started performing in public: in oratories, in provincial theaters … With the early 70s we began to be interested in the more committed music that came from England and the United States (Canned Heat, Creedence Clearwater Revival, Black Sabbath, Beatles, Cream et cetera) and we started playing in larger spaces. At that point we added my friend Marco Maggi on bass guitar and we began to compose the album 'Generazioni (storia di sempre)'. When Beppe left for military service, guitarist Roberto Bertazzi from Milan took his place. The band lasted until 1977, then broke up.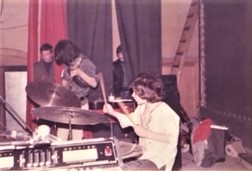 "We liked the sound of it and the darkness attached to it"
When did you first encounter Edgar Allan Poe and in particular did it inspire you to name a band after his name?
Marco Maggi: I remember one day we were looking for a new name and we were browsing a dictionary when we noticed the name Edgar Allan Poe. We liked the sound of it and the darkness attached to it.
Giorgio Foti: The first to be interested in the novels and in the life of Edgar Allan Poe was Beppe Ronco. Initially, the idea was to create a concept album that had Poe's stories (Berenice, The Fall of the House of Usher, The Crow, et cetera) as their subject. Then, as the creative path progressed, the songs gradually took detachment from Poe's stories, to take on an independent life. The result was 'Generazioni (storia di sempre)'. We then started doing the first concerts with our compositions. In 1977, on the threshold of a possible new recording contract, the group broke up and never got together again. Among the causes of the dissolution: the departure of one of us for military service and the lack of good ideas for the creation of a new quality record in a short time.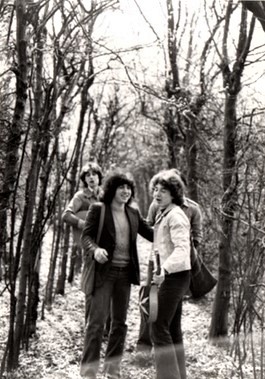 How often did you play live until you went to the studio and recorded your sole album?
Marco Maggi: We were pretty busy those days playing in bars to make money to buy new equipment and our favorite thing was playing our music. There were a good number of opportunities to play in those days. I remember one time we played in Switzerland.
Giorgio Foti: I can't give you a precise answer: I can say two things. The first; there was a culture more devoted to live performances. The second; we didn't have a valid manager. There was a lot of disorganization and we were too young (oldest was 18 year old) to be able to carefully manage our artistic path.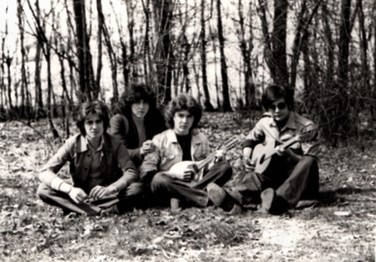 What's the story behind your debut album? How did you get signed to the Kansas label?
Marco Maggi: I met a guy whose sister was married to Gigi Fiume Menegazzi who managed the band I Camaleonti. At that time we were able to see him and the rest is history.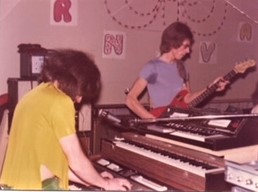 Giorgio Foti: It was all very casual. Marco Maggi had a record company executive named Gigi Fiume Menegazzi as a neighbor. Marco told him about us and he wanted to hear from us. He liked us and he offered us the contract. It must be said that the Kansas label was not very suitable for our genre of music because it was more concerned with pop music and not with progressive groups. And perhaps in this there was that disorganization I was talking about earlier.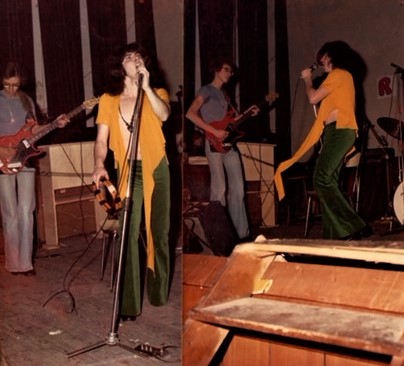 Where did you record it? What kind of equipment did you use and who was the producer? How many hours did you spend in the studio?
Marco Maggi: The album was recorded at the Trevisan studio in Milan with their equipment. It was our first experience in a recording studio and we had only three days to do it. The first funny thing that happened was that we had to record the whole album with the drum and bass guitar. I said it was funny because we were used to playing all together and certainly it was a challenge to do it with just the two of us but we managed it with little tricks. Time was not on our side. I played the bass with my fingers but the engineer wasn't happy with the sound and asked me to use the pick, which I did but I had to cut the speed in half in the song 'Considerazioni' then we dropped and broke the mandolin and substituted with a 12 strings guitar.
Giorgio Foti: We recorded in a small private studio in Milan. We used not particularly sophisticated instruments. We had drums, bass, electric guitar, overdubbed with an acoustic, grand piano, electronic organ, mellotron, Hammond organ, Wurlizer electric piano and a mandolin. The recordings lasted three days. Few overdubs.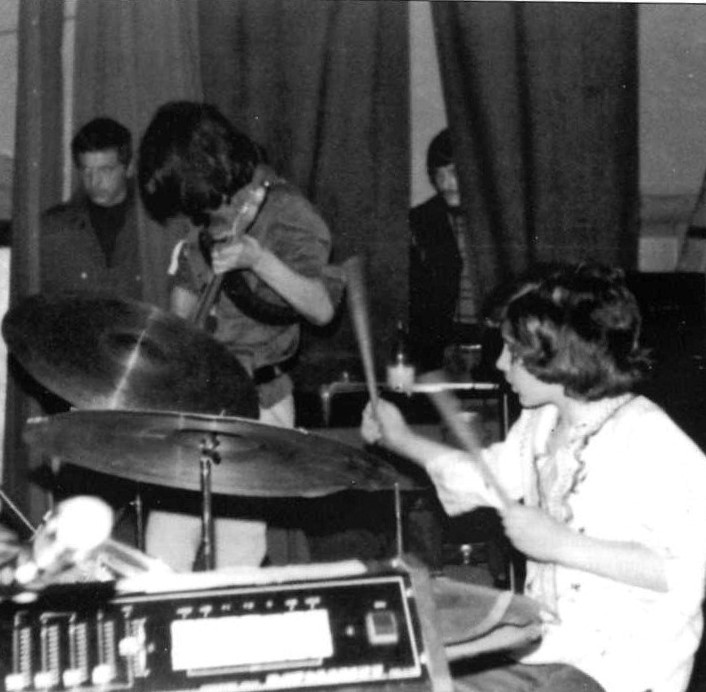 Was there a certain concept behind the album?
Marco Maggi: Yes the album title. The lyrics were written by a friend of ours, Favonio, his nickname was the poet, and he talks about the generational differences and we combined the music with it. Giorgio and his brother Lello wrote the basics and then everyone worked on their own instrument.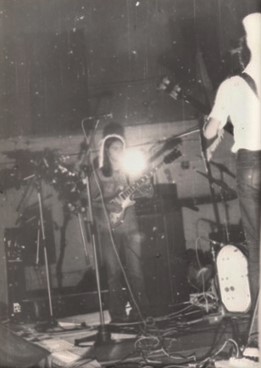 Giorgio Foti: Sure. As I said, gradually discarding the idea of Poe's stories (of which only the name of the group remains), we set out towards a reflection on the contrasts between generations. Hence the birth of songs such as 'Ad Un Vecchio', 'Alla Ricerca Di Una Dimensione', 'Per Un'Anima' and final 'Generazioni'.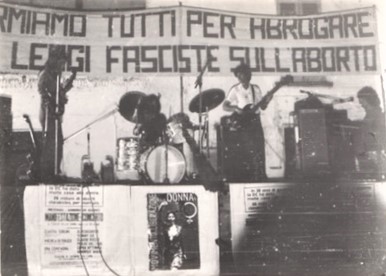 Would you share your insight on the albums' tracks?
Marco Maggi: Well I really liked all of them, the variety from rock to ballad. 'La Ballata Del Cane Infelice', … 'Per Un'Anima' was based around a true story of a young friend we lost. We also added a little touch of jazz as well.
Who did the cover artwork?
Marco Maggi: Lello did the cover artwork. There was a 45 record of singer Mina and the cover had a picture of a monkey that he enlarged and used the negative.
Giorgio Foti: The album cover was proposed by a designer named Gianni (I don't remember the surname) who worked for record companies. It is simply a detail that Gianni has extrapolated from a drawing used for the singer Mina.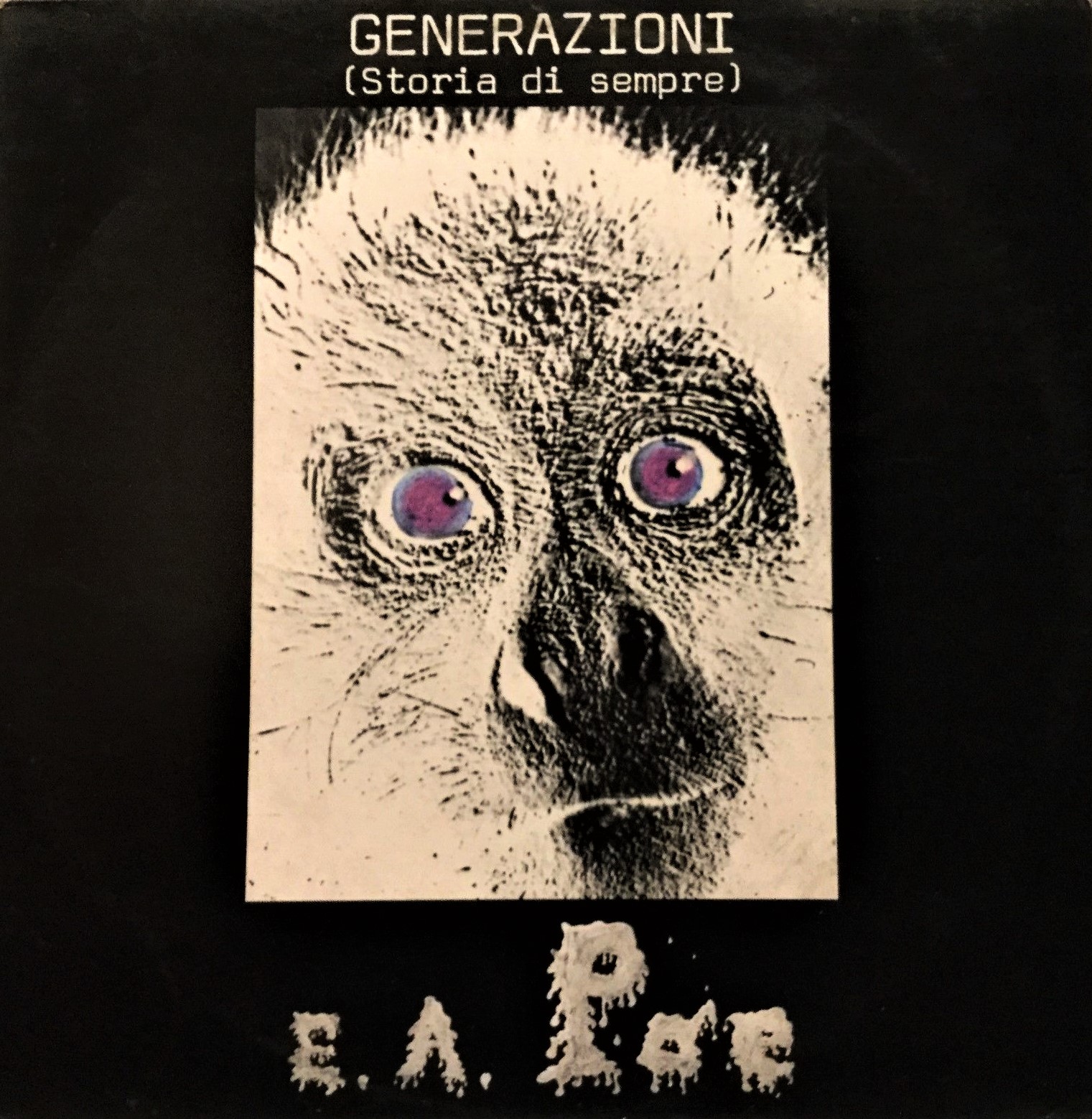 Would you like to comment on your playing technique? Give us some insights on developing your technique.
Marco Maggi: I mostly play by ear. I tried on and off to study music but didn't get much result.
Giorgio Foti: We were all gifted with a good basic technique and with particular musical aptitudes. Beppe is a basically rock guitarist, with a self-taught path who has gradually perfected his technique, making it original and particularly effective; Marco turned out to be a bass player with good technique and taste; I, playing keyboards, have developed a fairly classical technical-musical path. Lello is the one who most of all has shown himself to be gifted with excellent technique. He played the drums but today he teaches at the Conservatory. The fusion of these styles and these influences has given life to the particularity of our music.
What can you say about this release? Edgar Allan Poe – Jaws (Music From The Original Motion Picture) – Main Title / End Title
Marco Maggi: Our manager gave us the soundtrack of the movie Jaws and asked us to come up with two songs for a 45 record that was distributed for free the opening night.
Giorgio Foti: This single proposed a free arrangement of some passages from the film Jaws by Steven Spielberg. The titles used are precisely those that appeared within the original soundtrack.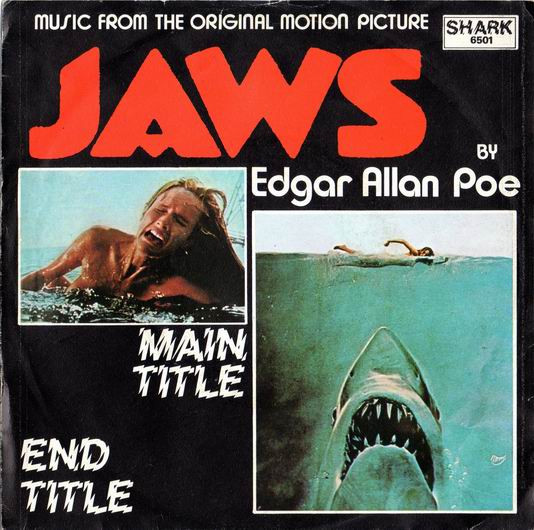 When did you decide to stop the band and what followed next?
Marco Maggi: First Beppe had to join the military, but luckily I had a friend, Giorgio Albertazzi, who agreed to join us. After that Giorgio had to go to the military and when he came back disco music had invaded the planet. Before Giorgio left we had a meeting with Sony that at the time showed some interest in signing us but the timing didn't work out.
Giorgio Foti: In 1977, after there was a proposal to renew the recording contract, there was an in-depth meeting between us to understand whether it was appropriate to accept or not. We had to deliver the parts in a short time and we didn't have enough material. I, who was a fairly important figure in the group (because I sang and started building the songs), was leaving for military service. We decided to stop the business for a year and start again later. But the advent of disco music ruined our plans.
I'm surprised that you haven't been more active in music as you are truly outstanding musicians.
Giorgio Foti: Thank you very much for your consideration. Maybe then we underestimate ourselves a little but, looking back, we all had big regrets about the interrupted business. After all, we realized that we weren't that bad! But that's the way it is now.
Looking back, what was the highlight of your time in the band?
Marco Maggi: Everything, I was living a dream! Playing music surrounded by friends going to all the places we have been to and the experience that followed was priceless. We were very pure in our musical ideology. The music is everything, the rest is secondary. Our manager organized a big show in Milan displaying the musicians under the label and asked us to play on playback. We refused and told him that we were not going to play unless it was live. He agreed but I don't know how we sounded because we couldn't do a soundcheck.
Giorgio Foti: Surely the result has been an incredible experience on the part of everyone that has left its mark. Both on a human and cultural level, and on a technical-musical level. Furthermore, even today, when we talk about that period, there is a lot of pride, a lot of satisfaction, but also some understandable regrets.
Italy had a lot of incredible progressive rock bands.
Marco Maggi: It's true but unfortunately it was very hard to discover new bands.
Giorgio Foti: It's true. Italy has produced many progressive rock groups. This, however, was not followed by an adequate organization of the event. Much space was given to organizational improvisation and perhaps there was no real merit-based imprint. Or perhaps in the end a few groups "survived" (Banco del Mutuo Soccorso, Premiata Forneria Marconi) and many others who perhaps still had good musical ideas have disappeared. The result is that even today there are those who try to re-emerge. It is very difficult terrain to analyze.
What currently occupies your life?
Marco Maggi: I am retired now – music, family, my adult children, and grandkids.
Giorgio Foti: Marco Maggi deals with import-export in the United States. Beppe Ronco is now retired and was a computer technician. Lello Foti is a teacher at the Como Conservatory. I'm now retired, working in the school as a teacher and as a headmaster.
Thank you for taking your time. Last word is yours.
Marco Maggi: It was nice to think about that time of my life. A lot of memories made me smile. Thank you for the opportunity to talk about E. A. Poe.
Giorgio Foti: Many thanks to you, it was really nice to remember all those memories.
Klemen Breznikar
---
Headline photo: Marco Maggi, Lello Foti, Beppe Ronco and Giorgio Foti
E. A. Poe Facebook