Veteran Singer-Songwriter and Musician Al Staehely | Interview | Spirit & The Staehely Brothers
Acclaimed Texas-based singer-songwriter and musician Al Staehely (Spirit, The Staehely Brothers) has recently released 'Post Spirit Vol. 1 (1974-1978)' – a fourteen-track album of rare solo recordings written over 40 years ago during Staehely's days in Los Angeles in the 1970's.
---
While known to many as the lead vocalist, bass player, and principal songwriter on Spirit's fifth album, 1972's 'Feedback', Staehely went on to enjoy a lengthy career in bands like The Staehely Brothers, and The Nick Gravenites / John Cipollina Band, while also writing songs for the likes of Keith Moon, Bobbie Gentry, Patti Dahlstrom, Nick Gravenites, John Cipollina, Marty Balin, Peter Cox and Hodges, James & Smith and more. A segue into a successful career as a Houston, TX entertainment attorney hasn't deterred Staehely from continuing to write and perform music regularly, which he does to this day.
'Post Spirit Vol. 1 (1974-1978 )' is an audio time capsule that captures the essence of 70's Southern California rock.
"The '70s L.A. music scene was a special time. Today, in 2021, many try to recreate the '70s analog experience in their songwriting and recordings. I was lucky to have been writing and making music during that time," says Staehely. "These never before released Post Spirit 1974-1978 recordings from my "Vault" are the real thing- written and recorded in L.A. during that era in some of the best studios, with some of the best musicians working at that time. Enjoy!"
The single "Wide Eyed and Innocent," was recorded in 1978, while the recently released re-recorded version of the song was done during sessions in Marfa, TX in 2020, offering a unique contrast between Staehely's storied history and his exciting future.
Looking back at his early days in Malibu and Laurel Canyon, Staehely laughs, "We were wide eyed- but not that innocent!"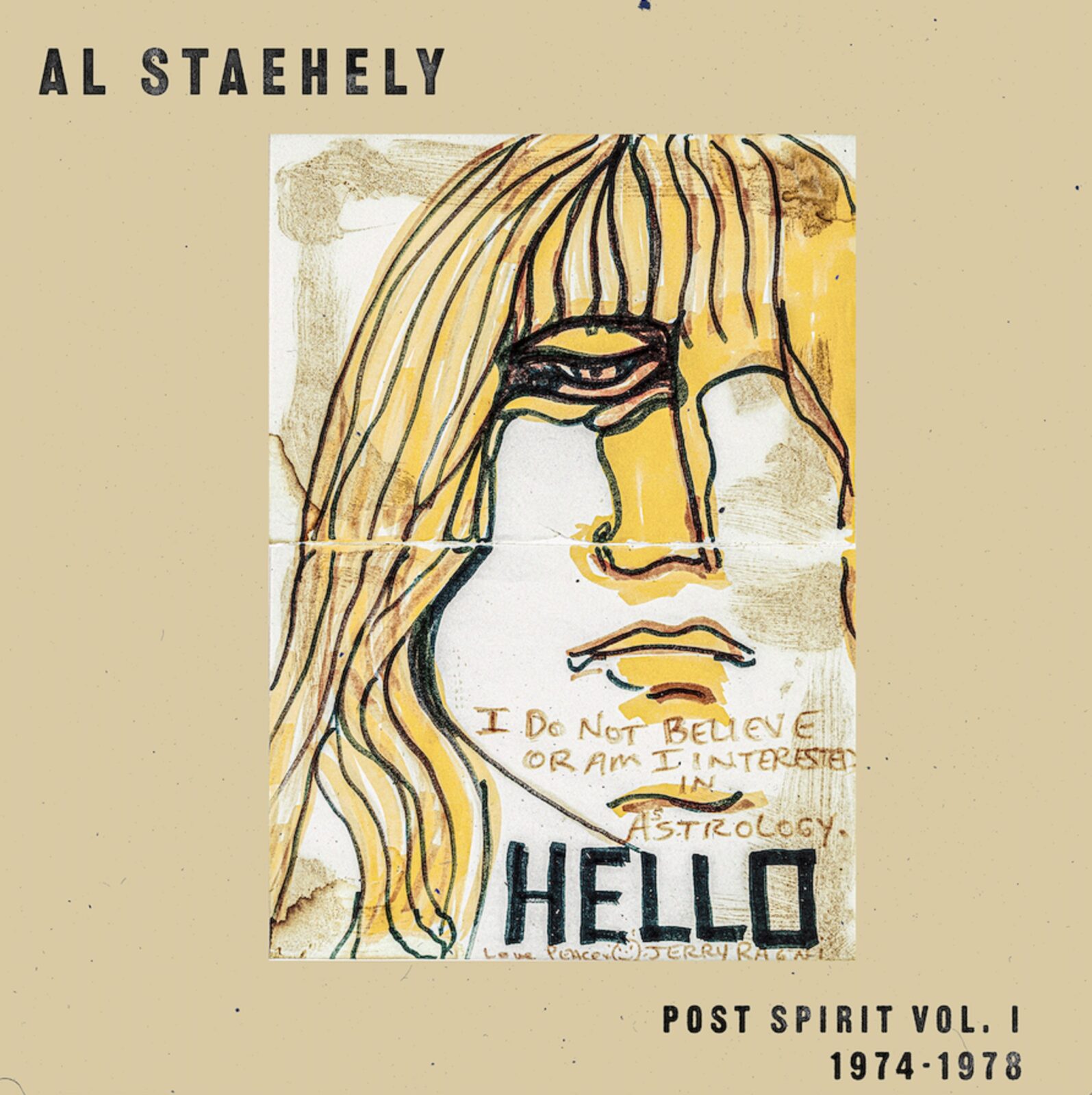 It's really great that you decided to release your unreleased tracks from the Seventies. 'Post Spirit Vol. 1 (1974-1978)' is a 14 track album of rare solo recordings. What sparked the initial idea to put these recordings together?
Al Staehely: The spark has always been there. Great musicians playing songs that are important to me. Some were recorded for what was to be a solo album in '78- but the record company went out of business before they were released.
Where were the tapes stored and what was the condition of the tapes?
Stored where I've lived over the years. They were in good condition. Some are better than others. But they were all properly baked before being transferred to digital.
Can you share some further details on how the songs were recorded? Maybe you can share a bit more about individual tracks and which in particular do you like the most?
Some recorded at the Record Plant in L.A. with John Boylan producing, Paul Grupp engineering and Mike Clink tape operator. Yes, the same Mike Clink that later produced Guns N' Roses. I remember him as a wonderful guy. I was happy to see his great success.
Many tracks were recorded with the Haji Mobile Truck with Alex Kazanegras at the helm, along with Austin Godsey. 'Feel the Heat' is a good opportunity to hear Steve Cropper do some of his signature guitar work. 'Wide Eyed and Innocent' and 'Chippin' Away' feature guitar solos by Snuffy Walden before he was king of TV music ('West Wing', et cetera).
"Writing songs as a solo artist is more personal"
What would you say is the main difference in being a solo artist?
Writing songs as a solo artist is more personal. I set out to write songs that I could present on acoustic guitar. Even if other instruments were added when produced. Many of the songs I wrote for Spirit began on bass rather than guitar- which is a good way to write rock songs.
'Staehely's Comet' was your first album. How would you compare its material to these unreleased recordings?
Quality wise, I think they are equal. The Comet album was less produced. Two guitars, bass, drums and cloud of dust.
Are there any remaining unreleased tunes?
Yes. Volume 2 will have recordings produced by the legendary Andy Johns featuring Pat Thrall, Dony Wynn, Glen Fukunage and others.
Would you mind talking about Spirit? You joined the band after moving to Los Angeles. Tell us about your upbringing. What was the scene in Texas back in the late Sixties? Were you influenced by The 13th Floor Elevators and other psych bands coming from Austin and other cities?
I'm a third generation Austinite. I had a band, The Bel Aires, when I went to Austin High '61-'63. That was before psych bands. I remember the first time I ever heard the word "psychedelic". I walked into a club in Austin called Swinger's A-go-go. There was a poster advertising The 13th Floor Elevators describing their music as psychedelic. I asked my friend, "What does that word mean?"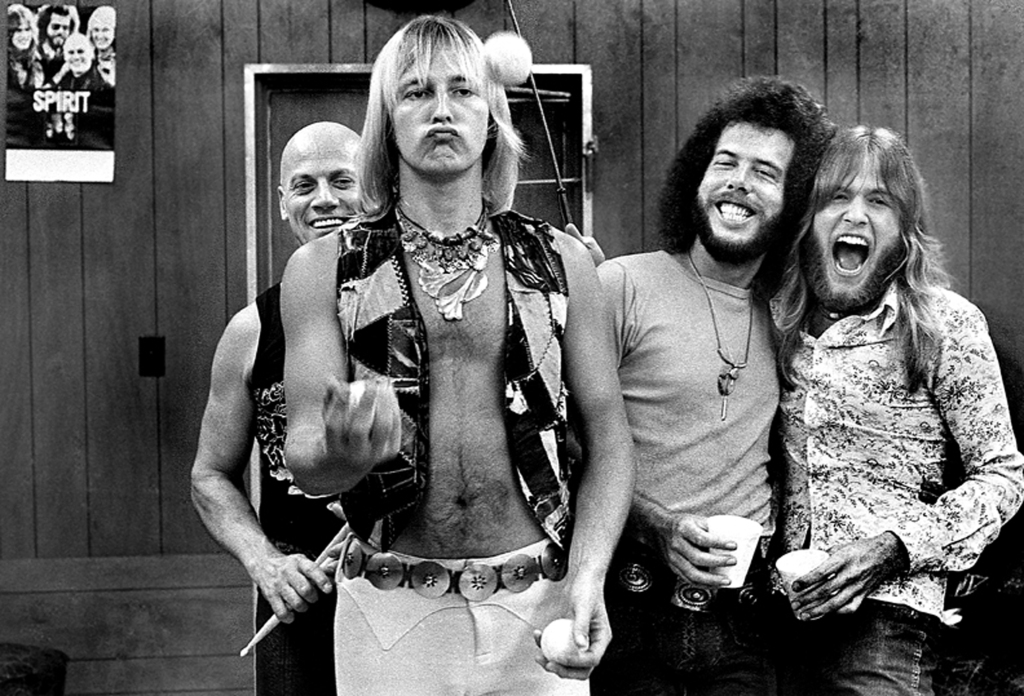 Did you appear as a solo artist before joining Spirit in local clubs around Texas or did you have any band back then in Texas? If so, are there any recordings?
Never a solo artist in those days. Only in bands. Bel Aires, Fabulous Chevelles, Pumpkin. Although not released, there are some Chevelle tapes doing cover songs at frat parties.
When did your brother leave for LA?
When Randy left the band John joined shortly before recording 'Feedback'.
Can you elaborate how you managed to become the lead singer, bass player, and principal songwriter with the group?
Curly Smith was the drummer in Pumpkin. He went to LA about 8 months before I did and joined Jay and Mark who were leaving Spirit and forming JoJo Gunne. When I got out there, Mark introduced me to the remaining members. After some rehearsals, they asked me to join.
'Feedback' contains seven songs written by you. Other guys must have really enjoyed your style of songwriting and playing. What was the energy between the band members around the early period of you joining?
The energy was good. We had a lot of fun. I also enjoyed playing John Locke's songs. I love 'Puesta del Scam' and 'Trancas Fogout' off 'Feedback'.
What were some of the bands that you shared stages with and is there a particular story that you would like to share?
Dr. John, Alice Cooper, West Bruce and Lange, Procol Harum, Canned Heat, B.B. King, Stevie Wonder, James Gang, to name a few. I'll save the crazy stories for when you and I meet one day.
One of the most overlooked records is definitely your project with your brother, John. How did that come about and what can you say about the songs on 'Sta.Hay.Lee'?
I'm proud of those songs. It's an eclectic album. But I like that about it. The only place you can hear it is on YouTube. Fans have put tracks up there. It's never been released digitally. Not even on CD.
How was it to work on 'Monkey Medicine' with John Cipollina and Nick Gravenites?
Great and quick. We did it at the end of a European tour. Went into Hafenklang studio in Hamburg at the end of the tour and recorded the songs we'd been playing on the tour.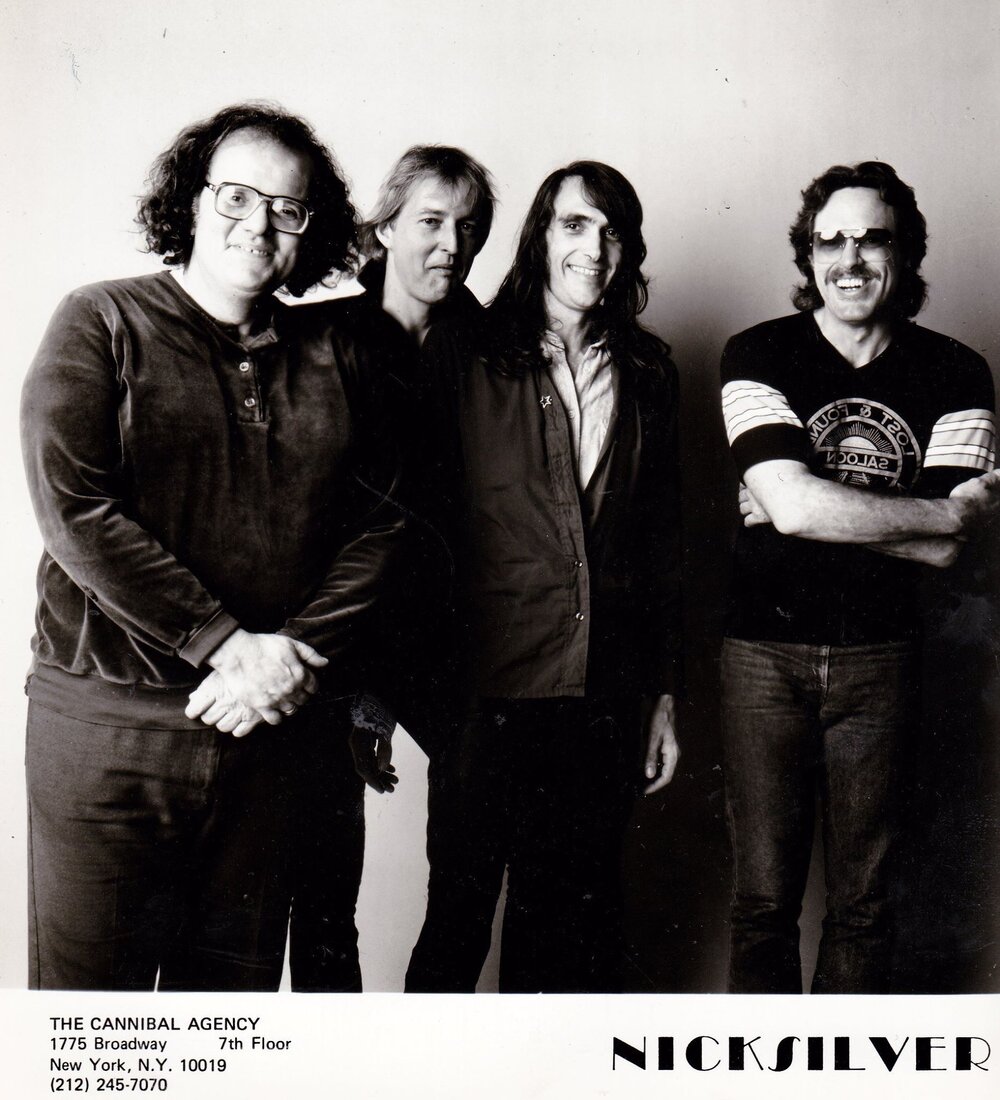 Your songs were performed by many major artists. How do you feel about that and what makes a well written song?
It's an honor to have artists want to record your songs. A well written song can be simple, complex, serious or funny. But it must be compelling. There are many ways to skin a cat, as the old saying goes. What a horrendous old saying now that I think about it.
Looking back, what was the highlight of your time in the band? Which songs are you most proud of? Where and when was your most memorable gig?
Most memorable gig was headlining Carnegie Hall. Who ever grows up thinking that will happen? Especially playing rock n roll.
You never completely abandoned music, but you decided to make a living being an attorney. Tell us what currently occupies your life?
Playing gigs, writing songs, being an entertainment attorney, yoga, being a grandfather.
I would love to hear the Stevie Ray Vaughan story. What was he like in person?
Too much to tell in such a short time. But, he was very focused on playing his music and respectful of the blues and rock guitarists and singers that came before him.
I hear that you're working on a new material. Can you reveal some information…
I've recorded a new album in Marfa with Fran Christina, Scrappy Jud Newcomb and Chris Maresh. I'm excited about it. Be looking for it in 2022.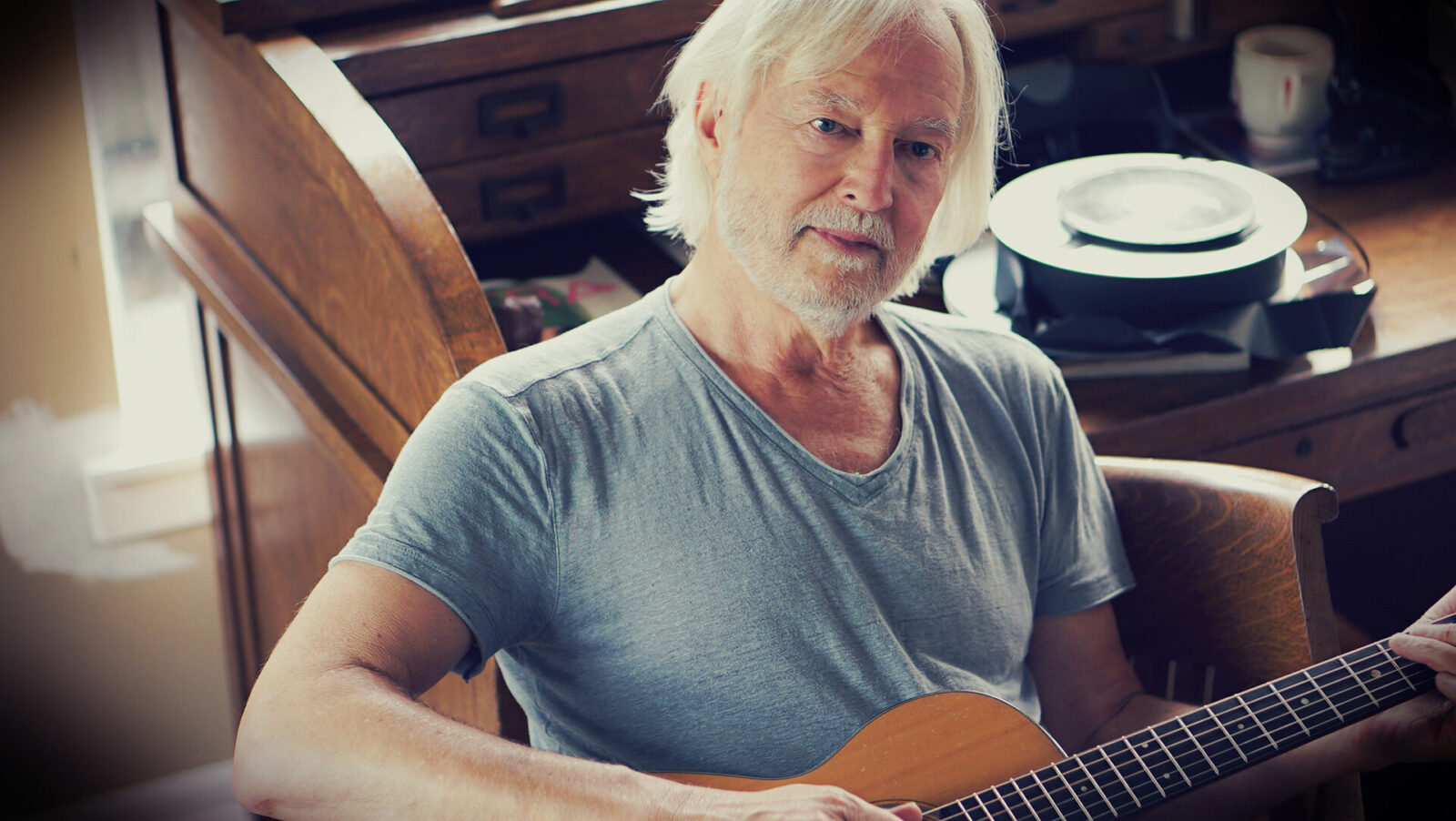 Thank you for taking your time. Last word is yours.
Thank you very much for the interview.
Klemen Breznikar
---
Al Staehely Official Website / Facebook / Instagram / Twitter / YouTube / Music Apple / Spotify