Pierce Turner | Interview | New Album, 'Terrible Good' With Former Bowie Guitarist Gerry Leonard
Pierce Turner announced a forthcoming album entitled 'Terrible Good'. The rocking, electric guitar album was made in collaboration with acclaimed guitarist Gerry Leonard (David Bowie, Rufus Wainwright, Suzanne Vega) and is set for release on February 25 via StorySound Records.
---
Turner recently shared 'Set a Few Things Up', off the latest album. Turner wrote the songs for 'Terrible Good' over a four-year period, in a process complicated by living and working in two different countries and during a pandemic. Electric guitars are central to 'Terrible Good', arising from his collaboration with guitarist/producer Gerry Leonard. The two Irishmen, who have spent the greater part of their lives living and experimenting with music in New York City, have married those experiences to produce an Irish album recorded with a New York attitude.
Pre-order 'Terrible Good' here!
"Without music and art, the world would be eternally at war"
Your new album was probably recorded during lockdown. How are you coping with the current pandemic and what are your predictions for the future? Do you think the music industry will adapt to it?
Pierce Turner: Yes, we recorded during the winter in 2021. It was still necessary to have people tested if you were going to be in a room with more than one. Vaccinations had begun, but it was nearly impossible to get one in New York. Dick Connette from StorySound took it upon himself to track down places in Harlem or far off Brooklyn, he would call us and alert us to the location, all you could do was try, it might be gone when you got there. I had to go far off Brooklyn, way beyond Coney Island, an hour and a half by car, to a working-class Boat basin, where they had a big wedding hall. Manhattan was all booked up. Biden had just come in and he was trying his utmost to get the country functioning again. At least we got vaccinated, Trump wouldn't have given a shit if anyone got vaccinated.
I think music will survive through all this, somehow. Without music and art, the world would be eternally at war. Right now, music has been devalued, and guess what, the talkers and the shouters have taken over. Talk Radio is everywhere, yak, yak, yak, moan, moan, moan. Music is the great mediator. You can't talk politics with people any more, but you can talk about, and even agree on music. What war was ever started by music? All wars are started by words.
How do you usually approach music making and what was the process with 'Terrible Good'?
I try to write down every idea, especially the ones that seem questionable. If my little mind starts to censor the idea, telling me it's not worth writing down, then I will definitely write it down. It probably will be shite, but if I stop writing questionable ideas down, that attitude will soon spread to all ideas.
I often start with rhythms when it comes to melody; unless I have a specific melodic idea or chord progression in mind. I'd been listening to the Rolling Stones a lot before making this album, with the great Charlie Watts on drums. I also especially loved the experimental Stones, 'Their Satanic Majesties Request', 'Between the Buttons' and 'Aftermath'. The way they combined spaciness and old folk music with rhythm. I also go to people like Prince and Marvin Gaye, artists with a more R&B aesthetic.
I was raised in a very melodic world —Bach, Faure, Plain Chant and Irish baroque music like O'Carolan — plus my mother's songwriting. So, melody was my strong suit, therefore I gave my attention to rhythm and lyrics because it was my weakness.
After I wrote the songs, I demoed them on my iPhone with guitar or keys and drum machine and emailed them to Gerry Leonard. We then went to a rehearsal studio and arranged them even further. It was new to me to have someone like Gerry offering edit ideas etc. I've been doing it all alone for a while. It was also great to imagine a guitar line for someone as good as Gerry.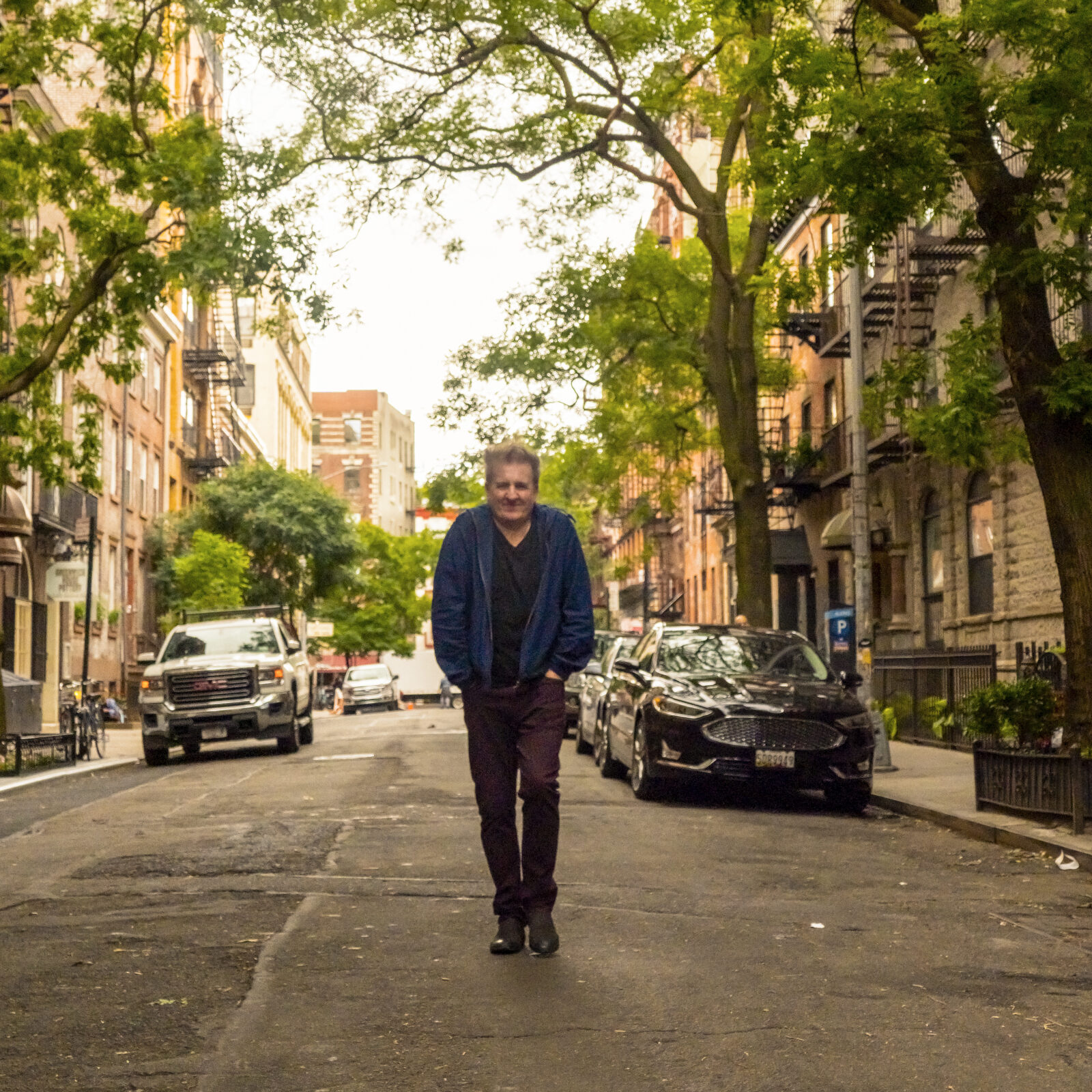 "Inspiration, escape, pleasure, freedom from pain and pressure"
What do you want people to take away from the album?
Inspiration, escape, pleasure, freedom from pain and pressure. Hopefully they will feel better about the world, and humanity, and I hope it projects some kind of wisdom. That wisdom and knowledge are superior to ignorance and destruction.
Was there a particular mood you were trying to capture? A story you were trying to tell?
Not a story, but a philosophy. More importantly an aesthetic, perhaps. Gerry Leonard and I are both from Ireland, and have spent a very long time in New York. We have both lived in the East Village, and experimented in the downtown world of music. We have been marinated in the sounds of bands like Television and Talking Heads, and with our background in Ireland and the U.K we feel that a certain similar thing has grown inside of us. We wanted to make an album that represented these things. Dick Connette from StorySound was also writing and performing music through those times, another reason why this all made perfect sense to us. We didn't have to do a lot of explaining to Dick.
'Terrible Good' featured Bowie guitarist Gerry Leonard. How did that come along?
I was doing a residency with an electric string quartet and drum machine every Saturday in a club over on Second Avenue and 12th Street. Gerry was hired to mix my sound; I didn't realise at the time that he was a guitarist. Many years later I was astounded to see him playing brilliantly with David Bowie. Ironically, I had been looking for a guitarist when Gerry was mixing my sound. He was still feeling his way in New York. But we had crossed paths unknowingly back in Ireland in the 80's when we were signed to the same label, he with his excellent band Hinterland, and me with The Major Thinkers. Phaeton, the label we were signed to, let us use their Mercedes Van when we were touring, when we weren't using it, Hinterland was. Then I was doing a Trex memorial concert just before the Pandemic and Gerry was playing with my friend Suzanne Vega. Without knowing how I could pay for it, I asked him if he would be interested in making an album with me, and he said yes. About a year later in January 2021, Dick Connette offered me a record deal with StorySound. Dick was delighted when I told him about Gerry, he loved Gerry's musicianship, and had seen him play with Rufus Wainwright. So, I called Gerry, and he was well up for it.
Would you mind telling us who all are part of the album? What was the energy in the studio?
Gerry had a relationship with Héctor Castillo who had also recorded David Bowie, and was involved with a great studio in Long Island City. Gerry suggested Tony Shanahan on Bass and Yuval Lion on drums, a superb rhythm section, suppose none of them wudda been available but for the Pandemic. I brought in my great long-time cohort Fred Parcells on Trombone and vocals. Dick added his ideas by hiring David Mansfield to arrange string parts.
Everyone was very focused, humorous but serious. Everyone was aiming high, we didn't stop until it was right, every little thing was scrutinised. It was like these experienced musicians were not going to spend their time on anything less than the best. I got a little too absorbed, and sang full on for hours and hours. This led to me getting laryngitis, we were going at full speed, non-stop. We then had to stop and wait for my voice to get better while I attended the best voice Doctor in the best hospital in New York, Dr Pearlman.
That was frustrating for Gerry and I, but we had completed the music, including days of Gerry's guitar work with an array of different amplifiers and his 50 lbs worth of foot pedals. I insisted that several of the vocals had to be done again, Gerry didn't know me well enough to know that I could do that. I had to go around wearing a button saying "I can't speak!" while I was mending.
What are some future plans?
We are launching the album at Joe's Pub in Manhattan with the full original line-up from the album on March 17th, we plan to stream it live. StorySound have made three videos so far, two of them are up right now, we are getting playlisted on Spotify, and this is all pre-release, so hopefully this will all take us down some interesting avenues. I'm not inclined to get back in a van and tour the world, I think those days are mostly done. Ed Sheeran didn't get in a Van as far as I can see, he achieved in five years, (with the internet) what took Pink Floyd 40 years. Not musically, of course, but in public awareness. During the lockdown, I streamed concerts regularly and found it was good financially and sometimes musically, but I missed having an audience. I think that I can do a better job on them, and it's one way of getting the message to a larger audience, hopefully I will be able to stream my live performances, with audiences in front of me from now on.
Klemen Breznikar
---
Pierce Turner Official Website / Facebook / Twitter
StorySound Records Official Website / Facebook / Twitter / YouTube