m o k r o ï é | Interview | New Music Video, 'NATURAL [UNSTOPPABLE PROCESS]' from 'W O R K S 2 K 2 1'
m o k r o ï é is Francesco Virgilio's electro (trip-hop, pop, industrial, soul) project combining music, image, video and remixes. Today we're sharing his latest video for a post-apocalyptic track titled 'NATURAL [UNSTOPPABLE PROCESS]', taken from 'W O R K S 2 K 2 1' EP.
---
Over the years, with 'GLOBAL – SYSTEM – ERROR', 'MACHINES & SOUL', and now 'W O R K S 2 K 2 1', m o k r o ï é continues his collaborations and explorations. After the release of critically acclaimed 'MACHINES & SOUL' in late 2019, Francesco devotes his time to different projects including 'W O R K S 2 K 2 1', an EP that was released digitally on November 19, 2021. It features one new instrumental track and three remixes for bands and collaborators Howlite (Australia) and TRANK (France). Francesco's involvement through the remix proposals he receives from artists with distinct styles allows him to experiment and develop his creativity while expressing emotions he is eager to share with the audience.
'NATURAL [UNSTOPPABLE PROCESS]' is a new post-apocalyptic electro rock, explosive and psychedelic instrumental track. It is being released together with a 3D animation music video directed by Josué Esparon describing an unleashed, indomitable, and destructive nature, continuing the climatic ravages made exponential by humanity, unable to take responsibilities.
"I have always been intrigued by people who create in general and particularly in the artistic universe, a field apart because it has no limits"
If you would have only a few words to describe Mokroïé, what would you say?
Francesco Virgilio: It's an electronic music creation project with electro pop, new wave, industrial, trip hop, ambient inspirations, which as it evolves is imbued with soul, jazz influences. I hope to constantly evolve over my new experiences, discoveries and encounters. It's music that blends with other art forms and therefore naturally devoted to a multidisciplinary framework.
How did you first get interested in art and what in particular do you enjoy the most when it comes to multidisciplinary?
I have always been intrigued by people who create in general and particularly in the artistic universe, a field apart because it has no limits. I wondered as a child who had the right to be creative, to express it publicly, and how it could all be constructed. I had so many ideas taking shape in my head, be it music, pictures, stories, that I didn't know what to do with.
One day, after having visited for the first time a music store selling many synthesizers, without knowing how to play any (I tried to learn the piano but I quickly gave up). From that day on, something would change for me: I had just discovered the sequencers integrated into synthesizers. I remember it very well because my heart started to beat harder because I understood that I had within my reach the means of expressing the sounds, the melodies, the rhythms and the sound effects that I had in mind. At the same time, I had just found my powerful antidote that I needed to keep myself from falling into boredom and making myself want to get up and live a life that was worth it. The irony of this life is that it was the imagination, a world that does not exist, that would change my reality.
The multidisciplinary aspect is a means of expression that creates an even richer work if we achieve an original and unique mixture that brings more meaning to the creation. I still have many wishes to fulfill regarding this multidisciplinary aspect: I would like to take advantage of your interview to say that I am open to any artistic collaboration with the following arts: cinema, visual art, immersive, live performance (dance, theater), exhibitions .
For how long has the project been active and what can you say about the 'GLOBAL – SYSTEM – ERROR' which if I'm not mistaken, is your debut release?
'GLOBAL – SYSTEM – ERROR' is the first ambitious act of m o k r o ï é to be broadcast with a decent, original promotion thanks to the very nice collaboration with the Russian photojournalist Sergey Ponomarev multi-awarded (Pulitzer Prize, World Press contest, et cetera). With Sergey's exceptional photos, my wish to use realistic images in an artistic setting has been granted. Until then, I had made the music for a short film, and created different videos projected for each of the titles played live when m o k r o ï é was making them. But above all, m o k r o ï é has produced other EPs and music videos that you can easily find on our website and many other links such as social networks, YouTube. The history of making and linking EPs is explained in the Bandcamp albums.
"Every time I create music I need to transform it into an ensemble with meaning"
Your music seems to highlight a certain concept. Do you agree?
I think so. It's not an obsession but every time I create music I need to transform it into an ensemble with meaning. Once the music is completed, I imagine the new ensemble which must make sense and have several levels of reading by playing with sounds, words, images and the different actors of the project.
You recently released an EP, "W O R K S 2 K 2 1". It features one instrumental track and three remixes for bands and collaborators Howlite (Australia) and TRANK (France).
I originally planned to release a full album with a more organic side, and the other electronic, but it was taking a long time to achieve with all the guest singers, and lockdowns, and my thoughts on releasing a full album was evolving.
The tracks of the EP were assembled at the last moment, because in preparation for the release of 'NATURAL 'with its music video in November 2021, it turns out that Howlite and TRANK were released on the same date to a few days near my remixes. The opportunity to create a more consistent release of my last productions with a four tracks including two singles, 'NATURAL' and 'BLOOD TYPE' remixed by m o k r o ï é (Howlite release), was a good opportunity to seize when one knows the difficulty of attracting the media as an independent.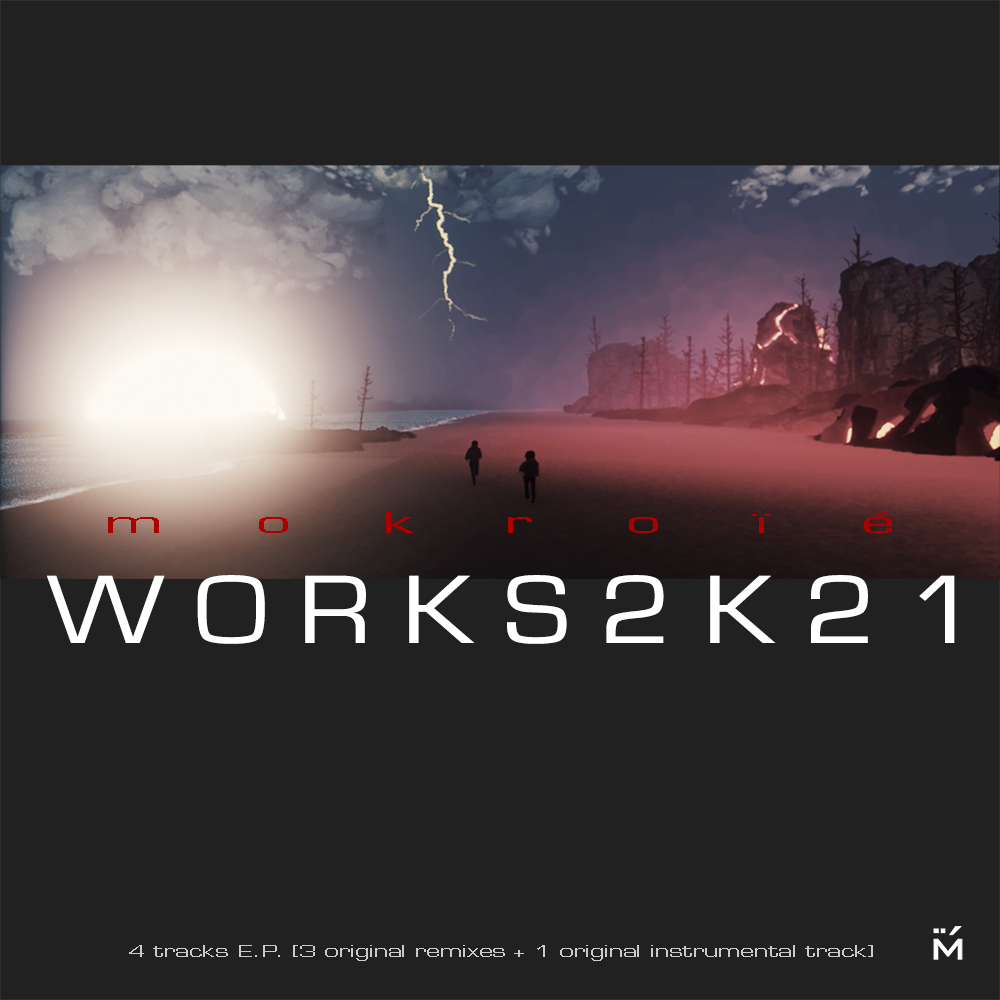 Regarding the instrumental 'NATURAL', I wanted to accomplish two objectives:
– With 'MACHINES AND SOUL', I realized that the two instrumentals were highly appreciated by the audience and critics. This had confirmed me in the idea of highlighting an instrumental during a next release.
– For many years I have been trying to make an animated music video, but it was never the right time, with the right project and the right budget. This finally materialized with a clip that is essential to the instrumental.
Regarding the remixes, these are great experiences that I hope to repeat very often! It is such a pleasure to be able to communicate and then collaborate with other artists and then use their existing materials to bring his own artistic sensibility. It was a combination of circumstances and my own initiatives that enabled me to make these experiences a reality.
Tell us how the remixes with Howlite and TRANK came about?
I started this series of remixes with TRANK. I mainly talked about musical passions with Michel André, the singer of the band. We share a passion for the pioneering electro/new wave bands that, while bringing an experimental touch, have made electronic music respectable, popular and accessible, to express emotions all in chiaroscuro. Regarding remixes, we had in example Depeche Mode, which with the quality of their remixes (period 80/90 s) have transformed this exercise into something very artistic, whereas most of the remixes in vogue were very bad, released to respond to a commercial approach and fill records without any artistic interest.
Michel, who already liked m o k r o ï é music, asked me if I wanted to make a remix for TRANK, I finally made two, they are part of 'W O R K S 2 K 2 1' and the reissues in November 2021 of their first album 'THE ROPES' in deluxe edition.
My goal for their remixes was to bring out more the emotions of the originals and to highlight the voice particularly by my own textures and spaces, while using original material that I wanted to make hear differently.
On the other hand, I was in contact with Howlite, we were planning to do collaborations that still had to be defined, I was very happy to be able to work with the wonderful voice of Alison Thom. Before things get specific, I suggested, based on my experiences with TRANK, to make them a remix that would also serve me to get to know each other better. They suggested that I choose a track from their previous EP 'NOT HERE', I was very inspired by 'BLOOD TYPE'.
I'm proud of this approach and the result, they loved it and then decided to release it as a single, it will also be featured in the reissue of their EP which will feature wonderful acoustic versions of the original EP. They talk about the remix like this: "It's an epic version" / "This might be our best pitch for appearing on the John Wick movie soundtrack!"
My goal for this remix was to move towards an electric version, swirling, with melodic additions, textures and sonic surprises, picking up some essential tracks from the original, and keeping the emphasis on the splendid voice of Alison.
How do you usually approach mixing? Do you have any preferable method?
The scope of possibilities in creating with electronic music allows me to start a new track in many ways, whether it is with a sound, a rhythm, a harmony, a melody, a layer, an atmosphere. So as not to get lost too much I focus first on the arrangement, once well built I concentrate on the mixing to give more clarity to the whole while continuing to work on some sounds and details of the arrangement.
How would you compare it to your 2019 release of 'MACHINES & SOUL'?
It has sometimes been pointed out to me that by dint of being too eclectic, my releases could lose a listener who needs stable landmarks or references. With 'MACHINES & SOUL' I intended to keep a strong consistency in production. Beyond this objective, the variety of moods and feelings expressed make it a solid, constructed album to be listened to in the order of the tracklist.
'W O R K S 2 K 2 1' being an EP, it's easier to make a patchwork of it : Today for any artist but even more the one who doesn't have access to much exposure, it seems to me ridiculous to release a work of more than two years which will be quickly crushed in the media machine which is always advancing faster and faster and asks for something new every day. So much work to be heard so little… so rather make releases with short projects that will get an equivalent media impact.
How did you approach the new single 'NATURAL [UNSTOPPABLE PROCESS]'?
I had started an instrumental that had a robotic, mechanical style, then, a specific idea of music video was born, it spoke of destructive robots in a somewhat offbeat universe. But close to the end, through listening, I ended up finding the instrumental too weak. I took it back by making it more alive and energetic, retaining in part the relentless robotic aspect, in an apocalyptic, explosive, psychedelic and dreamlike universe.
The video was directed by Josué Esparon. What's the backstory?
The idea of the music video often comes to me simply by repeatedly listening to the song. During my home studio sessions, I visualized many images and scenes according to the passages of the song. The writing and the script are written in one evening thanks to this accumulation of ideas. These visions reproduce the explosive energy of the instrumental by a projection of incandescent material, in a spectacular and apocalyptic way, and also by a calm and poetic passage. All this makes sense when you look at the video.
Thanks to my meeting with director Josué Esparon, his listening skills and his ability to adapt, the realization of my screenplay in 3D animation was done in a fairly simple way. The interest of this release lies in the essential link between the instrumental and the video.
To make it longer if you are interested, it is very difficult for an independent artist with a very limited budget and constantly working at a loss (I work outside of music for a living) to be able to contact a 3D animation creator and pay him at a normal rate. I must have taken almost a year to find the solution: Contacted several directors, after many discussions about the script, it turned out that the clip would be very expensive to make, or that the directors would never find the free time necessary to achieve it outside of their full-time job. I was lucky to know the young director Josué Esparon who lives in my city, he is above all a film director, but in his spare time he learns about 3D animation. During the lockdown he was very available. He gave me a price because while he was working on my project he was training himself. He told me at the beginning that he would not be able to picture my proposals, but I persuaded him that he would find the solution to each challenge, being apparently very gifted he carried out to its end with a certain success this story.
What's the next project that you'll be working on, or are working on right now?
I'm working on different music (apart from my almost full-time job), I don't know what will happen to them. You need to develop the mental strength to work "in the void" if you want to move forward. That is to say, working on new projects without really knowing if they materialize and will be the subject of a release one day or the other.
I hope to continue collaborations on remixes, make new EPs with different singers, with a variety of sounds, probably more organic next time, nothing better than alternating, the opposition, to renew himself.
I would like to concretize a piece sung or rather spoken in French with a singer poet writer really gifted for this with whom I am in contact.
I would like to concretize two covers (the instrumentals are done).
I would like to do bigger and more ambitious multidisciplinary collaborations (cinema, show).
Between what I want and what will come true, there is a world, as in the lives of many artists.
Klemen Breznikar
---
Mokroïé Official Website / Facebook / Instagram / Twitter / Bandcamp / SoundCloud / Spotify / YouTube