Frank Zappa – '200 Motels Soundtrack 50th Anniversary' | An Extensive 6-Disc Box Set
The 1971 film '200 Motels', from the fertile and twisted mind of the late iconoclast Frank Zappa, is one of the most ground-breaking movies of the early 1970s.
---
While documentary and fictional films with a pop or rock music backdrop matured in the mid-to late-1960s, no film at that time from a major studio both parodied the nascent rock culture and revealed it for what it was slowly becoming by that time.
While it might not be the first official music mockumentary, it certainly was the first that received such a wide release. What has always been most endearing about Frank Zappa is how he was such a key figure in the evolution of rock from its earliest psychedelic period into the 70s, yet how amusingly he exposed the sleazy and hypocritical side of the rock scene. While for some it's all good fun in this film, Zappa foresaw how bloated and corporate rock would become as the 70s saw a parade of hard rock, heavy metal and corporate rock acts that turned the promise of the 60s music explosion into a comical parody filled with rock bands made up of toxic masculine posers in leather trousers and satin jackets. What Zappa started with 200 Motels, Spinal Tap finished off. Or at least we thought so.
The movie, which Zappa began working on as far back as 1968 and made for just a little over $600,000, was shot on video in 11 days and edited in nine and is basically a peep-hole view of the riotous shenanigans that went on behind the scenes of a touring rock band of the era. While on the surface it's all sex and drugs and merry pranks, beneath the thin veneer of cool is a vacuous world of little boys living out their teenage fantasies on the road to nowhere. Fortunately, much of the movie is quite funny, prescient and most importantly, is arguably filled with some of Zappa's best period music. There is also an all-star cast that can't help being funny, just by the nature of the situations and their groovy comic timing. That cast includes Zappa himself, Ringo Starr, Keith Moon, Theodore Bikel (not kidding), Pamela Des Barres and a healthy amount of bona-fide excellent musicians from the world of rock, jazz, classical and the avant-garde.
The film was co-directed by Zappa and Tony Palmer. Palmer has a long resume of music-related film work on or about George Solti, Cream, Jack Bruce, Fairport Convention, Matthews Southern Comfort, Leonard Bernstein, Ginger Baker, Liberace, Leonard Cohen, Rory Gallagher, Tangerine Dream and Benjamin Britten. And that just covers the 60s and 70s. A true iconoclast, he has also done non-music films and has written many books.
The original double-album, which mixed songs from various musical genres, dialog and comedic bits, can stand alone from the movie and is one of Zappa's most underrated albums of that time. Most of the musicians here would go on to tour together, resulting in the live album 'Just Another Band From L.A.', Zappa's third live album at that time, following 'Ahead of Our Time' (released in 1993, but recorded in 1968) and 'Fillmore East – June 1971', with an album covered parodying bootleg recordings, long before The Who 'Live at Leeds'. '200 Motels' has now been given the big box reissue with a six-CD release, that also includes a 64-page hardcover book, a replica movie poster, a keychain and a Do-Not-Disturb motel door hanger, guaranteed to keep people away while you consort with the local groupies in your cheap motel room at the Ramada Inn. The original Q&A interview with Zappa is included, along with the 1997 Rykodisc reissue liner notes by Patrick Pending and new essays from Joe Travers, Ruth Underwood and groupie supreme and former member of Zappa proteges The GTO's, Pamela Des Barres.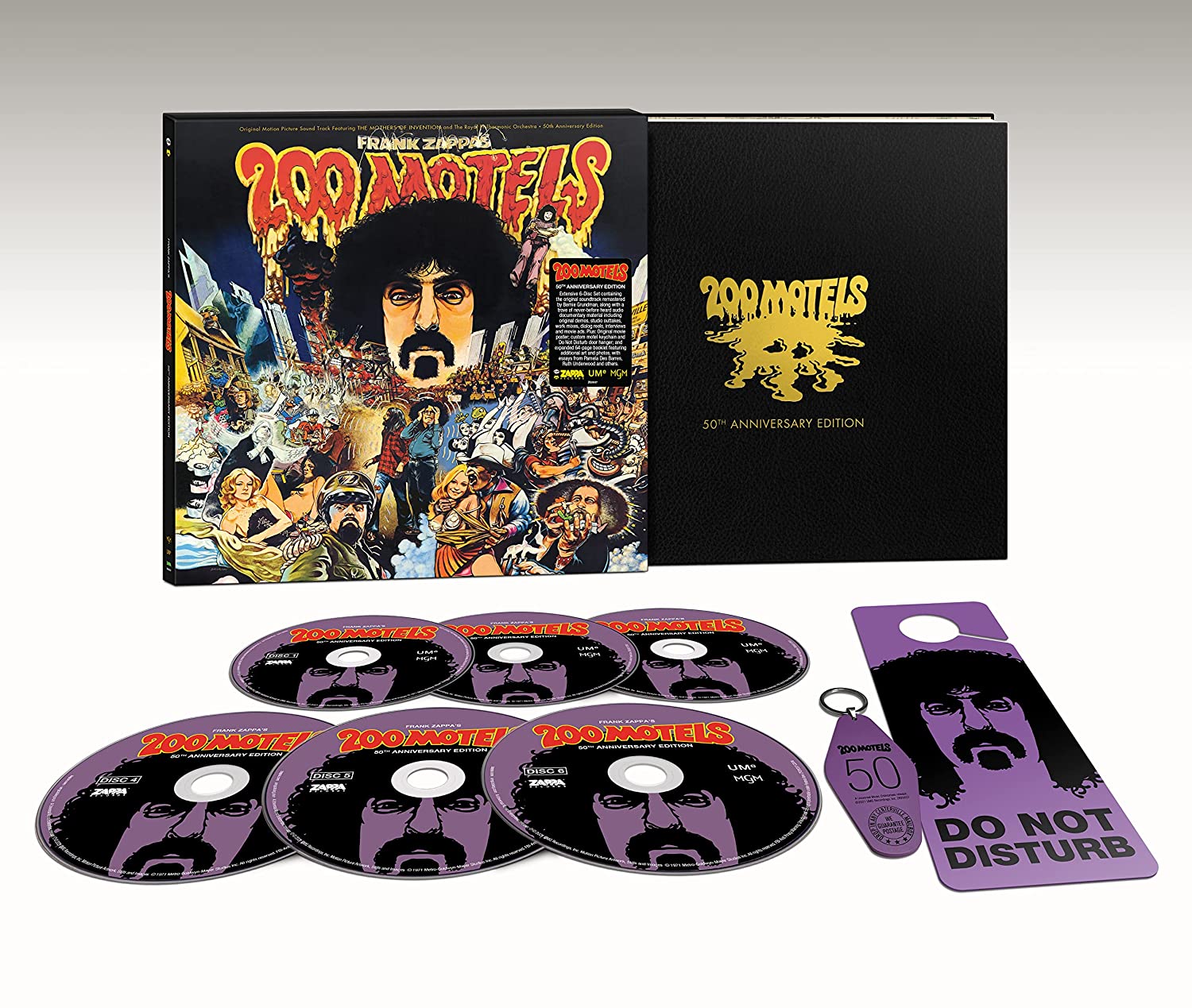 Most of the analog master tapes for this album have been lost or destroyed, so what the CDs reflect are "new high-resolution 96K24B digital patchwork stereo masters constructed from all of the safety elements we could find thus far in The Vault," according to Joe Travers, Zappa trust Vaultmeister in the booklet's liner notes.
The first two CDs include the original album remastered, plus demos and what is called "2nd Movement – Rock Music" and demo, sessions, outtakes. Disc three includes "protection reels." Disc four includes more protection reels and "Bonus Swill Part 1." Disc five includes vault alternates and outtakes. Disc six includes more vault alternates and outtakes and "Bonus Swill – Part 2."
Some of the music from this album is better understood by those familiar with Zappa albums such as the aforementioned 'Ahead of Our Time' and 'Fillmore East' albums, as well as 'Cruising With Ruben & the Jets' and the not yet released yet in 1971, 'Over-Nite Sensation'.
Unlike most music box sets with bonus content, there is a great deal of material here that is not music, but unreleased audio from the films. Much of it is very short snippets from various scenes. Much of this is on CD three.
As for the bonus music material, there are a variety of tracks, studio outtakes, including acoustic outtakes, mix outtakes, instrumental outtakes, alternate takes, rough mixes, compressed mixes, FZ edits, rehearsals and much more. The Bonus Swill – Part 2 on CD six has some real treasures, including ads and commercials.
While some of the bonus material is for die-hard Zappa freaks, those freaks will flip over this material.
Listening to this material is much like living life on the road with a rock band in the early 70's, without the day-old coldcuts, flat beer and other things best left unsaid.
Steve Matteo
---
Frank Zappa – '200 Motels Soundtrack 50th Anniversary' (Bizzare/Zappa/MGM/Universal)