Sardonicus | Interview | "A mind-bending 1973 underground rock"
An electrifying musical discovery! The flip side of Ancient Grease Records' newest release in the split 7" series will be a restored & remastered version of 'Nymph' by Sardonicus.
---
The other side will feature a 1974 'Lovin Fire' from the group Mayroc, which was a short-lived creative vehicle for Bari Watts many years before his stellar work in Outskirts Of Infinity and The Bevis Frond. Sardonicus was first reintroduced to the world on the landmark mystery boot-comp 'Do What Thou Wilt' – and then officially for the first time by Numero Group on their essential 'Acid Nightmares' compilation which featured the Sardonicus song 'Evaporated Brain'. The Sardonicus track has been sourced from one of the band member's original 45s (one of only a couple known to still exist!) and sounds unlike any version out there.
'Evaporated Brain' and 'Nymph' are the only two Sardonicus songs ever released and originally came out in 1973 on a 7" with a gatefold sleeve, handmade by the band. One variation of AGR-005 will have a photo booklet featuring restored artwork from the original Sardonicus 7" and band photos.
Out, next Friday, December 3rd, on a limited vinyl edition of 200 copies.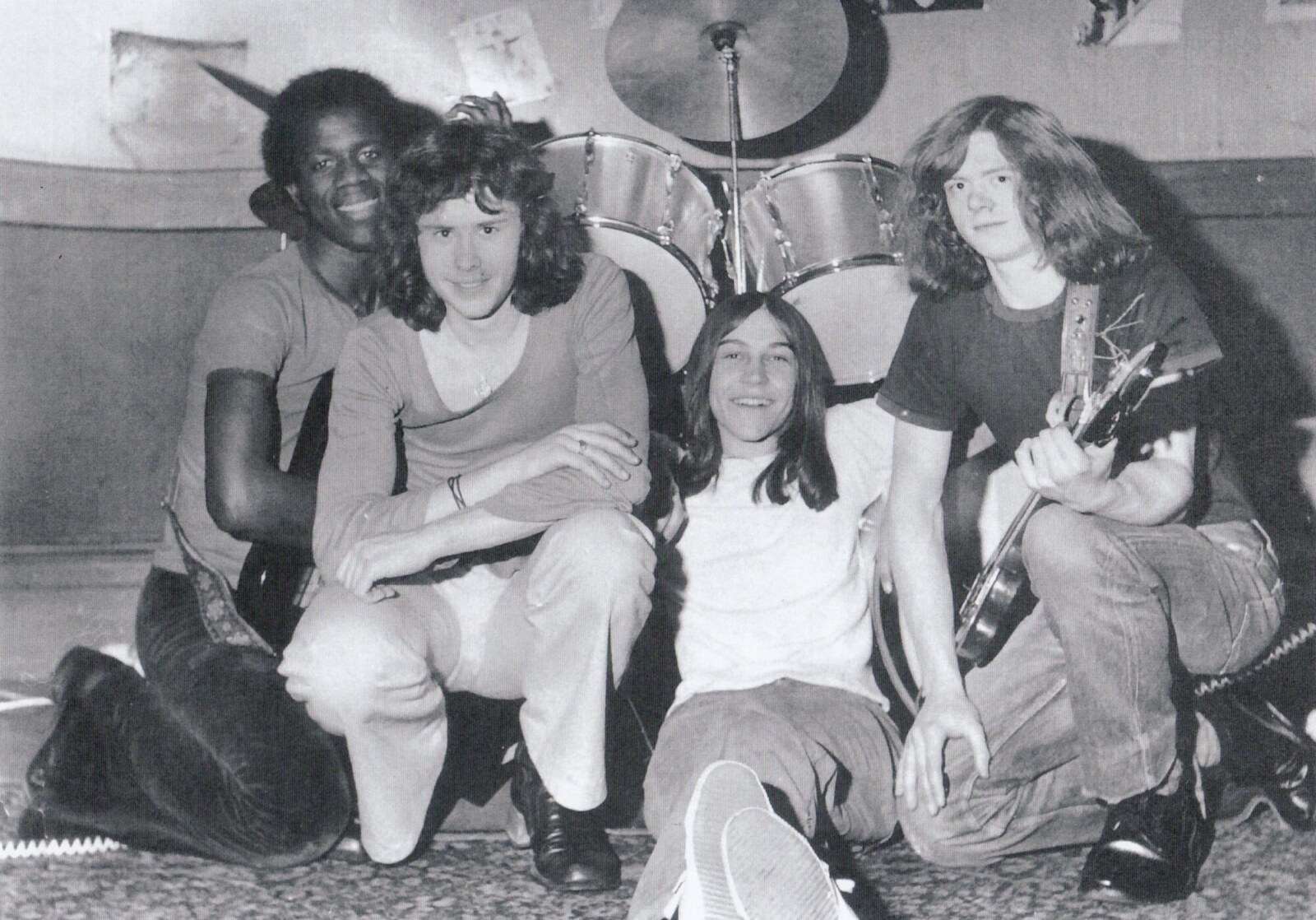 There's hardly any history about Sardonicus. Are you excited by the upcoming Ancient Grease Records release?
Chris Ransome: I'm always excited when someone gets in touch with me who wants to licence one of our tracks, this is the third time in the last few years that this has happened and we only ever recorded two tracks.
Would you like to talk a bit about your background? Where and when did you grow up? Was music a big part of your family life?
I was born in London in the early 1950's and for the first five years of my life we lived in a house without electricity but we always had a battery operated radio which was on all the time. We listened to the BBC Light Programme (now known as BBC Radio 2) which was quite old fashioned in regards to what sort of music they played, they never played anything like Elvis Presley mostly stuff by Perry Como or Frank Sinatra, they also played a lot of show tunes. My earliest musical memory is listening to 'Seventy Six Trombones' which was played so much I memorised the words! When I was eight we moved to a different house that did have electricity and my father bought a record player and over the next few years he bought hundreds of records, including stuff by The Beatles, The Rolling Stones, The Kinks, The Who, Motown just all the best music of the day.
When did you begin playing music?
I started playing music in 1971 when Paul [Fisher] and Malcolm [Bennett] and I decided to form the band which eventually became Sardonicus.
Were you part of any other bands before forming Sardonicus?
Sardonicus was the only band I was ever in.
Can you elaborate the formation of Sardonicus?
Sardonicus was formed in 1971. I knew Malcolm and Paul from secondary school which we left in 1969 and every Saturday we would meet up at Paul's house and "play" some of the many musical instruments that he had in the basement. There was a Bontempi organ, an old tatty drum kit, and an acoustic guitar. Malcolm decided to build himself a bass guitar and I bought a cheap electric guitar, an effects pedal and a combo amp and I naively thought I could teach myself to play. Paul became proficient on the drums and Malcolm taught himself how to play bass and managed to save up to buy a proper factory made instrument. I soon realised that I was never going to be the next Jimi Hendrix so we decided I would be the lead singer and we placed an advert in the music paper Melody Maker (sadly no longer published) seeking a guitarist. Valentine Pascal was the only reply to our advert and he duly arrived with his Vox Marauder guitar one Saturday at Paul's house for an audition. We liked him and he liked us so he was in the band. We rehearsed every Saturday for months, we went out and bought decent equipment and an old van and we were up and running.
How did you decide to use the name 'Sardonicus'?
There is a 1961 black and white horror film called Mr. Sardonicus which I watched one night on TV, I thought that Sardonicus would be a good name for a band.
Would you recall some of those concerts and bands you played with?
One memorable gig was at the London College Of Fashion in 1972 or 3, the room where we were playing was on the first floor and the lifts weren't working so we had to carry all our equipment up the stairs and down again afterwards, our gig went OK though. We played a fantastic gig at a school dance, we were second on the bill but many of our friends came to see us and we went down a storm. Paul's younger brother had organised the dance as he was a sixth former at that school which 250 people were to attend. Malcolm worked as a printer so he offered to print the tickets, but he secretly printed 500, 250 for the school to sell and 250 for us to give away to our friends.
What influenced the band's sound?
I think we were influenced by the bands of the 1960's such as the Rolling Stones.
"We chose which two tracks we would use and had 101 copies pressed and this cost £50.00"
What's the story behind your 'Nymph' / 'Evaporated Brain' single? How many copies were originally pressed? How many copies were pressed and where were they distributed?
In 1973 Paul was made redundant from his job at Associated Newspapers and he said he would finance the recording and pressing of a record. We found a small company who would press records in small volumes, we chose which two tracks we would use and had 101 copies pressed and this cost £50.00. As I said before Malcolm worked in printing so he printed the sleeves that his brother had designed. Some of the records were sold to friends and family and others were given away.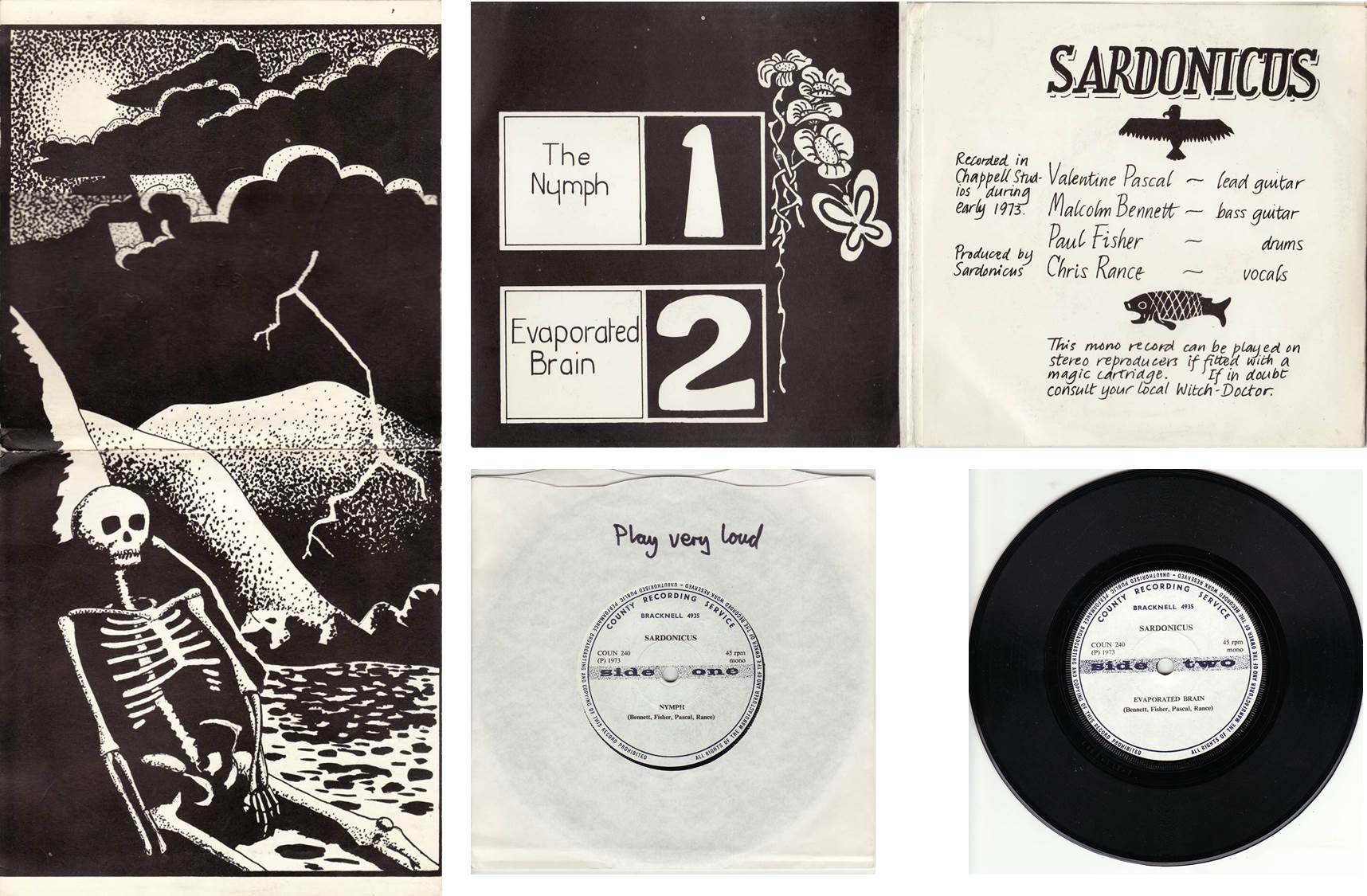 Would you share your insight?
I wrote both songs under the influence of some cheap red wine and I can't really remember how I came up with the lyrics, after all this was 48 years ago. We recorded four tracks one evening after work at Chappell Studios in Bond Street in the west end of London. This studio was owned by Chappell Music Publishers and was normally used to record demos; it closed down in 1977. The record didn't really have a producer as such only us, a tape operator were present in the studio. Paul played his Premier drum kit, Valentine played a Gibson SG through his Marshall amp and speakers, I can't remember what bass guitar Malcolm used at the time.
Did you have any other original songs ready back then? What was the typical live playlist for the band?
I did write several original songs which I can't really remember after all this time, we also did many cover versions, including 'Paint it Black' (The Rolling Stones), 'All Day and All Of The Night' (The Kinks), 'Hey Joe' (Jimi Hendrix's version), 'Johnny B Goode' (Chuck Berry).
What happened after the band stopped? Were you still in touch with other members? Is any member still involved with the music?
When the band folded I didn't really have the heart to continue singing, I was in debt so I sold the PA system. Paul sold his drum kit and got married. Malcolm continued playing the bass in various local bands and eventually became a bass guitar teacher. Valentine also played in other bands and did some session work, he now lives in Florida. We all lost track with each other for several decades and then in 2016 Numero Group Records in Chicago asked to lease 'Evaporated Brain' for inclusion on a compilation CD & double vinyl album I traced the other three.
Everyone except me had moved away from London but I do meet up sometimes (Covid permitting) with Malcolm and Paul.
Looking back, what was the highlight of your time in the band? Which songs are you most proud of? Where and when was your most memorable gig?
I loved all of my time in the band. The song I am most proud of is 'Evaporated Brain'. The most memorable gig was the school dance that I mentioned above.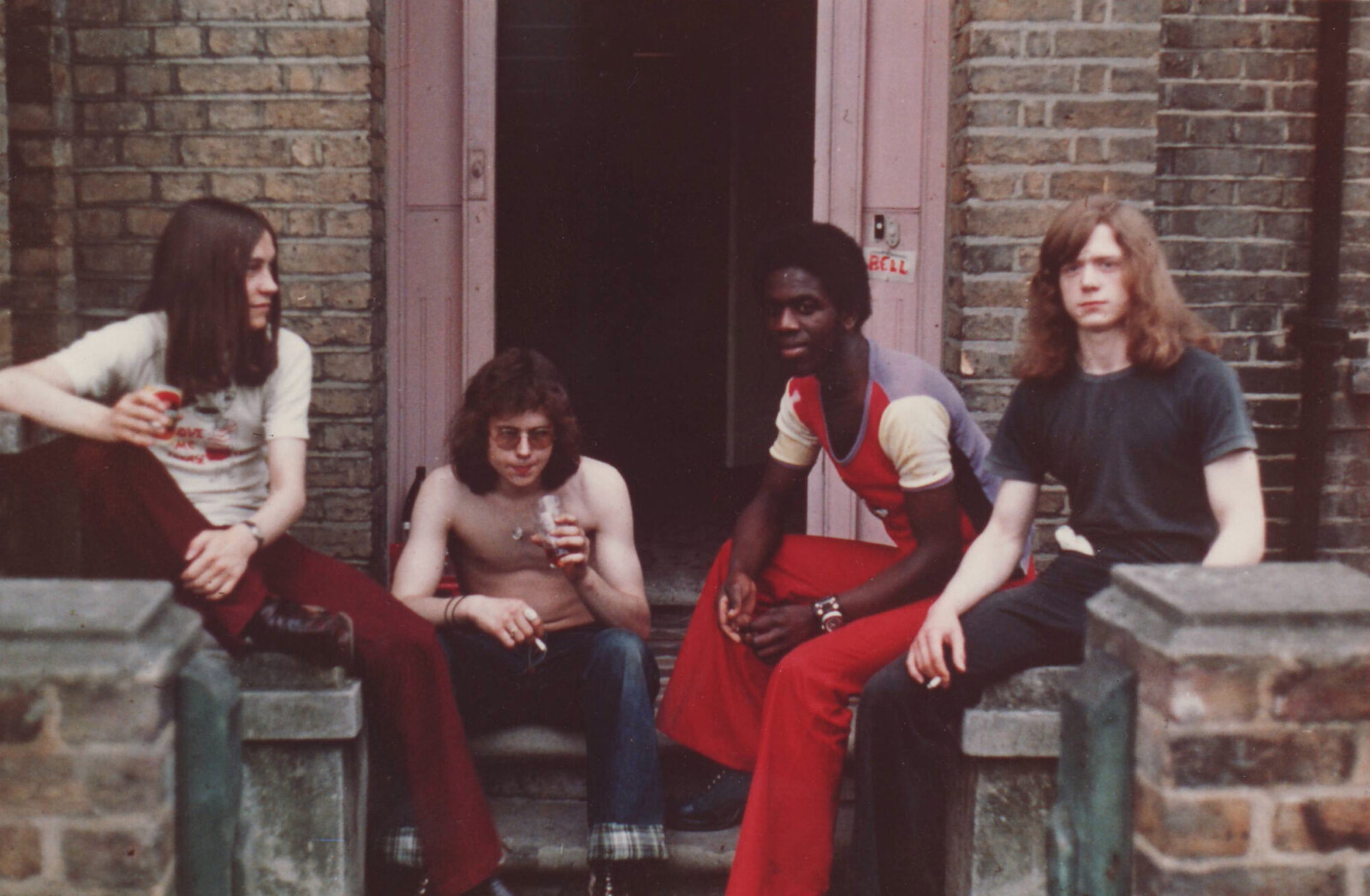 Is there still any unreleased material?
There is no unreleased material, the master tape was lost many decades ago.
Klemen Breznikar
---
Ancient Grease Records Official Website / Instagram
Bari Watts Unleashes His '70s Underground Heavy Psych Project, 'Mayroc' | Interview