Rocket From The Tombs | Interview | Craig W Bell
Rocket From the Tombs is one of the most important proto punk bands of the '70s. The group was active for a very short period in Cleveland, Ohio, from mid-1974 to mid-1975.
---
From pre-punk anthems to streetwise social commentary to timeless pop, Craig's career as a musician/singer/songwriter now spans four decades and a long list of bands. Craig was born in Elmira, New York, in 1952 and grew up in Cleveland, Ohio. In the mid-'70s he moved to New Haven, Connecticut and relocated to Indianapolis, Indiana in 1989 where he continues to perform and record.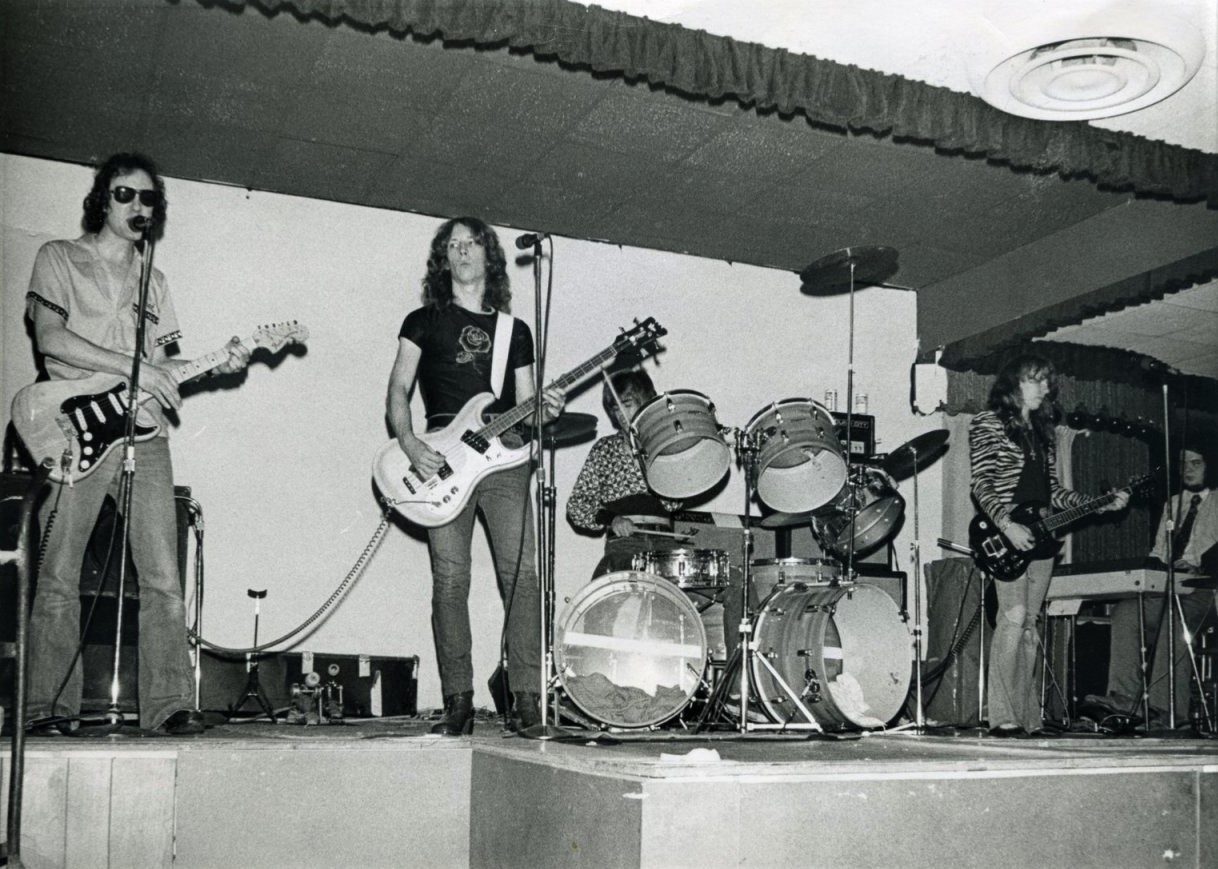 "The initial year of RFTT was one of the most exciting times of my life"
Where and when did you grow up? Would you like to talk a bit about your background?
Craig W Bell: I was born in Elmira NY in 1952. My father worked for the railroad and we moved frequently as he was promoted until we arrived in Ohio when I was 9 years old. I grew up with my older brother and two younger sisters in Lakewood, Ohio. I stayed in Cleveland after graduating high school and returned after a two-year stint in the US Army. I left Cleveland for Connecticut in 1976, staying in New Haven until 1989 when I moved to Indianapolis, Indiana, where I presently live.
When did you begin playing music? Who were your major influences?
At 13 decided I wanted to be in a band after spending a Saturday afternoon at the movie theatre watching the Gerry and the Pacemakers movie Ferry Cross The Mersey. I had to wait until I was out of school and living on my own to join my first band, Mirrors. I had met Jim Crook a few years earlier when he was dating a friend of mine and in 1971 ran into him at a Velvet Underground show. He had just returned from his Army service and said he and his friend, Jamie, were looking to form a band. He invited me to bring my Syd Barrett records over to his place and meet Jamie Klimek. Soon he handed a bass guitar, showed me how to tune it and told me to figure the rest out for myself. I was in!
Was there a special moment when you knew that you wanted to be a musician for the rest of your life?
RFTT reunited in 2003 and I started playing a lot of shows with them and The Down-fi. I came to realize that playing and creating music really was the only reason I could find for continuing to exist beyond my then 50 years. I had not played as much in the previous decade than I had previous to that and with the new opportunities that were given to me by the reformation of RFTT reignited the passion I had for this life that had been suppressed for awhile.
What was the local scene in Cleveland before Rocket from the Tombs arrived?
I joined Mirrors in the Spring of 1971. We rehearsed almost daily for a year and made our debut at a youth café in the YMCA. We did not go over very well but impressed, or were pitied by, the manager enough for him to offer us a gig at his home for his bowling teams party. Mirrors were on their way! Unfortunately, I also was on my way elsewhere, drafted into the Army in April of 1972 I only was able to play with Mirrors when I was occasionally home on leave. I was discharged in 1974 and returned home to rejoin the band. In my absence local music legend Jim Jones had held my bass position in Mirrors and graciously stepped aside when I returned. Jim (RIP) was one of the most important figures the music scene in Cleveland had from the late '60s until his passing in 2008. Without Jim's influence, encouragement, and creative input Cleveland would be a very different place.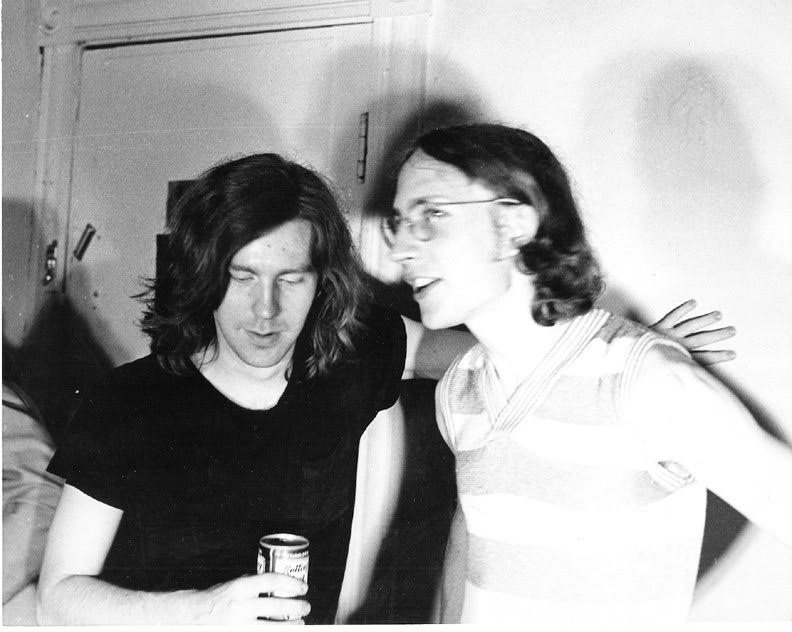 Once back in the band I started learning the long list of new songs Jamie had been writing in my absence. The band has also started playing more shows and we became regulars at the little clubs downtown. Peter and Charlotte Laughner were fans of the band and could be found in the audience whenever we played. I met David Thomas when he came to see one of our sets. David was a columnist for a local entertainment weekly as well as front man for his band, Rocket From The Tombs.
Mirrors released a single after I left the band. Various Mirrors tracks that I played on were released on the compilation with electric eels and Styrenes, 'Those Were Different Times' (Scat 1997), Mirrors' 'Hands In My Pockets' CD (Overground 2001), and 'Something That Would Never Do' album (Violet Times 2009).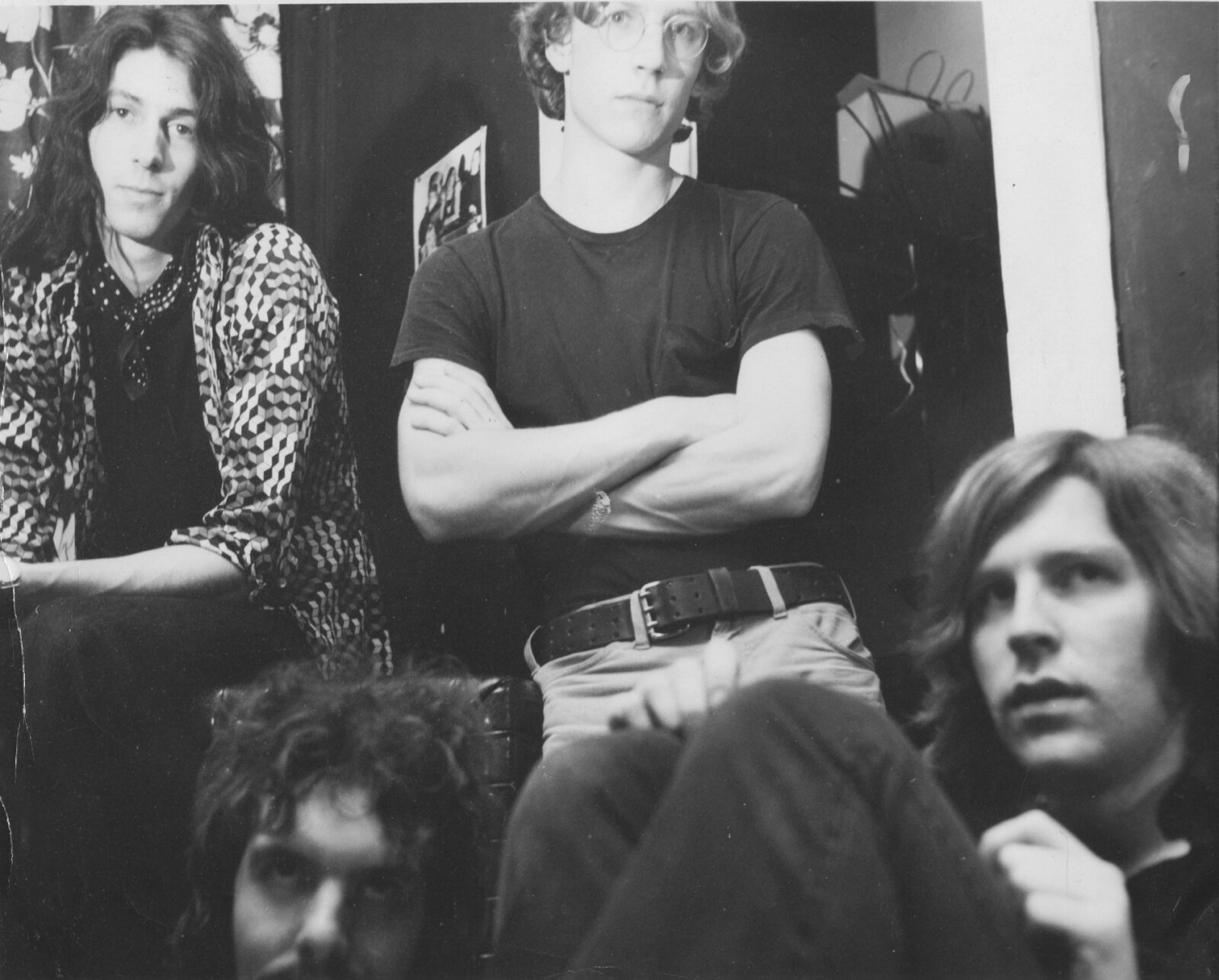 After the Extermination Night shows in the winter of 1974-75 I was fired from Mirrors. Shortly before I moved away from Cleveland, I did a session with Jamie Klimek and Paul Marotta in their studio downtown Cleveland. I did not work with Mirrors again until a few reunion shows we did in the mid-00's
Can you elaborate the formation of Rocket from the Tombs?
In the fall of 1974, Peter came to my apartment to ask if I would be interested in joining a band with him and David. I had known that Peter had joined Rocket From The Tombs recently and now he was telling me that he and David wanted to take the band in a different direction than they had been on. I went to their loft downtown and met the other new members of the band, guitarist Eugene 'Cheetah' O'Connor and Johnny Madansky. We all immediately clicked together and began rehearsing songs we knew by bands like the Velvets, MC5, Stooges and others while also putting together new material that Cheetah, Peter, David and myself brought into the group or developed on the spot. We learned two songs I had written as a member of Mirrors, 'Frustration' and 'Muckraker' as well. The "new" RFTT debuted at the Viking Saloon in Cleveland in December 1974. However, I did not play with the band that night as Mirrors was also on the bill and I had promised Jamie that I would perform that show with them. Shortly after that I was fired from Mirrors and was with RFTT full time. We played again at the Viking early in 1975 and were soon offered an opening spot in support of Iron Butterfly at the Cleveland Agora.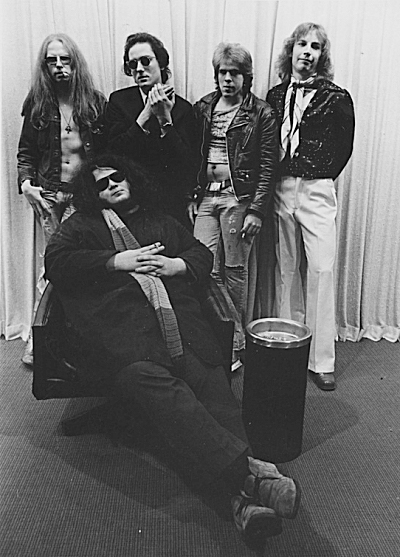 Our main project at this time was to record. Peter had challenged the local FM radio station to feature local music on their air. They responded that they would if someone provided a tape. Our mission was clear. We began recording on February 18th and continued into the next day at our loft which we were sharing with the electric eels. Peter brought his tape recorder in and we arranged the amps and drums as best we could to get separation. We recorded nine songs in that session that were released in 2002 as part of 'The Day The Earth Met Rocket From The Tombs' (Smog Veil 2002). Peter and I took this tape to the radio station on a Sunday night soon after and true to their promise they played the entire recording along with commentary from Peter and the DJ.
How was the band accepted by the audience?
RFTT played quite a few shows in our short incarnation. According to researchers Nick Blakey and Andrew Russ, we played at the Viking Saloon regularly through the spring and summer along with a couple support spots at The Agora. Peter arranged for Television to come from NYC for their first appearance outside of that area. The two shows we did with Television and an earlier set at The Agora made up the rest of the official RFTT release in 2002. It was a whirlwind that was over by the end of 1975.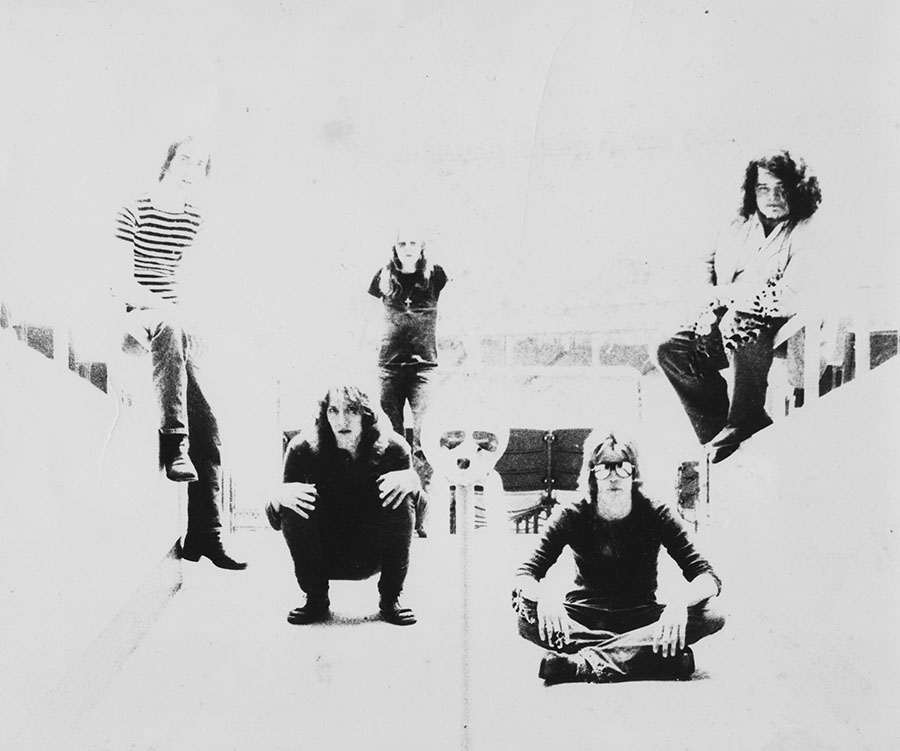 How did you usually approach music making?
Early on I taught myself the basics of bass guitar by placing bits of tape under each string until I memorized where each note was. I also took advice from other players like Jim and Jamie and while in the Army met and played with a lot of different players. The on-base activity center had instruments you could check out. I spent quite a few weekend afternoons either playing or listening. I managed to pick up knowledge of chords on the guitar and from there started writing songs. My first attempts went nowhere but Jamie helped me with a couple he thought showed promise and Mirrors recorded my song, 'Slow Down', at our first recording session in 1974. I included that recording on my album aka 'Darwin Layne' (ever/never 2016)
When writing, I'm writing down chords but thinking a melody in my head.
"We spent a wild weekend hanging out with Lester Bangs"
Rocket From The Tombs never recorded an album in their initial timespan, but various live recordings and demos circulated occasionally as bootlegs. What would you say is the main reason behind not being able to get signed to a label?
After we played the loft recording tape on the radio, we headed off to Detroit to play our tape for Lester Bangs at Creem Magazine. Peter had been corresponding with Lester for awhile and had had some pieces printed in Creem. We spent a wild weekend hanging out with Lester. He later played the tape for the producers of Blue Öyster Cult and they did not think too much of it. When we heard this news it took a lot of wind out of our sails and placed some doubt in our minds that we, or at least I, weren't able to process properly at the time. I believe if we had some kind of experience in our corner we might have held together but soon we fell apart and it was over. The loft recordings began circulating among collectors along with the Agora set which had been broadcast on the same station, WMMS, that had played the loft tape that Sunday night a couple months previous. Some of those tracks popped up of bootleg compilation albums and an entire bootleg album, 'Life Stinks', appeared around 1990.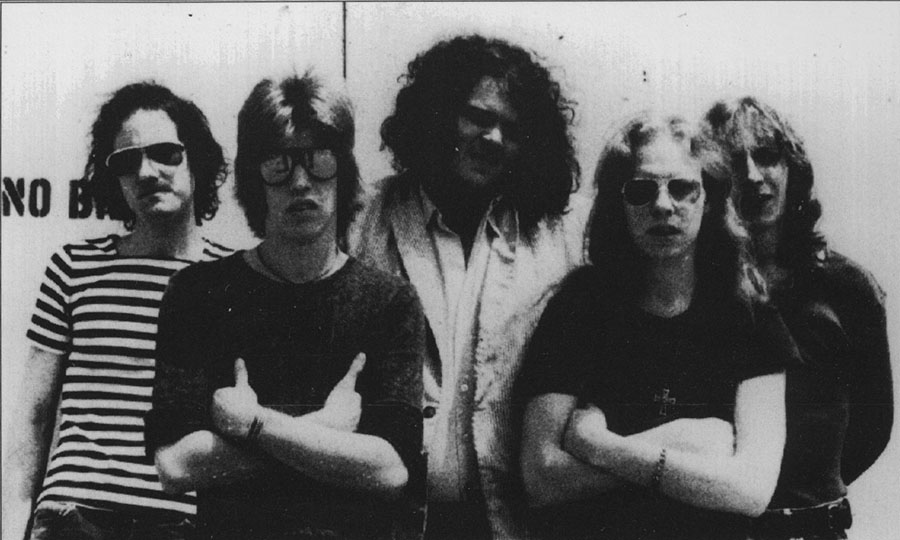 The archive recording of 'The Day the Earth Met the Rocket From the Tombs' is insane! Where did you record it? What kind of equipment did you use and who was the producer? How many hours did you spend in the studio?
The loft tape was recorded by myself on Peter's tape machine. I used our Sunn mixing console which we used in the PA and separated the amps and drums as much as we could with the mic cables we had on hand. This setup was used shortly after we finished our recordings by the electric eels for some of their earliest recordings. The rest of the album consisted of live recordings, either taken off the radio broadcast or from Jim Jones' recording of our sets with Television at the Piccadilly in Cleveland. David took those recordings into the studio and cleaned them up for release.
When we made the loft tape I felt we had done something extraordinary. I was blown away with how easily we had come together and how Peter's and Cheetah's riffs meshed so well with things David had written and how we just made whatever we brought to the band from the outside our own.
What was the craziest gig you ever did?
It is hard to pick any particular one out as crazy. There were a lot over the years that were crazy in their own ways. I have experienced just about every situation short of fire and every kind of audience short of full scale riot while onstage. I still get nervous/excited before I go on and I never want that feeling to stop.
Looking back, what was the highlight of your time in the band? Which songs are you most proud of? Where and when was your most memorable gig?
The initial year of RFTT was one of the most exciting times of my life and convinced me that this was the path I wanted to take in my life. The years that we have spent since our reunion in 2003 touring and recording three albums have been rewarding in both creative and personal satisfaction, I am proud of the songs we have made together and all the shows we have done over the years. 'So Cold', 'Muckraker', and 'Final Solution' are regular parts of my set with whatever band I am working in.
You moved to Connecticut and started a band called Saucers. Tell us about it.
When I graduated from high school in 1970, I started working summers on the railroad in Cleveland. I was the son of a railroad man and 6th generation in my family to work on the railroad. When I returned from the Army in 1972 I couldn't get back on that job because of the economic condition of the country at the time had caused most railroads to lay off many workers. After RFTT broke up, I tried to get a railroad job in Cleveland but had no luck. I was invited to join Pere Ubu, sat in early rehearsals of Frankenstein, which soon became known as The Dead Boys, and rehearsed early Lucky Pierre but did not join any of those outfits because I was starting to write more songs and wanted to pursue my own road. I also needed a job and finally was offered a railroad job in New Haven, Connecticut in the fall of 1976 and my girlfriend and I moved there in September of that year where I went to work for Amtrak. After we settled in our new town I started looking around to see what was going on musically. I answered a few classified ads for bass players and ended up recording with a band in a neighboring city who wanted to make a single. When I rehearsed with them it turned out they only had one song so I offered 'Muckraker' as a B side for the project. The single never was released but that version of 'Muckraker', the first recording I made in Connecticut in 1978, was also released on 'aka Darwin Layne' years later.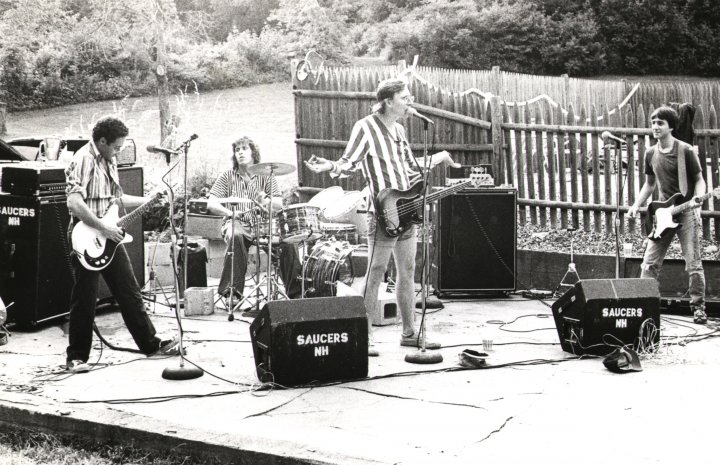 Soon after that, through a classified ad I put in the same weekly entertainment paper, I met Malcolm Marsden, Malcolm Doak, and Mark Mulcahy and we became Saucers in late 1977. By 1978 we had started playing shows locally and went into the studio to record six songs for what we hoped would be our first record. Those recordings were put on hold as changes in Saucers lineup saw Malcolm Doak replaced by Seth Tiven in late 1978. We did another session in early 1979 which resulted in a 3-song single which we self released later that year. Malcolm Marsden's song 'What We Do', along with two songs of mine, 'Muckraker' and 'I Didn't Get It' (ORMI 1979) followed up the next year by another single in 1980, 'A Certain Kind Of Shy'/'She's Alright'. By the time this recording was made that summer, Malcolm Marsden had left the band and Katherine Cormack had joined. We had one more recording session later in the summer of 1980 and continued to play numerous shows in Connecticut as well as Boston and New York City. Saucers broke up at the end of 1980. Seth Tiven went on to form Dumptruck and Mark Mulcahy co-founded Miracle Legion before his solo career.
Then there was The Plan…
What can you say about Gustav Records?
Gustav Records was founded in 1980 by Bill Murphy, Phillip Weinberg, and myself. Bill and I had the idea to start a label to put out records of local acts in New Haven, Our first releases that year were singles by Saucers, The Poodle Boys, and Bill's band, The Bats, which featured a young Jon Brion. Between 1980 and 1989 we put out albums by The Bats (1982) and Robert Griffin (1984), a 12 inch EP by Corporation Lounge (1984), The Plan single 'I Love NY, I Hate NY'/'When It's Too Much' (1983), as well as a compilation album of local acts called 'It Happened But Nobody Noticed' (1981).
After a hiatus that lasted the 1990's, I revived the Gustav label to release CDs for The Down-fi, America Now (2009), Beehunter CD ep (2012), and a Christmas 45, 'Santa's Pissed Off'/'What Goes On' (2013). A reunited Saucers recorded a CD ep 'Second Saucer' (2011) and I put out a 7" ep by Indianapolis band The Dockers, 'Tales From The Dock' (2008). Gustav's latest release is my CD 'The Room In My Head' (2020). Titles still in print can be found at my website.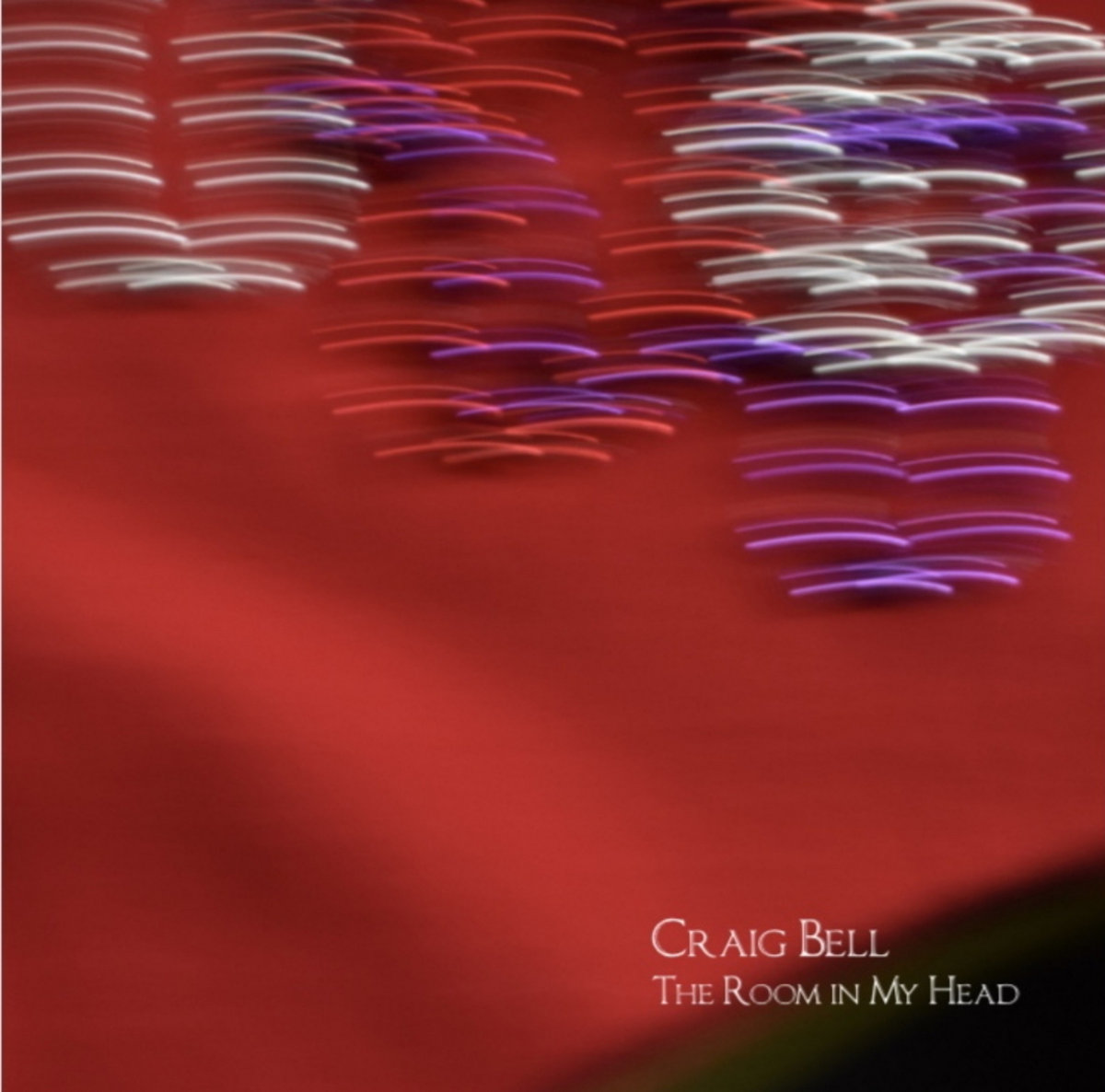 In recent times you were part of The Down-fi and you also collaborated with Pere Ubu. How was that? 
I haven't collaborated with Pere Ubu but I had backed David Thomas, along with Ubu/RFTT guitarist Gary Siperko, at a performance at Ohio State University a couple of years ago. Gary joined RFTT after the departure of Richard Lloyd after we recorded 'Barfly' (Smog Veil 2011).
Richard joined the reunited RFTT in 2003, along with Pere Ubu drummer Steve Mehlman, and recorded the album 'Redux' (Smog Veil 2003) at his studio in NYC. Guitarist Buddy Akita replaced Cheetah for 'Black Record' (Fire 2015).
I formed The Down-fi in 2008 in Indianapolis and along with Sam Murphy, Jason Bambery and Mike Theodore recorded the 'America Now' album. We were a trio for the 'Beehunter' ep, Sam, Blane Slaven, and myself also recording the Christmas single and our final 45 'Roadmaster'/'Why Me?' (Cavetone 2014). Another song from the Cavetone recording session, 'You Won't Like It', was released on a split single by GOOD TIMES Rock N Roll Club (2019). Phil Kitchel and Mark Wyatt also toured in The Down-fi before its demise in 2015.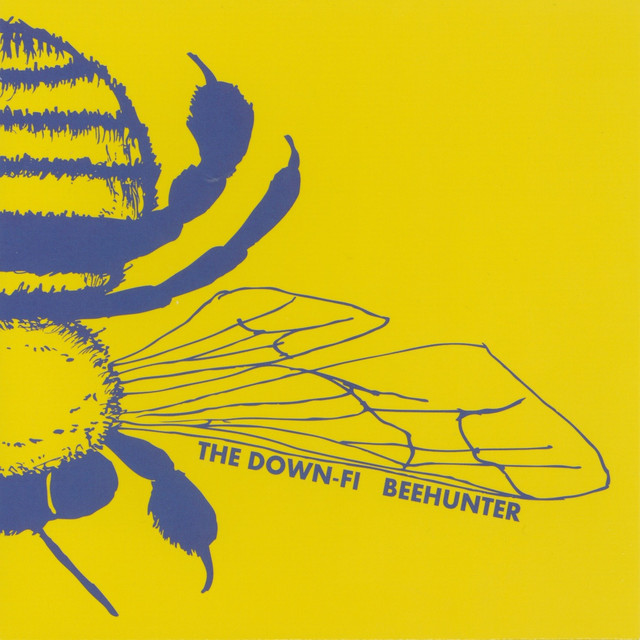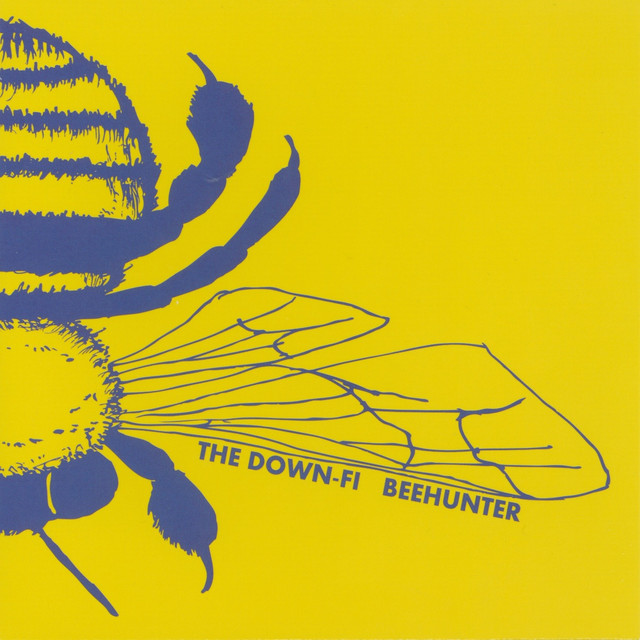 'America Now' consisted entirely of songs I wrote while in Connecticut and had performed with various bands there. I wrote some new material for the following 'Beehunter' sessions but reverted to three old Saucers numbers for the Cavetone sessions. The Down-fi was a band that helped me find my way back to regular performing after a self-imposed exile for most of the 1990s. Playing in the reunited RFTT convinced me I could still play and working with the Down-fi relieved my concern whether I still had anything to say. Thank you to everyone involved for helping me reach these goals.
x_x, The Gizmos … there's no end to your discography.
The summer of 2014 saw two interesting offers come my way. I had known John Morton of the electric eels since we were in Junior High School. Our respective groups had done shows together in Cleveland and John's NYC band had opened for RFTT when we did two nights in New York in 2003. That was the first time I had seen john since 1976 and wouldn't see him again until he contacted me in the Spring of 2014. John's post-eels band, X_____X, was a short-lived project John started in the summer of 1979 in Cleveland along with Anton Fier, Jim Ellis, and Jamie's younger brother Andrew Klimek. They made and released two singles then John moved to NYC. A record label in Finland had put together those singles along with other recordings of the band on an album released as 'XstickyfingersX' (KRYPT 2014). Andrew and John had lined up a few dates to promote the record and needed a rhythm section as the original members demurred. I, along with drummer Matthew Harris, did the shows that summer and some more in the fall of 2014. While in NYC playing a show we met with Frank Mauceri of Smog Veil records who signed us to put out a new album. We had started recording some tracks earlier that year in Cleveland and went back in January of 2015 to finish recording what would be XThe Jazz DestroyersX present 'Albert Ayler's Ghosts Live At The Yellow Ghetto' (Smog Veil 2015). We have continued to tour and record together. We recorded another album and are presently looking for an outlet to release it.
Sam Murphy (Down-Fi) and Dan O'Connell created the band Deezen in Indianapolis and we played shows around the region. When The Original Gizmos were reunited for some shows in 2014 we were on the bill with them when they played a few shows in Indiana and Ohio. When some more opportunities came up for them to play more shows, Sam, drummer Kelsey Simpson, and I were recruited from Deezen to back them up. We did shows from Memphis to Cleveland and recorded with the band an 7 inch EP, 21st 'Century Gizmos Fans Can't Be Wrong' (Gulcher 2016).
Then there's The Bell System's 'America Now'.
After Saucers broke up in 1980, Forrest Harlow, Mike Barone, Jon March and I started a band the morphed from Plan 9 to Future Plan to The Plan.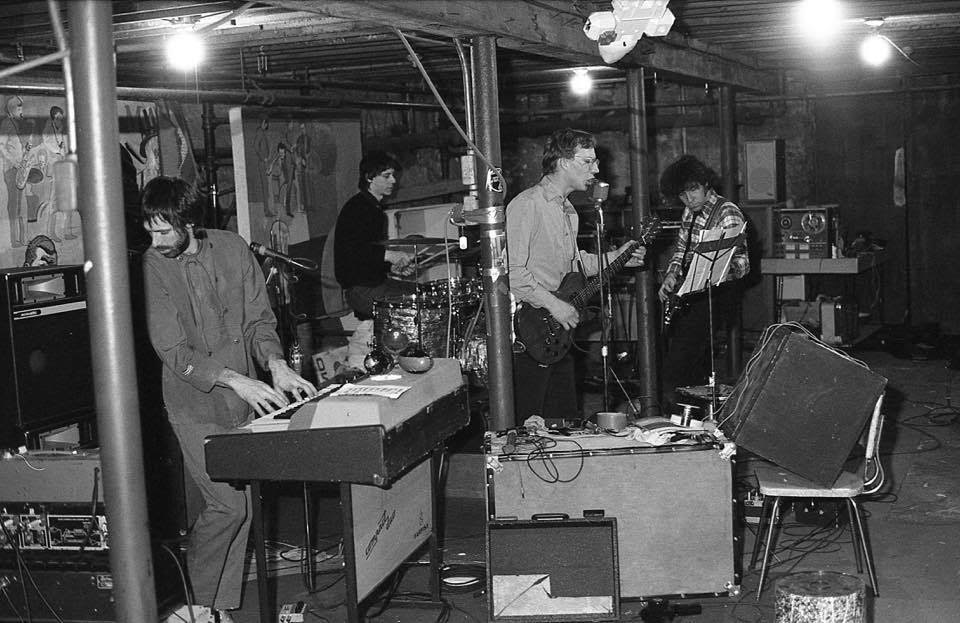 Jon left in 1982 and was replaced by Claudia Chapman on bass, who a few years later became, and remains, my wife, Claudia Bell. Right after Claude joined up, we recorded our single, which we released the next Summer. Forrest Harlow left in 1983 and with the addition of Thomas O'Connell we became The Bell System.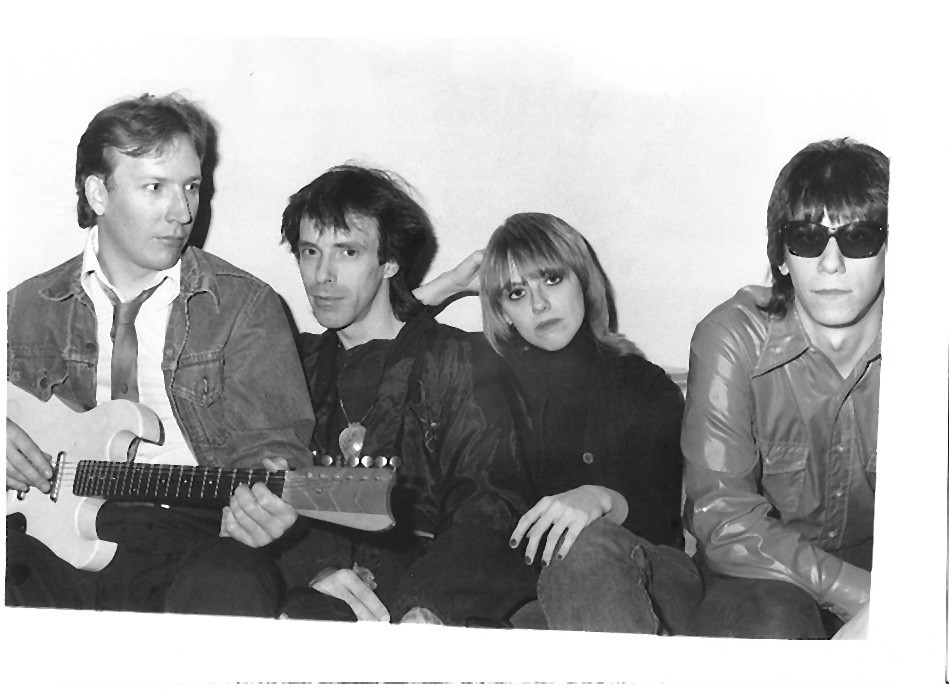 We recorded 'America Now' for a radio-only promotional album which was released in 1985. That track was included on 'aka Darwin Layne', along with other recordings from the era of Future Plan, The Plan, and The Bell System. A 7″ single was released at the same time as the LP with a different version of 'America Now', taken from the audio track of a live radio performance that was used for a video made for us by Bill McKenna and findable on YouTube. The B-side of the single was a live acoustic version of 'Annie' that I performed prior to a Saucers set in 1979. A very limited pressing of the single was on Violet Times records and the tracks are also included on a download card available with the 'aka Darwin Layne' LP. I wrote this song in the early 1980s and it still rings true 40 years later. Some things never change.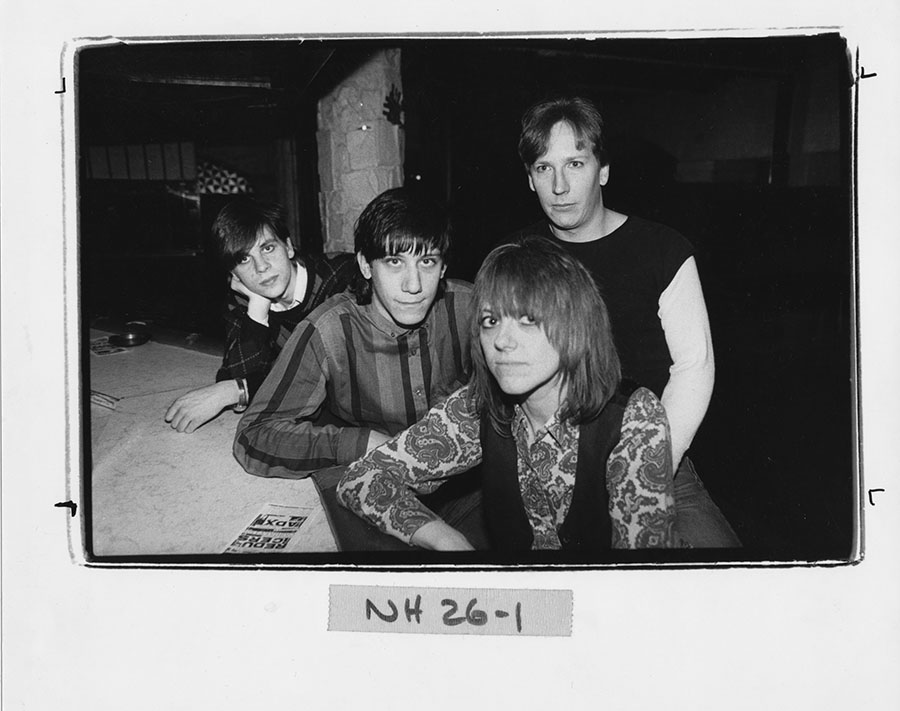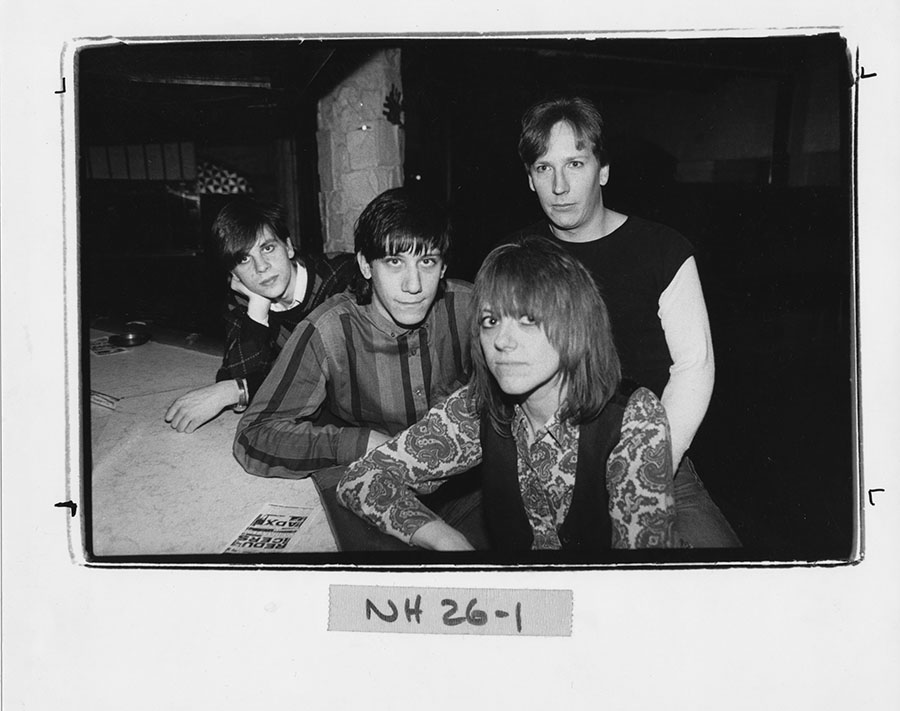 I really enjoyed the Saucers' 'Third Saucer From The Sun' compilation. What's the story behind it?
In 2000 I was approached by a reissue label in Los Angeles, California about putting out unreleased Saucers material. I had retained the master tapes from all the Saucers recordings sessions and took them to a studio in Indianapolis to digitize them and mix the songs for release on CD. The result was 'What We Did' (GTA 2002), a 19-track CD of all known Saucers studio recordings along with a live track from our rehearsal studio, known as The Cupboard, which was the soundtrack to a wacky video of 'Why Me?' made in 1980. It can be found on YouTube.
In 2018, another reissue label run by my friend Jason Ross in St. Louis, Missouri put out 'Third Saucer From The Sun' (Rerun 2018) LP which featured 12 tracks, eight of which appeared on the 'What We Did' CD, plus a track from the 'Second Saucer' CD ep and a recently unearthed version of 'Shit City' which we recorded at Wesleyan University as a part of Seth's classes from 1979.
Is there any unreleased material you would like to see being out there?
A lot of RFTT shows from the later tours are out there and an excellent live album could be compiled from them. Ubutique offers a board recording download from the debut show of RFTT (without me) at Extermination night on the Ubutique site.
Looking back, who influenced your playing the most and did influences change during the years?
I have always been excited to hear a good song, I don't care what genre, as long as it piques my interest. My early influences came from AM radio and ran the gamut from R&B, Soul, Folk, Country, Pop, and Rock songs that were coming across the airwaves 24 hours a day. Certain bands like The Velvet Underground, The Kinks, Beatles, Stones, and Troggs were early favorites as well as The Beach Boys, Jefferson Airplane, The Doors, Buffalo Springfield and other west coast 60s bands, later UK and Euro bands like Hawkwind, Amon Düül II, Kevin Ayers, Fairport Convention were big influences. The influences don't necessarily change, they just multiply.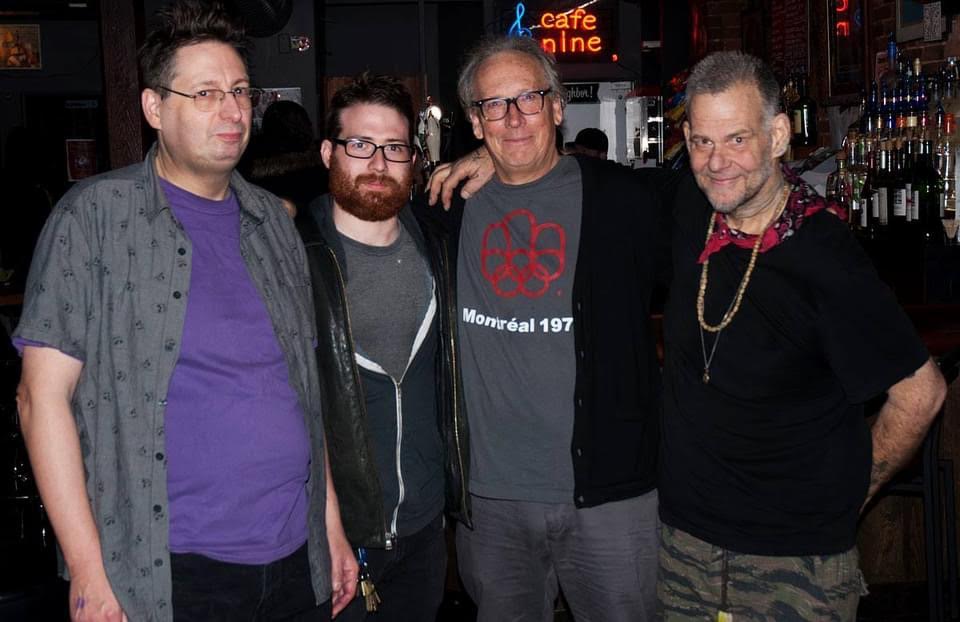 What currently occupies your life?
Previously to everything coming to a halt in 2020, I have continued to tour and record as a solo artist as well as a member of X_____X and on occasion, a member of legendary Canadian psych/rock Simply Saucer's touring band when they have been touring in the USA. Edgar Breau, Simply Saucer's founder and I both bonded over our love and appreciation of Syd Barrett and corresponded with each other when we were members of his fan club in the 1970s. I began working with Edgar and his band a few years ago and hope that will continue when things ease up enough for them to tour in the USA again.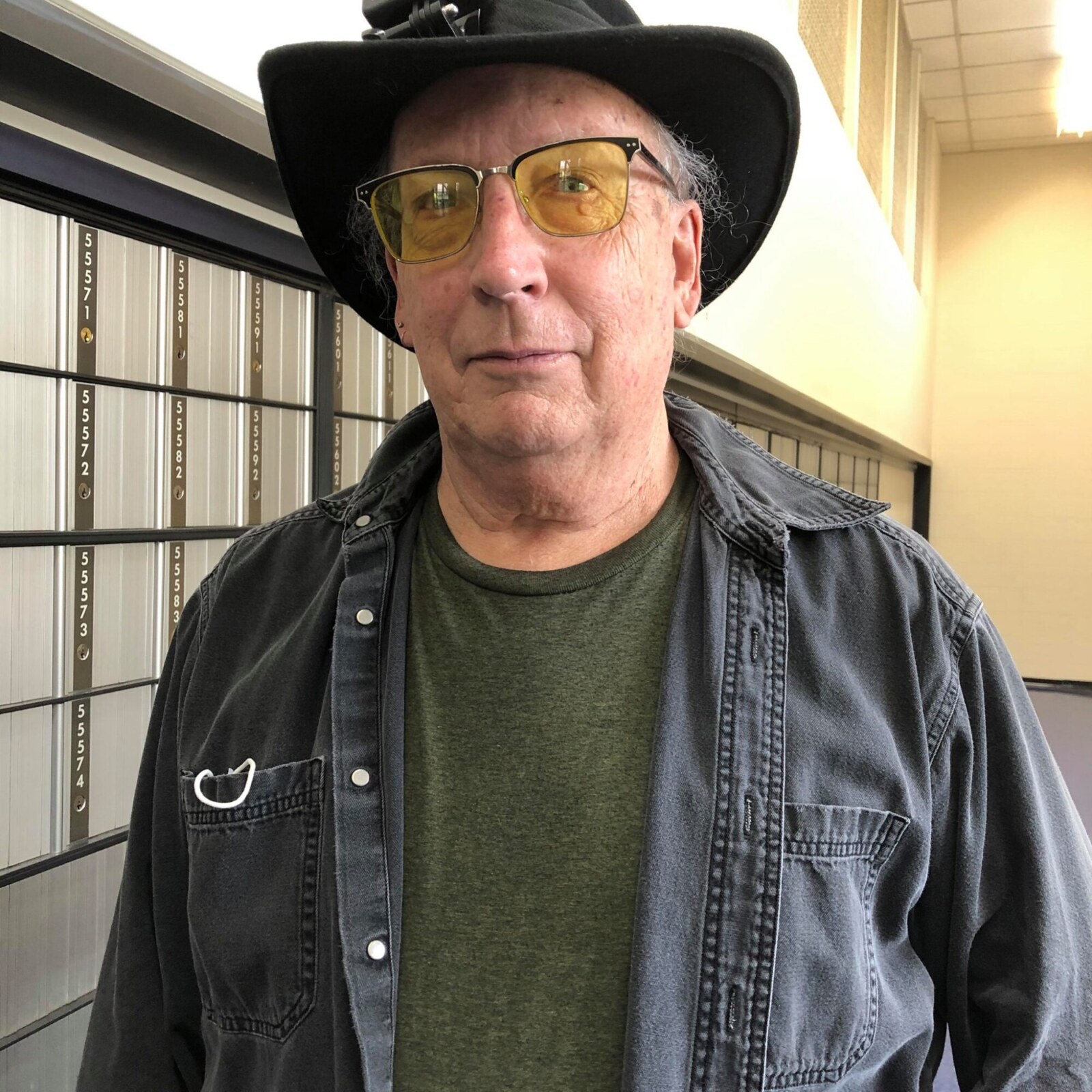 Thank you for taking your time. Last word is yours.
Thank you and all your readers for keeping RFTT alive all these years and I hope that I can come and visit all of you wherever you are and we can have an evening of music and friendship.
Klemen Breznikar
---
Headline photo: Rocket from the Tombs in 1974 | Photo by John Clinefelter / Bradley Fields | Courtesy John Nikolai, Smog Veil Records
All photo materials are copyrighted by their respective copyright owners, and are subject to use for INFORMATIONAL PURPOSES ONLY!
Rocket From The Tombs Official Website / Facebook
Craig W Bell Official Website / Bandcamp / YouTube