Milky Edwards & the Chamberlings – 'Moonage Daydream / Starman' | Yet an unidentified group
Okay, so who on earth are Milky Edwards & The Chamberlings? Well, those that keep their ear close to the ground will doubtlessly have heard, some years ago, back around 2013, the bewildering tale of a YouTube posting that showed what was supposedly a "lost album" of David Bowie's 'Ziggy Stardust and the Spiders From Mars' LP re-imagined by a hitherto unheard outfit who went by the name Milky Edwards & The Chamberlings.
---
Rumoured at first to be the work of Tom Jones due to the powerful larynx on display throughout. Sir Tom's management, however, have apparently refuted any such claim that Jones had anything at all to do with these recordings.
Supposedly a 1970s find, this elaborate Milky Edwards put-on (or perhaps not?) has once again re-entered the world of the record collecting elite after a new and somewhat strangely-arriving 45 rpm record has come to light; a cargo containing a booty of this seven-inch vinyl was purportedly washed up on an overseas shoreline in recent years – in Portugal to be exact. In a further twist the label (ZS – obviously short for Ziggy Stardust) on this newly discovered Milky Edwards & The Chamberlings 45 is said to have originated in Argentina and there's a date stamp of 1973. As to how authentic all these details are only time will tell.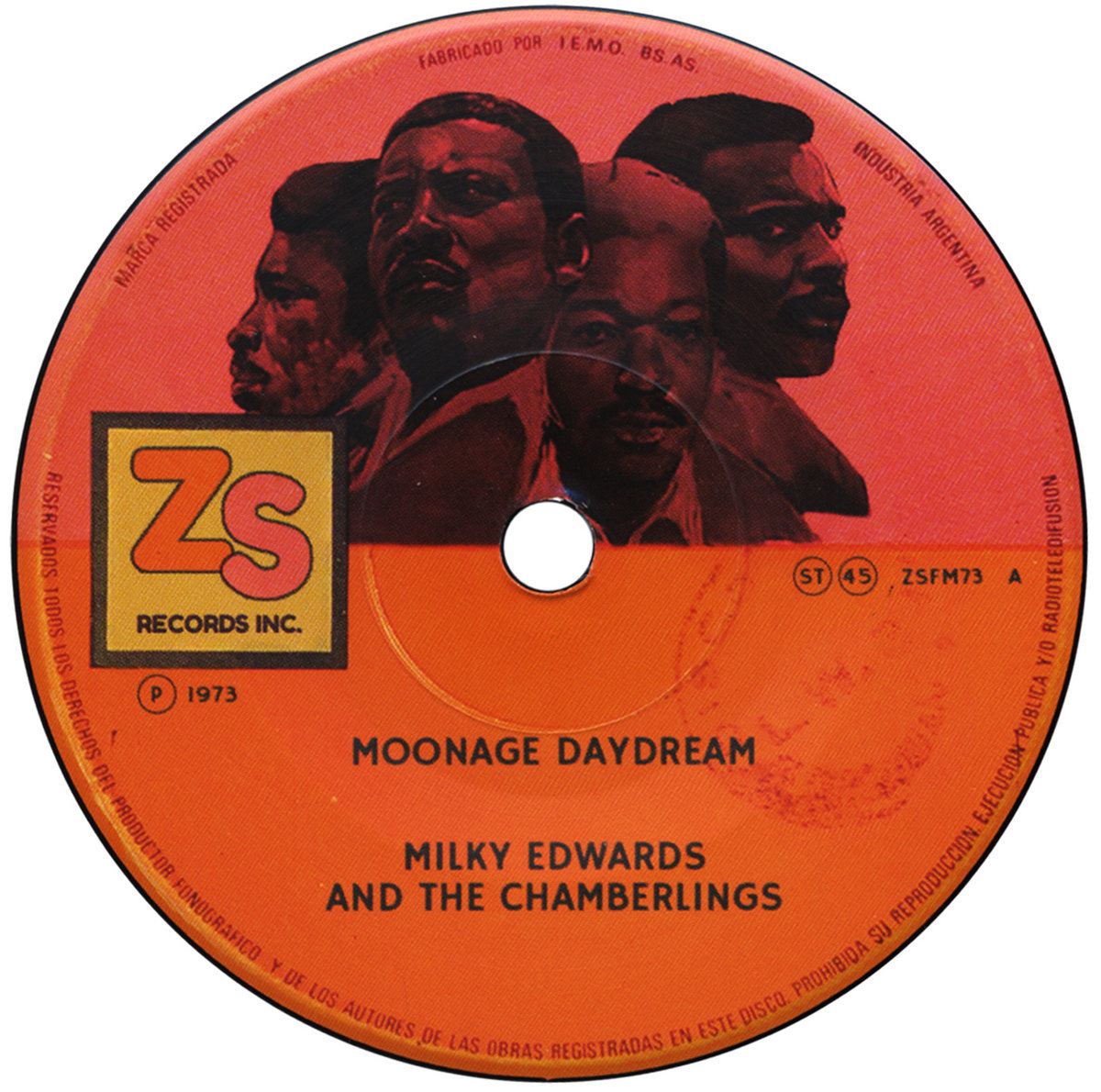 The two sides on offer here, 'Moonage Daydream' and 'Starman', are strident, bold and confident – wonderfully thrilling interpretations of these dearly loved early 70s Bowie classics. As to who the featured vocalist may be; or who the group, and the individual musicians involved in the project are, and the exact geographical origin of Milky Edwards and cohorts … well, we may just never know. Although the performances sound pretty frenetic overall and the production, such as it is, lacks any kind of finesse or definition – perhaps another effort to muddy the waters as to the who, when, what, why etc. – one thing's for sure, these are rampant, hard soul-fired funky rock executions which are striking and dynamic to say the least!
Warning: if you are looking to secure yourself a copy of this item it is suggested that you act fast as the amount of copies that were found number only in the low hundreds. Get on it!
Lenny Helsing
---
Milky Edwards & the Chamberlings – Moonage Daydream / Starman (ZS label 7") origin unknown