Michael Hays | Interview | 'Red Willow' | By Sean Mageean
Michael Hays is an Austin, Texas based American musician and singer-songwriter, who originally hails from Hattiesburg, Mississippi. He has worked with renowned producers Mike Chapman and Dave Cobb and appeared as a session musician on albums by Suzi Quatro and Richard Thompson. In addition, Hays has been in a number of California-based bands in the past, including Larks, Neighborhood Bullys, and We Were Indians. Hays released his eponymous solo album in 2014, and his sophomore solo album, 'Red Willow', will drop in June 2021.
---
'Red Willow' features guest appearances from Richard Thompson, Eric Heywood (Son Volt, Ray Lamontagne), George Sluppick (Chris Robinson Brotherhood), Brad Houser (Edie Brickell), Mike Dillon (Rickie Lee Jones), Bukka Allen (Mark Lanegan, Terry Allen), and Sean Hoffman (Zig Zags, Loch & Key, CB Brand, American Music Club). The cover illustration for 'Red Willow' was created by James Marsh –the artist responsible for the beautifully surreal Talk Talk album covers. 'Red Willow' was produced by Sean Hoffman and Michael Hays, engineered by Sean Hoffman, Michael Hays, and Pat Manske, and mixed by Sean Hoffman and Simon Tassano. The album was mastered by Dave Cooley at Elysian Masters.
I recently spoke with Michael Hays about the gamut of his musical career thus far, the inspiration behind the gems to be found on 'Red Willow', the importance of having great collaborators, the necessity of curated shows for burgeoning singer-songwriters, and more!
So, to start off with, Michael, did you have musical influences from an early age when you were growing up in Mississippi?
I was into KISS when I was a kid.
Were you a member of the "KISS Army"? (laughs)
No, I was too young for that–but I really liked "Ace" Frehley.
"Space Ace"! (laughs) Yeah, when I was a kid, I had a friend named Sean Hill who got way into KISS –he idolized Peter Criss and he would take all the pillows off of his mom's couch and place them on the floor and make believe it was a drum kit and pretend to be Peter Criss and sing 'Beth.'
I remember looking up at the clouds and thinking –"Hell"–I wanted to name my band "Hell!"
But, uh, you know…
(laughs)
So, my uncle was a musician, and, I don't know, I guess I was always a dreamer, to be corny.
How did you come to work with Richard Thompson, and Suzi Quatro– were you doing session work?
Yeah, I had moved out to L.A. in 2004 because Sean Hoffman heavily recruited me. I'd been in Austin for awhile and wanted to take it to the next level; so I wound up in Los Angeles, and my neighbor from Austin is the Front of House guy for Richard Thompson and has been, I think, since the late '80s. And in 2006 they were doing a record, 'Sweet Warrior', out there, and he called me, and Richard just wanted to use whoever was in town, because his main utility guy, Zorn, was in England at the time. Richard had a house in Pacific Palisades, and Simon Tassano called me and asked me if I'd do it, and I just about had to quit my job at Technicolor to get the time off, you know, but I would have. So, I got the gig and it was amazing. I got to be on a really great record. Danny Thompson did about half the sessions–the bass player who has played with Roy Orbison, and Kate Bush, and Peter Gabriel, and everybody. He played on most of the Nick Drake records…
Didn't Danny Thompson do stuff with Donovan in the Sixties–like the 'Barabajagal' album?
He did.
Are Danny Thompson and Richard Thompson brothers?
No–and that's kind of a joke between them…'no relation.' But it was intimidating, because I'd never done session work. I'd always been just a creative guy–a songwriter. So, I got thrown into it, and it was really great because Richard is such a sweetheart. He's really kind and gracious, and it was amazing.
And then the Suzi Quatro thing, that was a few years later. I was in this band and the front man of the band, his Godfather is Mike Chapman. The producer who co-wrote 'Ballroom Blitz'…
Yeah! The Sweet! I was going to ask you about that Mike Chapman connection–I love the classic Sweet albums and was saddened to hear of the passing recently of Steve Priest–the Sweet's bassist.
Yeah…well, they lived crazy lives. (laughs)
I think three quarters of the original Sweet band members have passed on–which is pretty sad…but, anyways, The Sweet's music from the Seventies was badass and will live on!
Yeah, it was cool! And Mike Chapman was right in the mix! At one time I think he had a Number 1 song and a Number 2 song…it might have been 'Hot Child in the City' [from Nick Gilder's 'City Nights' album] and maybe 'My Sharona' were like 1 and 2, or it was around in there–he just had a string of hits.
So, Mike Chapman also produced The Knack?
Yeah, he produced the debut album, 'Get the Knack'. He did so much stuff in the Seventies…a bunch of Suzi Quatro stuff, and The Sweet, and a band called Mud–that I think was more famous in Australia and England. And he kept on into the Eighties–he worked with Pat Benatar and, he did 'Parallel Lines' with Blondie…
Nice!
Yeah, he worked on some of their big songs…I don't know if he did 'Rapture'– but he did 'Heart of Glass' and all those; and he just really was ridin' the wave for at least ten years–he was totally kickin' ass!
A true legend! How was it for you working with Mike Chapman?
It was a real thrill to work with him. He was fun. He came into the studio and said: 'Where's the nearest liquor store?' I was like, okay, this guy's gonna live up to his reputation!
(laughs)
So, with Chapman, we did a couple of records with the band The Neighborhood Bullys, and then we did a Suzi Quatro record. I never met Suzi, but we did half of the 'In the Spotlight' album. It was covers–we did a Rihanna song, and a Juliette and The Licks song–which, I knew one of the guys who wrote…which was funny…and then we did a couple of other songs. A song called 'Strict Machine,' I think by Goldfrapp…?
Yeah, Goldfrapp–I remember that song, actually. It's a good tune!
That one came out really good. It was fun working with Mike–he was just a fun guy to be around.
Just out of curiosity, whose idea was it for Suzi to cover more recent and hip stuff? Was it Mike Chapman's idea or her idea–or do you know?
It may have been–I'm not sure. Because, like I said, she wasn't in the studio with us– we did all the stuff and sent it oversees to her in Australia or England, and then she replaced the bass with her bass. But, we were with Mike in the studio and he's a fun guy to be around.
Chapman sounds like a cool producer to work with! While we're on the subject of producers, I read that Dave Cobb likes to take a Jimmy Miller approach, sometimes plays drums, or guitar or whatnot, and focuses on the performer's voice — what project or projects did you work with him on?
I was in a band called Indians–we later changed the band name to We Were Indians, and Dave Cobb produced us. Dave Cobb is really hands on. He's a really great guitar player–so, he could grab a guitar and say: 'How about this?'–or whatever. But he worked so fast in the studio, it was really awesome working with him because he had ideas really quickly for everything and he knew how to execute them–like, he's a good engineer too, so he was turning knobs…like, I was playing a solo and he had all the pedals in front of him and he was grabbing knobs and making all these crazy noises in the solo, and it was cool! There's a reason that guy deserves his success–because he's a great producer! He's a lot more hands on than Mike Chapman.
Hmmm…
Mike Chapman, maybe because he's older–and he's super rich–he was kind of a cheerleader. But Dave Cobb was getting in there–if the drummer was dragging, he got in there in the room with us and played tambourine on the track.
Wow!
Yeah, he's really good! It was fun working with him. We're gonna re-release that album. We released it ourselves, MTV wanted to buy it from us, and we had a lot of heat on us at the time, and we thought it was just gonna take off on it's own, and didn't really push it, you know?
Just for clarification, that's the We Were Indians album?
Yeah.
What's the name of the album?
It was self-titled. It just says "Indians" on it–we changed our name after that, so, I think we're gonna re-release it 'cause it sounds really great! We didn't take the MTV offer, but they placed it on a bunch of their shows. They actually used one of our songs for a spin-off of Top Gear; it's called 'Mud, Sweat & Gears'…
(laughs)
… and it ran on the BBC for, I think, just one season. It didn't really take off like we hoped it would, but they used our music for the theme, so, that's cool.
Did We Were Indians only release one album?
No, we did a follow up EP and kinda did the same thing. It was really cool, but Dave Cobb didn't produce it. We went to the same studio and just did it ourselves. It came out great, but just kind of faded into the ether. Joe Hursley [the singer] got really busy with his acting career. Los Angeles is the land of close calls and missed opportunities–and were in the close call variety for sure, 'cause we had some things going for us and it didn't all come together in the perfect storm that we had hoped…even though we got a couple of really good records out of it.
Yeah, there's so many talented bands where things like that happen. Everything should line up and you know your music is great, but things are not aligned at that particular time…
It really needs to be a perfect storm…certain things need to be this, and that, and you can't just be good.
Yeah, I think about all these good bands, too, from the past that put out one or two albums that at the time seemed really strong and it was like they were contenders, but then they just sort of faded into obscurity…like, for example, The Del Fuegos back in the '80s or something…
Yeah, I think Big Star is the ultimate example of that…
Oh, yeah, there you go…
They were totally obscure, and then The Replacements started singing about them, and it was like, huh, who? And then their cult following grew over the years and then there was a really well done documentary called 'Nothing Can Hurt Me' about Big Star. And it was great! And they went into the studio and they re-mixed the stuff with the original engineer and whatnot for the movie, and their fanbase just exploded! This was like ten years ago or something–but I'm happy it did 'cause I love Big Star.
Oh yeah, or like going back to when you mentioned Nick Drake, you know? Such a tragic life, but at least after the fact he's been really discovered and appreciated in the last twenty years or however long it's been…
Yeah, from a Volkswagen commercial, right? (laughs)
(laughs) Right–ironically…"Pink Moon" being used in that VW ad, right?
Yeah–so crazy, but, hey, he's achieved God-like status in death–and the song 'Fruit Tree' couldn't have been more true.
Yeah…sadly…
So, prior to 'Red Willow' how many other solo albums or EPs or whatnot have you released so far?
Here's a funny bit of trivia. I have a couple songs from the early 2000s that are in regular rotation in grocery stores, drug stores, and hold music. It's a mystery how they got there but I have had multiple friends hear them while shopping (or on hold!) in California and as far as New Orleans. Not exactly glamorous but I get a kick out of being the phantom earworm now and then. These are songs that I recorded for an unreleased album in a band called The Larks, with Sean Hoffman on guitar, Steve Didelot on drums and vocals, and Mark Lane on bass. We used to play all over LA from 2006 until around 2010 or so when Sean and Steve joined American Music Club. After Lava Lounge, Taix restaurant was our home base and we had the run of the place back then.
But this is the second record, and it will be out in June. I did one that has been given a proper release that I also did with Sean Hoffman back in 2014.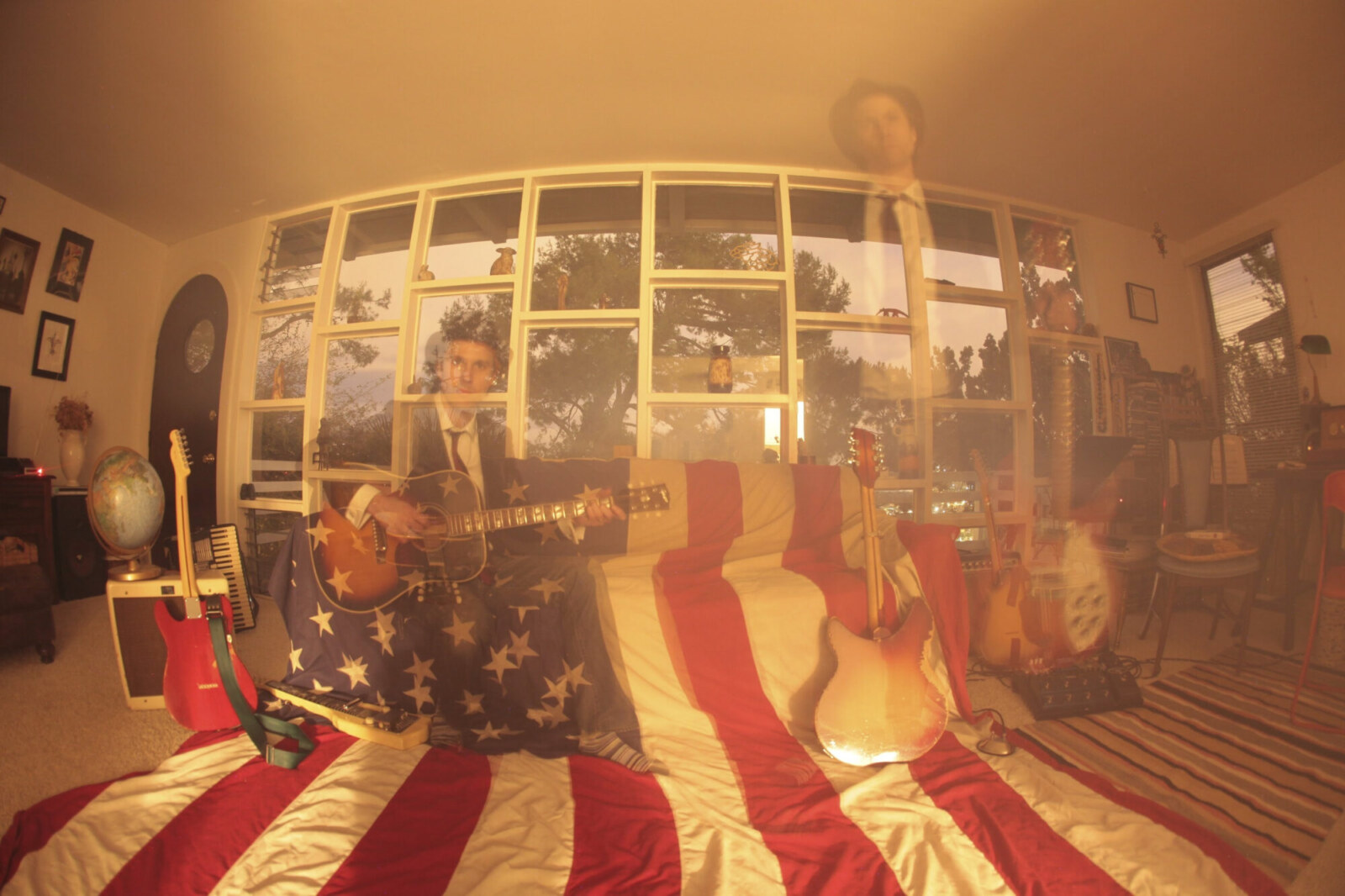 Do you want to tell me a bit about that?
Yeah. I finished it right before I moved from Los Angeles and it was kind of a culmination of, okay, I want to make a real record with my name on it. Because I had been in a number of bands in Los Angeles with Sean, and The Neighborhood Bullys working with Mike Chapman–and We Were Indians. So Sean and I put it together with a bunch of different musicians, and I think it came out really great. I listened to it recently, and it held up very well. It also had Eric Heywood [from Son Volt] on it; he played some steel on it [pedal steel guitar], and Vudi [Mark Pankler] from American Music Club played a little bit on it–that was really cool. And George Sluppick played on a couple of tunes. He's on a tune on the new record as well. He's played with Chris Robinson, and Patti Griffin–cool people.
Oh, wow!
And all of my friends, Joey, and Kip and Sean, and Steve, and a bunch of my buddies were on it.
Yeah, I think I've met Kip–he sometimes plays with Sean and Leyla when they perform as Loch & Key, right?
Yeah, he used to play with Loch & Key, and he used to play a lot with Tony Gilkyson…
Oh, cool. I enjoyed Tony's guitar-slinging on the X album 'See How We Are'…
And he's really talented…he's a really great songwriter and has a really unique voice and he's made some really good Kip Boardman records…really great. With some excellent players–Tony Gilkyson, and Jay Bellerose and a bunch of amazing players. Kip is great!
Cool. Just to go back a bit, what was the name of your first solo album?
It was eponymous–just called 'Michael Hays'.
Okay, let's talk about your new album, 'Red Willow'. When I was listening to your song, 'Flashback Moonlight'–which I really loved by the way–I felt like it had a really Seventies retro feeling to it…like something from a John Lennon, or George Harrison, or even Gene Clark solo album.
I love all three of them very much.
Oh, yeah — I mean Gene Clark, especially…so underrated and so good…
Yeah, I have a record of his…it's just called 'Gene Clark with the Gosdin Brothers'…
Uh huh…classic!
…and it has arrangements by Leon Russell on it…it is so good! I found it, like, for a dollar in a junk shop. It's an amazing album. And, you know, of course, George Harrison–I feel very close to him. And John Lennon as well. We were just watching 'Help!' with my daughter for the first time.
Oh, that's cool! Anytime for a kid to see their first Beatles film–or even if they've seen 'A Hard Day's Night' before 'Help!' … just to see any Beatles films from the Sixties, is so mind-opening…has she seen 'Yellow Submarine' yet?
Yup. She's all about 'Yellow Submarine'! One of the first songs she ever sang along to was 'All You Need Is Love,' so, pretty doggone cute.
Oh, yeah, for sure.
(laughs)
Seriously, there's nothing better than getting kids to listen to The Beatles and teaching them how wonderful The Beatles music was and is and ever will be…
Yeah, she's been immersed! If she ever chooses to take up an instrument or really get into music, she's gonna have a head start because she's been listening to some fairly sophisticated music for a five-year-old, you know? (laughs) And I love hearing those references, man, that's me in a nutshell; I love that stuff.
Yeah, and I apologize if I over-analyze songs, because I don't mean to take away from an artist's own creativity or original lyrics, or guitarlines or whatnot…but–on a bit of a related note–when I was listening to your song 'Oh Yeah,' that kind of made me think of 'Beautiful Boy' by John Lennon.
Oh, yeah, it's a total 'Beautiful Boy' rip-off!
Okay. (laughs)
(laughs) I'm glad you got that…
Confess! (laughs)
I was like: 'Can you make it sound more like 'Beautiful Boy'?' (laughs) 'cause it's about my daughter, you know? It could have been called 'Beautiful Girl.'
Yeah–it could have been 'Beautiful Girl,' for sure. Right on.
No, that's great…that's a good ear! Because that's blatant! (laughs)
Yeah, but what's the cliched saying–'imitation is the sincerest form of flattery'…?
I steal from the best!
Exactly!
How did you and Sean Hoffman first end up meeting and collaborating?
We had a mutual friend named Max who lived in Austin. Sean lived in Austin in the mid-Nineties, before he went off to Berkeley. And when he lived here he had a buddy named Max, who wound up being a good friend of another friend of mine. And I was introduced to Max when I first moved back here in early 1999. We became fast friends and then Sean came to visit…he and Max had just moved to New York and they came and stayed at our house one New Years for several days…so I got to know Sean pretty good and we kept in touch. He's always been carrying the torch for Los Angeles–like: 'You've gotta get out to Los Angeles–it's the greatest city in the world!' –he's still like that…
(laughs)
..and I love California…I hated to leave. It still has a place in my heart and part of me feels very much at home there, you know?
Yeah–it depends on where you are in California, in my opinion, you know…?
Oh, yeah–where you are in Los Angeles even…because, man, it can be an absolute hellhole if you are not in the right spot. (laughs) But I guess I just got lucky. So, yeah, Sean and I made fast friends in 1999; kept in touch; I went out there and visited him in the early 2000s and stayed with him for, like, a month in the summer of 2004. I went out and just lived with him and was like: okay–this is the place for me. It just clicked…it felt right!
Cool! So, one of the other things I wanted to ask was about the short instrumental piece, 'Mescalero' — I like the sense of humor utilized on the fade-out with the narrator's voice…what can you tell me about that?
That's all Sean. That's his hi-jinx there! (laughs) That was a last minute thing. It was like I need some more songs here, so I just came up with an instrumental thing; put some layers on it; made it kind of weird. Then Sean took it, put bass on it, and then he added that–I dunno–Library of Congress archival audio … (laughs)
Oh, okay that's what it is! That's cool.
Yeah! It just worked. 'Cause the next song is kind of like a maverick on the album–it's aggressive and dark. And all the other songs are kind of pretty and not aggressive. So, it kinda sets up the next song really well in the sequence.
Let's talk about that next song, 'Come to Jesus'– what's the story behind that one?
Oh, man, that was written in the middle of the pandemic–like, probably last summer–when all of the civil unrest was happening, and people were dying in the thousands every day, and it was just ominous doom! It came out of that; so, I think that's reflected in the lyrics–like, come to Jesus–it's a reckoning!
Yeah.
But the ending is really pretty, so, it's like, maybe it's gonna be okay…maybe it's heaven…
(laughs)
(laughs)
Well, I mean, we're still living through it…I guess for the time being things have eased up [in the U.S.] kinda, but, I dunno…
I had my second [vaccination] shot over a month ago and, man, the relief is tremendous–I feel like a weight has been lifted.
Oh, that's cool! I've only had my first one so far, but in about three more weeks I'll be getting my second one.
It's really good for your peace of mind. You're 95% sure that you're not gonna be spreading anything that's gonna kill anybody, or getting sick…it's just like…whoa…that was the longest year of my life!
Yeah, for sure. I'm sure a lot of people out there feel that way.
So, that's where 'Come to Jesus' came from. We had George Sluppick in Memphis track the drums–and I was like: 'Dude, kinda do it with a Can kinda thing, you know?' And he was like: 'Oh, like this?' And he and Sean totally put a Can vibe on it.
You mean like the Krautrock band– like 'You're Losing Your Vitamin C' or whatever?
Yup! Like their big song!
(laughs)
So, it's another rip-off! But I think it's cool! It's got a really wild guitar solo, and that ending is kinda cool. It also has Mike Dillon on that one. Mike Dillon is pretty well known for playing with Les Claypool…
He's also played with Rickie Lee Jones, right?
Yeah, Rickie Lee Jones, Les Claypool…I guess those are the two big ones. He's played with a bunch of people. He's been around. And also Brad Houser played some upright bass on that. He plays with Edie Brickell.
Well, speaking of Les Claypool–going on a little tangent here–what do you think of The Claypool Lennon Delirium?
It's amazing!
Yeah–it's some great stuff, right?!?
Yeah, those guys are incredible, man, and Sean Lennon is no joke–that guy's really talented!
Oh, yeah, even before The Lennon Claypool Delirium was a thing, several years ago a buddy of mine who is a guitarist named Bronson Haffner took me to see Sean Lennon's other band with Charlotte Kemp Muhl–The Ghost of a Saber Tooth Tiger–and it was such a good show!
Yeah, I saw him play with Cibo Matto back in the '90s, and he was an absolute killer bass player–I mean, he was ripping it up! So, it was like, okay!
Did you ever get into Smokey & Miho as well?
No, I haven't heard them.
It was Miho Hatori–from Cibo Matto–teamed up with Smokey Hormel and together they put out some nouveau Bossa Nova jazzy 'The Girl from Ipanema' kind of stuff. Really good stuff!
Oh, yeah, man, Smokey Hormel–he's really cool! The heir to the chili fortune…
Oh, is he? (laughs)
Yeah–Hormel Chili — that's him.
I did not know that (laughs) –that's kinda funny.
Yeah, "Smokey" Hormel…well, your parents were kinda funny, huh? (laughs)
Alright, so let's talk about your song 'Once More.'
Alright; another pandemic-inspired tune. The beginning of it is a little sketched out, and the ending of it is kinda about my grandmother.
In what way?
Well, she's going blind. She loved to watch hummingbirds, and she had a bluebird house, and her garden and everything. She can't see them anymore…you know?
Oh, wow…
So, that's about her, and the beginning is just about trying to figure out what's going on–just kind of like all of my songs, I guess.
Have you played the song at all for her?
No, maybe if we go see her, I'll play it for her, but she's kind of going deaf, too…
Oh, okay, I understand.
'I can't hear it!' (laughs)
Yeah…
She's almost ninety, and I don't want to impose my art on her, you know? I'm sure she appreciates the sentiment and everything, but I'd rather just have a conversation with her–and try not to shout.
Right, I understand. It's important to acknowledge the mortality of our elderly loved ones, but also appreciate all they've lived through and experienced during their lives.
Well, let's talk about your song 'Road Will Rise'–and how the legendary Richard Thompson came to work with you on that one.
Man, that one I'd been working on forever! It took over a year to finish. I re-harmonized the chorus, edited a bunch out of it, and kept redoing stuff. Then, finally, it was pretty well-cooked and I was like it needs something on the end. And I thought, well, Richard Thompson is not touring right now, and Simon [Tassano] is my good friend…why don't I see if he'll play on it? Simon put me in touch with him, and he said: 'Sure! Send it on over.' He played on the whole song and really added so much to it; just having him on the record–it's like, okay, now my record has Richard Thompson on it. So, maybe people will actually listen to it; since I'm an unknown and he's a legend, you know? He's really a sweetheart! He's a very gracious, kind person–he's got some snarky lyrics, you know…?
(laughs)
…I mean his lyrics cut pretty deep (laughs), but he's not like that in person. He's really sweet. I mean his wit's sharp–he's really sharp and quick with his humor and whatnot, but I spent a couple of weeks with him making that 'Sweet Warrior' record and I never once saw him be nasty to anybody. Not even close–he was always just really nice.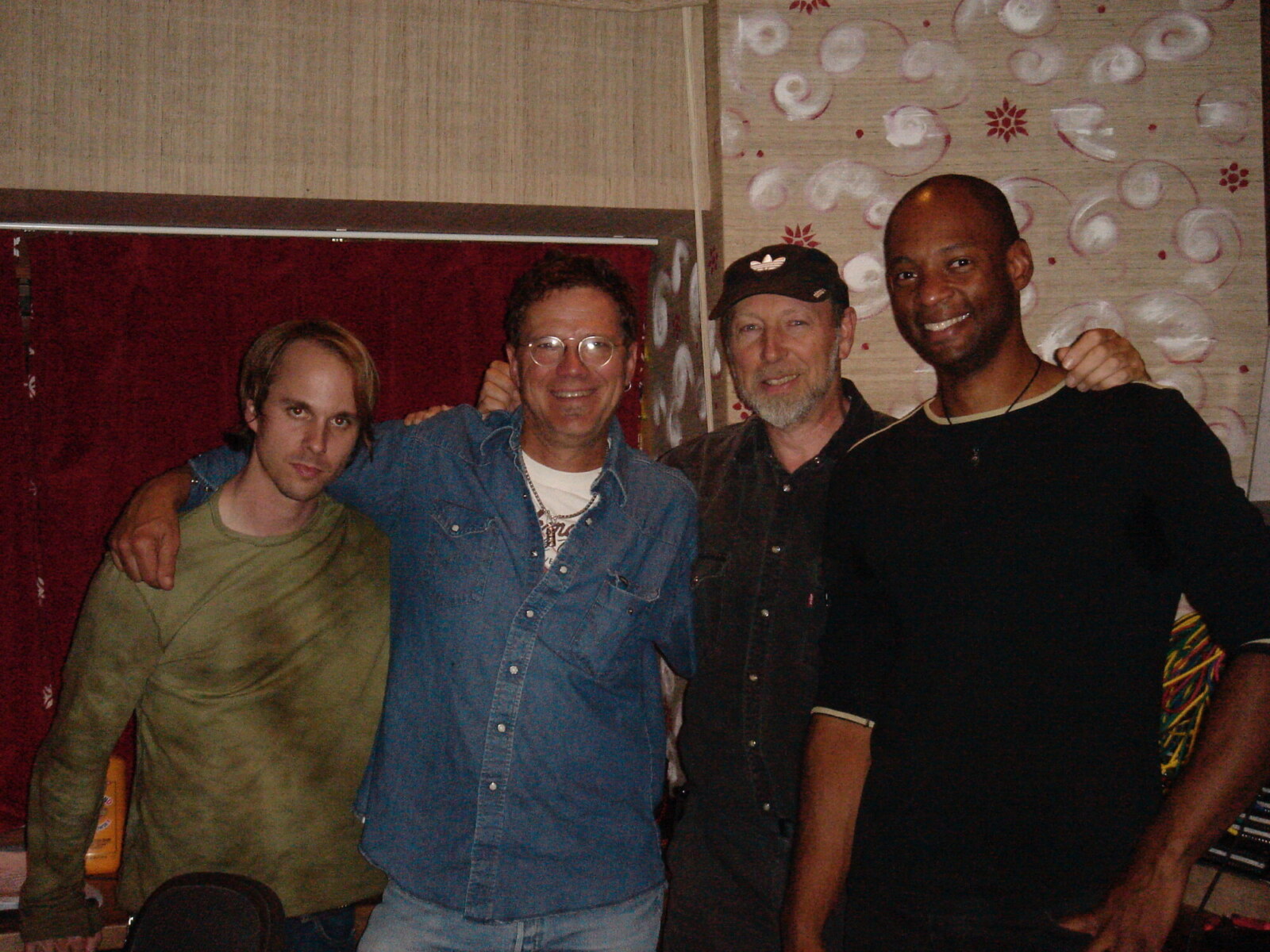 That's cool when you've got somebody who is immensely talented but still personable to that extent. In terms of his own output, do you have a favorite album that Richard Thompson made from when he was with Fairport Convention, or with Linda, or his solo stuff?
Yeah, 'Reynardine' is my favorite tune from 'Liege & Lief' by Fairport Convention–it's really beautiful; real slow and ethereal…real spacey…there's just like cymbal swells on it.
Uh-huh. Great choice!
But we've been listening to 'Shoot Out the Lights'. We were listening to that tonight, actually. That's a really great record. You know, I like the hits– I like '1952 Vincent Black Lightning' and any number of his songs. He's pretty amazing.
Yeah, for sure! '1952 Vincent Black Lightning' is hauntingly moving…
And he just keeps getting better and better each time I see him. It's like he's really just going for it–singing and playing…he practices, like, six hours a day.
Oh, my gosh!
Like, wow! (laughs)
He's the consummate professional!
Yeah! (laughs) I mean, that guy's got high standards!
Alright–here's my cliche question. When you are formulating ideas for your songs, or coming up with lyrics, where does your inspiration come from would you say?
Man, it varies, you know? It's usually just philosophical bullshit; reflection; blah, blah, blah –but it comes from different things, you know? There's songs about my brother; there's songs about my daughter; there's a lot of songs about me just trying to get my shit together, you know? On the record there's a lot of family stuff, and life and death, and redemption, and karmic kind of stuff. Like, sorry for being an evil bastard–I didn't mean to be. Just trying to make sense of everything. I've been writing songs since I was a little kid.
And it seemed like early on, I was kind of doing the same thing. (laughs) As an adolescent just writing about the grind of trying to get by — where I didn't know anything about it. Maybe that's why it took me so long to come around to writing some good songs. In the past, I don't feel like I really wrote any decent songs until 2006 or something. I just didn't know anything. Because I had been trying to write about real stuff–instead of character studies or a storytelling-like kinda thing–which I feel like maybe that would be a lot more interesting to people.
Yeah, I think there's room for both. I mean, you've got your Tom Waits or your Nick Cave or somebody who are kinda like the raconteur storytellers, but I would say that one of the things that struck me about the majority of songs on this album was that, after listening to it once, I felt like I know these songs! I don't know how to explain it…maybe in part it's because certain songs made me think of George Harrison, or Gene Clark, etc. — but I think it's to your credit that there's something in the songs that felt very…
Familiar?
Yeah, but in a good way. Like in a soul way, if that makes sense. I'm not saying "familiar" like this guy is trying to nick ideas from that one guy or that other guy–but more like, these are very moving tunes.
Well, I appreciate that. And I think you can wear your influences on your sleeve without being derivative…
Yeah.
…and I think maybe I get away with it because it is also personal. I don't know. I do the best I can. I'm not deliberately ripping anybody off, but…like, the slide solo at the end of 'Once More,' I played that the first time and I was like, oh that sounds like George Harrison. And I was like, well, cool!
Yeah! (laughs)
I didn't fight it. I was like, if it sounds like George Harrison, I think I'm doing it right.
Yeah, exactly!
Do you want to talk about what guitars you favor or any technical stuff?
Sure! A lot of the record was done using an old '59 [Fender] Princeton Tweed amp. Super old…Sean [Hoffman] has one that's the same year, and I was recording with his for awhile, and was like, my God, this thing is magical–so I got one. So, I used that. And I have a Rickenbaker 12-string that my buddy found on the side of the road.
Like, Roger McGuinn style?
Yeah…um-hmm. And I've got an early '70s Les Paul that I love. But that Rickenbacker is pretty special…oh, and my acoustic guitar. I have a 1967 Gibson Southern Jumbo that's on just about every song…
Okay–cool.
…that's what I write on, you know?
What's the backstory on your getting James Marsh to create the cover art for Red Willow –that's an outstanding cover, by the way!
It's amazing! I cannot believe I got James Marsh to do my album cover. I am so thrilled. I had been thinking about a concept for the album cover and I kept thinking about the Talk Talk covers. I was thinking, I think I'll name it 'Red Willow'; I wrote all these songs at the place where my daughter first came when she was born, and all the experiences that shaped the album came from this place. And it's here on my street–my street is Red Willow.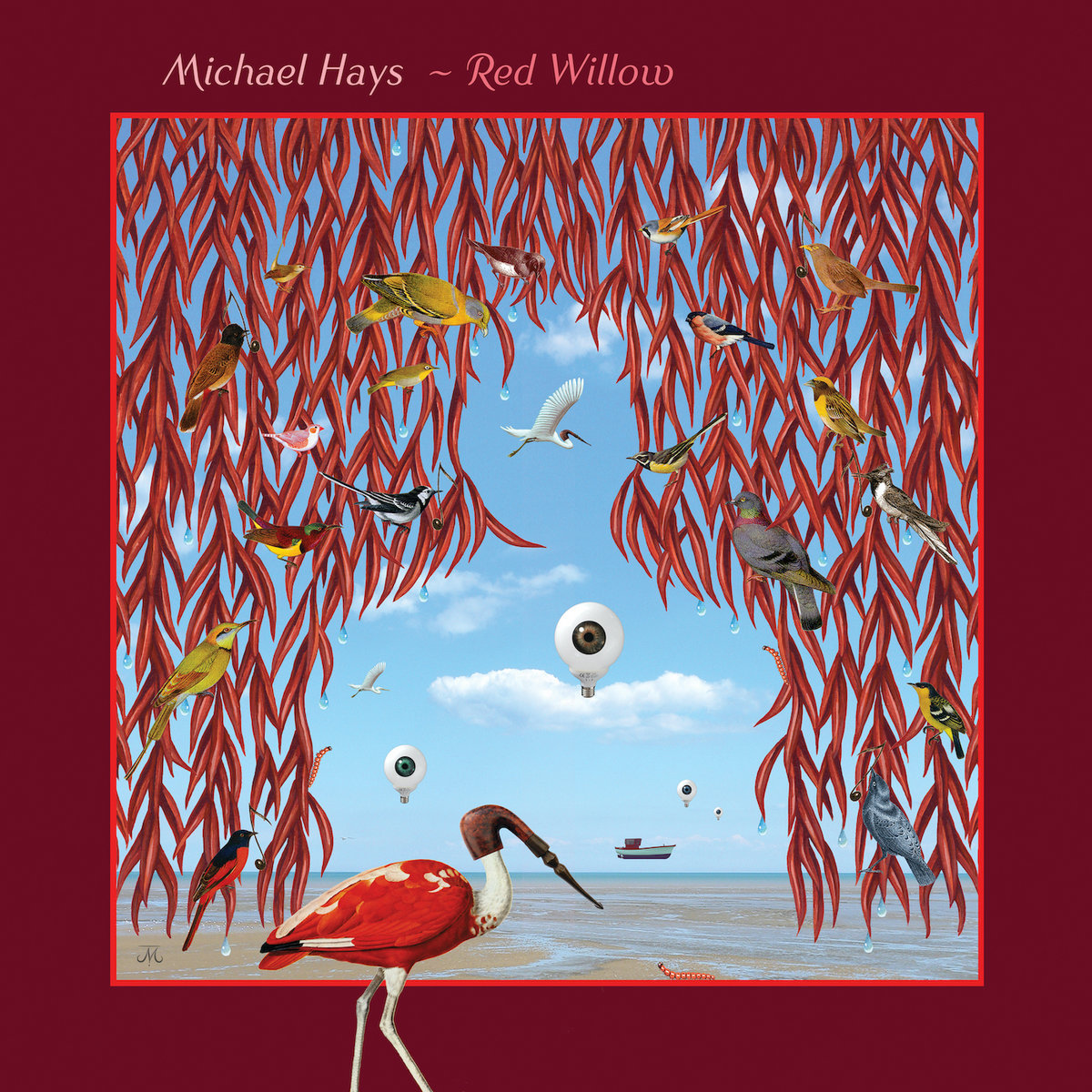 Oh, okay.
So, okay, I'm gonna call it 'Red Willow'; I kept thinking of the tree…and there's a couple of Talk Talk records, I think, that have all these birds and a tree on them. So, I kept thinking about them, and I was like, man, who did the art on those Talk Talk records? And this was just recently. I mean, I've been listening to Talk Talk for a long time. I really got into them maybe fifteen years ago. It was late night, and my buddy was like, put on this…and I was like, that's Talk Talk?
(laughs)
So, I've been a big fan ever since, and I've always loved their [album] covers. And my mind kept going back to that, so I looked up the artist–and there he was: James Marsh! And he had all these amazing album covers…he did Gerry Rafferty album covers, and he's done a couple of books, and he's really talented! He's really great. And so, I contacted him. And said, is there any chance…you might be…and he said: 'Sure. Send me the record. What's in your head?' And I was like, wow, James Marsh is gonna do my record and send it–it's unbelievable–but I just got really lucky. I just asked him.
That is cool! That is a good story!
Yeah, man, I feel really fortunate to have Richard Thompson, and a James Marsh cover. I feel like it's a really timeless cover. I really need to get the vinyl pressed up, because even if it's an unknown, if that record is sitting on a shelf in a record store, it's gonna get people's attention because it's beautiful.
Oh, for sure.
It's funny…the stuff on the record that I'm most proud of is not me. (laughs) I'm most proud of the cover that's by James Marsh, and that there's Richard Thompson on there; and the pedal steel that Eric Heywood did on 'The Way' brought me to tears, you know? I'm really proud of it–but none of that's me.
[The video for Michael Hays' first single: 'The Way'–featuring beautiful animation by Emanuele Kabu]
Let's talk about some of the other guest musicians on your album, if you want to elucidate that a bit.
Well, Eric Heywood is a really great pedal steel player and guitarist. He's been in The Pretenders, and was a member of Son Volt, and played with Ray LaMontagne. He's done some really great stuff. I met him through Kip Boardman, actually. That's how he came to be on my first record, and I still had his information; so I contacted him for this. And I sent it off to him. Most of this stuff was done remotely–a lot of it was just done in my studio here in Red Willow, and sourced out to Los Angeles, and Memphis, and Kansas City…just bouncing around. And he sent it back, and it brought me to tears–it was just so good what he did with that song. That's why I released 'The Way' as the first single–because I felt like it was just so beautiful. It's not your typical first single. It's not like a pop song that swings along. There's no drums on it. But I feel like what he did made the song a special thing. I'm really proud of it.
Yeah, and rightfully so. That song is a gem. I can't help thinking back to Nick Drake from earlier in our conversation…hopefully during your lifetime this album is something that will be loved and appreciated by many people, as I think it should be. But irregardless of what the overall outcome is, you will know that you and your collaborators produced this work of beauty for the ages.
Oh, man, I appreciate that, but, most of the time I don't know. (laughs) So, I'm like, is it any good? Because it's really hard to get anybody's attention. People…if they don't know you, they don't know you. And this is the first time I've really decided to push something, because I'm approaching middle age…and I think it's good, you know? There's at least a few songs on there that could be played on the radio, so, I've spent the last two weeks everyday making lists of radio stations. (laughs) I finished at about 1 o'clock in the morning last night. My eyes were all blurry and I was just about cross-eyed from looking at the screen. I've got sixteen pages of radio stations and contacts written down now, because, it's like, come on now, somebody–listen to this. Can you please play this on your college radio station, you know?
What about 'Morning Becomes Eclectic' in L.A., have you sent anything out to them?
Let's see…I have a few places that I've sent out to in Los Angeles…I don't think I have them, though…but I have Nick Harcourt …he's now at KCSN.
What about Steve Jones from the Sex Pistols–does he still have 'Jonesy's Jukebox' going on? Try and send it out to Steve Jones, man, he's a good guy!
I love him! I love that show–I listened to that show religiously –and even if he was just like belching and doing whatever and being ridiculous, it just felt like hanging out with a friend, you know?
Oh, yeah. By the way, another tangent, but did you hear that track that Mick Jagger just dropped recently with Dave Grohl? It's a catchy little song, and it's got better lyrics than Mick has written in a long time, but it's a total rip-off chord progression-wise of 'Holidays in the Sun' and 'Liar' by the Sex Pistols. It's called 'Eazy Sleazy' and it's a fun little ditty by Jagger and Grohl, but, I'm like, damn–where's the royalty checks for Johnny Rotten–or John Lydon–and Steve Jones on that one, man?
(laughs) Yeah, they made out like bandits anyway, man. They're doing alright. The Filthy Lucre Tour probably settled any debts that they may have had. I saw them on that in the mid-'90s…finally got to see the Sex Pistols. It was back when Steve was all ripped, you know? And they were great!
That's cool–I wish I had seen The Filthy Lucre Tour–but I did not, unfortunately.
Yeah, it was great. And I loved 'Jonesy's Jukebox', it was really a great show. And I liked Steve's singing, too. He's a good singer! He posts some stuff on Instagram occasionally of him singing in his bathroom.
(laughs) That's cool. I'll have to check that out–or maybe not…not sure if I'm ready to see Steve Jones in his bathroom…
Alright, back to your album. Let's talk about the production. It was produced and engineered by you and Sean Hoffman and Pat Manske–tell me more about Pat Manske.
Pat Manske is the head engineer of a studio called The Zone, here, and they do mostly Americana–they do all the Ray Wylie Hubbard and I think they did the last Jerry Jeff Walker record. They do Americana Legend kind of people, but he's a really great drummer and I get along really well with him. We tracked some drums over there, and I did a bit of 'Red Willow' in his studio; the song 'Red Willow'–the track. So, he contributed most of the drums on the record–all but two tracks. Then I did a lot of it; then Sean did a whole lot over there, too, in Los Angeles–and played most of the bass; all but two tracks. And he did a lot of merciless editing…
(laughs) Were you okay with that? Or do you need an editor to reign you in?
I am. I have grown to appreciate if somebody says: 'This song needs this, and this, and this,' (laughs) and hands it back to me, and it's a minute shorter, to listen objectively. And say: 'Is the song better? Is it more interesting?' And Sean's usually right about that stuff. Occasionally I disagree, but usually he has a good ear as a producer and an editor. And he knows when something is a little too long, and has parts that, you know, even if they're good parts and good words and whatever–sometimes a song just needs to be chopped.
Yeah. Somebody needs to do it! (laughs)
Yeah, and I've gotten better about self-editing, through Sean– 'cause he's really merciless about it. If he doesn't like something–man, he'll tell ya! He's been real instrumental in getting this stuff done and always has been a champion of mine; so, I'm grateful.
Very cool. So, as things, hopefully, start to lift by the summer or the fall, do you plan to tour the album?
Man, I would be into it if I had an opportunity to play curated shows–but my experience with gigging as a solo artist has sucked! And Austin has been the worst of all…
Really–that seems ironic?
Man, it's weird, but I swear the worst audiences I have ever played to in my life have been here in the past six years. I may get in trouble for saying this, but I think it's Tech. All the Tech people are moving here and they want to party…
They don't want to hear good music! (laughs)
…they don't want to listen to a singer-songwriter. My music isn't dance music–it's not bar music–it's not rollicking, foot-stomping stuff. So, it needs a curated audience.
Yeah, that makes sense.
I mean, it's kinda like the Nick Drake thing–not that I'm anywhere near approaching his level, but it's the same idea. He didn't go over well playing live, because he was real quiet, and he was opening for people, and he hated it. And that's kinda how my experience is like. If you don't have an audience that's there to listen, it's hell — it's really not fun at all.
So, in your case it would probably make more sense to play select venues in Seattle, Portland, San Francisco, L.A. … maybe at the Henry Miller Memorial Library in Big Sur…
Yeah, as long as it's a curated show, it makes sense–and I'm not going on after a puppet show or before a Tejano band…
(laughs) Although, that could be kind of interesting, just as life experience…
Oh, I've done stuff like that! I've done stuff where it's like: 'What the hell am I doing here???' (laughs) With rock bands, it's like, you have solidarity–you have your buddies there with you. But if you are up there alone, and nobody cares, it's really brutal…it's really hard on you. So, I don't want to do it unless it's a night that I'm supposed to be on. Where the music makes sense and people are there to listen, and I'm not just playing to keep people drinking.
Could you conceivably line something up for here on the West Coast–to start–where you'd have Sean Hoffman on bass, and whoever else is needed, to have a band backing you?
Yeah–since I've left L.A. that's been my best course of action (laughs)…go back and play shows in Los Angeles. Like, with Sean's help–because he's so social, and he keeps playing in the scene–he helps to curate these nights. And it's fun. If there's twenty people there, and they're listening–that's great! I mean, it doesn't need to be big thing. A small theater would be amazing, but, even if it's just a living room show, but there are twenty people, and they are listening–I can handle that.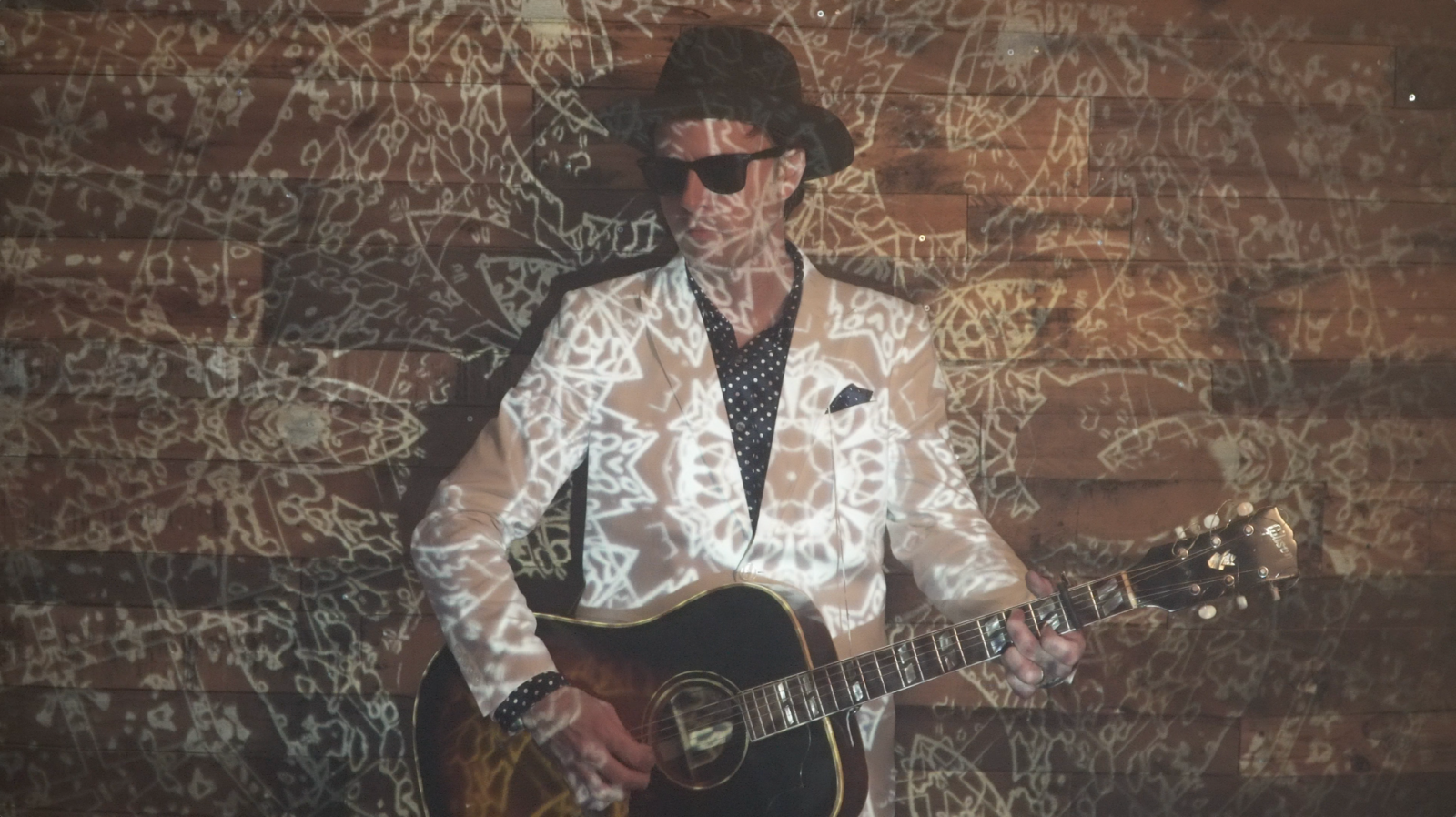 I have a few contacts that I'll reach out to about trying to line something up for you when everything starts to re-open more in California. I can't guarantee anything, but maybe a few music venues in Santa Barbara or Ventura would be willing to curate a Michael Hays show. 'Red Willow' is a deep, and well-crafted album and it definitely deserves a wider audience. I could see a lot of Europeans digging it as well! Thanks for the interview, Michael–and thanks to Sean Hoffman as well for putting us in touch.
Well, right on, man. It was really good talking to you; I appreciate it. It was so nice to have someone listen and ask me about the songs –I mean, my wife does, and Sean [Hoffman]–but, I really appreciate it. Thank you.
Sean Mageean
---
Michael Hays Official Website / Facebook / Instagram / Spotify / Apple Music / Bandcamp