Dale Jenkins – 'Undesirable Element' (2021)
Slightly retitled (the original 1985 release was plural – 'Elements') and revamped to include a plethora of bonus tracks from what may have been a fourth solo album, Jenkins' debut solo album (after leaving local Washington DC band the Users) is a fine addition to your homemade loner punk/psych collection.
---
Playing all the instruments (bass, guitars, keyboards, synths, drums) and producing and mixing the material himself, this is truly a one-man show that oozes desperation and dread, with spoken lyrics about inner pain and turmoil, depression, frustration and grief – Jenkins' was barely 21 when he wrote/recorded the album.
'Blind Faith' rides a throbbing bassline, New Wavey synths, and tosses in a few screaming shards of white lightning guitar strangulations over a minimalist groove a la the Normal's 'Warm Leatherette' while 'Article Two (The Handgun Song)' combines playful Camper Van Beethovanesque arrangements with downbeat reggae bass throbs and forlorn lyrics about a young child finding his parent's gun in a drawer with dreadful results. Anti-NRA polemics are easy to spot in this timely argument against the gun toters who sing a different tune when their beloved iron "takes their baby away".
'Depression' is almost upbeat in its singer-songwriter groove, gentle guitar lines (intercepted by a boss fuzz solo!) and laidback arrangement that wouldn't be out of place on a Jackson Brown or Dan Fogelberg album form the '70s.
'Non-surgical Lobotomy' is a stream -of conscious laundry list of everything that's wrong with Dale's life delivered in a tongue-in-cheek spoken word plea for help that's equal parts Kim Fowley, Frank Zappa, and Iggy Pop! The fun times continue on the giddy faux jazz childlike keyboard lullaby 'Breathe In Deep', and the original album ends with the lengthy mood-enhancer 'Another Day'. Its lengthy dreamy instro opening (equal parts Crimson and Floyd) yields to introspective lyrics questioning a boring existence, with not much to look forward to day after day. Perhaps autobiographical (as much of the lyrical passages seem), Jenkins was dead four years later at the age of 24.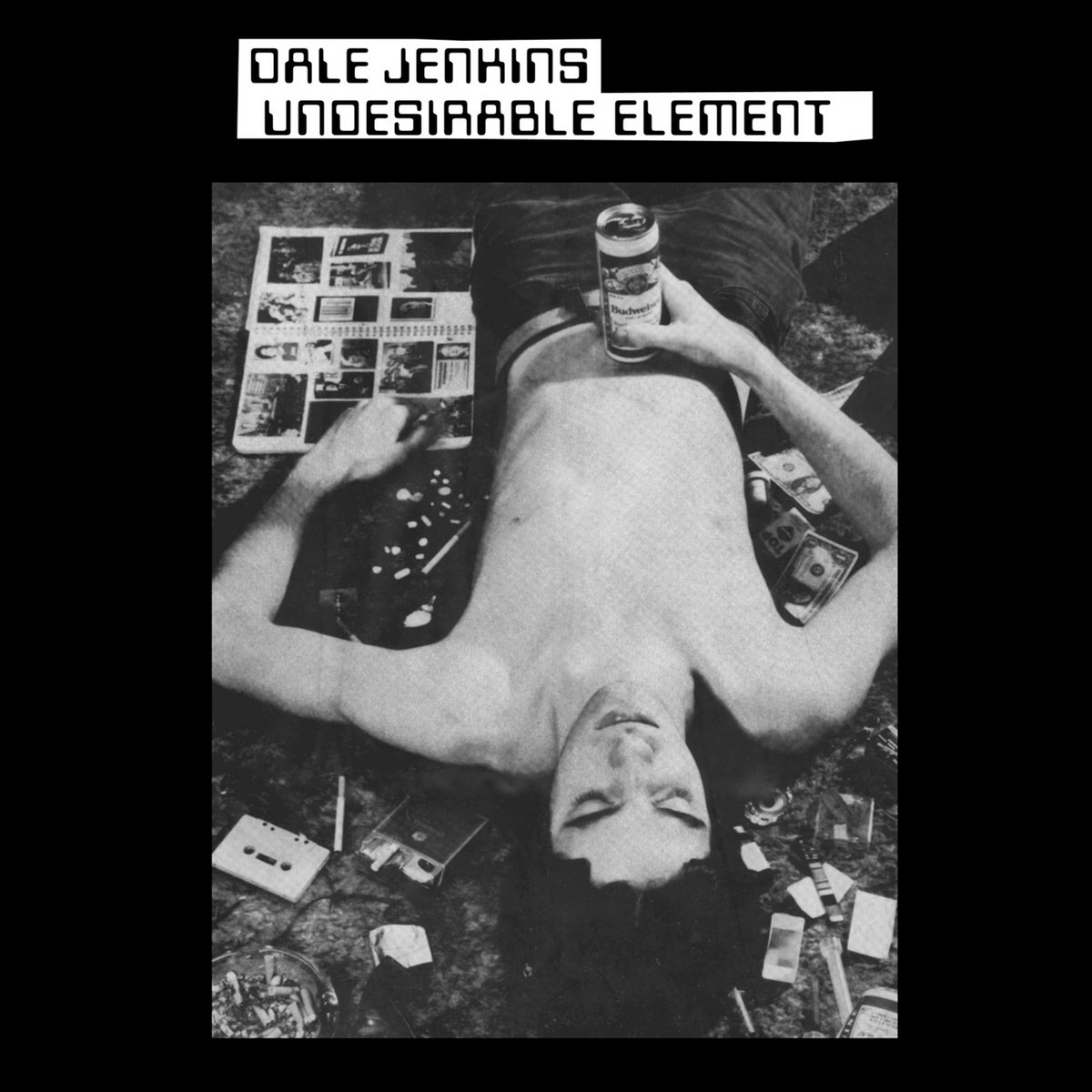 The bonus tracks feature additional loner folky ruminations, from the mournful 'Stranger' and late night self-examination 'Lovin' You' (particularly the "acoustic version"; the electric version is a synth-laden '80's new wave disco groover not unlike Devo) that remind of Neil Young's introspective mid-'70s run period (e.g., 'On The Beach', 'Tonight's The Night', 'Zuma') to the eerie 'Don't Believe In' with its rather Lennonesque lyric (cf. 'God') and the cacophonous avantskronk of 'Houses of Brick'. 'Where Is The Fire' boasts a twangy, surfy guitar solo, 'Sylvia' is a heart wrenching acoustic dialogue between father and daughter(?)/lover(?) In the event, it doesn't end well for our Dale…or Sylvia. Noiseniks will enjoy the Mothers-styled freakout 'War Was Waging On', but the set ends on a tender note with the head-nodder 'Raga' that leaves a sad taste in the mouth that Jenkins' left us so early with so much more to offer.
Jeff Penczak
---
Dale Jenkins – 'Undesirable Element' (Released on Got Kinda Lost/2021)