Iron Butterfly – 'Unconscious Power: An Anthology 1967-1971' (2020)
Late 1960's San Diego based psychedelic rock band Iron Butterfly is best remembered for the 17 minute title track to their second LP 'In-A-Gadda-Da-Vida' which occupied the entire second side of the album and continues to be an FM radio staple right up until today.
---
There was much more to the group, with the complete works of their years on the Atco label presented in Esoteric Recordings' new 7 disc box set 'Unconscious Power' taking its title from the a-side of their debut 1968 single which was also included on their premiere LP 'Heavy' released in January of the same year. The comprehensive reissue contains all five of the band's albums released at the time along with live recordings from 1968 released in 2011, non-LP singles, b-sides and mono mixes of the 'Heavy' and 'Live' LP's, the only two recorded in that format, the former's first ever appearance on CD, making this collection absolutely the last word on Iron Butterfly's seminal years.
Disc one centers around 'Heavy' presented in its stereo and mono versions, in that order. The LP was recorded by the quintet of Darry DeLoach (lead vocals), Doug Ingle (keyboards/vocals), Danny Weis (guitar), Jerry Penrod (bass) and Ron Bushy (drums). Of the ten tracks on the album, nine were written by Ingle, who also sang lead vocals on five tracks, with DeLoach contributing lead vocals to four, and the album closing band namesake Iron Butterfly Theme' being an instrumental. The LP was recorded in Los Angeles in October, 1967, but before it's release in January, 1968, DeLoach, Weis and Penrod left the band, thus almost ending the flight of the Butterfly before it began. In spite of this 'Heavy' reached #78 on the Billboard charts, and is considered by many to be among, if not the best album recorded by the group. The first two tracks, 'Possession' and 'Unconscious Power' are fine representations of why Doug Ingle named the band Iron Butterfly, as he considered its raison d'etre, a mix of the light and heavy musical persona of the group. The album contains some fine guitar work by Weis on 'Gently As It May' and 'Fields Of Sun'. However, the album closer, and band namesake 'Iron Butterfly Theme' is without question the LP's strongest, most memorable track with Weis' feedback laden fuzz guitar complemented by Ingle's organ. The tune was a staple of the group's live shows throughout its halcyon days covered in this anthology. The disc is completed by both sides of the single 'Don't Look Down'/'Possession' recorded in 1967 but not appearing until a 1970 release in the Netherlands.
Disc two opens with the six tracks comprising Iron Butterfly's monumental LP 'In-A-Gadda-Da-Vida' which peaked at #4 on the charts following its June, 1968 release, having to date sold 4 million copies in the US and an incredible 30 million copies worldwide. The album was so successful that Atlantic Records' president Ahmet Ertegun created the Platinum LP designation in its honor. The album was recorded with Erik Brann on lead guitar and Lee Dorman on bass, who replaced the departed members, and thus the classic lineup of Iron Butterfly was born. In contrast to its predecessor the album was heavier and more psychedelic in nature. The opening cut 'Most Anything You Want' is heavy yet melodic, with Brann's guitar and Ingle's organ dominant, the former supplying the tune's riff and a memorable solo. 'My Mirage' is Ingle's homage to a pizza delivery man killed by a car just outside the club the band was playing at the time and features gorgeous vocal harmonies to accompany Ingle's organ and Brann's guitar. 'Termination' is a heavy number with Brann's snarling guitar driving the beat while he supplies a breezy solo. 'Are You Happy' is a showcase for Brann whose lead line and solo dominate. The 17 minute title track is one of the most memorable rock performances ever with each member of Iron Butterfly given ample opportunity to display their musicianship. Ingle supplies the tune's familiar organ intro which is quickly joined by Brann's guitar riff. Brann's extended solo leads up to Bushy's monumental 3 minute drum solo before Ingle and Brann rejoin, the latter's guitar filled with feedback while Dorman and Bushy lock into a pocket, Bushy's drum rolls leading to a Dorman bass solo. More distorted, ringing guitar from Brann leads the band's return to the main riff before Ingle's organ intro returns as the tune's outro. Truly a classic psychedelic rock performance and an inspiration to many bands to extend their tracks in the vein of jazz improvisations. The disc is closed out by the alternate, single version of 'Iron Butterfly Theme' and an edited version of the title track, issued as the b- and a-sides of a single in July, 1968.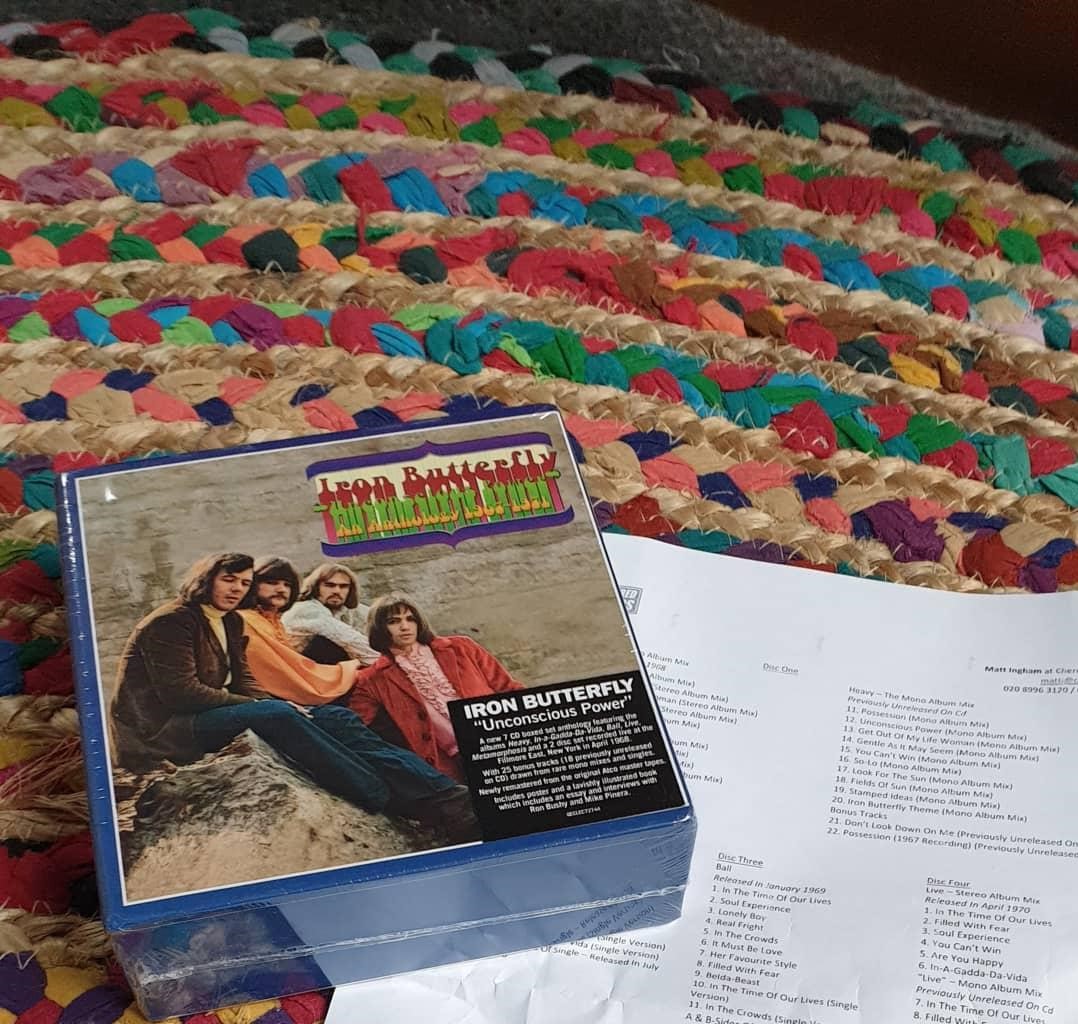 Disc three begins with the January, 1969 LP 'Ball' which marked a move from acid rock to more experimental and melodic tunes. 'In The Time Of Our Lives' has lyrics that are a bit morbid but features excellent guitar from Brann along with Ingle's nicely echoed vocals. 'Soul Experience' by contrast features uplifting, introspective lyrics and notable solos from Dorman and Brann. 'In The Crowds' is a short melodic tune with Ingle's organ and vocals to the fore and a gorgeous intro by Brann. 'It Must Be Love' has more heavy guitar from Brann who contributes a hot lead line and swirling solo as he plays the song out. 'Filed With Fear' is an uptempo number with Dorman's bass pushing the beat and Brann's solo shining. 'Belda Beast' was a swan song for Brann who left the band in December 1969, but whose cascading guitar is melodic. The song is a great closer as Brann's soloing is joined by Ingle's organ with the band locked into a hot groove. 'Ball' was Iron Butterfly's highest charting LP, topping out at #3 and selling 500,000 copies almost immediately. The disc's bonus material begins with the single version of 'In The Time Of Our Lives' and the mono single version of 'In The Crowds'. The final two tracks are non-LP single sides, 'I Can't Help But Deceive You Little Girl' a heavy rocker, Dorman and Bushy laying down a heavy groove, with Ingle's vocal screamed over the top and Brann's solo soaring while 'To Be Alone' features nice tempo changes, Ingle's organ intro giving way to a scorching solo by Brann, a fitting way to close the disc and Brann's role in Iron Butterfly.
Disc four contains the stereo and mono mixes, in that order, of April 1970's 'Live' which was recorded May 25-30, 1969 in San Diego, CA. The album is a mix of three tracks from 'Ball', two from 'In-A-Gadda-Da-Vida' and one from 'Heavy'. First up is a thundering take on 'In The Time Of Our Lives' with Bushy pounding out the beat locked in with Dorman's bass, a fiery lead line from Brann, and Ingle's organ reminiscent of Arthur Brown. 'Filled With Fear' has a haunting vibe with feedback from Brann accented by Ingle's organ with Brann again soloing the song to a close. 'Soul Experience' is a gentler number with Brann's guitar soaring while Ingle's organ swirls. 'You Can't Win', dedicated to the troops in Vietnam, features Brann's guitar center stage as Ingle bemoans 'destruction is the only road you're headed for…..you just can't win'. The uptempo rocker 'Are You Happy' features Brann's lead line giving way to a Bushy drum solo before a soaring solo by Brann drives the song home. The album closer is a 19 minute take on 'In-A-Gadda-Da-Vida' with Ingle's familiar organ intro, Bushy pounding his kit and Brann supplying the tune's riff. Ingle takes an organ solo with Brann's wah wah adding flavor before he solos himself, leading into an extended drum solo by Bushy. Brann's guitar returns with a fury 15 minutes in as he sets off on a searing solo before the band returns to the song's main melody joined by Ingle's vocals as the band readies for the familiar organ outro as the crowd explodes with applause, bringing the tune and the disc to a close.
Disc five centers around Iron Butterfly's fourth studio album, August 1970's 'Metamorphosis' which was recorded by the new lineup of Ingle, Bushy and Dorman joined by guitarists Mike Pinera and Larry Reinhardt. The LP opens with the short, guitar centric 'Free Flight'. 'New Day' is a hot rocker with an insistent beat, tasty lead line and call and response vocals. 'Shady Lady' is a mid-temp number with a loping lead line and restrained guitar solo. 'Best Years Of Our Life' is guitar driven with nice tempo changes and vocal harmonies but dominated by Pinera and Reinhardt's work. 'Slower Than Guns' has a delicate feel with its acoustic intro and gentle, almost whispered Ingle vocals, although it is engineer Richie Podolor's sitar that takes charge mid-tune and dominates. 'Stone Believer' is a rocker with roaring lead guitars joined by electric piano and organ, while Dorman and Bushy supply the driving beat. 'Soldier In Town' is a venture into social commentary regarding the war in Vietnam with acoustic guitars and delicate drums giving way to a stinging electric guitar finish. 'Easy Rider (Let The Wind Pay The Way)' rocks from its feedback laden intro through a mid-tune feedback drenched solo to its snarling guitar outro. The LP's magnum opus closer is the 14 minute 'Butterfly Bleu' which builds to a slow burn jam with Pinera and Reinhardt's guitars soaring. Mid-tune the tempo slows and Ingle's spacey organ takes charge before guitar feedback returns, then Pinera employs a Talk Box to completely change the song's feel until the band returns delivering driving blues rock that closes the song and the album in dramatic fashion. The disc closes with the non-LP single side 'Silly Sally' an R&B tune complete with horns, hot guitars and harmony vocals, giving it a Wilson Pickett feel.
Discs six and seven contain April 26-27, 1968 performances, by the classic lineup of Ingle, Brann, Dorman and Bushy, from the Fillmore East, released in 2011 in the Rhino Handmade label and serving as wonderful documentation of the band's unusual habit of playing songs live before recording and/or releasing them, evidenced by the fact that three tunes 'Are You Happy'. 'My Mirage' and 'In-A-Gadda-Da-Vida' are performed, well advance of their June release. In fact, the latter tune's title had not even been finalized as it is introduced as 'In-Our-Gadda-Da-Vida' a reference to its intended title 'In The Garden Of Eden' which Bushy misunderstood Ingle say the morning after the keyboard player originally wrote the song. The discs include a total of 22 performances of 10 different songs, the remaining 7 from 'Heavy' meaning some songs are presented more than once. In fact two, 'So-Lo' and 'Iron Butterfly Theme' appear four times each, 'Are You Happy' is done three times, and 'My Mirage', 'Unconscious Power' and 'In-A-Gadda-Da-Vida' twice each. The performances are consistent throughout and offer enough variation that the duplications are not troubling in the least. Far from it, as the band seemed to put their full energy into each performance and always pleased their audience. In addition, considering the cost of the original Rhino Handmade release, the addition of these two discs to 'Unconscious Power' is quite a cost-saving bonus, especially considering the state of the art remastering job done to make 'Fillmore East 1968' sound better than ever and truly making this the complete collection of Iron Butterfly recordings 1967-1971.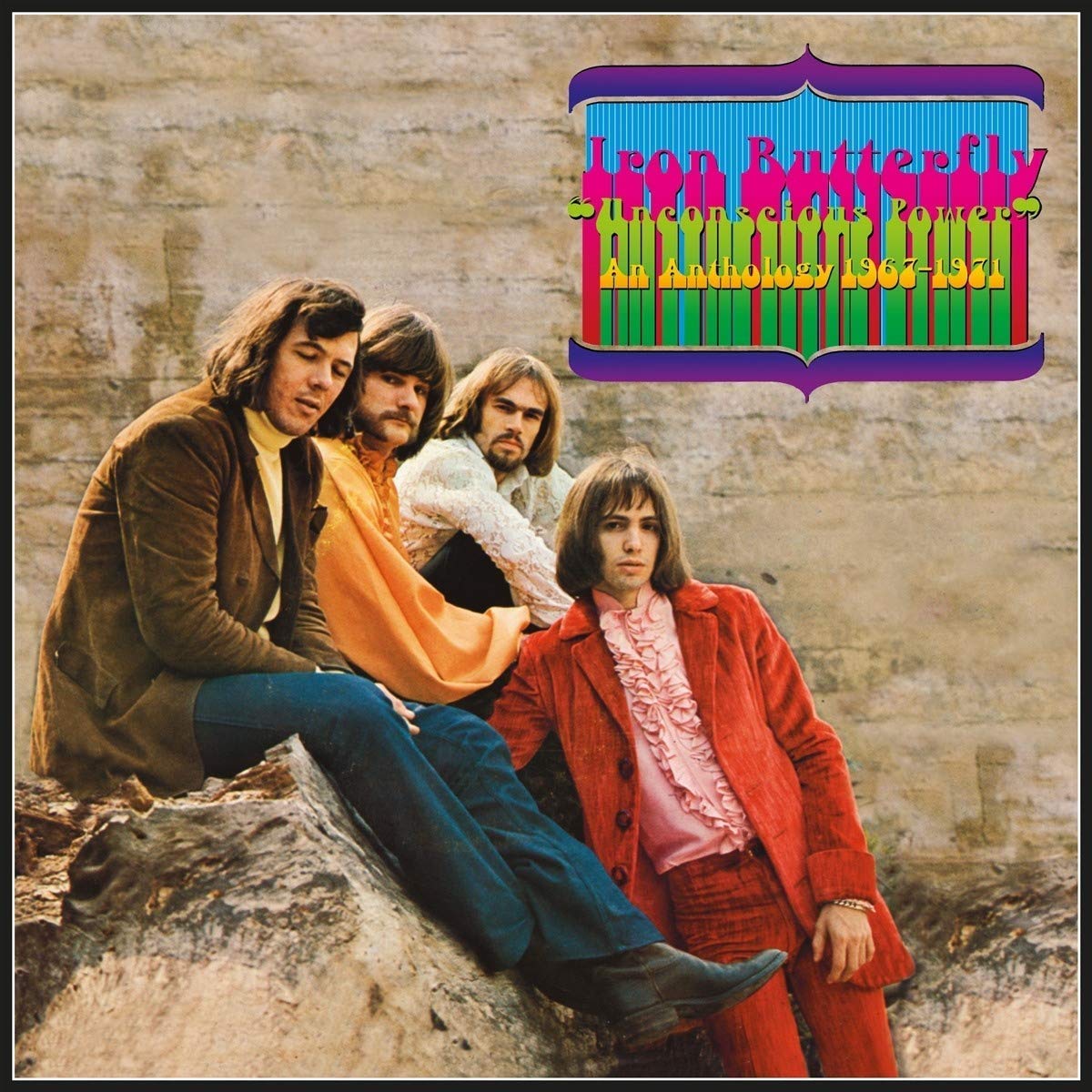 The discs of 'Unconscious Power' come in mini-LP sleeves, 'Ball' and 'Metamorphosis' in gatefold style, which tuck nicely into an inner box that slides into a hard shell box, making for pleasingly sturdy packaging. The set contains 87 tracks, 25 bonus, 18 of which have not been previously available on CD. The 24 bit remastering job by Ben Wiseman gives the set state of the art sound quality. The box set also includes a poster as well as a 68 page full-color booklet with complete track listings, an informative essay by Mike Mettler of Soundbard.com, lineup listings of all relevant incarnations of Iron Butterfly and precursor bands, a plethora of photos of the band, record artwork, posters and other memorabilia. Without question 'Unconscious Power: An Anthology 1967-1971' is absolutely the last word on Iron Butterfly's halcyon period at Atco Records and will be of interest to all fans of 1960's rock, psychedelic rock and rock music in general.
Kevin Rathert
---
Iron Butterfly 'Unconscious Power: An Anthology 1967-1971' (Esoteric Recordings, 2020)