Level π interview
German musician Uwe Cremer works under the moniker of Level π. The project has been active for quite a few years and he released albums that are mainly influenced by 'krautrock' and experimental electronica. On his latest effort he was driven mostly by his passion for post punk music.
---
"My compositions are like stories"
How would you describe your sound?
My compositions are like stories that have their musical home somewhere between Berlin School, EM and Rock. They are told with classic Moog sounds, modern electronics, organ, bass, drums and electric guitars. I would describe my music as 'krautrock', but it's always hard to classify your own music. A few years ago, I was asked by Sireena Records to write a track for the compilation 'Son of Kraut'. So I can't be that wrong.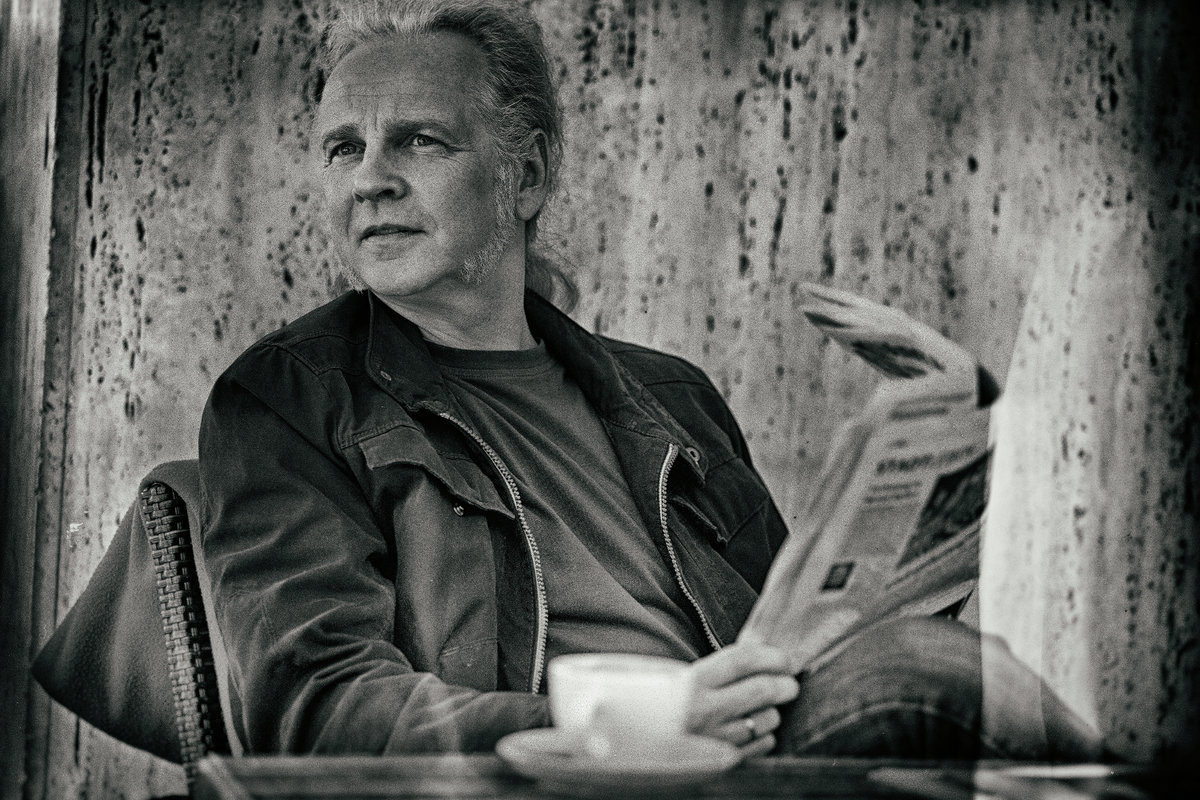 Where and when did you grow up? Was music a big part of your family life? Did the local music scene influence you or inspire you to play music?
I was born in Düsseldorf in 1965, but I grew up in Iserlohn, a small town in North Rhine-Westphalia, but the biggest town in the Sauerland, whatever that means. I don't know if there was much of a local music scene. The only band from Iserlohn, which I really liked, was Zoff. They had become some kind of local heroes. More interesting was the neighboring town of Hagen, where the legendary 'krautrock' band Grobschnitt comes from. I saw them live in 1983. 'Solar Music' blew me away.
Music didn't play an important role in my family. My love for music came from within myself. In 1978, I thought it would be really cool if I could play the guitar, so I signed up for a course at the youth centre. At the beginning of the second lesson, when the teacher yelled at me, because I forgot to tune my guitar, I took my instrument and left. So I taught myself to play some chords and songs with books and with the help of my sister's boyfriend who played in a band. Later, I met someone who taught me different picking schemes. This expanded the range of songs I could play greatly. In 1988, I saw Pink Floyd live at the Westfalenstadion in Dortmund. The concert was mindblowing! I immediately got myself an electric guitar and started playing solos in the style of Pink Floyd.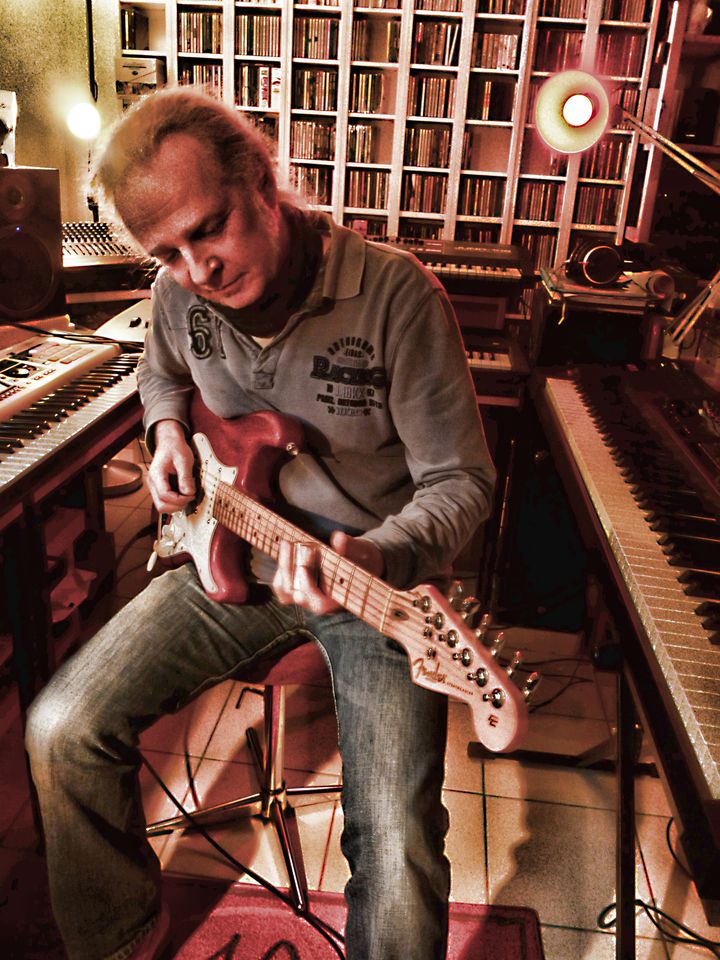 Who were your major influences?
My idols are David Gilmour, Andrew Latimer, Frank Bornemann, and Gary Moore. I played to records of Pink Floyd, Camel and Eloy about a million times. But I also liked the style of Wayne Hussey and Paul Wright very much.
When did you decide that you wanted to start writing and performing your own music? What brought that about for you?
In the early 90s, friends and I had the opportunity to use the practice room and equipment of another band. One of us already had a few song sketches from which we started writing our own songs. Unfortunately, I had to move and that was the end of our band. But the thought of writing my own music stuck, and my head was full of ideas.
Without my friends starting new in Cologne, I grabbed my old Commodore 64 and experimented with sounds and programmed some pads to which I played the guitar. Then I got myself a used keyboard (Yamaha PSR SQ 16) with a 16 track sequencer and a floppy drive. With that I was able to create and save complete backing tracks to which I jammed for hours. Finally, I discovered the computer as a recording studio and musical instrument and could realize my ideas more and more.
What does the name "Level Pi" refer to?
I remember sitting in our kitchen with a friend. We were brooding over some ideas for the album cover of 'Entrance'. I had something surreal in mind: a wide plain with doors and/or bizarre creatures à la Dalí. For some reason I drew the Greek letter π on the plain and then it happened very quickly. 'Plain' became 'Level' and combined with π gave the idea: Level π – The Next Level of Krautrock.
"Writing music is incredible."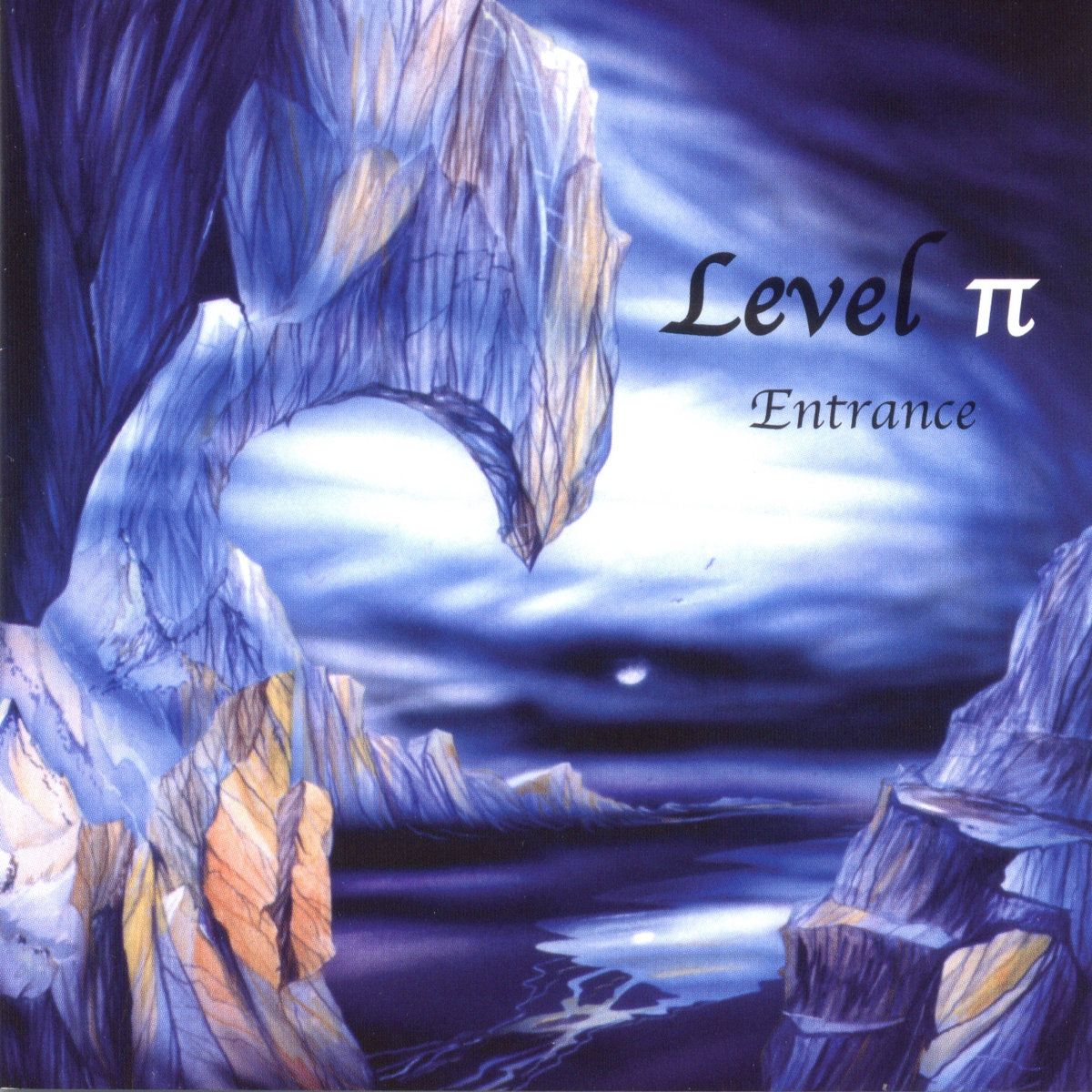 How do you usually approach music making?
Many songs are simply created by experimenting with sounds or noodling on my guitar. When I get caught by a chord progression, a guitar sound or a certain synth sound that reflects my mood, I've got a starting point. I begin layering sounds and instruments, experiment with chords, add drums and bass, keep on jamming. And all of a sudden you have many minutes of music on your computer. Then comes the fine tuning, details are worked out, sounds are added or muted, until it feels right. Other songs start with a certain idea in mind, for example: I want a song with the bass guitar as lead instrument. I record a few bars and then it basically goes on as described above.
Writing music is incredible. You start with one note, and at some point you have a 15 minute long track, all done by yourself. That feels really good!
"For me 'krautrock' was a period of music in which German bands were driven by the enthusiasm to create something completely new – despite limited possibilities."
You debuted in 2006 with 'Entrance'. What's the story behind it?
'Entrance' is partly a collection of songs that were written two/three years before the release. The tracks were recorded at a time, when I was deep into 'krautrock'. For me 'krautrock' was a period of music in which German bands were driven by the enthusiasm to create something completely new – despite limited possibilities. I wanted to recreate the atmosphere of that time and see how far I could go with my limited equipment. On the first five songs of 'Entrance', most of the sounds came from my Yamaha PSR SQ 16 and the Korg AX1000 G, with which I used to record all my guitars. Then, more and more software was added and the computer became a Minimoog or a Moog Modular. That was fantastic! Kind of: Pink Floyd meets Klaus Schulze.
'Electronic Sheep' followed.
'Electronic Sheep' is my electronic album.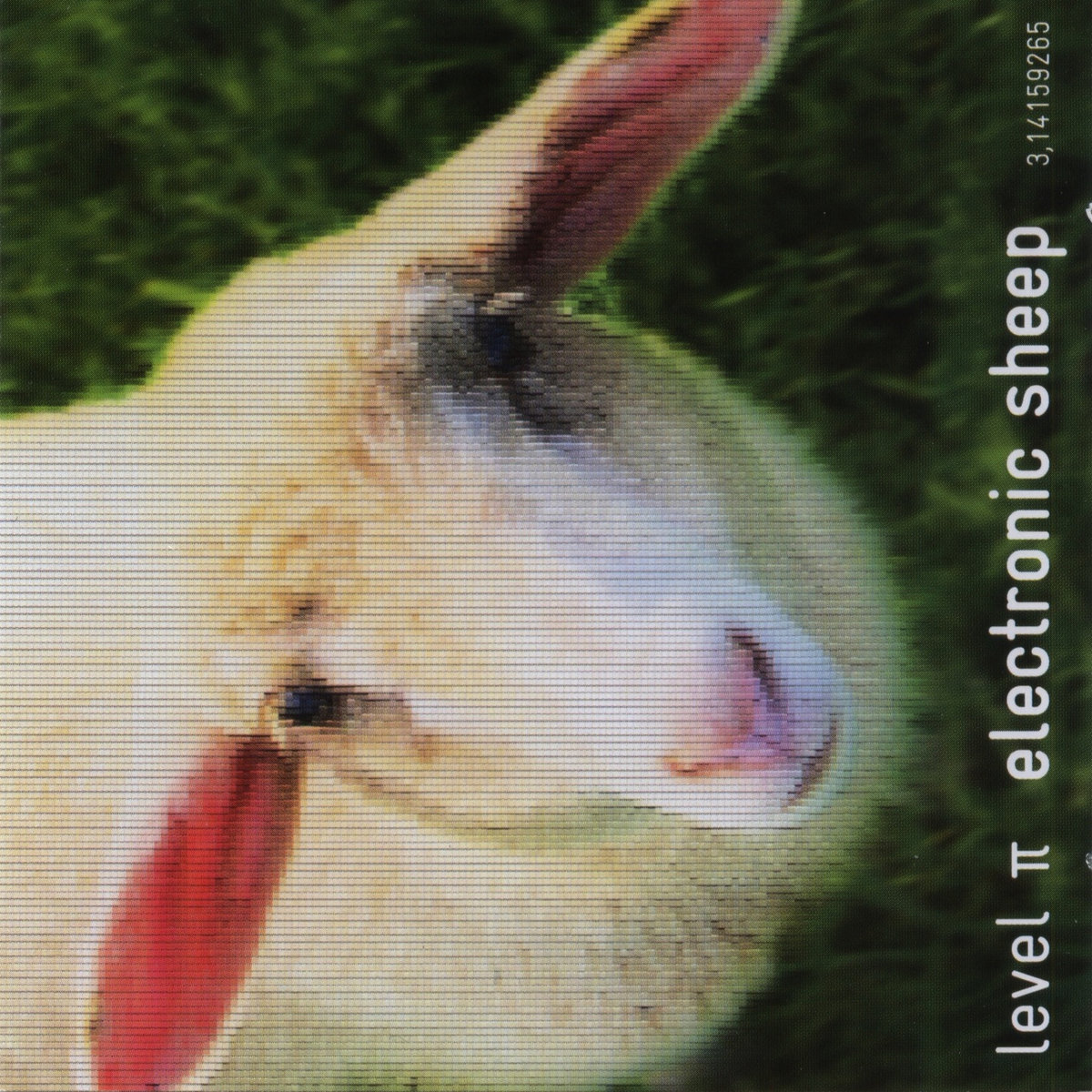 My arsenal of software synths had grown tremendously, that had to be explored. The guitar stayed in its case, and I concentrated on sequencers and keyboards. 'Electronic Sheep' is my homage to the heroes of electronic music of the 70s: Cluster, Jean Michel Jarre, Klaus Schulze …
In 2012 you released 'Dunkelstunde' and in 2015 'This Burning Part of Me'. 
First, I'd like to explain what the title 'Dunkelstunde' means: Evening begins to fall. Outside is dark. In the glow of a small lamp or maybe the street lights, people are sitting at the window telling stories. This hour is called 'Dunkelstunde', literally "dark-hour".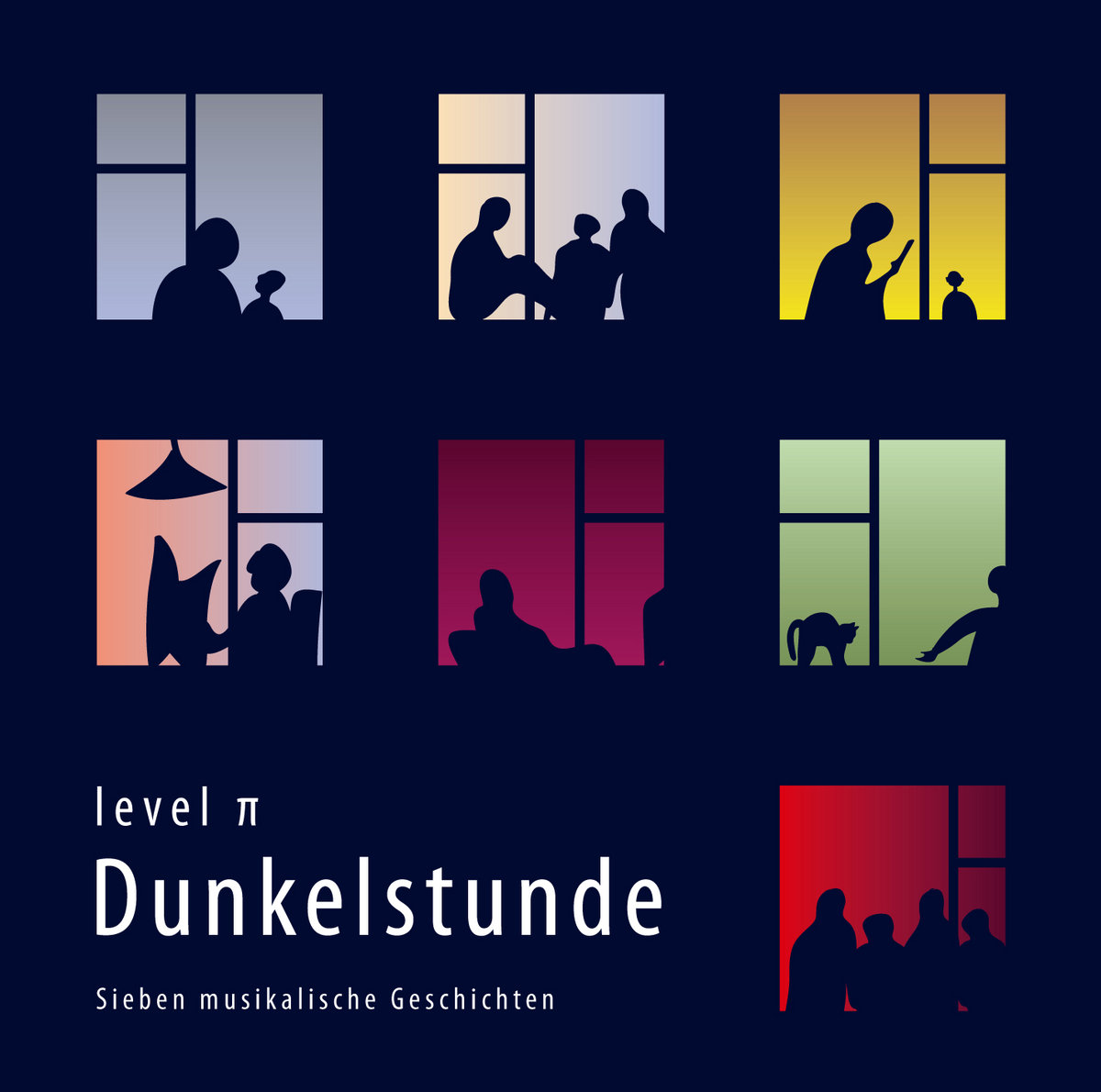 The album tells seven "Dunkelstundengeschichten": stories of ships in deep space, tales about absent friends or mystic dreams. Finding their musical home somewhere between Berlin School EM and rock, they are revealed through classic Moog sounds, modern electronics, organ, bass, drums and lots of electric guitars. Again: Pink Floyd meets Klaus Schulze. 'Dunkelstunde' is my personal favourite.
On 'this burning part of me' I changed my musical direction. I wanted to write music that reflected the mood of the British Underground of the early 80s, but without completely turning away from the spherical elements of my music. On my former albums some guitar parts were clearly inspired by The Sisters of Mercy or The Mission, but these were only short elements in the 'krautrock'-inspired long tracks.
I turned towards clear song structures but with a hint of 'kraut'. Like post punk with art rock or 'krautrock' elements. Guitars and bass instead of sequencer lines à la Berlin School. I also worked with a singer on three tracks of the album.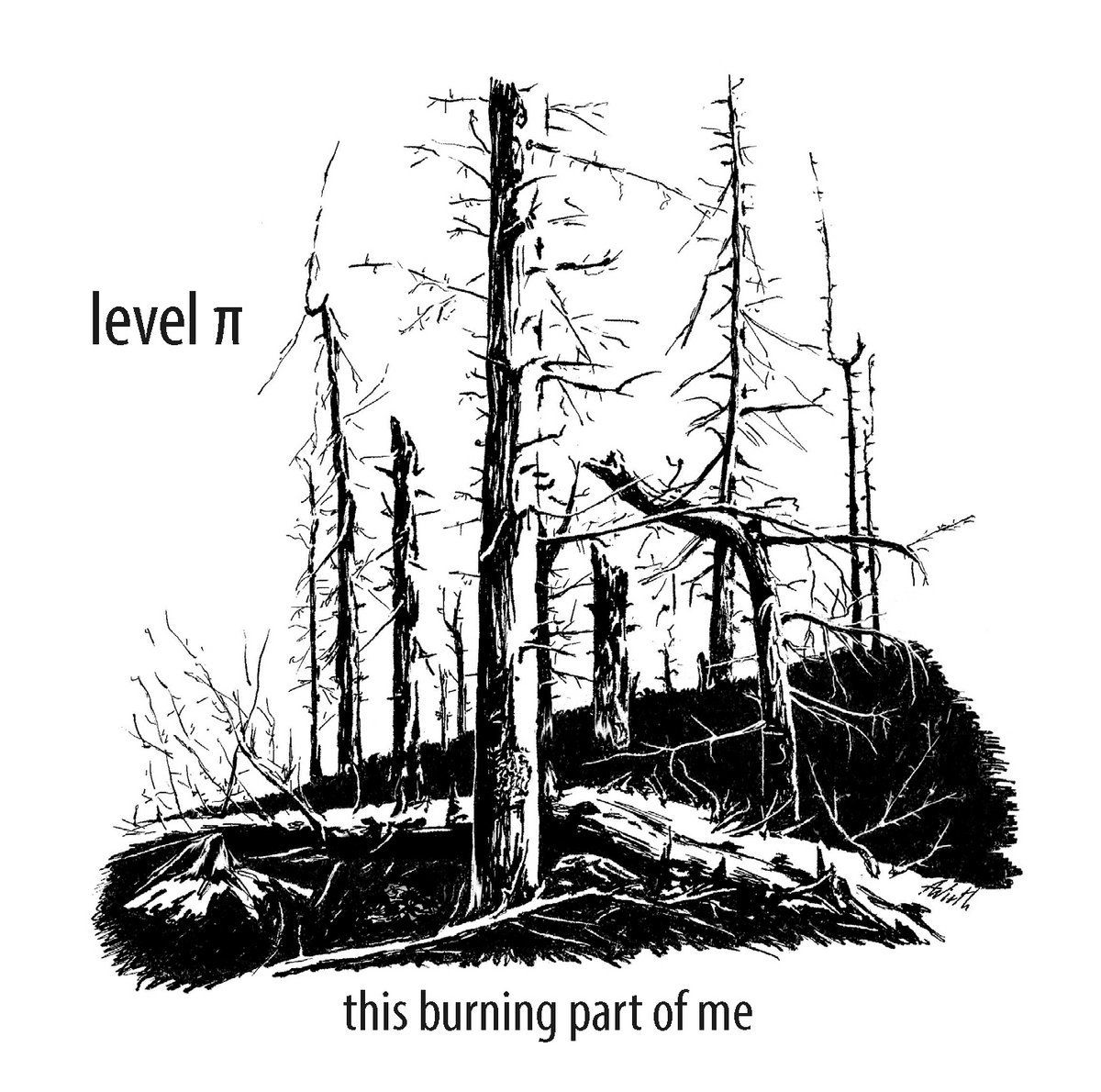 What are some bands/musicians that have a big influence on you?
Pink Floyd. There is no band I have listened to and seen live on stage more often. Next is Camel. And then of course 'krautrock' bands like Eloy, Klaus Schulze, Grobschnitt and Kraftwerk. Gothic and post punk bands like The Sisters of Mercy, Fields of the Nephilim, Joy Division or The Sound influenced me a lot. And not to forget: Motörhead.
What are some future plans?
I've just completed my fifth album. On 'Elektronische Philosophie' I'm going back to my mixture of EM and 'krautrock'; meaning there's a lot of atmosphere with synths, strings, sequencers, guitars … On some songs I experiment with samples and breakbeats. So there's some trip-hop influence.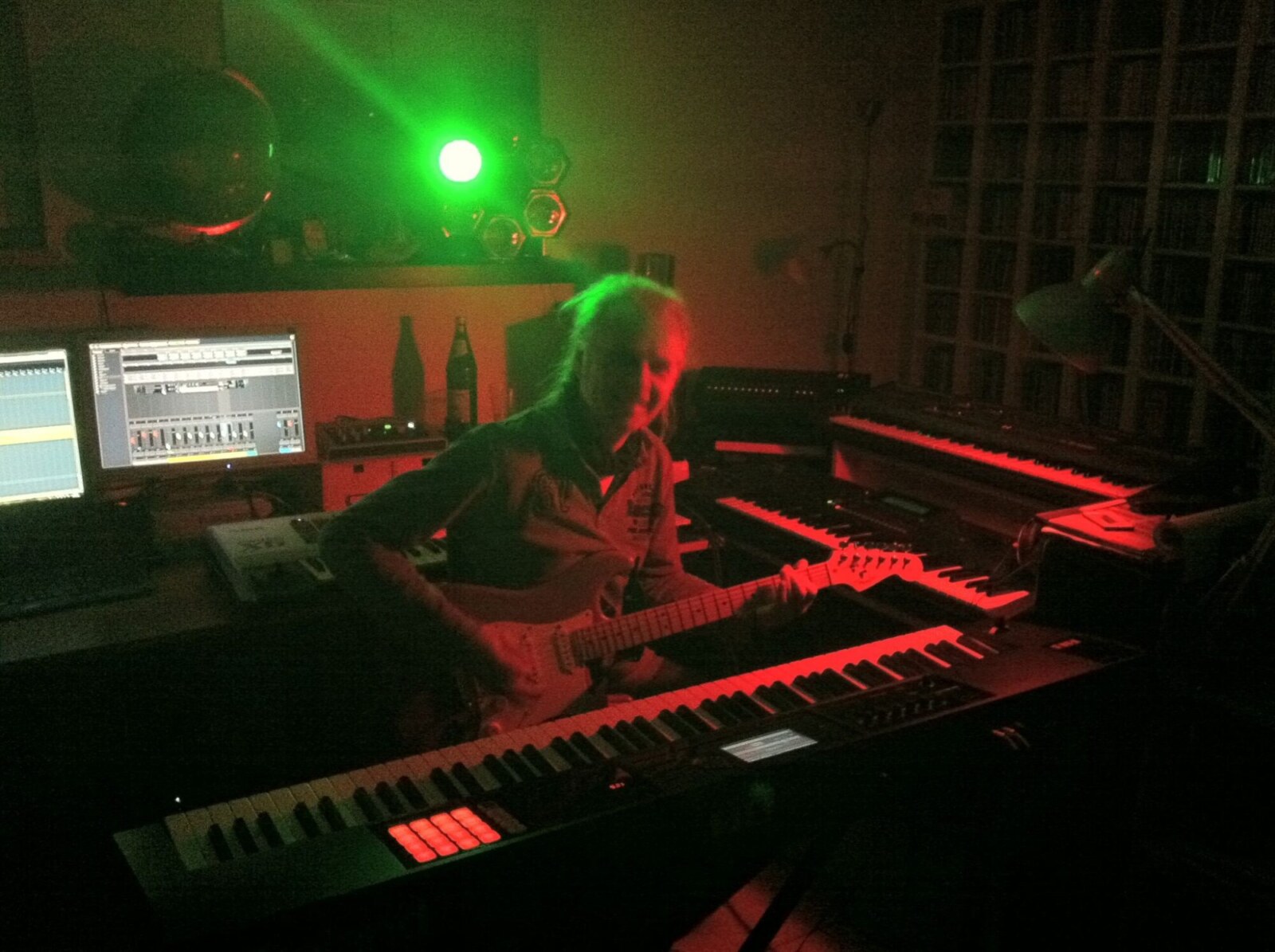 Let's end this interview with some of your favourite albums. Have you found something new lately you would like to recommend to our readers?
Where to start? Spontaneously it is – in no particular order:
'Krautrock':
Ash Ra Tempel – 'Ash Ra Tempel'
Eloy – 'Silent Cries and Mighty Echoes'
Grobschnitt – 'Solar Music Live'
Agitation Free – '2nd'
Kraftwerk – 'Menschmaschine'
Klaus Schulze – 'Timewind'
Tangerine Dream – 'Encore'
Gäa – 'Auf der Bahn zum Uranus'
Can – 'Monster Movie'
Witthüser und Westrupp – 'Trips und Träume'
Other than 'krautrock':
Pink Floyd: 'Meddle', D'SOTM', 'WYWH'
Camel: 'A Live Record'
Alan Parsons Project – 'Tales of Mystery and Imagination'
Hannes Wader – 'Ich hatte mir noch so viel vorgenommen'
Motörhead – 'No Sleep 'til Hammersmith'
Scorpions – 'Lovedrive'
Fields of the Nephilim – 'Elysium'
Sisters of Mercy – 'First and Last and Always'
Bauhaus – '4AD'
New Favourites (at least to me):
Linda Perry – 'In Flight'
Walter Trout – 'Blues Survivors'
Mighty Sam McClain – 'Sweet Dreams'
Motörhead – 'Aftershock'
Gary Moore – 'A Different Beat'
Alan Parsons Project – 'Eye in the Sky'
Thank you. Last word is yours.
Many thanks, Klemen for doing this interview with me.
Klemen Breznikar
---
Level π Official Website
Level π Facebook
Level π Bandcamp
Level π YouTube